Breakfast will never be dull with any of these pancakes recipes! With fruity, festive, and classic options, you can't go wrong.
More Collections: Healthy Breakfasts, Easy Breakfast Ideas, Brunch Recipes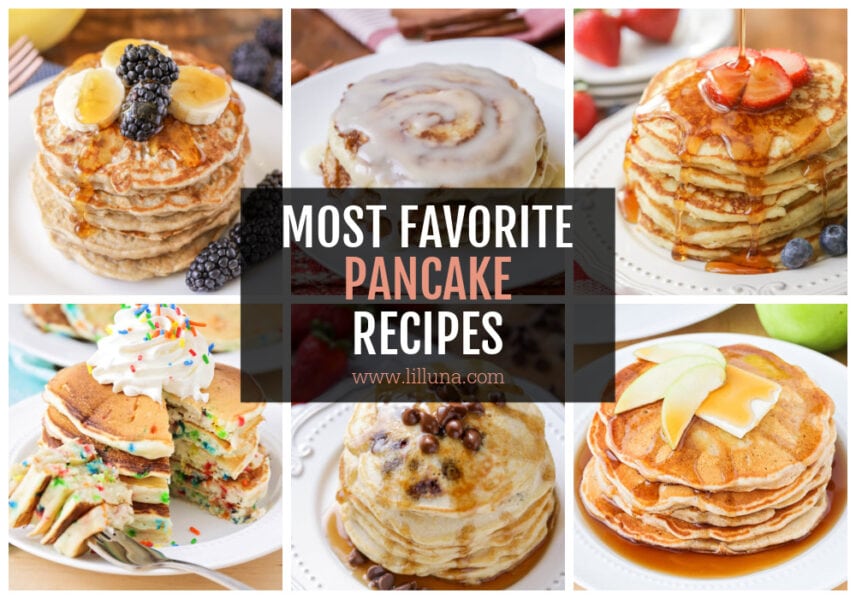 We love pancakes!
Golden pancakes (AKA flapjacks) are perfect for feeding a crowd. You can whip up large quantities in a jiffy! They are easy to customize and even easier to eat!
Whether you fill yours will fruit or chocolate chips, or tops them with jams, syrup, or whipped cream, they are sure to be a hit!
I've rounded up my most popular and best-loved pancakes recipes to be sure you'll find something that will knock your breakfast out of the park!
Favorite Pancake Toppings
You can't really beat classic butter and syrup, but it's fun to try. The options to top your pancakes are endless. You can choose one to serve or set out several options for a pancake bar.
maple syrup
powdered sugar
nutella
fresh fruit
chocolate chips
Sprinkles
Peanut butter
jam
Butter
Pancake Tips
The batter only needs to be mixed until combined unless otherwise stated in the recipe. Ideally, after mixing let the batter stand for 5-10 minutes before cooking. Some other batter tips include:
Many recipes call for buttermilk if you don't have any on hand you can easily make your own How to Make Buttermilk
Use room temperature ingredients: This will help all the wet ingredients to combine easier. Take your butter and eggs out of the fridge and measure your milk. Allow the ingredients to stand at room temperature for about 30 minutes.
If your batter is too runny and spreads out just add a bit of flour.
If your batter doesn't spread at all it's too thick and add a bit more water or milk.
When the pancake spreads fine, but doesn't rise, add a bit of leavening agent (baking soda/powder)
Whisking the egg whites: Separate the yolk from the white. Place the yolk in the batter when directed to add the egg. Put the white in a separate bowl. When the batter is combined with all of the ingredients, then whisk the white until fluffy. Then, fold them into the batter. This will help give a fluffy airy pancake.
When to Flip: When making a new recipe it's a good idea to cook a test pancake and make adjustments.
Don't flip the pancake until little bubbles appear on the top of the batter and the edges turn golden.
Once flipped it the cooked side should be an even golden brown. If it has burn marks, that means the temperature is too high. Make adjustments to the temperature before cooking more.
Though it may seem like a good idea to help it cook faster or evenly, do not press the pancakes down with a spatula. All that does is flatten it.
Serving a crowd + Storing LEftovers
Cooking and serving 2-3 large hot pancakes per person can become quite the task. One way to help is to use a large electric skillet. You can make 2-3x more at a time than you can using a skillet on the stove.
Another tip is to start cooking the pancakes about 20 minutes before you need to serve them. You can place the pancakes in a warm (200°F) oven to keep them warm. Be sure you don't cover them with foil otherwise they will become soggy.
Making the batter ahead of time or storing extra batter: Pancake batter can be stored in the fridge for up to 2 days. Simply mix the batter and place a piece of plastic wrap over the top of the bowl. Remix before pouring. Test out 1 pancake. If it does not rise well add a bit more leavening agent. Depending on the recipe it will most likely be the baking powder or soda.
Storing Pancakes: Leftover pancakes are great to pop in the microwave or toaster for a quick breakfast. Place them in an airtight container and they can last for 3-4 days in the fridge. I also have a great post on How to Freeze Pancakes.
BEST Pancakes
We have a lot of favorite pancake recipes in our house (as you can tell by the amount of pancake variations)! But these ones are by far the BEST!
---
Easy Pancakes
Pancakes by nature are easy! However, these recipes are especially easy because they're a basic pancake with only one or two simple additions, like chocolate chips.
I also included our German Pancake recipe—it only takes minutes to prepare and feeds a crowd!
---
Healthy Pancakes
This list of pancakes includes recipes with added protein, oats, and yogurt. You can make any pancake recipe a little healthier by using whole wheat flour instead of white, or coconut oil for butter!
---
Fruit Pancakes
Adding a little bit of fresh fruit to your pancakes can really take it up a notch! Plus it's a great way to get the kiddos to eat some more fruit.
Be sure to check out all of our Breakfast Recipes.
For more collections: Easy Breakfast Ideas, Egg Recipes, Breakfast Casserole Recipes