Whether you are looking for a classic waffle or something fun and different we have you covered with this collection of Waffle Recipes!
More Collections: Breakfast Smoothies, Muffin Recipes, Breakfast Egg Recipes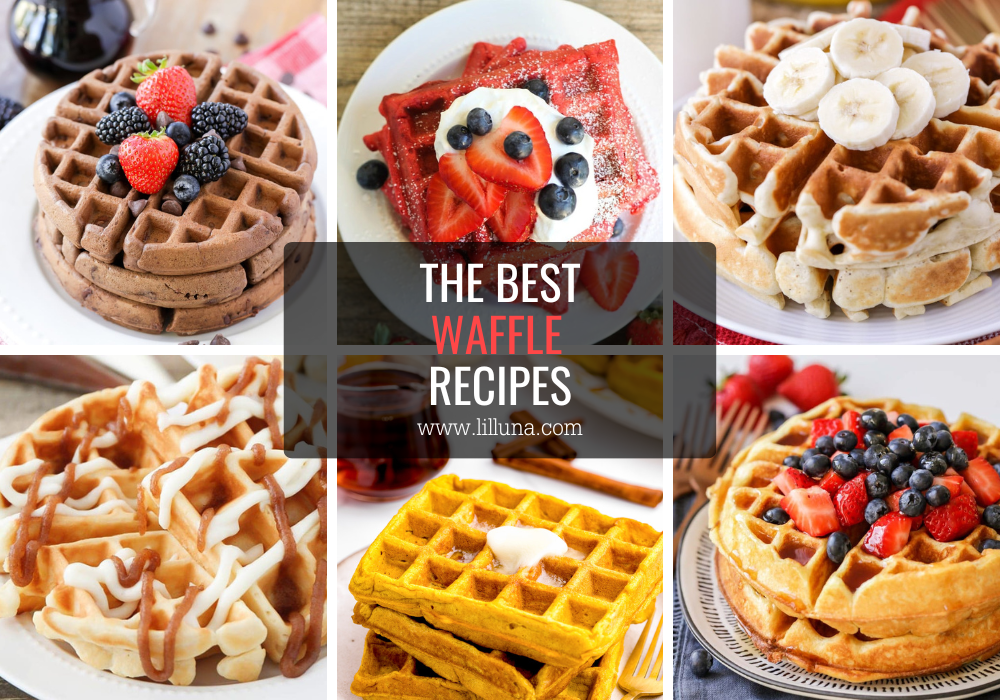 All the waffle love!
Waffles are one of my favorite breakfast foods to make. The waffle iron pretty much does all the work. I just wait until the "ready light" turns on and I've got a perfectly cooked and delicious dish.
Those golden crannies are the perfect place to hold all kinds of delicious toppings. We especially love Homemade Buttermilk Syrup!!
Pile the toppings high on any of these utterly delicious waffle recipes, they are all to die for! From Belgian, to chocolate, to red velvet waffles, you're sure to find some new favorites in this collection!
Before I share all of my favorite waffle recipes, I do have some tips to ensure you can all make perfect waffles!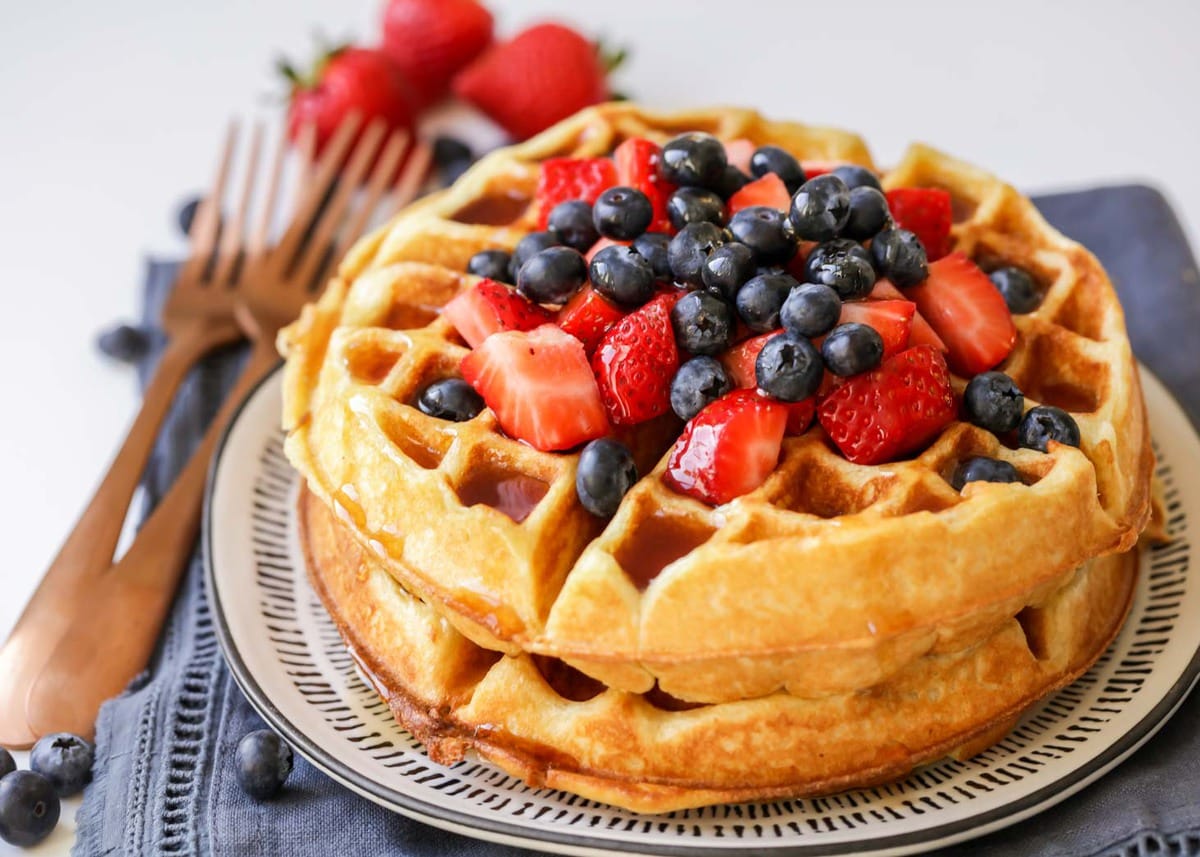 Different Types of WAffles
Fluffy waffles. Dare I say fluffy waffles are the best waffles? Here are some tips for getting them perfectly fluffy:
Don't over-mix. In a separate mixing bowl, sift together the dry ingredients (flour, salt, baking powder, baking soda) before adding them to the milk mixture to help ensure all the ingredients are properly distributed without overmixing.
Allow the batter to sit for about 5 minutes before pouring.
Separate the egg yolks from the egg white. Mix the yolks into the batter. In a separate bowl, whisk the whites until stiff peaks form, then FOLD it into the batter.
Don't stack waffles on top of each other. The waffles underneath become soggy.
Savory waffles. There is a children's book, Everything on a Waffle, whose title holds true. Not only can you serve sweet waffles, but savory waffles are equally delicious.
Make fried chicken for Chicken and Waffles.
Top with sausage gravy.
Add salty bacon bits to balance out the sweet syrup.
Sprinkle with shredded cheese and top with a sunnyside-up egg.
Use mini waffles to make a breakfast sandwich with a fried egg and ham in the middle.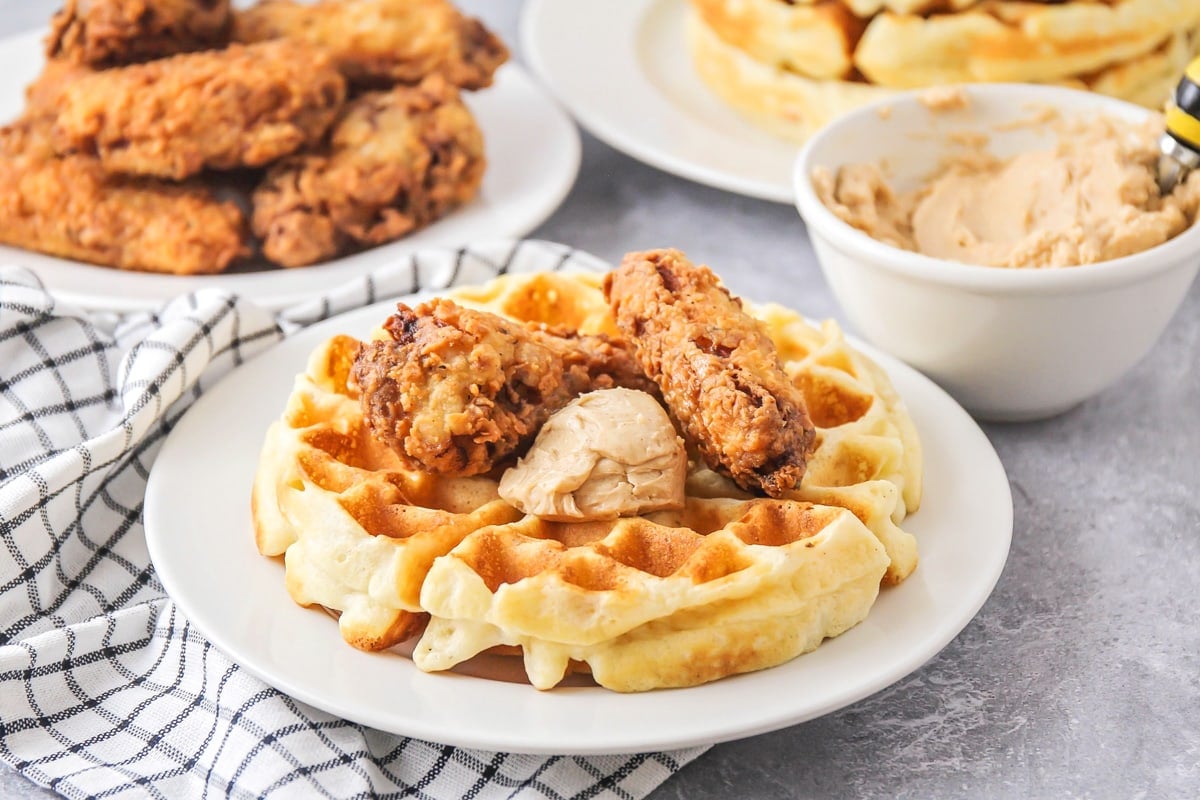 Waffle Iron 101
Don't overfill the waffle iron.
Don't peek. If your waffle iron doesn't have a timer you can know the waffle is done when it stops steaming.
Don't use metal utensils to remove the waffles as they can chip the coating on the waffle maker.
Oil the waffle iron especially when using an older iron. Butter, cooking oil, or cooking spray work well and keep the waffles from sticking to the iron.
Standard waffles vs Belgian waffles. Standard waffles often call for buttermilk, use a waffle iron with shallow pockets, and yield a denser cake-like texture. A Belgian waffle maker has deeper pockets which help the recipe ingredients become airy on the inside and crisp on the outside.
To use a regular waffle recipe in a Belgian waffle maker, beat the egg whites separately as well as add a tidbit more baking soda or powder.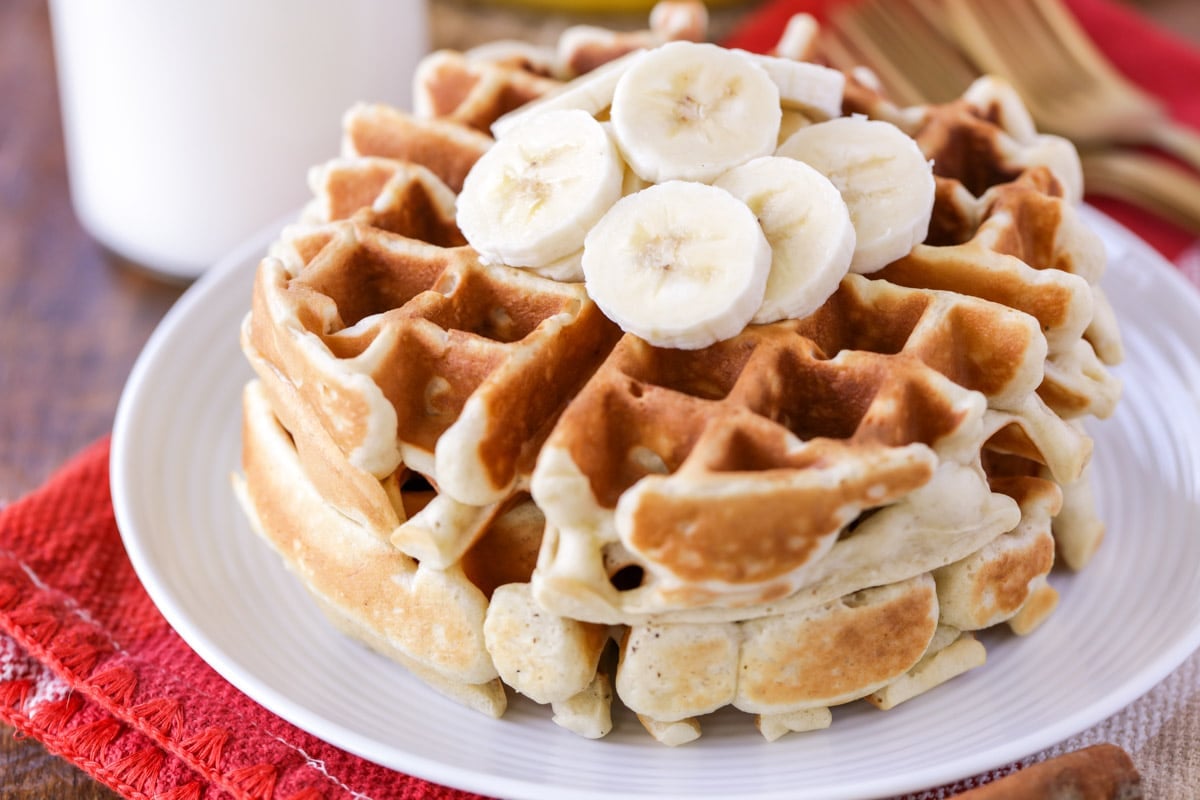 Waffle Ingredient Tips
Buttermilk. Many waffle recipes call for buttermilk. Easily make your own. My favorite way is to add 1 tbsp of vinegar to a 1-cup measuring cup. Fill the cup up the rest of the way with milk. Let it stand for 5-10 minutes.
This post on How to make Buttermilk gives other ways to make this substitute.
Use pancake mix for waffles. Pancake batter is formulated a little differently than waffle batter. However, with a little extra oil, turn the pancake mix into a batter that can be cooked on a waffle iron. For every cup of dry mix, add 2 extra tablespoons of oil.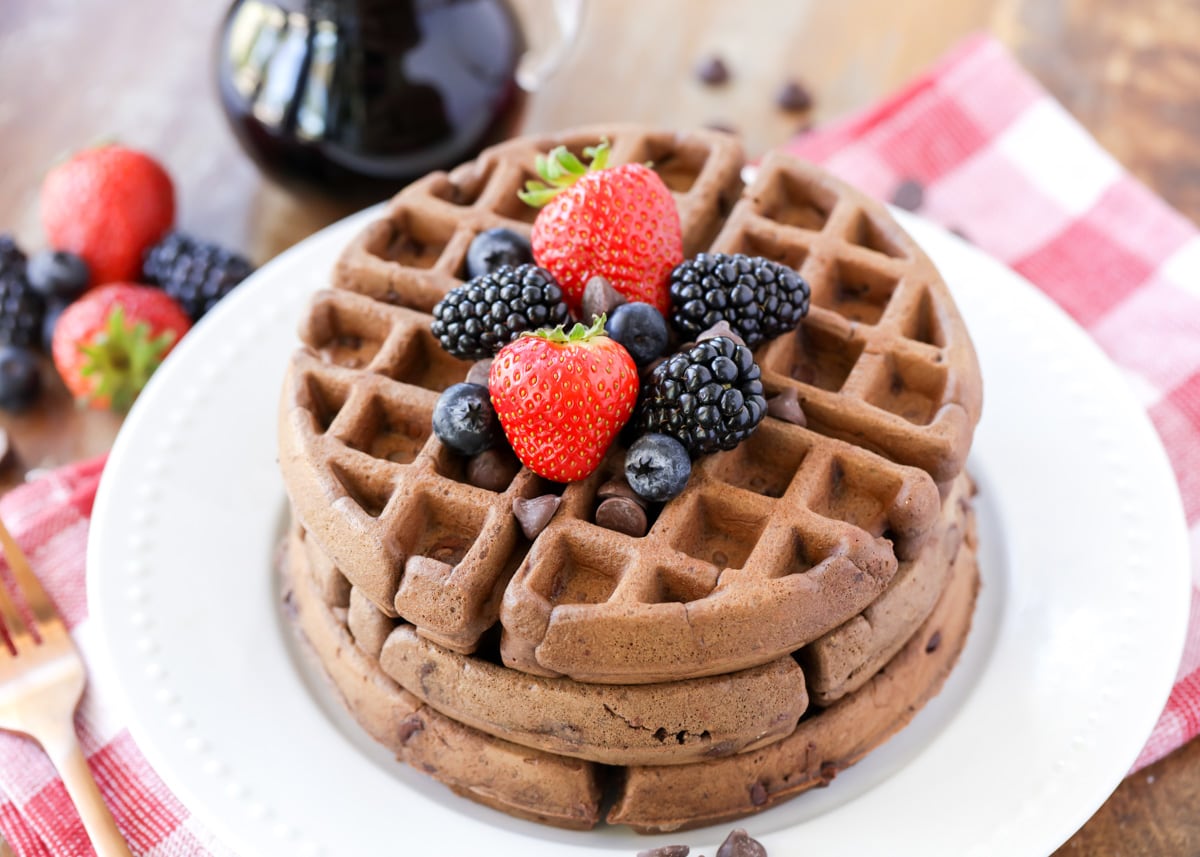 Have fun and change them up
Easily change up your favorite waffles by adding sprinkles, mini chocolate, or food coloring to the batter, or buy waffle irons with different shapes.
Another way to have fun is to change up the toppings. The traditional butter and maple syrup are classically delicious but it's fun to try some other yummy ideas such as:
Powdered sugar
Nutella
Fresh berries/fruit
Jam
Peanut Butter
Honey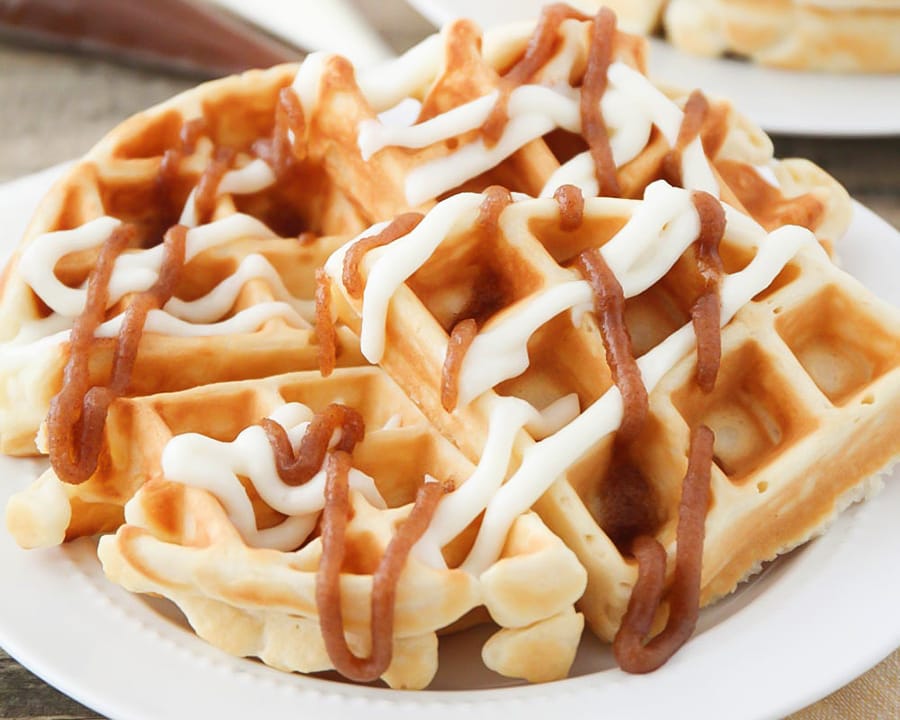 Making waffles for a crowd
If you're planning to make waffles for a crowd you'll need to know two things:
How much to make: I have found that 1½ waffles for adults and 1 waffle for children is just about right.
How to keep them warm: Preheat the oven to 200°F. As the waffles finish cooking, place them in a single layer on a baking sheet in the oven. They should be able to keep for about 30 minutes before drying out.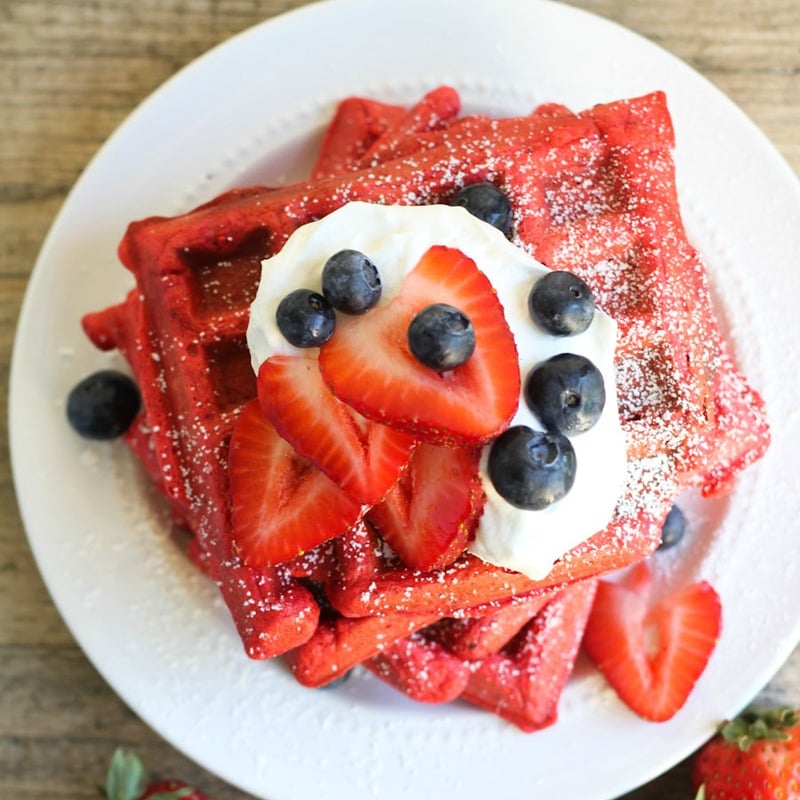 Leftover Waffles
STORE batter. Refrigerate the batter in an airtight container for 1-2 days. Mix it up before using it and make a test waffle. If it doesn't fluff up, add just a tidbit more baking powder or soda.
STORE leftover waffles. I often will double the waffle recipe just so I can have enough leftovers to pull out on a busy morning.
Counter: Store the waffles in an airtight container for 1-2 days.
Refrigerator: Place leftovers in a container and store for 3-4 days.
Freezer: Flash freeze by lining the waffles up in a single layer on a cookie sheet. Freeze for about 2 hours, or until solid. Transfer to a Freezer Ziploc. For best results use within 1-2 months.
To reheat. Easily reheat the waffles in a toaster or toaster oven for a crips waffle. Heat them up in the oven. Preheat the oven to 300°F, spread the waffles in a single layer on a baking sheet, and heat for 5-10 minutes or until hot. If you're in a hurry, use a microwave.
---
Our Favorite Waffle Recipes
We love a good waffle. They are delicious and can take on so many tasty flavor profiles. Enjoy this list of our favorites!
1. Red Velvet Waffles
Delicious Red Velvet Waffles made from scratch and topped with berries and syrup – the perfect breakfast recipe!
2. Crispy Waffles
Whip up our family-favorite, perfectly Crispy Waffles every time with this simple extra step! They are utterly delicious.
3. Buttermilk Waffles
There's nothing better than big, fluffy Buttermilk Waffles first thing in the morning! This will be your new favorite breakfast recipe!!
4. Banana Waffles
Banana Waffles are filled with fresh banana puree for a naturally sweet flavor. This kid-friendly breakfast whips up in only 15 minutes!!
5. Pumpkin Waffles
Pumpkin Waffles are the most flavorful and fluffy waffles! Serve them with syrup or a scoop of vanilla ice cream for a delicious treat.
6. Cinnamon Roll Waffles
Cinnamon Roll Waffles – crisp, buttery, tender waffles, topped with an amazing combination of sweetened cream cheese and a cinnamon brown sugar topping.
7. Belgian Waffles
Crisp, fluffy Belgian Waffles are an easy way to start your day with a smile. They will be your go-to homemade waffles – I promise!
8. Chocolate Waffles
Fresh-made Chocolate Waffles are decadent, delicious and whip up in minutes!! They are the perfect start to your day, or a sweet dessert.
9. Chicken and Waffles
No need to count calories with these Chicken and Waffles, this sweet and salty classic is worth every bite!
Bisquick Waffle Recipe
Quick and easy Bisquick waffle recipe uses a shortcut on a breakfast favorite, but doesn't skimp on flavor!
---
The Perfect Pair
With such a fun variety of waffles to choose from, you're sure to find some new favorites!
And of course, we can't forget to call out our favorite homemade Buttermilk Syrup recipe too! It pairs perfectly with any and all of these reicpes!
More Collections: Easy Breakfast Ideas, Breakfast For Dinner, Breakfast Casserole Recipes