Easy and delicious Leftover Turkey Recipes are perfect for using up leftovers from your Thanksgiving feast! From casseroles to soups, we have a bit of everything.
Turkey Leftovers
We know there tends to be a lot of food at Thanksgiving dinner, and if your family is anything like ours, we tend to have lots of leftovers.
We hate seeing it go to waste, so we usually add our leftover tags, and divvy it among friends and family to take home. One thing we almost always have leftovers of is TURKEY!
You could easy whip up a pan of leftover turkey enchiladas or leftover Turkey Chili with chunks of turkey instead of ground meat. We even like to make a turkey gravy and pour it over egg noodles, like a stroganoff.
Tacos, curries, or turkey salad are also great ways to use up those juicy chunks.
From leftover turkey sandwiches to leftover turkey casserole, these recipes are simple, and a great way to use up that leftover bird!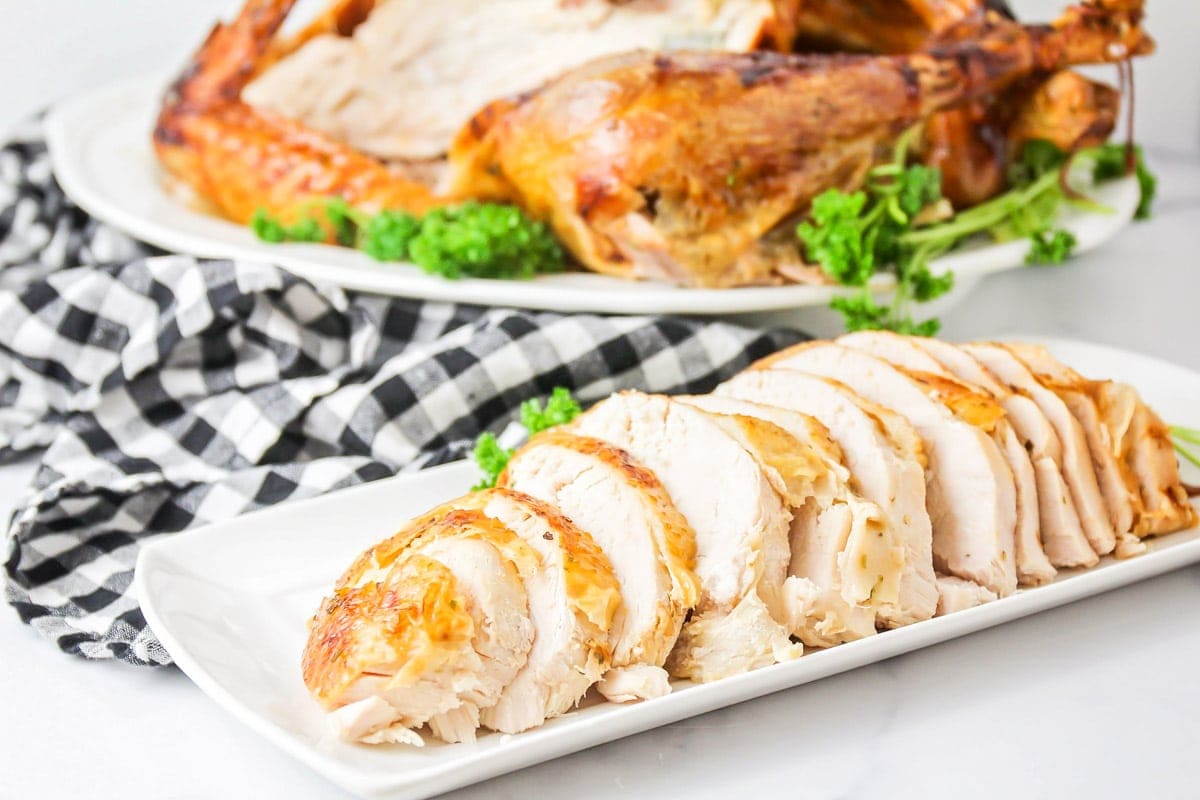 Don't toss the turkey bones
The carcass, basically the rib cage, is what is left over after carving your turkey. This is perfect for making a nutritious turkey broth.
Bone broth can be used whether a recipe calls for broth, stock, or bone broth – most often in soups. Making your own bone broth is actually really easy and will fill your home with rich, flavorful aromas.
PREP. Once you have removed the meat from the turkey, break up the carcass so it can fit into a large stockpot. The bones can still have some meat and connective tissues on them, it only adds to the nutrients and flavor.
BOIL. Add cold filtered water to the pot until it just covers the carcass. Bring to a boil. Remove any film that forms on the top of the water, then reduce the heat and simmer for about 30 minutes.
ADD AROMATICS. I like to use: 1 onion (quartered),1 peeled carrot (chopped into 1 inch pieces), stalk of celery (chopped into 1 inch pieces), 1-2 whole mushrooms, and herbs.
Since you will be periodically skimming film off the surface, tie the herbs together. For fresh herbs: bundle and tie with twine. For dried herbs: wrap in cheesecloth, then tie closed with twine. Use your favorite herbs, but common ones include: parsley, thyme, bay leaf, and garlic.
SIMMER. Keep uncovered and simmer for 3 hours. Periodically check on the soup and skim off any film.
STRAIN the broth through a mesh sieve. Repeat until the broth is clear and free of any bone fragments, vegetables, and herbs.
STORE. Keep homemade bone broth in the fridge for up to a week. Freeze it, in ½ cup portions, for up to 12 months. Be sure to use airtight and freezer safe containers.
Storing Leftover thanksgiving Turkey
When carving a turkey to serve, you usually remove it in large sections. You typically end up with drumsticks, breasts, wings, and thighs. Whatever is not eaten can be stored for later.
We recommend storing turkey sliced, wrapped in foil, then placed in a container/bag (if in the freezer – a freezer safe container/bag).
If stored in the FRIDGE, it can last for 3-4 days.
If stored in the FREEZER, it can last for 2-3 months.
Reheat leftover turkey meat. The microwave is definitely handy when you're in a hurry, but can dry out the meat, and make it a bit rubbery.
The best way to reheat the turkey, so it's moist and flavorful, is in the oven. Preheat the oven to 300°F. Place the turkey, along with a bit of broth or water, into a baking dish. Cover it with foil and bake for 20-30 minutes, or until heated through.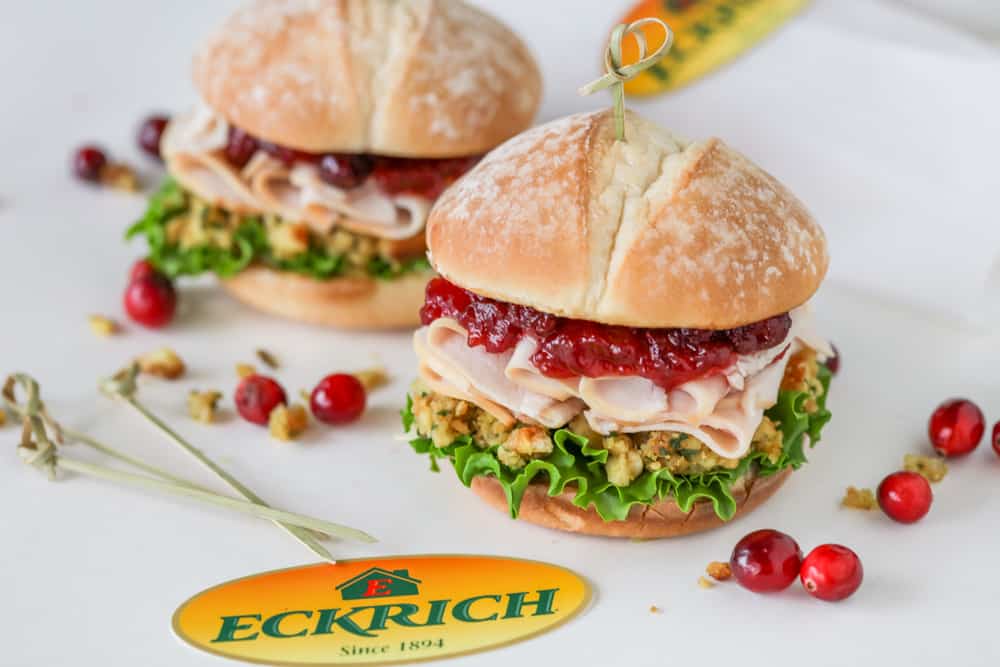 The classic turkey sandwich
One of the best things about the Turkey dinner is the Thanksgiving leftovers! During all our Black Friday shopping, we love to stop back at home and make delicious Turkey Sandwiches.
In fact, we purposefully buy buns ahead of time just to make sandwiches, but you can also use leftover Rolls or regular Sandwich Bread.
Add your favorite sandwich fixings like lettuce, tomato, onions, peppers, and avocado. You can also add leftover Stuffing, Cranberry Sauce, or even gravy to the sandwich, like in this Turkey Cranberry Sandwich recipe.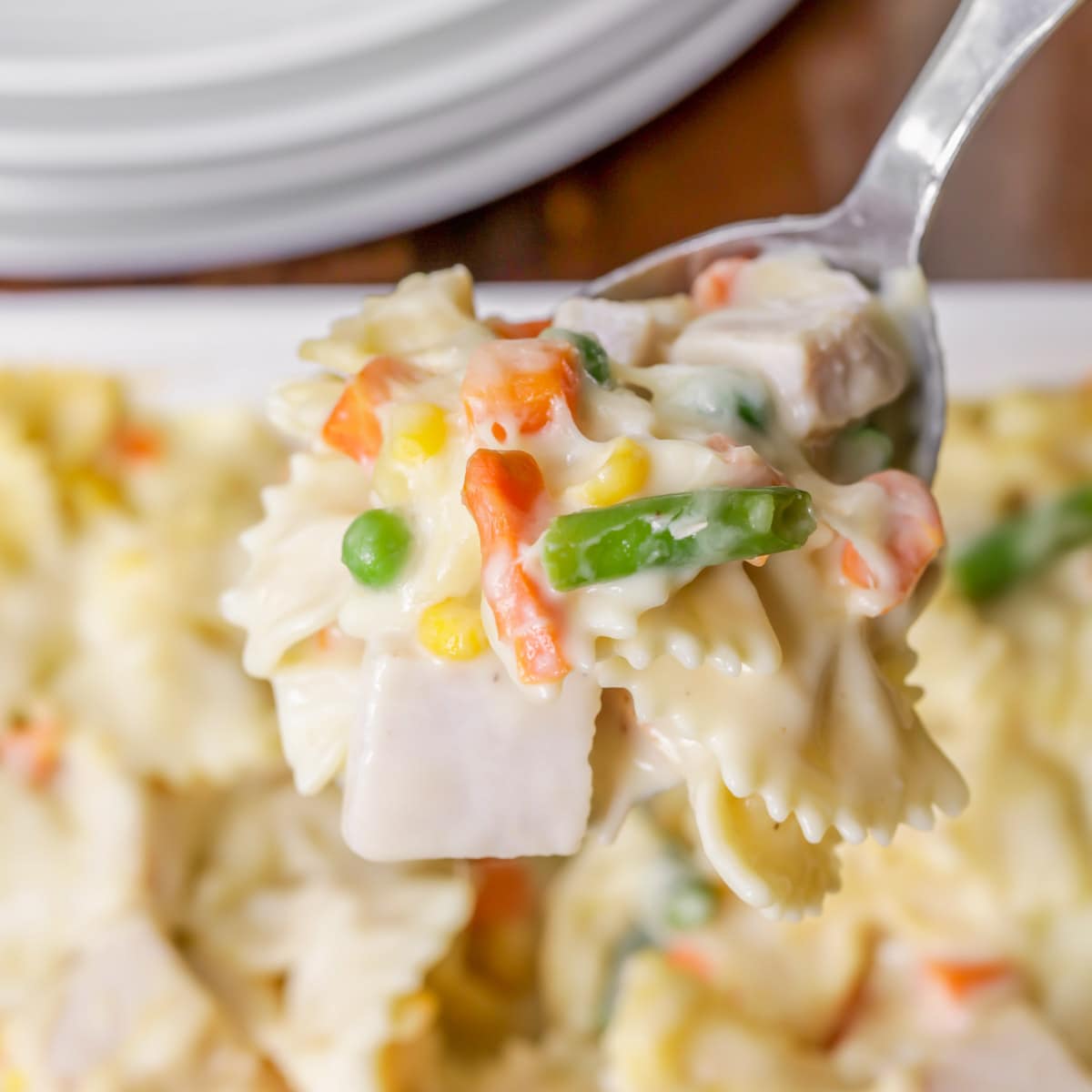 recipes with leftover turkey
The options for using up turkey leftovers are endless, really! We love to use them in all sorts of recipes, but we are going to break it down for you.
First, we will share recipes that are made with turkey, and are great made with leftover turkey. Second, we will share more recipes that are made with other meats, but that can be subbed with turkey very easily.
Bottom line – all delicious – all simple!
Creamy Turkey And Noodles – Warm and cozy creamy turkey and noodles is a simple dish perfect for dinner any night, especially the day after Thanksgiving!
Thanksgiving Leftover Casserole – Stuffing, turkey, and mashed potatoes come together to make this hearty Thanksgiving Leftover Casserole. It's the best way to enjoy Turkey Day leftovers!
Monte Cristo Sandwich – Copycat Disneyland's Monte Cristo Sandwiches! Yummy swiss cheese, turkey, ham on white bread, fried & topped with powdered sugar!
Turkey Noodle Soup – This hearty Leftover Turkey Soup recipe is flavorful and filled with rotini pasta, celery, carrots and turkey. It's perfect for fall!
Easy Turkey Tetrazzini – This creamy Turkey Tetrazzini is a simple and flavorful pasta casserole dish. It's perfect for using leftover holiday turkey, but makes for a crowd favorite year round!
Turkey Pot Pie – Our favorite Turkey Pot Pie is homey and delicious. The ultra-easy crust is made from biscuit mix and it's a recipe the whole family loves!
Turkey Cranberry Sandwich – A delicious and flavorful sandwich made with Eckrich turkey, cranberry sauce and stuffing. It's a great way to use leftover food from the holidays and an easy recipe that can be made into a meal or appetizer.
Flatout Wraps – If you're in need of a light and easy meal, try the BLT wrap or Turkey Bacon Ranch wrap! Both are under 300 calories and Weight Watchers approved!
Monte Cristo Sliders Recipe – Sweet and salty Monte Cristo Sliders are the ultimate party food!! Just like their name-sake, but as an appetizer.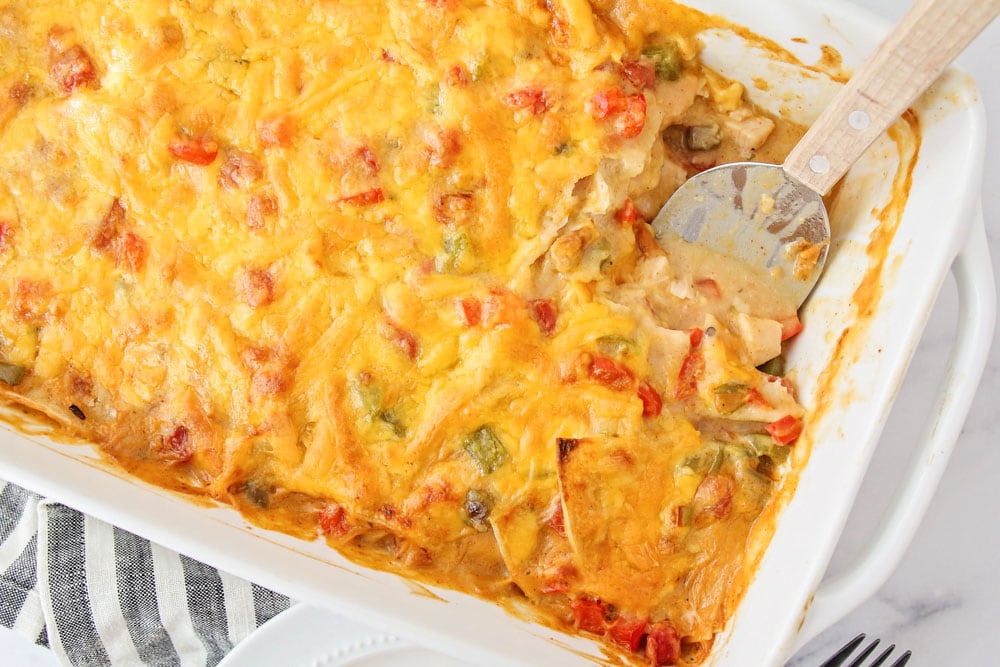 substitute leftover turkey in these recipes
We love chicken, and we have LOADS of recipes with it. Having said that, all of these recipes would still be delicious if subbed with turkey instead!
Give them a go, and let us know what you think. We have it included classic dinner ideas as well as soups.
King Ranch Chicken Casserole – King Ranch Chicken Casserole is creamy, cheesy, and bursting with spicy flavors. This delicious casserole is basically a Texan lasagna and is favorite family dinner recipe.
Chicken Spaghetti – A new twist on your favorite pasta dinner! This easy recipe calls for chicken, spaghetti noodles, cream of chicken, salsa, sour cream and cheese, making it the epitome of comfort food.
Chicken Bacon Ranch Casserole – Creamy and hearty Chicken Bacon Ranch Casserole is the best way to beat the weeknight rush! It's easy to make, and filled with pasta, chicken, bacon, and creamy alfredo sauce.
Creamy Chicken Orzo – This Creamy Chicken Orzo is made with simple ingredients and can be on your table in 30 minutes. It's a meal the whole family will love!
Chicken And Dumpling Casserole – This Chicken and Dumpling Casserole is comfort food made easy. Canned biscuits and cream of chicken soup help speed up this hearty casserole.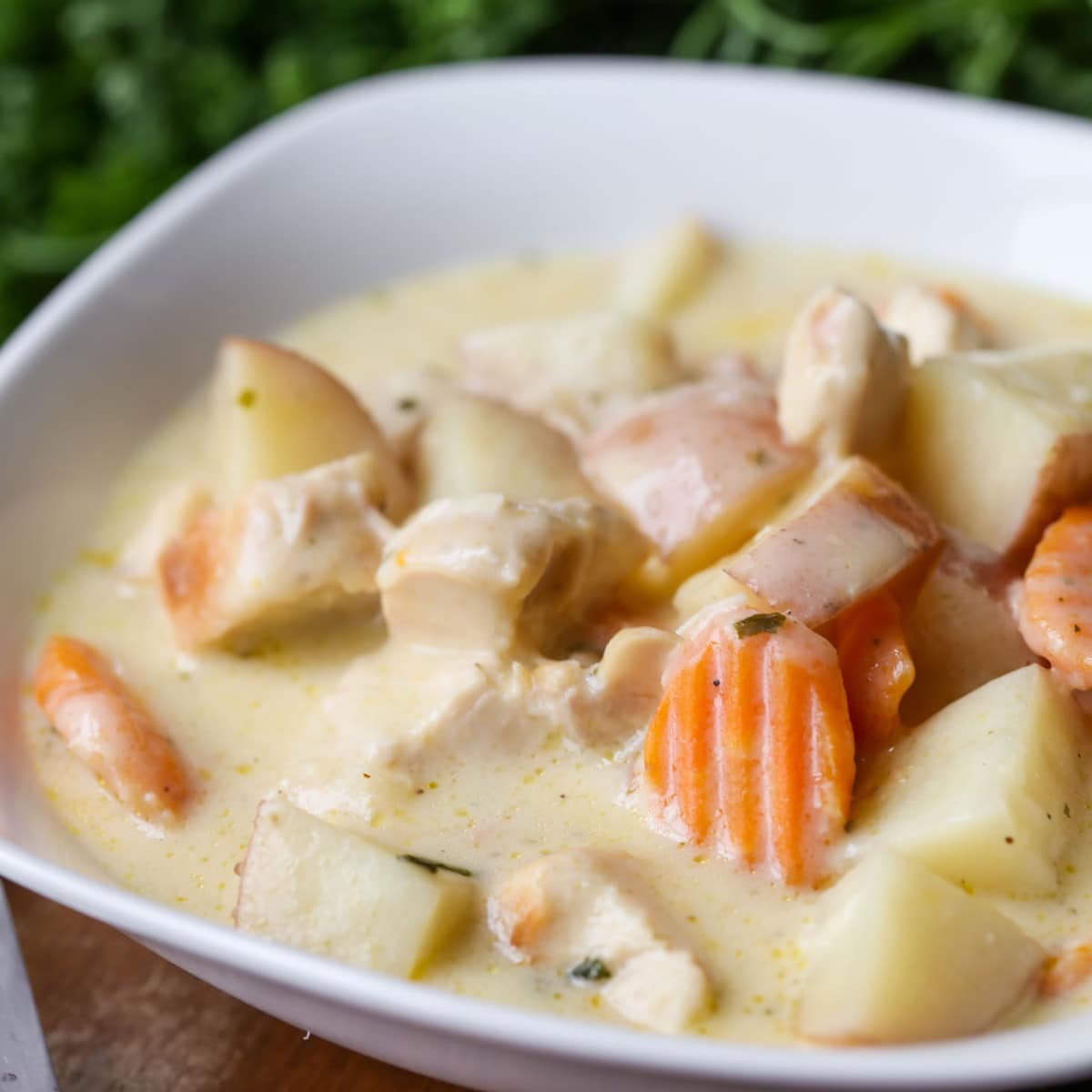 Crock Pot Chicken Stew – A simple, convenient, and TASTY stew recipe made in the crock pot! Made with chicken, potatoes, carrots, cream of chicken soup, sour cream, ranch dressing mix and more, this Slow Cooker Chicken Stew recipe is BURSTING with flavor!!
Chicken Stuffing Casserole – Savory and filling Chicken Stuffing Casserole is perfect for feeding a family and only takes 15 minutes of prep time!!
Crescent Roll Chicken Bundles – Shredded chicken mixed with cream cheese, Italian dressing mix, and cream of chicken rolled into buttery crescent dough! These flavorful Chicken Crescent Roll Bundles have become a family fave.
Chicken Alfredo Stuffed Shells – Chicken Alfredo Stuffed Shells are creamy, cheesy, and smothered in a rich homemade Alfredo sauce. They're so good, even the kids won't mind the spinach!
Easy Chicken Pot Pie – Make Turkey Pot Pie recipe filled with turkey, hard-boiled eggs, carrots and corn. The ultra-easy crust is made from biscuit mix. It's a recipe the whole family loves!
Chicken And Asparagus Pasta – This cheesy Chicken and Asparagus Pasta is one the whole family will love. It's flavorful and filled with everyone's favorite ingredients!!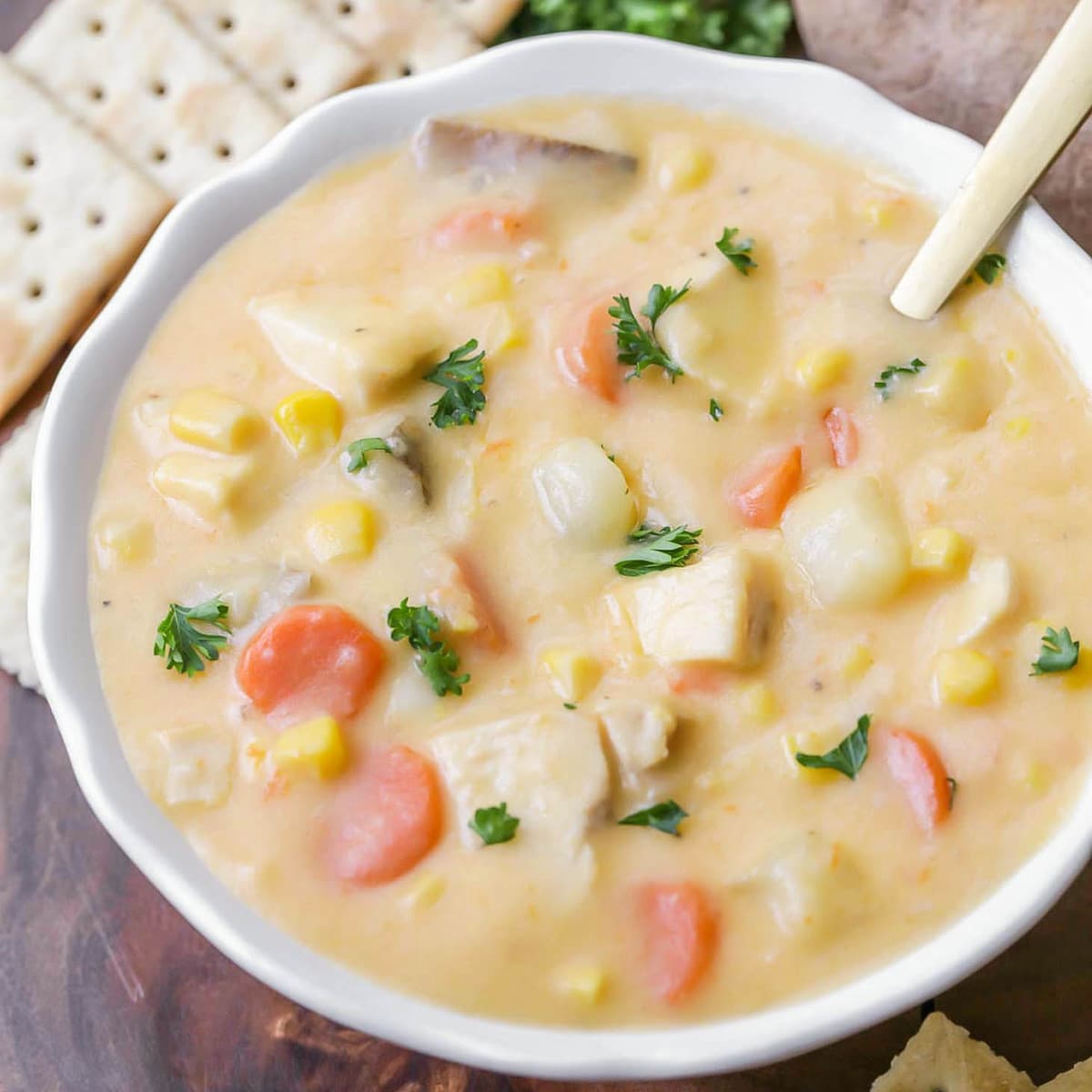 Chicken Corn Chowder – A hearty and delicious Chicken Corn Chowder filled with all the best ingredients – chicken, potatoes, corn, carrots, cheese and more! The whole family loves this thick and creamy chowder.
Chicken Wild Rice Soup – Such a tasty and simple recipe – this Chicken Wild Rice Soup is filled with long grain and wild rice, chicken, carrots, almonds and more!
Chicken Gnocchi Soup – This Chicken Gnocchi Soup is so hearty and so flavorful. It is filled with chicken, carrots, spinach, broccoli and gnocchi! It's perfect all year long and is bound to be a new favorite.
Lemon Chicken Orzo Soup – Bright and hearty homemade lemon chicken orzo soup is swimming in a flavorful broth. This lemon chicken orzo soup can't be beat.
Chicken Pot Pie Soup – This creamy, delicious Chicken Pot Pie Soup can be made on the stovetop or in a crock pot! It has all your favorite vegetables, big chunks of chicken, and even a delicious heart-shaped pie piece on top.
Chicken Dumpling Soup – Our all-time favorite version of one of the most classic soup recipes – Chicken and Dumplings! This simple, delicious soup is filled with chunks of chicken and pieces of biscuit, along with your favorite veggies!
Chicken Burrito Bowl – This Chicken burrito bowl is so easy and adaptable to your taste. It is a light, healthy, and filling meal great for lunch or dinner.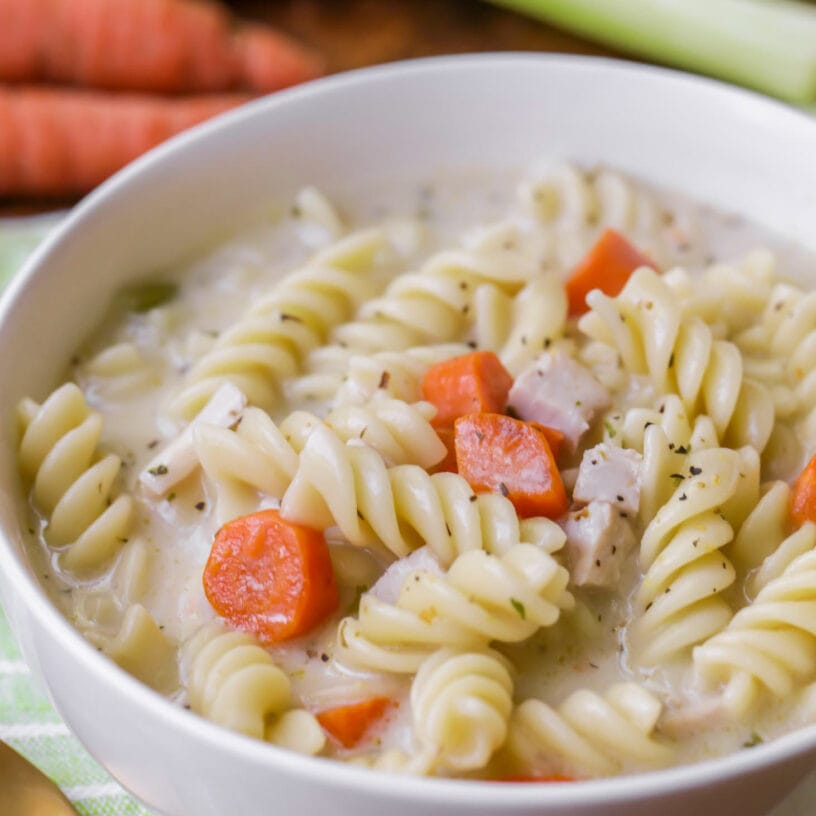 A Family Favorite!
One of our favorite things to make with leftover turkey is this Turkey Noodle Soup (another is our famous Turkey Soup).
Not only is it super simple, but it's delicious and hearty and perfect for the winter months.
Just chop a few cups of your leftover turkey and through it in this soup, and you're set!
We think the whole family will love this Turkey Noodle Soup recipe.
---
the complete list
Here are the picture cards for all of the fantastic Easy Leftover Turkey Recipes listed above.
These simple recipes will help you use up that leftover turkey without spending a lot of time in the kitchen! You're going to love them!
---
More Collections: Chicken Dinner Ideas, Easy Soup Recipes, Quick Dinner Ideas