A garlic butter pasta dish filled with green and red peppers, carrots, olives, cheese and parsley. It's so simple and so flavorful!
It's a copycat recipe of a NYC favorite dish, but this Garlic Butter Pasta has become a go-to dinner recipe. Not only is it simple, but it's flavorful and delicious and will become a classic just like our Fettuccine and Spaghetti recipes!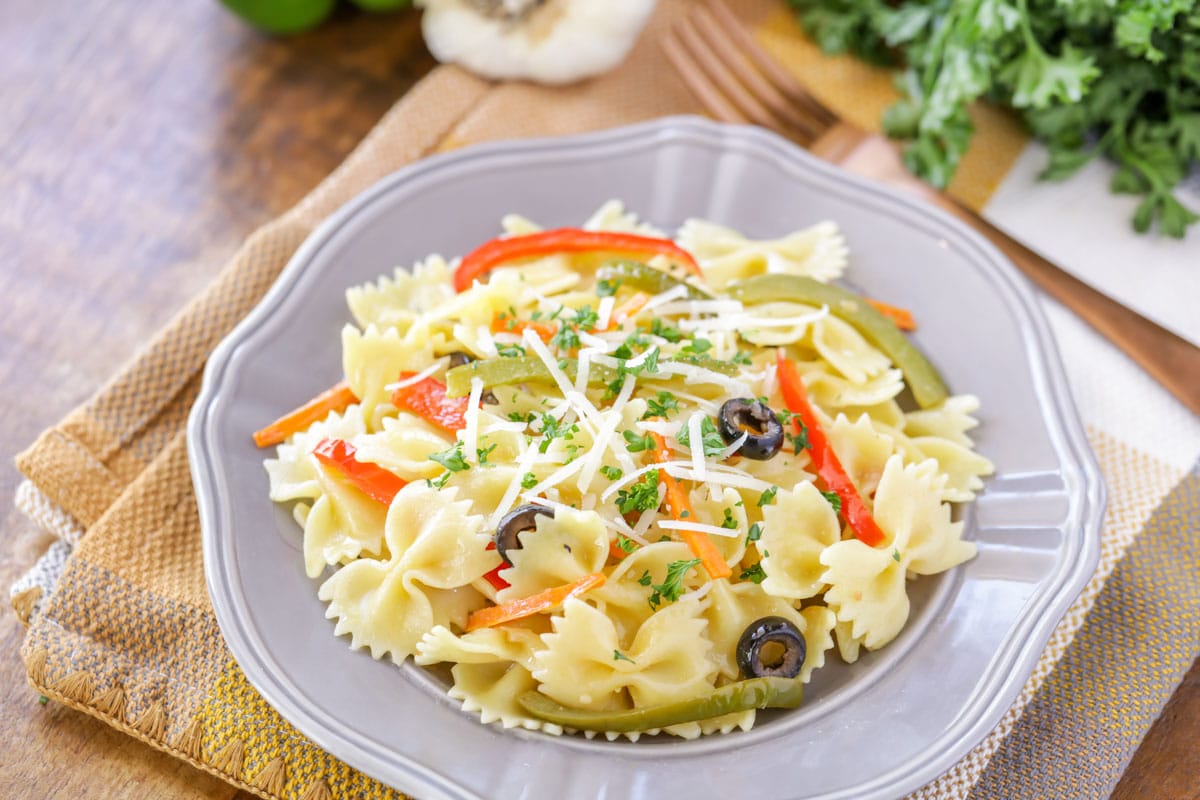 A New York City Favorite
I try not to order pasta too often when I go out to eat because most are smothered in a heavy cream sauce, and I feel over-full when I'm done. However, I always cave when I'm at Serendipity in New York City.
Every time I go, I HAVE to get the Madame Butterfly. It's the most delicious buttery pasta! I love it so much, I decided to make my own copycat recipe.
This Garlic Butter Pasta is filled with chunks of carrots, peppers, olives and topped with cheese and parsley. It seriously tastes just like the real thing!
I do hope that you can make it to NYC to try it at Serendipity!! Not only do they have this delicious pasta dish but they have the BEST Frozen Hot Cocoa (which I also made a copycat recipe for).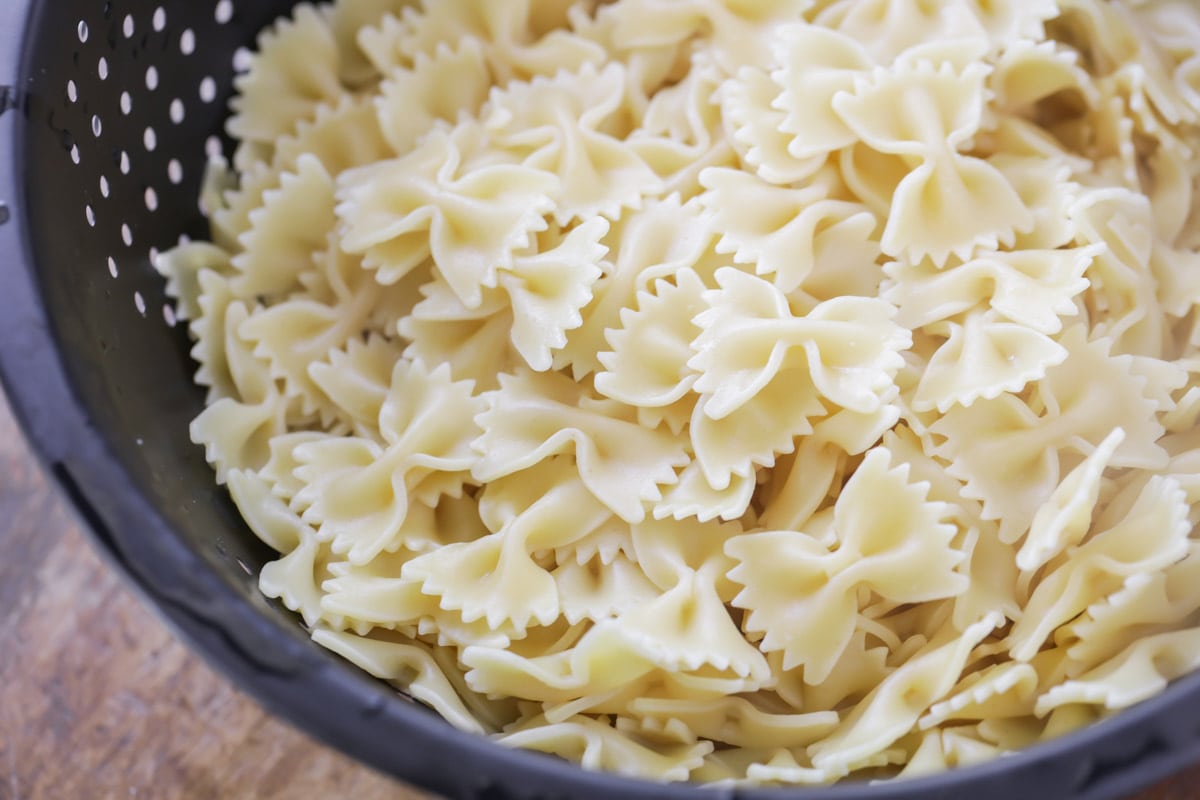 Simple sauce, big flavor
I know it sounds outrageously simple, but all this sauce requires is melted butter and freshly minced garlic! That's it.
You just add the butter and garlic to a pan, sauté the peppers and carrots, and then mix in the olives and cooked pasta. So easy!
I also top it with parmesan cheese and fresh parsley right before serving for a little extra flavor. Don't underestimate the big flavor this simple pasta dish contains!
And even though it is buttery, it feels a lot lighter than a cream based pasta sauce. See for yourself!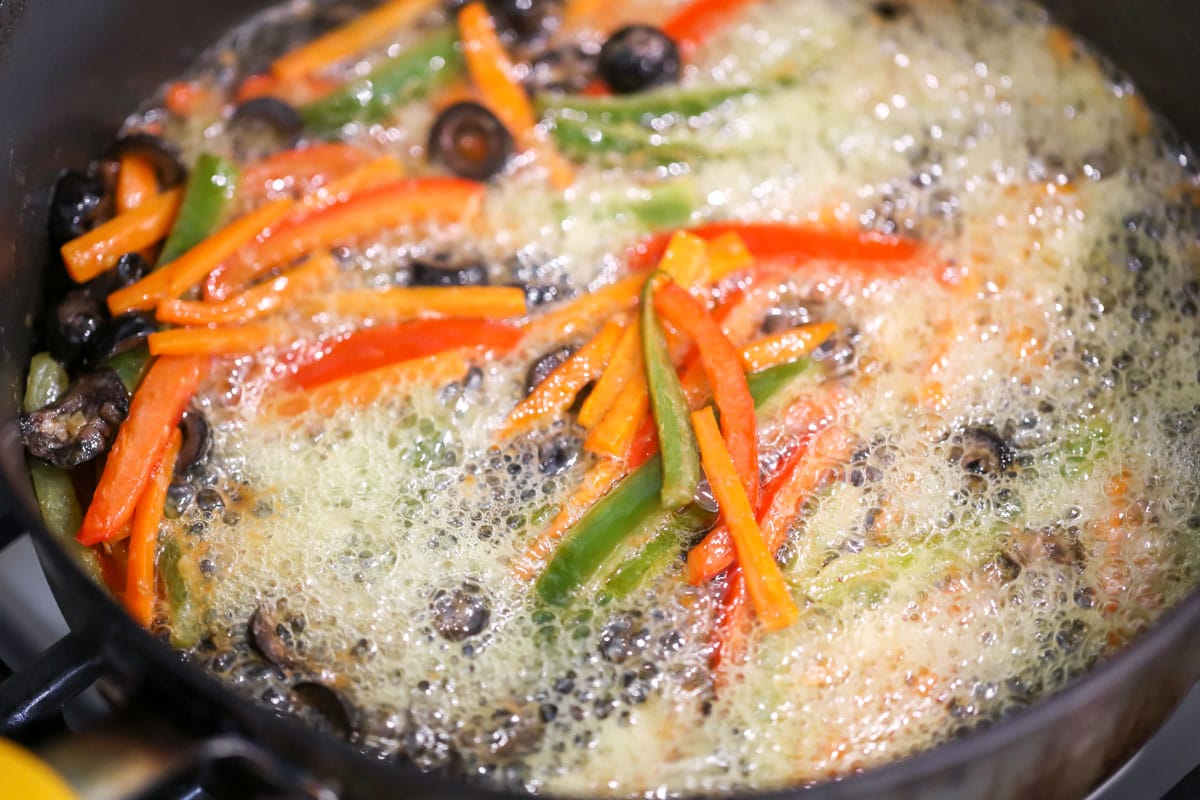 Tips for butter pasta:
More flavor. If you feel like you still want a little more flavor, try salting the noodles while they're boiling. To do this, 

add up to 1 tablespoon of salt per pound of pasta.

More filling. To make it even more filling, add some protein. Grilled chicken or shrimp would pair really nicely!
Storing leftovers. 

Leftovers can be refrigerated in an airtight container for up to 5 days. Reheat in the microwave or in a sauté pan on the stove.
This dish is seriously so simple, and I cannot wait to make it again!
SIDES. We love to serve it with some of these dies that pair nicely: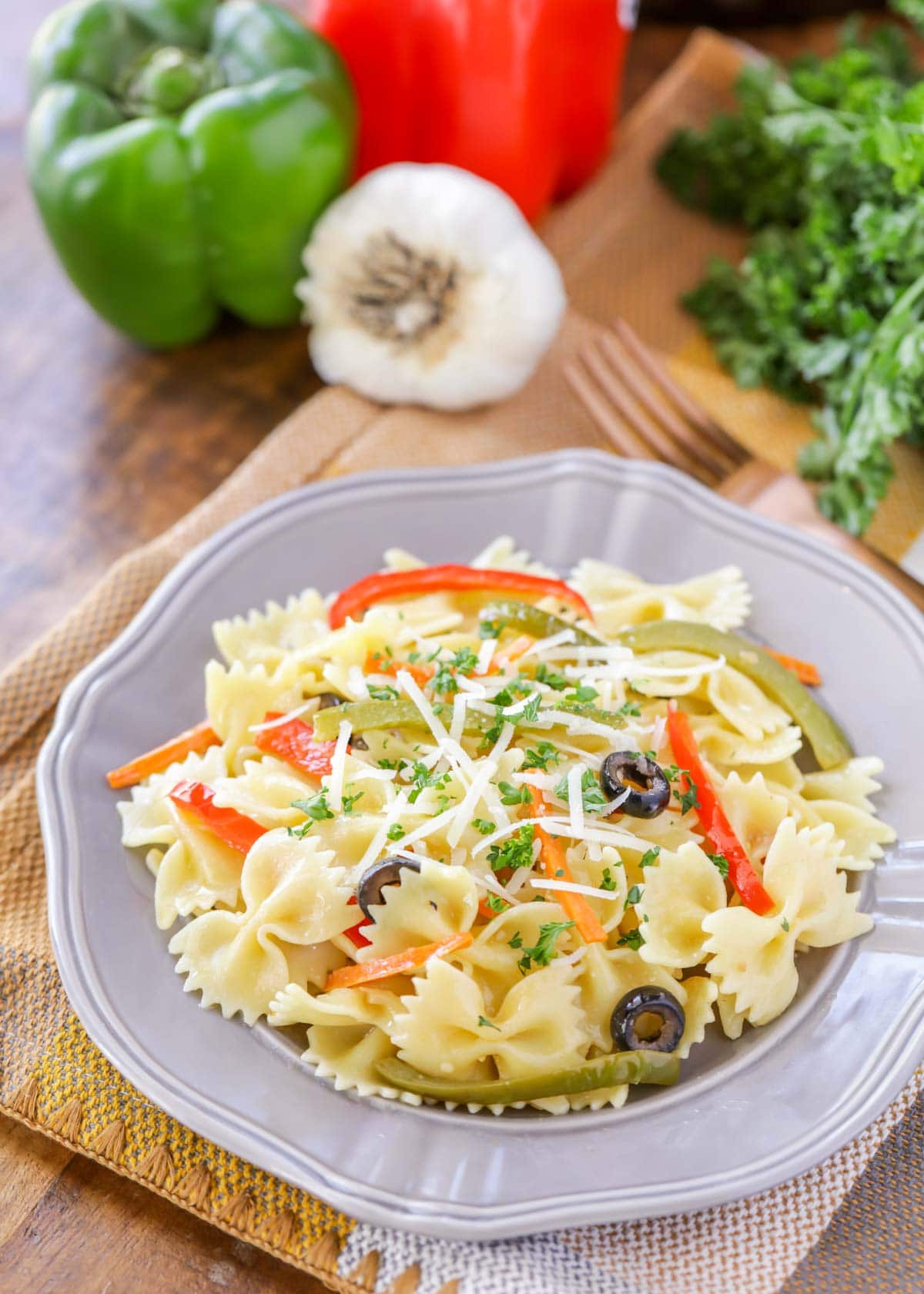 some more favorite pasta dishes:
Garlic Butter Pasta Recipe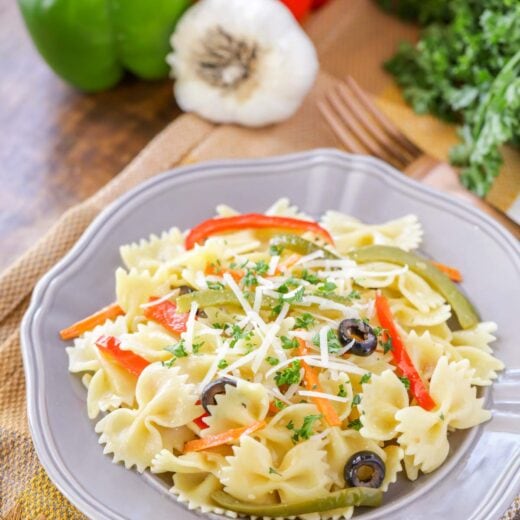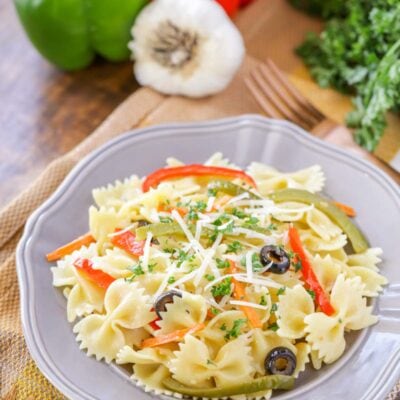 A garlic butter-y pasta dish filled with green and red peppers, carrots, olives, cheese and parsley. It's so simple and so flavorful!
Ingredients
16

oz

bowtie pasta

1/2-3/4

cup

butter,

unsalted

2

tsp

minced garlic

1/2

red bell pepper,

cut into strips

1/2

green bell pepper,

cut into strips

1/2

cup

olives,

diced

1/2

cup

baby carrots,

cut into srips

1/2-1

cup

parmesan cheese,

shredded

fresh parsely,

garnish

garlic salt,

with parsley flakes - to taste
Instructions
Cook pasta as directed on box.

While pasta is cooking, add butter, garlic, bell peppers and baby carrots to pan. Sautee for 8-10 minutes on low-medium heat. Add olives and cook an additional 2 minutes.

Drain pasta and add to veggie pan. Mix well until pasta is coated. Top with parsley and grated Parmesan cheese right before serving. ENJOY!