Penne is one of our favorite types of noodles to use in recipes. Whether it's a hot pasta dish, or a pasta salad, you'll love these Penne Pasta Recipes of all kinds!
More Collections: Easy Pasta Recipes, Chicken Pasta Recipes, Healthy Pasta Recipes, Vegetarian Pasta Recipes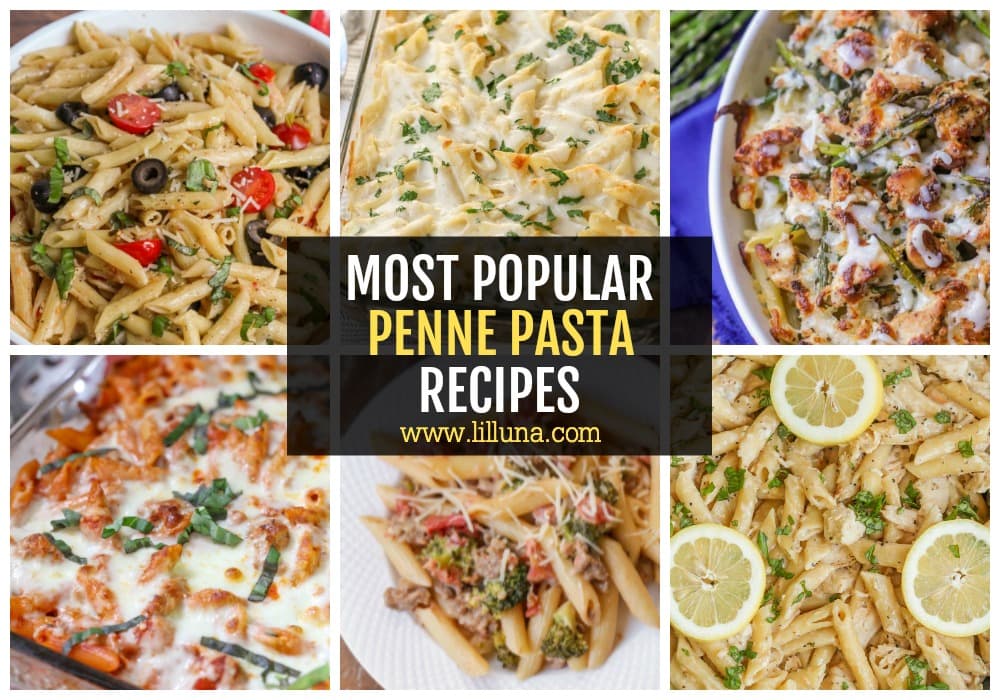 why we love penne pasta
Penne noodles are one of my favorite types of pasta to use!
I can cover them with a simple Marinara Sauce or use them to make a delicious Creamy Baked Penne Pasta – endless recipes and dinner ideas! I've gathered some of our favorite penne pasta recipes I know your family will love.
Penne pasta is particularly nice to use because its design invites a burst of flavor with every bite. The hollow tube shape allows the sauces and spices to seep into the center while the rigid texture helps coat the outside with delicious flavor.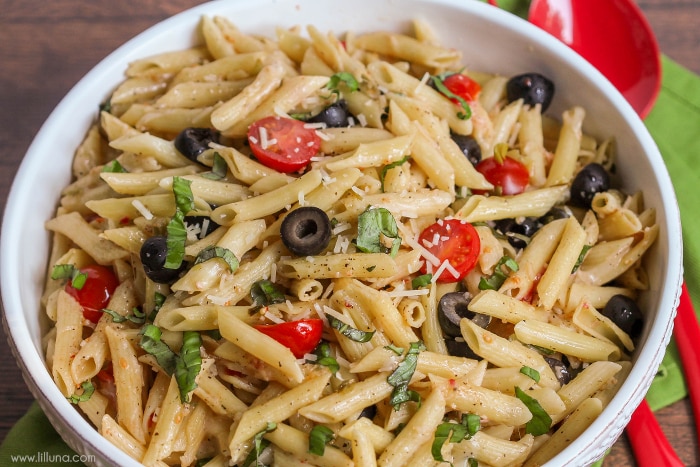 Tips for Using Penne Pasta
Store plain penne pasta: Once the pasta has been cooked and drained, you can add it to your recipe right away or store it to be used later. I do want to add that you should cook al dente. This will help keep the pasta from getting mushy when stored. Also, toss the pasta in olive oil to prevent the pieces from clumping together 
Store in an airtight container in the fridge for 1-2 days then use it in any of your favorite recipes. It's especially good in chilled pasta salads. 
You can also freeze the pasta. Place the penne in a single layer on a baking sheet. Freeze for 1-2 hours or until the pasta is solid. Transfer to a freezer safe container and freeze for 1-2 months. 
Storing cooked dishes: Most of these penne pasta dishes can be stored successfully in the fridge and freezer to be heated up and used on a busy day. See the individual posts for more information. 
Penne Substitutes: If you don't have penne pasta you can still make these yummy recipes simply replace the penne with a similarly sized pasta such as:
wagon wheel, shell, rigatoni, fusilli, ziti, bow tie
Favorite Penne Pasta Dishes
These penne pasta recipes have all kinds of different sauces, meats, and add-ins.
Use Penne Instead
These recipes are written using other pasta shapes, like bow tie pasta. However, you can easily substitute the pasta with penne pasta.