Penne is one of our favorite types of noodles to use in recipes. Whether it's a hot pasta dish, or a pasta salad, you'll love these Penne Pasta Recipes of all kinds!
More Collections: Easy Pasta Recipes, Chicken Pasta Recipes, Healthy Pasta Recipes, Vegetarian Pasta Recipes
why we love penne pasta
Penne noodles are one of my favorite types of pasta to use!
I can cover them with a simple Marinara Sauce or use them to make a delicious Creamy Baked Penne Pasta – endless recipes and dinner ideas! I've gathered some of our favorite penne pasta recipes I know your family will love.
Penne pasta is particularly nice to use because its design invites a burst of flavor with every bite. The hollow tube shape allows the sauces and spices to seep into the center while the rigid texture helps coat the outside with delicious flavor.
cooking Penne Pasta
Boiling Penne Pasta: A good guideline to follow is to boil 2 oz of dry penne per person. Once cooked it will equal about 1-1.25 cups of cooked pasta.
Fill a pot with water. Use 4 quarts of water for every pound of pasta. Add a lid and bring to a boil. (For added flavor, use chicken broth instead of water.)
Optional: Once the water is boiling you can choose to add salt. Add 1-2 tablespoon salt for every pound of pasta.
Add the penne to the boiling water. Boil, uncovered, until the desired tenderness. For al dente, boil for about 11 minutes. (See package directions for specific times) Stir occasionally. The best way to test for doneness is to bite into a piece.
Drain pasta in a colander. You can lightly rinse with water to keep the pasta from sticking to each other. Don't add olive oil as the oil will prevent sauces from sticking to the pasta.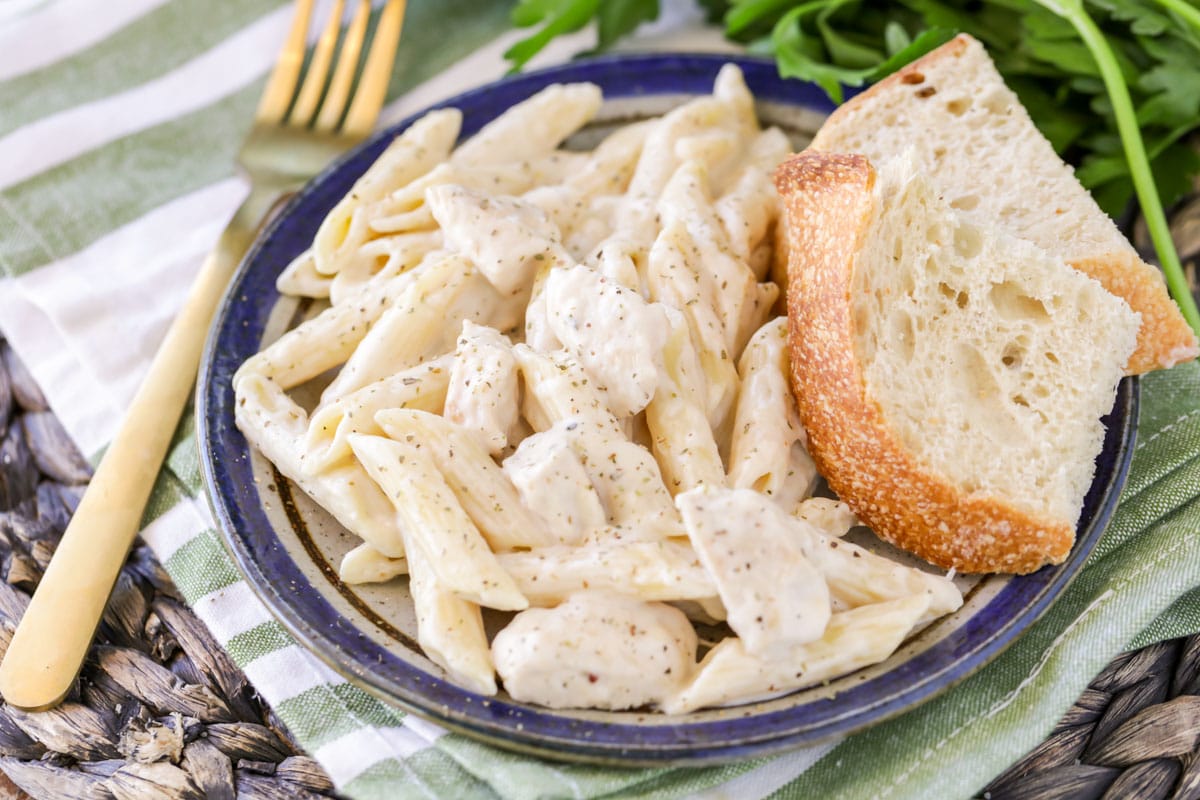 penne Pasta tips + variations
Penne Pasta Substitutes: The great thing about pasta is that pasta of similar size and shape can often and easily be interchangeable. So whether you're making a penne pasta and don't have penne, or another dish calling for a similar pasta but all you have is penne, you can still cook the recipe.
Any tube shaped pasta of similar size such as Mostaccioli, ziti, and rigatoni are the best substitutes. However, farfalle, fusilli, macaroni, rotini, and rotelle can work as well. Some of the following recipes can easily use penne pasta instead of what is listed:
Penne Pasta Dishes: Due to the shape penne pasta works well with cream sauces like alfredo and red sauces. It is often used to bake casseroles and in skillet recipes. Not only can you use different sauces, but many other ingredients taste great with this type of pasta as well.
Season with herbs and spices. Fresh parsley is a classic as is, Italian seasoning and garlic in any form.
You can easily add a little heat with red pepper flakes.
Ground beef, ground chicken and ground sausage taste great. Other proteins to add include cubed or grilled chicken, shrimp, bacon bits.
Cheese can be added to make the dish creamier or simply sprinkled on top for added flavor. Cheddar cheese, mozzarella cheese and parmesan cheese are all great choices.
Vegetables not only add flavor and texture, but can add color as well. Mushrooms, onion, asparagus, broccoli florets, bell peppers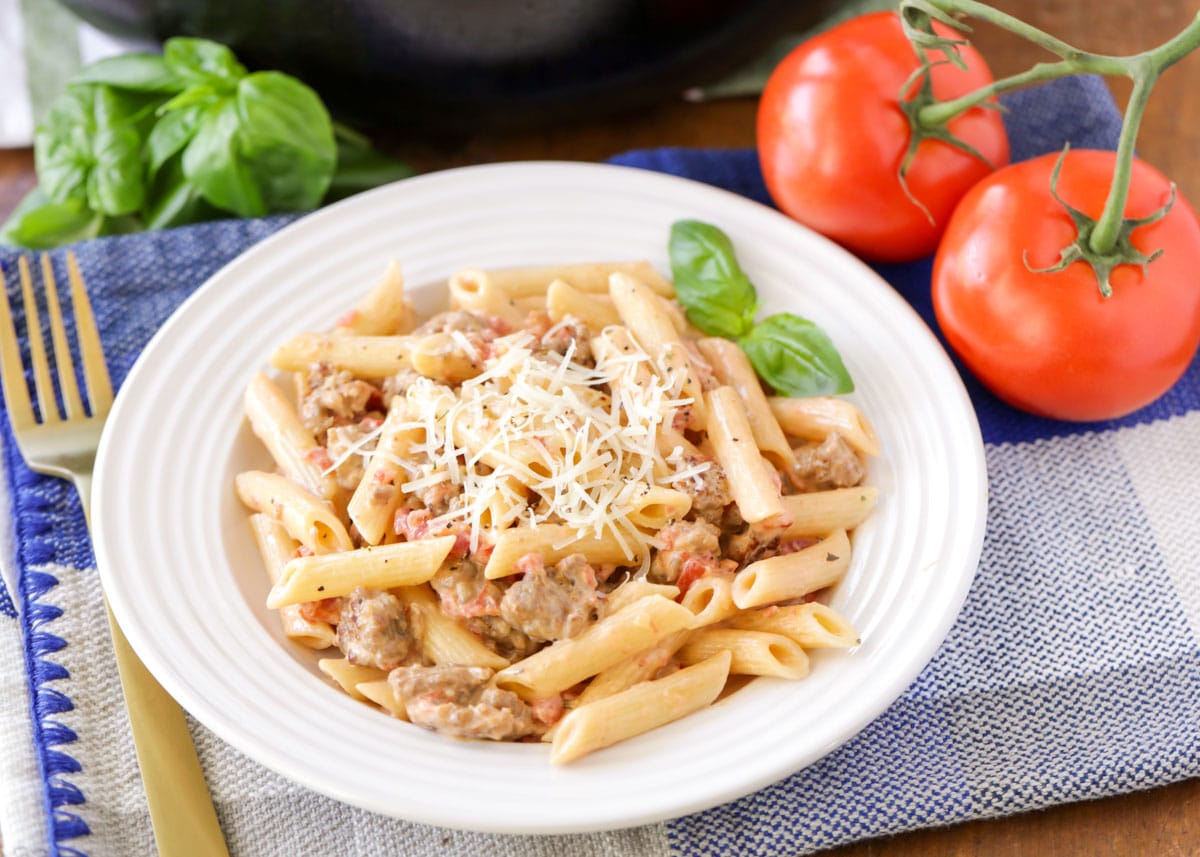 Tips for Serving and Storing
How to thicken Sauce: Depending on the type of sauce you are making may affect the thickening agent you use. Often you can simply increase one of the ingredients already in the recipe other times you can just add one of the following:
Roux: Scoop 1-2 tablespoons of the sauce into a separate bowl. Mix in an equal amount of flour until smooth. Pour the roux into the main dish and stir.
For creamy penne pasta, you can also add in cheese, cream cheese, tomato paste, or heavy cream.
Sides to serve with penne pasta dishes:
STORE. Once the pasta has been cooked and drained, you can add it to your recipe right away or store it to be used later. You should cook the pasta al dente. This will help keep the pasta from getting mushy when stored. Also, toss the pasta in olive oil to prevent the pieces from clumping together.
Store in an airtight container in the fridge for 1-2 days then use it in any of your favorite recipes. It's especially good in chilled pasta salads.
FREEZE. Place the penne in a single layer on a baking sheet. Freeze for 1-2 hours or until the pasta is solid. Transfer to a freezer safe container and freeze for 1-2 months.
STORE cooked dishes. Most of these penne pasta dishes can be stored successfully in the fridge and freezer to be heated up and used on a busy day. See the individual posts for more information.
---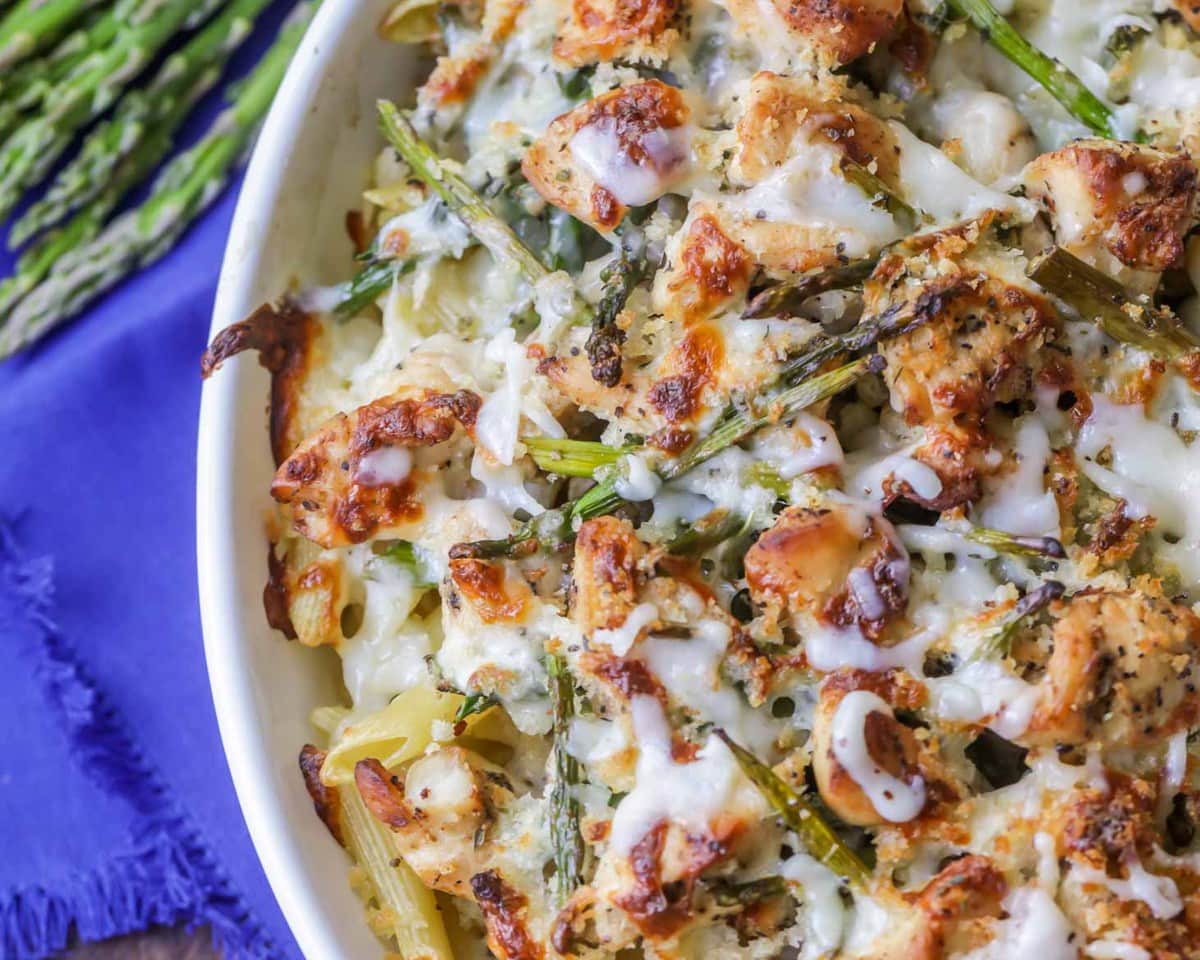 Favorite Penne Pasta Dishes
These penne pasta recipes have all kinds of different sauces, meats, and add-ins. They are easy, delicious, and perfect to feed a family!
Chicken Asparagus Pasta Bake – Deliciously Cheesy Chicken asparagus pasta bake a favorite dish topped with panko and baked to crispy perfection!!
Chicken Alfredo Bake – A delicious and simple casserole version of the dish every family loves – Cheesy Chicken Alfredo Casserole! Pasta, chicken, lots of cheese, and yummy seasonings make this pasta casserole a hit!
Creamy Garlic Penne Pasta – Super simple and delicious Creamy Garlic Penne Pasta recipe packed with flavor. This dish is perfect by itself or you can add chicken too!
Creamy Lemon Chicken Pasta – Simple & Creamy Lemon Chicken Pasta is bright, cheesy, and comforting. It is a flavorful dish the entire family will love!
Lemon Chicken Pasta – Flavorful Lemon Chicken Pasta is covered in a delicious sauce made from lemons, whipping cream, cheeses, and fresh basil.
Chicken Broccoli Alfredo – Cheesy chicken broccoli Alfredo pasta is a go-to dinner meal in our house. It's a one-pot meal that the whole family will enjoy!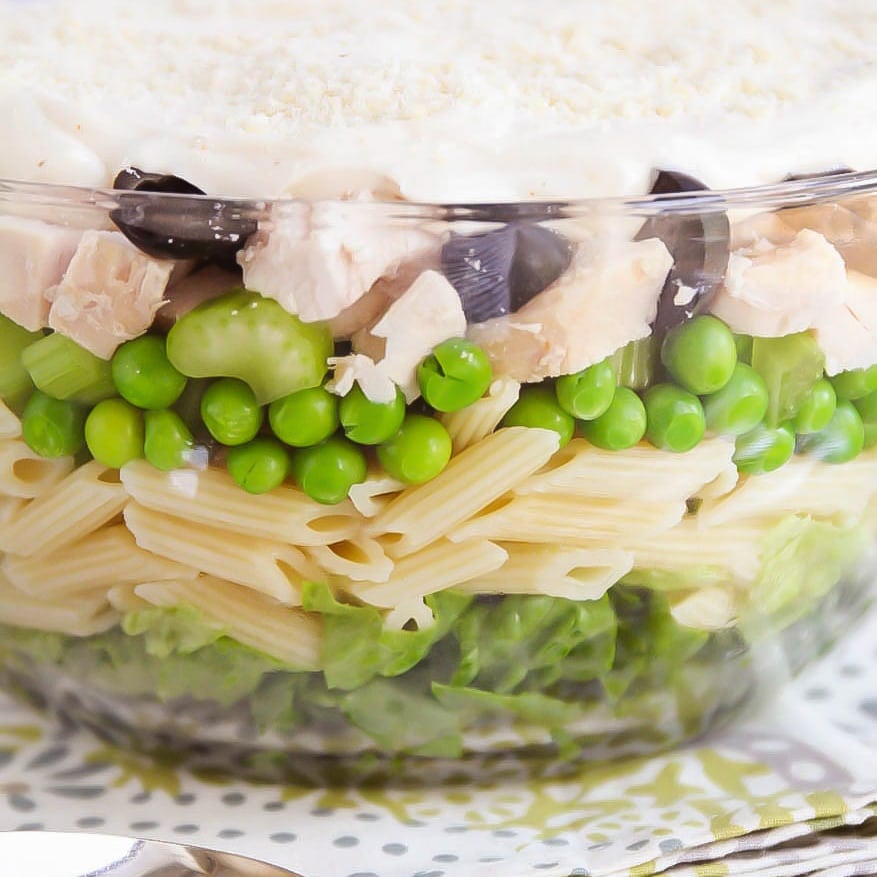 Layered Pasta Salad – A dish that is appealing to both your taste buds and your eyes! This beautiful Layered Pasta Salad is filled with your favorite ingredients including pasta, chicken, peas, lettuce, celery, and more.
Creamy Sausage Penne Bake – Cheesy Creamy Sausage Penne Bake is a simple, delicious and hearty dinner recipe. It makes a tasty and filling weeknight meal!
Chicken Penne Pasta – A delicious and simple Chicken Penne Pasta that is the perfect family dinner. The entire family loves it!
Sausage Penne Pasta – Savory creamy Sausage Penne Pasta is quick, easy, and on the table in no time! It's cheesy and sure to be a family favorite!!
Sausage Alfredo – Creamy Sausage Alfredo packed with smoky sausage is a family favorite. This delicious meal is on the table in only 30 minutes!!
Pesto Chicken Florentine – Delicious pesto chicken Florentine is simple, yet packed with big flavors. Pesto and homemade alfredo combine for a tasty combination!!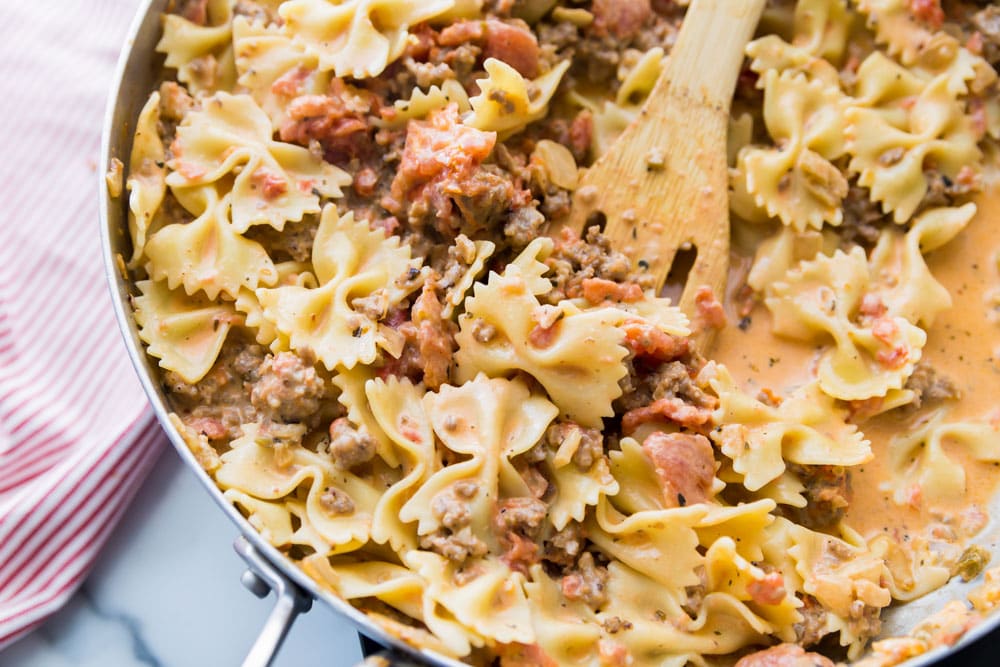 use penne instead
These recipes are written using other pasta shapes, like bow tie pasta. However, you can easily substitute the pasta with penne pasta.
Italian Sausage Pasta – Everyone loves this Italian Sausage Pasta recipe! Not only is it easy, cheesy, and delicious, but it is a hit with the entire family and can be made mild or spicy depending on your preferences.
Easy Pasta Salad – Easy and delicious Italian Pasta Salad recipe that includes Rotini pasta, olives, tomatoes, & cheese in Italian dressing! It takes minutes to make and is perfect for any get together including BBQs and holidays.
Chicken Bacon Ranch Pasta – Easy Chicken Bacon Ranch Pasta – a creamy and delicious pasta dish filled with cheese, chicken and bacon all made in one pot! This pasta can't be beat!
Taco Pasta Salad – Delicious Taco Pasta Salad filled with beans, corn, tomatoes, avocado and more!!
Garlic Butter Pasta – Simply dressed Garlic Butter Pasta is filled with veggies and sprinkled with parmesan. It's straightforward and so flavorful!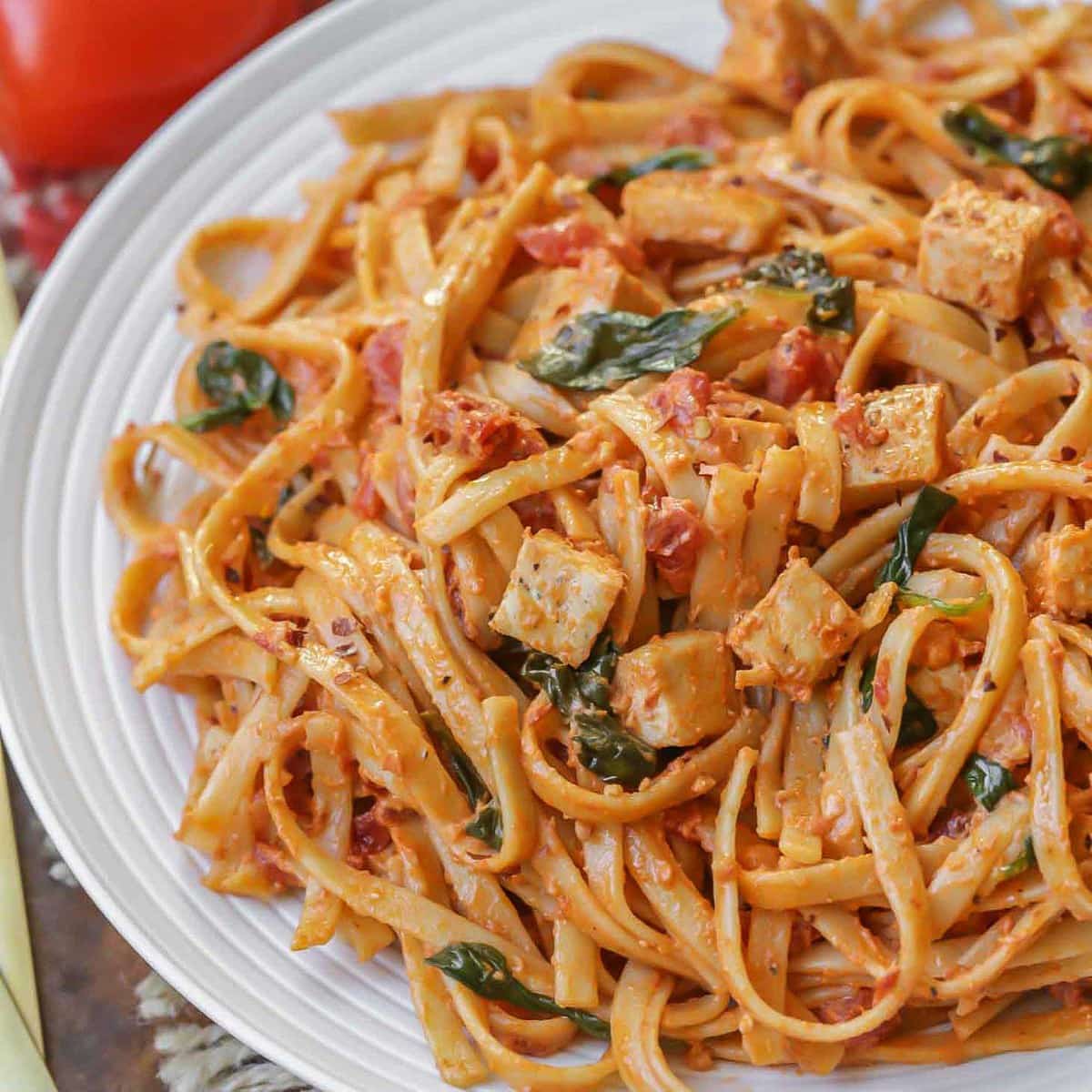 Sun-Dried Tomato Pasta – A copycat version of Cheesecake Factory's Sun-Dried Tomato Fettuccine recipe. This flavorful and creamy dish is filled with chunks of chicken, garlic, whipping cream, spinach and sweet sun-dried tomatoes. It's not only delicious but is a great way to change up the classic fettuccine recipe.
Chinese Pasta Salad – Chinese Pasta Salad is filled with lettuce, pasta noodles, chicken, fried wontons, and more, all tossed in a delicious homemade dressing.
Chicken Pesto Pasta – This Chicken Pesto Pasta is very flavorful and simple dinner idea that is sure to please. It's filled with bow-tie pasta, chunks of chicken, cheese, sun-dried tomatoes, garlic and pesto making it a new go-to meal recipe.
Chicken And Asparagus Pasta – This cheesy Chicken and Asparagus Pasta is one the whole family will love. It's flavorful and filled with everyone's favorite ingredients!!
Caprese Pesto Pasta Salad – Caprese Pesto Pasta Salad is a light dish with a bold flavor, making it perfect for potlucks, parties, BBQ's, and get togethers!
---
the complete list
Here are the picture cards for all of the fantastic Penne Pasta Recipes listed above.
With so many easy and delicious recipes to choose from your next pasta night is sure to be a big success! We'd love to know which ones are your favorites!
---
More Collections: Pasta Salad Recipes, Healthy Soup Recipes, Green Salad Recipes