Taco Salad is one of those recipes that I can remember eating since I was a little girl. I always enjoyed it but never realized why I remembered it so well being a staple dinner in our home. Now that I'm a mom myself and realize just how yummy and easy it is, I know why it's made so often. It can be changed up in so many ways, is easy to feed to lots of people and is usually enjoyed by all.
Today's recipe has all the great taste of taco salad, but is in casserole form. Yes, this Potluck Taco Casserole is so delicious and has all the great flavor of taco salad making it a family favorite. My mom first made this casserole years ago but she recently just came across the recipe again so we knew we had to give it a go and share it with all y'all. The biscuit and ground beef base taste just like chips and beef in regular taco salad and the toppings make it taste just like it too. You can add all the ingredients you love but we usually add sour cream, lettuce, tomatoes, cheese and olives!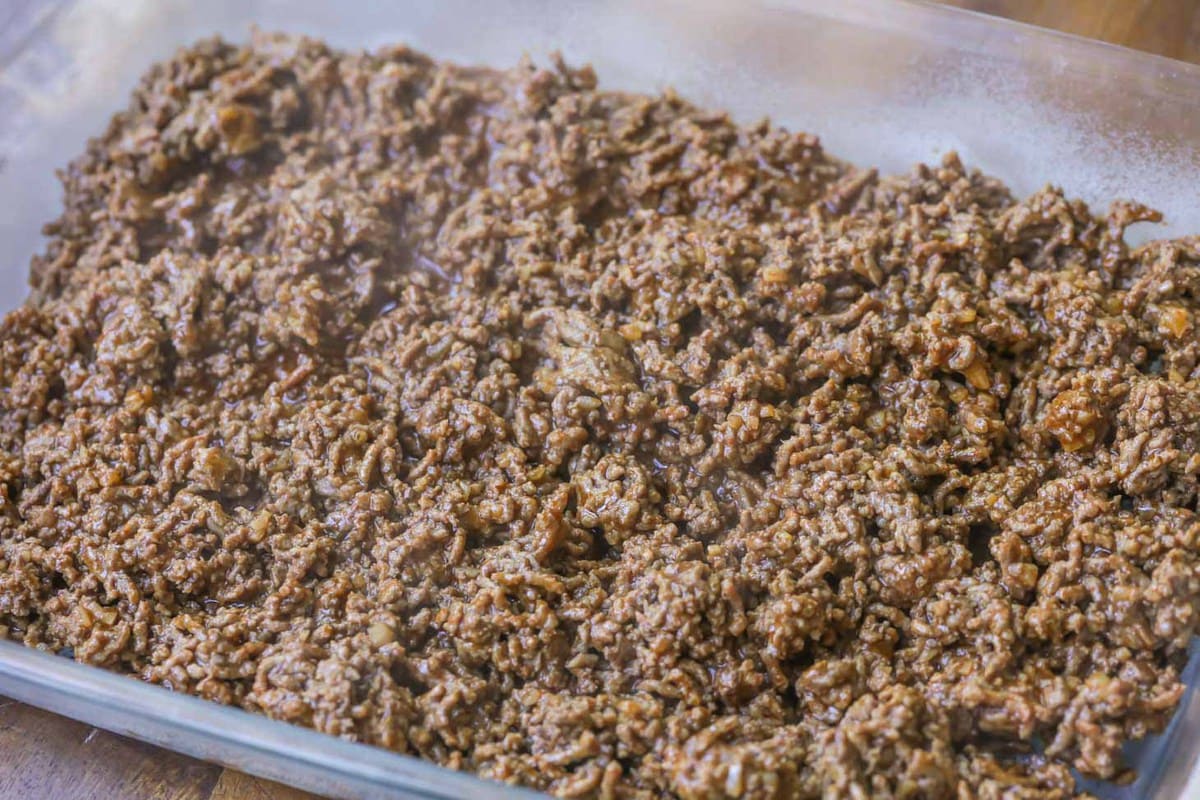 Ground beef with taco seasoning.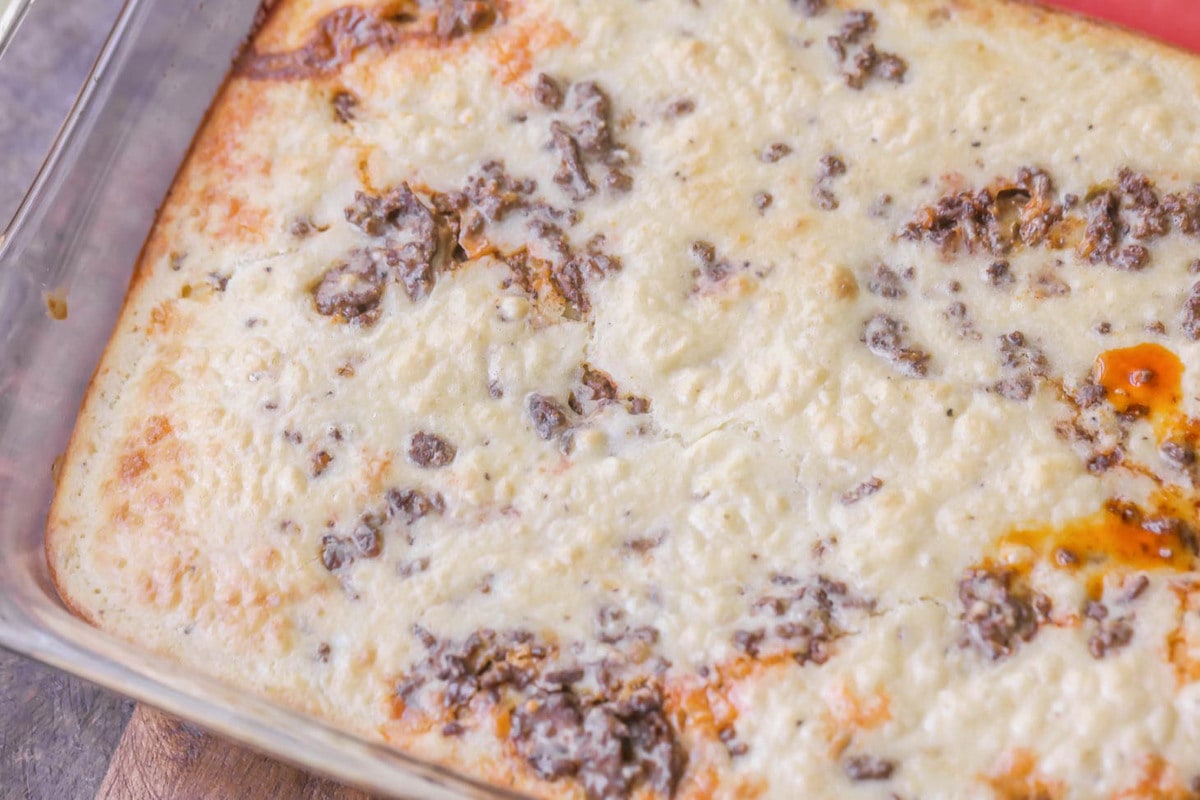 The biscuit and ground beef base are what add so much flavor to the recipe.
MY OTHER RECIPES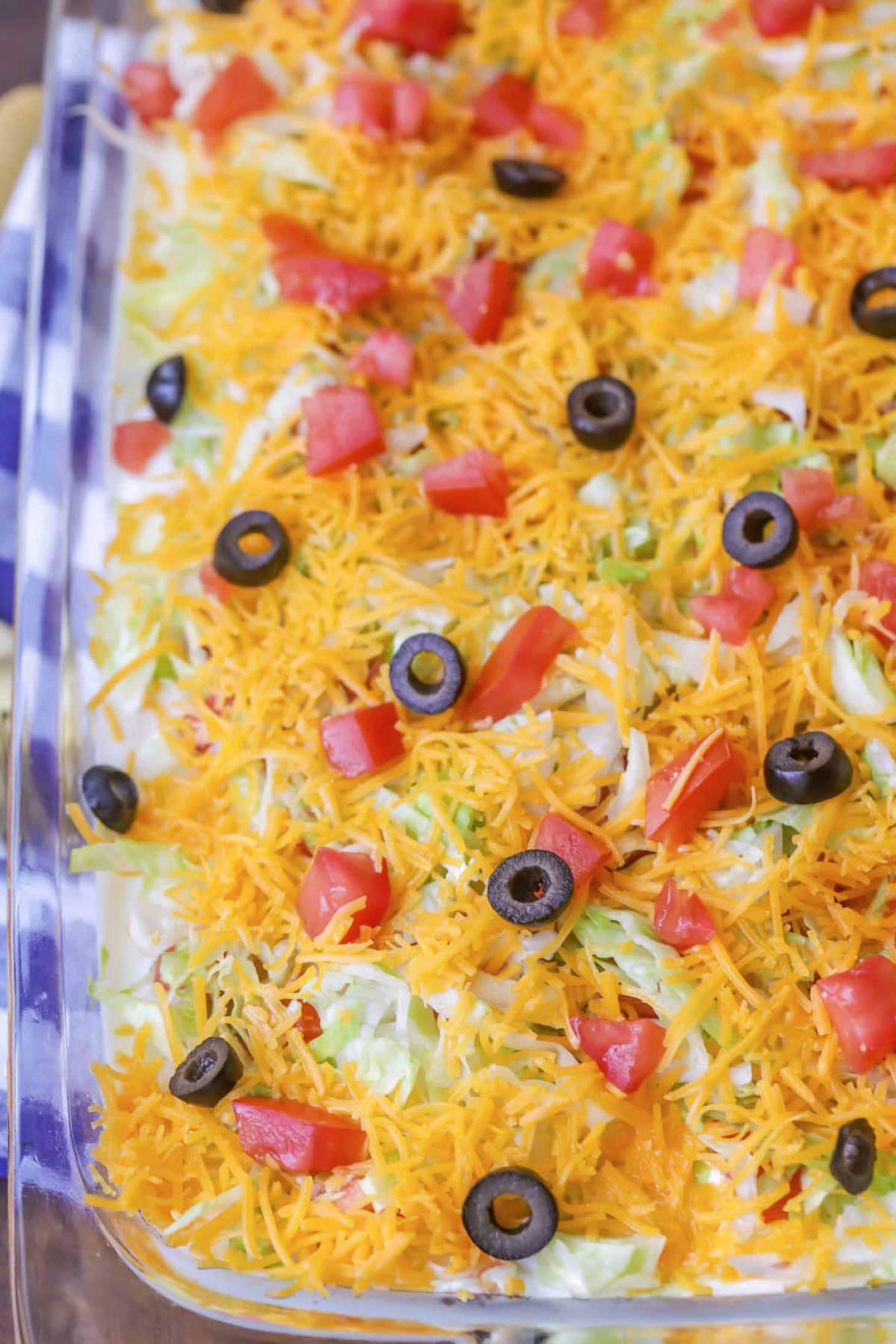 Top it off with all your favorite ingredients – including lettuce, tomato, sour cream, olives and cheese.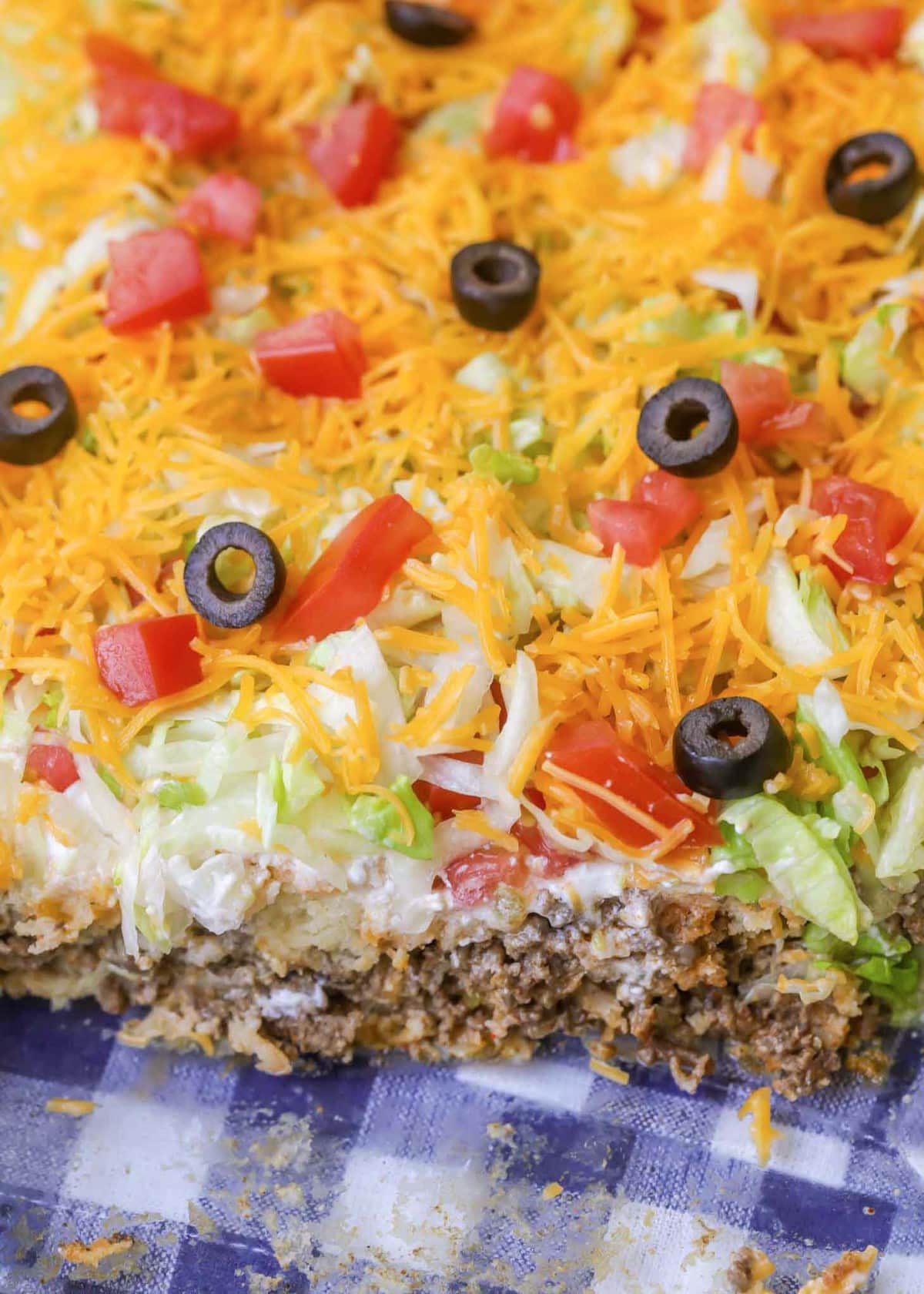 The result is a delicious Taco Casserole that is perfect for dinner or your next potluck. Like me, it may bring back the tastes of childhood. 😉
Taco Casserole recipe:
Taco Casserole
Delicious Taco Casserole that has a meat and biscuit base and is topped with sour cream, lettuce, tomatoes, cheese and olives.
Ingredients
2 pounds ground beef
2 envelopes taco seasoning
4 large eggs
¾ cup milk
1-1/4 cups biscuit/baking mix
Dash pepper
½ cup sour cream
2 cups chopped lettuce
¾ - 1 cup chopped tomato
2 cups shredded cheddar cheese
olives
Instructions
Preheat oven to 400.
Cook beef over medium heat in a large skillet until no longer pink. Drain meat and add taco seasoning and prepare according to package directions.
Add meat to a greased 9x13 pan, and set aside.
Beat eggs and milk in a large bowl. Stir in biscuit mix and pepper and mix until combined well. Pour over meat and bake until golden brown (about 20-25 minutes).
Let cool for a few minutes and then spread on sour cream.
Top with lettuce, tomato, cheese and olives. Serve warm and ENJOY!
Here is another casserole we love to make:
Chicken and Green Bean Casserole
And for more great casseroles, check out:
ENJOY!
BEHIND THE SCENES AT LILLUNA.COM:
Someone couldn't stop picking off the cheese from the casserole. 😉