Every good Independence Day party needs sides to accompany the typical burgers and hot dogs. Whether you like vegetable and fruit sides, or a salad, this collection of 4th of July Side Dishes has something for you!
More Collections: 4th of July Appetizers, 4th of July Desserts, 4th of July Drinks, 4th of July Recipes
Top Fourth of July Side Dishes
At our 4th of July BBQ's, we usually serve various types of chips along with other side dishes. We also like to provide a combination of sweet and savory sides, and warm and cool sides that go will with our main dish, which is typically grilled.
No matter how you celebrate, there is bound to be piles of food!! There are plenty tasty accompaniments to choose from in this compilation of 4th of July Side Dishes.
We will share some tips as well as some of our favs for the holiday.
Tips for sides
How Many: Plan to serve 2-3 different sides for <10 guests. Add another side dish for every 10 guests after. Most adults will have about 3-4 total servings of sides. Children will have 2-3 servings.
Temperature: Keep warm sides warm by using crock pots and chafing dishes. Keep cool sides cold by placing them on trays full of ice. Do not leave food out for more than 2 hours.
Make it Festive: To make sides festive, serve them in red, white and blue or patriotic patterned bowls and platters.
See individual posts for recipe tips and storage information.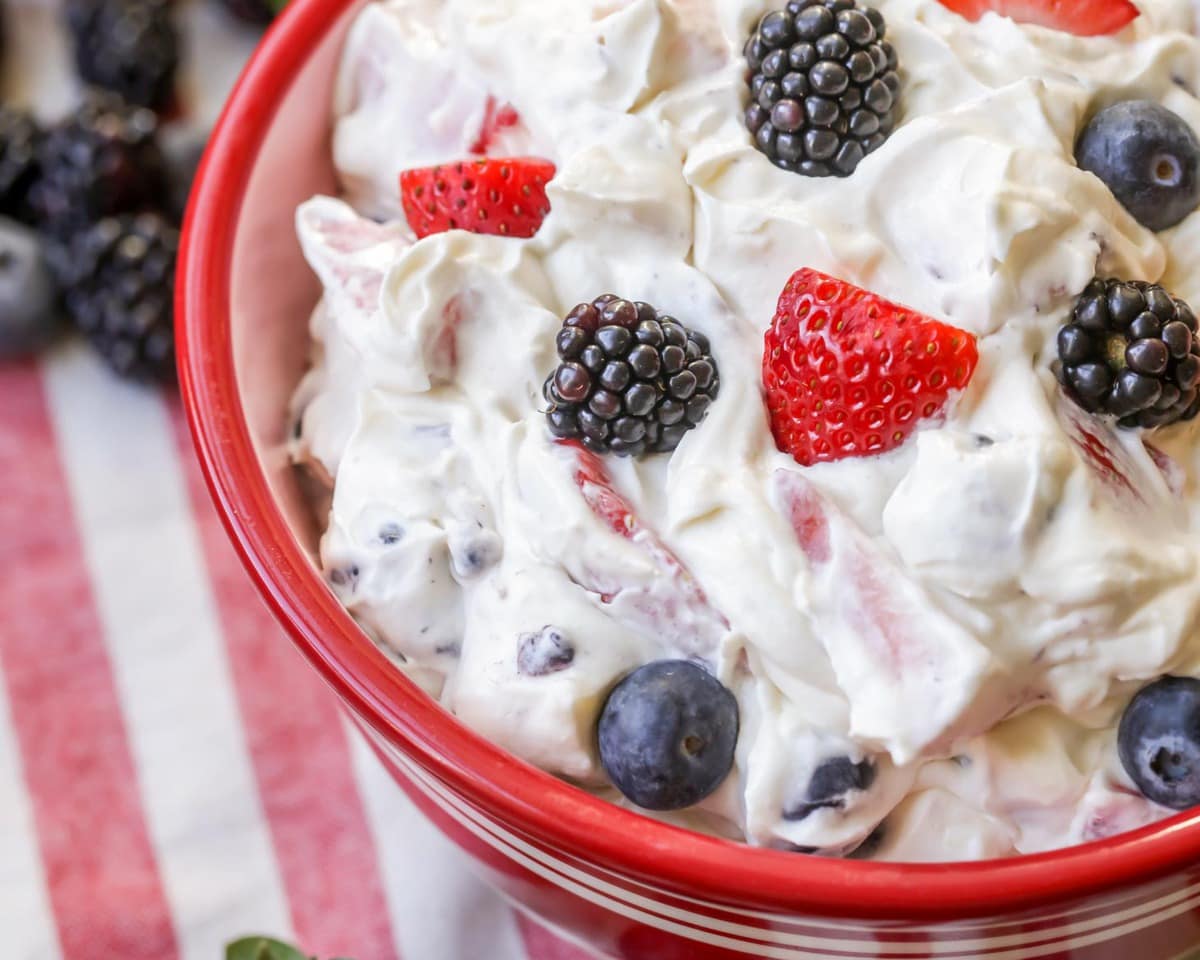 Seasonal fruits + veggies
Summer Produce: Using herbs is a wonderful way to bring fresh summer flavors to every dish. Everything from fresh basil to rosemary and fresh dill to mint is in season. Some other produce that is in season include:
Fruits: Apples, Avocado, Cherries, Grapes, Lemons, Mangos, Melons, Peach, Tomatoes
Berries: Blackberries, Blueberries, Raspberries, Strawberries
Veggies: Bell Pepper, Carrots, Corn, Cucumbers, Green beans, Onions, Peas, Squash, Zucchini
Greens: Chard, Collard, Lettuce, Spinach
Grilling Produce
Grilling vegetables is similar to roasting them, but with added texture and flavor from the char they tend to get. Some can be placed directly on the grill grates, others benefit from using a grill basket.
Asparagus and corn are my favorite to grill. Other vegetables that grill well include peppers, zucchini, eggplant, thick sliced cauliflower, pineapple, mushrooms.
Here are a few tips to keep in mind when grilling produce:
Slice them all the same size to ensure an even cook.
Coat the grill grates with oil to keep them from sticking.
Coat them with a bit of olive oil. Season them with some salt or fresh herbs.
Grill for 3-5 minutes, flip and grill for another 3-5 minutes or until hot and tender.
Larger vegetables can lay perpendicular to the grill grate so they don't fall through. Smaller vegetables can be grilled in a basket or laced onto skewers.
---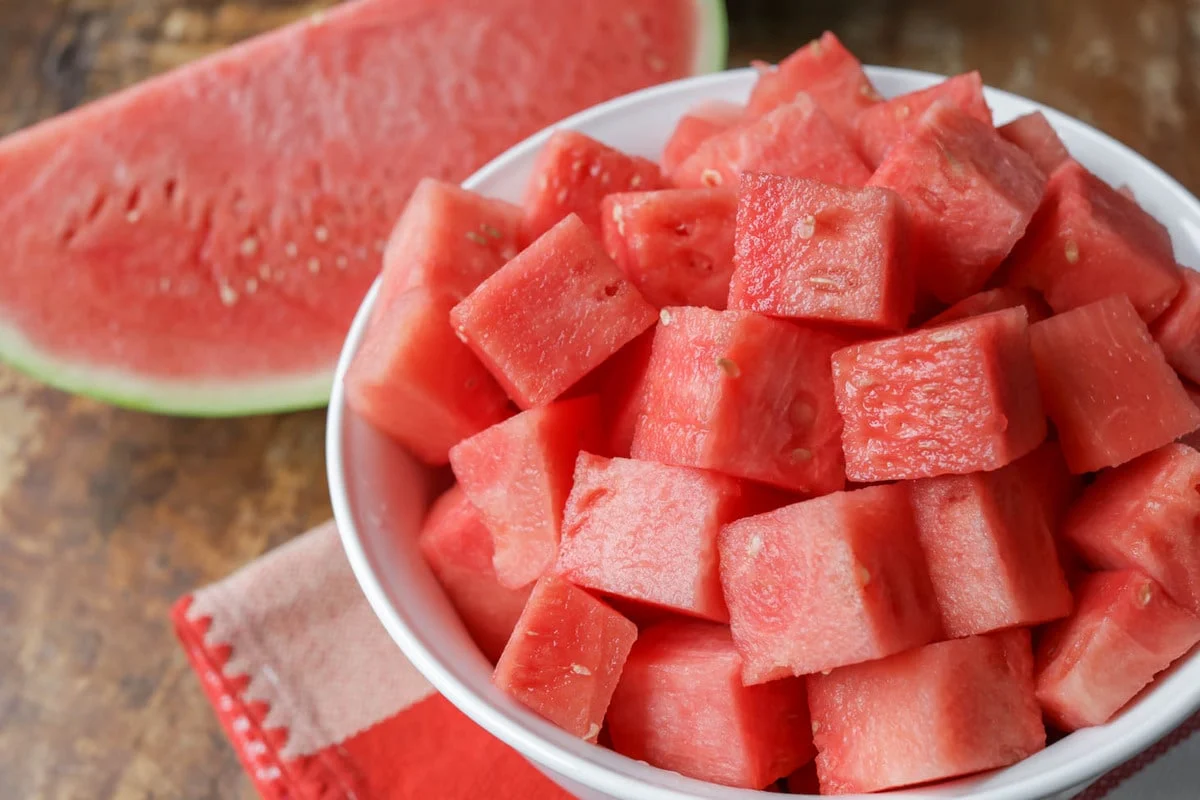 Favorite 4th of July Sides
Grilling sides is great to go with meat, but there are so many other options as well that include both fruits and vegetables! Here are some of our favorites.
Best Way To Cut A Watermelon – Is there anything better than a ripe juicy watermelon? Learn how to cut a watermelon into cubes efficiently and easily with our tips!
Yellow Squash Casserole – Hot and cheesy squash casserole makes for the best holiday side dish! You'll love this creamy vegetable casserole with a crunchy buttery topping.
Baked Beans – Easy Homemade Baked Beans is a must-have at all of our BBQ's. Everyone who tries it agrees it's the best baked beans recipe!
Boiling Corn On The Cob – Boiling corn on the cob is a cinch! You will love this juicy corn on the cob to put on the side of any summer meal.
Baked Zucchini Fries – These baked zucchini sticks are crusted and baked in panko, parmesan cheese, oregano, and basil. Zucchini fries are healthy AND delicious!
Fruit Kabobs – Colorful fruit kabobs are the best appetizer or side for any occasion! Load up your favorite fruits and get snacking.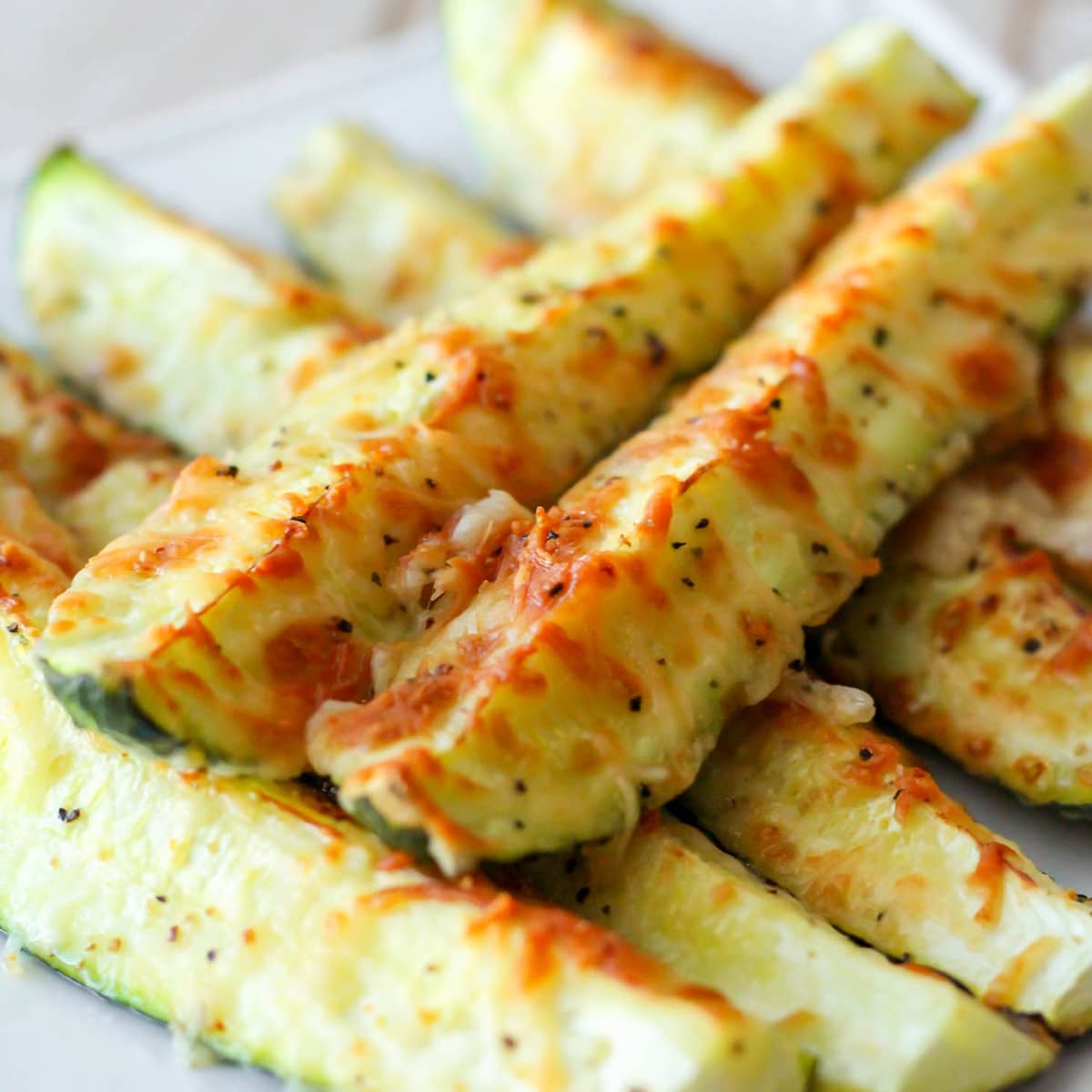 Parmesan Crusted Zucchini – Delicious and Healthy Baked Parmesan Zucchini. These spears are crusted in Parmesan cheese and baked to perfection, making them a great side dish for any meal.
Easy Fruit Salad – A fresh fruit salad that makes the perfect side dish to any meal! Colorful, healthy, delicious, and filled with all your favorite fruits!
Grilled Asparagus – Grilled asparagus is the best side dish alongside almost any dinner recipe! Sprinkled with salt, pepper, and a little parmesan cheese—this recipe is incredible!
Perfect Baked Potato Recipe – With crispy, seasoned skin, a tender inside, and all the best toppings – baked potatoes are a reliable dinner choice, and great for feeding a crowd!
Asparagus Bundles Recipe – Asparagus Bundles are wrapped in bacon for unmatched flavor perfection. These savory wrapped bundles will tantalize your taste buds, and are sure to be a BIG hit.
Roasted Tomatoes – Juicy roasted tomatoes are the yummiest and easiest appetizer or side dish. Roasting them (with a little olive oil, basil and parmesan) brings out every delicious flavor!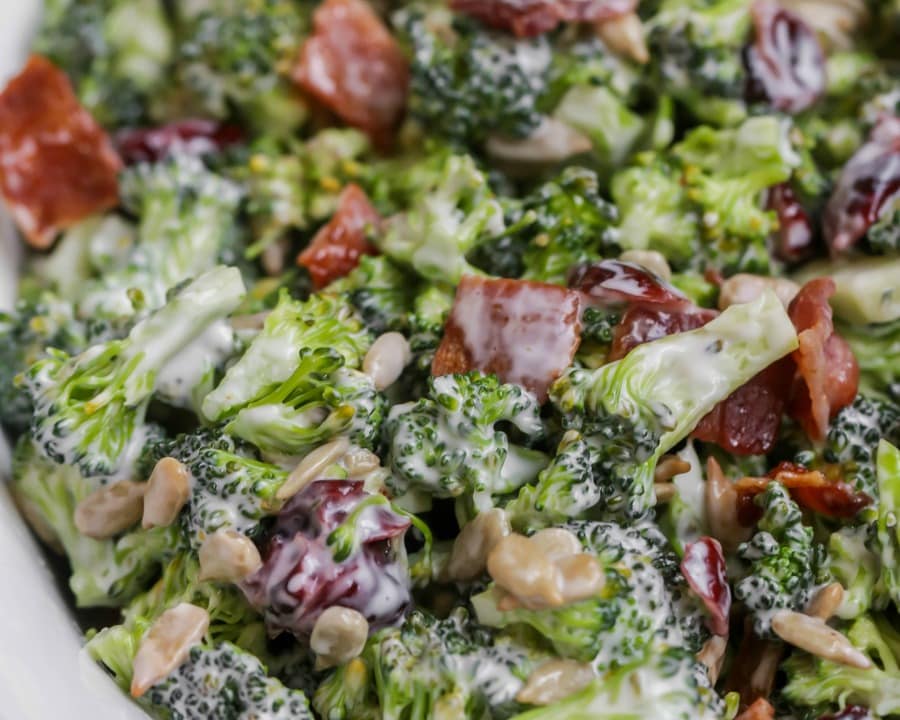 salads
Don't forget the salads! Not only are they easy and delicious, they're great for guests to bring too! It never hurts to have more than one type of salad at your 4th of July BBQ either.
Favorite Broccoli Salad – This Sunny Broccoli Salad is a simple, tasty and hearty broccoli salad served with bacon, cranberries, sunflower seeds, and mixed with a delicious, homemade mayonnaise-vinegar based dressing that is perfect for BBQs and get togethers.
Summer Corn Salad – This Summer Corn Salad is a light, flavorful salad filled with corn, tomatoes, feta, basil and cucumber. It's so simple and quick that it's perfect for get togethers and BBQs.
Quick Caprese Salad – Simple and Quick Caprese Salad is easy and delicious with pops of mozzarella, tomatoes, avocados and drizzled with a balsamic glaze!
Snicker Apple Salad – Delicious Apple Snickers Salad that is so good and so easy to make! Layers of apples, snickers, and caramel in a creamy topping made from cool whip, milk, and vanilla pudding mix.
Strawberry Pretzel Jello Salad – Strawberry Jello Pretzel Salad is the ultimate combination of sweet and salty. This classic treat is always a crowd pleaser!!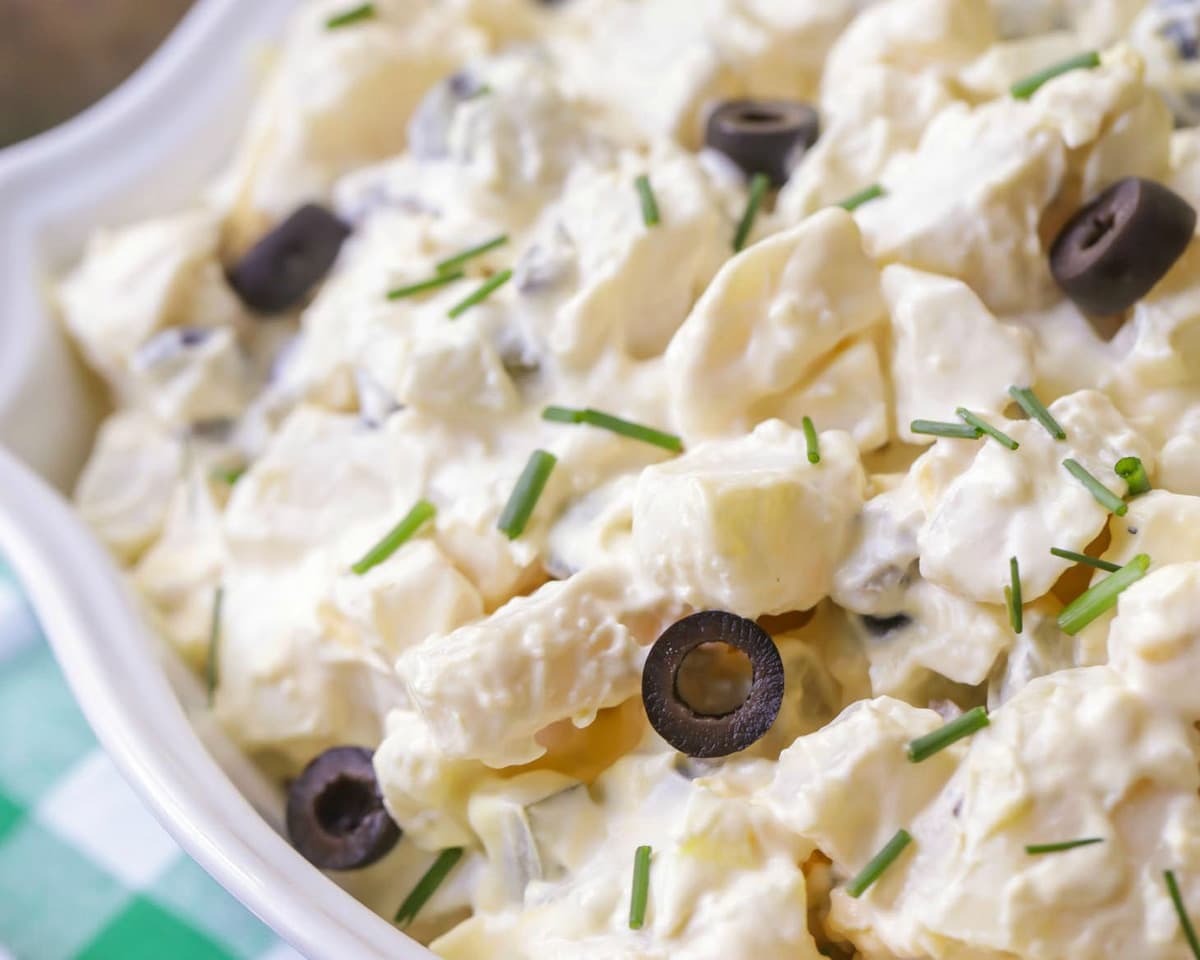 Homemade Potato Salad – Our all-time favorite Potato Salad – it's simple, flavorful and filled with chunks of potatoes, eggs and olives! It's the perfect addition to any BBQ or picnic and is so creamy and tasty, it will wow everyone who tries it.
Layered Pasta Salad – A dish that is appealing to both your tastebuds and your eyes! This beautiful Layered Pasta Salad is filled with your favorite ingredients including pasta, chicken, peas, lettuce, celery, and more.
Cheesecake Fruit Salad – This Cheesecake Fruit Salad is the perfect combination of creamy, light, and fresh! Fresh berries tossed in a cream cheese pudding mixture—it's the perfect side, or crepe filling!
Macaroni Salad – A simple, creamy macaroni salad loaded with pasta, peas and ham. It's perfect for parties, family dinners, and potlucks!
Easy Tortellini Salad – Super YUMMY and easy Tortellini Salad filled with tortellini, salad, ranch, tomatoes and bacon bits – perfect for summer time!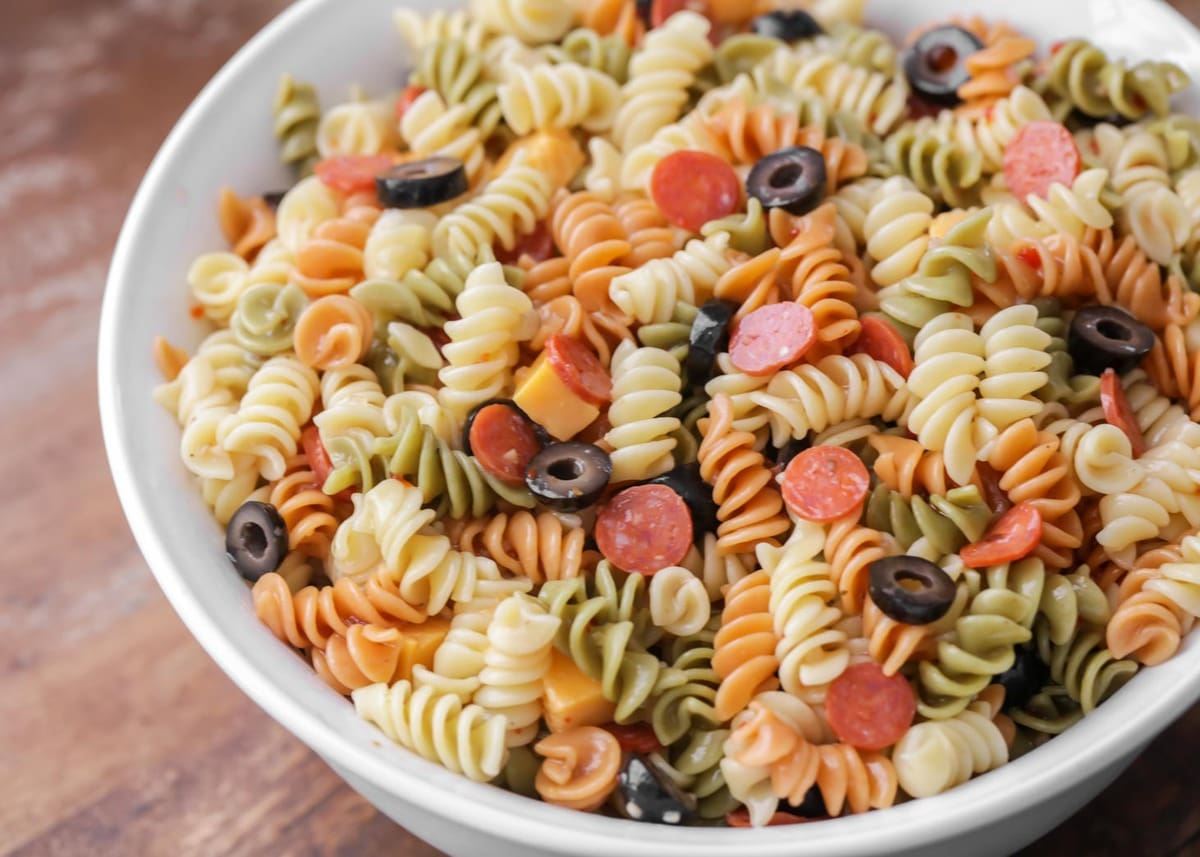 Easy Pasta Salad – Easy and delicious Italian Pasta Salad recipe that includes Rotini pasta, olives, tomatoes, & cheese in Italian dressing! It takes minutes to make and is perfect for any get together including BBQs and holidays.
Easy Coleslaw – This quick and Easy Coleslaw makes the perfect side dish for any picnic or BBQ. It takes just minutes to put this classic coleslaw recipe together, and it can easily be customized with the spices and flavors you love most.
7 Layer Salad – 7 Layers of Goodness in this delicious layered Salad. This recipe isn't only delicious, but is easy to customize and is great to make ahead of time too!
Asian Ramen Salad – Fresh & lightly dressed Asian Ramen Salad is filled with cabbage and bits of almonds and ramen, giving it bright color and crunchy texture!
Applebees Oriental Chicken Salad – This delicious Copycat Oriental Chicken Salad from Applebees is made with breaded chicken, cabbage, romaine, sliced almonds, and more tossed in a flavorful Asian dressing!
Tomato Mozzarella Salad – Fresh, light, and healthy tomato mozzarella salad! Perfect for lunches with friends or a side salad to dinner!
---
the complete list
Here are the picture cards for all of the fabulous 4th of July Side Dishes listed above.
With so many tasty recipes to choose from you're sure to find the perfect sides for your holiday get together!
---
More Collections: Summer Side Dishes, BBQ Side Dishes, Healthy Side Dishes