A collection of our MOST favorite Mexican Chicken Recipes, from main dishes to appetizers and soups! Each recipe is packed with zesty Mexican flavor and a hearty amount of chicken.
More collections: Mexican Dinner Ideas, Mexican Appetizers, Mexican Desserts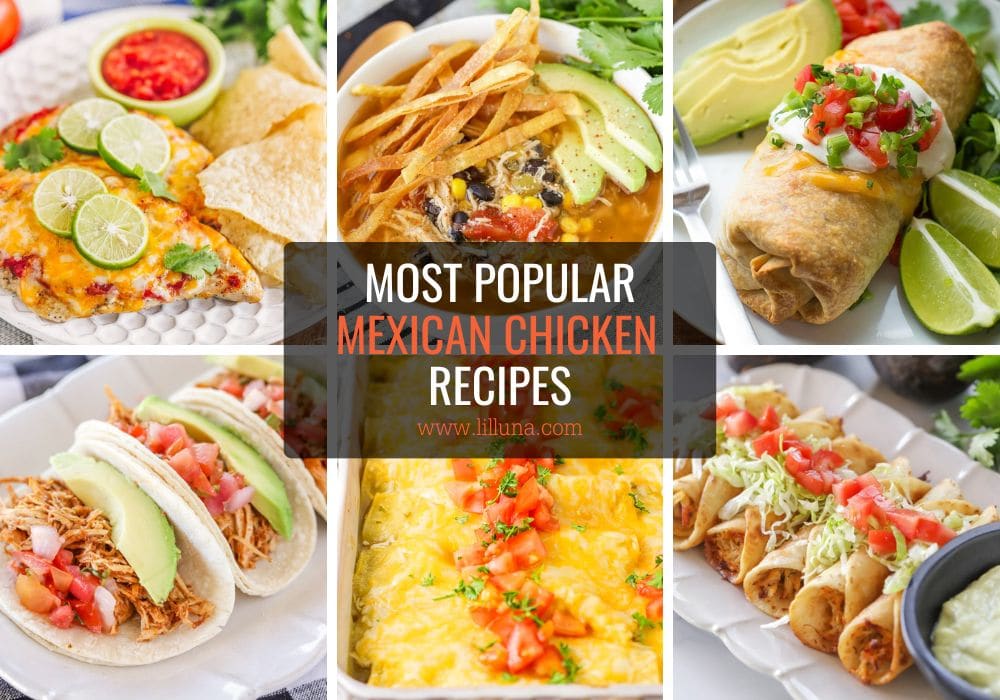 zesty Chicken recipes everyone loves
We make Mexican chicken recipes probably as often as we make Chicken Pasta Recipes (which is really frequent)! A lot of these recipes can be used as main dishes or as appetizers, they're so versatile!
Mexican food is definitely unique. Each state has its own style of cooking up the blend between Spanish Food and Indigenous Mexican Food. I rarely find anyone who doesn't like this delicious cuisine.
The use of bold and spicy flavors such as onions, garlic, Mexican oregano, chili powder, chipotle peppers, and cumin, along with Green Chili Sauce, Red Chili Sauce, and Salsa are tell-tale signs of yummy Mexican cuisine.
The blends of these flavors definitely elevate simple common ingredients, such as chicken, which is what this post is all about.
Mexican Flavors + Chicken = Triumph!
Before sharing all our favorite Mexican chicken recipes, I do have a tidbit of helpful info to share.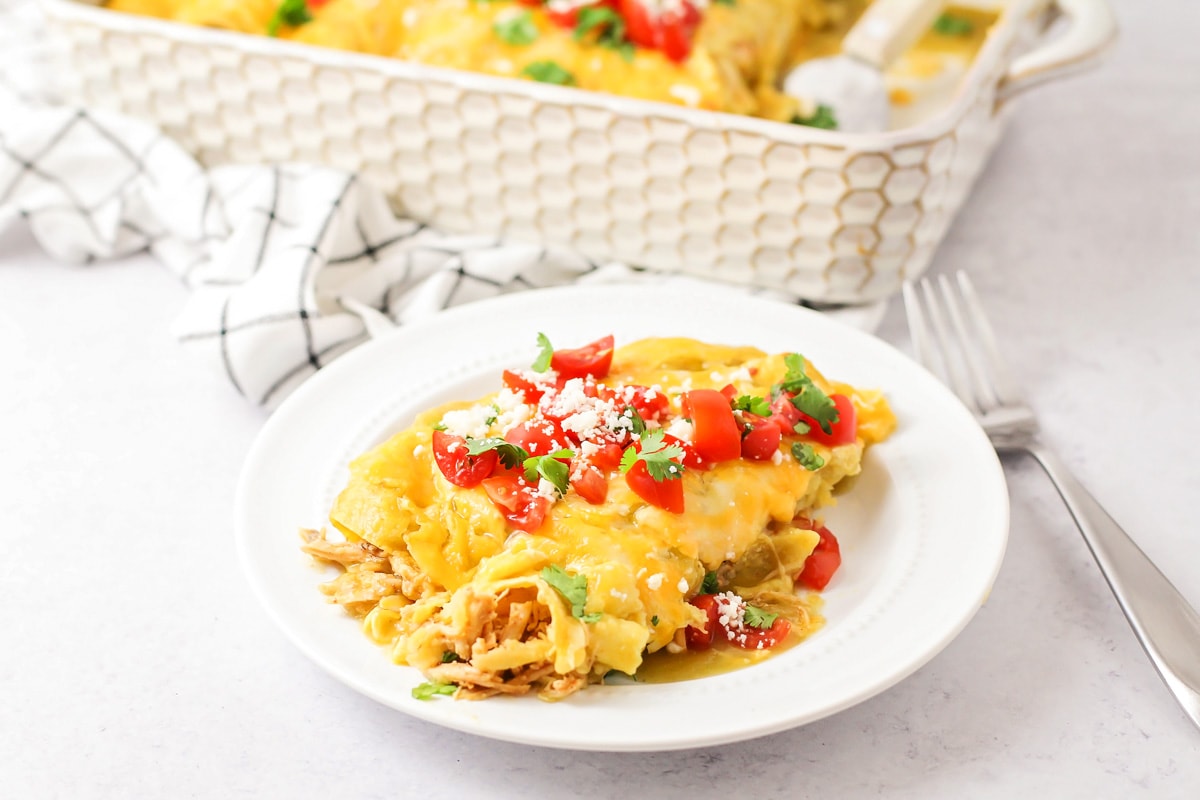 Tips for the tastiest Mexican chicken dishes
Precooked chicken. Many of these recipes call for precooked shredded chicken. Or use canned chicken, shred up a rotisserie chicken, or slow-cook boneless skinless chicken thighs or breasts.
Substitutions. Turkey can be substituted in almost all of these recipes.
Tortillas. Corn tortillas and Flour Tortillas are popular to use in these Mexican food recipes or to serve on the side. I always have some in the freezer to pull out to use with my recipes.
Lime. Squeeze fresh limes over dishes to brighten up the flavors and finish off a Mexican dish.
Toppings. Let the main recipe shine! Use sour cream, extra cheese, and other toppings sparingly so the flavor of the dish doesn't get overpowered.
When cutting peppers, be cautious. They are not only hot in your mouth, but can be hot when making contact with your skin. Wearing rubber gloves when prepping your chilies can be helpful.
Cilantro. When a recipe calls for cilantro always try to use fresh cilantro. The dried stuff just does not have the same flavor.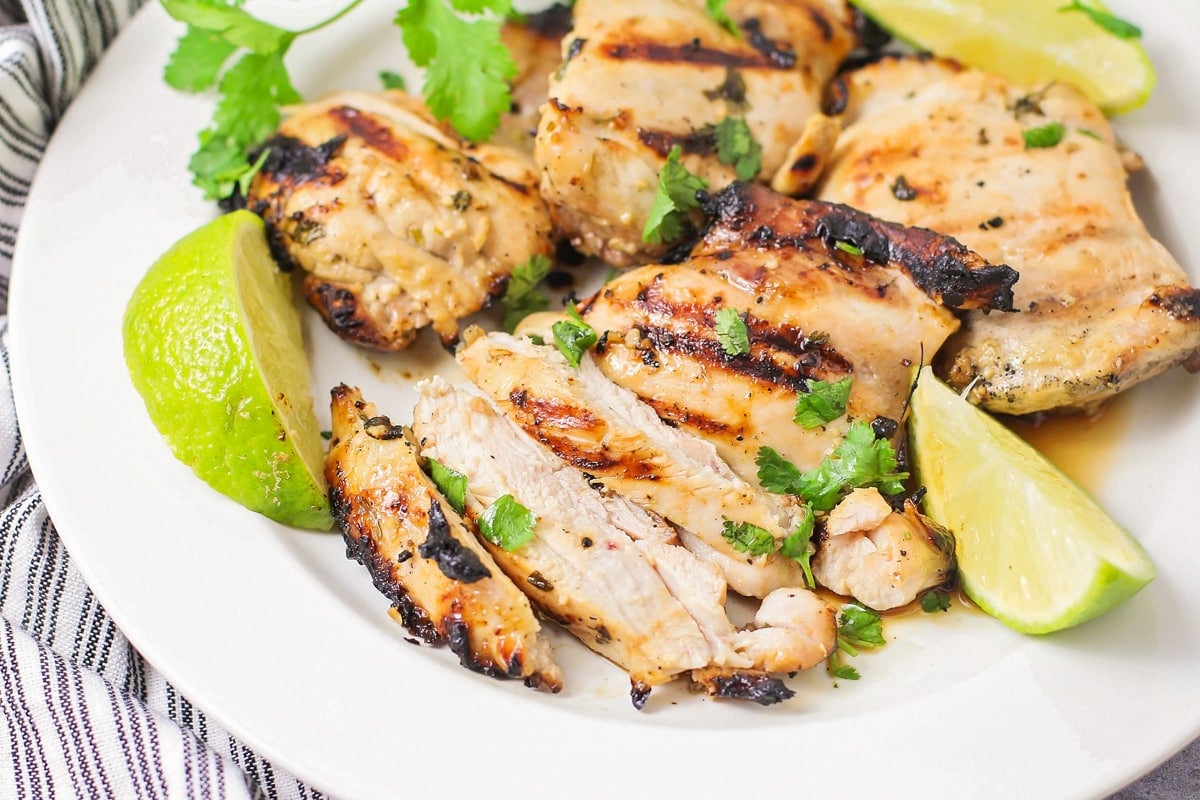 Cuts of chicken used most often in Mexican Chicken recipes. Chicken breasts and chicken thighs are two of the most used cuts when cooking a Mexican dish, but tenders may also be used.
Use whole or cut into pieces.
They can also easily be cooked and shredded.
The main difference between the two cuts is that the thighs are fattier which means they are also moister than chicken breasts.
For the most part, the two proteins are interchangeable according to your preference.
Cooked cubed chicken. For a new cook, it can be tricky when a recipe calls for cooked chicken pieces with no instructions on how to do so. For an easy route purchase cooked chicken pieces in the refrigerated section of the grocery store.
To cook on your own:
Cube the chicken into bite-sized pieces and sprinkle with a bit of seasoning such as salt, black pepper, garlic salt, or paprika.
Heat up a large skillet over medium heat and add a little olive oil.
Add the chicken pieces in a single layer. Don't crowd the pan otherwise the chicken will steam instead of fry. If needed work in batches to get them all cooked. Allow the pieces to cook for about 4 minutes, stir and cook another 3 minutes.
The internal temperature of cooked chicken should reach 165°F.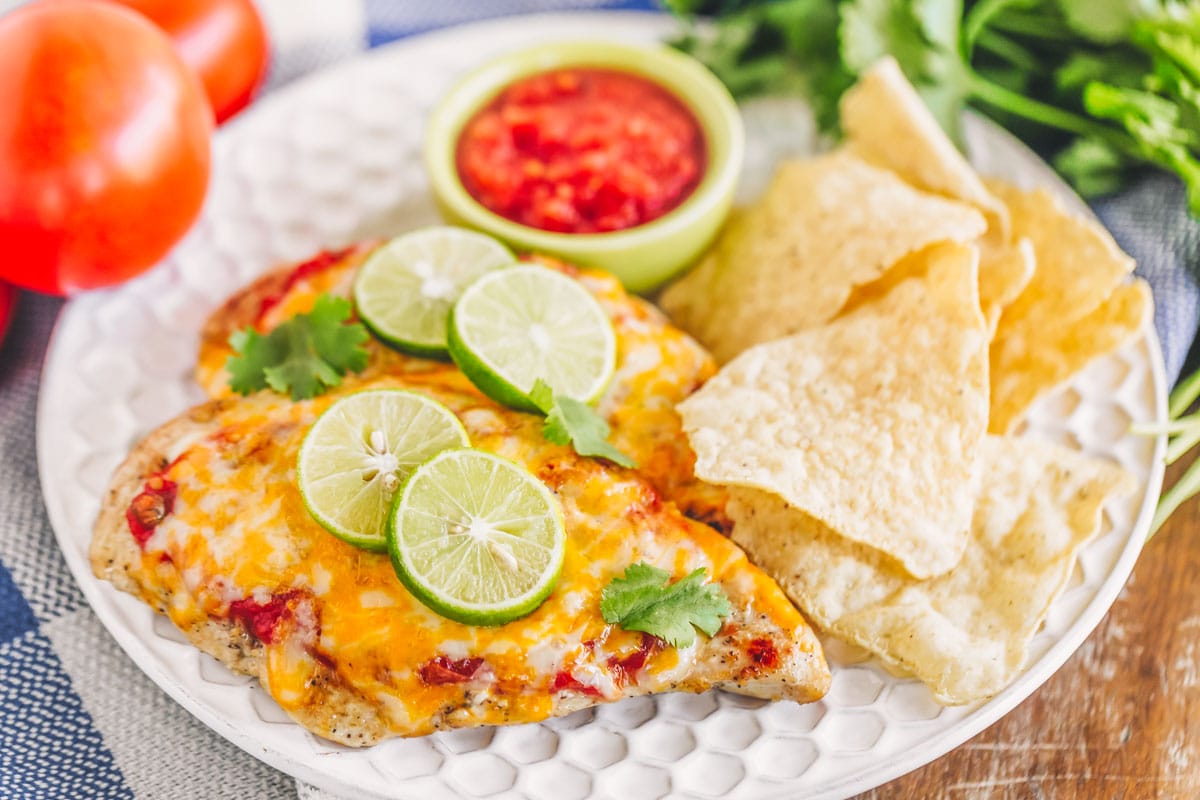 serving tips
STORE. Instant pot or crockpot Mexican chicken is the best when wanting to make shredded chicken to store and freeze to be used later.
I purposefully make more than the recipe calls so I can have some for later making meal prep for other dishes infinitely easier.
If you know you are going to be using the remaining shredded chicken soon, simply keep it in an airtight container in the refrigerator for 3-5 days.
To FREEZE it for longer storage, divide the chicken into 1-cup portions and place each portion into a plastic baggie. Then, place all the baggies together in a freezer-safe storage container for at least 4 months.
Side dishes to serve with Mexican chicken recipes:
---
Our Favorite Mexican Chicken Recipes
Whether baked, fried, or slow-cooked you'll find just the right dish for your evening meal.
Most of the dishes that are casseroles can be assembled ahead of time and either stored in the fridge or kept in the freezer until you're ready to bake and serve.
I try to whip up two when I make these Mexican Chicken Casseroles, and eat one that night and put the other in the freezer.
Chicken Flautas
Delicious, crunchy chicken flautas filled with shredded chicken, salsa, cheese, and more! They can be fried, air fried or even baked into a delicious and easy dinner or appetizer.
Chicken Enchiladas
Our most classic enchilada recipe! Green chiles, chicken, cheese, and sour cream rolled into corn tortillas and baked smothered in green enchilada sauce and shredded cheese.
Chicken Tacos
Chicken tacos inside a crispy fried corn tortilla, topped with all your favorite taco fixings!
Chicken Enchilada Casserole
Our favorite enchiladas in casserole form with layers of corn tortillas, chicken, cheese, sour cream, and green enchilada sauce.
Chicken Taco Salad
Crunchy and fresh chicken taco salad is a weeknight dinner dream! Easy, flavorful, and a recipe that everyone will enjoy.
Cafe Rio Shredded Chicken
A copycat of the famous shredded chicken from Cafe Rio. Use in burritos, tacos, salads, and more!
Chicken Fajitas
Slathered in seasoning, sizzling Chicken Fajitas are on the table in 30 minutes. They are bursting with flavor!!
Chicken Chimichangas
A flavorful chicken and rice mixture inside a large flour tortilla, baked in the oven for a nice crispy outside.
Sheet Pan Chicken Fajitas
Flavorful fajita fixings (chicken, onions, and bell peppers) all cooked on one sheet pan!
Creamy Fiesta Chicken
Chicken, black beans, corn, tomatoes, onions, and cream cheese cooked to perfection in the slow cooker. Tastes great served over rice or inside a tortilla.
Slow Cooker Chicken Tacos
Slow Cooker Chicken Tacos are flavored with salsa and prepped in minutes. You'll never find an easier way to enjoy tacos!
---
Appetizers and Soups
Both appetizers and soups make great partners to any Mexican Main Dish, but they do just fine on their own as well! The appetizers are great to serve for Mexican Food Night or for Super Bowl Sunday.
These soups take the flavors from your favorite dishes, like Tacos or Enchiladas, and turn them into a hearty soup sure to warm you up on a chilly day. Most soups can even be frozen so go ahead and whip up a double batch: one now and one for later.
Crockpot Chicken Enchilada Soup
Creamy chicken, corn, and green chiles perfectly cooked in the crock pot.
Chicken Quesadillas
A recipe for chicken and cheese quesadillas with a yummy homemade sauce. Great for appetizers, snacks, or dinner!
Chicken Enchilada Dip
A hot dip that tastes just like a creamy chicken enchilada. Delicious for dipping tortilla chips and Fritos.
Mexican Chicken and Corn Soup
Ready in less than 30 minutes, this soup is full of chicken, corn, tomatoes, and lots of seasonings.
Cream Cheese And Chicken Taquitos
Creamy and cheesy chicken mixture rolled in corn tortillas and deep fried. SO delicious!
Mexican Soup
Lighter broth-based soup with chicken, and vegetables, topped with tortilla strips.
Fajita Chili
A tomato based chili full of chicken, beans, bell peppers, and rice.
Green Chili Chicken Soup
Perfectly spiced Green Chili Chicken Soup is like an enchilada in soup form! It's hearty, delicious, and is always a crowd pleaser.
Chili's Chicken Enchilada Soup
A copycat recipe of Chili's enchilada soup made with red enchilada sauce.
Chicken Taco Soup
A warm, hearty, and tasty soup full of chicken, beans, corn, spices, and of course – tortilla strips on top!
Chicken Tortilla Soup
This soup is packed with flavorful ingredients including chicken, tomatoes, corn, beans, green chilis, and lots of seasonings!
---
Mexican Chicken Breast Recipes
Chicken is easy to freeze and I always have some on hand, that way I can whip up some of our favorite dishes! You can't go wrong with any of these family favorites.
Cilantro Lime Chicken
Cilantro Lime Chicken is full of flavor and an easy weeknight meal. Fresh lime juice and cilantro make a flavorful marinade!
Salsa Verde Chicken
Juicy Salsa Verde Chicken is moist and delicious. It is simple with the perfect level of spice, for a quick and tasty dinner option!
Salsa Chicken
Salsa chicken is your ticket to a 30-minute meal that the whole family will love! And it's all baked in one pan for easy clean up!
Mexican Chicken
Mexican chicken is topped with salsa and cheese for a tasty quick meal. It takes chicken to the next spice level!
Green Chili Chicken
Green chili chicken is easy and delicious. Topped with cheese and green chili sauce guarantees it will become a new favorite in no time!!
---
Mexican Chicken Casserole Recipes
In this case, I'm including pretty much all dishes that are baked in a casserole dish in the oven, regardless of whether they're a traditional "casserole" or not.
Each of these recipes is simple to throw together earlier on and keep in the fridge until you're ready to pop it in the oven.
Chicken Enchiladas
One of our favorite Mexican dishes – Green Chile Chicken Enchiladas recipe!! Corn tortillas stuffed with chicken, cheese, Las Palmas green chile enchilada sauce, sour cream, and green chiles, topped with more sauce and cheese!
Mexican Lasagna
Flour tortillas layered with tons of cheese, shredded chicken, las palmas green chile enchilada sauce, black beans, corn, and lots of seasonings!!
Creamy Chicken Enchiladas
Green chile chicken enchiladas made from chicken, sour cream, cream cheese and more stuffed into a soft flour tortilla. These are the creamiest chicken enchiladas you will ever find!
Mexican Casserole
This Mexican casserole is an easy weekday dinner idea that is full of Spanish rice, chicken, and melty cheese. It's flavorful and everyone will love it!
Chicken Enchilada Casserole
Everything you love about chicken enchiladas and casseroles combined into one tasty dinner dish. This simple recipe is a crowd pleaser and will become one of your weekly dinner rotations.
Honey Lime Chicken Enchiladas
Honey Lime Chicken Enchiladas are bright and flavorful, with the perfect amount of spice. This tasty dinner takes only 15 minutes to prep!
---
Family Favorite Mexican chicken recipes
These savory dishes are some of our family favorites and are sure to be a big hit in your home too! And so many of them can be made ahead, which is a huge bonus! Let me know which recipes are your family favorites – I'd love to hear from you!
More Collections: Mexican Casserole Recipes, Mexican Beef Recipes, Mexican Side Dishes
---