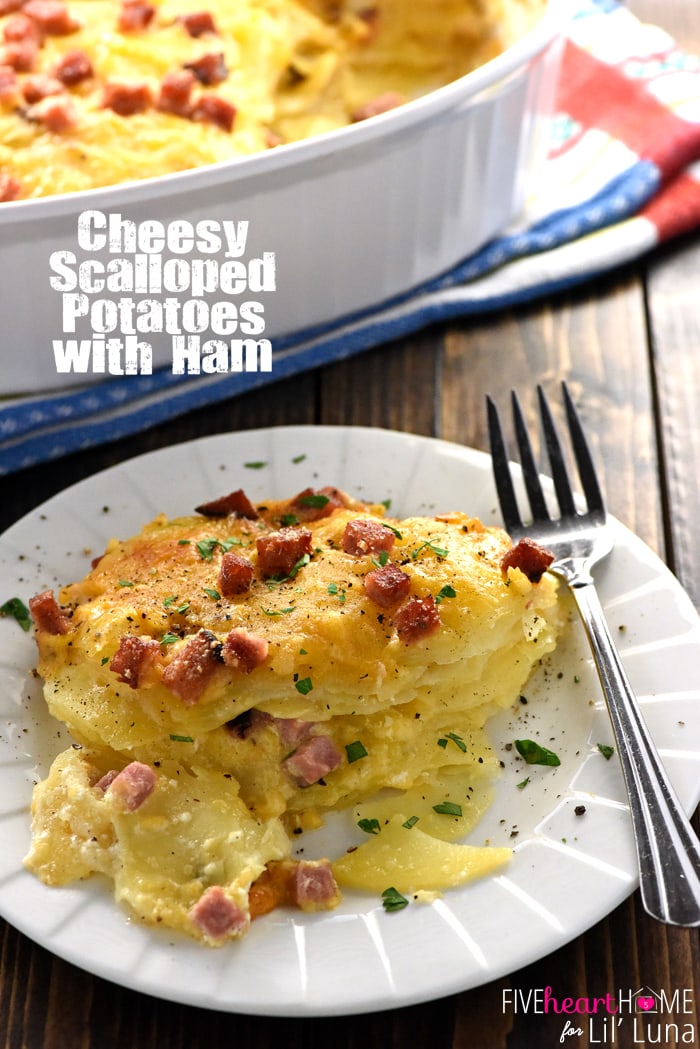 Hello again, Lil' Luna readers! It's Samantha from Five Heart Home and I always love stopping by to visit and share one of my latest, greatest culinary creations. Today I've got a classic for y'all — Cheesy Scalloped Potatoes — and to take things up a notch, I decided to toss in some ham as well! It was a good decision, friends…a very good decision, indeed. 😉
Who doesn't love Scalloped Potatoes…tender, paper-thin slices of potatoes, infiltrated with cream and layered with obscene amounts of cheese! Comfort food? Yes. Diet food? No…but nonetheless perfect this time of year as a holiday side dish, or delicious anytime as a warming meal on a chilly day.
Speaking of holidays, do y'all typically cook ham on Thanksgiving, Christmas, or Easter? If so, this recipe makes fantastic use of those leftovers. The addition of ham really does take this dish from a decadent side dish to a complete main course. The salty cubes of ham provide a nice contrast to the silky, cheesy scalloped potatoes, adding a surprise to every bite!
If you have a mandoline slicer, I highly recommend using it for this recipe to ensure equally-thin potato slices that will cook quickly and evenly. But no worries if not! You may also slice your potatoes with a knife as thinly as you can manage… just be prepared to add a little more baking time, if necessary, until all of the potatoes are perfectly tender. And if the top starts to brown too quickly before the potatoes are done, you can always cover with a sheet of foil for the remainder of the cooking time.
Also? Feel free to swap out your favorite cheese(s) for the cheddar. Swiss, pepper jack, or Gruyere would all be scrumptious…make this recipe your own!
Before I get to the recipe, I just wanted to thank Kristyn and all of you for having me as a Lil' Luna contributor over the past year. Kristyn has become such a wonderful mentor and friend and you as her readers have been so welcoming to me. As much as I would love to continue as a part of the team in 2016, I'm currently working on a cookbook (!!!) and needing to focus all of my extra time and I'm attention on meeting my (crazy) deadlines. But I hope y'all will consider following along with me over at Five Heart Home…I'd love to continue seeing you!
In the meantime, have a wonderful holiday season and promise me that at some point, you'll enjoy a big, steaming plate of Cheesy Scalloped Potatoes with Ham! 😉
For more cheesy potato recipes, check out:
How to make Scalloped potatoes and Ham:
Cheesy Scalloped Potatoes with Ham
Ingredients
1 tablespoon butter, at room temperature
1⅓ cup half-and-half
1 teaspoon salt
Freshly ground black pepper, to taste
1 to 2 garlic cloves, minced
2½ pounds gold potatoes (about 6 medium)
1½ cups grated sharp cheddar cheese (about 6 ounces)
1½ cups diced ham
3 heaping tablespoons freshly grated Parmesan cheese
Instructions
Position oven rack in center of oven and preheat to 350°F. Grease a shallow 2 to 2½-quart baking dish with softened butter.
In a saucepan set over low heat, combine half-and-half, salt, pepper, and garlic. Cook until bubbles just begin to form around edges of pan. Remove from heat and set aside.
Peel and slice the potatoes very thinly; pat dry with paper towels. Layer ⅓ of the potato slices in prepared baking dish. Pour ⅓ of the half-and-half mixture, ½ cup grated cheddar, ½ cup diced ham, and 1 heaping tablespoon Parmesan. Repeat layers two more times.
Bake, uncovered, for 1 hour, or until potatoes are completely tender when you insert a thin knife in the center. If surface is browned but potatoes are not tender after an hour, you may cover with foil and continue baking until potatoes are done to your liking. Allow to rest for 5 to 10 minutes before serving.
Notes
If you have a mandoline slicer, it is recommended for cutting the potatoes, as it will produce very thin slices of the same thickness, which promotes even cooking.

Potato slices will start to brown if exposed to the air too long, so if you're not assembling the dish immediately, you may put the potato slices in a bowl of cool water to prevent browning. Drain and pat dry before proceeding with recipe.
————————————–
We've loved having you on the contributor team this past year Samantha!! Thank you so much for all the amazing recipes you've shared with us, and especially for these scalloped potatoes just in time for Thanksgiving! To see all of Samantha's recipes, head over to Five Heart Home.