These cute and festive Candy Coated Pumpkin Oreos are a great treat for all Halloween parties and get-togethers. They're as fun to make as they are to eat!
It's amazing how some candy eyeballs will turn a normal dessert item into a festive Halloween treat!! Take, for example, our Frankenstein Rice Krispies, Monster Bark, and these adorable Pumpkin Oreos! They're all so fun and festive.

Festive Halloween Oreos
While my daughter and I were putting together some Oreo treats (these Mickey Mouse Oreos), we had the idea to make some Pumpkin Oreos. Obviously everyone already loves Oreos, but dipping them in candy melts and adding cute pumpkin faces would make them even more fun and irresistible!
We used the seasonal Pumpkin Spice Oreos, which turned out so tasty! We were really happy with how the faces turned out too, and loved that each pumpkin head was unique. They could be silly, spooky or even a bit scary depending on how you make them.
These Pumpkin Oreos would make for a fun treat at parties, or in Halloween goody bags!

Dipping Tips
MELTING THE CANDY. Getting the candy coating smooth is pretty important for this cute treat. Here are a few tips:
Keep it at the right temperature. Too hot and it will slide right off. Too cold and it will be clumpy.

Use a double broiler if you have one or make your own. Fill a small pot with 1-2 inches of water and cover with a metal or glass bowl. Place candy in the bowl and bring the water to a boil. Once boiling reduce the heat to keep the candy at a consistent temperature.

Use the microwave. Heat in 20 second increments, stirring in between to get the candy warm enough to dip. Be sure you do not overheat 
DIPPING. I found using a simple fork works well to coat the Oreos.
Place the Oreo in the melted candy coating.

Use to fork to flip the Oreo making sure to completely cover it.

Use the fork to lift the Oreo up and tap the side of the bowl a few times to remove any extra coating.

Place on a piece of wax/parchment paper.

Be sure to add the eyes and stem before the candy coating sets.

Once set, add the mouth and sprinkles for the teeth.

Place Pumpkin Oreos in the fridge to speed up the set time.
Candy foot: A candy foot is created when excess coating pools around the base of the treat. To help prevent this allow the dipped oreo to drip off before placing it on the parchment paper to set. If you do notice the coating beginning to pool, use a toothpick to "cut" the pool away from the treat. If a foot has set, simply break/trim it off.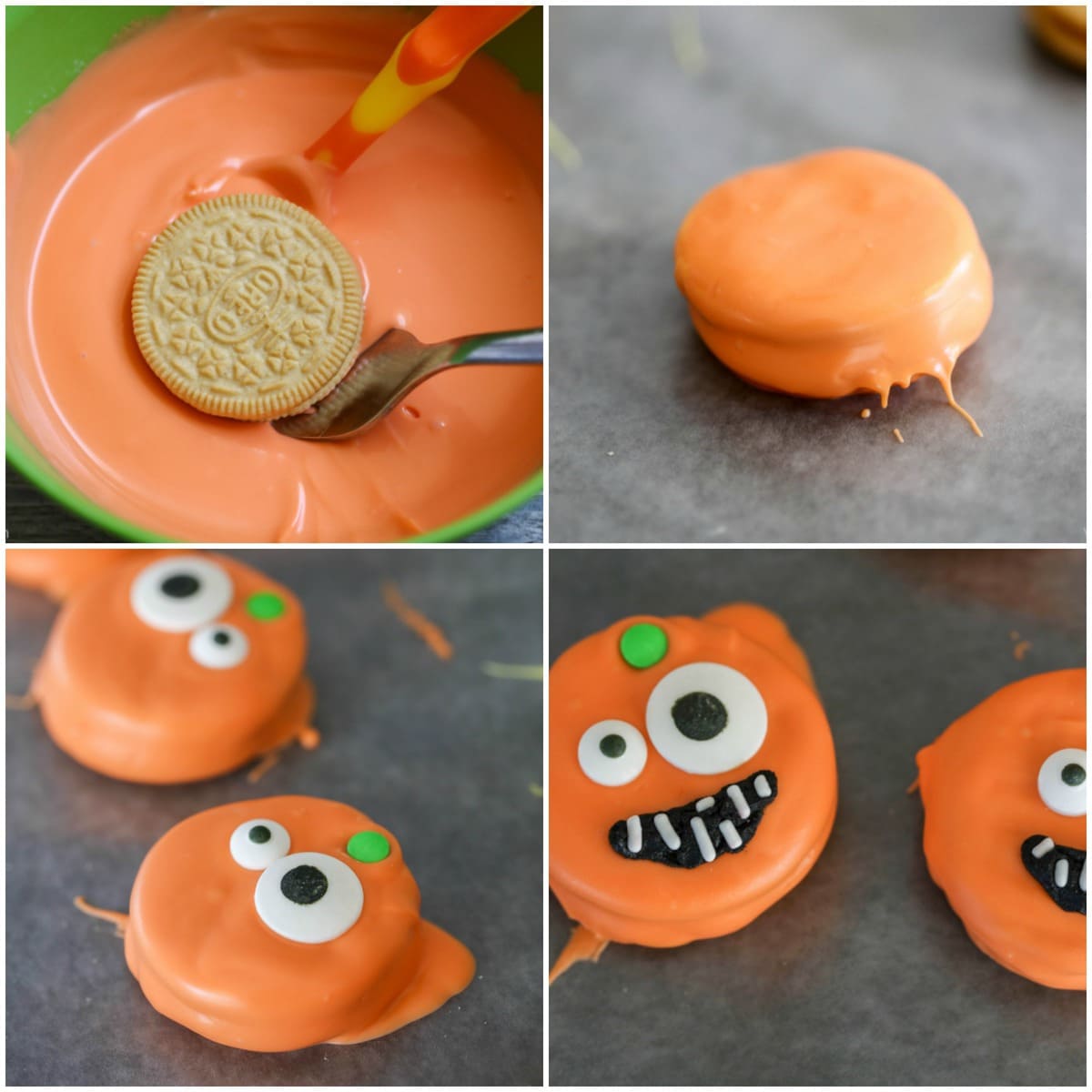 Making Ahead and Storing
Make ahead of time: I would recommend making this treat the morning of, or even the night before serving. This is especially useful if you need to make a large amount. This way you have ample time to get them assembled and for the candy coating to set. 
Storage: You can store these dipped cookies for a while and still keep a beautiful finish. Because we used candy melts, they will not produce the white dusty "bloom" that other chocolates create when stored.
These Pumpkin Oreos can be stored in the fridge for about a week, or frozen for about a month. Be sure to allow everything to set before storing and separate layers with wax paper.

These pumpkin Oreos were seriously so much fun to make and are the perfect little treat for anything fall or Halloween related. From parties and get togethers to an after school treat for the kids – I promise they'll be a hit!!
For more fun Halloween treats, check out:
Halloween Pumpkin Oreos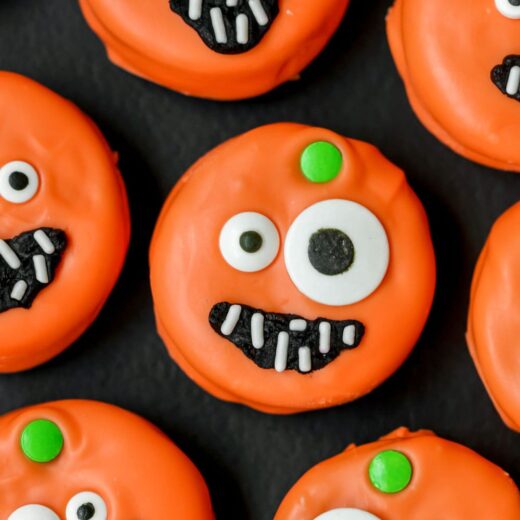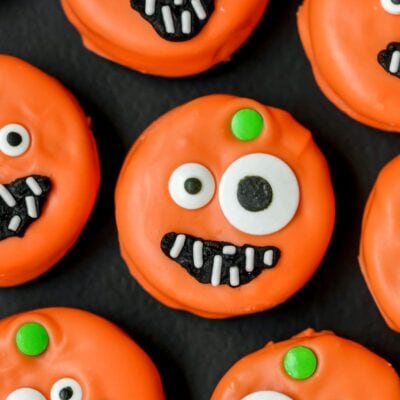 These cute and festive Candy Coated Pumpkin Oreos are a great treat for all Halloween parties and get-togethers.
Ingredients
24

Oreos

(We used Pumpkin Spice Oreos but any variety will do)

1

bag

Orange Candy Melts

24

green steam sprinkles

or mini M&Ms

48

Candy Eyeballs

black frosting writers

comes in a tube so it's easy to pipe on

White Jimmies
Instructions
Melt your orange candy melts according to packaging. Dip each Oreos in melts until all covered.

Set out on parchment or wax paper and add candy eyeballs and green stem. Let set.

Pipe on black frosting for mouths and add white jimmy sprinkles as teeth. Let set (refrigerate if you want it to set quicker) and ENJOY!