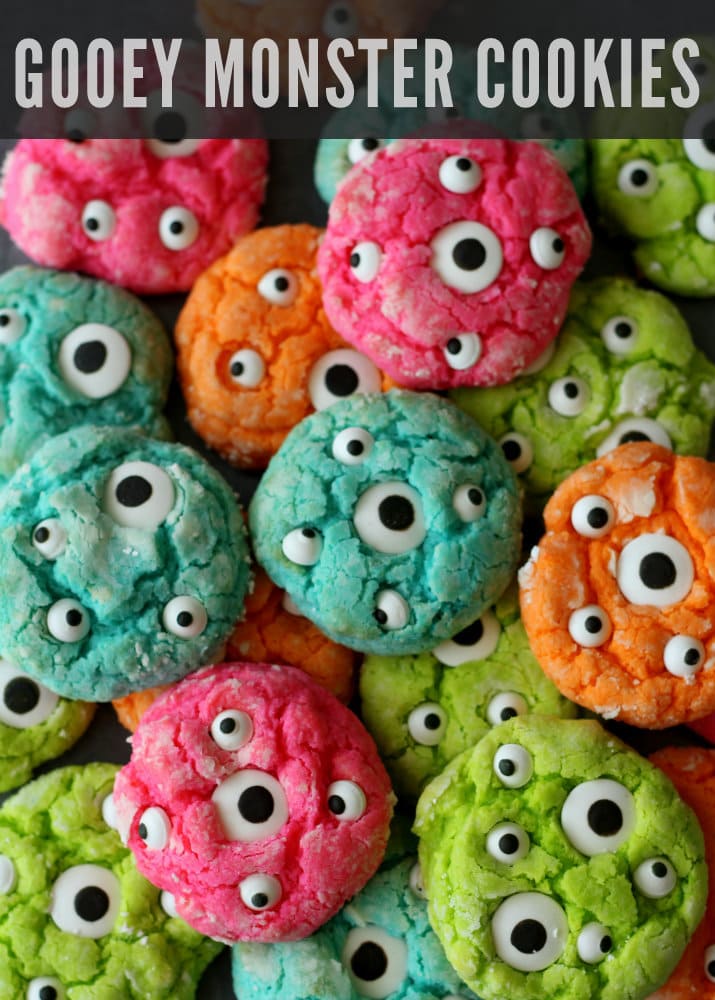 We are HUGE Disney fans here at the Merkley house. Not only do we go to Disneyland every year, but we own almost every movie and love all things Disney. I may the biggest Disney fan of all in the family and still find myself in tears at the end of every movie… not because they're sad, but because they are seriously SO awesome! The way they make up these incredible stories that come full circle are just down right amazing! Monsters University is no different. I actually took Lily and Gavin to see it opening weekend. They LOVED it and were so excited to find out that we were getting the DVD a bit early to review (OFFICIAL RELEASE DATE IS OCTOBER 29TH). We've been watching it all week and it gets more funny each time we do. The hubby and I actually sat down and watched it together after the kiddos went to bed last night. I can't remember the last time my hubby laughed so hard in a movie.
With Monsters U on the brain, I knew I wanted to make a yummy and creepy treat to celebrate the new release of the movie. I couldn't help but think of the Gooey Monster Eye Cookies I made a month or so ago. They remind me so much of Mike Wazowski. I decided to do a more colorful version with lots of eye balls!
These cookies remind me of all the fun Monsters found in the movie! Aren't they fun?! The kids each picked out a color (Gav was green AND blue, Evie was Orange and Lily was Pink).
My kiddos absolutely died over these sweet treats, and were adamant about trying each color. I convinced them they could only try two (one the day we made them and one the next day). They didn't like that idea, but went with it. 🙂
Ingredients
Instructions
Beat butter, vanilla, egg and cream cheese until fluffy.

Mix in cake mix. Divide batter into bowls for the amount of colors you want.


Add food coloring to each individual bowl and mix until all combined.


Chill for 30 minutes.


Roll into balls and dip in a bowl of powdered sugar.


Place on greased cookie sheet and pat down a bit.


Bake at 350 for 10-12 minutes.


Add candy eyeballs while cookies are still warm. ENJOY!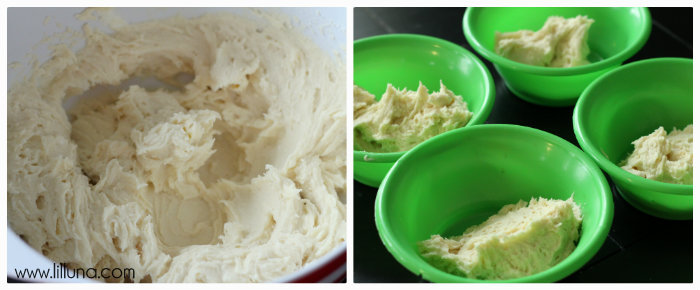 Make the dough as directed and divide into 4 bowls.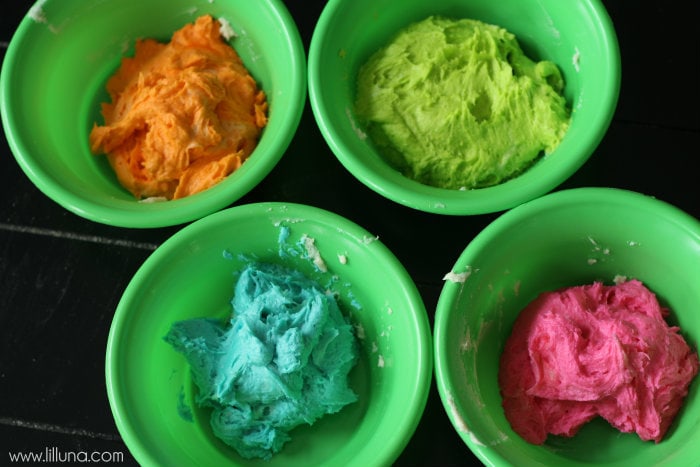 Add food coloring to each bowl and mix well. I used neon orange, neon green, neon blue and neon pink.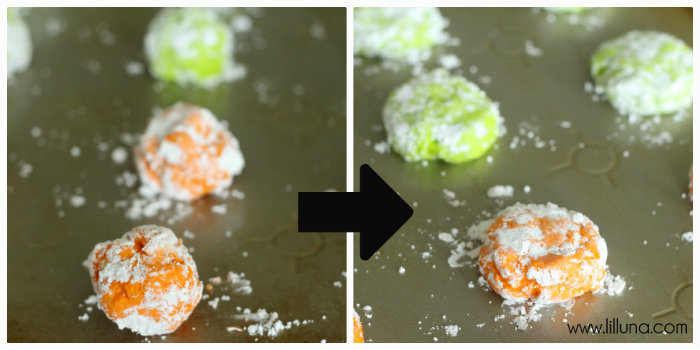 Roll your dough into balls and then into a bowl of powdered sugar. Flatten a bit with your fingers.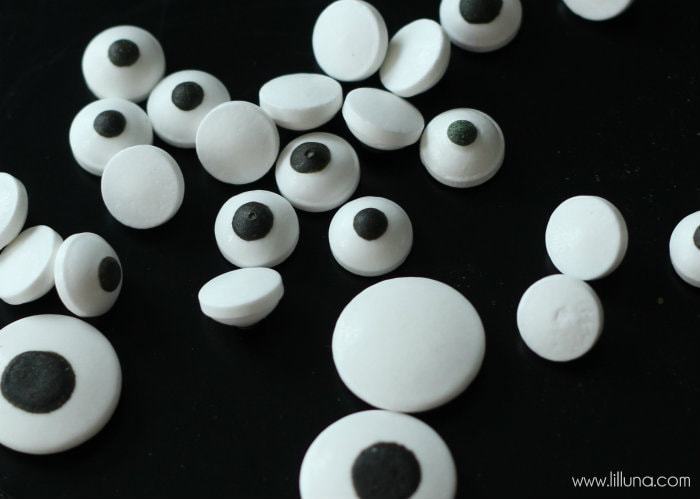 Get these Candy Eyeballs ready so as soon as the cookies come out of the oven….
**CANDY EYE BALLS can be found in the Baking/Wilton Section at Walmart, Hobby Lobby, Michael's or JoAnna.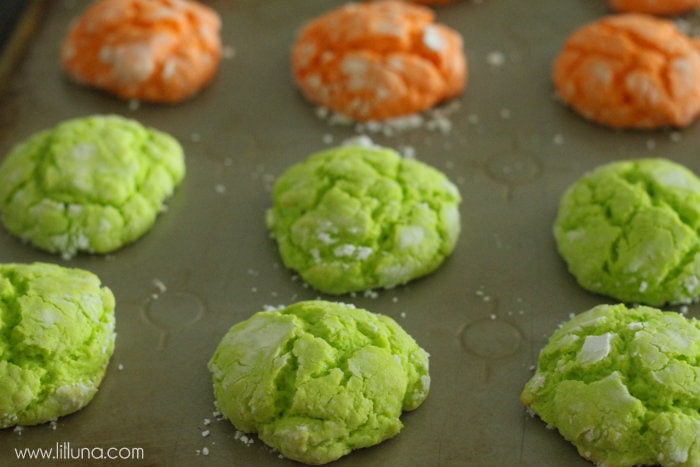 you can add the eyeballs (however man you like!)
Man, they were so fun to make as well as super delicious! Unfortunately, I couldn't stop there. I decided to make Monster Suckers too (I'm sorry – I just couldn't help myself!)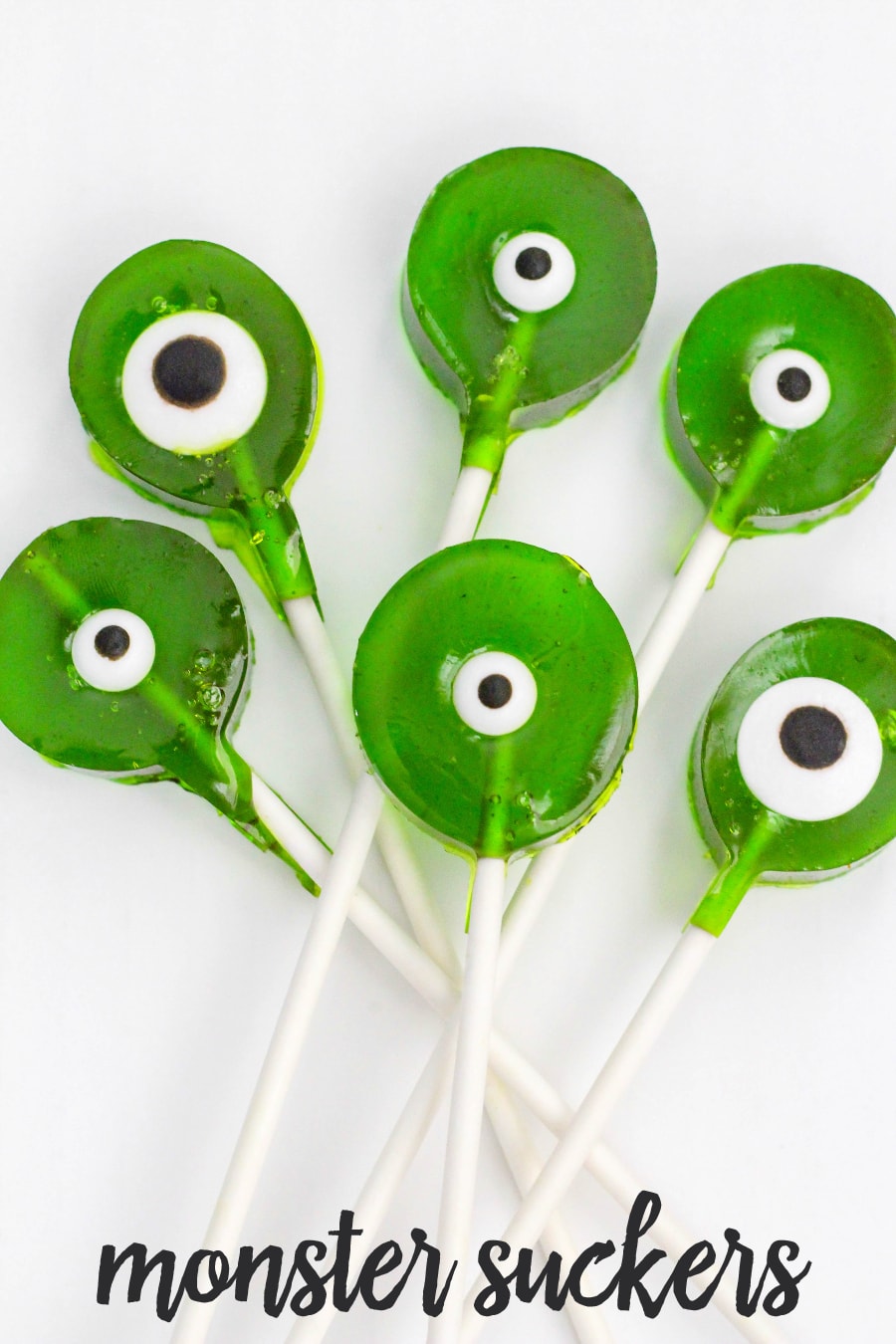 We've been making suckers for years, and when my sister was in town last week we busted out a batch.
They are so easy to do if you have the molds and supplies, and were so fun to make with a monster theme.
Here is what you'll need to make them:
INGREDIENTS
1 cup sugar
½ cup water
⅓ cup corn syrup
¼ tsp. flavoring (you can use any flavoring but we found apple)
¼ tsp. food coloring
Candy Eyeballs
SUPPLIES:
Sucker Sticks
Lollipop Molds (can be purchased HERE)
INSTRUCTIONS
Put molds and sticks together. Place on cookie sheet and spray. Put in freezer until candy is ready.
Put all ingredients except flavoring and color in a pan. Cook to hard crack stage (300 degrees).
Add flavoring and coloring. Add Candy eyeballs. Stir about two minutes.
Pour into molds. Let set for 10-15 minutes. Remove molds and ENJOY!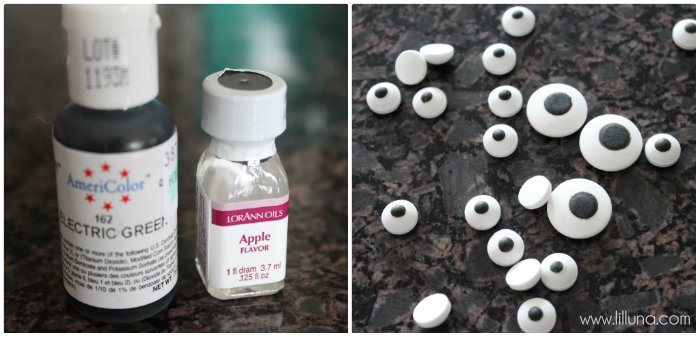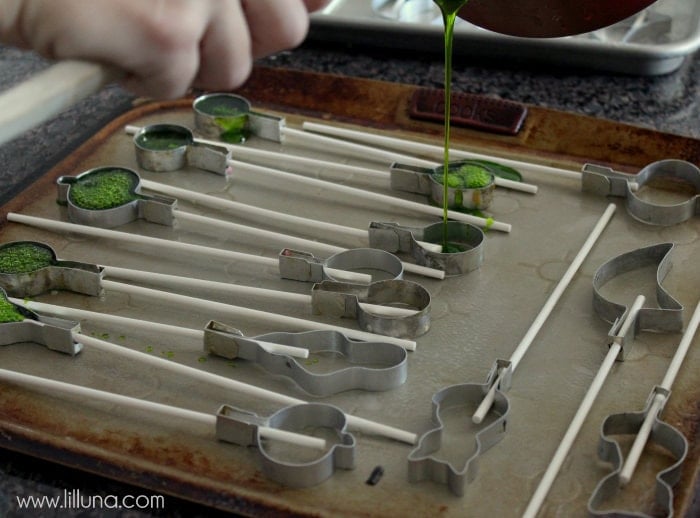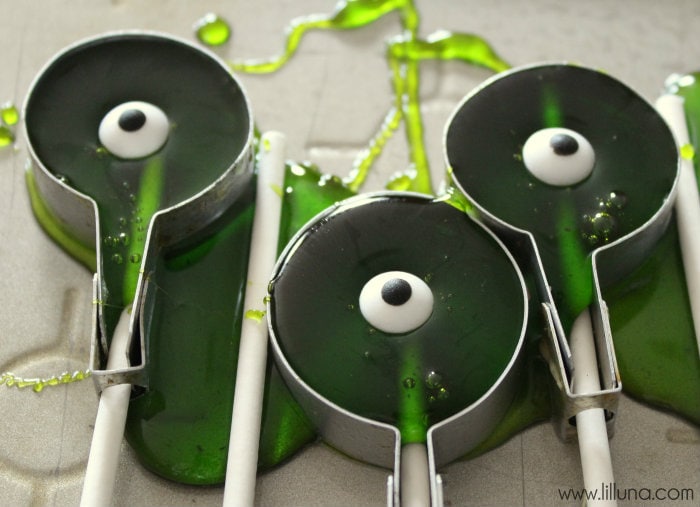 Pouring the candy into the molds can get messy, but it is easily cleaned!
So glad we had some Monster Fun in the kitchen putting together these awesome treats!!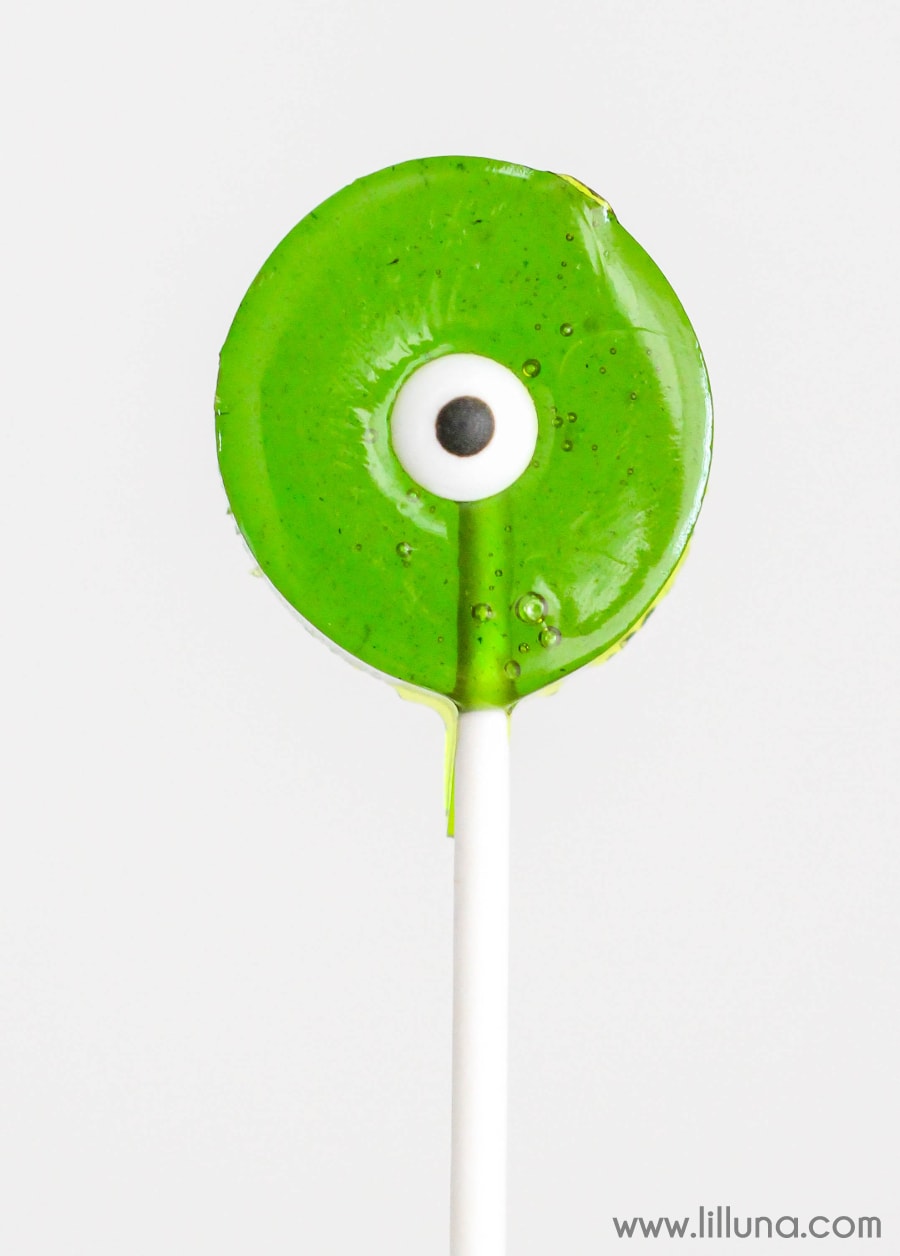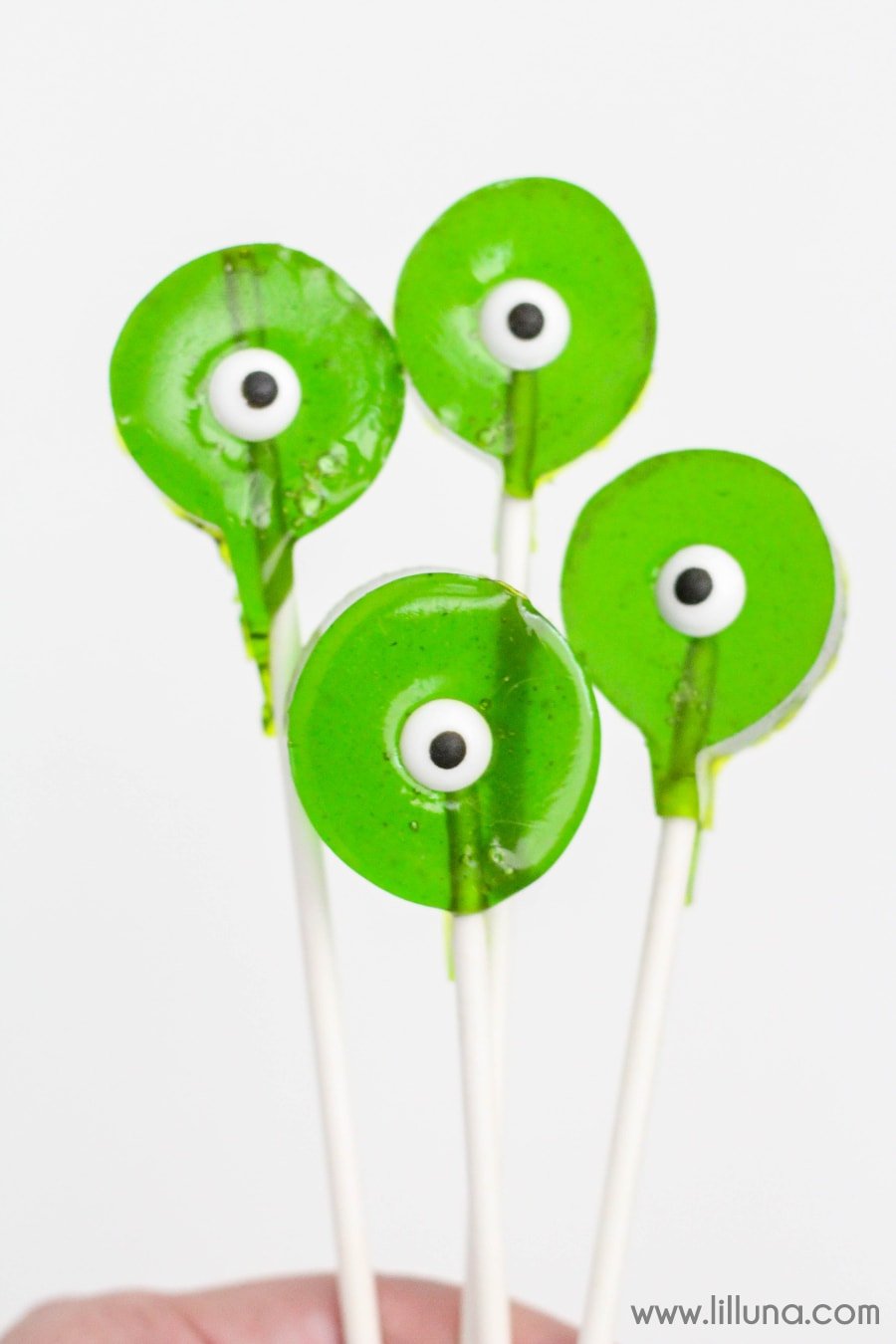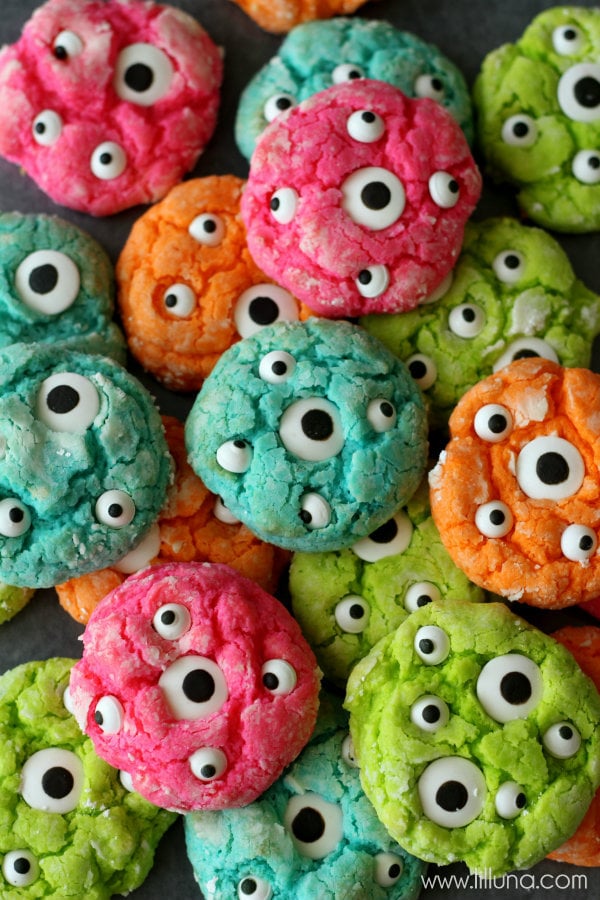 You will definitely have a blast making them too!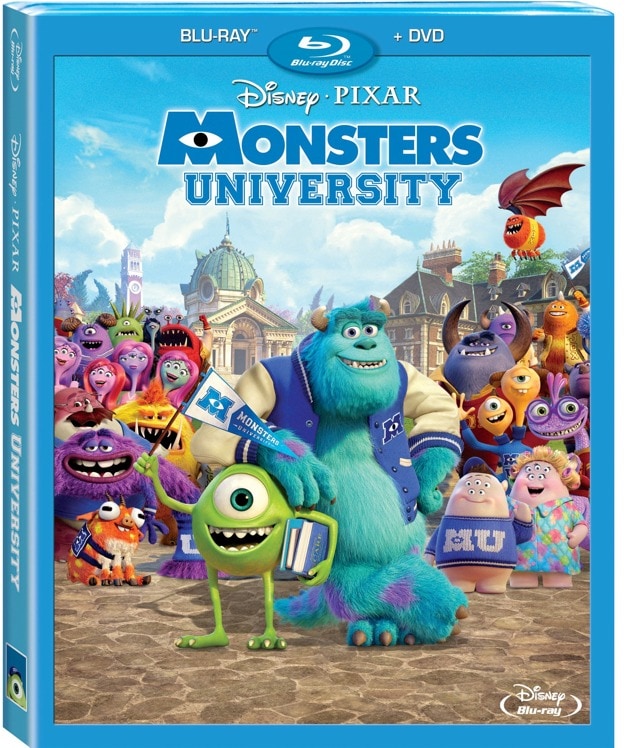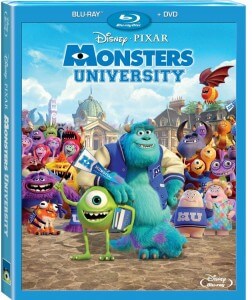 Be sure to check out Monsters University when it comes out Oct. 29th. To pre-order the movie online go HERE.
For more information be sure to check out Monsters U on Facebook HERE, on Twitter HERE, and on Pinterest HERE.
For a few more monster ideas check out:
ENJOY!
This is a sponsored post brought to you by Disney and Blueprint Social. As always, all opinions are 100% my own.