Easy Popcorn Balls are so sticky and tasty, everyone will love them. They're perfect for any party, holiday or get together!!
Marshmallow Popcorn Balls are the perfect sweet treat to satisfy your sweet tooth. If you like these sticky popcorn treats, you'll love caramel marshmallow popcorn and birthday cake popcorn as well!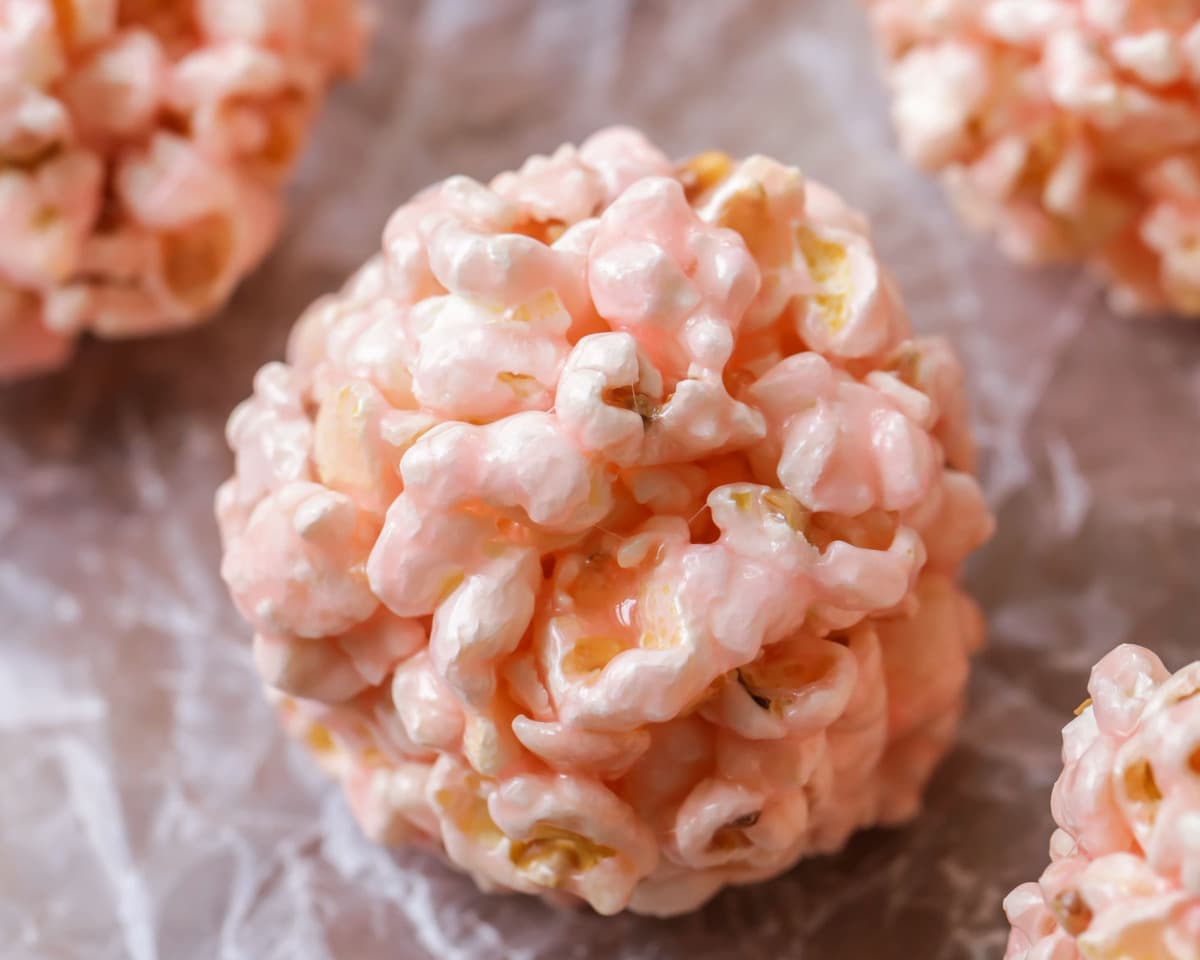 A childhood favorite!
Who here has memories of eating delicious, sticky Popcorn Balls when they were younger?!
I DO!! In fact, that's my only memory of them because I feel like they vanished from my life for a good 25 years or so until recently.
I saw these sweet treats at a school fair and asked my mom to find her recipe because I wanted to make some. I was so glad we found it because I knew these easy popcorn balls would be a hit with my own kids.
They weren't just a hit with the kids, but the hubby, myself, my nieces and nephews, and my sisters all loved them!!
Sure, they may cause a few cavities and should be made only on special occasions (or holidays like Halloween), but they were so good and reminded me so much of my childhood.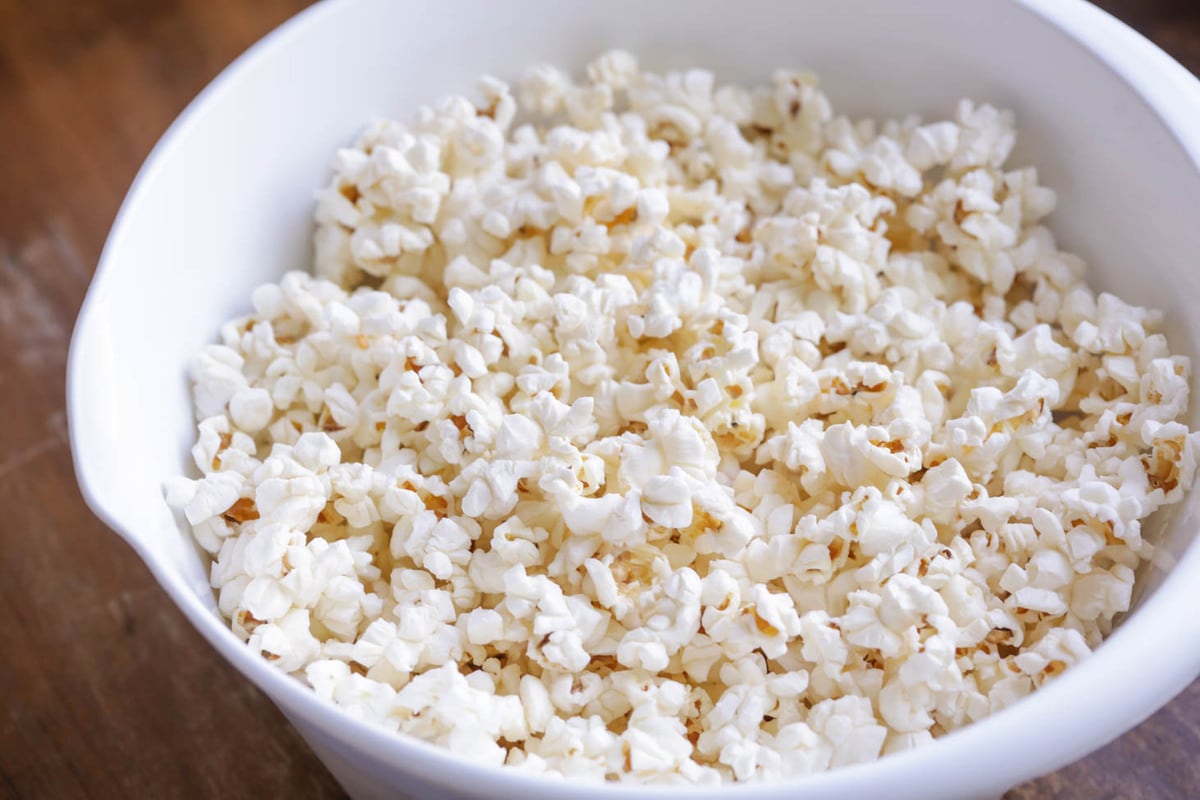 How to Make Popcorn Balls
This recipe is so simple! Here are the popcorn ball ingredients needed:
light corn syrup
margarine
water
powdered sugar
mini marshmallows
plain popcorn
food coloring
Once you have these ingredients together, you will just need to follow a few steps to make these delicious marshmallow popcorn balls.
POPCORN. Pop popcorn and be sure to take out all kernels (we used 2 – 3.2 oz. bags of plain popcorn). Pour into a large bowl.
MARSHMALLOW MIXTURE. In a medium saucepan over medium heat, combine corn syrup, margarine, water, powdered sugar, food coloring and marshmallows. Heat and stir until mixture comes to a boil. Carefully pour this over the popcorn and stir to coat popcorn.
FORM BALLS. Let cool a bit and then butter fingers so you can easily handle and shape popcorn mixture into 3-4 inch balls before they cool.
Tip: Wrap balls with cellophane or plastic wrap and store at room temp.
Variations – change it up
Aside from changing up the color you can add fun ingredients to change them up a little. Just be sure that you don't add too many because if the syrup mixture doesn't cover the extra ingredients, then the balls won't stay together. Some additions include:
Festive sprinkles
Mini M&M candies
Chocolate Chips – try different sizes and different flavors
Mini marshmallows, regular or colored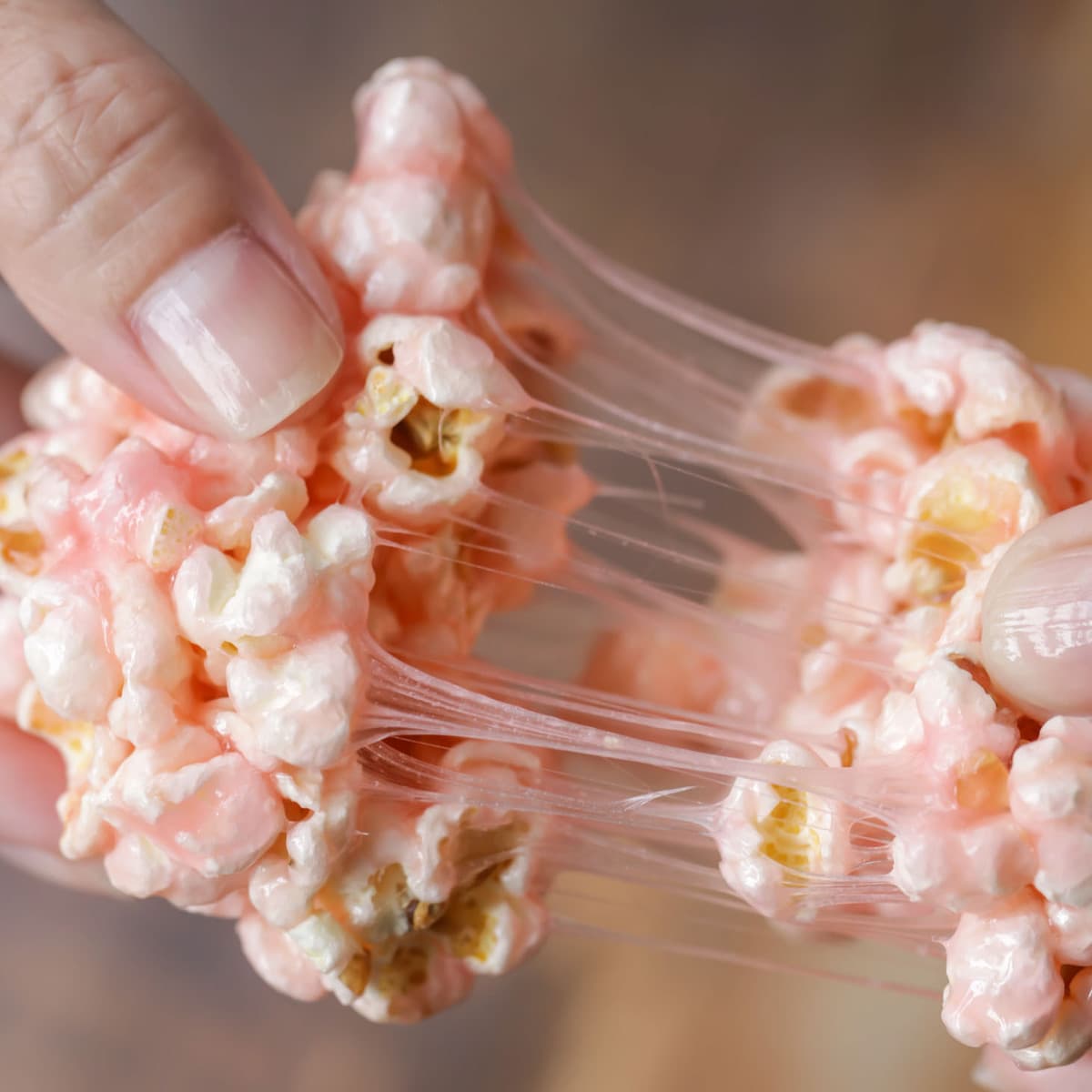 Popcorn ball tips + FAQ
Tip: Spraying your hands with cooking spray will keep the popcorn balls from sticking to your hands while you shape them. Work quickly because the popcorn mixture will harden as they cool. Also, don't pack them too tightly otherwise they will be too dense and hard to eat.
Don't have bagged popcorn? One 3.28 oz bag of popcorn contains 5 tablespoons unpopped kernels or about 11 cups of popped corn. For this recipe, you can buy about 20 cups of plain pre popped popcorn, pop 2/3 cup popcorn kernels, or pop 2 bags of plain microwave popcorn.
When popping your own kennels use about 2 tablespoons of oil for very ½ cup of kernels.
I like using coconut oil, but vegetable and canola oil work as well.
Why don't my popcorn balls stick together? It is really important to stick to the recipe as written. Substituting similar items or adding ingredients can negatively affect the result. For example, you may be tempted to use honey instead of the sugary corn syrup. However, honey won't harden like the corn syrup is designed to do, resulting in a popcorn ball that won't stick together.
Timing: Timing plays another role when forming the popcorn balls. If the syrup mixture is too warm, then the balls will not hold their shape. If the syrup mixture cools too much, then it will be too hard to form.
Food coloring: We ended up making pink marshmallow popcorn balls because that was the color I remember them being when I was young, but you can make them any color you'd like.
Size: You can also make them any size you'd like to maybe help limit the amount your kids consume. We made ours about 3-4 inches around, and that was a great size. But we are thinking we may even go smaller and add popsicle sticks to eliminate some of the mess and stickiness that comes with these. 😉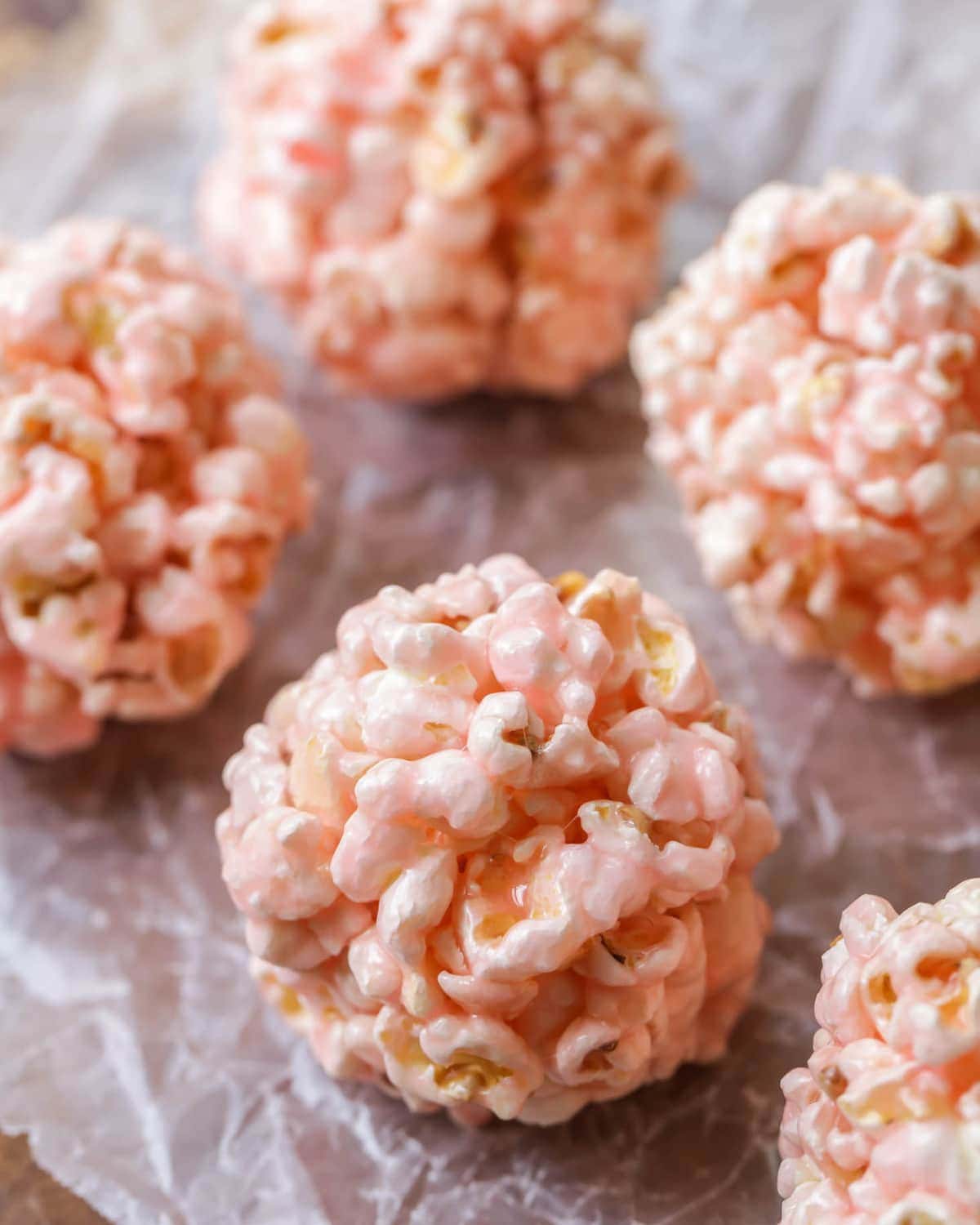 Popcorn Storage tips
FREEZE popcorn kernals: Keeping them frozen helps them maintain their moisture which allows them to pop better. You can even pop them straight from the freezer. Just allow for a little extra popping time. You can also freeze the popped popcorn in an airtight container. It won't actually freeze, but it will stay fresh for a couple of weeks.
FREEZE popcorn balls: Simply wrap each ball with plastic wrap then put them in an airtight freezer safe container. Freeze for up to 2 weeks. Allow to thaw at room temperature then remove the plastic wrapping.
I love that we have this recipe again in our lives and that we can change them up by color (and flavor) for any occasion or event. They'd be great for holidays, parties, or any get together really.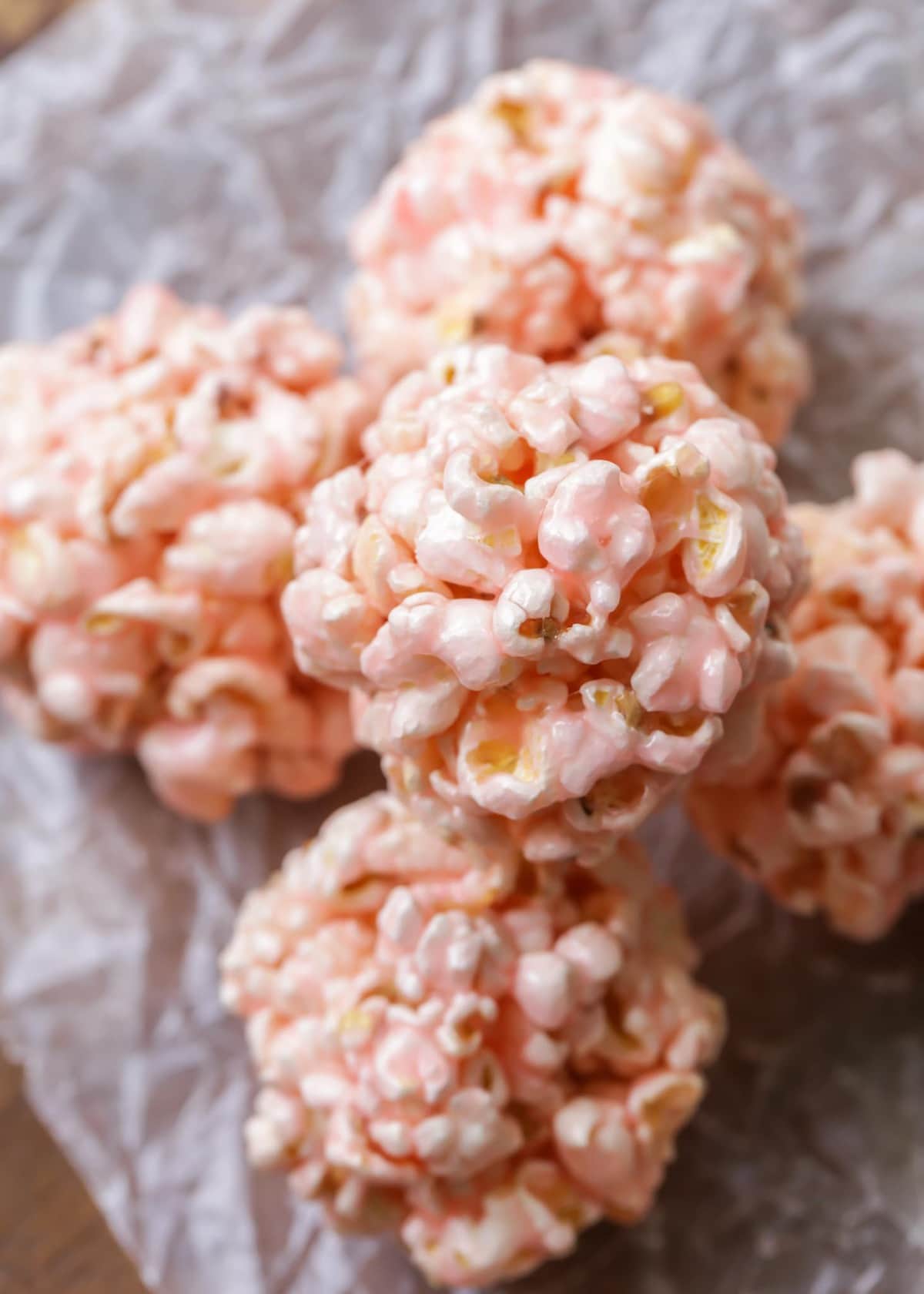 For more popcorn recipes, check out:
Easy Popcorn Balls Recipe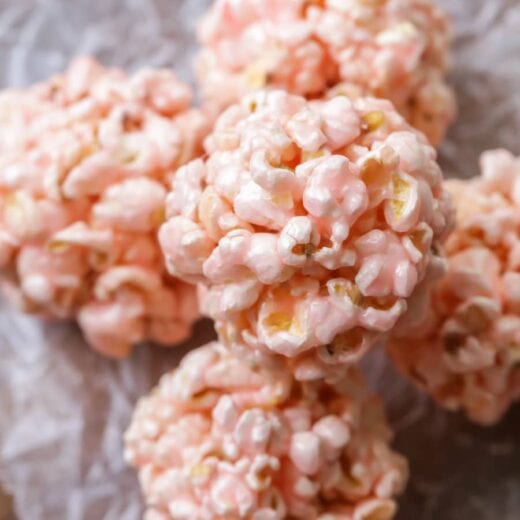 Easy popcorn balls are so sticky and tasty, everyone will love them. They're perfect for any party, holiday, or get-together!!
Ingredients
2

(3.2-ounce) bags

plain microwave popcorn

2½

cups

powdered sugar

1

cup

mini marshmallows

¾

cup

light corn syrup

4

tablespoons

margarine

or unsalted butter, plus more for your hands

2

teaspoons

cold water

a few drops food coloring of choice
Instructions
Pop popcorn and pour it into a large bowl, removing any un-popped kernels.

In a medium pot over medium-high heat, combine powdered sugar, marshmallows, corn syrup, margarine, water, and food coloring. Heat and stir until the mixture comes to a boil.

Carefully pour over the popcorn, stirring to coat each kernel.

Let cool a bit, then butter your fingers so you can easily handle and shape popcorn into 3–4-inch balls before they cool.

Wrap with plastic wrap and store at room temperature.
Notes
Make ahead of time. Wrap balls with plastic wrap and store them at room temperature for up to 5 days. Serving suggestion. Make the balls a little bit smaller and insert a popsicle stick into the middle of each one before wrapping to eliminate some of the mess and stickiness that comes with these.