Hello All! So glad to be back guest posting on Lil' Luna today!
I hope your summer is going well and you're not too sunburned or tired of the ice cream man yet.  I don't know about you, but every time I hear that distinct little ice cream tune, I run for the TV and exclaim,
"Hey, kids — Let's watch cartoons!"
And it never fools them. They're too smart for me!
Well, as great as summer has been in my house, it's getting about that time to get back in the school-time groove. We'll be buying new backpacks, checking off those supply lists, shopping for some back to school clothes and maybe even making little gifts for our new teachers, too. So today I'm sharing a
FREEBIE Back to School printables set
 that I hope can help you all create something for those special people who take care of our children every day.
It's a printable monogrammed note card set and some cute apple tags to make putting together a teacher gift a breeze. You can use them as I have or be even more creative and find your own way to use them. Whether you make a whole set of note cards or just use a gift tag to attach to a store-bought present, I hope these printables will help you create something your children will love giving to their new teachers. And by the way, it's a good freebie set for Christmas gifts as well….. that red and green combo would be perfect for small gifts for neighbors and friends.
Here's what you'll need for both projects:
– Matte finish premium photo paper (buy the kind you can print on both sides) – you may also use white cardstock, but the matte photo paper will print more vivid colors
– Sticker paper if you'd like your Teacher Treats tag to be a sticker
– Envelopes to fit a standard size (A2) 4 3/8″ x 5.5″ card
– Scissors and ruler
– 3″ circle punch (or you may cut the circles out with scissors)
– 2″ circle punch or scalloped circle punch
– Small piece of ribbon
– Candy jar (I bought mine at Walmart for $2.97)
– Candy (I used Skittles)
– Clear plastic bag
– Double sided tape (or scotch tape if you don't have double sided or glue dots will work, too)
– Red or green paper shreds
– Paper scoring tool (or a butter knife and ruler)
– Hole punch if you would rather your tag be a hang tag to string ribbon through it and attach to your teacher gift
After
downloading
and printing your "Teacher Treat" tags, just follow the steps below:
STEP 1: Using scissors, cut close to the outside line of your printed treat tags.
STEP 2: Using a 2″ circle or scalloped circle craft punch, line up your treat tag and punch each one out.
STEP 3: Peel off the backing of your sticker paper and place your treat tag on top of your candy jar. (Note: you may also use the photo paper to print these and just glue the tag on top of the jar).
STEP 4: Fill your jar full of candy and place the lid on the jar. Viola! Easy!
The candy jars would make a cute and simple gift on their own or you can choose to make the monogrammed note cards as well following these few steps:
STEP 1: Using scissors, cut right on the line of your printed note card pages.
STEP 2: Using a 2″ circle or scalloped circle craft punch, line up your monogram or apply logo and punch each one out.
STEP 3: Using a scoring tool as shown or a butter knife and ruler, score the center line of your note cards before folding in half.
STEP 4: Fold your note cards on the center scored line and press the crease with a ruler.
STEPS 5 and 6: Using double sided tape (or regular scotch tape if you don't have double sided), tape the back of your monogram logo and attach it to the center front of your note card.
STEPS 7 and 8: Place your stack of note cards inside your plastic bag with some shredded paper. Tie a ribbon around the top of the bag to close and you're done. Cute and quick!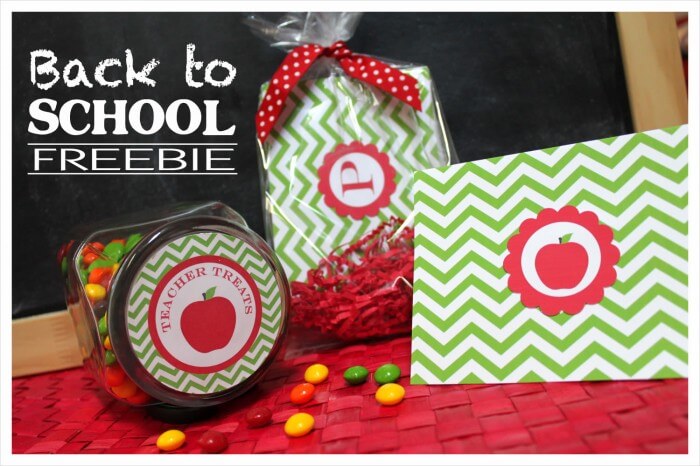 I hope you all enjoyed today's Back to School teacher gift idea!
I'd love to have you join the party. See you next month!
———————————————–
Thank you once again to Amanda.
The girl is amazing, and will be here on Lil' Luna each first Monday of the month. Be sure to check out her site – I promise you won't be disappointed. 🙂
For more FREE prints be sure to check out: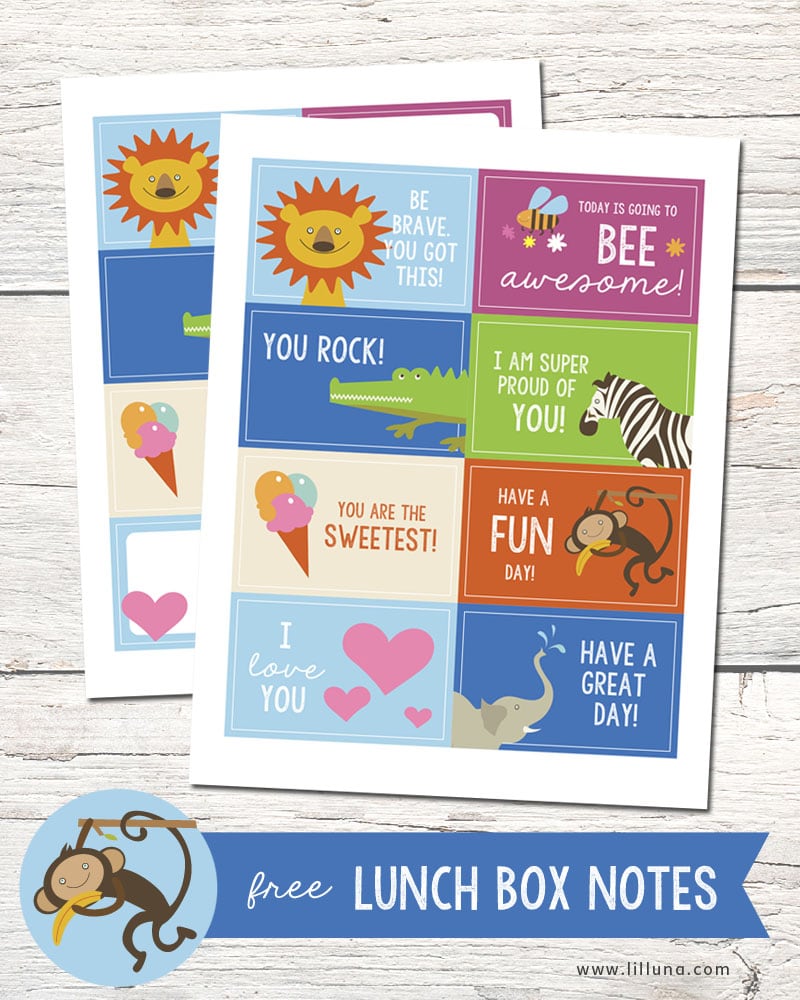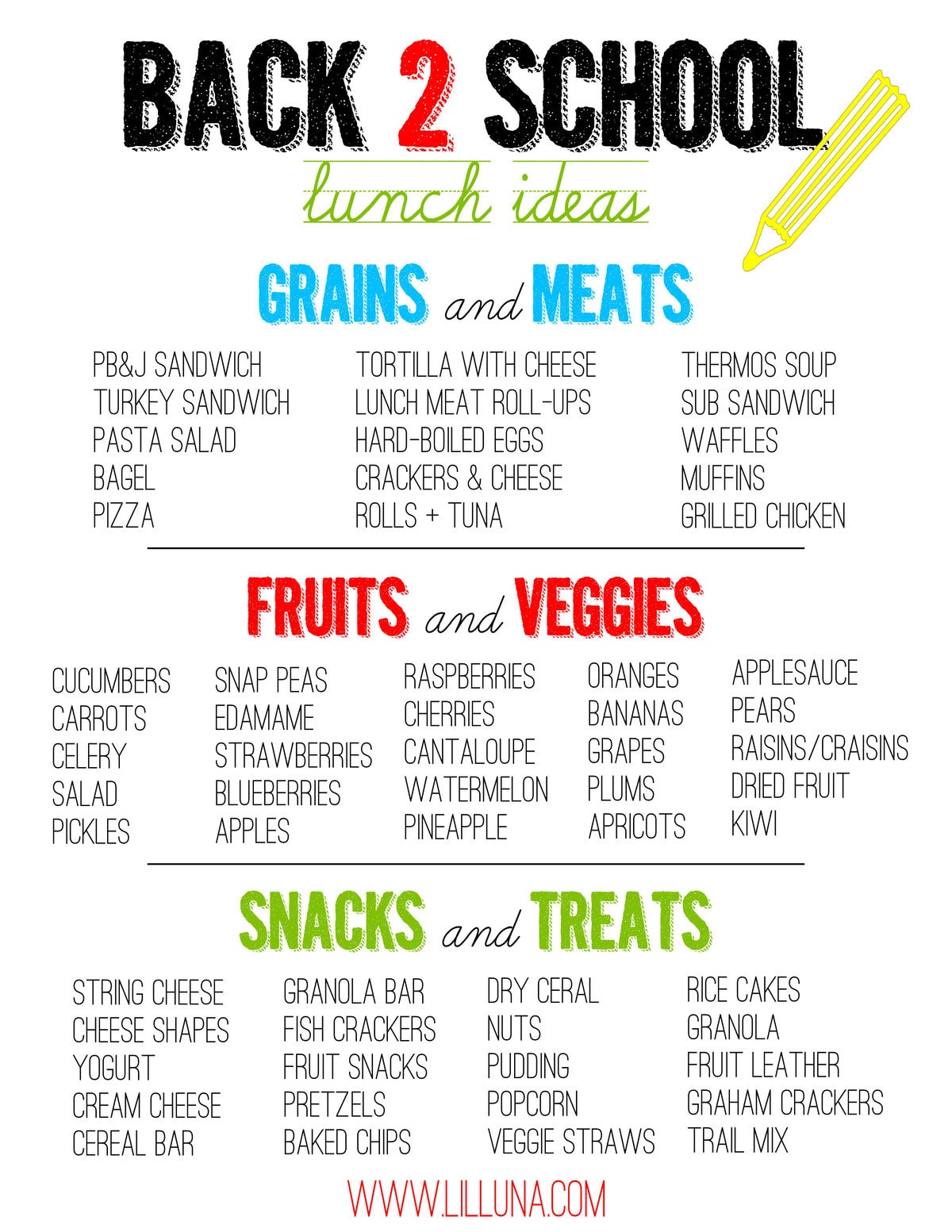 For all Free Prints go HERE.
For all Gift Ideas go HERE.
MY OTHER RECIPES
And get weekly emails with monthly freebies by signing up for the Lil' Luna newsletter. 🙂
For even more great ideas follow me on Facebook – Pinterest – Instagram – Twitter – Periscope – Snapchat & YouTube.
ENJOY!!