A delicious collection of some of the new and best food to try and Epcot Food and Wine as well as all the best treats and restaurants in Epcot.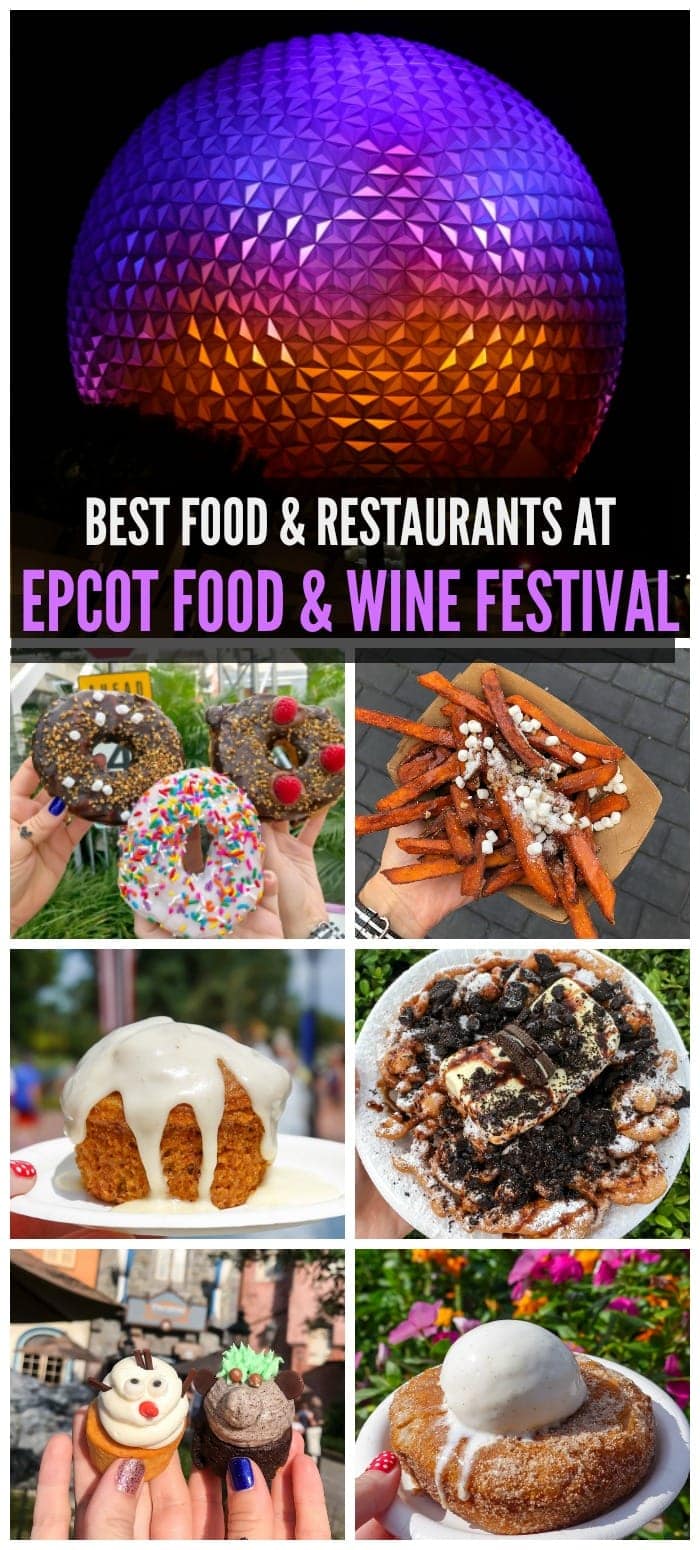 Epcot Food and Wine Festival
Have you ever been to the Epcot International Food and Wine Festival? If you haven't, you're missing out on a celebration of global cuisines, festivities, music and more. You should already know that Disney's Epcot is already filled with some of the best food, entertainment and rides you can find in all of Disney World. The festival enhances the Epcot experience with even more food and fun to add to the party.
This year, the festival runs from August 30 – November 12, 2018. With concerts, special appearances from world-famous chefs and specialty foods from around the world, you'll want to make sure you come to Epcot during the festival.
Now that you know what the festival is, I wanted to share with some of the MUST-EAT items available during the festival. The food changes ever year with new great dishes and treats and they often bring back popular items from years before. Some of the returning festival favorites include:
Madras Red Curry – India
Dark Chocolate Raspberry Torte – The Chocolate Studio
Braised Beef Stroganoff – The Cheese Studio
Cheddar Cheese and Bacon Soup – Canada
Shrimp Scamp – Coastal Eats
Liquid Nitro Truffle – The Chocolate Studio
Today, I'll share with you some of my favorites available at this year's festival.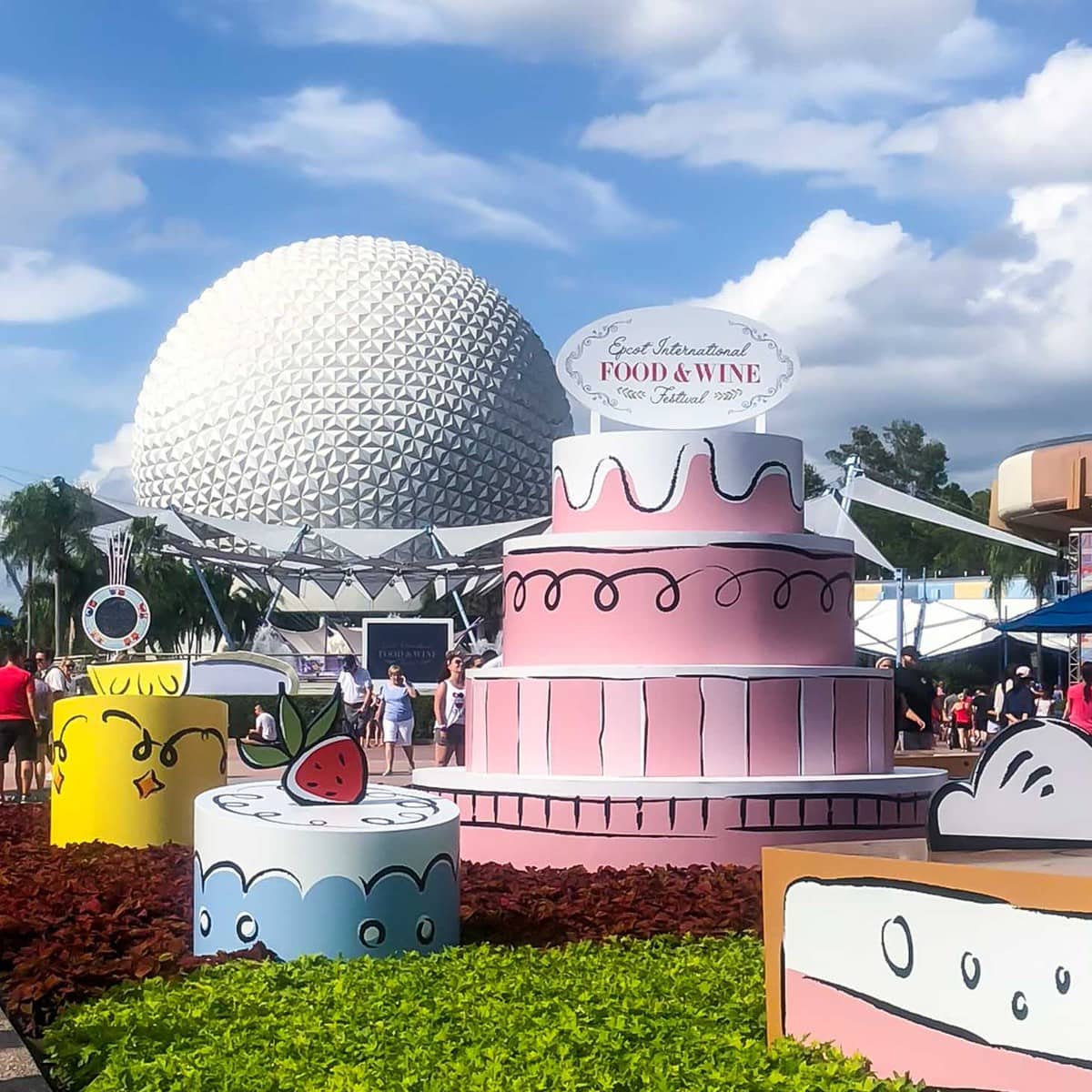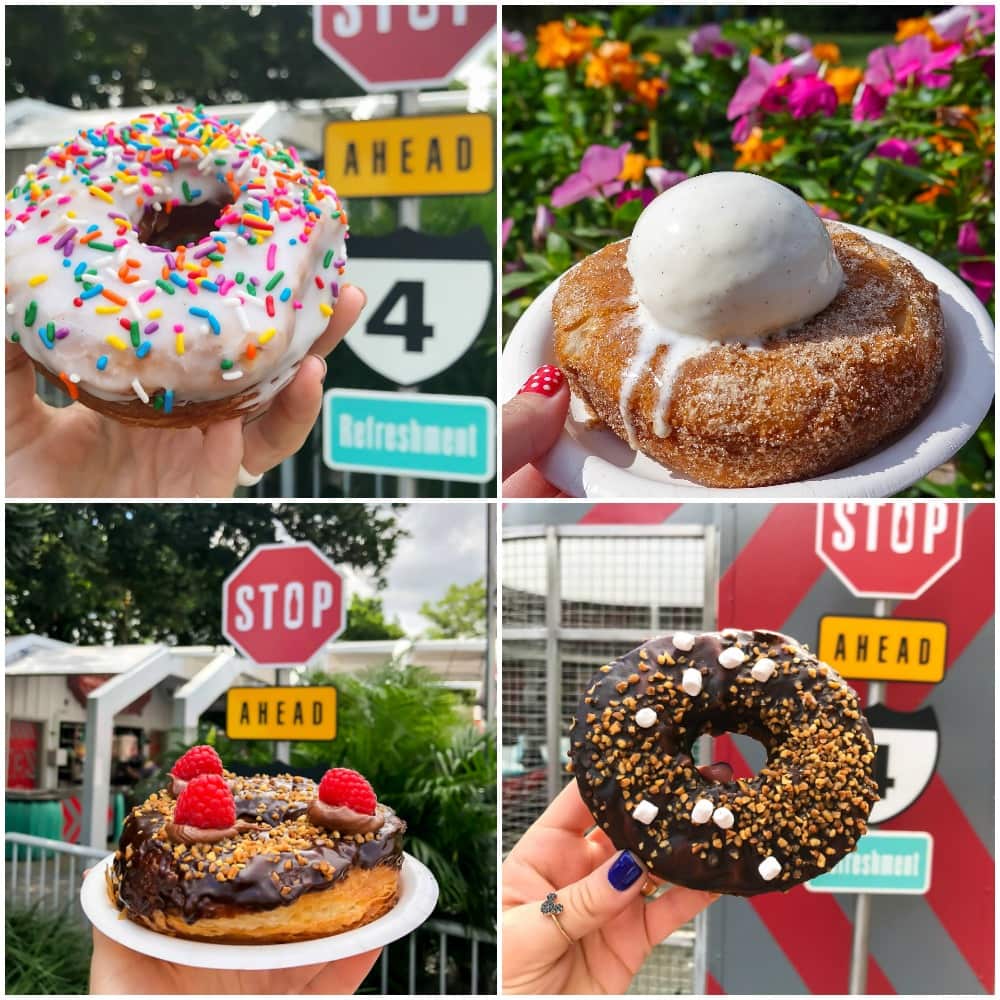 New Food to Discover at Epcot
As mentioned, new foods and treats are introduced each year at the festival. We were able to try many of these delicious concoctions and we wanted to make sure you were able to try these goodies too.
My favorite from this year's festival were the Croissant Donuts at Taste Track. What are Croissant Donuts? They're deep-fried donuts made out of a croissant dough – and they are AMAZING! This years flavors include:
Croissant Donut with Sprinkles
Croissant Donut with Cinnamon & Sugar
Croissant Donut with Chocolate & Marshmallows
Croissant Donut with Chocolate Hazelnut Cream and Raspberries
Oh and yeah – you can get any topped off with a scoop of vanilla gelato. I tried every one of these donuts and they were all amazing, but the sprinkles and cinnamon & sugar were my favorites.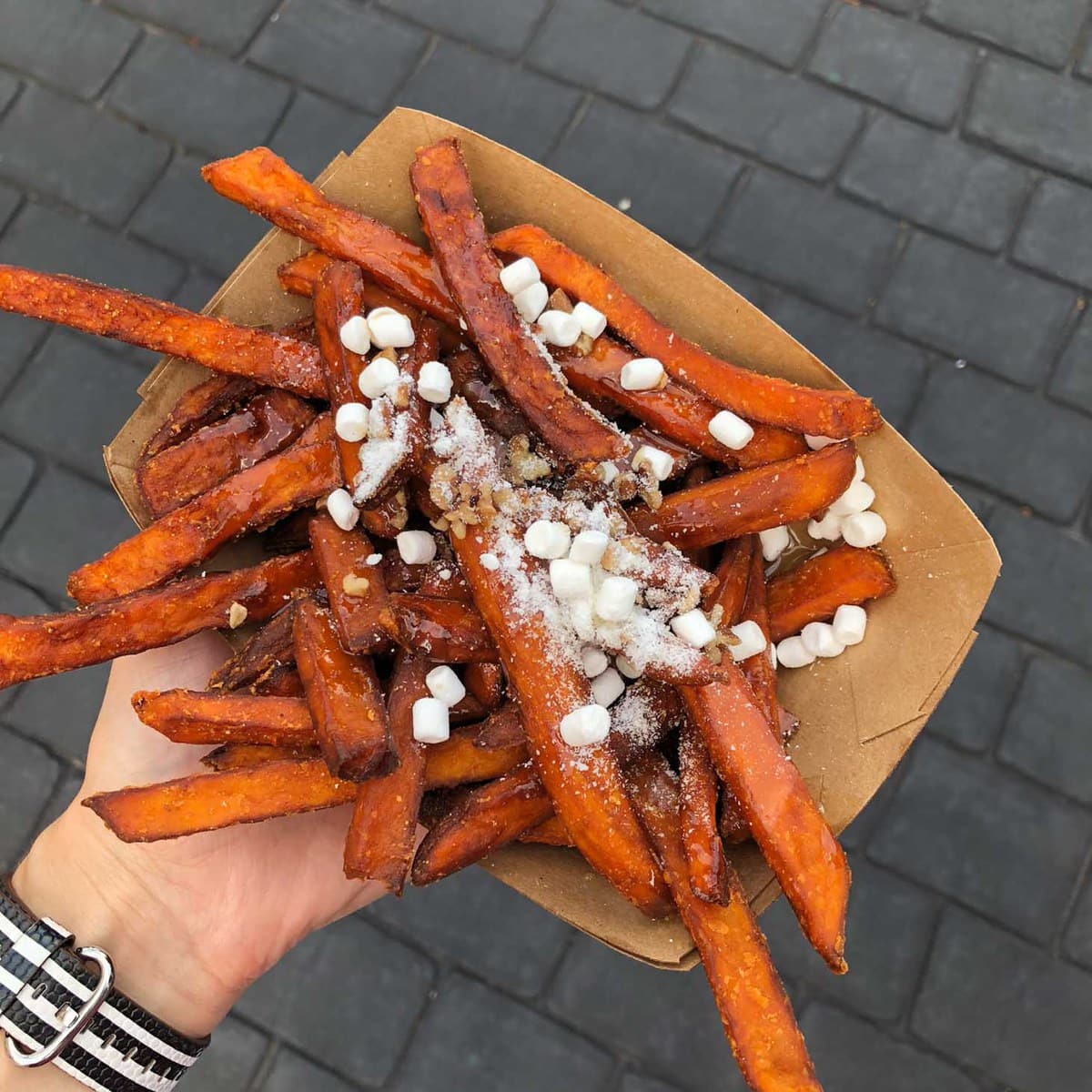 Another favorite is the Sweet Potato Poutine from Canada. What is poutine?
Poutine is a Canadian dish of french fries with different toppings. In this case they are sweet potato fries topped with caramel sauce, mini marshmallows and pecans.
If you're a sweet potato fan, you definitely have to try this poutine because it is sweet and savory and is what french fry dreams are made of.
Some other new favorites include the Charred Chimichurri Skirt Steak from Flavors from Fire and the New Brunswick Slider from Hops & Barley. The skirt steak is on a smoked corn cake with pickled vegetable slaw and has cilantro aioli while the slider has a slow-braised beef brisket "pot roast style" with horseradish cream, crispy fried onions on a potato roll with pickled vegetables on the side.
Delicious, right?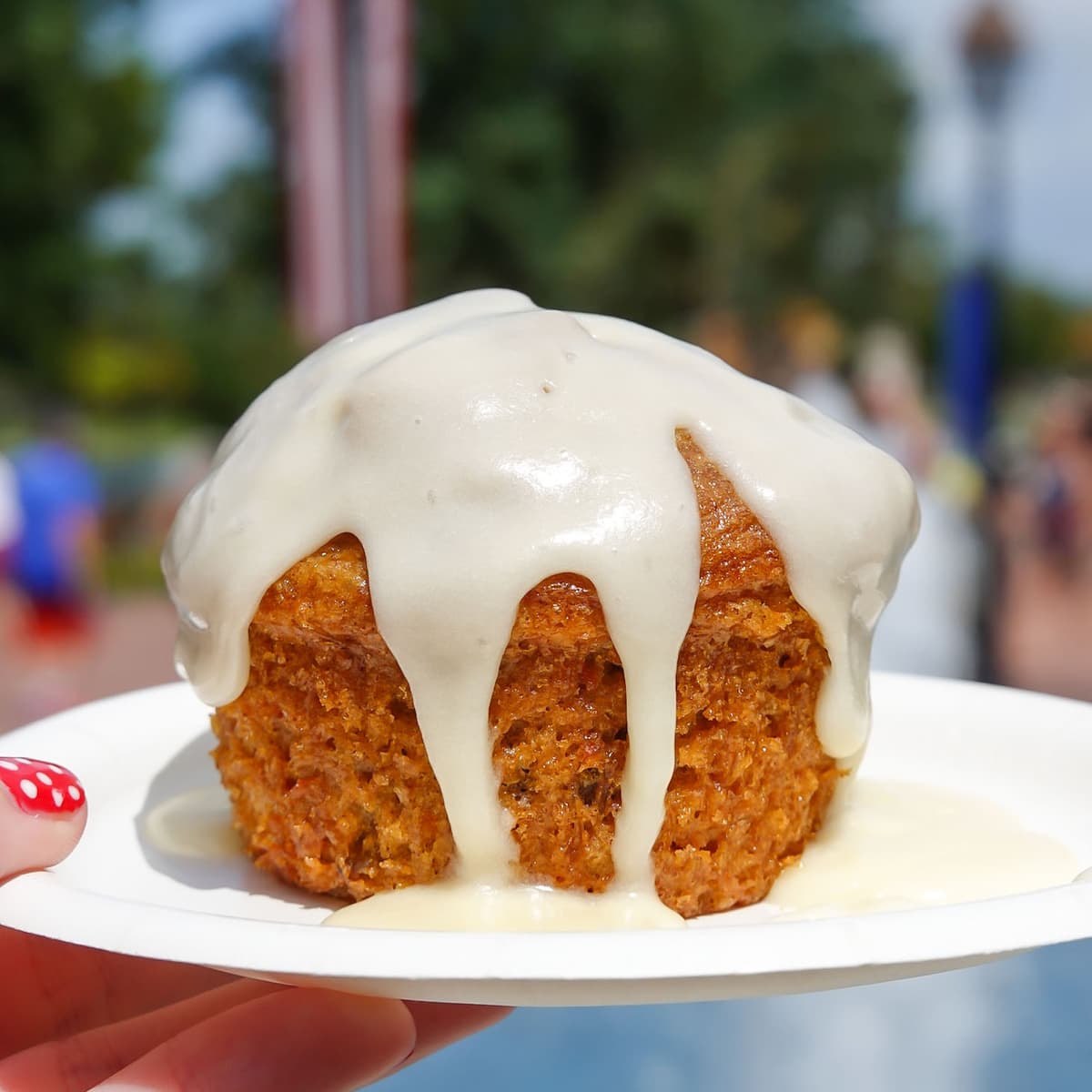 If you're looking for classic American food, the freshly baked Carrot Cake is phenomenal. It's soft, flavorful and has a delicious cream cheese icing.
Another new addition this year is the Butternut Squash Ravioli from The Wine & Dine Studio. This ravioli is in a brown butter vinaigrette with Parmesan cheese and pumpkin seeds.
There really are so many delicious foods to try at Epcot Food and Wine festival, but be sure to check out all the other classic foods found around the park. Below, I'm sharing some of our favorites along with all the Epcot Restaurants. It will be impossible to tackle them all in one visit, but be sure to check out the list in planning your stops at Epcot.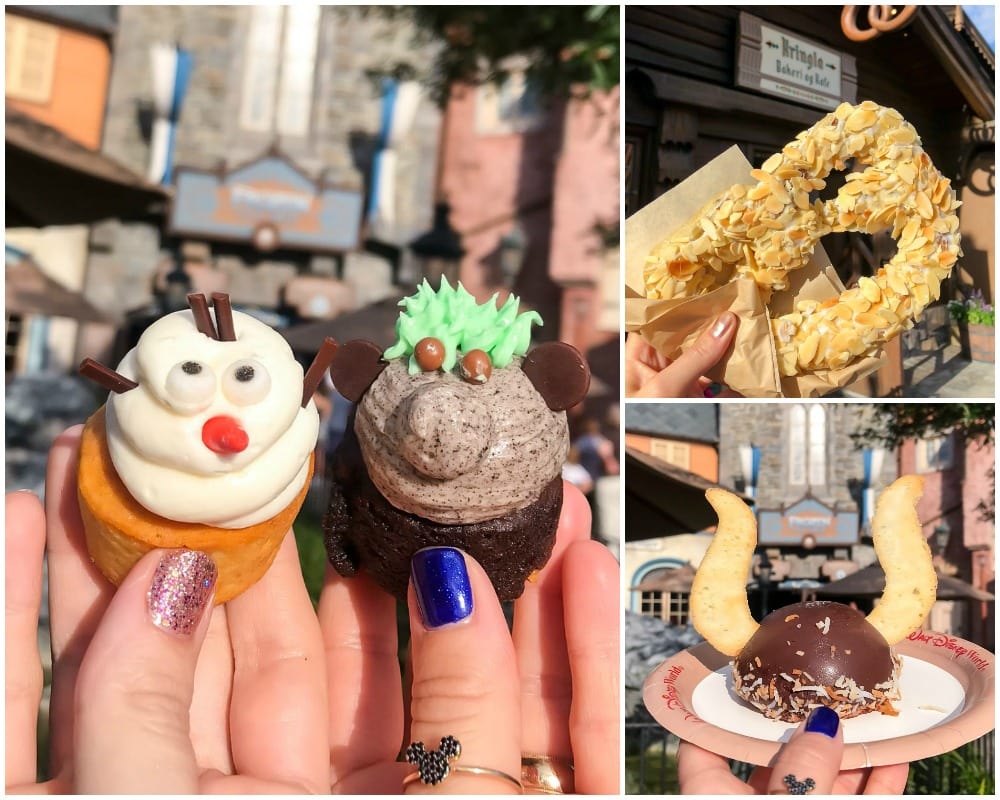 Goodies from Kringla Bakeri Og Cafe.
EPCOT Restaurants
It's apparent from the list below that there are so many great places to dine at while visiting Disney's EPCOT. To make things easier in deciding which restaurants to visit, I've listed all of the current food spots along with their website and a link to their menu. There is also a dollar sign ($) to indicate price. The more dollar signs, the more the food costs.
We hope this helps you when planning your next visit to the most Magical Place on Earth!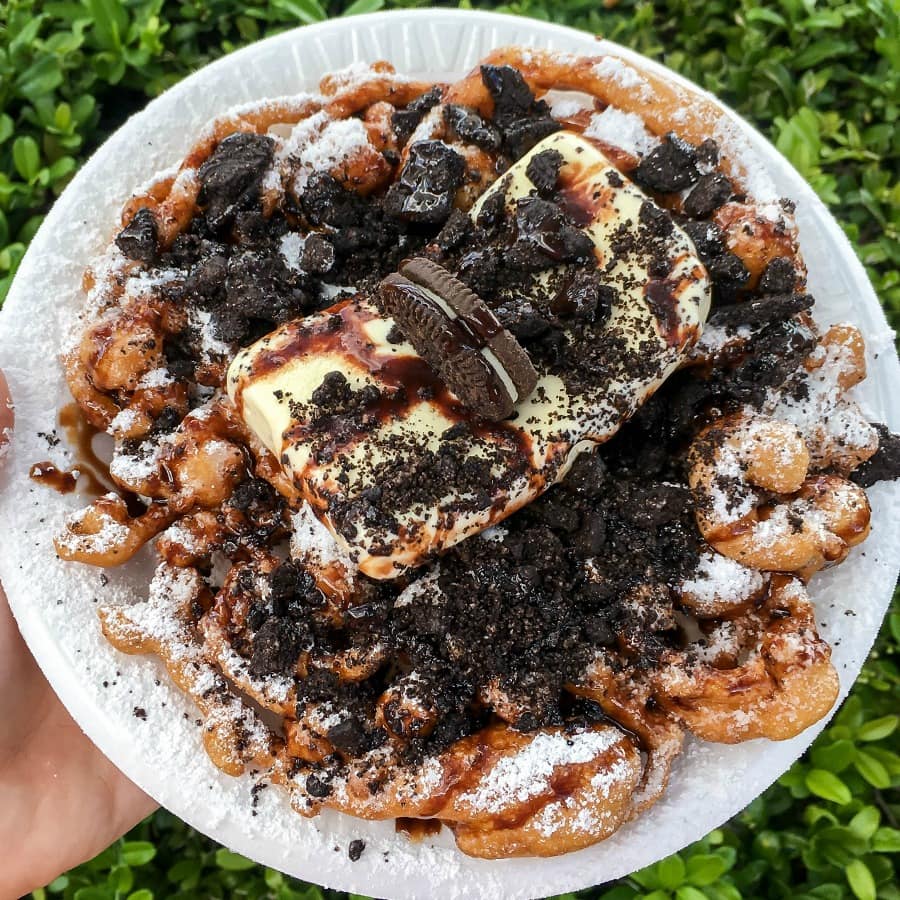 Cookies & Cream Funnel Cake from the Funnel Cake cart!
Be sure to leave a comment and tell us your favorite places to eat at EPCOT, especially during the Food & Wine Festival. It's such a great experience, especially for all the foodies out there.
ENJOY!