New York City happens to be one of my all-time FAVORITE cities!! So much to do and so much excitement, it's hard not to have fun in such a lively place. I've been lucky to have gone there a few times in the last year, and each time I feel a little more comfortable with my surroundings and the hustle and bustle of Manhattan.
The last time I went to NYC, I was able to bring my daughter, Lily. I had been asked to speak at a conference for Disney, and I was thrilled that they let me invite my Lily so we could experience the city together. Before we left, I was sure to make a list of all the places we wanted to visit. Every kid is different and has a variety of interests so you definitely need to take those interests into consideration when visiting New York City with your kids. My daughter is pretty easy going and wanted to see all the places I had been before so those were on the top of her list, including some fun places to eat. With that in mind and a short timeline, we made a list of all the places we wanted to see and were up early and out late so we could fit everything in. I wanted to make sure I kept note of all these places so I could do a post for all y'all about the TOP Places to visit in NYC with KIDS. Now, I must mention, these activities were easy to accomplish with only one kid, but if I had all 5 kids with me, it would have been more stressful. I know many can do Manhattan with tons of kids in tow, but I definitely think 3 would be my limit, LOL!! ;D
Here are all of our favorite places to visit in NYC, in no particular order. As always, please be sure to leave your comment below and let me know which places you love to go with kids so we can check it out next time and add it to the list. 🙂
MY OTHER RECIPES
Top Places to Visit in NYC with KIDS: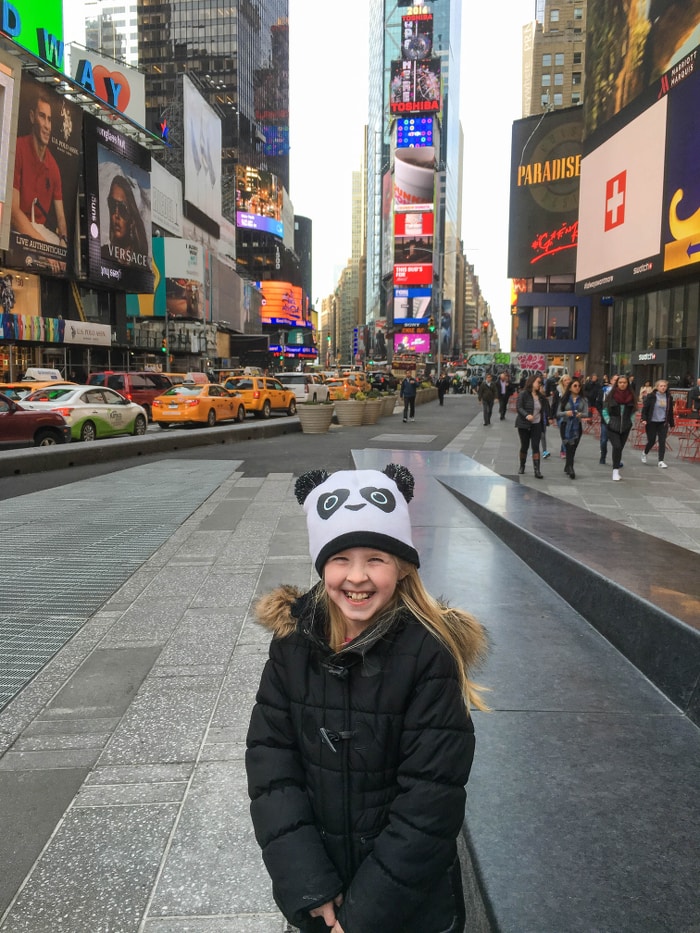 TIMES SQUARE – Broadway & 7th to 42nd – 47th St.
Times Square is the epitome of crazy-hustle-and-bustle New York City. There are restaurants, theaters, performers and everything else you can imagine there. The kids love the Hershey's Chocolate World and the M&M'S World Store. It's candy heaven and your kids will love checking out each chocolate-filled floor.
For more information about Times Square go HERE.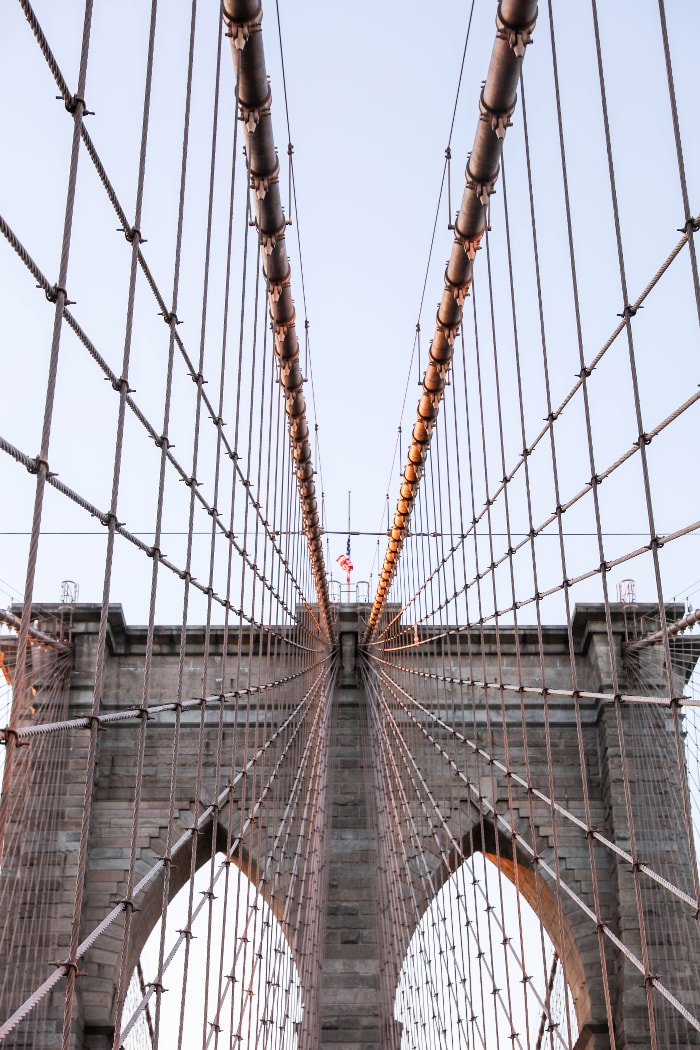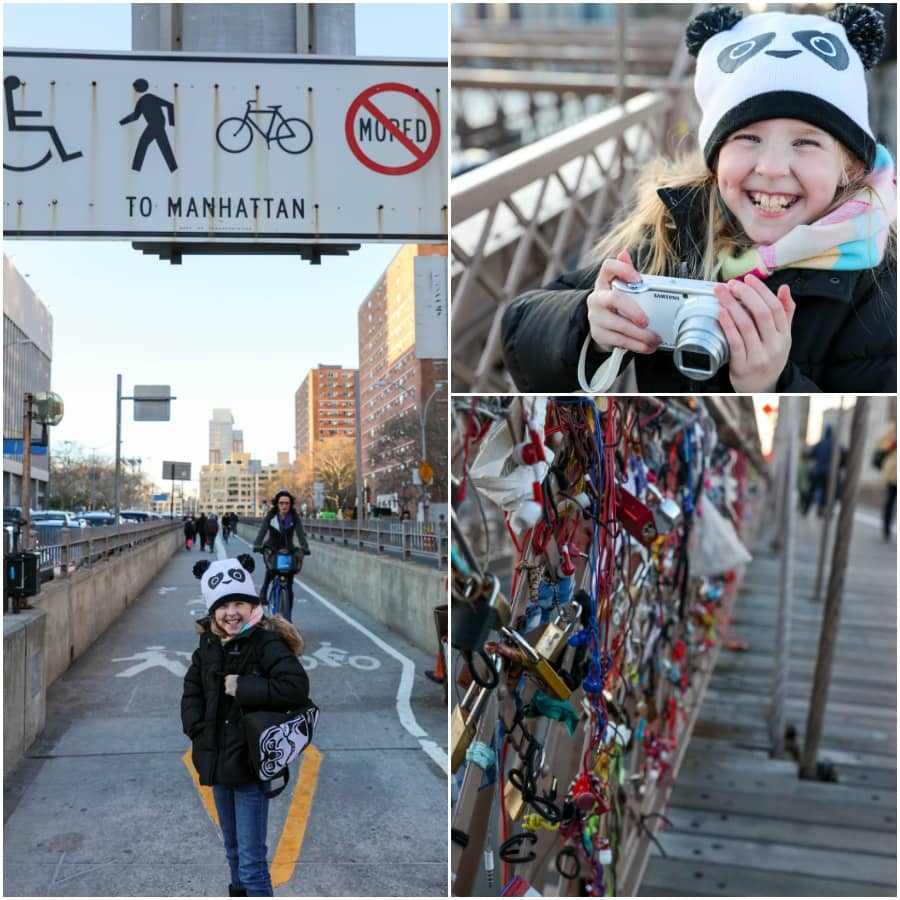 BROOKLYN BRIDGE
My all-time favorite thing to do as an adult in NYC is walk the Brooklyn Bridge. It provides the most beautiful view of the city and is simply beautiful. It's usually busy and filled with tourists taking pictures, but my daughter loved going there and taking pictures herself. Freedom Tower and the Statue of Liberty can both be seen from the bridge too making it a fun place to visit.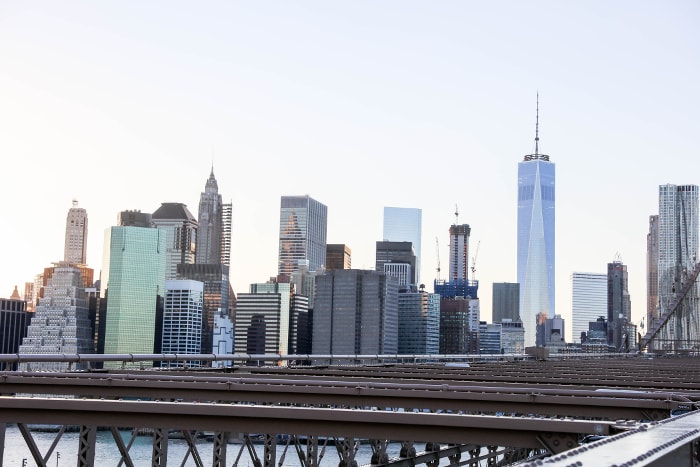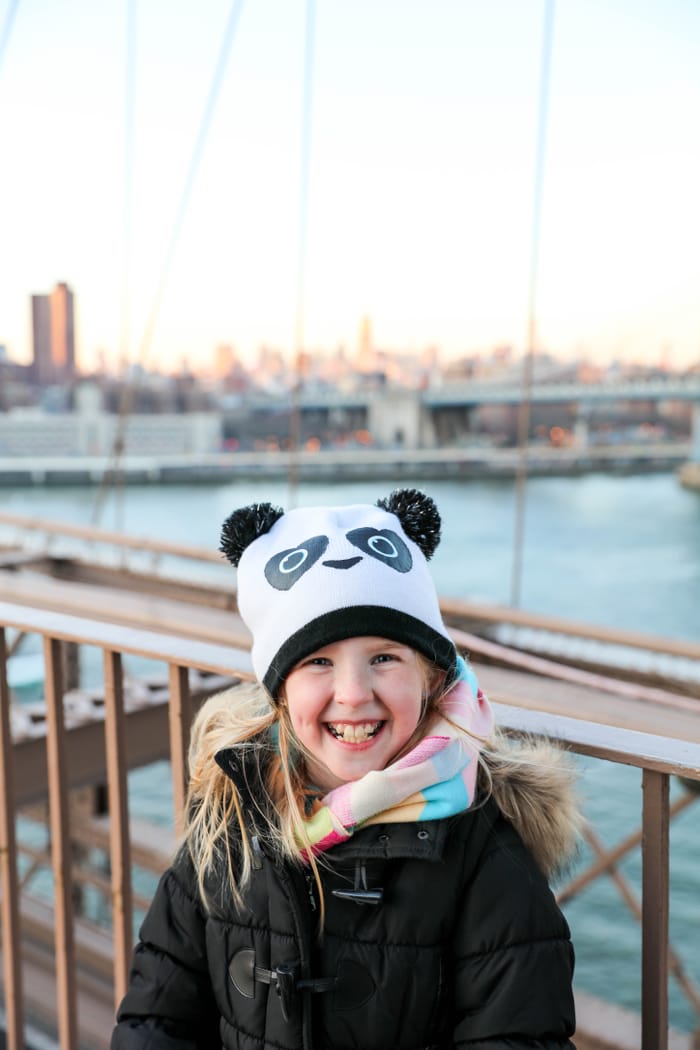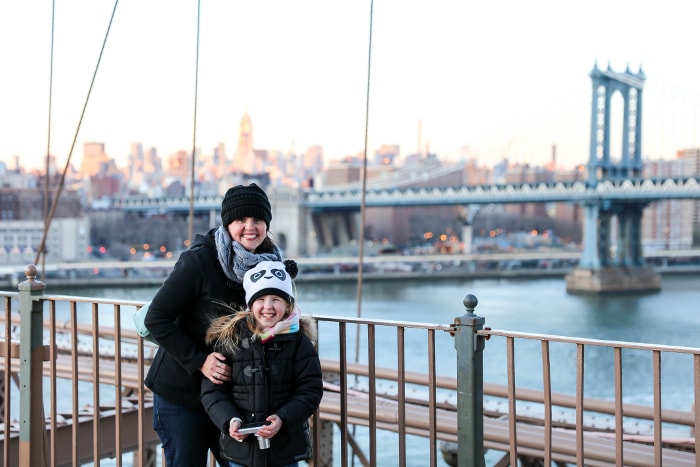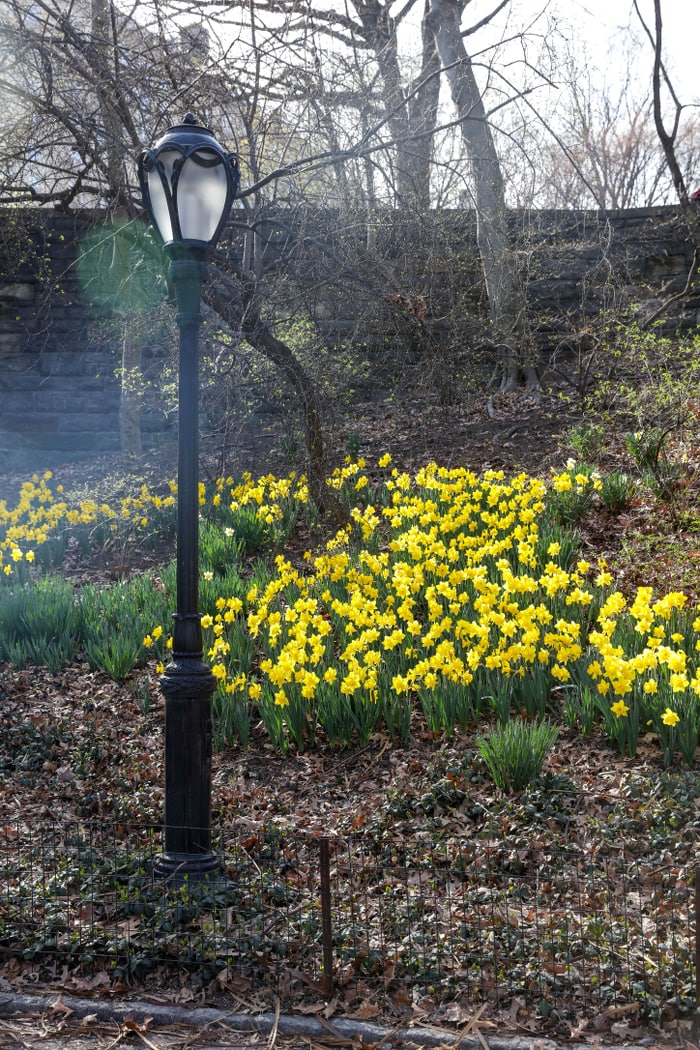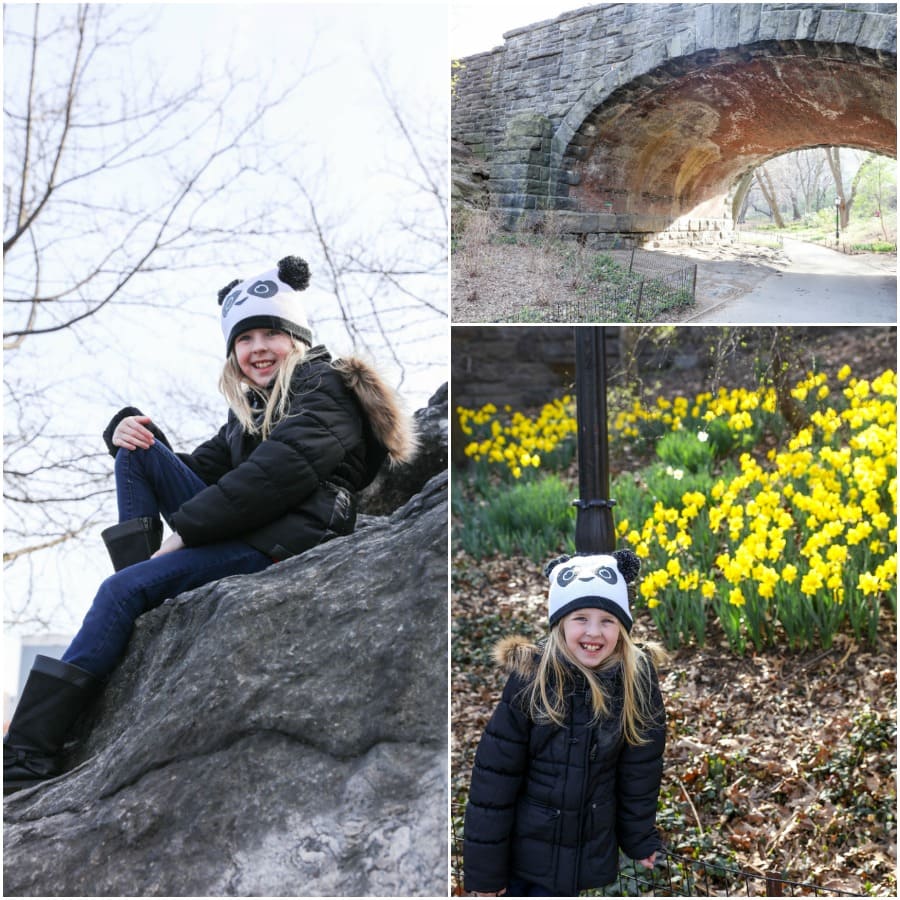 CENTRAL PARK & CENTRAL PARK ZOO
It's almost impossible to go to New York City and not visit Central Park. This beautiful park that is 800+ acres is filled with so much fun and beauty. Not only is there a zoo, but you can rent boats, eat, enjoy live entertainment and more. We climbed rocks and adventured through this beautiful place and could have easily spent the whole day there. You may even find some famous spots from some of your favorite movies. It's definitely a great place to take the kids while visiting Manhattan.
Go HERE for more information about Central Park. 
For more information about the Central Park Zoo Click HERE.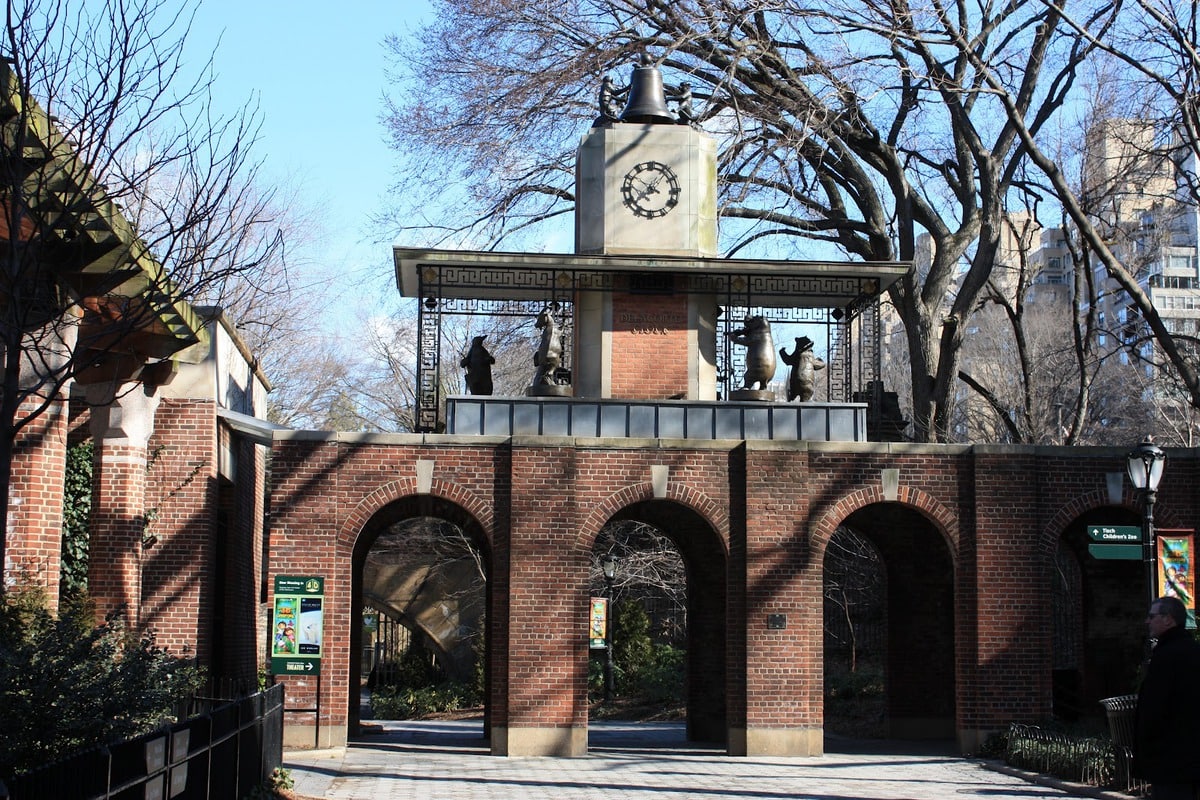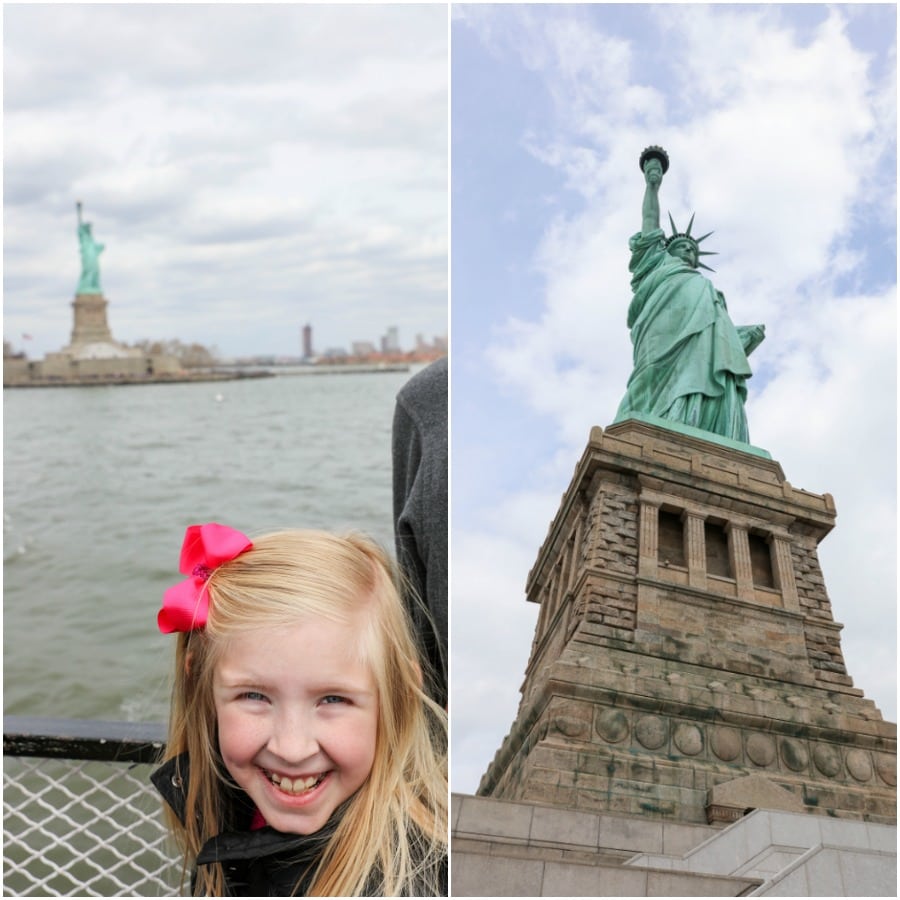 STATUE OF LIBERTY
One of the most iconic places near New York City is the Statue of Liberty. It's an easy process to hop on the ferry and take a ride around the statue or even got off and explore. If you book your tickets in advance, you can even go all the way to the top of the statue and get a great view of your surroundings and NYC. This place provides the perfect setting to learn a little more about U.S. history and to visit one of the most popular places in the United States.
For more information about the Statue of Liberty go HERE.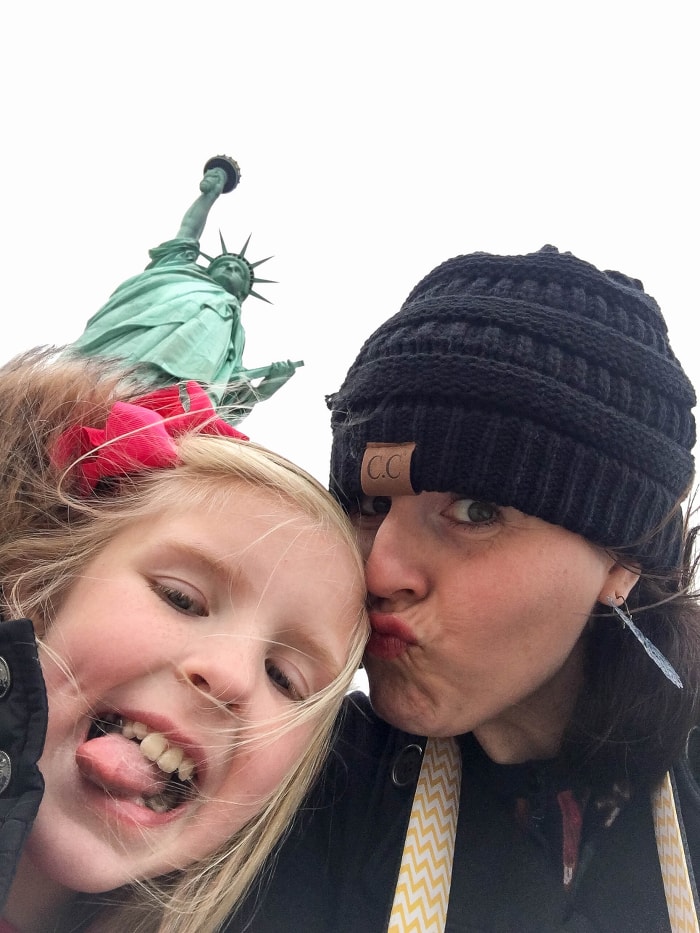 Lady Liberty decided to photo bomb us while we visited her. 😉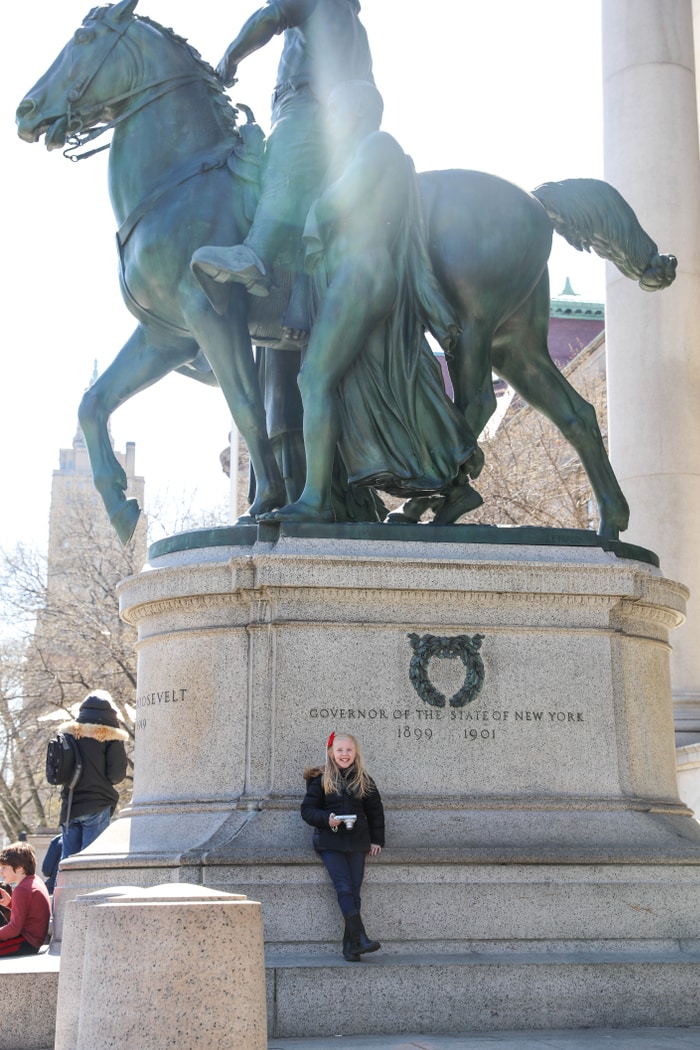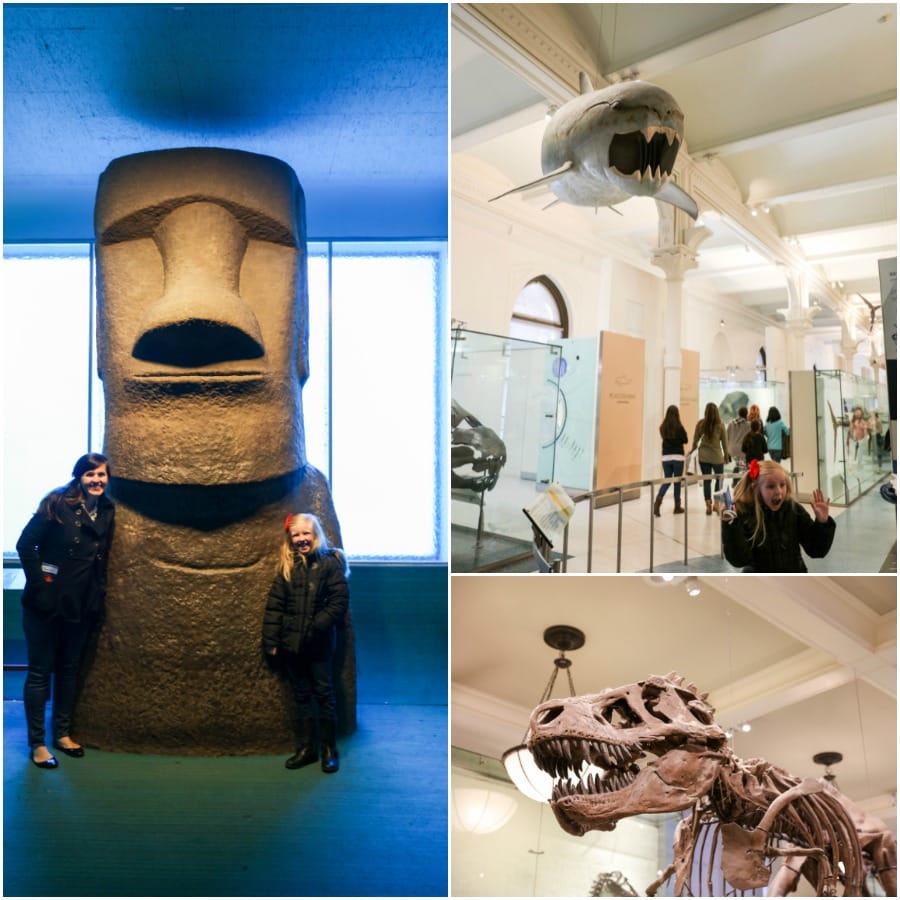 AMERICAN MUSEUM OF NATURAL HISTORY – Central Park West & 77th St.
Most kids are very familiar with this museum, especially if they have ever watched the movie, Night at the Museum. Although it actually does not look like it does in the movie, it's the setting for the popular movie trilogy and is great place to visit. Not only do you get to see so many amazing things, but you get to learn about them too. Museums aren't every kid's cup of tea, but there is so much to look at, that it's guaranteed NOT to be boring for the average kid. You can easily spend hours here, and they also have a great gift shop so be sure to check it out.
For more information about the American Museum of Natural History go HERE.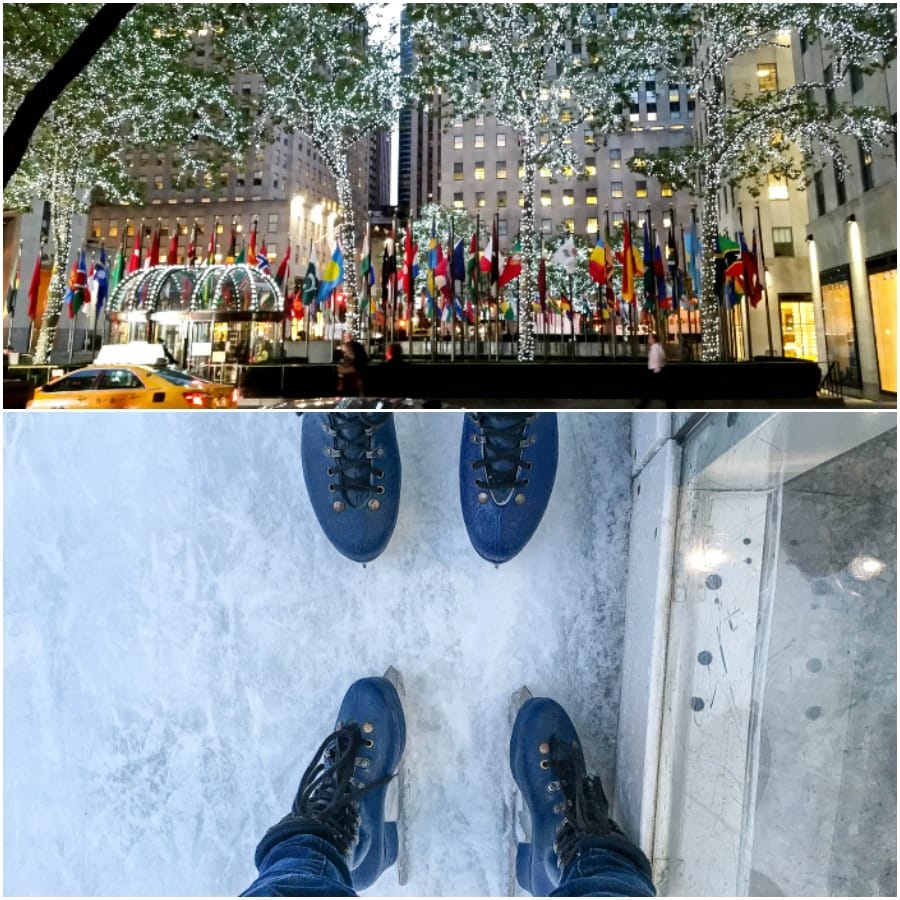 ROCKEFELLER CENTER – 6th Ave (Ave of Americas) & 49th St.
One of my favorite places to visit in New York is Rockefeller Center. You can stop by and watch the filming of the Today Show or if you're really lucky and got tickets, you can catch a taping of The Tonight Show with Jimmy Fallon. Kids may not love that last bit as much but they usually like being on TV so catching the Today Show is a great idea. It's free and may involve waiting around outside, but it's fun for them and for others at home who might be able to catch them on the show. During the winter, you can also skate at the ice skating rink which is right across the street (or check out the beautiful Rockefeller Christmas Tree at Christmas time). My daughter had heard about doing that so it was at the top of her list. Even I admit that skating at Rockefeller Center was on my Bucket List, so I'm glad we did it. Also there is Top of the Rock which is in the Rockefeller Building. It provides a beautiful view of the entire city and is a good option to try instead of the Empire State Building. You can also stop by one our favorite bakeries in NYC, which is on the corner and is called Magnolia Bakery. My favorite treat is their Magic Cookie Bar but they're famous for their cupcakes and Banana Pudding!!
For more information about Rockefeller Center, go HERE.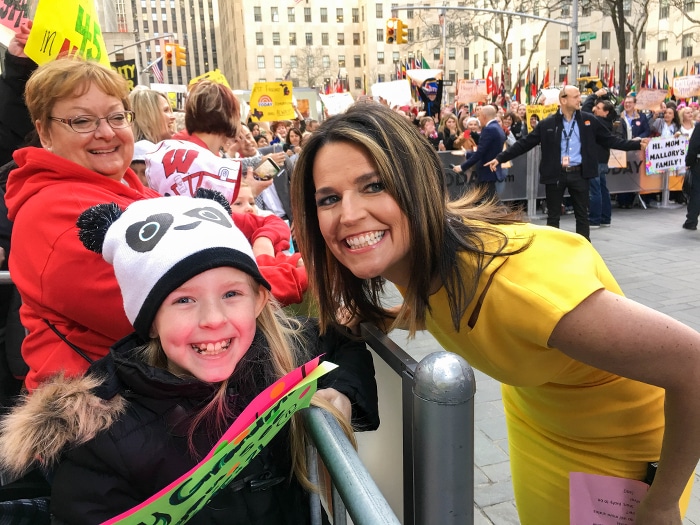 Lily with Savannah Guthrie at The Today Show.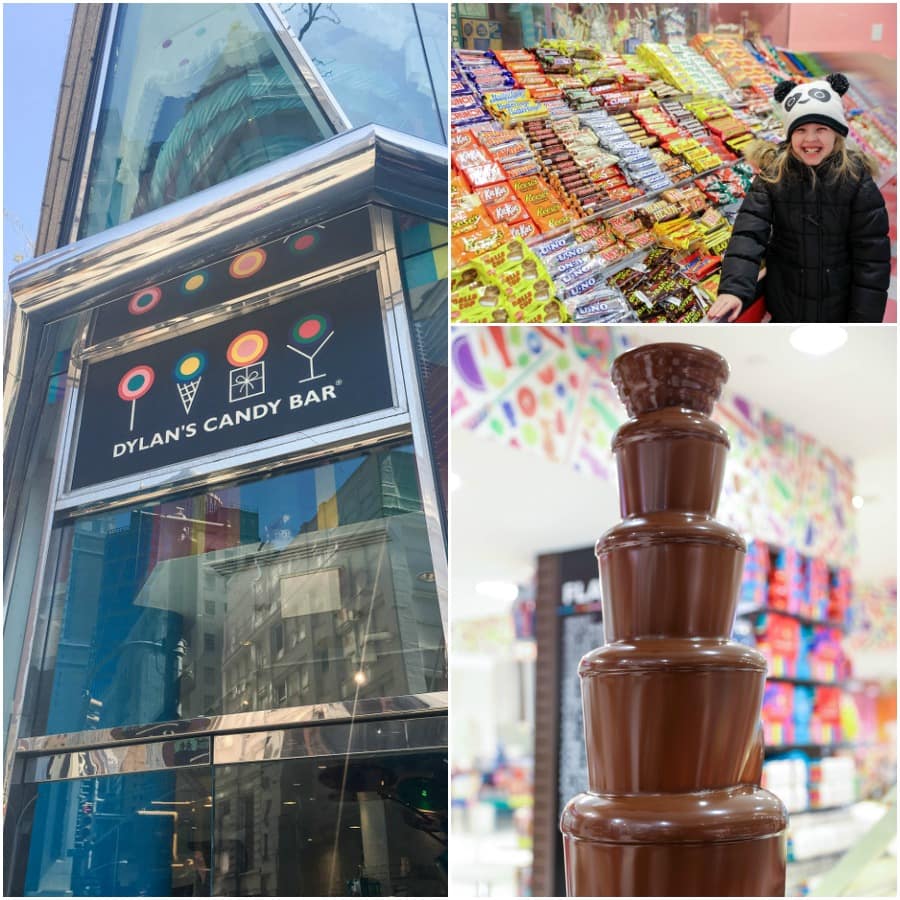 DYLAN'S CANDY BAR – 60th St. & 3rd Ave.
If you've never been to Dylan's Candy Bar, it's a dream store for every child. The place has 3 stories of candy and candy-related merchandise. Even as an adult, it's an amazing place to visit and fun place to pick up some unique candy, or New York related candy for souvenirs, or even a treat upstairs at their ice cream parlor. We could have stayed here for awhile looking at all of their delicious treats and are glad we made the stop to our favorite candy store!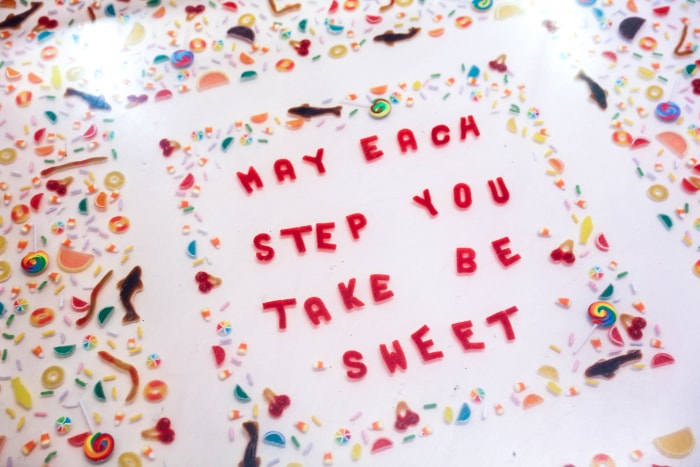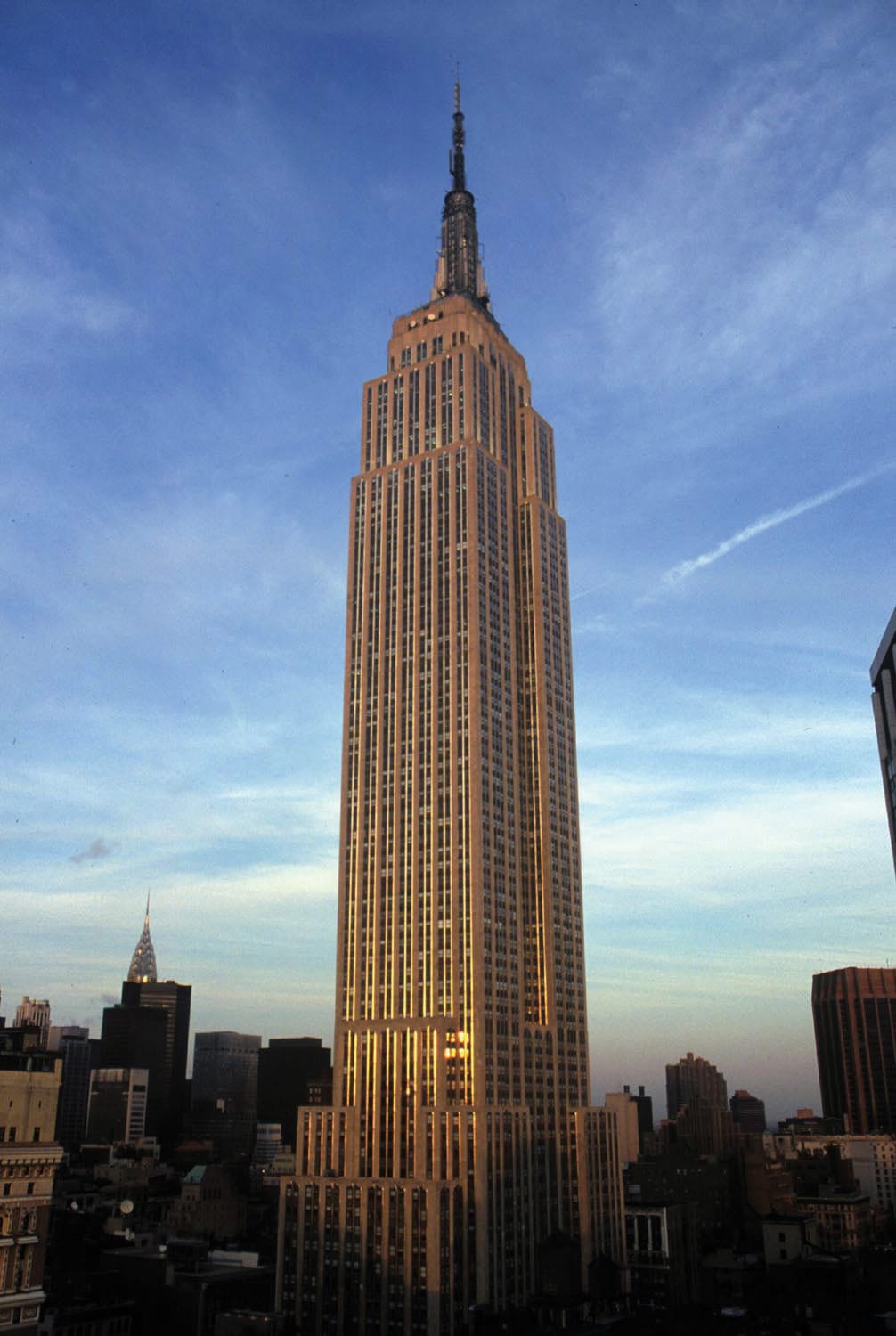 EMPIRE STATE BUILDING – 17-25 W 29th St
It's one of the most famous buildings in all of NYC, so stopping at the Empire State Building is definitely one of the top tourist activities to accomplish. It may not be your thing if you are afraid of heights, but it definitely provides the most picturesque view of Manhattan. Kids love to go up and shop at the gift store up top and get some great pictures of themselves being at the top of such a famous building.
For more information about the Empire State Building go HERE.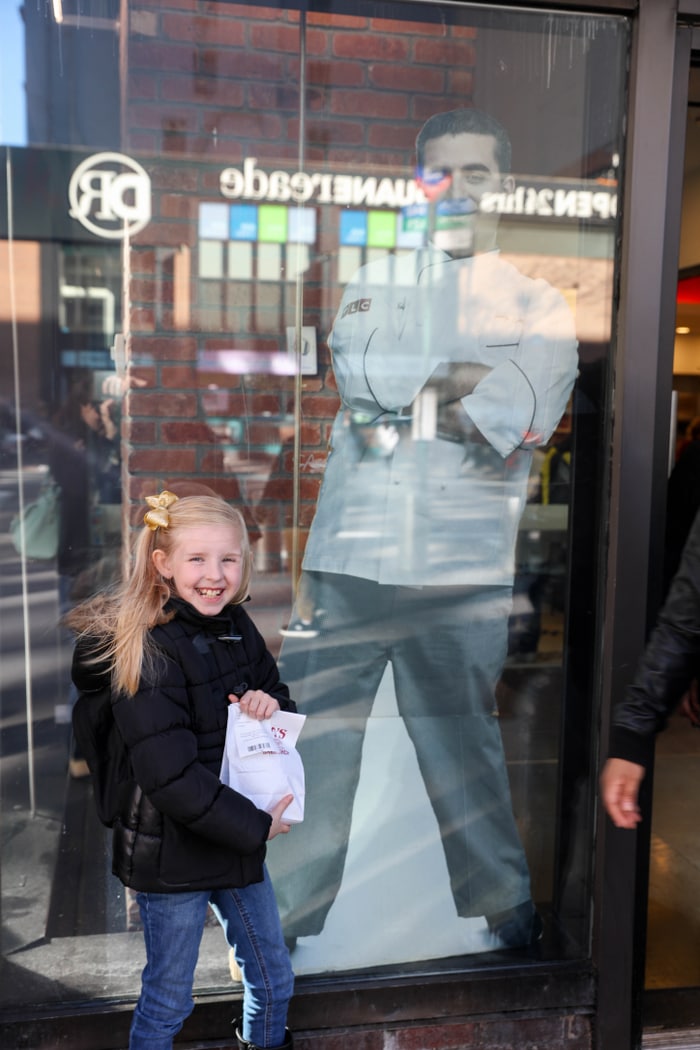 Carlos Bakery – 42nd & 8th Ave

YUMMY RESTAURANTS & BAKERIES
Most kids love food just as much as adults, and NYC has some of the best restaurants and bakeries you'll ever try. Since having gone a few times in the last 2 years, I had some favorites, but they happen to be favorites to thousands of others meaning they are usually pretty busy and packed. That didn't keep us from going though.
Lily was especially excited to go Carlo's Bakery since she is a big fan of The Cake Boss. Although we didn't make it to Hoboken to see the original store, they have a location right off Times Square. You better believe we got our fair share of Lobster Tails and Cannolis while we were there.
We also went to Black Tap. They have the most delicious burgers and the most magical ice cream shakes you'll have ever seen!! You can see the proof below if you don't believe me. There is usually a line to get into this place, but I will tell you right now that it is very much worth it!! You better believe there is no way we CAN'T come here every time we are in the city because it's just that good!!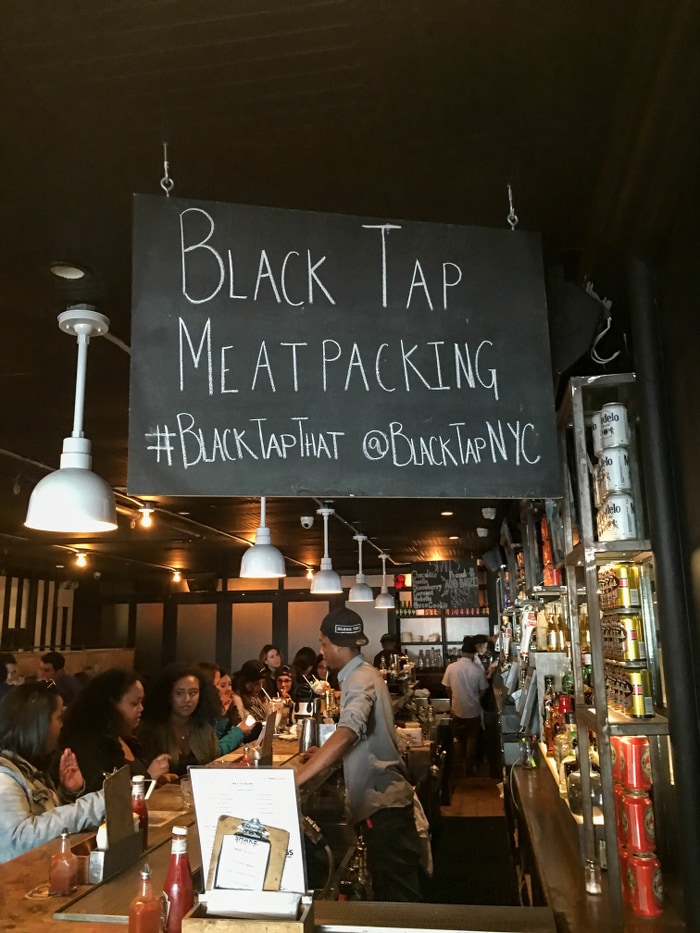 Black Tap – Meatpacking – 248 W 14th St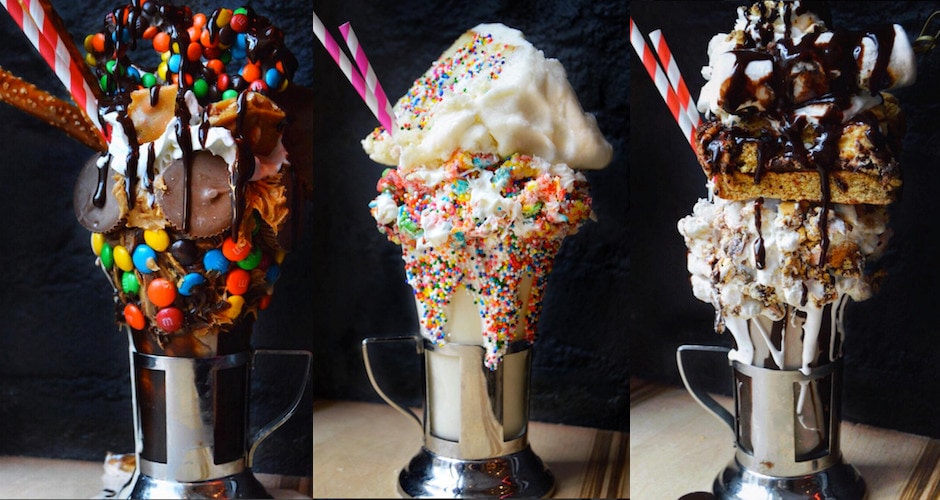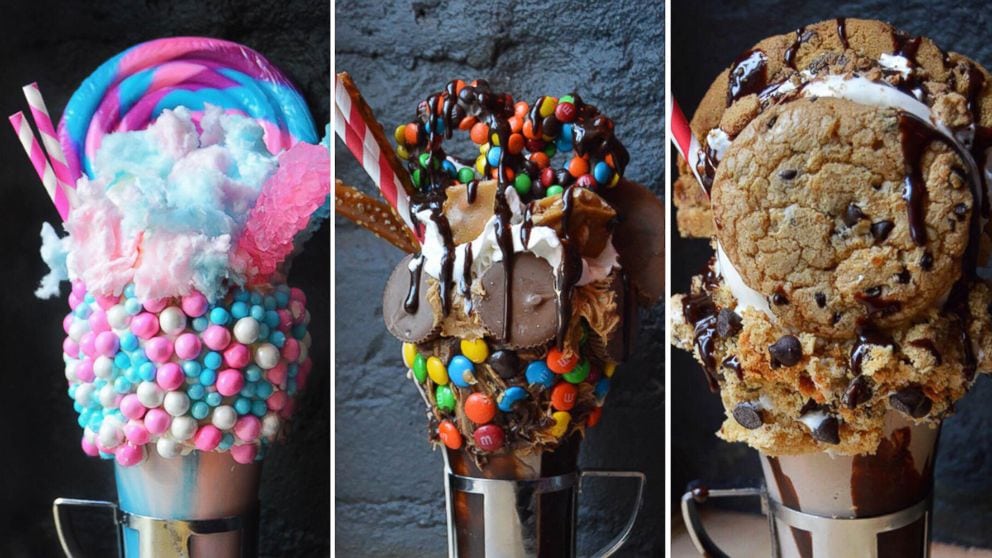 HELLO?! GORGEOUS, DELICIOUS SHAKES!!!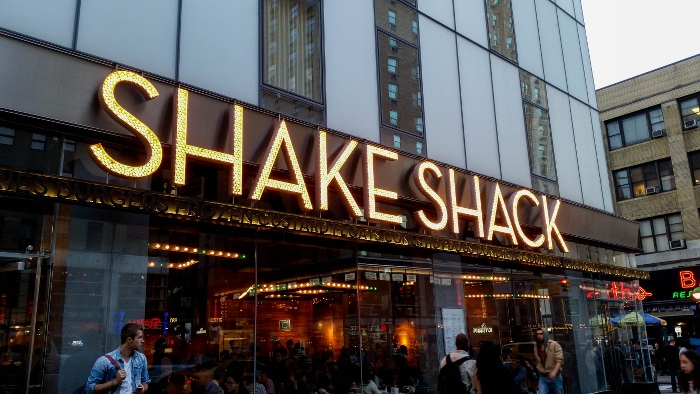 Shake Shack – 44th St. & 8th Ave
We also stopped by Shake Shack which is a favorite as well! Go at a good time and there won't be much of a line but you can try delicious burgers, cheese fries, shakes and hot cocoa!!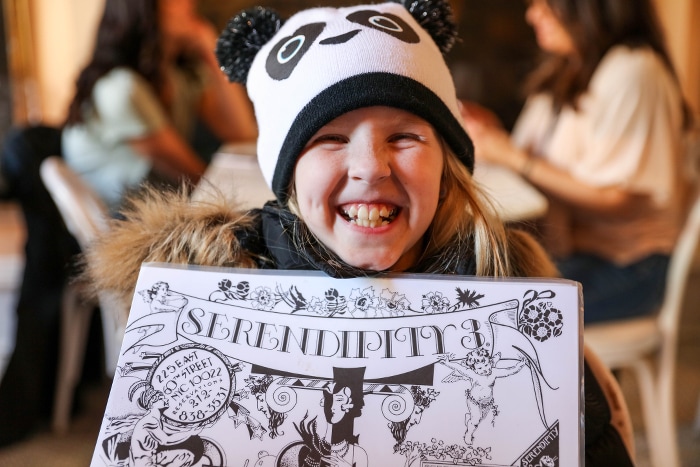 Serendipity – 60th St & 2nd Ave.
One of my favorite restaurants is Serendipity 2. It's near Central Park and I took Lily there to try their magical Frozen Hot Cocoa. We had so much fun and enjoyed delicious food. Whether adult or kid, it's definitely a fun place to eat and enjoy while visiting Manhattan.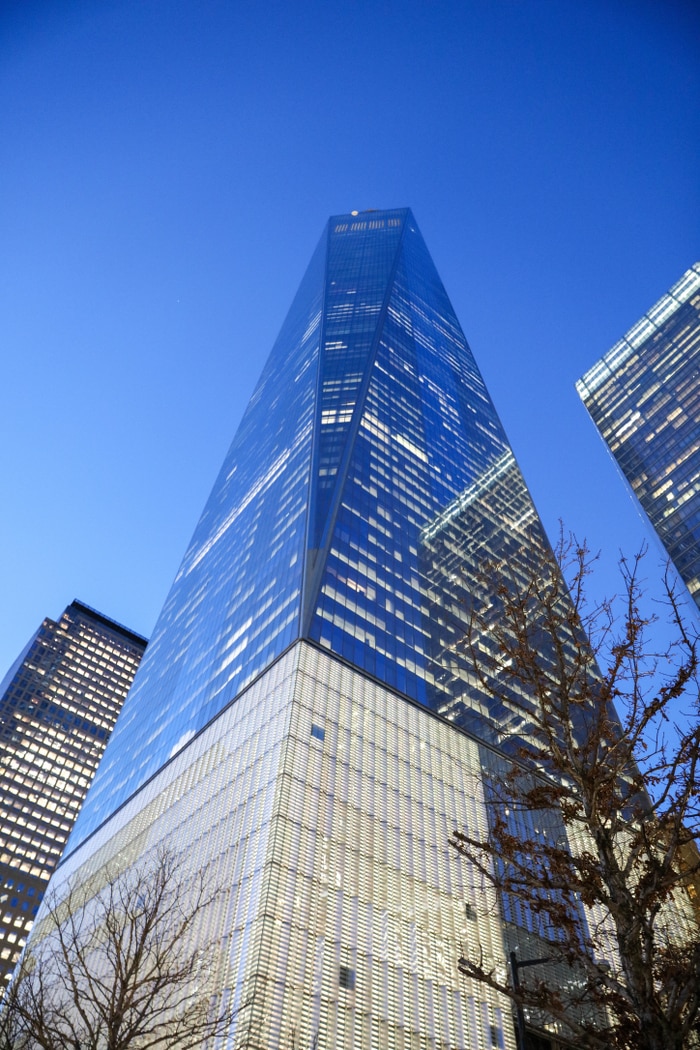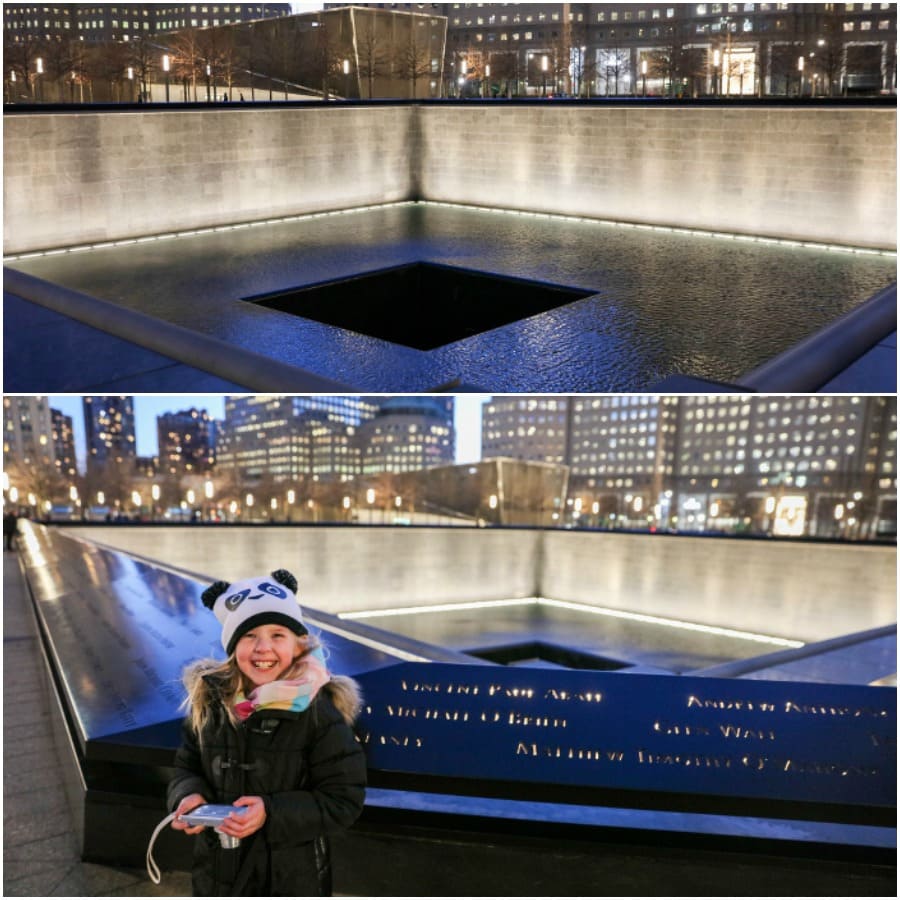 9/11 MEMORIAL – 209 Broadway
I added this to the list just because my Lily and I enjoyed visiting the 9/11 Memorial so much. I would say that this isn't a place for kids, in general, but my Lily had read about 9/11 and really wanted to visit. It was a great opportunity to discuss freedoms, our wonderful country and the importance of remembering those that died that day. As an adult, I definitely recommend going. It's a hard place to visit but it's such a beautiful memorial.
For more information about Ground Zero go HERE.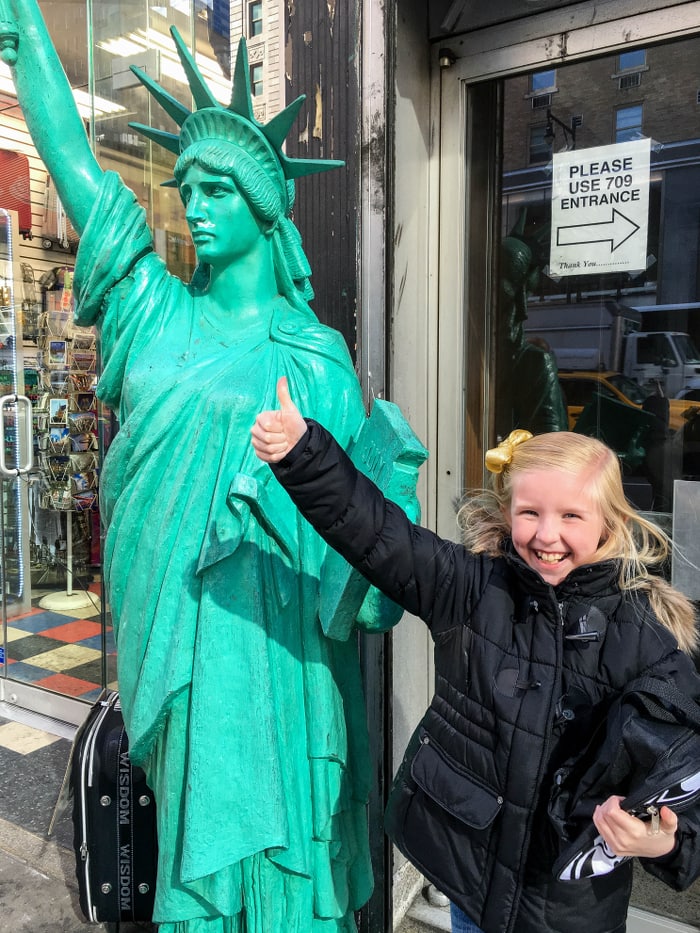 As you can see, there is so much to do and see in New York City. I've only touched on a few of those places, but I hope this list helps you in case you are bringing kids to this wonderful city. There are many more museums and parks that we would have loved to visit, but these places are our Top places to visit in NYC with kids. I would love to hear your suggestions too, so be sure to leave a comment letting us know your favorite places to go while in Manhattan.
For all Travel posts here on the site go HERE.
Thanks for check out the post!
ENJOY!