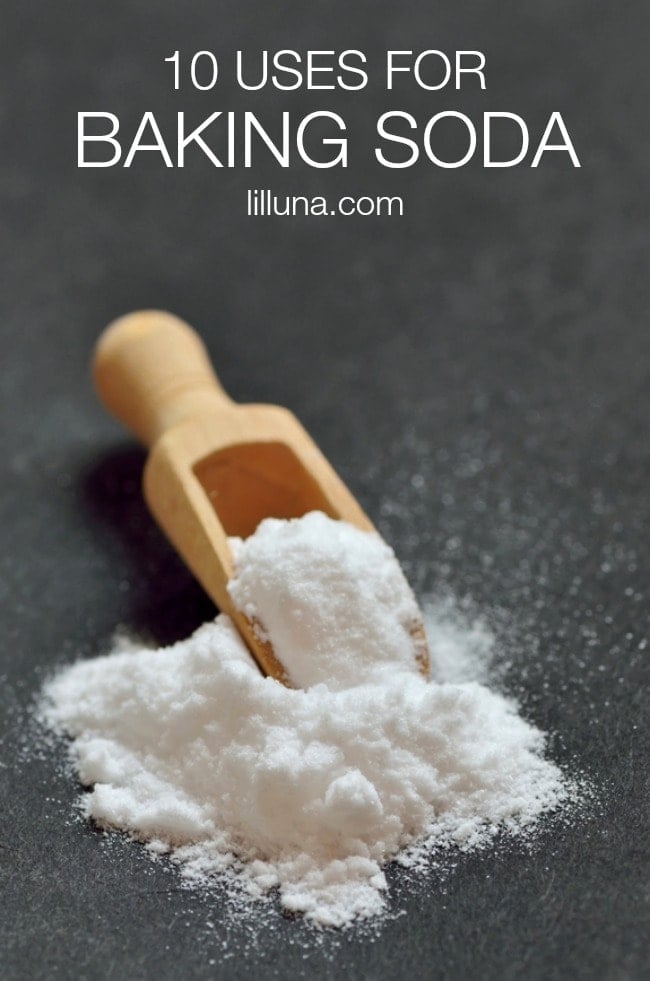 Hi there! It's Kimberly from A Night Owl and I'm back again this month sharing easy and helpful household tips! We've shared great tips from how to soften butter quickly for great baking to how to clean your curling iron! And today we're sharing 10 Uses for Baking Soda!
Baking soda is a great product to use in your home! From baking to refreshing to cleaning, there are so many great uses and today we're going to cover just a few!
1. Air Freshener – Baking soda is a natural deodorizer! That means that you can create an all natural air freshener at home by adding a few drops of essential oils to a jar of baking soda.
2. Freshen Your Breath – Out of mouthwash? No worries, baking soda can not only freshen the air around you but also your breath! Simply toss a teaspoon of baking soda into a cup of water, swish in your mouth, spit and rinse out!
3. Banish the Boy Bathroom Smell – I have a house full of boys and can attest that this baking soda concoction with vinegar and lemon really works! Baking soda is the key to get everything fresh and clean.
4. Relieve Heartburn and Upset Stomach – Baking soda is a natural antacid! Appropriate amounts mixed properly with water (refer to baking soda packaging for doses and directions) can naturally relieve stomach acid pain.
 5. Scrub Dishes and Pans – Toss a couple of tablespoons to your sink full of water and dish soap to help break through grease and stuck on food. You can also sprinkle more baking soda in stubborn pans to help scrub food away.
6. Boost Your Laundry Detergent – Add a half a cup of baking soda to your wash to make your laundry detergent go farther! Baking soda helps soften your water, leaving your clothing cleaner, fresher and brighter!
7. Remove Oil and Grease – There's nothing more frustrating than when your car leaves grease stains on your clean garage floor or carport! Get that oil and grease up by sprinkling the area with baking soda and scrubbing with a wet brush.
8. Foot or Bath Soak – Relieve the pressures of a long day by soaking in a mixture of baking soda and warm water, either for your aching feet or your entire body! The baking soda will help soothe and soften your skin.
9. Reduce Bean Gas – Here's a tip for your fall crock pot and holiday cooking (that I learned from my mother!), add a teaspoon of baking soda when cooking beans to help reduce the gas produced when enjoying them later on! Now you know everyone will be on board with this tip!
10. Clean Appliances – Sprinkle baking soda on a wet cloth to easily wipe down and clean your microwave and rinse. Sprinkle baking soda and water on the bottom of your oven and let sit overnight. Clean the next morning with a rag or sponge and rinse.
Like I said, isn't baking soda just an amazing product? Be sure to give these 10 Uses for Baking Soda a try and let us know what else you like to use it for!
———————————————————-
LOVE all the tips! Thank you, Kimberly!!
For more great tips and creations from Kimberly, be sure to head on over to A Night Owl.
For some great tips from her, here on the site be sure to check out:
ENJOY!