Hi all – it's Bev from Flamingo Toes here today! I am always needing organization for my craft room and this cute and colorful cork organizer hoop set was so fun to make. It was super simple to make and looks so cute on the wall of my sewing room! I love that the main pocket will hold some little tools and that all the hoops are backed with cork – so you can pin up notes and reminders and cute little decor things!
Colorful Cork Organizer Hoop Set Tutorial
Materials:
MY OTHER RECIPES
8″ hoop, 5″ hoop, 9″ x 5″ hoop
fabrics for each hoop – you'll need 2″ larger than each hoop for the backgrounds and for the pocket piece
set of 4 cork sheets
pom pom trim for each hoop
5″ square of felt
embroidery floss
hot glue
For the largest hoop cut a piece of fabric about a 10″ square for the background and one for the pocket. Fold the pocket piece in half, wrong sides together.
Place the pocket piece on top of the background. Draw out your pocket stitching lines.
Sew straight lines on your marked lines.
Use the inside hoop to trace two circles on the cork and cut them out.
Place your fabric in the hoop and trim the fabric to just about 1/2″ outside the edge. Glue the fabric to the back side of the hoop. Tuck the cork tightly into the back of the hoop.
Glue pom pom trim around the back edge of the hoop – so the trim shows around the hoop.
For the small hoop, stitch a felt heart on the fabric with a running stitch.
Finish all the hoops the same way by gluing the fabrics to the back and pom pom trim on the edges.
Now you have a cute new set for organizing your notes and little scissors and things! These would be so fun to make for a teenager's room or dorm too!
These are so cute Bev! Thank you for sharing! For more cute projects from Bev, head over to Flamingo Toes.
For another fun project, check out:
Easy Summer Pineapple Tote Bag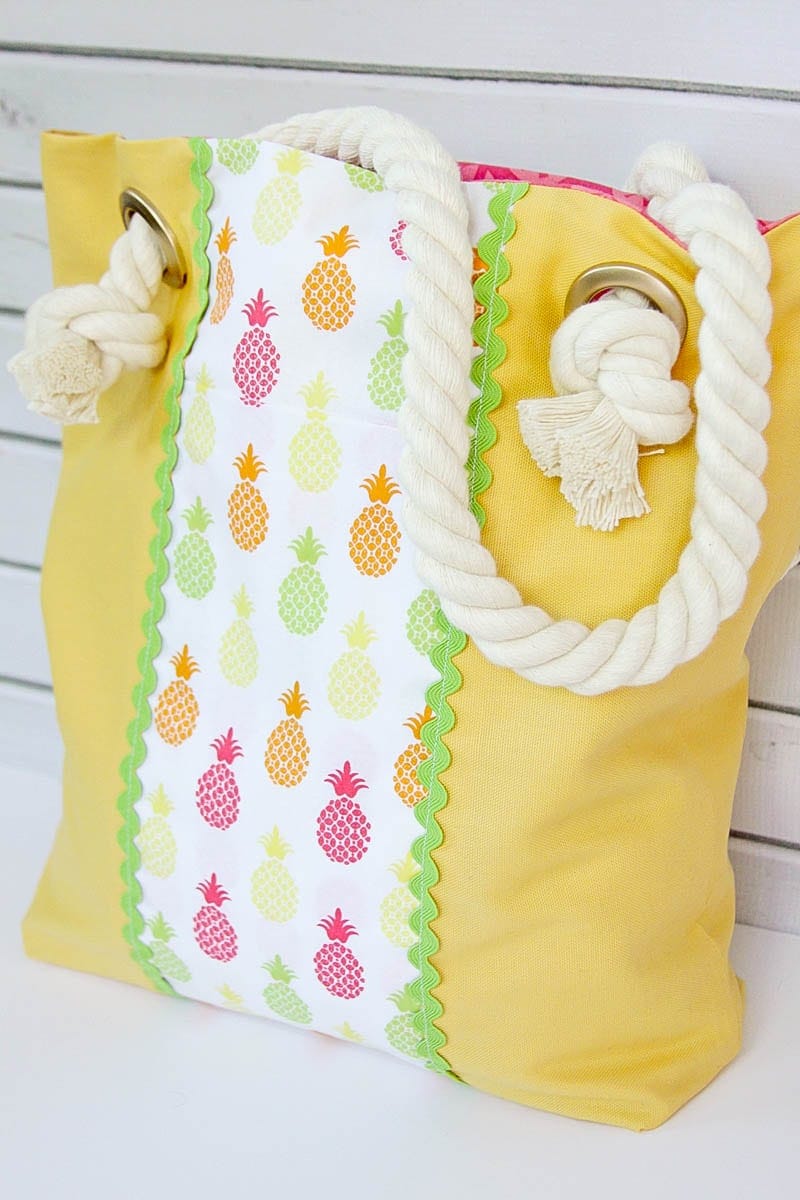 For even more fun crafts, check out:
ENJOY!!