With Back to School around the corner I am hunting up ways to get organized – and staying on the lookout for fun teacher gifts! Hi – It's Bev from Flamingo Toes here today with these Easy DIY Flamingo Mason Jars because I feel strongly that organization should be cute too!
I made up these sweet Flamingo Mason Jars to hold things in my craft room – I'm planning on using them for small sewing notions but they would be so cute for office supplies or as teacher gifts! They are super easy and quick to make and you can have a lot of fun changing up the little animals on top – though flamingos will always look the cutest. 😉
Here's the simple tutorial!
MATERIALS:
Small mason jars
Plastic animal for lid
Chalk paint – I used Folk Art Chalk pink for the jar and white for the lid
Chalk wax or spray seal
Gold Paint for details (flamingo legs)
Ribbon for wrapping around jar
Fabric & Embroidery Thread for Heart detail
Aqua glitter
Mod Podge
Hot Glue
Start by gluing your animal to the center of the mason jar lid. I used hot glue since my flamingo didn't really have feet and I wanted to have a thick enough glue to hold him.
Paint your mason jar and lid with chalk paint. You'll want a good 3-4 coats and you can distress it a bit if you like. Cover the jar and lid with wax or a spray seal or your chalk paint will come right off if you bump or scratch the jar.
Paint the center lid and animal of the jar using pink on the flamingo, gold craft paint on the legs and white on the base.
Cover the center area of the lid base with Mod Podge and cover with aqua glitter. This will look like your flamingo is in a little pool! So fun.
Cut your ribbon so that it wraps around your mason jar and overlaps about an inch. Stitch a little fabric heart in the center of the ribbon with embroidery thread and a running stitch.
Wrap your ribbon around the jar and glue in place.
Now your can fill your jar with all sorts of little supplies and show off your cute organizational style!
I love how the ribbon adds a little color. This would be so cute with a monogram too!
These are so cute, Bev!! Thank you so much for sharing this tutorial! Go check out, Flamingo Toes for more great ideas!
For another great organization idea, check out: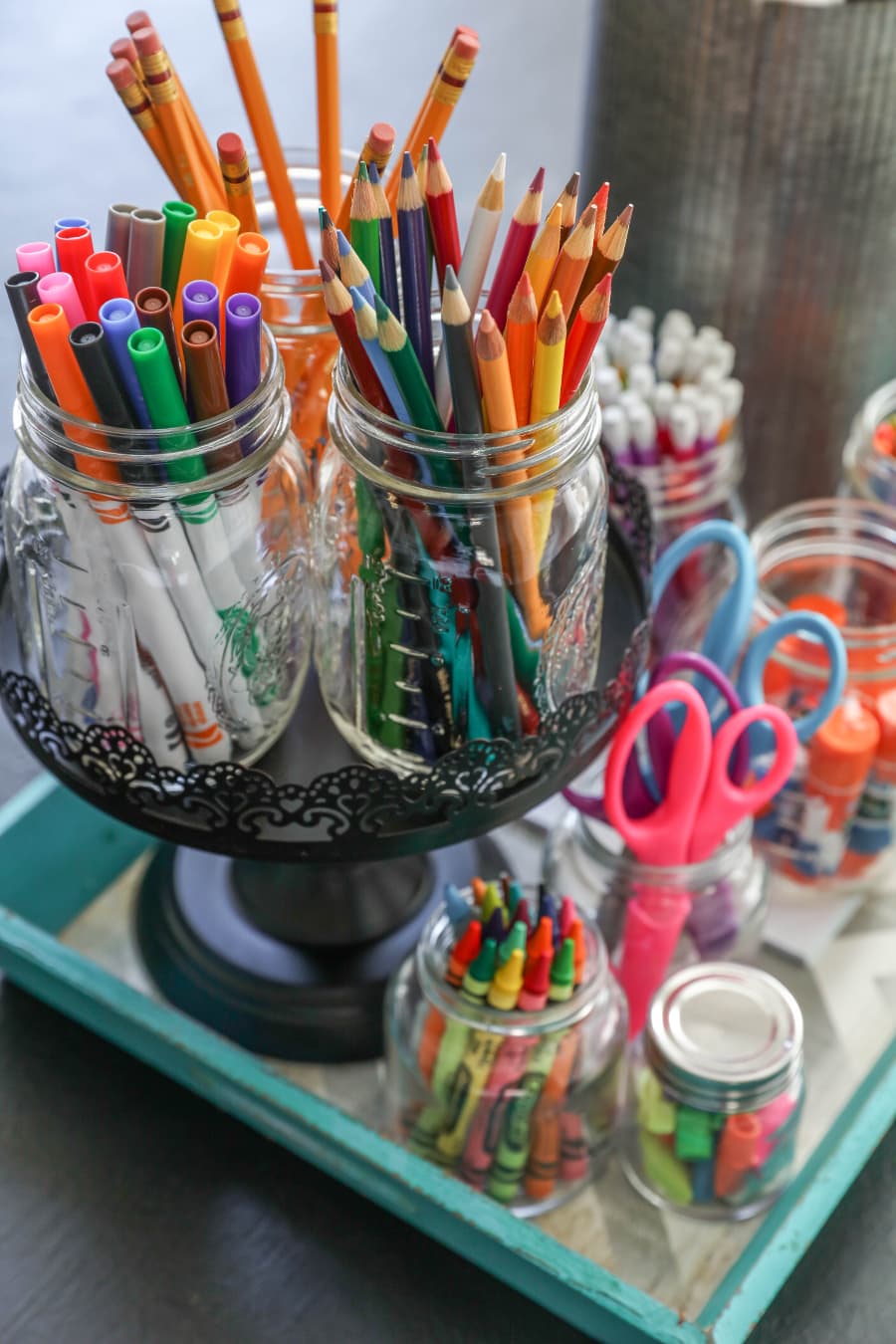 And, for more great ideas, check out:
ENJOY!!