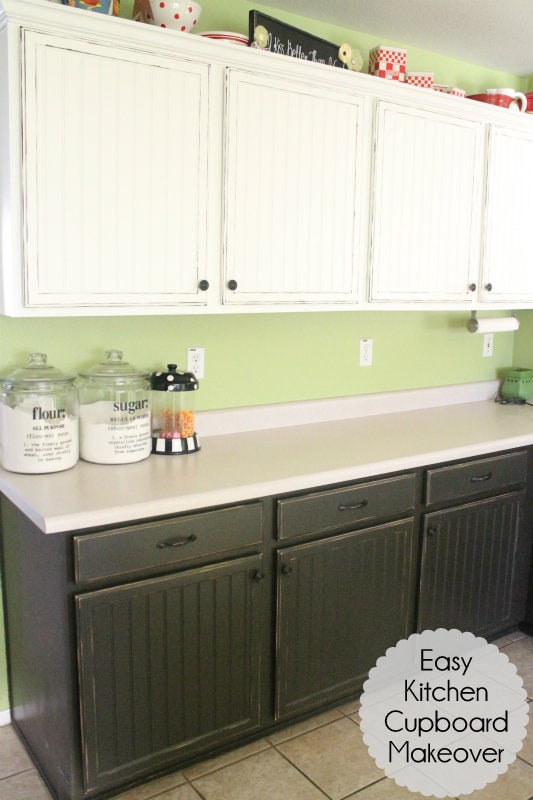 Guess what, my friends?!
I am now part of the Lowe's Creative Blogger Team!! I cannot tell you how excited I am!! So, what does that mean for you? It means that I will have more opportunities to share some fun DIY projects with you! Woo hoo!!
Some of you may know this but the hubby and I have been slowly remodeling our home since we moved to our home a year and a half ago. That means I have tons of DIY tutorials just waiting to be blogged about, and I cannot wait to share them with you.
Today's tutorial is from the kitchen. I will be showing you how we did an easy Kitchen Cupboard Makeover. I had seen a similar tutorial from Lemonade several months ago and knew I wanted to do the same thing. The best thing about this project was although it took a little time, everything was fairly simple to do and the end result turned out FAB!!
Here is what it looked like: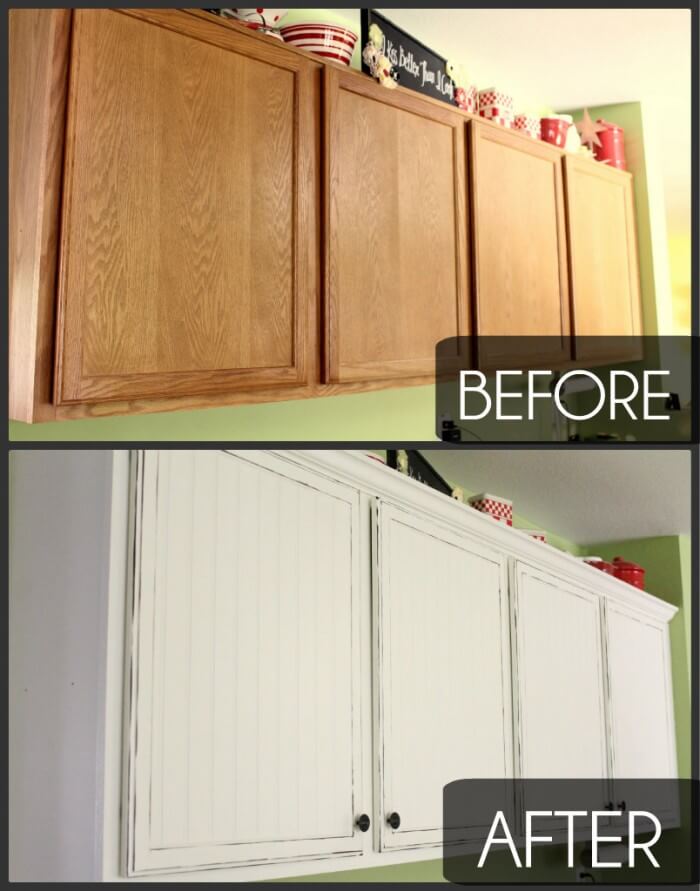 Pretty big difference, huh?!
Here is what you'll need to do it too…
SUPPLIES:
– Sander (or sand paper)
– Mineral Spirits
– Bead Board
– Construction Adhesive (liquid nails)
– Latex Caulking
– Antiquing Glaze
– Polycrylic Protective Finish
– Valspar Paint
– Wood Putty
INSTRUCTIONS:
1. Remove all your cabinets. You may need to number them if there are a lot of unique sizes so you know where to put them back.
2. Sand off as much of the old finish as possible. The more you return to natural wood the better the new paint will last on the cabinets.
3. Clean wood with some type of solvent. We used Mineral Spirits.
4. Measure and cut your bead board to fit the inner panel.
Check Out My Other Recipes
5. Using construction adhesive (liquid nails) adhere the bead board to the center of the cabinet. For best results apply weight as the adhesive is drying.
6. Use latex caulking to fill in the small gaps created where the edge of the bead board meets the cabinet door.
7. Paint with a primer or we used a primer and paint in one and did two coats. We actually bought a spray gun at Lowe's that made the job ten times easier. It was the Graco SprayStation3900. It was so easy to use and so easy to clean up!
8. Apply tintable glaze (we used Valspar Antiquing Glaze – Asphaltum 98278) found at Lowe's.
9. For the black (bottom) cabinets, we antiqued them by distresssing the edges with a sander. Be careful not to hit the bead board panel when you're sanding.
10. Once you're happy with the look of your cabinets apply a Polycrylic Protective Finish to seal and protect the paint. This also gives it a nice Satin Finish. We used Minwax Water-Based Polycrylic Protective Finish Clear Satin.
For Crown Molding:
It was measured and cut to size and installed using a few brads nailed into the cabinets (it's not weight bearing so it didn't require much to keep in place). We puttied the nail holes, and the painted it and sealed it with the Polycrylic. Pretty easy!!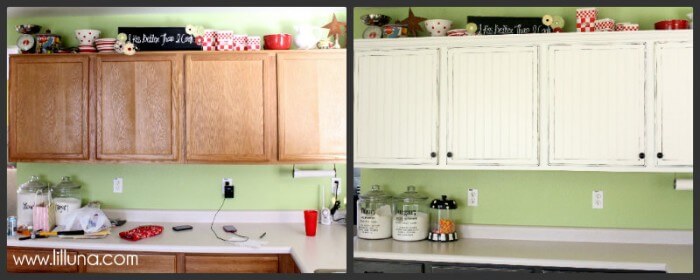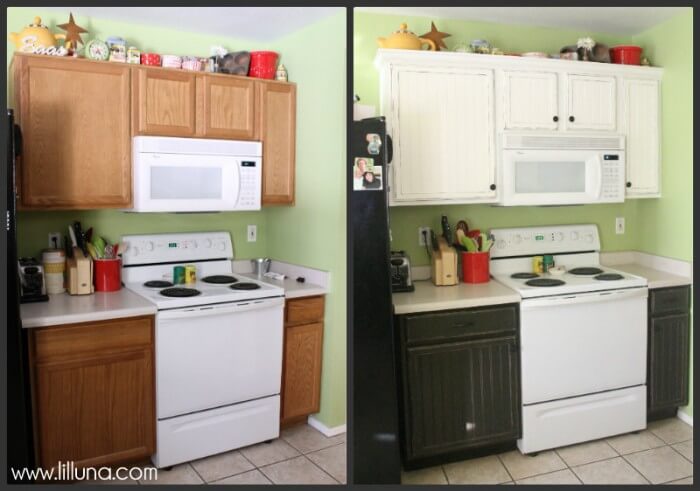 In all (without the cost of the sprayer) it cost about $150 to re-do all the cupboards in our kitchen. I am so happy with how it turned out and think that $150 was well worth it for such a great difference!
Now, how about winning a:
$100 Gift Card to Lowe's?!
TO ENTER:
Giveaway ends next Wednesday night at 11:59 PM. Winner will be emailed the following day and must claim their prize within 48 hours before a new winner is chosen.
For more ideas please go to: Lowe's Creative Ideas and Lowes.com.
You can also find Lowe's on Pinterest HERE and on Facebook HERE.
For more home improvement ideas be sure to check out: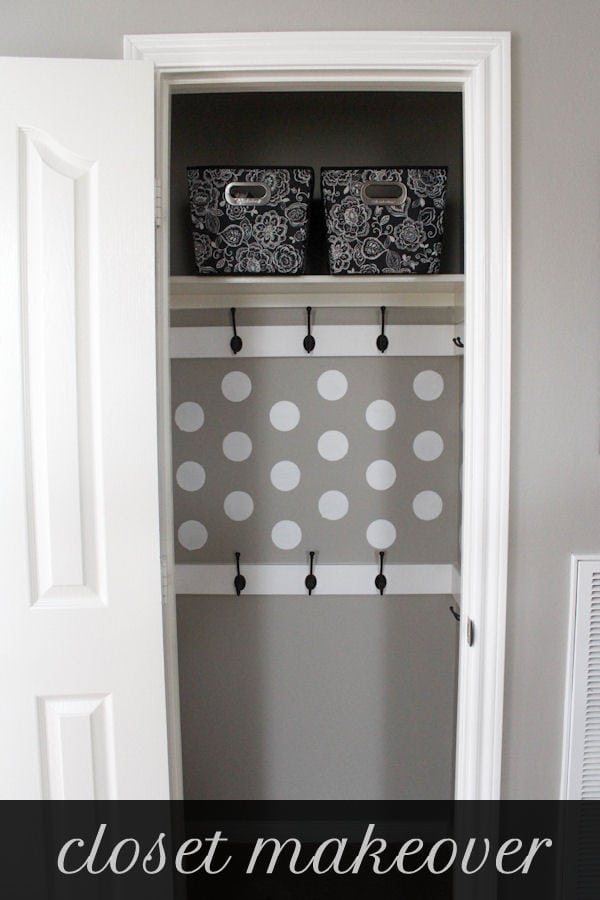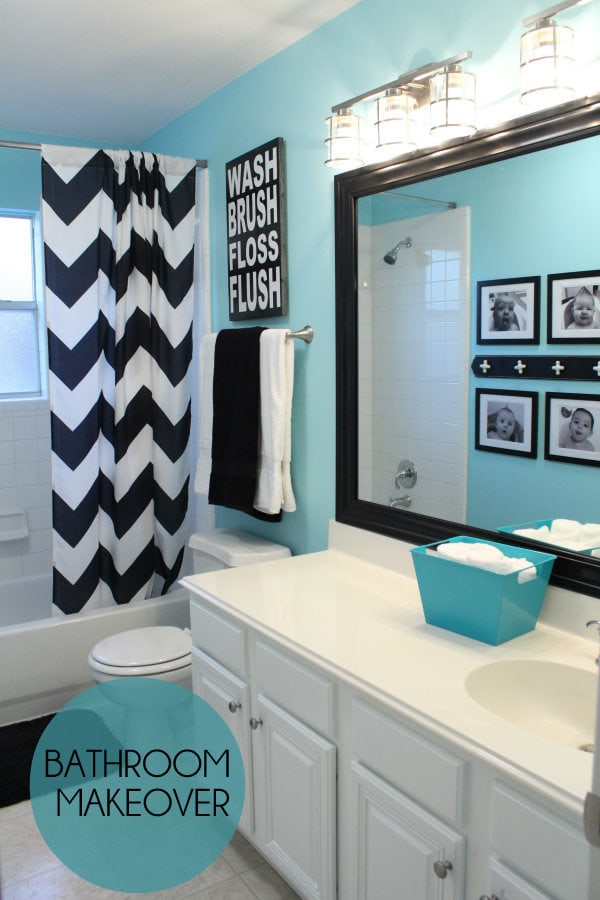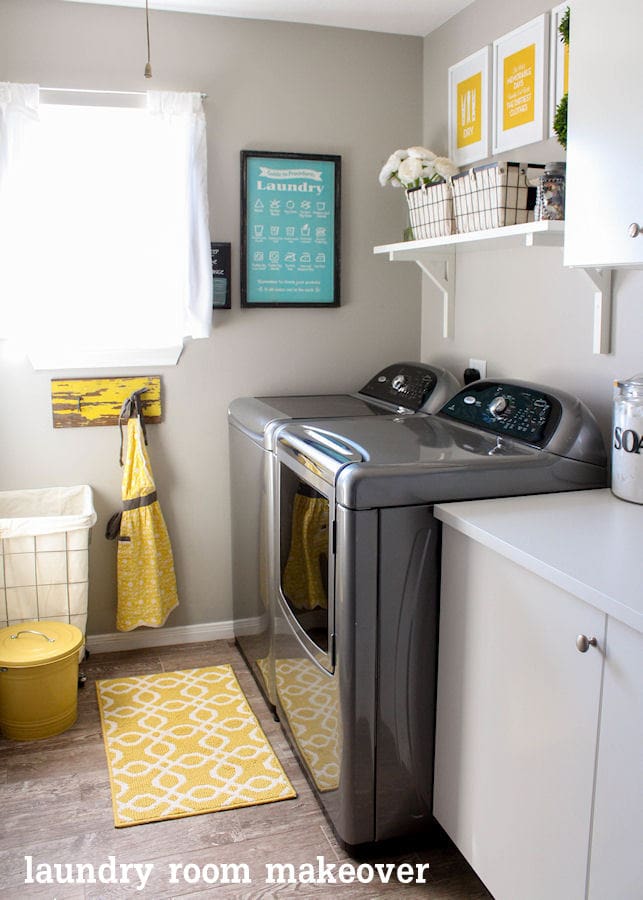 For all DIY projects go HERE.
For all Decor ideas go HERE.
And get weekly emails with monthly freebies by signing up for the Lil' Luna newsletter. 🙂
For even more great ideas follow me on Facebook – Pinterest – Instagram – Twitter – Periscope – Snapchat.
Don't miss a thing – Sign up for the Lil' Luna Newsletter today!
ENJOY and Good Luck!!