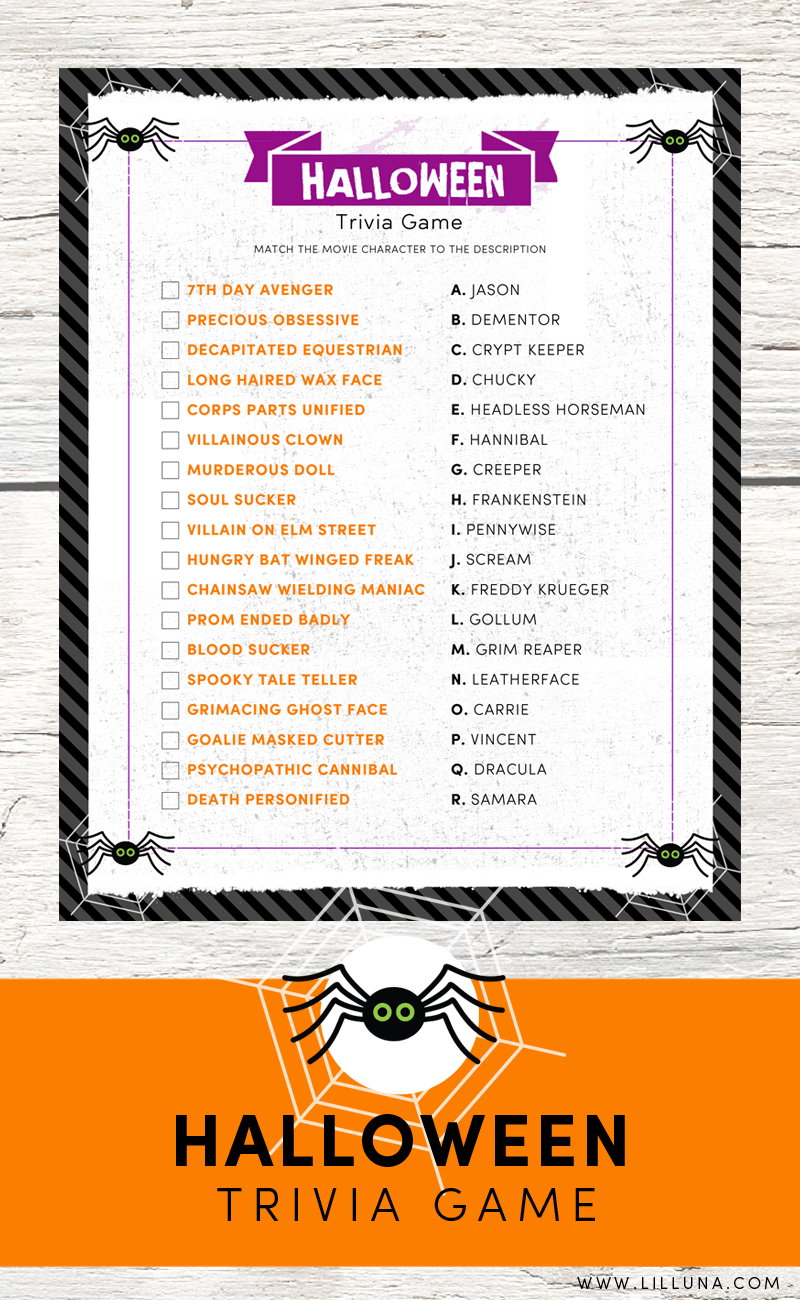 We LOVE games! Almost always when we are gathered as a family, we try to play games. It can get hard when there are tons of kids running around, but when they're busy playing you better believe us adults are trying to squeeze in one card or board game.
We especially love to play games at parties and holiday get togethers but have had a hard time finding ones that work with a bunch of people. We've always been fans of trivia, and since we love Halloween we thought a Halloween Trivia print for everyone to use at their parties would be handy.
This game is about matching the movie character to the description. Not all our Halloween characters but all are definitely creepy characters. The creepiest of all – Pennywise! I still have nightmares about that scary clown, LOL!
Whether you know your villains or not, this is a fun, simple game that you can play at your next Halloween party. Just print out and play. Super easy!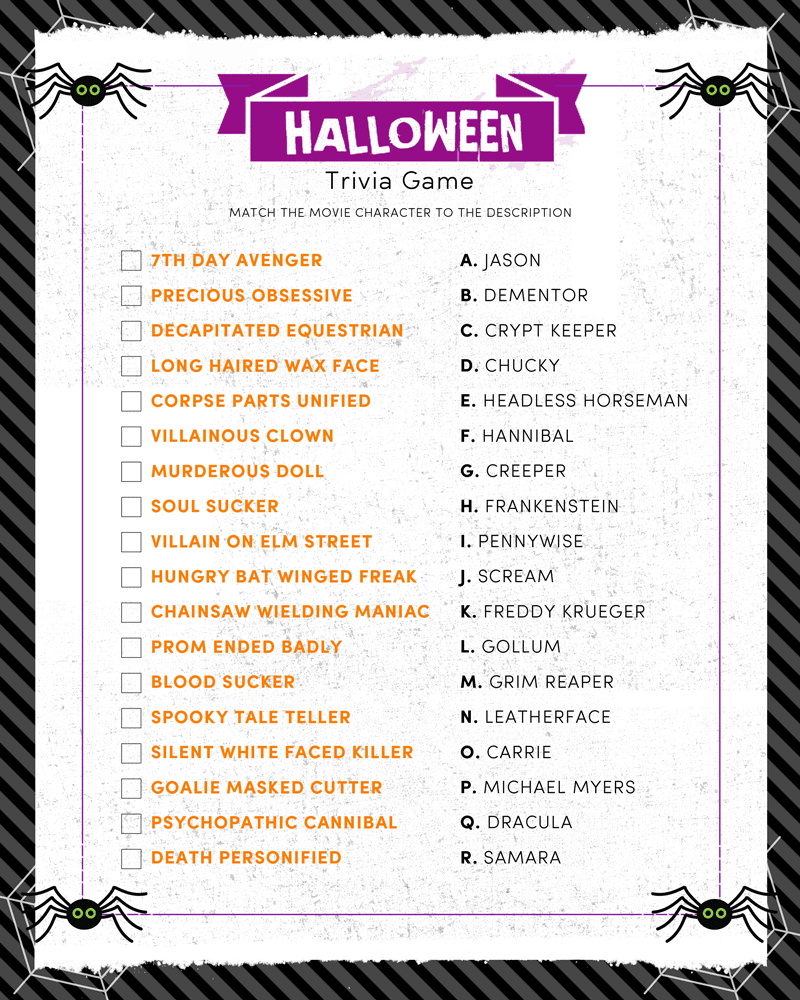 download your free halloween trivia print now
Fill out the form below and the FREE printable will be sent to your email.
HERE ARE THE ANSWERS TO COPY AND PASTE:
7th Day Avenger – R – SAMARA
Precious Obsessive – L – GOLLUM
Decapitated Equestrian – E – HEADLESS HORSEMAN
Long Haired Wax Face – P – MICHAEL MYERS
Corpse Parts Unified – FRANKENSTEIN
Villainous Clown – I – PENNYWISE
Murderous Doll – D – CHUCKY
Soul Sucker – B – DEMENTOR
Villain on Elm Street – K – FREDDY KRUEGER
Hungry Bat Winged Freak – G – CREEPER
Chainsaw Welding Maniac – N – LEATHERFACE
Prom Ended Badly – O – CARRIE
Blood Sucker – Q – DRACULA
Spooky Tale Teller – C – CRYPT KEEPER
Silent White Faced Killer – J – SCREAM
Goalie Masked Cutter – A – JASON
Psychopathic Cannibal – F – HANNIBAL
Death Personified – M – GRIM REAPER
—————————-
For another fun Halloween Trivia Print check out…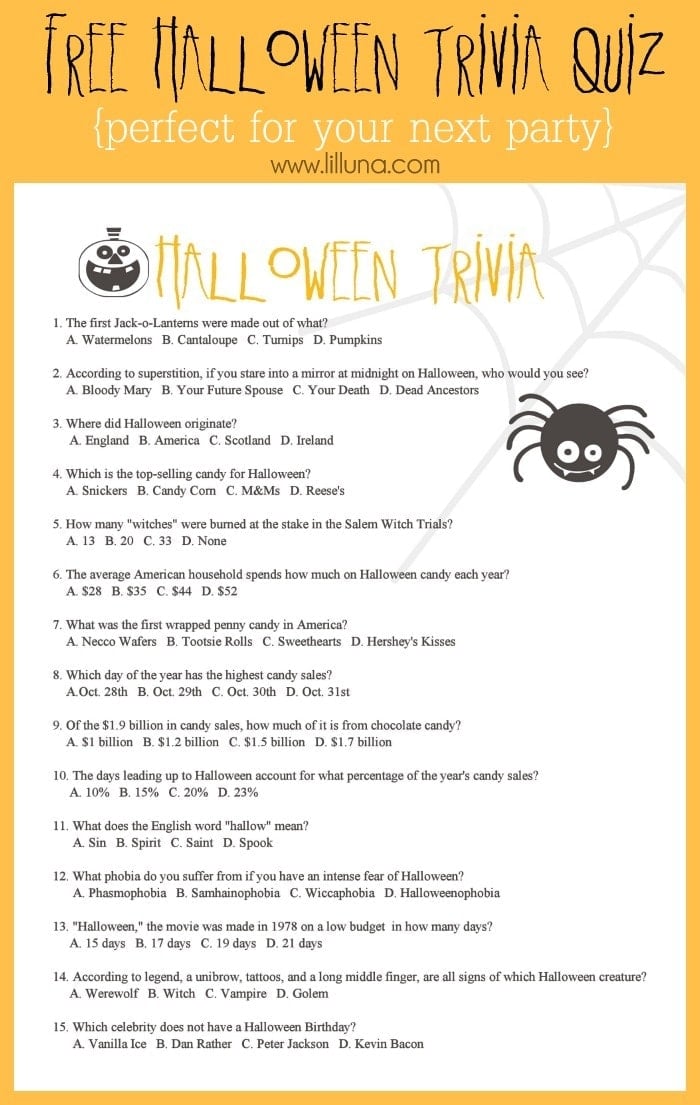 download your free halloween trivia quiz now
Fill out the form below and the FREE printable will be sent to your email.
For more party ideas check out: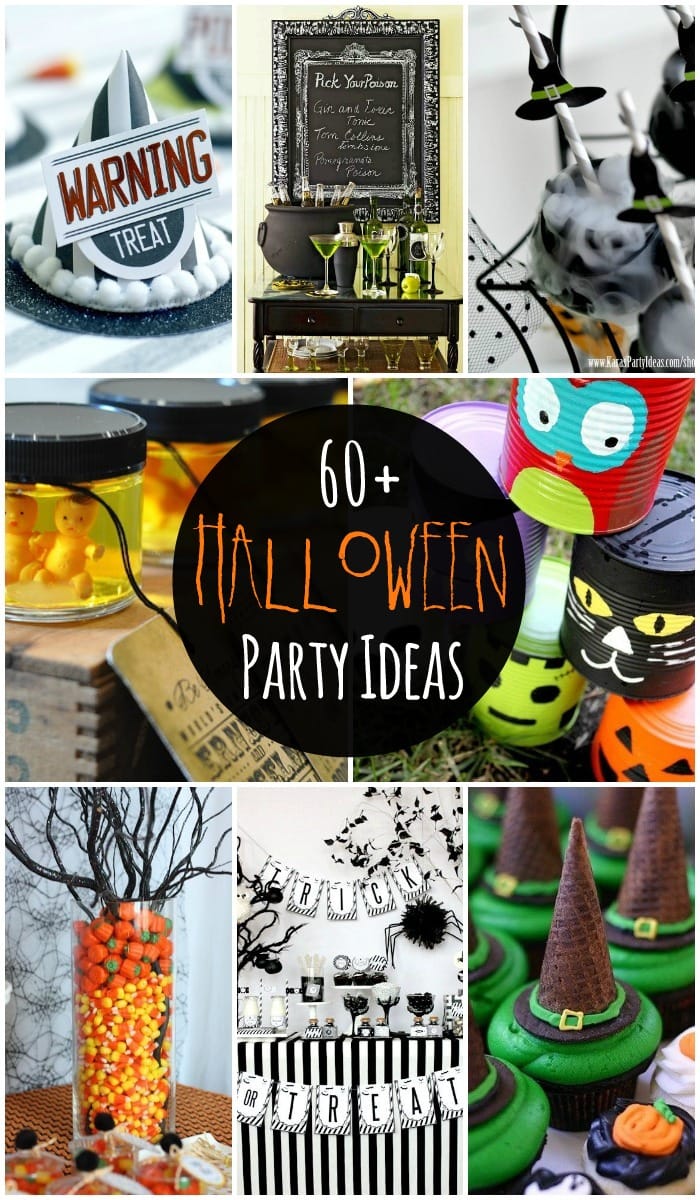 For all Halloween ideas go HERE.
For even more great ideas follow me on Facebook – Pinterest – Instagram – Twitter – Periscope –Snapchat.
ENJOY!!