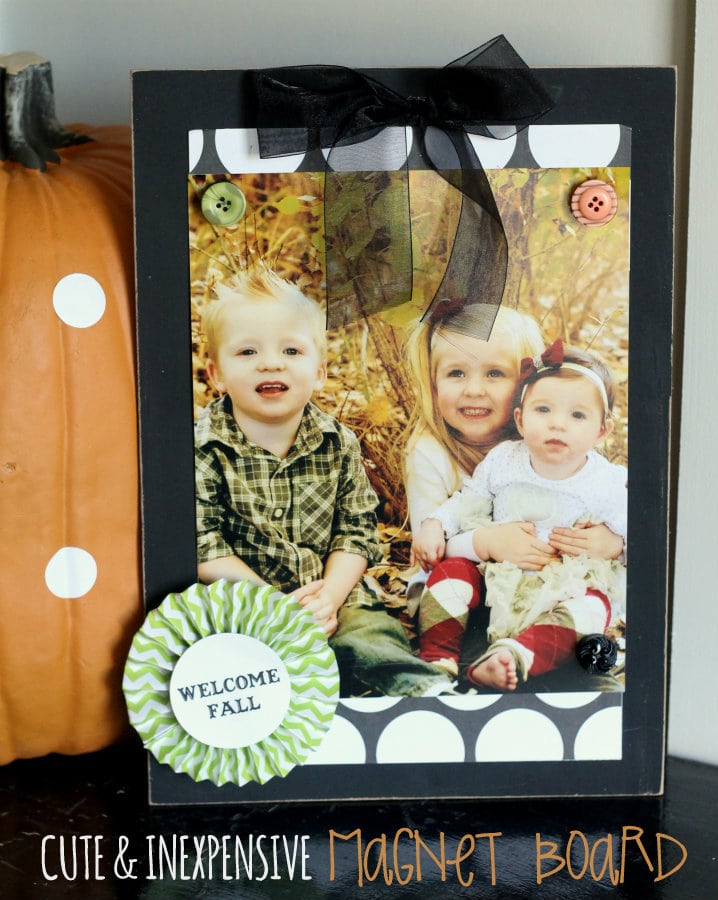 Except for one more Teacher Gift I'll be sharing next week, I'm shifting gears and will be sharing some awesome awesome crafts, tutorials and holiday projects and recipes in the coming months. CANNOT tell you how excited I am about all the fun holiday items that are in the future.
This next project is one that anyone can do and makes a super cute display or gift for a friend. It's also inexpensive (made for just a few dollars) which makes it even better! It's a Welcome Fall Magnet Board, but the beauty about it is that you can change out the "Welcome Fall" part to any season or change it to just WELCOME for any time of the year. And then you change the picture(s) to match the season.
Here is what you'll need to make this Cute and Inexpensive Magnet Board:
MY OTHER RECIPES
SUPPLIES:
MDF/Hardboard
Sheet Metal
Mod Podge
Scrapbook Paper
Magnets
Buttons
Hot Glue
Ribbon
 DIRECTIONS:
1. Make your Paper Accordions by first cutting out TWO 2″ x 12″ strips of scrapbook paper. Zig Zag the paper back and forth like in image one. Then hot glue the end of the paper to the end of the other strip. Hot Glue them together as shown in Pic 2 to make it a circle. Then Hot glue the middle (you may have to hold this for a minute or two until the hot glue dries). Then add the WELCOME FALL Print which is available below.
2. Save the images(s) you want above by clicking on it and then RIGHT-CLICKING and SAVING. Then open it in a program like word, re-size it to what you want. Print and Cut out.
3. You can also make your own magnets by gluing magnets to buttons as well as to the back of the accordion. These will keep your pictures in place on the board.
4. Mod podge your sheet metal by applying a thin layer to the sheet metal piece. My sheet metal piece was 9×12 inches and can be found in the roofing section for about $1.
5. Cut your MDF to be slightly larger than your sheet metal piece. Paint it. Let dry. I sanded mine as you see above just because I like that look. Hot glue your mod podged sheet metal to your board by applying hot glue to the board (not the sheet metal because it dries a lot faster). Press firmly until it is on there pretty good.
6. Add a ribbon if you'd like by hot gluing it on top.
Cute and Easy!! And like I said earlier… it only costs a few dollars to make if you have the paint and hot glue. It really would only cost about $5 if you had to buy all the supplies – SWEET!
Can't wait to change out these pics every season with some new ones. This one to me screams fall with all those pretty fall colors in the background. Looks like I need to be snapping more pics though since there's a new little guy in town. LOL.
For more fun and inexpensive projects you can do with items purchased at Lowe's check out:
For more creative inspiration, visit Lowes Creative Ideas and Lowes.com.
This is a sponsored post written by me on behalf of Lowes. All opinions are 100% mine.
ENJOY!