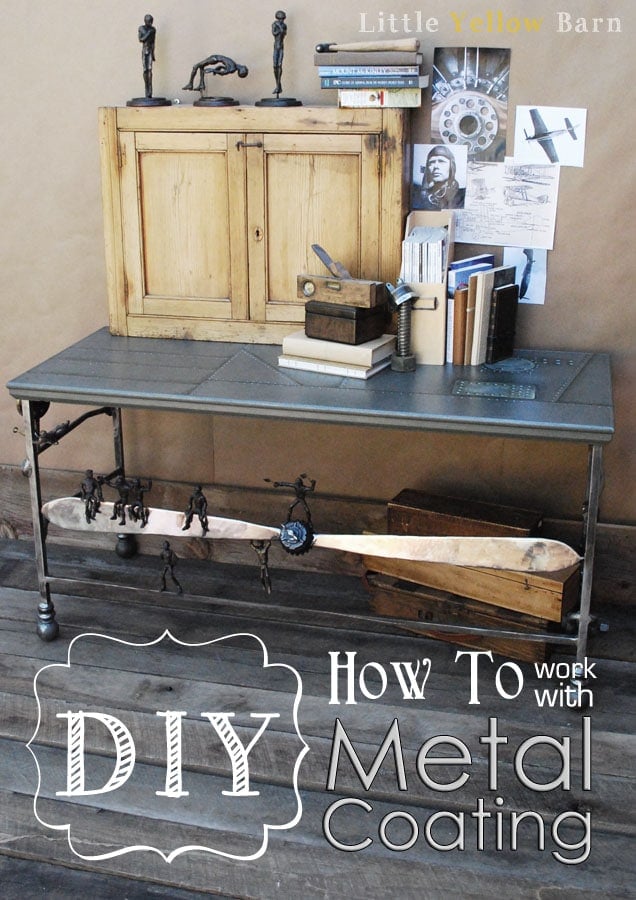 Hi there Lil Luna friends!  I am Jourdan and I blog over at Little Yellow Barn.  Every once in a while I get on a kick in which I find a product that is so fantastic that it becomes the center of all of my conversations. My friends and family often respond to my ramblings with a mild groan and a, "Yes Jourdan I know I need to try…
Homemade Chalk Paint = great for quick refinishes or
They are Real =best mascara on the planet or
MY OTHER RECIPES
Smart Strip = best paint stripper on the planet or
Creme De Creme =  body butter you always come back to or
Avibon = wrinkle blitzing miracle, just ask Gwyneth
…just lock it down lady, let's talk about the weather."
As of late I have been introduced to the world of METAL COATINGS and I am just so excited to let you in on my new secret. SCULPT NOUVEAU distributes metal coatings throughout the U.S.  Their line of metal coatings literally turns almost any surface into metal… "poof" like a magic trick right before your eyes.
This is a non-toxic, water based product that can be applied to metal and non-metal surfaces.  The product contains BITS OF METAL SUSPENDED IN AN ACRYLIC BINDER. The substance is very thin and a little goes a long way. I was able to apply 2 coats from my 8 oz ($12) bottle to the surface of the, what I like to call, "aviator desk".  I promise you, this product literally SLIPS onto the surface.
Once the product is dry,  you have the option of buffing away the binder to reveal a SHINY, METAL finish. Ron Young i.e. "The Patina Man", engineered this product and has several great tutorials on the endless ways which you can use it.  If you would like to learn more visit his site here.
*It is also good to note that I did apply a base coat of milk paint to prep the surface because I wanted to conserve my precious metal coating.  But the product will adhere to bare wood.
You can purchase different metal coatings like IRON, SILVER, BRONZE, BRASS, COPPER etc. I chose "IRON B" for this project.
Step 1: To prep your surface. simply make sure it is clean and dry.  If you are applying the product to a wooden surface, I always do a bit of sanding and then apply mineral spirits i.e. paint thinner right before I'm ready to paint so that I know the surface is free from oils.
Step 2: Apply the metal coating to your surface, let dry 15 minutes and then apply a second coat if desired.  let this coat dry over night.
Step 3: Use a piece of steel wool to KNOCK BACK the epoxy in the paint.  You have to really put your back into it.  This product sets up very hard and if you want that tuff, metal sheen, it's gonna cost you some sweat.
Step 4: Clean the surface with a damp cloth, let dry, then apply a lacquer.  *note that this is an extra precautionary step and is not necessarily needed.
* I did try to use a power buffer to shine the finished surface, but this step I don't think made much of a difference.
Because this product acts like a paint but largely consists of metal, patinas may be added to tarnish the surface and completely change the entire look of the project.  What is a patina?  Patina's create a film on the surface of metal. Once dry the surface may be burnished with steel wool to adjust or highlight the patina. Patinas give the surface an aged appearance.
Why is this dangerous?  For me it's kinda like walking into a bakery to purchase a bran muffin, but then my eyes start to oogle the double fudge brownie and cinnamon coffee cake, the dilemma of, "what shall I choose?" arises and often I find myself  leaving the bakery with a cake and a box of donuts.  The versatility of Sculpt Nouveau's products and  the combinations of patinas and finishes that you can utilize are endless.
The entire table itself was designed and constructed by Susan Church.  She is a brilliant wood-worker/ metal "clanker"/ welder/ sculptor/ mom.  All of the bronze aviator men that you see were sculpted and cast by Susan.  This particular project is centered around WW2. The "effects" you see on the finished table top are trompe l'oeil.  It is a French term that translates in English as 'tricking the eye'.  After the metal coating was finito, Susan painted the top to look like the rivets and panels of an airplane wing, but it is a perfectly flat surface, suitable for use as a desk or table.
————————————-
Thanks Jourdan! I sure love this look!
Be sure to go to Little Yellow Barn for more fun projects from Jourdan & Ashley, and
for more information about her please go HERE.
For more great tips & tutorials, check these out:
How to Refinish Hardwood Floors
How to Antique Using Spray Paint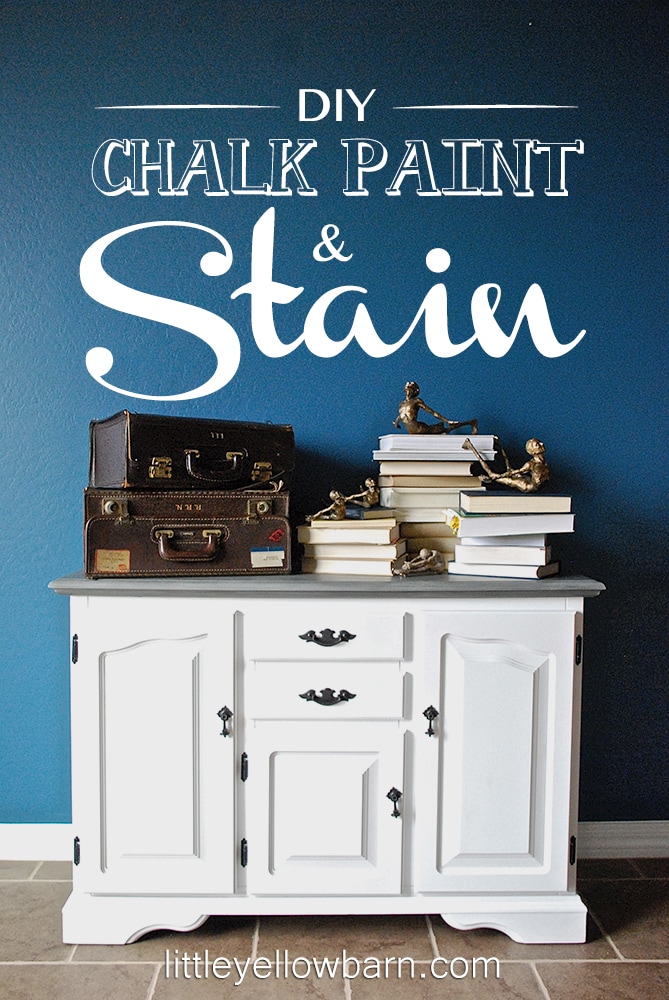 For all TIPS go HERE.
For all Crafts & Tutorials go HERE.
And get weekly emails with monthly freebies by signing up for the Lil' Luna newsletter. 🙂
For even more great ideas follow me on Facebook – Pinterest – Instagram – Twitter – Periscope – Snapchat.
Don't miss a thing – Sign up for the Lil' Luna Newsletter today!
ENJOY!