Everything you need to know before you go to Star Wars: Galaxy's Edge. From rides to food to shops, you will get all the tips and tricks for visiting the newest land at Disneyland!
Everyone is so excited for the new Star Wars: Galaxy's Edge opening at Disneyland?! This fun, immersive land is amazing, and we wanted to make sure you knew all about Disney's new land – from the food to the rides! Be sure to check out our Guide to Star Wars Land food too!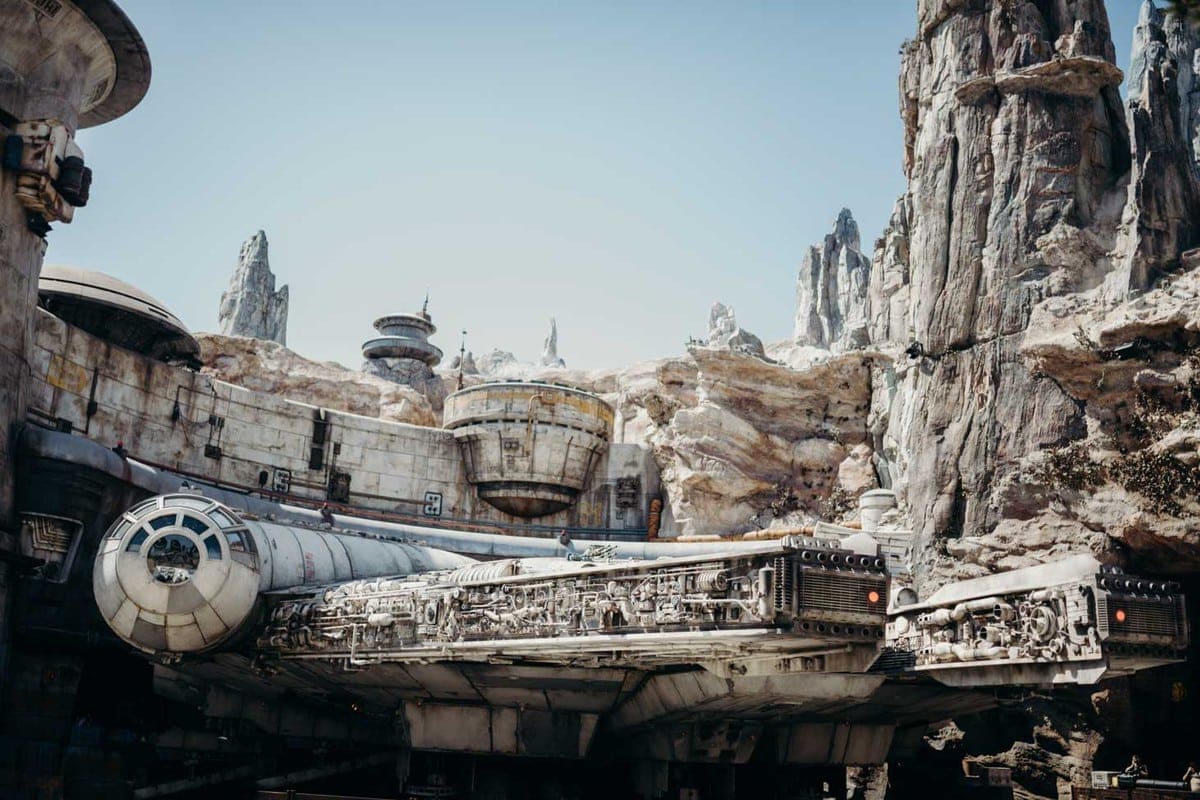 Galaxy's edge
Who's excited for the new Star Wars: Galaxy's Edge opening up?!
Not only is it the largest expansion at Disneyland, but it's sure to be THE place to go to this year, especially if you are a Star Wars fan. With fun rides, delicious food, amazing merchandise and more, it will be the new hot spot at the parks, as you are transported to the planet of Batuu, home to Black Spire Outpost.
Galaxy's Edge opens up May 31, 2019 at California's Disneyland and on August 29, 2019 at Florida's Walt Disney World.
INFORMATION TO NOTE:
Fast passes and Max passes are unavailable for the attractions in Star Wars Galaxy Edge.
For Star Wars: Rise of the Resistance, there is no standby line. To be able to ride, you must be physically in the park to obtain a BOARDING PASS. This is done through the Disneyland app or through two physical locations inside the park.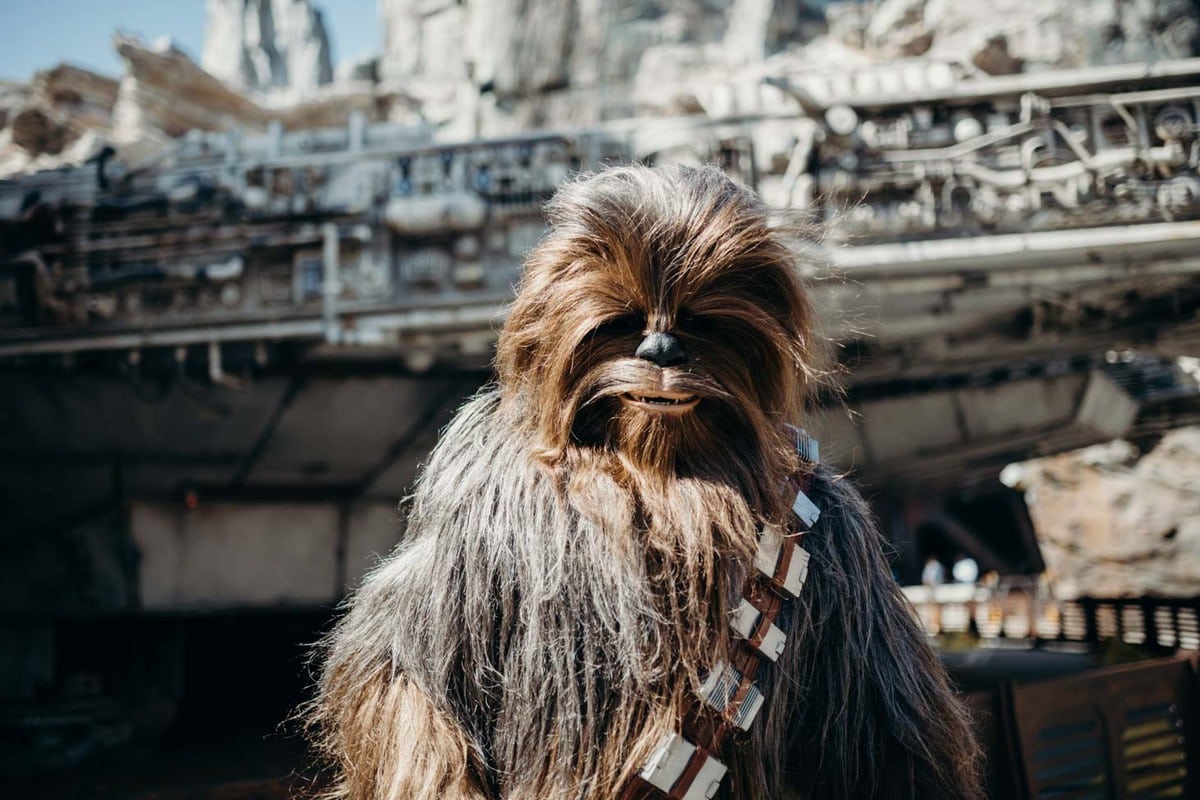 star wars land Rides
There will be two rides in this new land, with Millenium Falcon: Smugglers Run open right away. The second ride, Star Wars: Rise of the Resistance will open later this year.
Millennium Falcon: Smugglers Run
This ride is the fastest ship in the Galaxy. You will be able to ride in the cockpit of the Millennium Falcon as you jump into hyperspace with your own Star Wars adventures and face danger along the way.
Get assigned to be pilot, shooter or engineer on this fun ride.
Height Requirement – 

38" (89cm) or taller

Small Drops, Dark, Loud, Thrill Ride
Star Wars: Rise of the Resistance – OPEN NOW!!
This ride is known as one of the most advanced experiences ever done by Walt Disney Imagineering. This is an amazing battle that guests get to participate in as they fight against the First Order.
Height Requirement – 

40" (102 cm) or taller
NOTE: A boarding pass must be obtained to go on this ride. Once you are physically in the park, you can get a boarding pass through the Disneyland app or through two physical locations within the park. The boarding pass will tell you when to return to the ride to go on it so you don't have to spend your day in line.
Here's a list of some amazing Star Wars attractions!
Ancient ruins: This is the perfect hideout for the Resistance

Black Spire Station: Looking for a part well.. Salju will help you find it!

Smugglers Alley: A watering hole

Suburat River Valley: Navigate your way through treacherous twists and turns.

Docking Bay 7:  Relax and Enjoy some food here

Docking Bay 9: This is where the First Order Stormtroopers can be found.

Bakkar Spire:  Where the

Millennium Falcon

is housed. It is the spaceport.


Experiences
From building your own lightsaber to a droid, there are some great experiences to be had in Star Wars Land. Be sure to check them out for amazing Star Wars experiences!
Savi's Workshop – Handbuilt Lightsabers – This is workshop that has a lot of parts and collectables from all over the galaxy. As guests, you can customize your very own lightsaber and bring it to life through the power of kyber crystals.
There are different themes you can select from:
Peace and Justice
Power and Control
Elemental Nature
Protection and Defense
After you customize your lightsaber (purchase required) you can take it with you to protect yourself and friends throughout Star War: Galaxy's Edge.
Droid Depot – Who has always wanted a droid? Well… it's your dream come true! You will be able to customize your very own sidekick with different parts, chips and manuels to create your very own droid. This will be an experience you will never forget!
There are model kits, premade droids and accessories for sale that guests can take with them.

Please note: Custom Astromech units are not eligible with Annual Passholder discounts.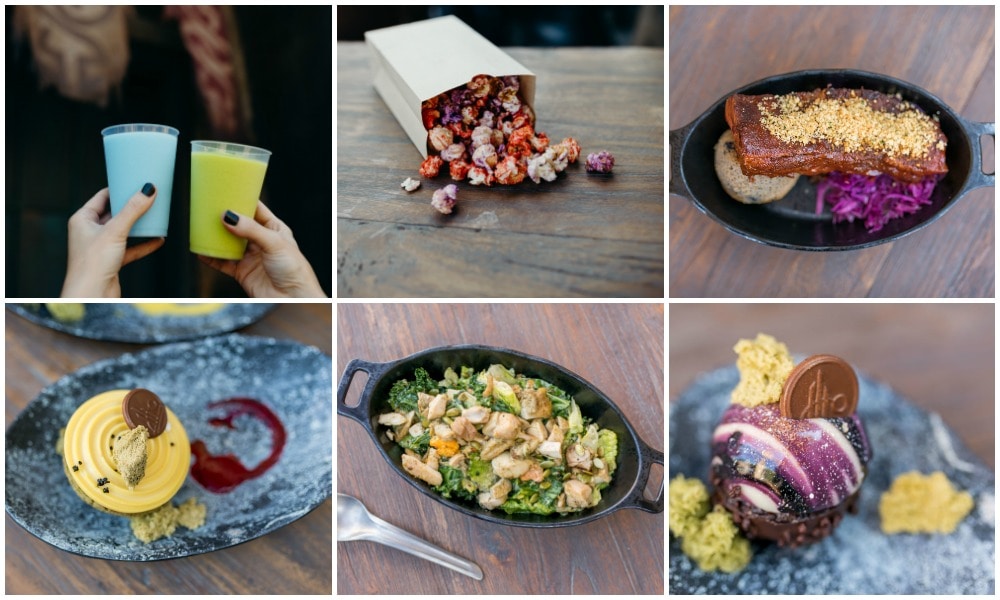 Food, Dining and Beverages
Part of all the fun that comes with a new land at Disney, is all the new food! And if you're a foodie like I am, then you'll want to check out some of the awesome new things you can enjoy at Galaxy's Edge.
Oga's Cantina – If you have always wanted to be apart of Star Wars infamous water holes then Oga's Cantina is where you should go to sit back, relax and enjoy some music courtesy of droid DJR-3X, who is a former Starspeeder pilot.
Kid-friendly drinks, provisions, snacks and concoctions with alcohol are all available!
$14.99 and under per adult
Docking Bay 7 Food and Cargo – Galactic grub will be available at this docking bay. From entrees to drinks, to desserts there will be food for breakfast, lunch and dinner.
American and Vegetarian Cuisines

$14.99 and under an adult)
Milk Stand – If you are a Luke Skywalker fan then you know about the famous blue and green milk that he would drink. So now, it is your time to enjoy these exotic galactic drinks for yourselves.
Ronto Roasters – If you love grilled meat then this is the place to go eat. The meat is roasted to perfection and will help your get geared up for your next mission.
Breakfast, Lunch and dinner
$14.99 and under per adult
Kat Saka's Kettle – This snack shop is where you will find different grains for all over the galaxy. The best part of this shop is the specialty popcorn that you can enjoy while traveling throughout Star Wars; Galaxy Edge. Refreshing drinks are also sold here.
Cart/Kiosk
$14.99 and under per adult

GALACTIC Shops
Along with rides and food, you can't forget all the shopping. There will be so much amazing merchandise, and we have a feeling you're going to want to get it all.
Dok-Ondar's Den of Antiquities – In this shop you will be able to find hidden treasures from all over the Galaxy. Dok-Ondar is mysterious and almost mystical and no one knows where he has collected all of his treasures.
Which include:
Jewelry

Ancient tools

Rare kyber crystals

Statues

Famous lightsabers
Every item has a story to be told.
Creature Stall – This is the place to find your unique Star Wars creatures!
Black Spire Outfitters – Stylish and casual garb and clothing will be available at this store great for your space or casual travel.
Robes or Casual wear – This is a great shop to get your Star Wars Gear and Clothes. If you want a robe or casual wear to blend in with the locals this is the shop for you.
First Order Cargo – Want to join the First Order? Then head to Docking Bay 9 and get all the gear needed to show your support for the First Order
Resistance Supply – This is the Resistance Post- Stock up on your gear to defeat the First Order. This is a secret post so they can be prepared to fight against the First Order.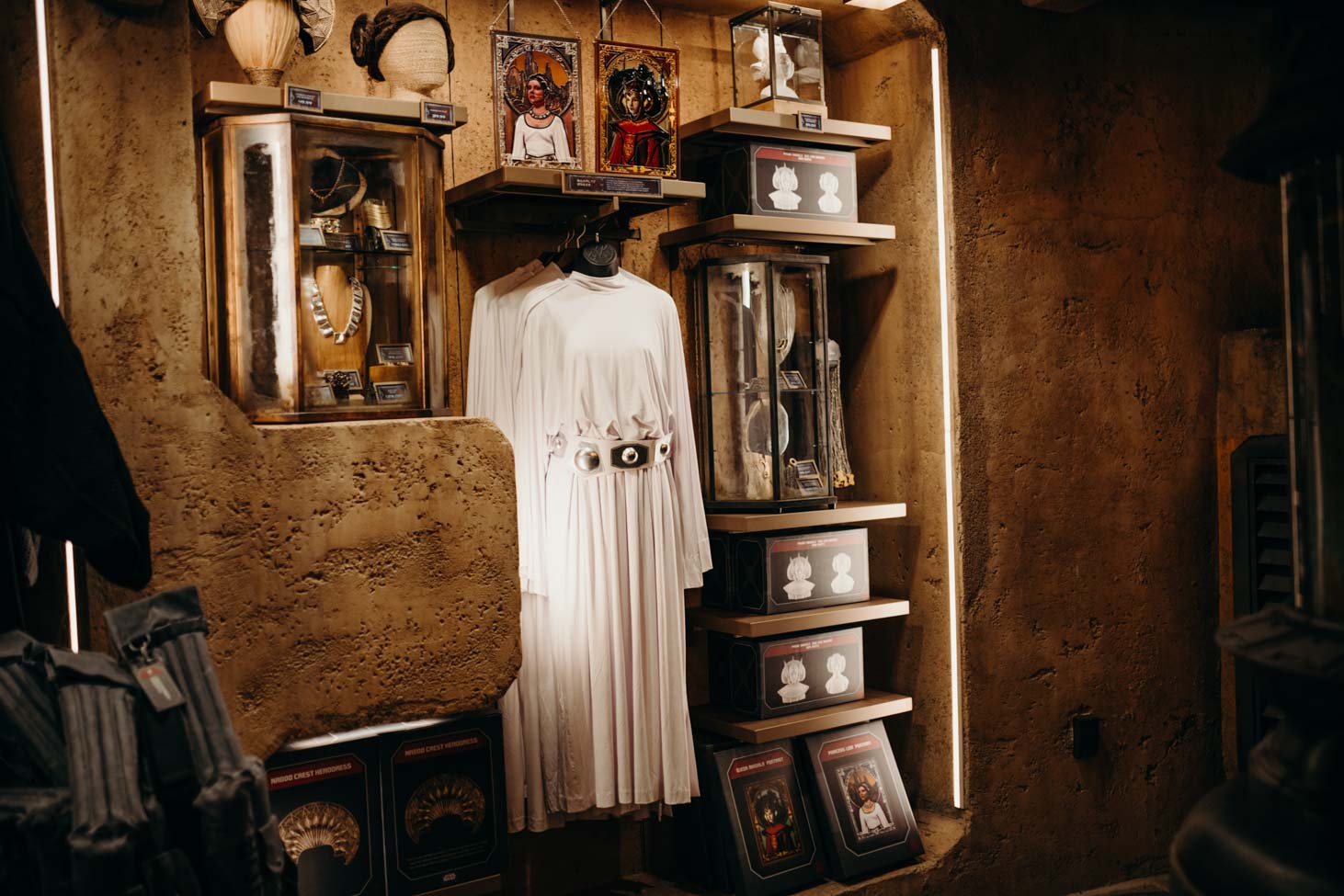 There is so much fun to be had at Star Wars Land, and we cannot wait for you to experience it. Be sure to leave a comment and let us know what your favorite part is!
For more Disney World info, check out: