Last month I had the amazing opportunity to go to Walt Disney World with some of my favorite foodie friends. The entire trip was simply magical as we were there to attend Epcot's Food and Wine Festival and eat our way through the parks. Although, I had to be practically rolled out of the place, we had so much fun and got to try so many amazing things to eat. You guys know just how much I love food, so to be there to try phenomenal restaurants and attend the festival was a dream come true!
I am often asked questions about Walt Disney World, but the most popular question is – What food do I need to try there? You see, Disney World isn't just about the rides or the characters or the atmosphere. Yes, all of those things are amazing and magical, but one of the best things is the FOOD! Every where you go you will find delicious treats and yummy things to eat. If you've been there you'd agree because as you know, the scents of popcorn, cookies and cinnamon fill the air. This trip helped prepare me to be able to answer this popular question in the best way possible since we were able to try so many different foods. Of course, it would be impossible to try every food at Disney World in one trip, but that's where seven good friends come in handy. We often ordered different items on the menus so we could all taste each other's, which allowed us to try many different things. Doing that and making notes of all of our favorite items made it possible to compile today's collection of the BEST things to eat at Disney World.
WARNING: TONS OF PICTURES IN THIS POST!!!  


MY OTHER RECIPES
Shawn, Jamielyn, Kristen, Shelly, me, Jenny, Amanda, Kristan – all the foodie friends!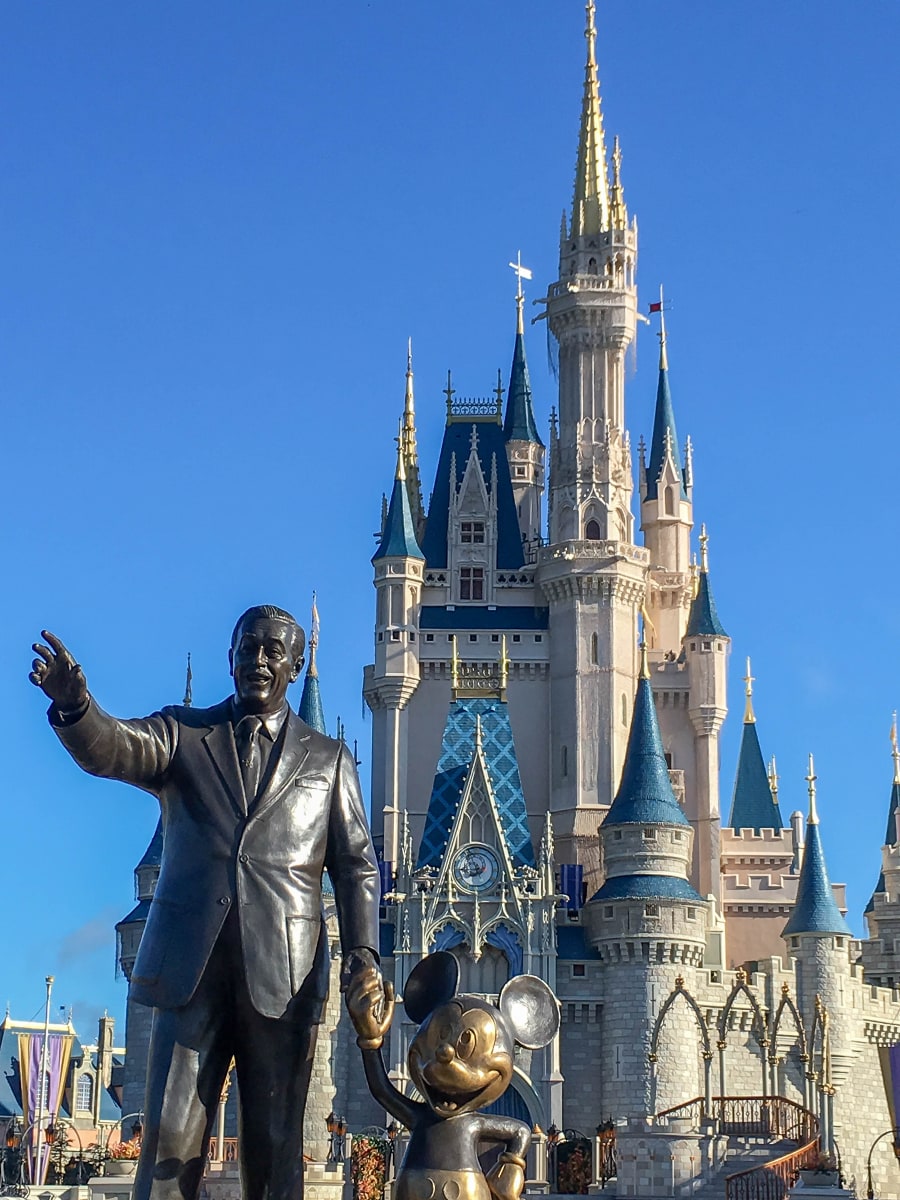 Before I begin, I must remind you that since eating is such a huge part of the Walt Disney World experience, it is a good idea to make dining reservations as soon as possible. If staying at a Disney resort, guests can reserve 180 days in advance of their day of arrival and make up to 10 days of Advance Dining Reservations that same day, either online or by calling (407) WDW-DINE (939-3463). Many restaurants sell out within minutes each day, exactly 180 days in advance, so if you are set on eating at a specific place, be sure to call. Some of the most popular restaurants that get booked right away include:
Be our Guest at MAGIC KINGDOM
Cinderella's Royal Table Character Breakfast at MAGIC KINGDOM
Chef's Table at Victoria and Albert's in the GRAND FLORIDIAN RESORT
California Grill in the CONTEMPORARY RESORT
Hoop-Dee-Doo Musical Revue & Mickey's Backyard BBQ dinner shows at FT. WILDERNESS
Spirit of the Aloha Luau at POLYNESIAN RESORT

As I was writing this post and compiling all of the best places and items to eat while visiting the Happiest Place on Earth, I wasn't only drooling but I was also anxious to get back to Florida for another taste of the delicious food. There truly are SO many wonderful items to try, so I've broken the list down by park/area and restaurant. Within each place to eat, I've listed my favorite foods along with some of the most popular items on the menu. I've linked to each dining location as well as to the menu for each place. I've also listed the cost of each place with a "$" symbol (the more $'s, the more expensive it is). Last but not least, I've highlighted in RED my absolute favorite foods at Disney World. These are all items I have personally tried and would definitely make sure I got each time I came to the parks. 😉
So, without further adieu, let's begin…
MAGIC KINGDOM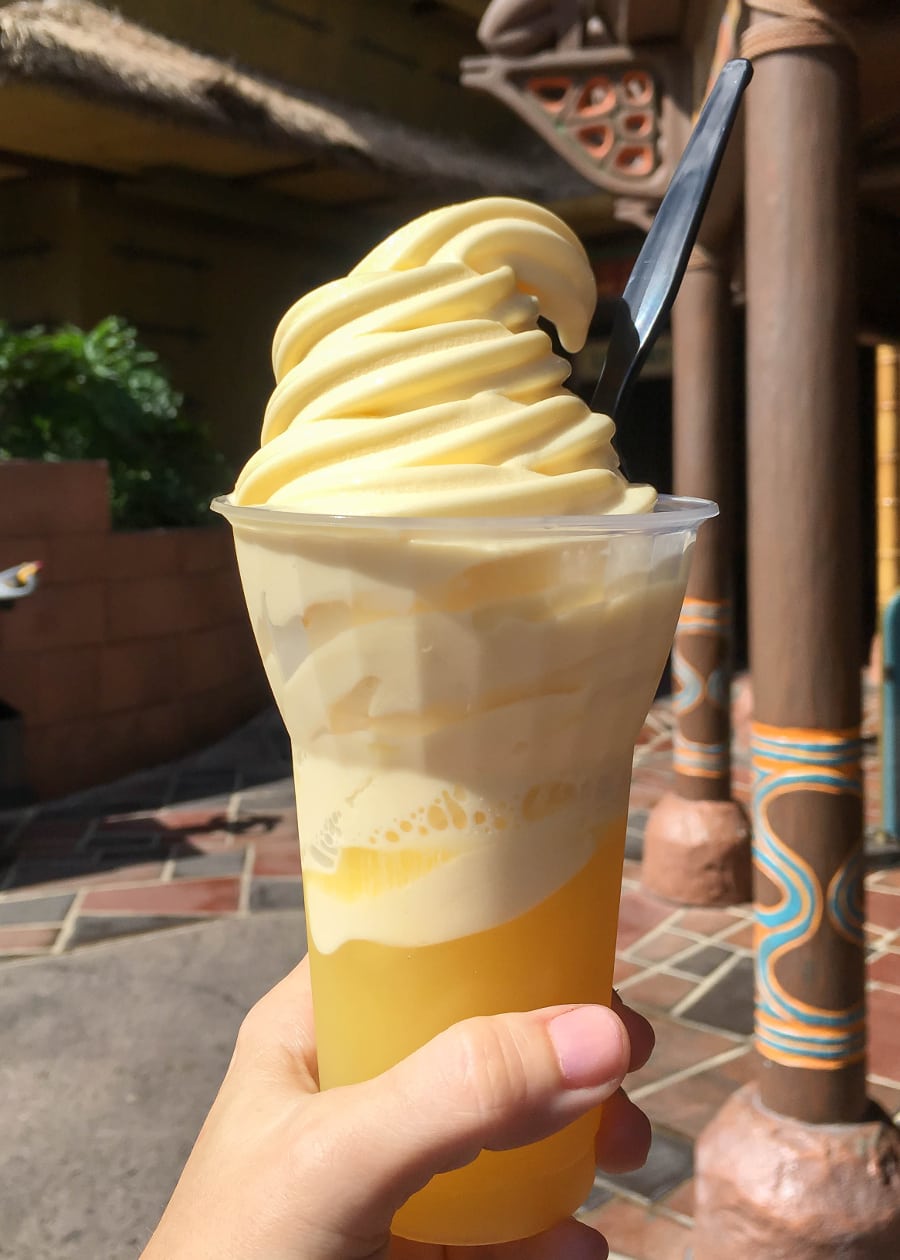 It's impossible to go to Magic Kingdom and NOT get a Dole Whip Float!
Aloha Isle – $
Dole Whips – a popular frozen treat blended in pineapple, vanilla or swirled flavors
Going to Be Our Guest is just like stepping into the movie, Beauty & the Beast. It looks just like the castle and is simply magical!
Be Our Guest – MENU – $ to $$
Breakfast

Croque Madame – Open-faced Ham Sandwich topped with a Fried Egg, Gruyere Cheese, and Béchamel served with Fresh Fruit and a selection of pastries.
Croissant Doughnut – Fried Doughnut topped with Banana-Caramel Sauce, Pastry Crème, and Chocolate Ganache serve with fresh Fruit and a selection of pastries
FOR THE KIDS:

Crepes – stuffed with Yogurt, Fresh Berries, and Wildberry Foam served with a selection of pastries.
French Toast – Brioche Bread served with Fresh Fruit and a selection of pastries.

Lunch

Croque Monsieur – Grilled Sandwich of Carved Ham and Gruyere Cheese and Bechamel with Pommes Frites.
Braised Pork – Eight Hour Slow-cooked Pork with Mushrooms, Onions, Carrots and Bacon served with Mashed Potatoes and Green Beans Jardiniere.
The Master's Cupcake – Chocolate Sponge Cake topped with Lumiere's special "Grey Stuff".
FOR THE KIDS:

Grilled Cheese and Turkey Noodle Soup

Dinner

Grilled Strip Steak – with Garlic-Herb Butter and Pommes Frites
Roasted Lamb Chop – served with Potato Pavé, Artichokes, Tomato Salsa, and Lamb Demi-glace
FOR THE KIDS

Beast Casserole – Macaroni & Cheese served with Seasonal Vegetables and choice of one (1) Beverage and one (1) Dessert
Try the "grey stuff", it's delicious! Don't believe me? Ask the dishes.
Cinderella's Royal Table – MENU – $$$
Breakfast

Caramel Apple Stuffed French Toast – Decadent French Toast stuffed with sweet Cream Cheese, baked with Caramel Apples, and drizzled with a Calvados Caramel Sauce
Beef Tenderloin and Egg – Potatoes and Cheese Frittata with Broccolini and Boursin Cheese Sauce and Chive Oil

Lunch, Dinner & Dessert

Slow-roasted Pork Tenderloin – served over Seasonal Vegetables with a Madeira Reduction
The Clock Strikes Twelves – Flourless Chocolate Cake with Berry Compote and Chocolate Gananche
Cinderella's S'mores – Chocolate, Toasted Marshmallows, and Graham Crackers

FOR THE KIDS:

Chicken Nuggets
Beef Tenderloin
Roasted Chicken Leg
Cosmic Ray's Starlight Cafe – MENU
Barbecued Pork Bacon Cheeseburger
Greek Salad with Chicken
FOR THE KIDS

Chicken Nuggets
Macaroni & Cheese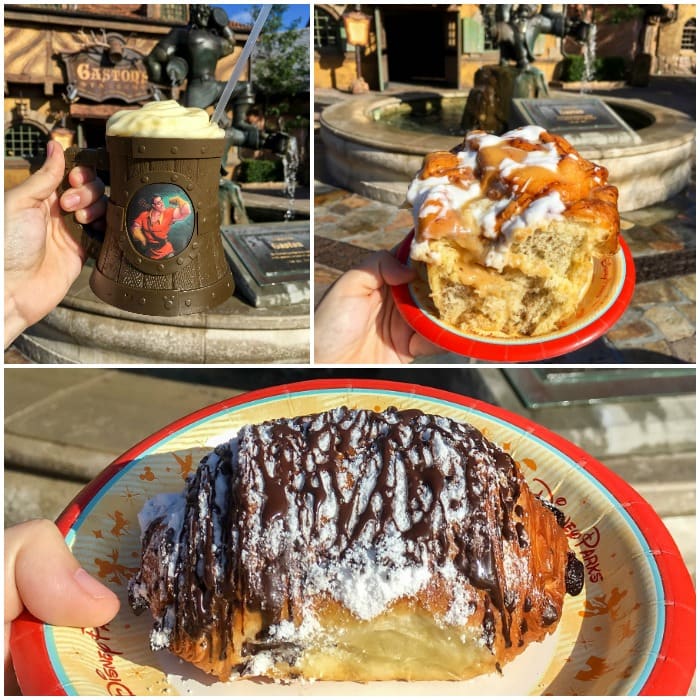 Just past Be our Guest, you'll find Gaston's Tavern and some of the best treats in the whole park.
Gaston's Tavern – MENU – $
Ham & Cheese Stuffed Pretzel
Warm Cinnamon Roll
Chocolate Croissant
Liberty Square Market – MENU – $
Turkey Leg
Baked Sweet Potato
Pecos Bill Tall Tale Inn and Cafe – MENU – $
Fajita Platter – served with Barbacoa Beef, Chicken, Cilantro Rice, Beans and Tortillas
Beef Nachos – Tortilla Chips topped with Seasoned Ground Beef, Tomatoes and Lettuce
Red Velvet Cake
FOR THE KIDS

Mini Corn Dogs
Macaroni & Cheese
Pinnochio Village Haus – MENU – $
Caprese Flatbread
Chicken Alfredo (DINNER ONLY)
Blue Raspberry Slushy
FOR THE KIDS:

Pepperoni & Cheese Pizza
Chicken Nuggets
Macaroni & Cheese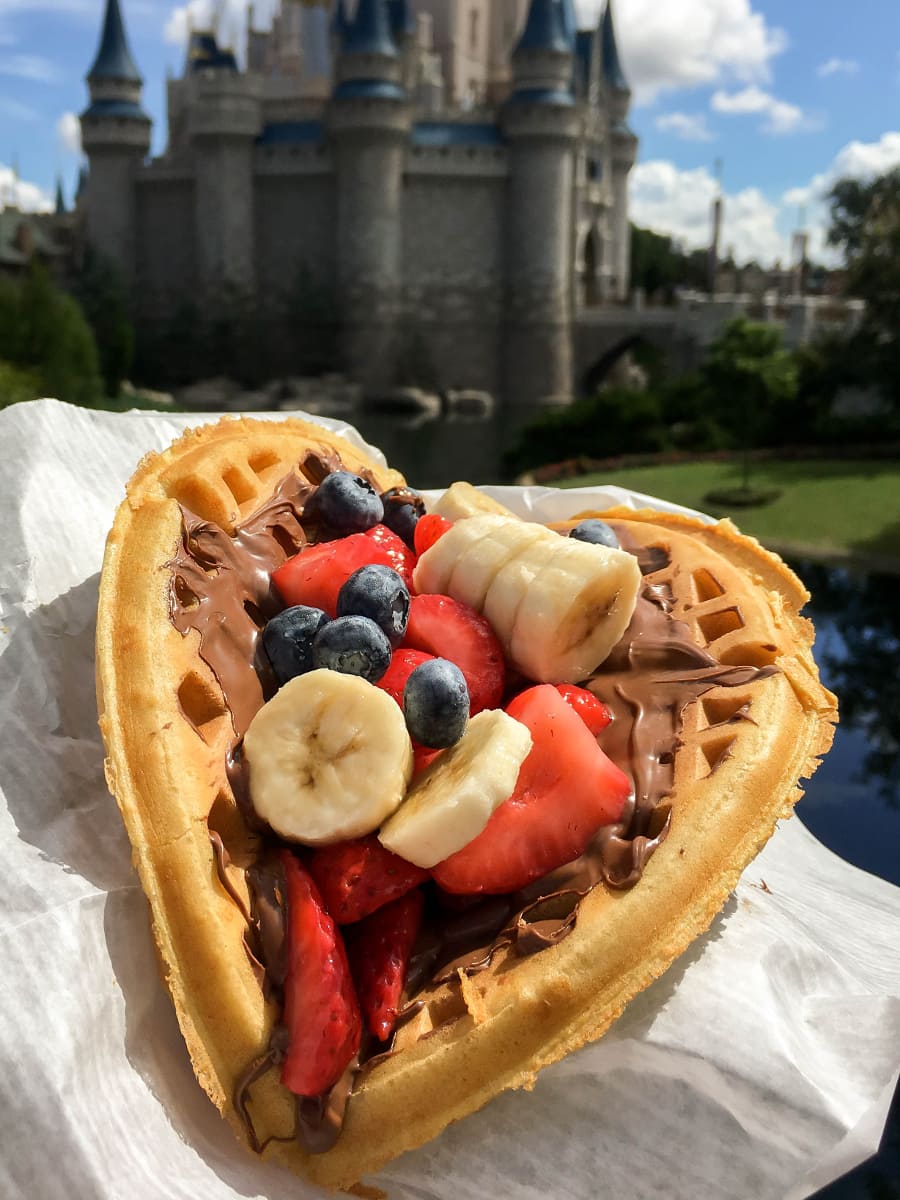 Fresh Fruit Waffle Sandwich = YUM!
Sleepy Hollow – MENU – $
Fresh Fruit Waffle Sandwich – served with Chocolate-Hazelnut Spread
Sweet and Spicy Chicken Waffle Sandwich
Funnel Cake – topped with Strawberries and Whipped Cream
Sausage & Cheddar Stuffed Pretzel
The Friar's Nook – MENU – $
Barbecue Chicken Macaroni & Cheese
Macaroni & Cheese – topped with Toasted Panko Bread Crumbs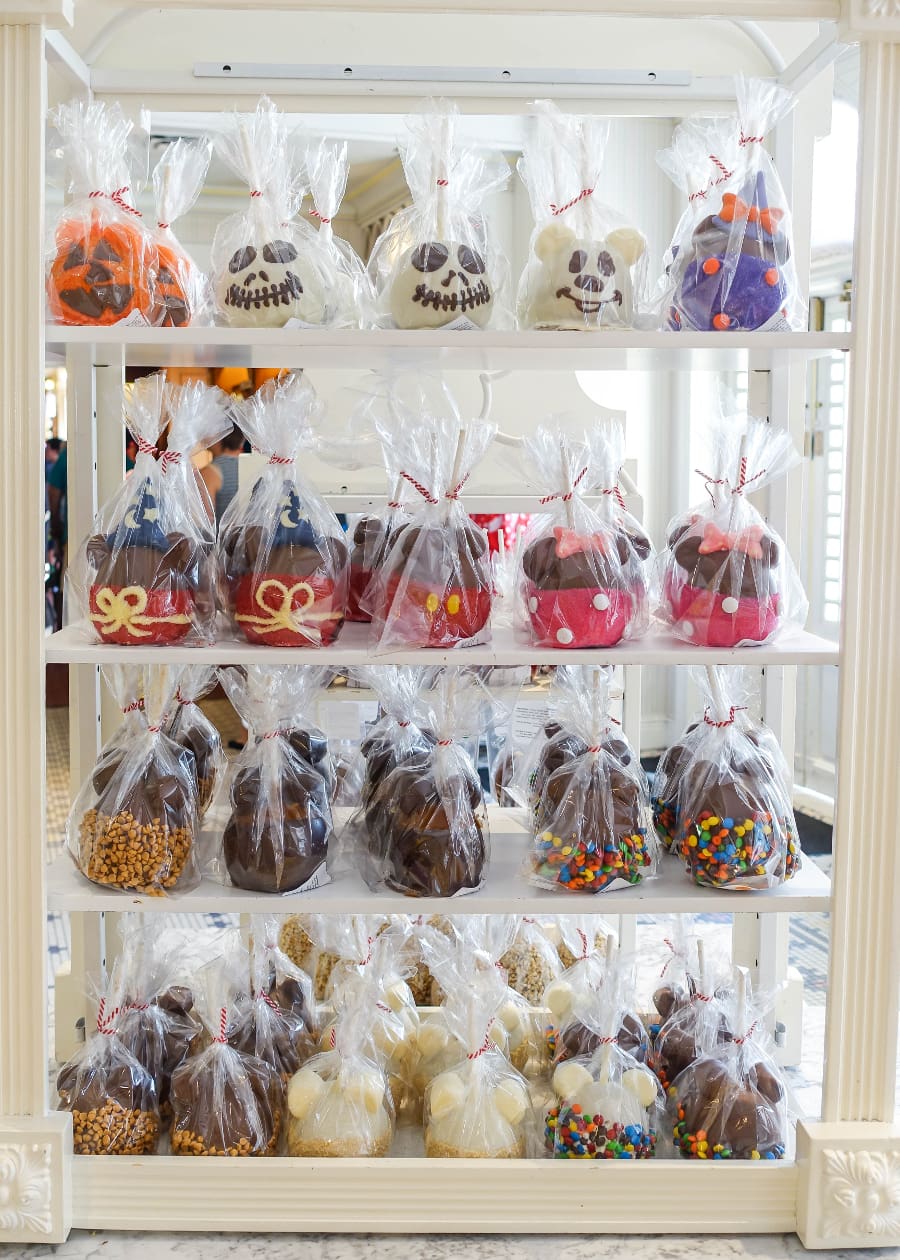 It's tradition to get a Caramel Apple at Disney. So many cute options, it's hard to choose just one.
Another favorite place of mine to grab a treat at Magic Kingdom is the first store on the right once you are heading down Main Street. They have all sorts of candy and treats including caramel apples, popcorn and cotton candy. We usually stop here to have something delicious to snack on while we sit and watch the parade. It's also a great place to stop by when looking for "sweet" souvenirs to bring back home. 😀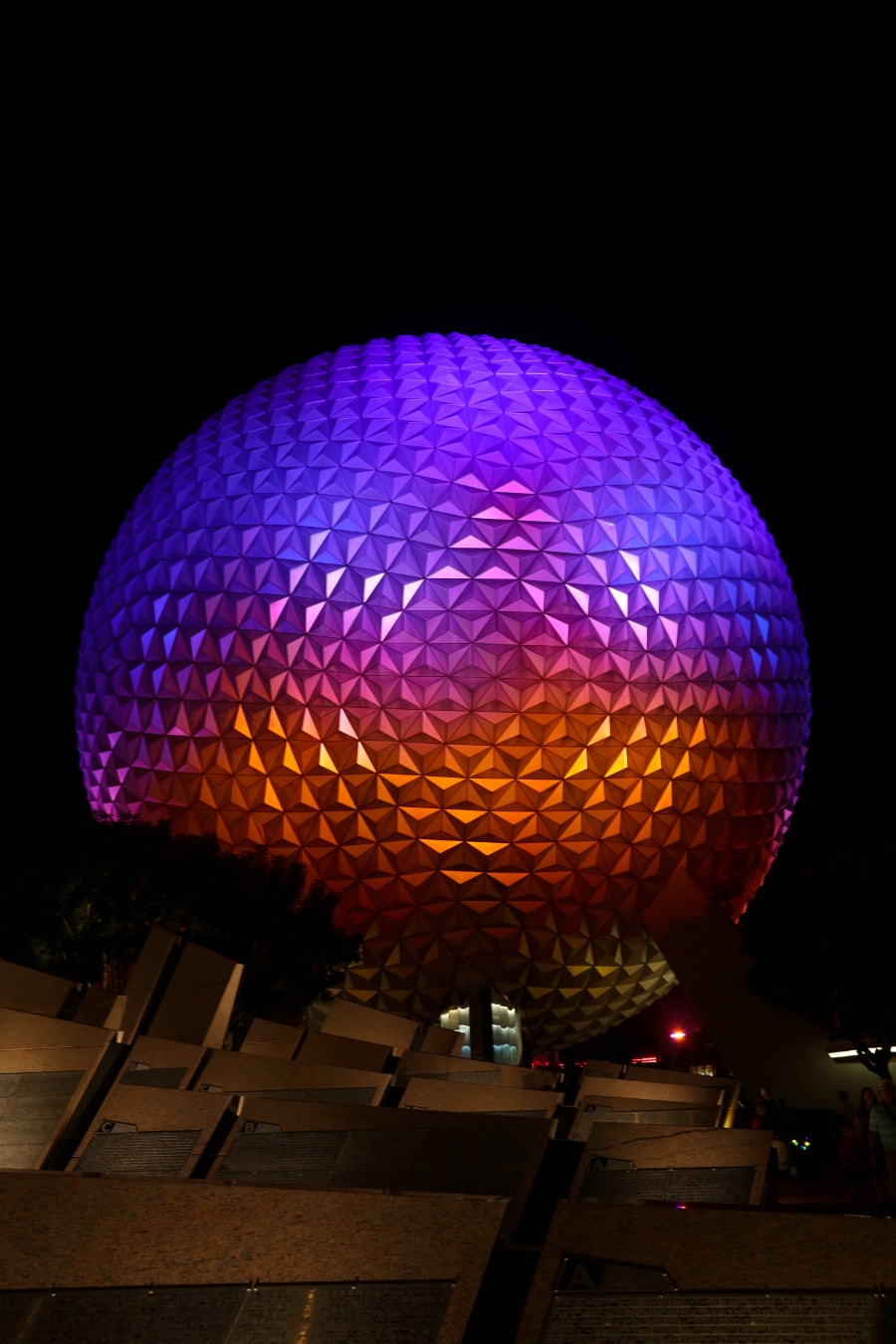 Next, we are headed to Epcot, home of the Food & Wine Festival. Not only are there amazing rides like Test Track and Soarin', but you can travel from country to country trying delicious, authentic foods from each location. During the festival, there are even more special drinks and cuisine (for a complete list of menu items from each marketplace go HERE). We were lucky enough to go to the media room to try some of the amazing dishes from each of the countries and I can tell you right now that everything I had was phenomenal! If you are a foodie at heart, attending the festival (which runs from September 14 – November 14, 2016) is the place to be!
EPCOT
Funnel Cakes – MENU – $
Cookies and Cream Funnel Cake
Pumpkin Spice Funnel Cake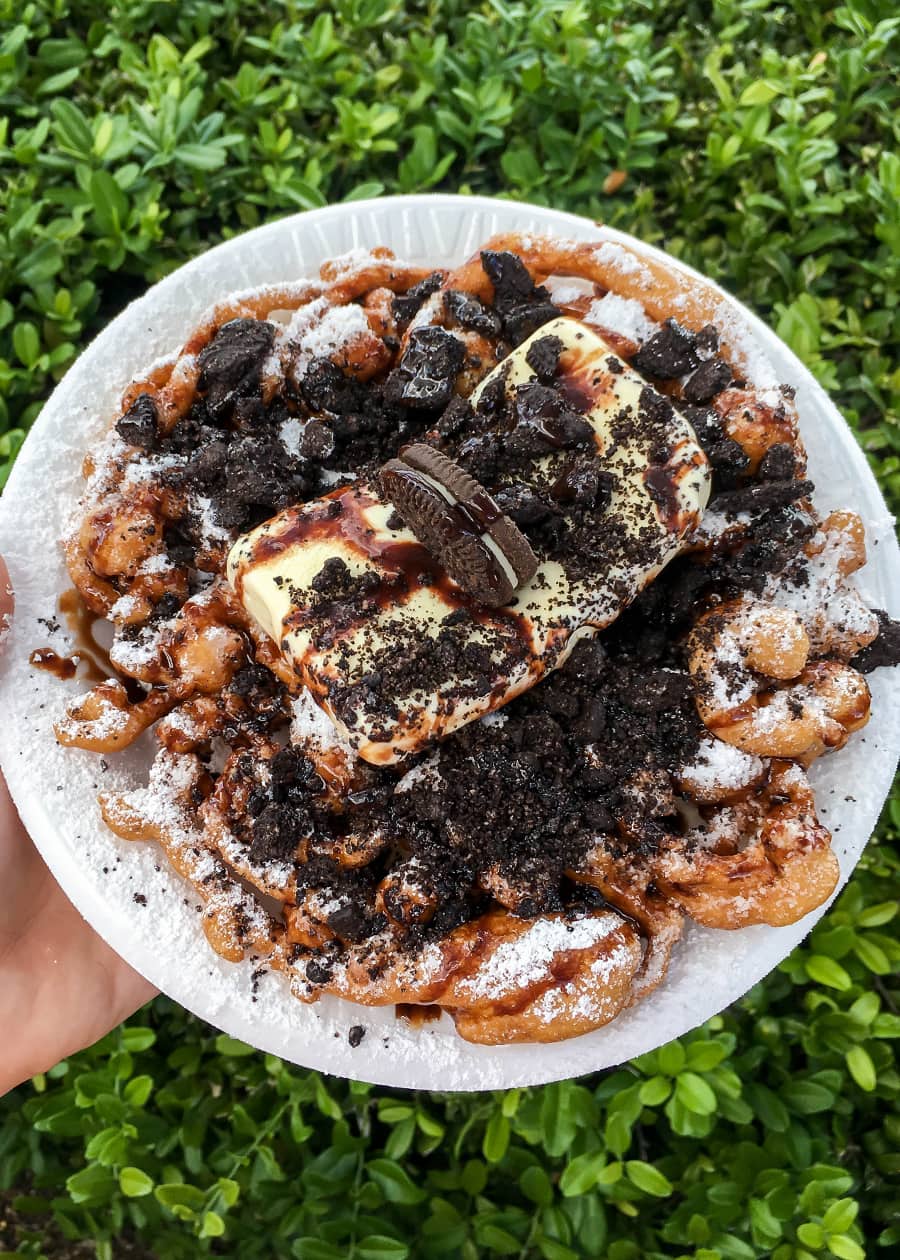 This Cookies and Cream Funnel Cake toped with ice cream, crushed cookies and chocolate is to die for!
Katsura Grill – MENU – $
Chicken & Beef Teriyaki
Tonkotsu Ramen – served with Pork and Vegetables
La Cantina de San Angel – MENU – $
Tacos de Barbacoa – Seasoned Beef, Homemade Corn Tortillas, Mexican Rice, Refried Black Beans, and Red Salsa
Empanadas con Queso – Fried Flour Tortillas filled with Cheese and served with Mexican Slaw
Churros with Caramel Sauce
Le Cellier Steakhouse – MENU – $$$
Le Cellier Filet Mignon – AAA Canadian Tenderloin, Asparagus-Tomato Relish, Truffle-Butter Sauce
Angus New York Strip – Potato-Turnip Gratin, crispy Paprika Onions, Three Peppercorn Butter
Truffle Fries
Smoked Macaroni & Cheese
Les Halles Boulangerie-Patisserie – MENU – $
Croissant Jambon Fromage – Ham, Cheese and Béchamel in a Croissant
Éclair – Vanilla White Chocolate or Chocolate Cream
Créme Brûlée – Caramelized Vanilla Custard
Macaron
Frangipane – Almond filling between Puff Pastry
Via Napoli Ristorante e Pizzeria – MENU – $$
Arancini – fried risotto balls filled with mozzarella & meat ragù
Quattro Formaggi Pizza – Individual – white pizza, mozzarella, parmesan, fontina, provolone
Lasagne Verde – white lasagna, spinach, parmesan, ricotta, besciamella
Gelato Frizzante – Ice Cream Soda "Italian Style" Made with San Pellegrino's "Aranciata" and vanilla gelato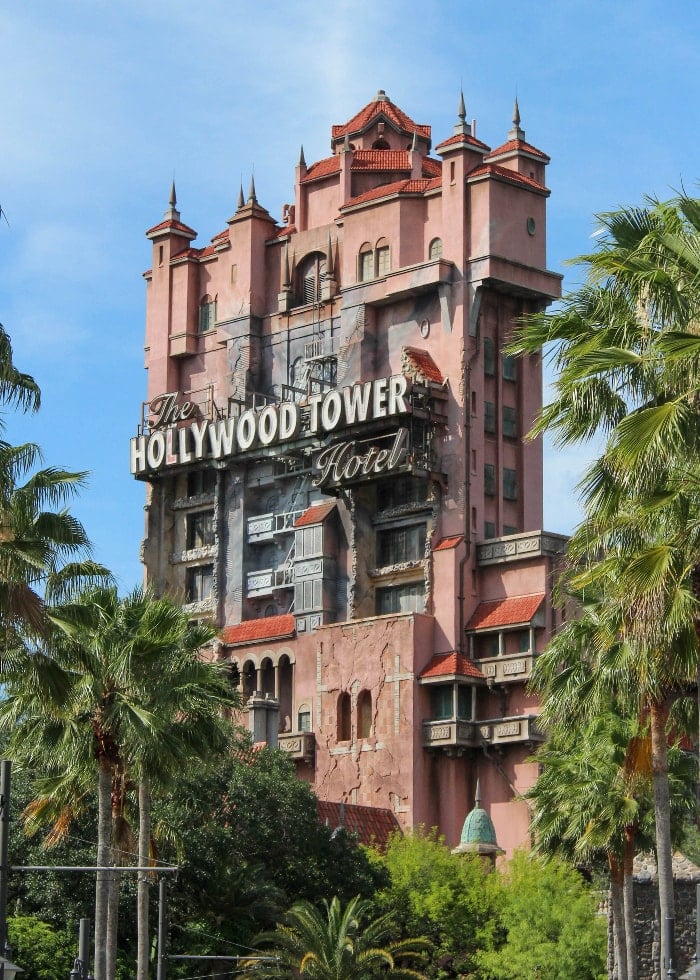 HOLLYWOOD STUDIOS
Backlot Express – MENU – $
Royal Guard Burger – 1/3 lb Angus Beef Burger, Barbecued Brisket, Pepper Jack served with Carrot Sticks or French Fries
Dark Side Chicken & Waffles – Chicken and Vader Waffles with Maple Syrup
Caprese Sandwich – Marinated fresh Mozzarella, Vine-ripe Tomatoes, Herb-cheese Pesto, and Arugula on a crusty Baguette served with Carrot Sticks or French Fries
BB-8 Lemon Cupcake with Vanilla Buttercream
Darth Vader Chocolate Cupcake with Peanut Butter Buttercream
Hollywood Brown Derby – MENU – $$
Our Famous Cobb Salad – with Finely Chopped Greens, Turkey Breast, Bacon, Egg, Tomatoes, Crumbled Blue Cheese, Avocado, Chives, and Cobb Dressing
Charred Filet of Beef – Forest Mushroom-White Truffle Oil Mashed Potatoes, Sautéed Rainbow Carrots, Haricot Verts, Red Wine Reduction
Double Vanilla Bean Crème Brûlée
Hollywood and Vine – MENU – $$$
Breakfast, Lunch & Dinner Buffet – Character Dining
Min and Bill's Dockside Diner – MENU – $
Min & Bill's Pulled Pork Sliders – topped with Coleslaw served with Chips
Loaded Chili Cheese Nachos – served with Guacamole, Pico de Gallo and Sour Cream
Barbecued Pulled Pork Macaroni and Cheese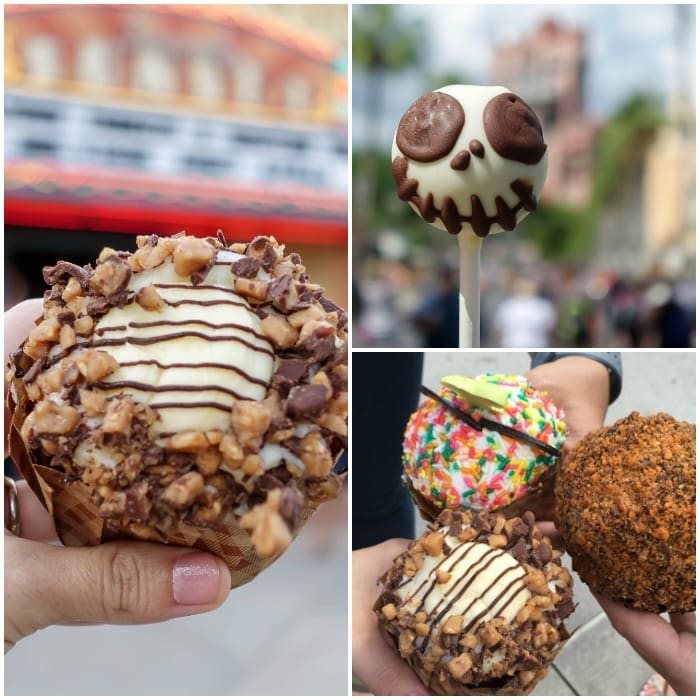 The Butterfinger Cupcake is simply phenomenal. It's filled with chocolate cream and topped with a creamy frosting covered in a butterfinger crusted shell.
Starring Rolls Cafe – MENU – $
Butterfinger Crunch Cupcake
Assorted cupcakes and croissants
Sunshine Day Cafe – MENU – $
Macaroni and Cheese Hot Dog – topped with Bacon and served with Chips
Tune-In Lounge – MENU – $
Mom's Old-Fashioned Pot Roast – Slow-cooked 'til fork tender served with Roasted Garlic Mashed Potatoes, Brown Gravy, Carrots, Celery, and Onions
Aunt Liz's Golden Fried Chicken – served with Roasted Garlic Mashed Potatoes, Chicken Gravy, and Seasonal Vegetables
Dad's Brownie Sundae – Chocolate Brownie with Vanilla Ice Cream, Hot Fudge, Caramel Sauce, Whipped Cream, and Toppings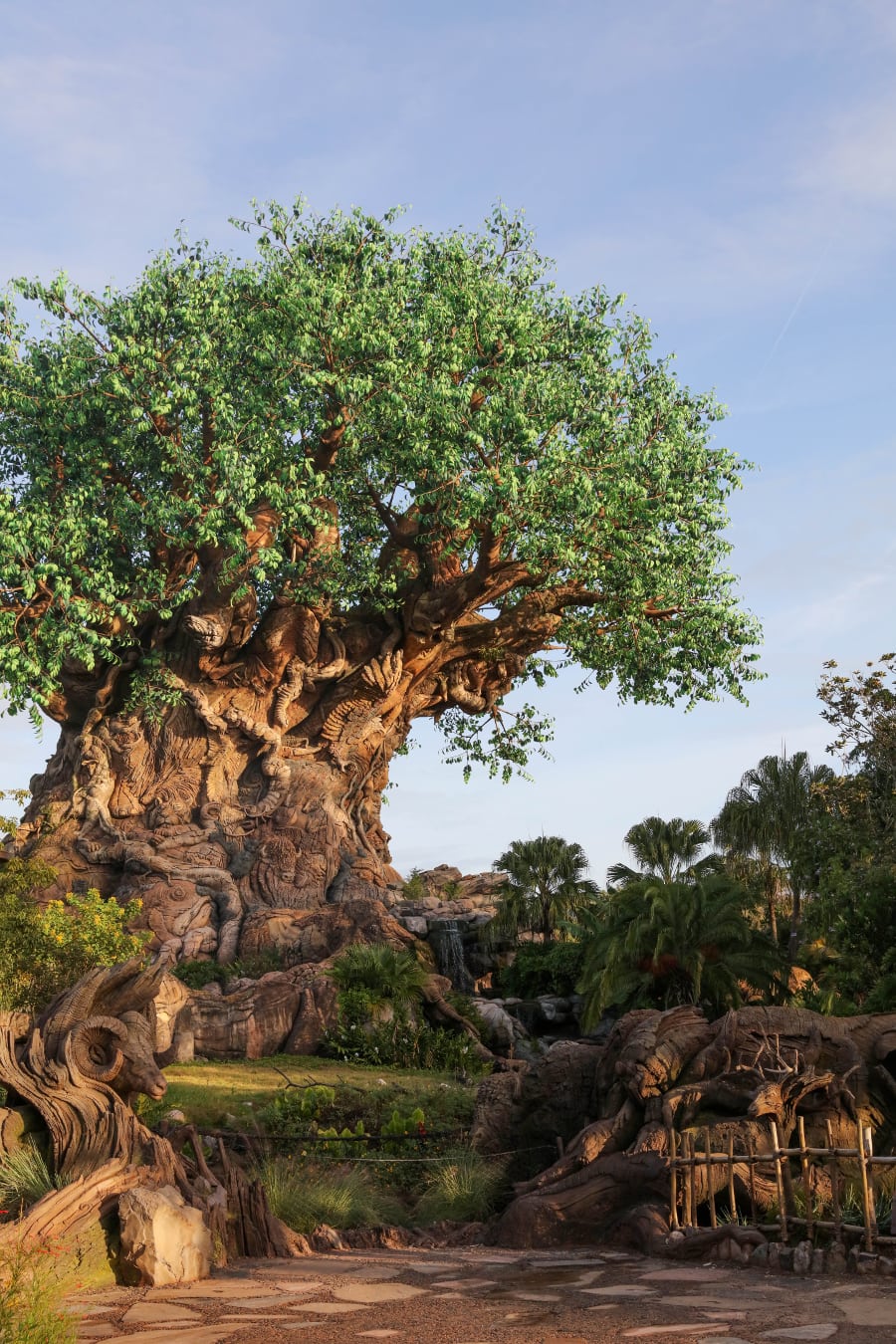 ANIMAL KINGDOM
Flame Tree Barbecue – MENU – $
Ribs, Chicken and Pulled Pork Sampler – The ultimate Flame Tree Barbecue Platter features Smoked Ribs, Chicken, and Pulled Pork with a helping of our House-made Baked Beans, refreshing Coleslaw, and delicious Jalapeño Cornbread
Full Slab of St. Louis Ribs – accompanied by our special recipe, Slowly-baked Beans, refreshing Coleslaw, and Jalapeño Cornbread
French Fries with Pulled Pork and Cheese
Kusafiri Coffee Shop & Bakery – MENU – $
Hot Breakfast Wrap – Egg, Sausage, Spinach and Goat Cheese
Warm Colossal Cinnamon Roll
Mediterranean Flatbread – Flatbread topped with Alfredo Sauce, Mozzarella, Parmesan, Pesto, Roasted Tomato, Roasted Red Pepper, Kalamata Olive, Arugula, and Red Onion served with a Tomato and Cucumber Salad
Cheeseburger Flatbread – Individual Flatbread Freshly Baked with tangy Tomato Sauce, seasoned Ground Beef, Mozzarella, and Cheddar Cheese, Ketchup, Lettuce, Diced Tomatoes, Mustard Aïoli, and Bread-and-Butter Pickles served with Tomato and Cucumber Salad
Baked Pasta Bolognese – Campanelle Pasta in a hearty Tomato Meat Sauce, topped with Mozzarella and Parmesan served with a Garlic Knot and Tomato and Cucumber Salad
Restaurantosaurus – MENU – $
Grilled Chicken BLT Sandwich – Grilled Chicken Breast and Thick-Cut Hickory-Smoked Bacon, Tomato, Arugula, Spicy Aioli, Toasted Parmesan Crumbles on a Brioche Roll
FOR THE KIDS

Cheeseburger
Chicken Nuggets
Tamu Tamu Refreshments – MENU – $
Pineapple Dole Whip Cup (just ice cream, not in juice)
The ambiance of Tiffins is amazing. Beautiful art and  displays adorn the restaurant making it one of the coolest places to eat in all of Animal Kingdom.
Roasted Baby Beets – Goat Cheese Crema, Walnut Granola, Sun-dried Cherry Vinaigrette
Wagyu Strip Loin and Braised Short Rib – Rainbow Carrot, Roasted Peruvian Potatoes, Chimichurri
Yak & Yeti Cafe – MENU – $
Teriyaki Beef Bowl – Marinated Beef, Carrots, Snap Peas, Mushrooms in Sweet Teriyaki Sauce with White Rice
Honey Chicken – Tempura Chicken, Carrots, Snap Peas, Honey Sauce, and White Rice
FOR THE KIDS:

Cheeseburger
Chicken Strips
DISNEY SPRINGS
AristoCrêpes – MENU – $
S'mores Crepe – Marshmallow Creme, Chocolate Sauce and Graham Cracker Crumbs
Key Lime Cheesecake Crepe – White Chocolate and Chiffon Crouton
Bruschetta – Tomatoes, herbed cheese, toasted focaccia bread, balsamic glaze
Pork-asaurus Sandwich – BBQ sauce, onion strings, coleslaw served with waffle fries
Paleozoic Chicken Sandwich – Grilled chicken, lettuce, bacon, pepper jack cheese, avocado, tomato, lemon aioli served with waffle fries
Lasagna – Tomato, meat sauce, ricotta, mozzarella, Parmesan cheese
Boneyard Buffet – Fire-roasted Rotisserie Chicken, slow-roasted St. Louis style pork spareribs, waffle fries, coleslaw
FOR THE KIDS:

Corn Dogs
Sliders
Chicken Nuggets
Macaroni
Pasta
Pizza
Blaze Fast-Fire'd Pizza – MENU – $
BBQ Chkn – Chicken, Mozzarella, Red Onion, Banana Peppers, Gorgonzola and BBQ Sauce Drizzle.
Art Lover – Artichokes, Mozzarella, Ricotta, Garlic, Red Sauce Dollops
White Top – White Cream Sauce, Mozzarella, Bacon, Garlic, Oregano and Arugula.
Chef Art Smith's Homecoming – MENU – $$
Harvest Salad with Grilled Steak – Mixed greens tossed with fire-roasted red peppers and corn, shredded white cheddar cheese, heirloom cherry tomatoes and house-made balsamic dressing. Topped with grilled tenderloin, avocado and hushpuppies
Chopped Pork Barbecue Plate – Dressed with HFK sweet and spicy barbecue sauce served with Momma's mac and cheese and cheddar drop biscuits
Fried Chicken & Doughnuts – Two pieces of Chef Art Smith's famous fried chicken served with house-made sugar doughnuts and creamy mashed potatoes
Iron Skillet Sweet Potatoes with Caramelized Cane Sugar
Ghirardelli® Ice Cream & Chocolate Shop – MENU – $
The Ocean Beach Sea Salt Caramel Sundae – Vanilla Ice Cream smothered with Creamy Caramel, freshly homemade Hot Fudge and Sea Salt. Perfectly topped with Whipped Cream, Creamy Caramel, Sea Salt and a Ghirardelli SQUARES® Milk Chocolate
The Strike It Rich Butterscotch Hot Fudge Sundae – Butter Pecan Ice Cream smothered with Butterscotch and Golden Almond Nuggets, under a layer of Vanilla Ice Cream and our freshly homemade Hot Fudge. Topped with Whipped Cream, Chopped Almonds and a Cherry.
The Crissy Field Cookie Bits Sundae – Vanilla Ice Cream nestled between Cookies 'N Cream Ice Cream and smothered with our freshly homemade Hot Fudge. Topped with Whipped Cream, Colossal Ghirardelli® Chocolate Chip Cookie crumbles, and two NEW Ghirardelli Sweet Dark Chocolate Cookie Bits minis.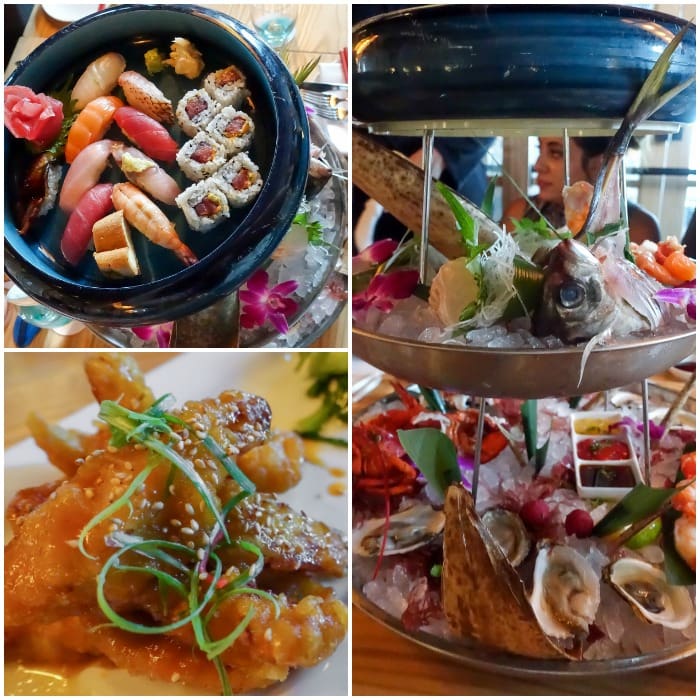 Morimoto Asia is one of the coolest restaurants!! We were lucky enough to even get a surprise visit from the Iron Chef himself, Chef Morimoto while were there. The man is so kind and so funny and sure knows how to make some delicious food.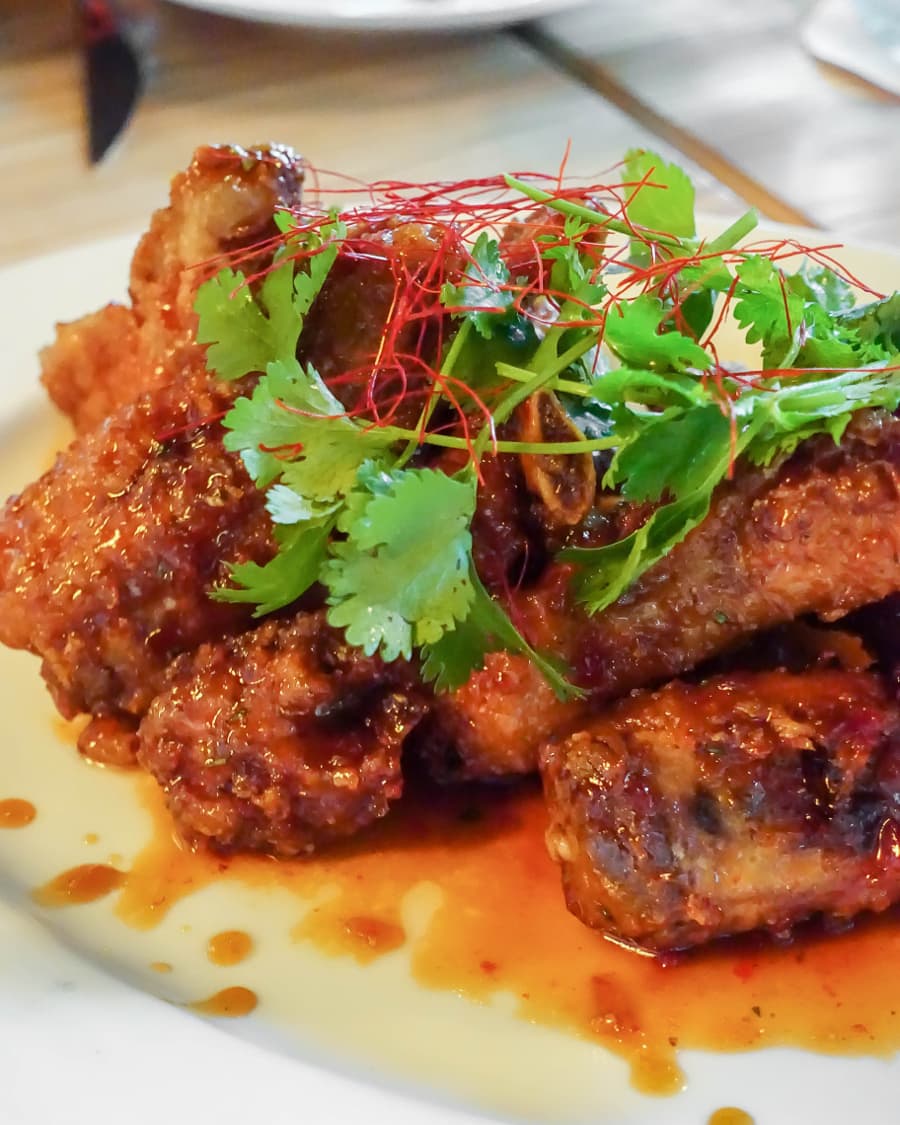 These ribs are the BEST ribs I've ever tried in my life…. and I'm not exaggerating!!
Morimoto Asia – MENU – $$
Orange Chicken – tempura chicken, chinese broccoli, wok-tossed with a sweet florida orange sauce
Morimoto Spare Ribs – Half-Rack – 6 pork ribs, cilantro, hoisin sweet chili glaze
MM Parfait – chocolate creampuff, vanilla gelato, hazelnut chocolate crunchies, sesame mochi
Black and White Cupcake
Salty Caramel Cupcake
Strawberry Cupcake
OUTSIDE THE PARKS: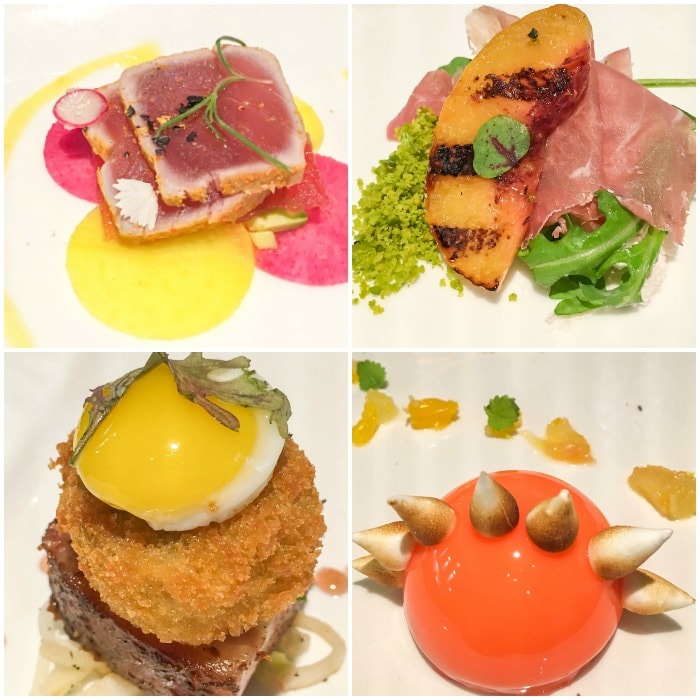 The Pork Belly was my favorite – so tender and so delicious. Flying Fish itself was beautiful and amazing!
Flying Fish – MENU – $$ to $$$
Kurobuta Pork Belly – Shank Croquette, Royal Gala Apple Slaw, Bing Cherry Gastique, Shirred Quail Egg
Free-Range Chicken – Sunburst Squash, Eggplant Purée, Heirloom Tomatoes, Genovese Basil Pesto
Wagyu Filet Mignon – Okinawan Potatoes, Chanterelle Mushrooms, Romanesco, Bordelaise Sauce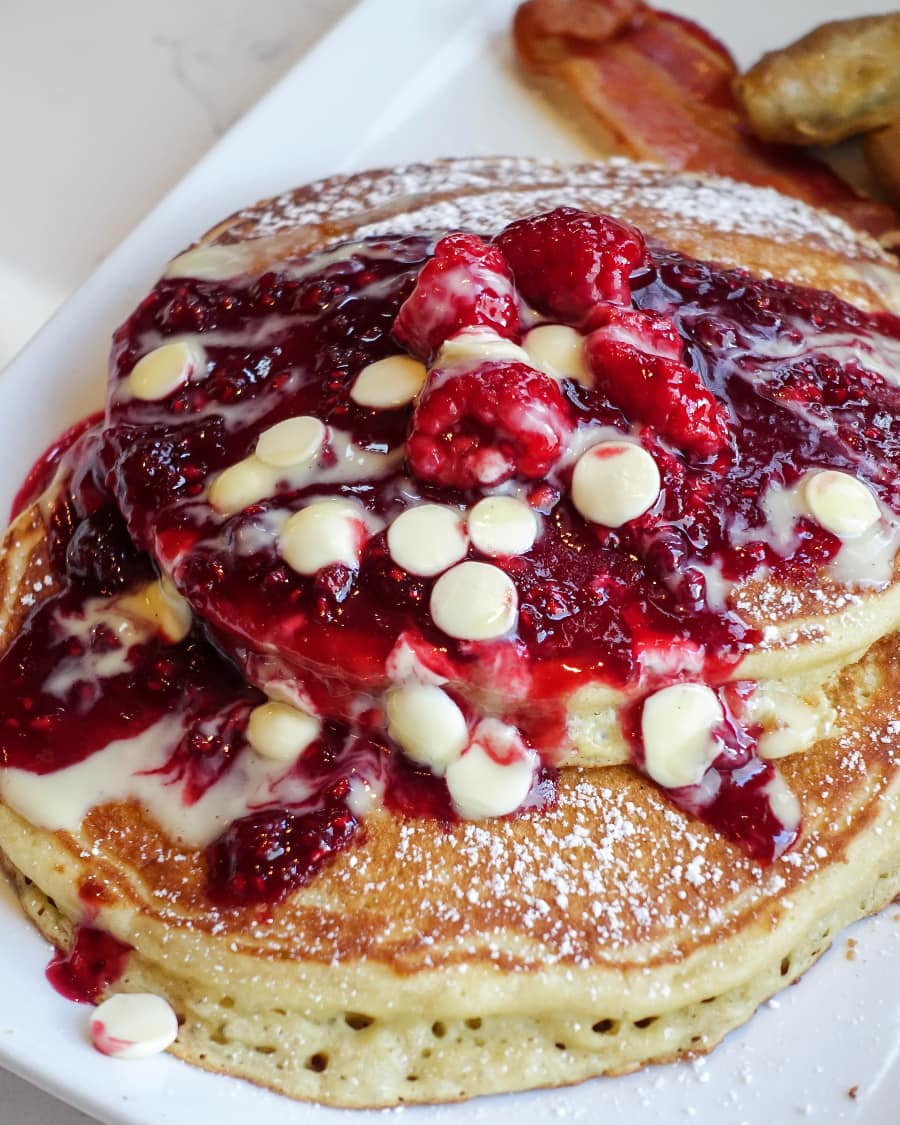 Berries and Cream Panckes – the white chocolate chips were my favorite part!
Trattoria al Forno – MENU – $ to $$
BREAKFAST

Breakfast Pizza – Fennel Sausage, Sliced Potato, Tomato Sauce, and cracked Egg
Berries and Cream Pancakes – Fluffy Pancakes with Seasonal Berry Compote and flavored Whipped Cream and choice of Chicken Sausage or Bacon
Breakfast Sandwiches – Three-styles of Italian Pork with Eggs and Cheese on Mini Brioche Bun

DINNER

Margherita Pizza – Fresh Mozzarella, crushed Tomatoes, and Basil
Baked Lasagna – with Shaved Fennel-Arugula Salad
Eggplant Rollatini – with Pesto Ricotta filling and Marinara Sauce
FOR THE KIDS
Breakfast Sandwiches
Seriously, I am salivating looking at all of these pictures!!
While we visited Orlando, we stayed at Disney's BoardWalk Inn and had even more places to eat at that were close to the resort. Flying Fish and Trattoria al Forno were two of the restaurants and two other favorite places were Ample Hills Creamery (the most delicious ice cream) and Boardwalk Bakery (some more delicious sandwiches, wraps and goodies!)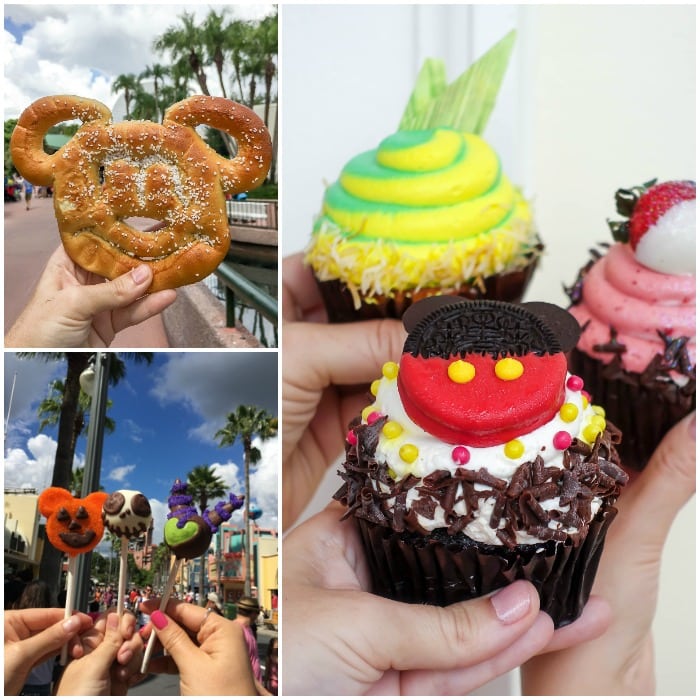 As you can see, we had the most enjoyable time eating… and eating… and eating while we stayed at Walt Disney World. Although we spent the majority of the time stuffing our faces, we did get in some other fun by attending Mickey's Not So Scary Halloween Party. I had never attended the event before, but I can tell you right now it definitely won't be the last time I attend. Fun costumes, special treats, villains galore and tons of candy make this the place to be in October. I'm dying to take my kids because it is SO. MUCH. FUN!
And what's Disney World without riding a few rides?!
We may be grown women but we were like little kids staying up late and going on every ride possible!! You better believe we hit almost every ride at every park while we were there.
Oh, such a MAGICAL trip filled with so much fun. 😀
So glad American Tourister sent us a piece from the iLite Max line to help us bring back all our goodies and souvenirs for our family!
I hope this collection helps you out when you're planning your next Disney trip. For even more information about all the food at the most magical place on Earth, be sure to visit: Disney World Dining.
Be sure to leave a comment and share your favorite foods from Disney World!
ENJOY!