Disney paid for my family's vacation to Walt Disney World. As always, all opinions are my own.
Sharing all of the best HIDDEN Disney Cruise Tips and Tricks. If you're sailing soon, you will want to know all of these to make the most of your magical vacation!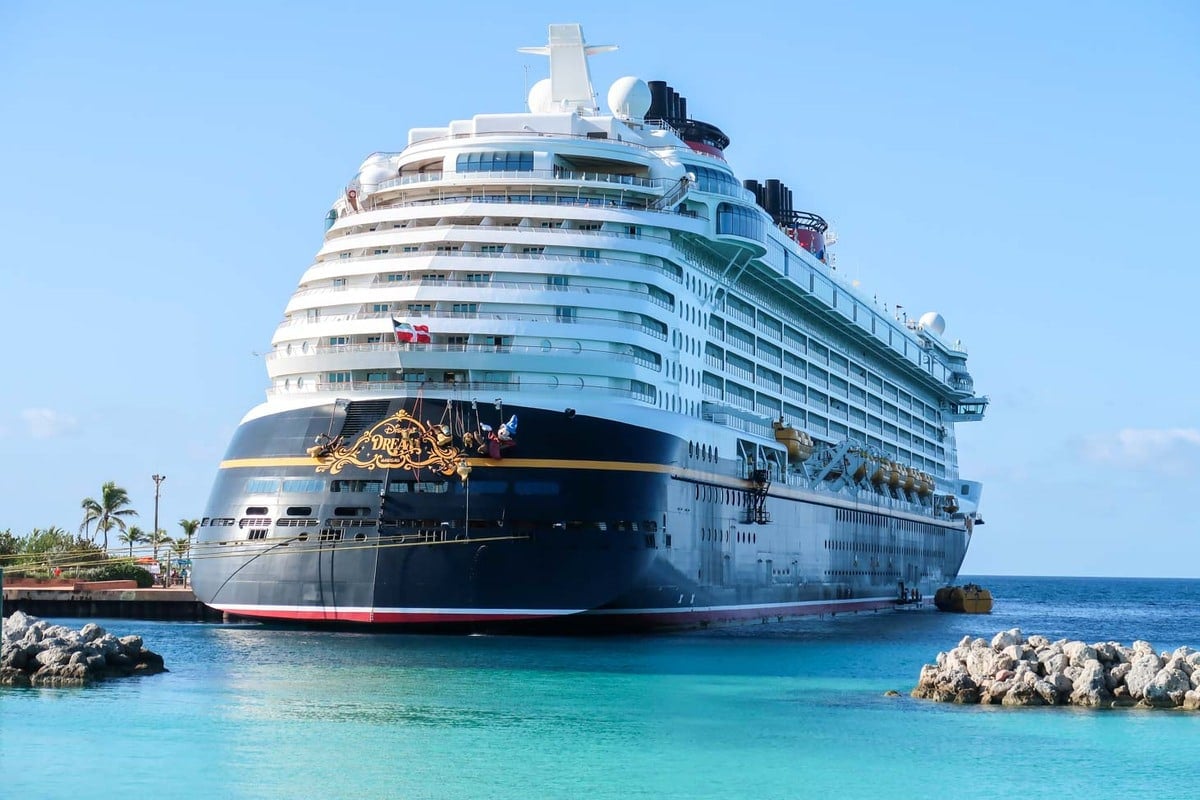 Hidden Tips and Tricks for DCL
I think we can all agree that cruises are SO much fun. And making it a Disney Cruise makes it that much better. They think of everything to make it a magical experience for anyone in your party. From families to couples to friends, there are activities, entertainment and dining for all!
We've been fortunate enough to have gone on a few Disney Cruises over the years and we have enjoyed every one! We've gone with all the kids, with a few of the kids, without kids – and each trip has been amazing.
Today we are sharing some of our TOP Disney Cruise Tips that we've learned while sailing with Mickey and his friends. Be sure to keep these in mind as you prepare for your next trip, and we hope they can help make your cruising adventure even more magical.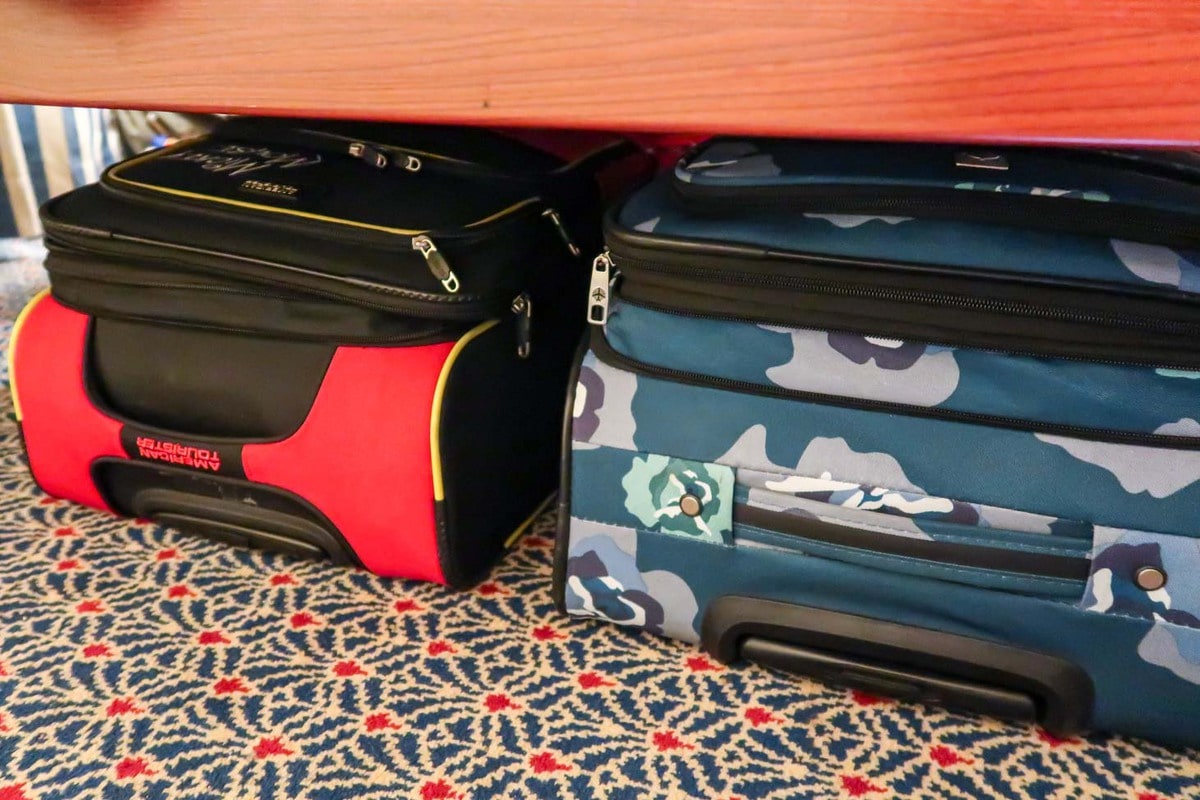 Stateroom Tips
Your home away from home is your stateroom. We have some great stateroom tips for maximizing the space and for using everything there is there to offer. Check them out!
1 – STORAGE –  Make sure to use the space under your bed for storage. The clearance is 13" and will fit your luggage perfectly!
2 –  STATEROOM DOOR – It's a fun idea to personalize the outside of your stateroom door. All the doors look the same and this is a great way to help kids recognize their own room. The doors are made of magnet so it makes it easy to decorate. Plan ahead and bring some fun ideas with you.
NOTE – Bring extra magnets! You can hang lanyards, daily schedules, and maps

inside the door.
3 –  STATEROOM LIGHT – Bring an expired gift card that you can keep in the slot by your door that triggers the lights and air conditioning. If you don't have a card in the slot then you won't have power.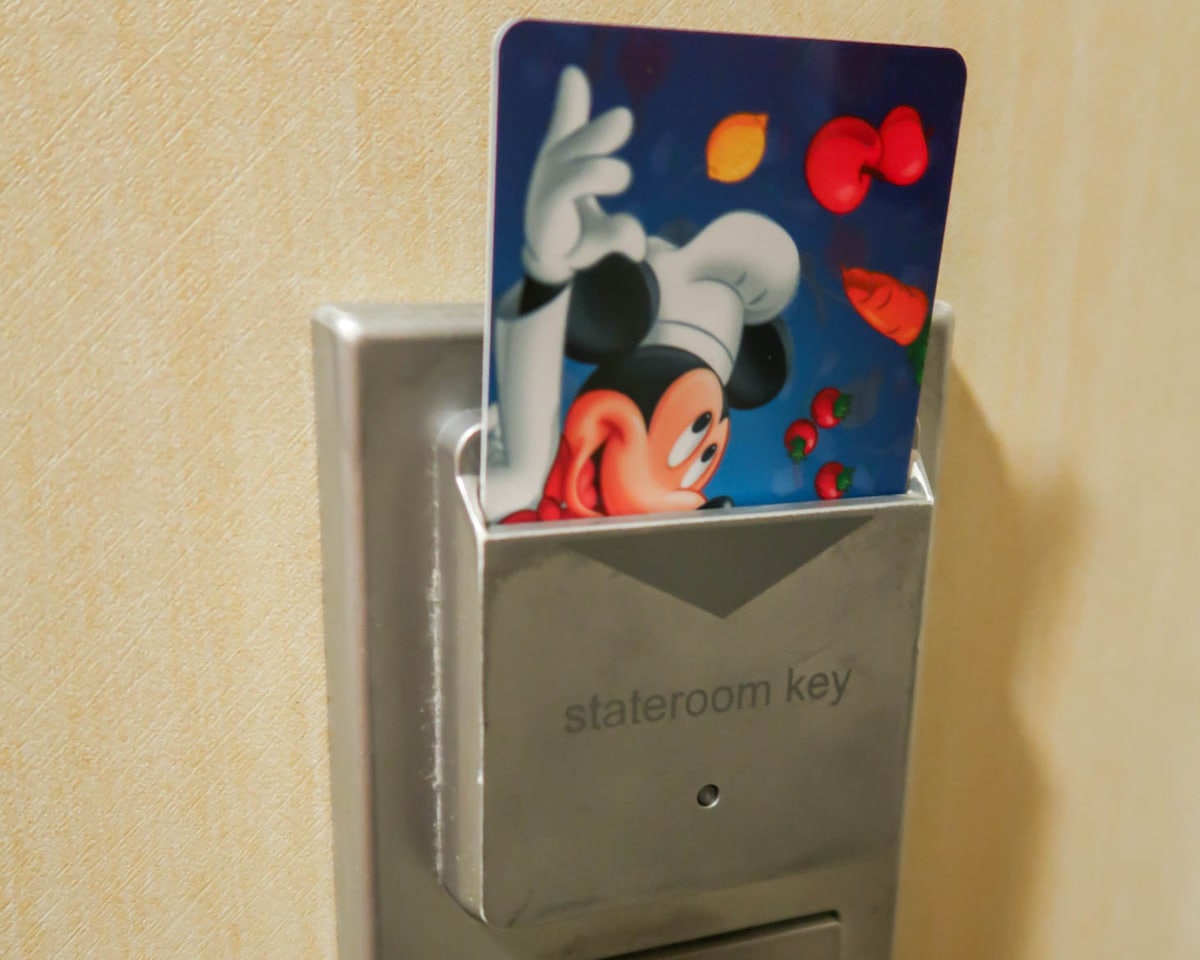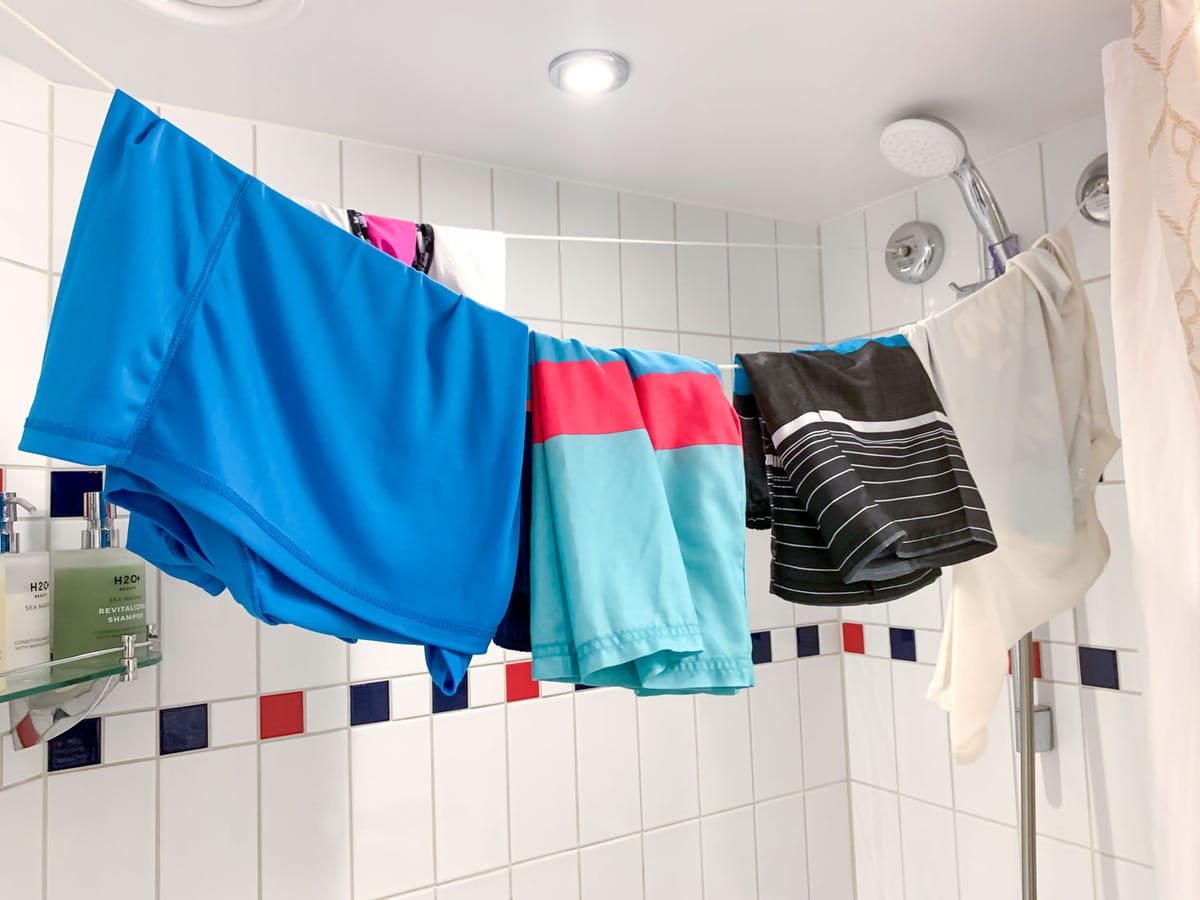 4 – HANG WET CLOTHES – Using the retractable line in the shower is a must especially with all the water activities on a Disney Cruise. This is the perfect place to hang all your wet swimsuits.
5 – ROOM OUTLETS – Each room has three standard (American) electrical outlets and two 220v outlets. Make sure to plan accordingly.
6 – WATER BOTTLES – There is a mini fridge in each stateroom to store water for your excursions and if you want water throughout the day. You can ask for a cup of water but it is always nice to tip. You can also bring a reusable cup to refill your drinks with.

Before You Get On
Just a few things to remember before getting on the boat…
7 –  DISNEY NAVIGATOR APP – You will want to download the Disney Navigator App. It is so helpful and lets you know everything that is happening onboard the ship. They also have a free chat service so you can keep in touch with other people onboard. It is only available while on the ship.
8 – KIDS CLUB REGISTRATIONS – Make sure to register for kids club at the time of online check-in. This saves a lot of time and while others are filling out paperwork you can just head straight over and get your bands.
NOTE – If you have a baby with you, be sure to register at the "It's a Small World" Nursery. Time slots get filled and getting your child registered and set up for a time to drop off will allow you to have a date night on the cruise.
9 –  CHARACTER MEET + GREETS – Pre-Register for the popular character meet in greets before you ever board the ship. When you check in usually (75-120 from sailing) you are able to get your reservations. These go quickly and will make it more convenient to know that you have your spot reserved.
NOTE – Pre-register for the Special Character Breakfast online. 😉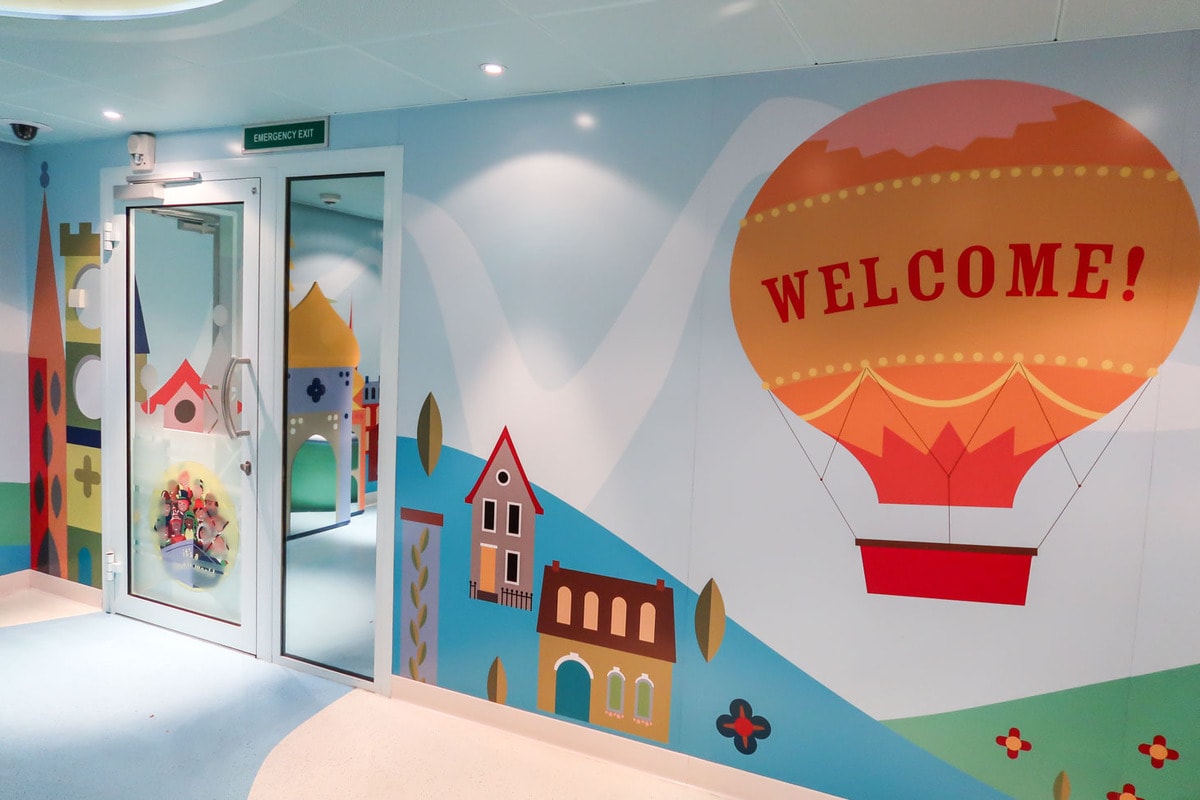 Take Note of these…
Here are a few extra tips to think about when packing. For more info, be sure to check out our Walt Disney World Packing List.
10 – CARRY-ON LUGGAGE – On the first day of the cruise either pack a bag or wear swimsuits under your clothes. Unfortunately, your luggage will not be accessible to you until later that evening. So if you plan ahead, you will be able to enjoy the water slides first thing. It is less crowded and your kids will love it!
11 – LANYARDS – Every guest will receive their own Key to the World Card. This card gets you on and off the ship, into your rooms, and for purchasing things. Each guest will want to keep their own card with them at all times. Using a lanyard will help you not lose your card. Buying a lanyard ahead of time can save money.
12 – JACKET/COAT – When cruising at night it can get chilly. Even if you are going to a warm destination, you will still want to bring a jacket. There are outside shows and fun things to do on the deck and it can get windy and cold.
13 – NAVIGATORS – Each night on your bed you will receive a Navigator. This is an agenda for the next day schedule.
NOTE – Make sure to keep this will you or take a picture of it,  so you can have it at all times especially on port days. It has the ships "ALL ABOARD" time as well as the phone numbers in case of emergencies.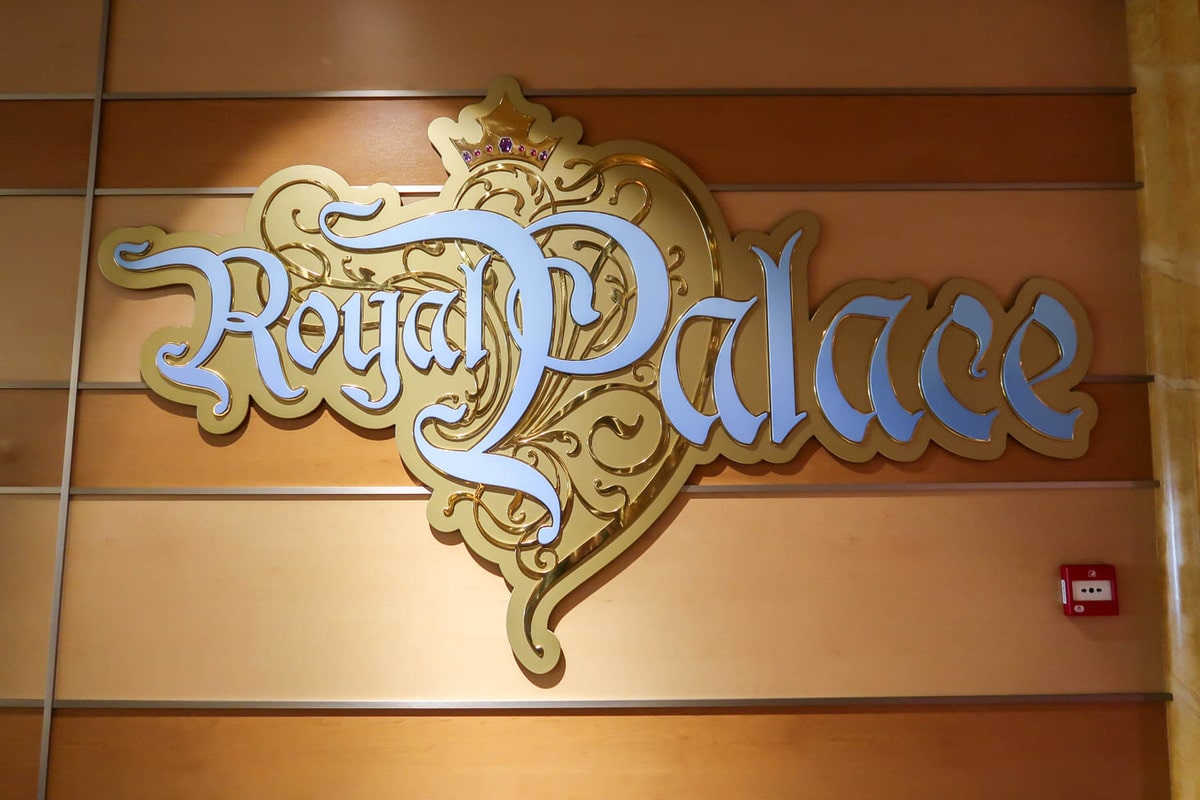 So much Yummy Food!
You may want to lose a few pounds before going on your cruise, just so you can gain it all back with the delicious food onboard! There are so many options, but take note of these tips while sailing.
14 –  DINING – You will be rotating between three restaurants during your stay. Your waiters rotate with you, which means they get to know you pretty well and vice versa. Be sure to go and enjoy the fun and ambiance found at each restaurant.
NOTE – For a nice night out, you can always book a reservation at one of Disney's upscale restaurants. Cost isn't included but its an amazing experience with amazing menus!
15 – HIDDEN MENU – Here are some hidden menu ideas that are not offered on the dinner menu:
Seafood Platter

Crackers

Grapes

Cheese Platter

Mickey's Ice Cream Bar
16 – DINNER TIP – You can order as much food as you want. The servers will bring you as many appetizers, entrees and desserts as you would like. Want to relax at dinner too? The servers will even cut up your kids food for you.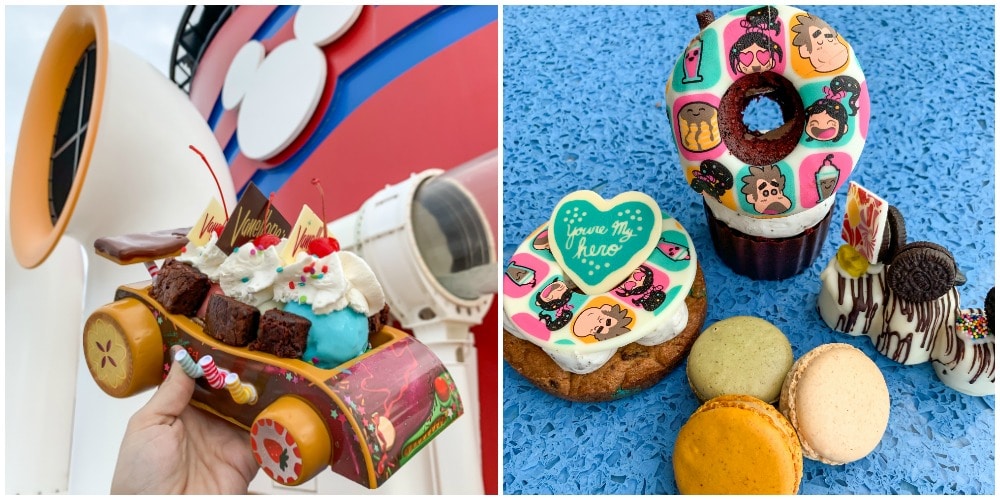 17 – TREATS – There are so many fun goodies to be enjoyed on each Disney Cruise. We suggest bringing some extra cash to enjoy at Vanellope's. You can find some one-of-a-kind treats there that should NOT be missed!
18 – ADDITIONAL DRINKS – Drinks, other than soda, that are being offered around the cruise cost an additional fee. If you want something a little different. Bring your own cup and fill it with soft serve ice-cream and then head over to the fountain drinks. You will have your own float drinks without the cost.
19 – ROOM SERVICE – You can order drinks and food to be delivered to your room for free. However, gratuity is not included. NOTE – A Mickey's Ice Cream Bar is not on the menu but can  be ordered.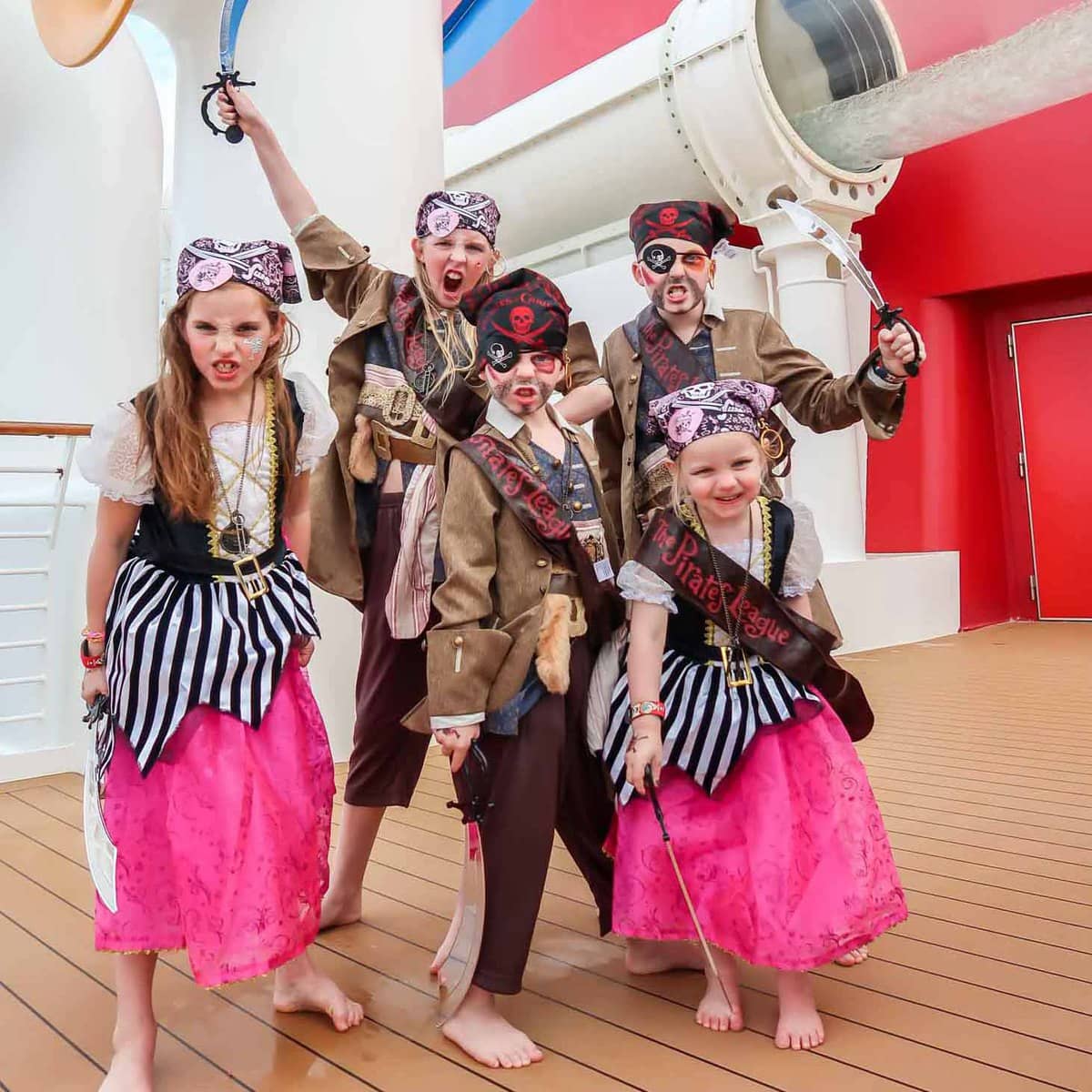 Extra Fun Onboard
We love all the extra fun to be had on a Disney cruise. Yes, they have the amazing shows and entertainment, but there's even more things to think about!
20 – PIRATE NIGHT – It's one of our favorite nights onboard, so be sure to bring a few pirate accessories. Everyone gets a bandana, but it's fun to make a night of it with the whole fam.
21 – MOVIES – Who doesn't love a good movie? Especially on a cruise ship! This is a great way to take a break from the sun and relax. They do offer popcorn, candy and drinks outside the theatre, but it does cost.
NOTE – Grab food and drinks from the pool deck and bring it with you at NO CHARGE.
22 – WAKE UP CALLS – Your kids will LOVE their own wake up calls from Disney Characters. You will need to schedule these ahead of time.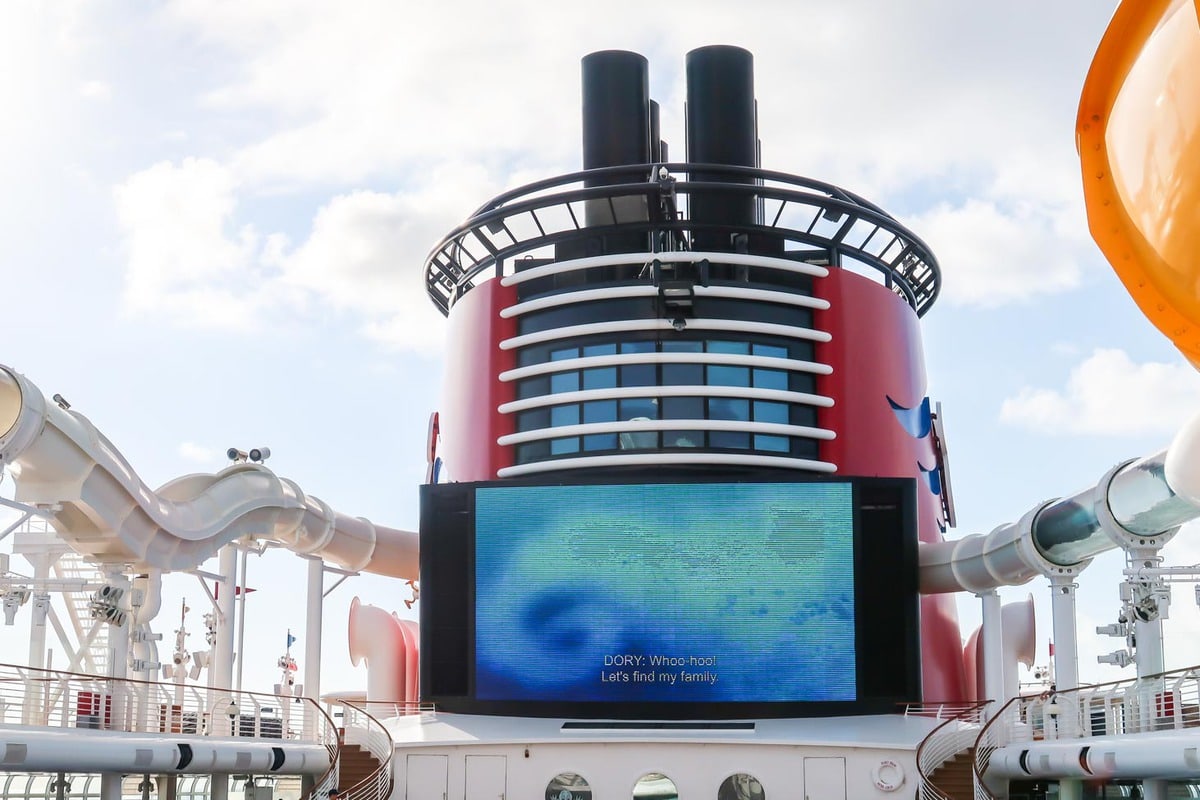 23 – FISH EXTENDER EXCHANGE – This is a pouch that hangs outside your door. You make it ahead of time and bring it with you. It is a gift exchange with other families on the ship where you give and receive goodies. This takes some preparation leading up to the cruise but is a great way to make other people feel good and get the kids involved. Make sure to bring all ahead of time to save money.
24 – PIN TRADING – You will not want to miss the Officer Pin Trading Night. It is a ONE-NIGHT-ONLY event. This is NOT announced so make sure to check the Navigator daily so you DON'T MISS OUT!
NOTE: You can buy pins before boarding to trade. 😉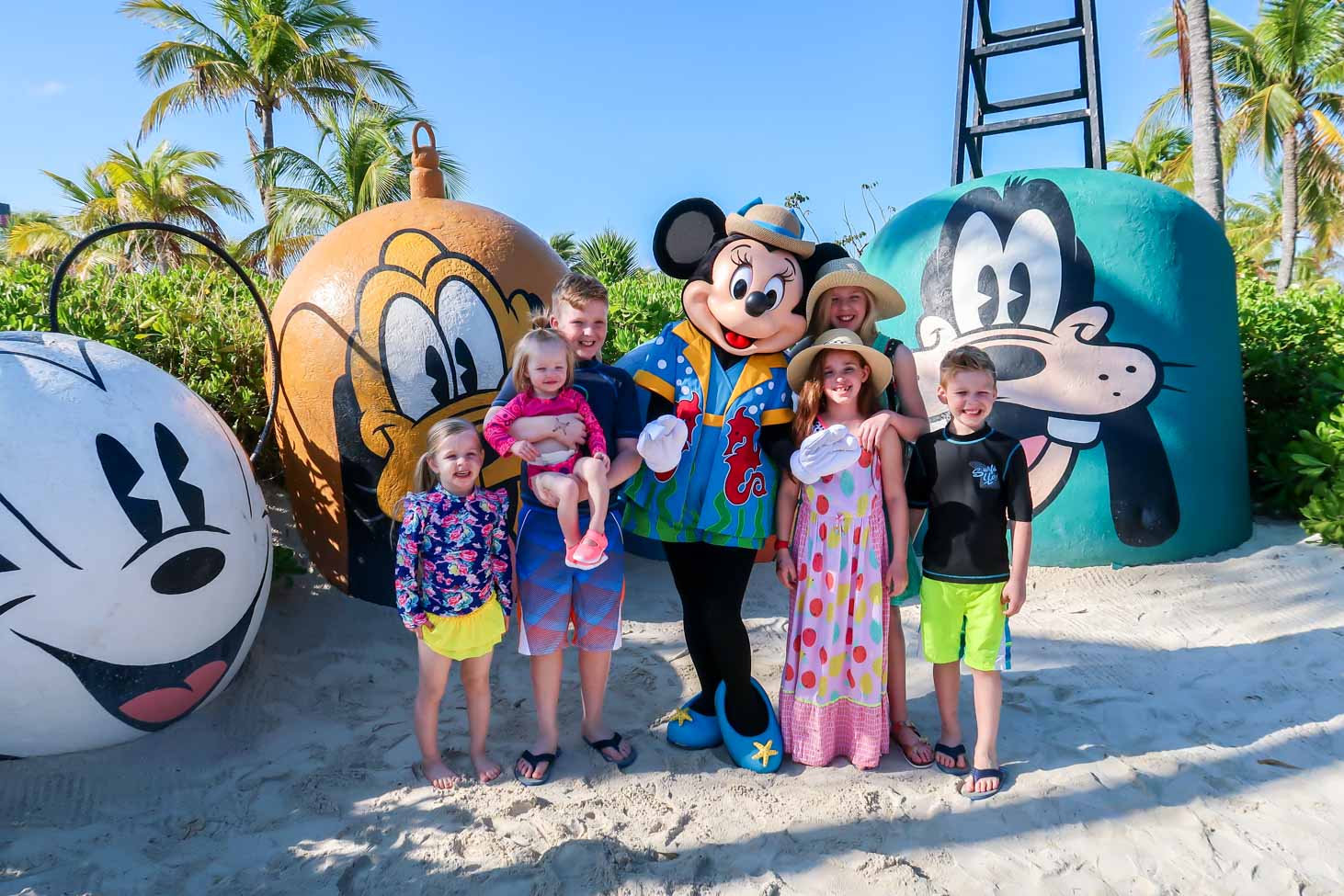 Disney's Private Island
Our favorite part of any Disney Cruise is stopping at their private island. Not only is it GORGEOUS, but there is so much fun to be had, including bike rides, snorkeling, food and more. Here are a few tips to think about when going there.
25 – CASTAWAY CAY – If you get to port at Disney Castaway Cay, get off as early as you can! This will allow you to reserve the perfect spot on the beach (the hammocks are our favorites). There are also so many fun things to do on the island. From bike riding to eating to snorkeling, the whole family will love it!
NOTE – Disney has some hidden treasures in the water. Grab your snorkeling gear and go find the Hidden Mickey statue, Minnie statue, boat and more. Just a hint – each one can be found under the buoy balls floating in the water. 😉
26 – BEACH TOWELS – Disney provides beach towels to be used even when going ashore. This helps so you don't have to pack bulky towels.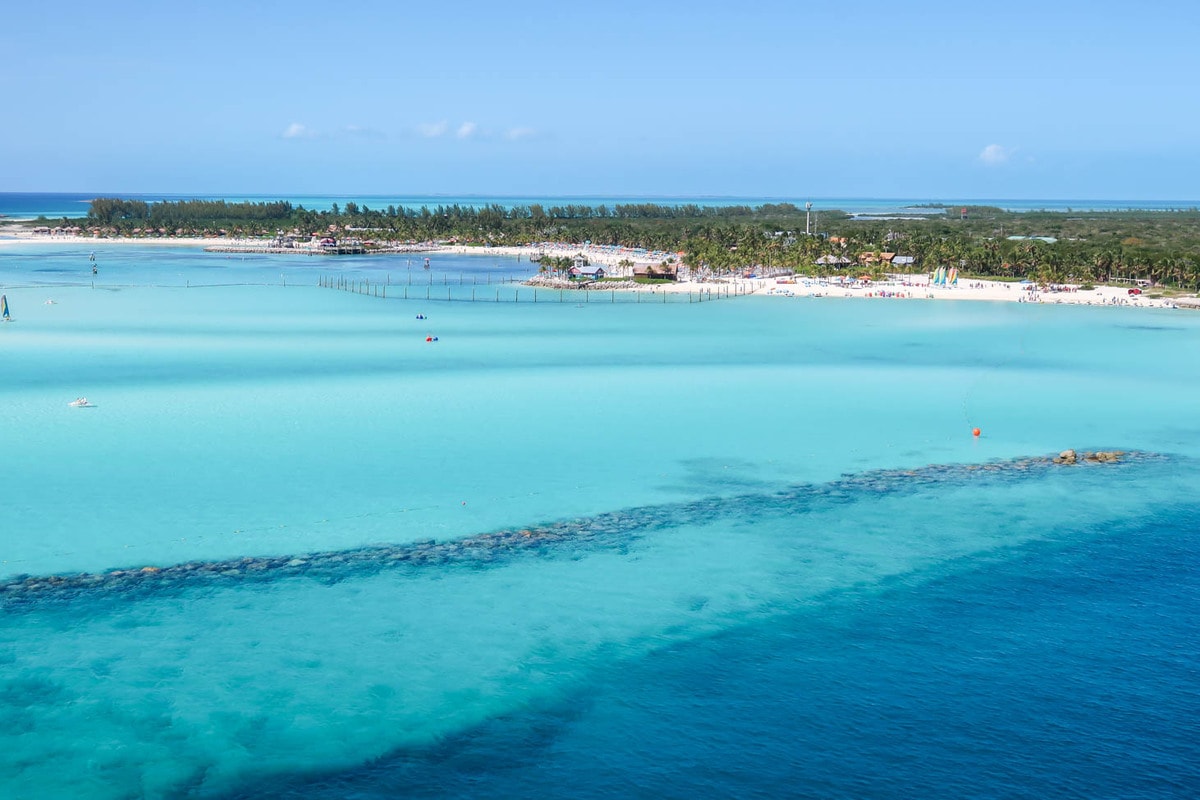 Whether you know these tips or not, your Disney Cruise will be amazing! We just hope these tips help you in having an even more magical time cruising the seas!
What are your top Disney Cruise TIPS?
For more Disney info, check out: