25+ MUST-KNOW Disney World Tips and Tricks to help in planning and enjoying your trip the most Magical Place on Earth.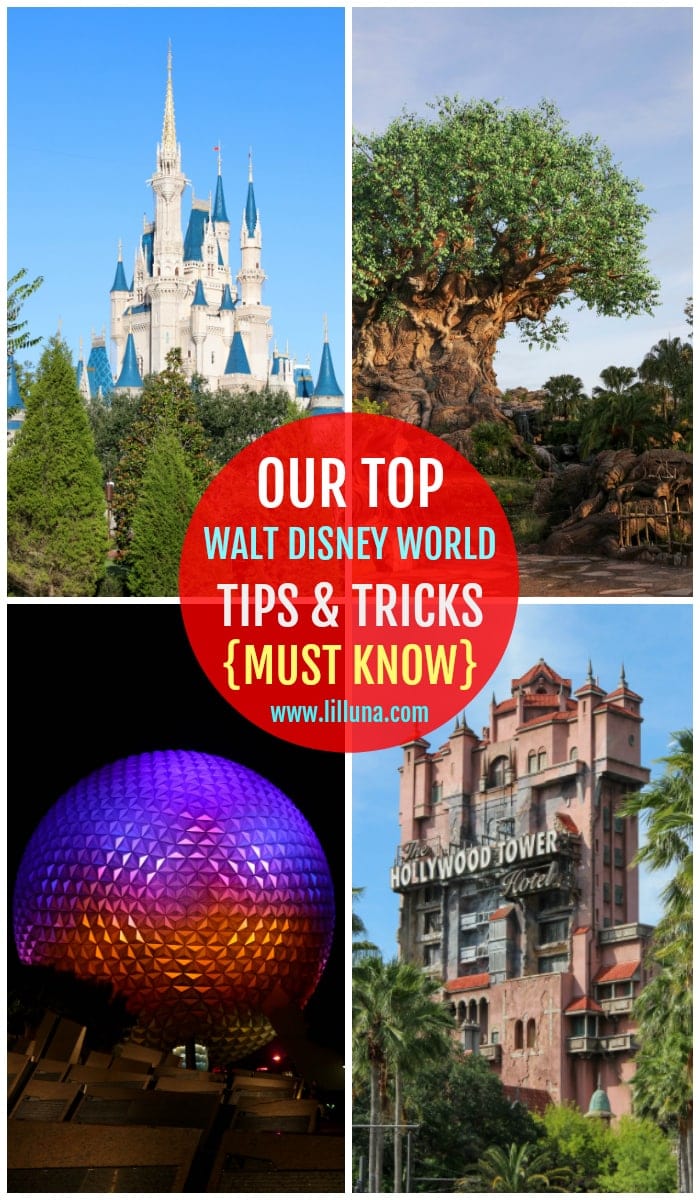 Top 25+ Disney World Tips & tricks
There is so much to know about visiting Walt Disney World! Sure, you can just show up and have a ball, but today we wanted to share with you some tips and tricks to make it the best vacation possible.
Knowing the best times to visit the parks, knowing which FastPass attractions to get and more will make your trip more enjoyable as well as allow you to maximize your time at this magical place. Also, be sure to check out our Ultimate Disney World Packing List which helps too! OH YEAH – and if you're going on a cruise, check out this HIDDEN TIPS post.
Here are our top Disney World Tips and secrets to remember:
Best time to visit disney world
Everyone knows that there are on-peak and off-peak seasons for the parks. Obviously, summer is an on-peak time. Families are on summer break and head to Orlando to visit Disney World. If you are looking for a time that is less busy, consider these days:
Mid January
End of February – Early March
Late August
September
Weekdays in November (minus Thanksgiving week)
Beginning of December
Take note of special occasions and holiday event at the parks when planning your trip.
Purchase Tickets in Advance
Not only can you find better deals on tickets if you purchase them in advance, but doing so also allows you to make FastPass selections in advance. This should allow you to get the FastPasses of choice and not just what's available if you do it right before your trip.
Use an "Authorized Disney Vacation Planner"
Did you know that using an "Authorized Disney Vacation Planner" to book your trip is free?! They get their commission from Disney, so using these planners to save time and stress doesn't cost you a penny.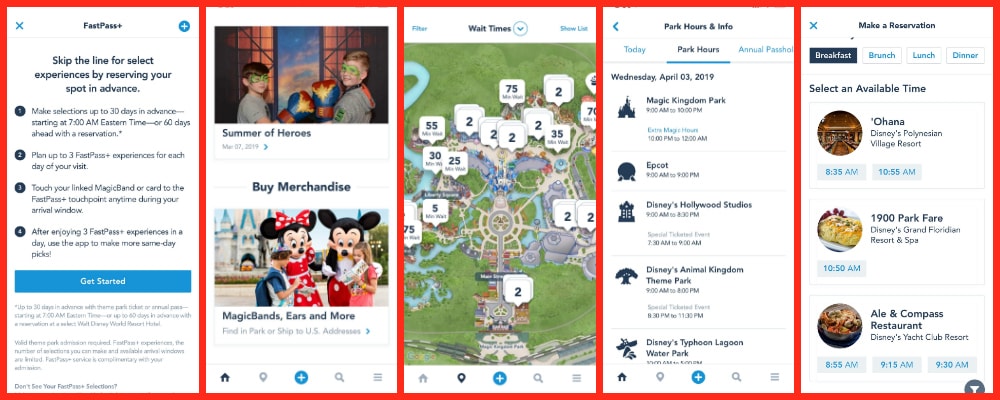 My Disney Experience App
Book FastPasses, dinner reservations, mobile order food and more using the My Disney Experience App. You can also view plans, wait times and even BUS wait times, so be sure to download this and get things set up before you get to Florida.
You can also link other accounts and make plans for all your friends and family. It's a MUST-HAVE tool when visiting Disney World.
FastPasses
Did you know that you can start booking FastPasses 60 days before your visit if you're staying at a Disney Resort Hotel and 30 days before your visit if not at a Disney hotel? It's a must-do to make reservations for your favorite attractions. In fact, most of the popular attractions at each park run out of FastPasses if not booked in advance so take not.
If staying at a Disney Resort hotel, you can also make FastPass reservations 60 days in advance for the entire length of your trip.
Rider Switch Pass
Rider Switch Pass is only available for certain attractions but allows partners to skip the line if they had to wait out with non-riders of an attraction while the other partner goes on. This is great if you have little kids or napping babies and still want to go on a ride but have to wait for them while one parent rides with our kids.
For all information about Rider Switch Services, GO HERE.
Disney World celebration buttons
Stop by Guest Relations or any indoor merchandise location and ask for a complimentary button to wear during your visit for any special event you're celebrating. Not only do you get a fun, free button, but cast members like to pay special attention to them and often wish "Happy Birthday" and other well wishes through out your stay.
Which parks to go to first
If you are staying at a Disney hotel, guests can have Extra Magic Hours, which allows them into the parks earlier. Because of that, those parks are busiest the entire day, so if you are not using Extra Magic Hours or are not staying at a Disney hotel, plan to visit parks that don't have Extra Magic Hours that day.
Another tip is to work whichever park you are attending from the back to the front and counterclockwise to avoid crowds.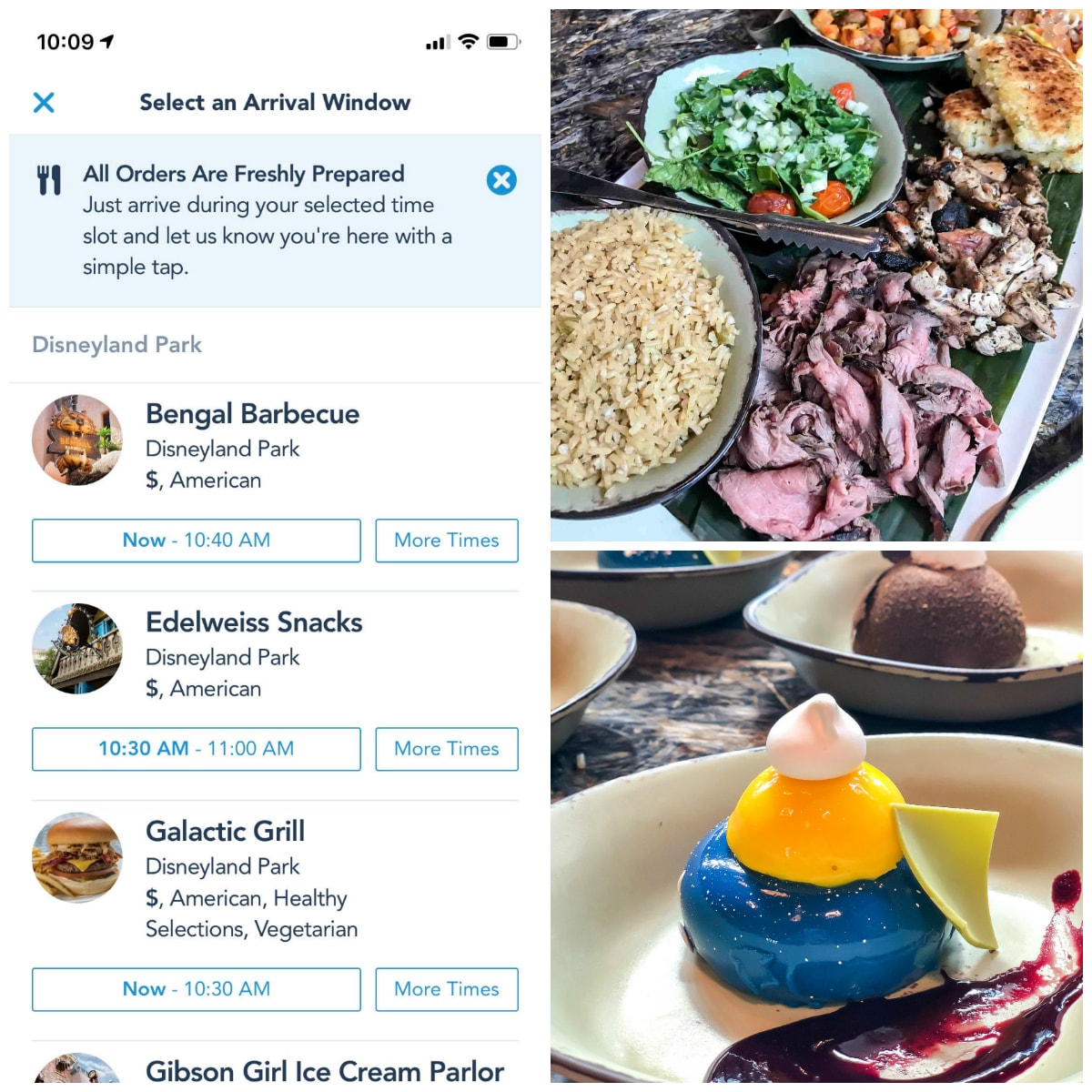 Mobile food and beverage Ordering
You can order meals, snacks and beverages from wherever you are using the My Disney Experience app.
Just select "Order Food" on the app, choose from the select restaurants at whichever park you are at, make your selections (and even customize them) and order. You can purchase using a credit/debit card or Disney dining plan. Easy peasy – and way less of wait!
Dinner Reservations
All guests can book dining reservations 180 days in advance by calling (407) WDW-DINE (939-3463).
With the popularity of these restaurants, it can be difficult to walk up and get into these hot spots, even during low-peak season so it's essential to book in advance. For a complete list of Dining Restaurants, be sure to go HERE.
Bring Portable Charger
Most people tend to use their phones a LOT while visiting Disney World. Whether it's to take pictures or record video or to use the My Disney Experience app, so we recommend bringing a portable phone charger.
Our favorite portable charger is this one from Anker which can charge your phone up to 7 times before having to be re-charged!!
Grocery Ordering
It's nice to have snacks and food on hand when visiting the parks, but did you know you can order these groceries and have them delivered to your hotel instead of having to pack and bring them?!
Several companies do this, but some of our favorites include GardenGrocer.com and InstaCart. We love to order snacks and water bottles for the parks, along with fruit and breakfast foods to eat at the hotel before heading out.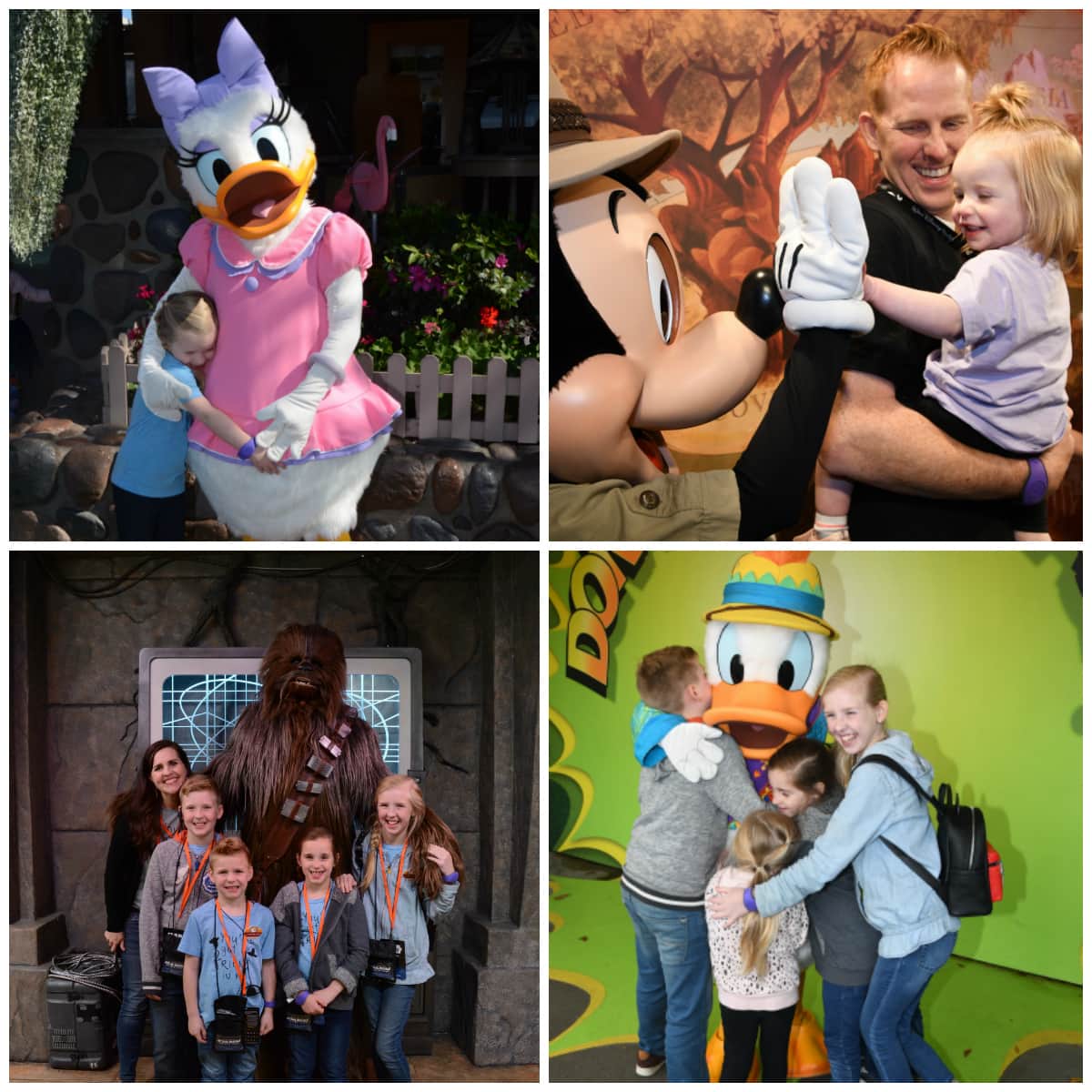 Character Meet & Greets
All parks have character meet and greet spots. Some of those lines are shorter than others, so take note that most character meet up lines are shorter in Disney's Animal Kingdom and longest at Magic Kingdom.
If you want to see many characters at once, you can do this at the parades or even at Character Dining restaurants.
Souvenir Room Delivery
Did you know you can have souvenirs delivered right to your hotel room? It's hard to buy things and have to carry them around all day long at the parks, so use the My Dinsey Experience app to order those items and have them delivered. You can also choose the option to have them delivered to your home, so be sure to check that out!
You can have souvenirs delivered straight to your room from any Disney park. This way you don't have to carry them around all day! You can also order items straight from the My Disney Experience app and have them delivered to your room or items can also be mailed home directly.
Parades
Catching the second parade of the day is usually better because it's less busy. There are so many great spots to catch the parade, but shaded and away from Main street is what we usually recommend. 😉
Baby Tips
Bringing a baby to the parks? Add a portable noisemaker and small portable clip fan to the stroller with a blanket to cover it to keep them cool while napping. Having a rested baby makes things less stressful and more enjoyable at the parks.
And in case you forgot diapers or formula, don't fret – you can always find visit the Baby Care Center which is at each park. It also is a great, quiet place to nurse your baby in a rocking chair. Here are the locations for each baby center at each park:
Magic Kingdom: The Baby Care Center is between Casey's and the Crystal Palace.
Epcot: The Baby Care Center is in the Odyssey building, near the Mexico pavilion.
Animal Kingdom: The Baby Care Center is in the building next to Pizzafari.
Disney's Hollywood Studios: The Baby Care Center is in the same building as Guest Relations.
Free water
Stay cool and enjoy free water at Walt Disney World counter service restaurants. Just ask for a free cup of water (or even a large cup) to enjoy or refill water bottles with.
FIREWORKS
Who doesn't love a good fireworks show? To watch the Magic Kingdom fireworks from inside the park, we recommend doing it from the Dumbo ride in Toon Town for a less crowded area.
To watch the fireworks from outside the park and for a head start to the buses, the best location is from the Ticket & Transportation Center, to the right of the ferry launch.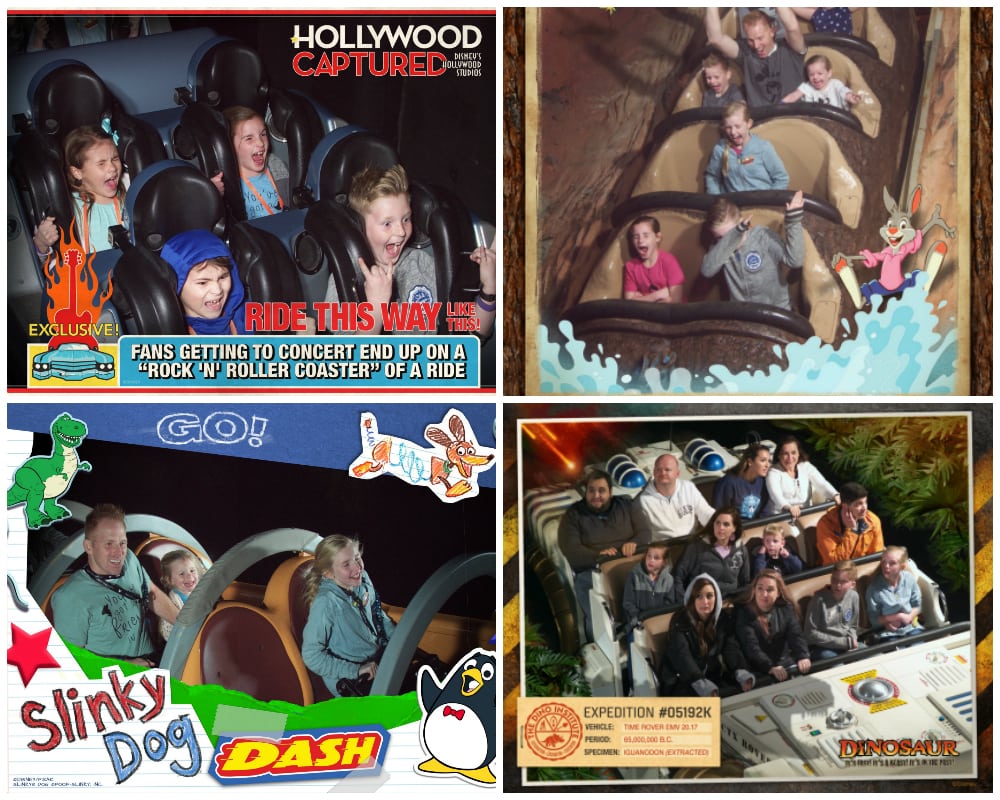 PhotoPass + Memory Maker
Use PhotoPass photographers to get awesome pics or even Memory Maker, which allows you to get unlimited photos and videos for one price.
You can also ask PhotoPass cast members to take photos with your phone or camera for FREE.
Disney Resort Hotel Bell Services
If you are thinking of heading to the parks but are checking out of your hotel, be sure to use bell services to store your luggage. They can also store luggage if you arrive to your resort before your room is ready.
Bring Ponchos
Orlando is known for it's on-again, off-again rain so be sure to pack ponchos in your suitcases and day bags. You never know when you're going to use them but may find yourself wanting them for some of the water rides like Splash Mountain or Kalii River Rapids.
Character Wake up Call
At Disney Resort Hotels, you can request a FREE wake up call each morning from Mickey. Kids love this sweet surprise and are excited to wake up more than ever when they know their favorite Disney character is calling.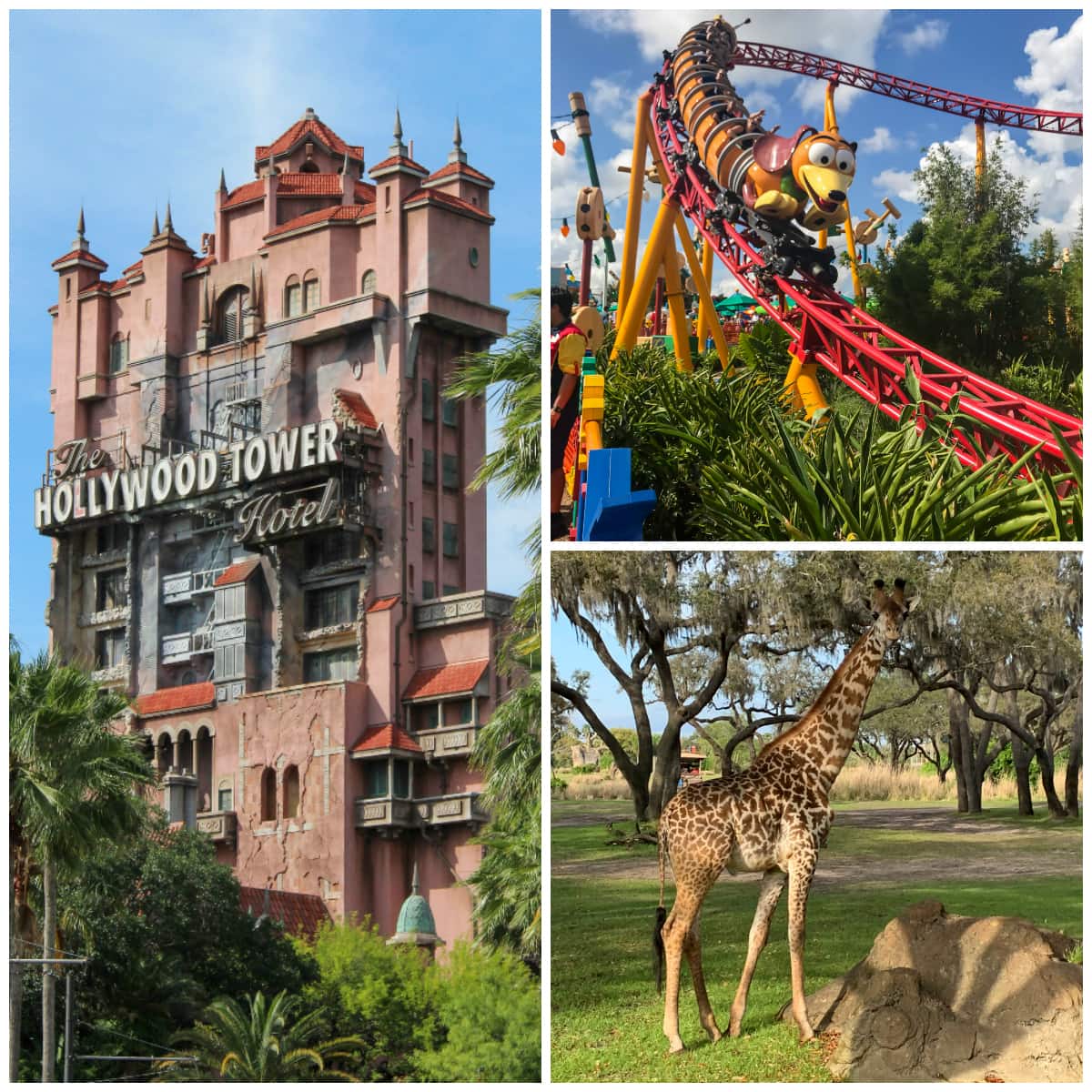 RIDE Tips & tricks
There are so many great rides at Walt Disney World and it's hard not to want to go on all of them. Other than getting FastPasses or going to the ride first thing in the morning, we wanted to share a few more ride tips and tricks for your next Disney World vacation.
Single Rider Line
As long as you are good to ride solo, use the single rider line on select attractions to be in a super short line and get on the rides quicker. It's also great
Rides during the Parade
While so many love the parades and they're worth seeing, it's also a great time to tackle some of the busiest rides. Just make sure you are on the side of the park you want to be on for awhile because during parades, it's hard to cross over between lands.
Specific Ride Tips
Safari at Animal Kingdom – Go first thing in the morning when animals are out eating or when it's rainy because animals like to come out and cool down.
Flight of Passage at Animal Kingdom – Being the current most-popular ride at the parks, this is definitely a ride you want a FastPass for. If you don't have a FastPass, arrive at the park 45 minutes to an hour early so you can head straight there.
Fantasyland attractions at Magic Kingdom – Go first thing in the morning or right before closing for lowest wait times.
Seven Dwarfs Mine Train at Magic Kingdom – This is another ride to get a FastPass for, but if you can't – try and go first thing in the morning on a non-Magic Hours day for a quicker liner.
Slinky Dog Dash at Hollywood Studios – If you can't get a FastPass, go to this ride at the end of the night. Kids are usually tuckered out and have called it a day, and wait time drops to 20-30 minutes before closing.
Frozen Ever After at Epcot – This is the ride at Epcot to get a FastPass for. If you can't get one, we recommend entering Epcot via International Gateway since it's a shorter walk to Norway where the ride is.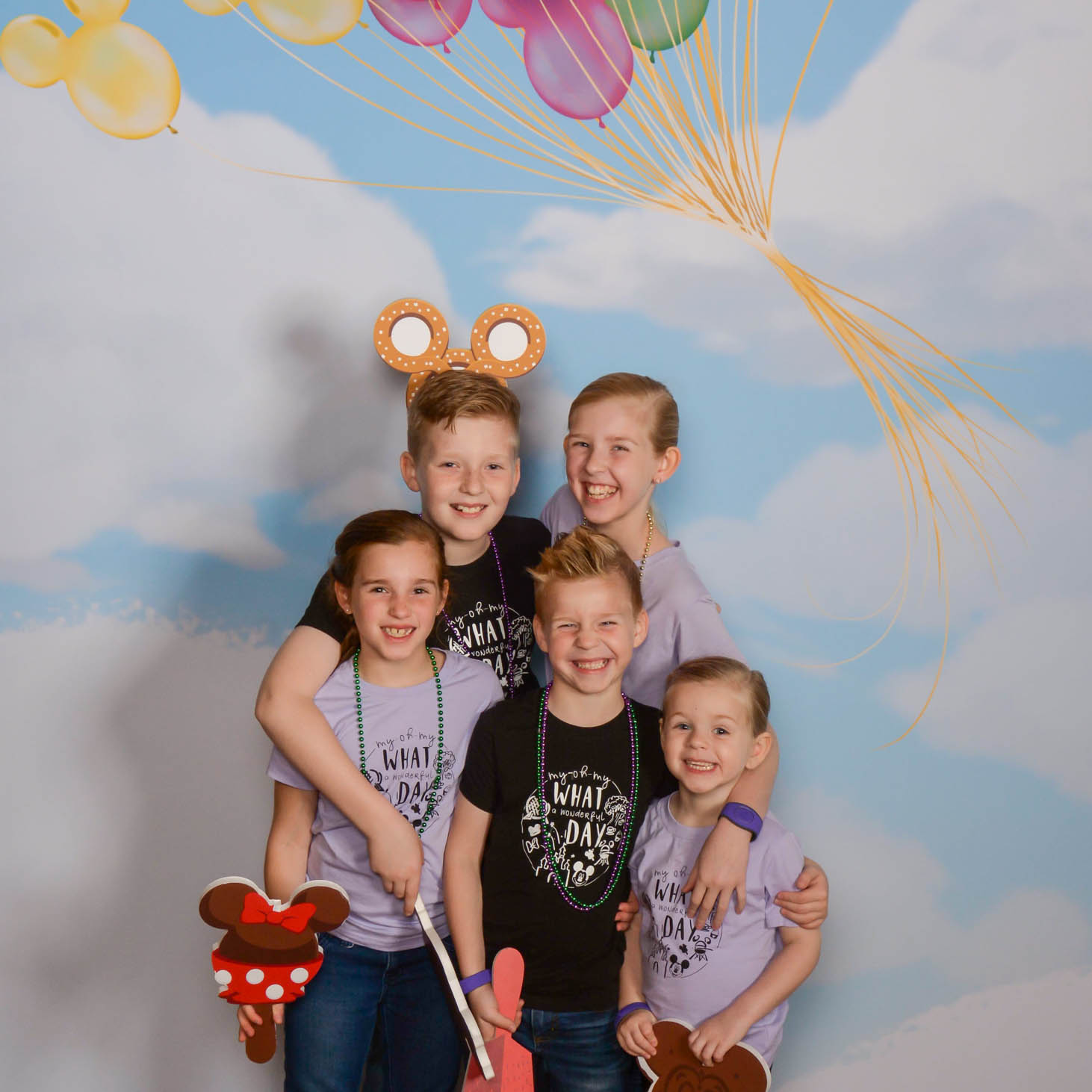 Money Saving Tips
Here are some of our favorite money saving tips when visiting Walt Disney World. Everyone has different budgets, but we recommend figuring out that budget when planning your trip to help out. 😉
Here are our top 3 tips for saving money at the parks:
Refillable Drink Cups (and popcorn buckets)
Buy the refillable drink cups the first day at the parks and use to get drinks through out the stay to save money. Here are the restaurants where they have refill stations for free refills:
Sunshine Seasons and Electric Umbrella at Epcot
Be Our Guest Restaurant in the Magic Kingdom
Backlot Express in Disney's Hollywood Studios
Restaurantosaurus & Satu'li Canteen in Disney's Animal Kingdom
You can also buy refillable popcorn buckets on the first day to refill through out your stay for less money.
Bring own snacks into parks
We believe that part of the Walt Disney World experience is enjoying all the food, but if you don't want to buy a churro or ice cream every time your child asks for it, we recommend bringing in a few snacks in your bags. This is especially helpful if you or your family member gets hungry while waiting in a line.
Pack Disney Toys To bring to the parks
If you want to save money with souvenirs, grab some Disney toys and light-up fun at the store before you head to on your trip. Pack these in your bag and give to your kids through out the trip for some added fun.
——————————–
We hope these Disney tips and tricks help! For more Disney fun, check out:
ENJOY!