Disney paid for my family's vacation to Walt Disney World. As always, all opinions are my own.
Find out more why a Disney Cruise at Christmas time is the best vacation ever. From the entertainment, to the food and activities, to the stops in paradise, including Disney Castaway Cay, it's easy to see why it's so magical!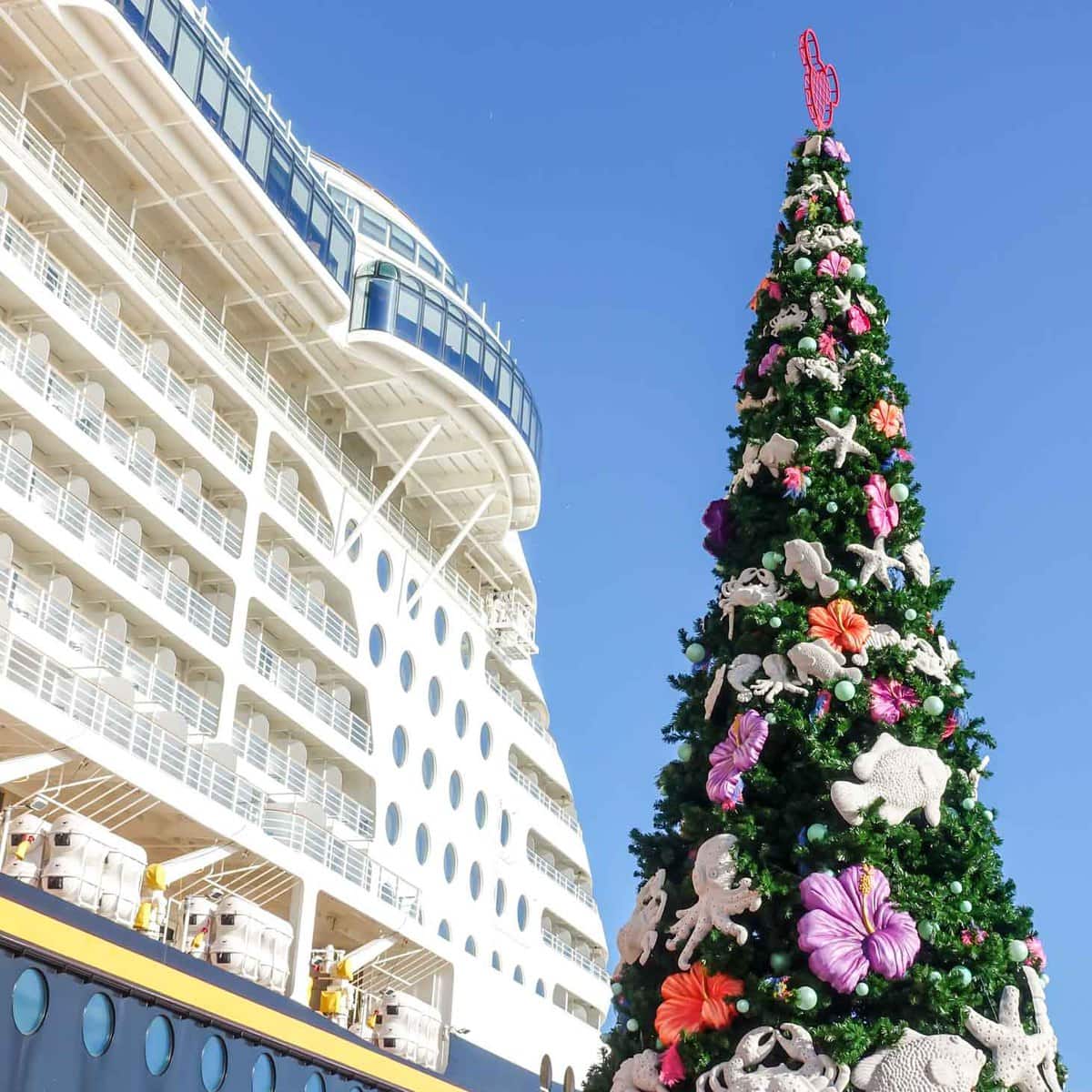 Disney + Christmas = Dream (literally)
Disney is amazing! From Disneyland to Walt Disney World and even to the Disney Cruise Line, they have been able to bring magic EVERYWHERE. If you've been to either park or on the cruise, I'm sure you could agree.
We have been lucky enough to go on a few Disney cruises, but are most recent cruise was their Christmas version – Very Merrytime Cruise. We even did the trip without kids since it was over our wedding anniversary, and we had the BEST time!
As you could imagine, Disney + Cruise + Christmas = a DREAM vacation (And that's literal since we took the Disney Dream boat), LOL! You get to celebrate the holidays at sea all while enjoy the magic, food, and entertainment that comes with a Disney trip.
All 4 ships – the Disney Magic, Disney Wonder, Disney Dream, and Disney Fantasy – have cruises from different ports and to different destinations that they offer during the holidays. We sailed on the Disney Dream and ported in Nassau and at Disney Castaway Cay (their private island).
We were in heaven as we cruised through The Bahamas and because we love Christmas so much, the magic was even more abundant!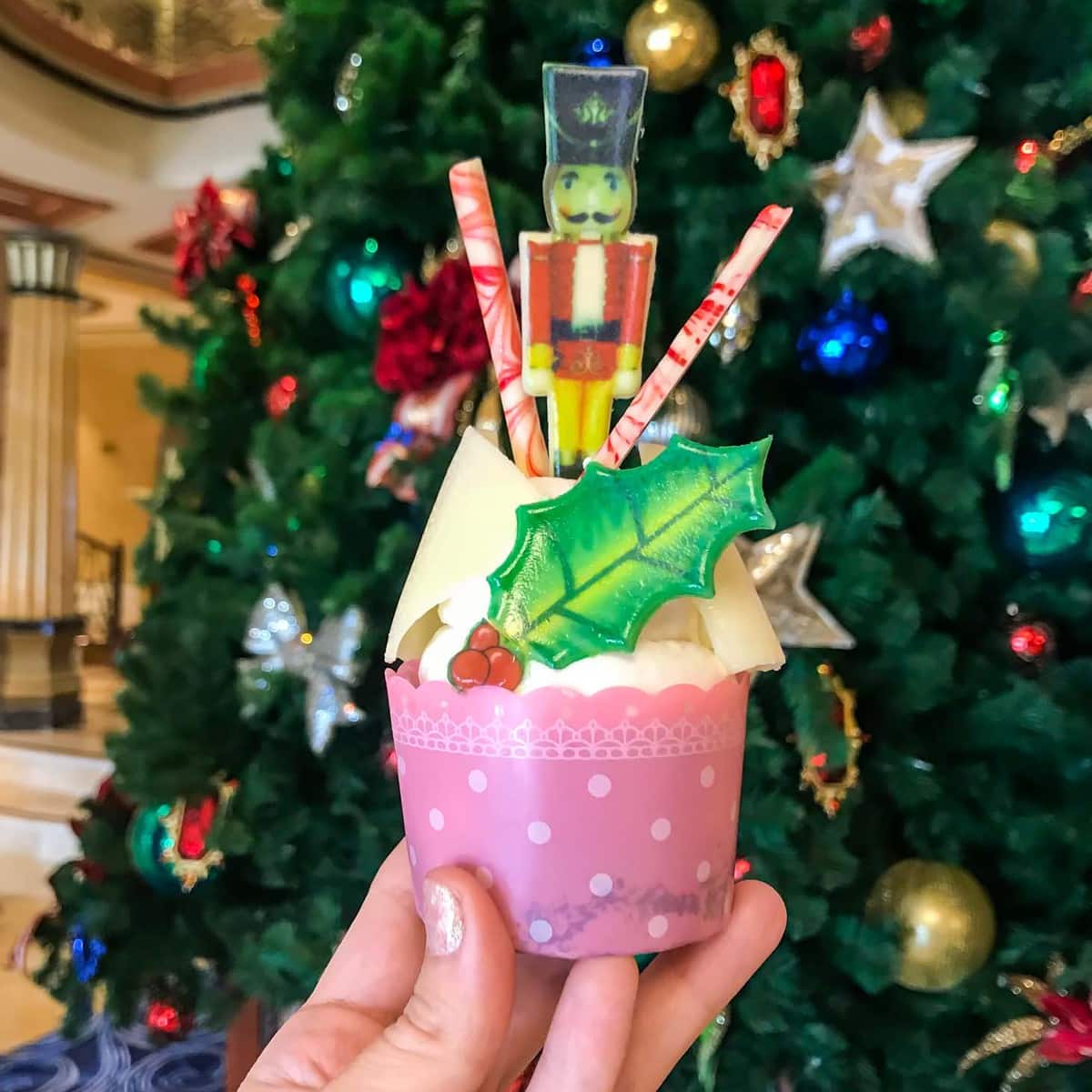 Christmas-y Cruises
Each ship is decorated beautifully and transformed into an incredible Christmas Wonderland. There is a huge 24-foot Christmas tree that is absolutely gorgeous in the Lobby Atrium.
On our boat, gingerbread filled the air. The reason? There was a full-size edible gingerbread house located in the lobby. This gingerbread house included 650 pounds of gingerbread, 3,850 gingerbread bricks, 1500 bricks on the roof and 220 pounds of icing. It was stunning!!
The first night was Mickey's Tree Lighting. This was such a fun night and set the mood for the rest of the cruise. Mickey, Minnie, Pluto, and Goofy lead the guests in Christmas carols. They chose a family to light the tree which stayed on the whole cruise.
The rest of the cruise was filled with so much Christmas fun, in addition to all the regular fun, like Pirate Night, entertainment, delicious food and dining and so much more!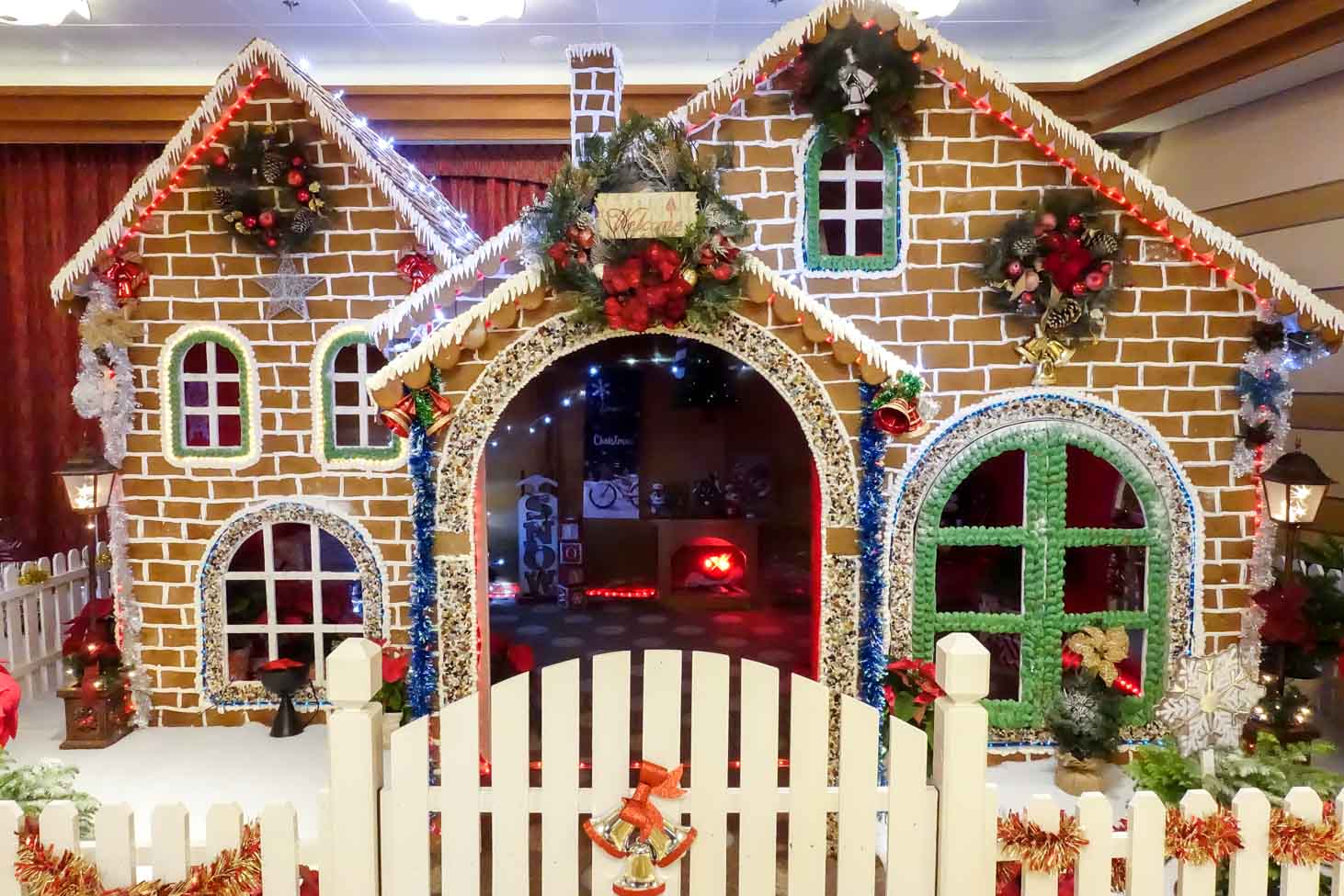 Things to Know about Disney Cruises
If you haven't been on a Disney Cruise before, we thought we'd share some of the basics to know about before booking one.
You thought it was just a cruise? Not when it's Disney! 😉 Here are a few things to know about before going on your Disney Cruise adventure. (For more info be sure to check out our Disney Cruise Tips + Tricks Post).
Staterooms – The staterooms are INCREDIBLE and the best I have ever seen. They are very spacious and clean. They have great storage space and a sitting room. The bathroom is a good size and extremely clean. You can tell that Disney takes pride in making sure things are in good condition and are the best for their guests.
Dining + Food – Enjoy upscale restaurants, buffets, poolside snacks and 24-hour room service. We loved visiting the different restaurants we were assigned to for dinner each night. Each is themed and the food is amazing. We also couldn't pass up on all the ice cream and sweets found at Vanellope's. (oh yeah – and don't miss out on the soft-serve ice cream served 24 hours/day!) For some FAQ about Disney Cruise dining go HERE.
Youth Clubs – Disney does is right when it comes to making sure EVERYONE, no matter what age, has the best experience while cruising. They offer different age group clubs, so your kids can interact with people the same ages.

Different Clubs for different ages:

It' s a small world Nursery – F

or ages 6 months- 3 years old. They will make crafts, watch movies, read books and even take a nap while the parents enjoy their adventures. The club is divided into three areas. This club is extremely limited so make sure to book early. There are unnoticed windows to take a peek at your children throughout the day if needed.

Disney's Oceaneer Club/Lab – 

For children ages 3-12 years old. All children will need to be fully toilet trained to participate in this club.

Children will receive a wristband, which grants them access to both Disney's Oceaneer Club and Disney's Oleander Lab. They will be able to interact with Disney Characters, have guided group activities, do arts and crafts, watch movies, play video games, and many other activities that will capture their attention and be so fun. 

The Edge – F

or the tween age guests from 11-14 to hang out with peers their same age from all over the world. This club offers a lot of fun and is led by the some of Disney's counselors. There are competitions, trivia, scavenger hunts, movies, video games and so much more that your tween age kids will be so engaged.

The Vibe – F

or kids who are 14-17 years of age. Vibe is a great hangout for teens be with peers their own age. They can watch movies, play games, karaoke, talent shows, competitions, dance parties and so much more. They have a non-alcoholic bar where they serve drinks and smoothies all day long. 

Entertainment – Don't forget about all the fun! Each day you are sent a Personal Navigator summarizing the activities each day of your cruise. Additional info about the port of call is also listed making planning your day so easy. For the Christmas cruise, they had so much great holiday entertainment that couples, families and friends alike would all enjoy!

Tons of holiday Entertainment
Disney just knows how to entertain. They offered so many activities that appealed to everyone and all ages. For the Very Merrytime Cruises, they have a ton of onboard activities, including:
Mickey's Tree Lighting Magic Ceremony – the best way to kickoff the holiday cruise.
Mickey's Winter Wonderland Ball – a celebration with Santa and Mrs. Claus, Disney characters and more!
Deck the Deck Tropical Holiday Party – holiday games and dancing
Meet-and-Greets – Meet Santa or some of your favorite Disney characters dresses in their holiday attire.
Storytime with Mrs. Claus  – Listen to Mrs. Claus as she reads from holiday classics by the Christmas tree.
Holiday Activities and Crafts for Kids – Kids love the holiday crafts and activities done on the boat.
Holiday Treats – Delicious and festive treats that add to the holiday fun.
Holiday Merchandise – Holiday-themed Disney Cruise Line gifts that make perfect souvenirs.
Classic Entertainment
The Buena Vista Theatre

 – Offers movies all day long, often including holiday movies. 

*Broadway shows on the ship –

 When I say Broadway, that is truly what they are like. The shows are INCREDIBLE. So entertaining and magical for the entire family. They are shown in the Walt Disney Theatre. We saw Disney's Believe, 
Plus, on December 24 and 25, they have extra activities and treats, including:
Cookies on Christmas Eve
Special holiday towel animals
Caroling with the kids and crew
So much fun and entertainment can be found on the cruise, and we loved all of the activities centered around the holidays!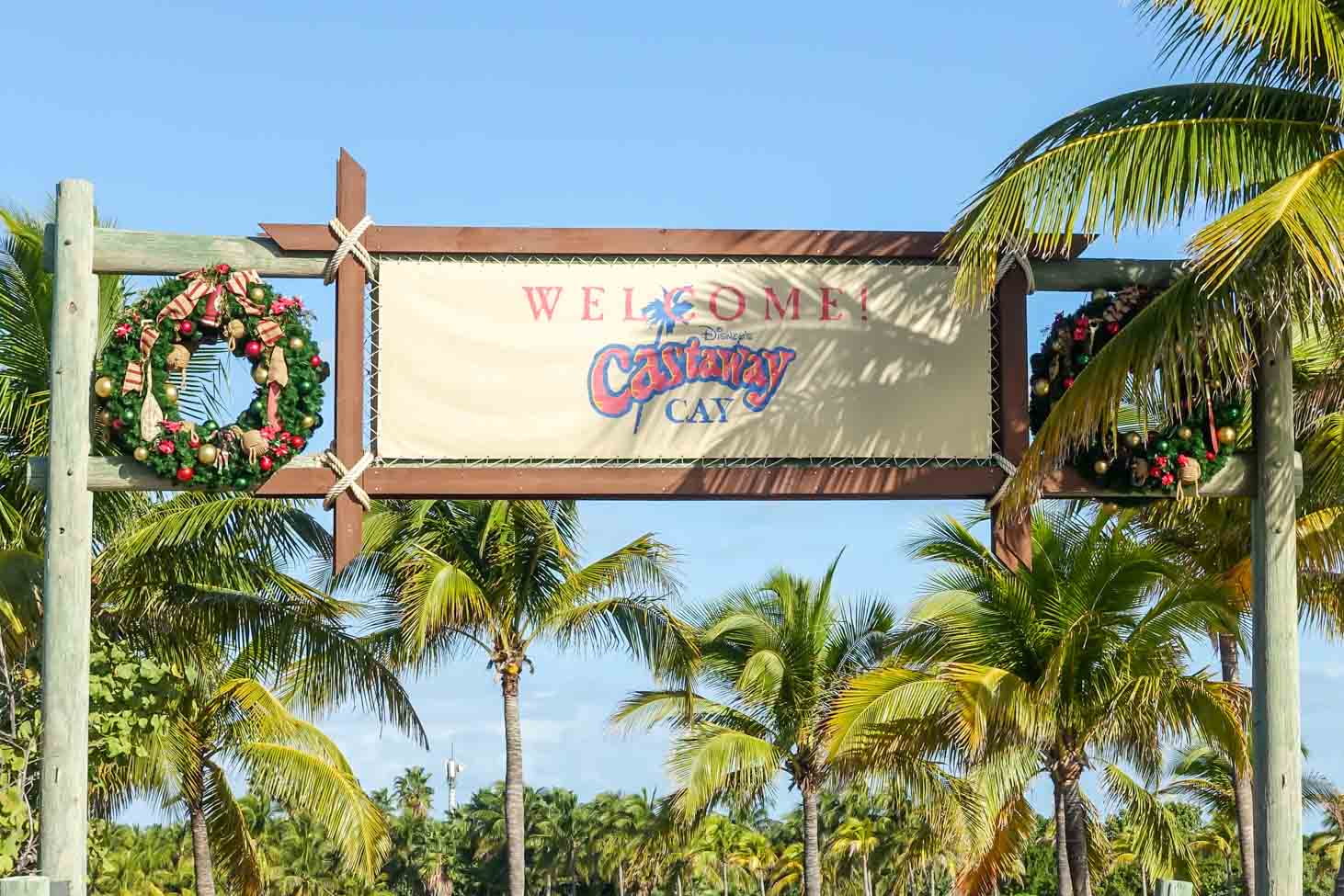 Christmas-y Castaway Cay
Not only can you find a winter wonderland on each ship, but also at Disney Castaway Cay – their private island! Not going to lie, but this was our first part of the cruise. The island is gorgeous, decked out for the holidays and a paradise for all who visit.
Not only can you enjoy the beach, but you can choose from several different excursions as well. From parasailing to renting bikes, there are so many fun activities to do.
One of our favorite things to do is snorkel. Not only will you see some amazing sea life like sting rays, turtles and fish – but Disney has some fun treasures found under the water (including a Mickey statue, Minnie statue, submarine and more).
Last, but not least, don't forget Serenity Bay – the adult only beach that was so beautiful and so serene!! We spent several hours there and loved hanging out with and meeting new friends at this gorgeous beach.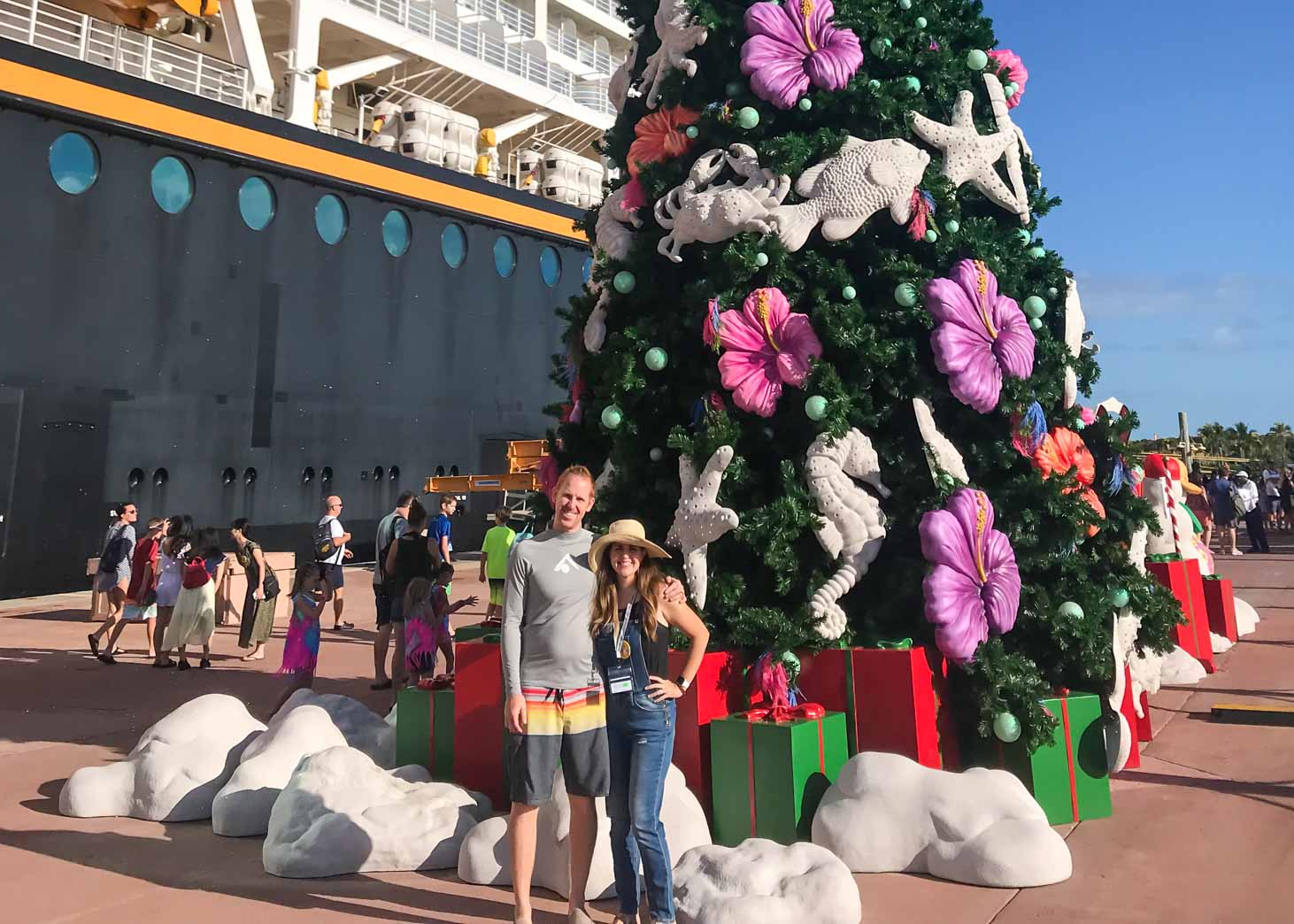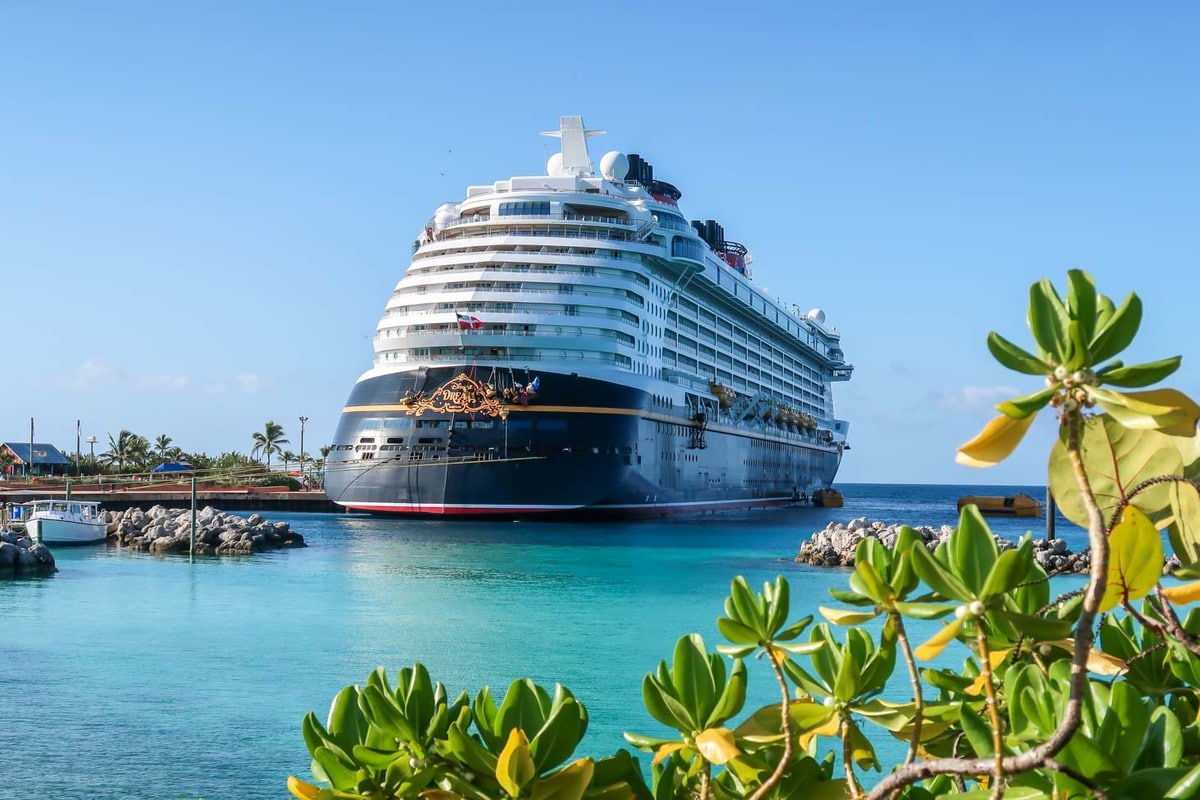 2019 Very Merrytime Disney Cruises
Don't miss out on booking a Disney Cruise – there are so many trips to choose from, and all will combine the magic of Disney and Christmas making it INCREDIBLE!
3- to 4-Night Very Merrytime Disney Cruise – Sail from Port Canaveral (near Orlando, FL) – Cruise on the Disney Dream for a shorter vacation, including a stop at Disney Castaway Cay, their private island.
3-5-Night Very Merrytime Disney Cruise – Sail from Miami – Cruise on the Disney Magic to stops like Nassau, in The Bahamas and at Disney Castaway Cay.
5-Night Very Merrytime Disney Cruise – Sail from San Juan, Puerto Rico to Miami, Florida – Cruise on the Disney Magic with visits to Basseterre, St. Kitts, Tortola, British Virgin Islands and Disney Castaway Cay.
7-Night Very Merrytime Disney Cruise – Sail from Port Canaveral (near Orlando, Florida) – Cruise on the Disney Fantasy with visits to several tropical ports including Disney Castaway Cay.
Very Merrytime Disney Cruise – Sail from Texas – Cruise on the Disney Wonder to The Bahamas and Caribbean with select voyages to tropical ports of call including Key West, Cozumel and Disney Castaway Cay.
Very Merrytime Disney Cruise – Sail from New York – Cruise from the Disney Magic for
Sail from New York on the Disney Magic for Bahamian cruises and head to tropical beaches in the Caribbean or to Walt Disney World Resort and Disney Castaway Cay.
14-Night Very Merrytime Disney Cruise – Sail from San Diego – 
This holiday on the high seas takes you aboard the Disney Wonder to bustling Mexican ports, through the Panama Canal, to Colombia and Grand Cayman before docking in the Lone Star State.
SAIL DATES FOR 2019:
Disney Magic – November 10, 2019 – December 21, 2019
Disney Wonder – November 8, 2019 – December 20, 2019
Disney Dream – November 8, 2019 – December 23, 2019
Disney Fantasy – November 9, 2019 – December 21, 2019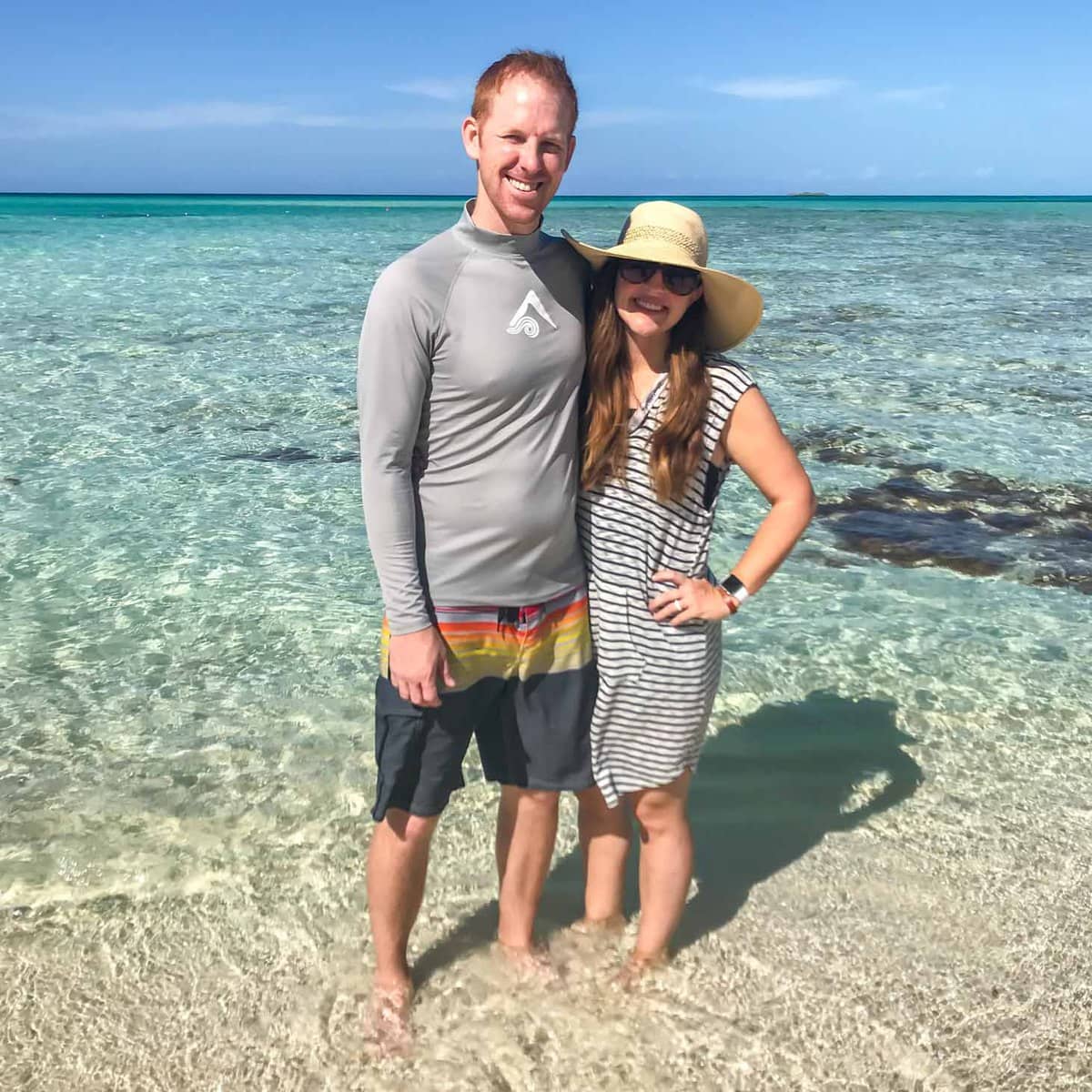 How to Book a Disney Cruise
The easiest way to look at all itineraries is to book online or you can call (800) 370-8046.
We had the best experience on our holiday cruise and have already discussed doing another one. In fact, we love the idea of spending Christmas Day on a Disney cruise with a little pixie dust (and this time with the whole crew!) We've tried to get our kids away from focusing so much on presents and think planning a family vacation instead is even better.
Whether you've got the whole crew, just the two of you or even friends, we guarantee you'll have a magic-filled experience sailing on a Disney Cruise during the happiest season of all.
For more Disney info, check out: