Don't miss a thing – Sign up for the Lil' Luna Newsletter today!
I LOOOOVE Diaper Cakes!
They take a few hours to make but are so worth it in the end.
MY OTHER RECIPES
You want to know why?
I'll tell ya!
1. They are WONDERFUL Baby Shower Gifts.
2. They make AWESOME center pieces at Baby Showers.
3. They are also GREAT to display in your baby's room.
4. They are completely CUSTOMIZABLE.
5. They are PRACTICAL!
So there you have it. Five WONDERFUL, AWESOME, GREAT, CUSTOMIZABLE, PRACTICAL gifts in ONE. What more could you ask for?
I went for a Vintage-y, Chic theme for this cake. The nursery and shower colors are going to be Black, Hot Pink, & White so those are the colors I used. The instructions below are to make the specific cake I made, but feel free to change anything to customize it to what you like. 🙂
PAPER DIAPER CAKE TUTORIAL
SUPPLIES:
– Diapers
– Rubber Bands
– Elastic
– Scrapbook Paper
– Glue Stick
– Embellishments (buttons, fabric, tulle)
– Hole Punch
– Scissors
– Popsicle Stick
– Hot Glue Gun
INSTRUCTIONS: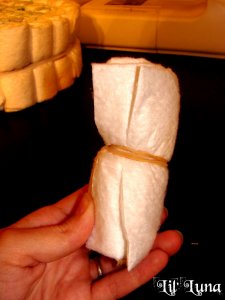 1. Begin by rolling diapers with a rubber band.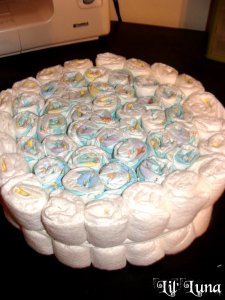 2. Cut a piece of elastic that will stretch to the size of circle you want for your base. I used a 20 inch piece. Tie the elastic in a knot. Then start putting diapers in the elastic circle and filling it until it is the size you want. Repeat for the middle and top tiers.

3. Cut strips of scrapbook paper to go around the tiers. I used 4 inch wide pieces and used several strips for the bottom. I also cut 3 and 2 inch strips to add to each tier for more decoration. I used a glue stick to add the scrapbook layers together. I made the strips just a few inches shy of going all around the cake so I could do a tulle corset-like tie in the back.

4. To make the corset, I put the scrapbook paper strip around the cake and punched 3 holes on each side. Cut a piece of tulle that will be long enough to lace through each hole. Lace through holes and tie in a bow or knot. Repeat for the middle and top tiers.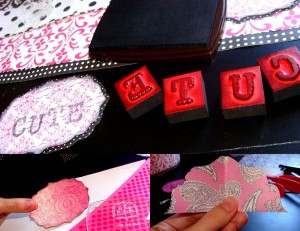 5. Cut scrapbook paper for embellishments on the cake. For a chic cut, I folded a piece of paper in four and made up my own design and cut it out. I did this 3 times so I could put ONE on each tier. I stamped on each piece of paper a phrase. For this cake I had it spell out "Cute – As A – Button." Any phrase works, but others I've used include: "Sugar – And – Spice," Little Girls – Are – Heavens Flowers." Glue the phrases to the middle of each tier.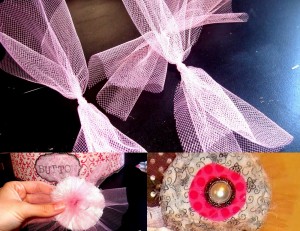 6. For other embellishments I made fabric/paper flowers. I did this by cutting out 3 circles of fabric of different sizes (4 inch, 3 inch, and 2 inch). I teased the edges to make it look more frayed. I also cut out a messy circle of scrapbook paper. I hot glued this all together and added a button to the center. Next, I cut out pieces of tulle about 4 inches long. I tied a knot in each in the middle. I hot glued these to the back of the fabric flower so tulle showed all the way around. Then, set aside the flowers to work on the cake topper.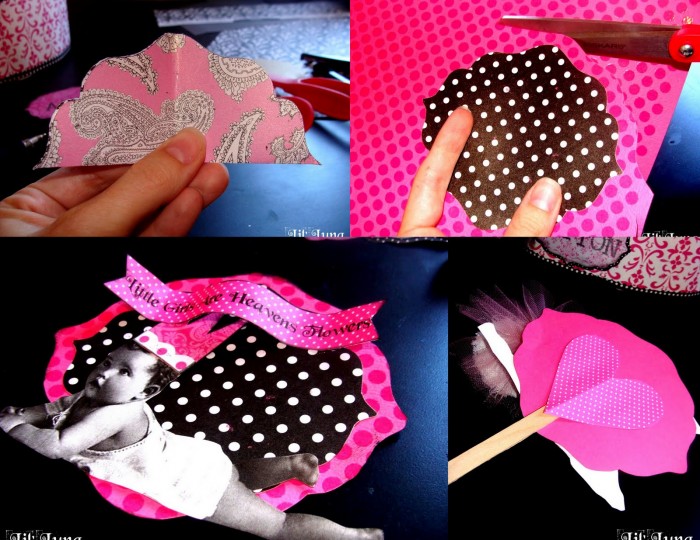 7. For the cake topper I cut out another piece of scrapbook paper. I distressed the edges with a stamp pad to make it look a little more vintage-y. I then printed out a picture from my computer of a baby from the early 1900s. I printed it in Black & White and made the baby's cheeks rosy by adding real blush. I glued this to the scrapbook paper. I also added a banner that I just printed, cut, and distressed. I hot glued it on and made it pop by bending it and hot gluing on the bends. Then, I hot glued on a popsicle stick to stick in the top tier and covered it with a heart made out of scrapbook paper.
8. Next, add the fabric flowers to the cake. I put one on each tier and one on the cake topper. I finished off the cake by adding random buttons to go with the theme of "Cute as a Button."
9. Depending on what style you like and whether or not you want the diapers to show, you can add paper grass to the cake in between each layer.

The cake is now ready to display. You can put it on a cake stand (or several cake stands) or directly on the baby shower table. No matter where you put it, it's going to look adorable!
I'd love to see other creations, so once you've made yours, send pics my way!!
[email protected]
For more Diaper Cake fun check out these other creations:
And for more baby creations check out: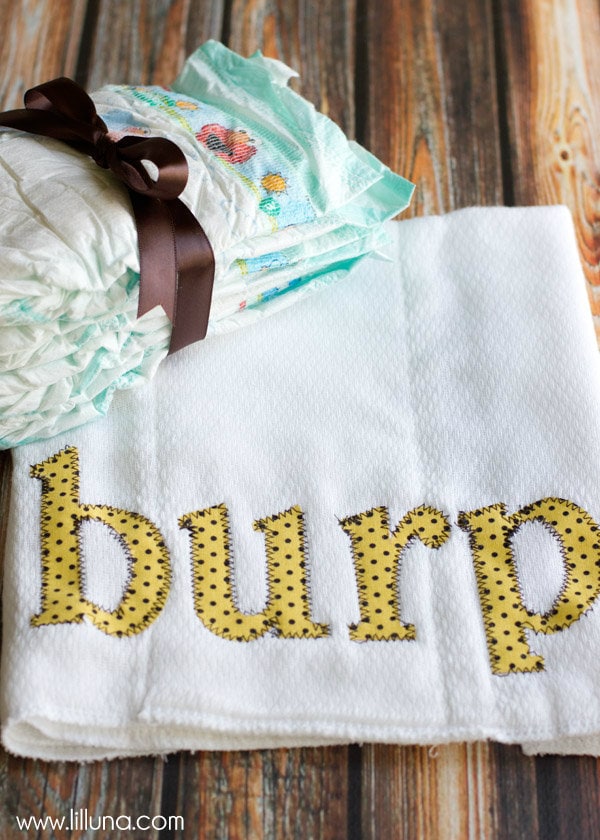 For all Baby-related projects go HERE.
For all Crafts & Tutorials go HERE.
And get weekly emails with monthly freebies by signing up for the Lil' Luna newsletter. 🙂
For even more great ideas follow me on Facebook – Pinterest – Instagram – Twitter – Periscope – Snapchat & YouTube.
ENJOY!