Have I mentioned my love for potatoes?!
The starchy vegetable is my favorite, and it's probably a favorite of yours too since I haven't met a person who doesn't like potatoes. 😉 Ever since I was little, mashed potatoes have been a favorite and is something my mom made at least once or twice a month. Surprisingly, I've only made mashed potatoes a handful of time for my own family but I do make several other versions to change things up to where we have them at least once or twice a month as well. A few months ago, I decided to try even another way to make potatoes using a recipe for Cheesy Mashed Potato Casserole. The result was PHENOMENAL!! In fact, I felt like it was a little easier than regular potatoes and that it was even more flavorful. It's probably because there was cream cheese, butter, sour cream, more cheese and bacon to go with it. In fact, this pretty much reminded me of Twice Baked Potatoes and although I have a recipe for Twice Baked Potato Casserole that is great, this one is more creamy!!
If you love potatoes as much as me this recipe is a MUST in the monthly rotation. We'll be in Arizona for Thanksgiving so I'm going to volunteer to make this for Turkey Day. I think it will be a hit with the whole family!!

Cheesy Mashed Potato Casserole
Ingredients
5 lb potatoes, peeled and cubed
1 cup sour cream
½ cup butter
8 oz. cream cheese, cubed
½ cup milk
2 tsp. garlic salt
pepper, to taste
12 bacon slices, cooked and chopped (divided)
2 cups cheddar cheese (divided)
½ cup parmesan cheese
green onions for garnish
Instructions
Peel and cube potatoes.
Place in pot and add water until just covering potatoes. Bring to boil. Once boiling, reduce to a simmer and cook for 18-20 minutes.
Drain water and mash potatoes using a masher or spoon. Add sour cream, butter, cream cheese and milk until well combined. Add salt and pepper. Fold in ½ the bacon, 1 cup cheddar cheese, and parmesan cheese. Mix well.
Spoon into lightly greased 9x13 pan. Top with remaining cheddar cheese and the rest of the bacon.
Bake at 350 for 20-25 minutes. Garnish with green onions and ENJOY!
Recipe adapted from McCormick. 
Can't go wrong with cheese and bacon on top!!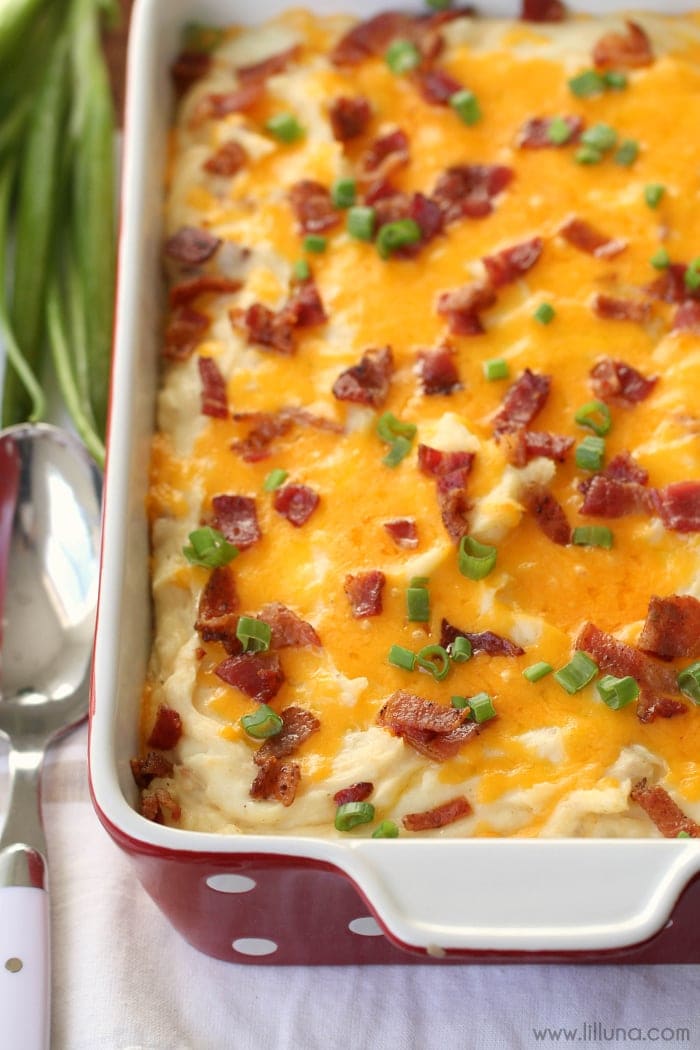 I also love that this recipe can feed up to 10 or 12. It's great if you are having company over and like I mentioned before, it's super easy!!
If you're looking for even more potato side dishes, check out:
Check Out My Other Recipes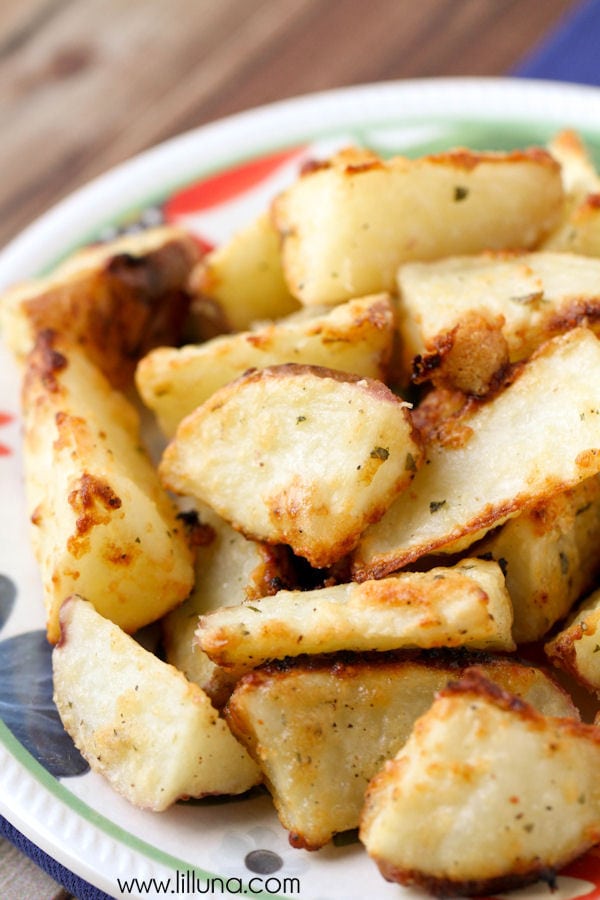 For all Side dish recipes go HERE.
For all recipes go HERE.
For even more great ideas follow me on Facebook – Pinterest – Instagram – Twitter – Periscope.
And get weekly emails with monthly freebies by signing up for the Lil' Luna newsletter. 🙂
ENJOY!
Need more recipes and creative ideas? Sign up and get a FREE copy of my latest ebook!