French Onion Soup is a delicious appetizer that is sure to impress your dinner guests but won't break the bank.
Soup is such a great meal or appetizer to make during the cold winter months. Unfortunately every place I have lived has had a long cold winter. It definitely makes me appreciate any time of the year it's above 50 degrees. But when it's not, I make soup like Creamy Chicken Noodle Soup, Black Bean Soup, or this classic French Onion Soup.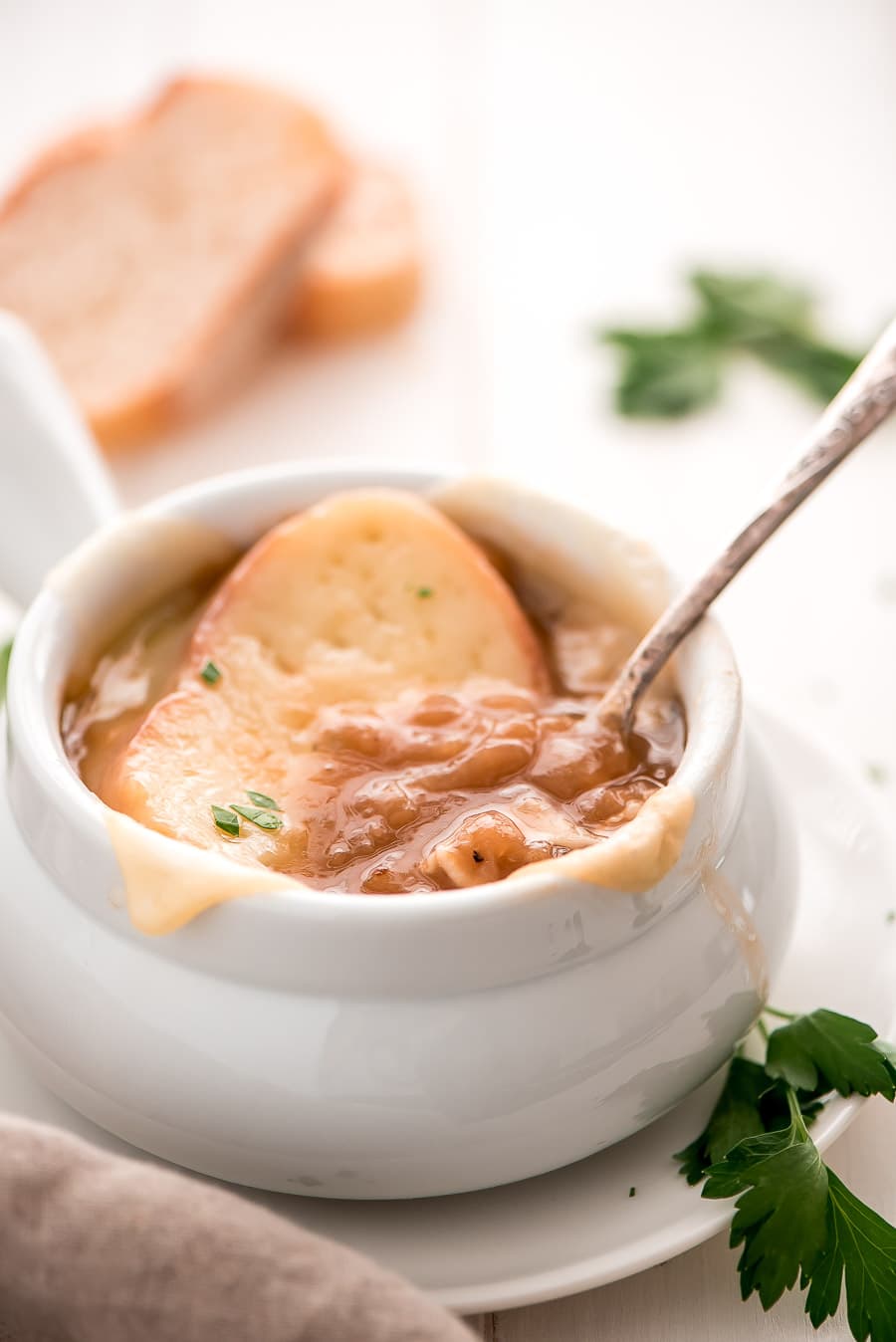 MY OTHER RECIPES
French onion soup is super simple and very inexpensive to make. It's pretty much just onions, butter, beef broth, and then french bread and cheese on top.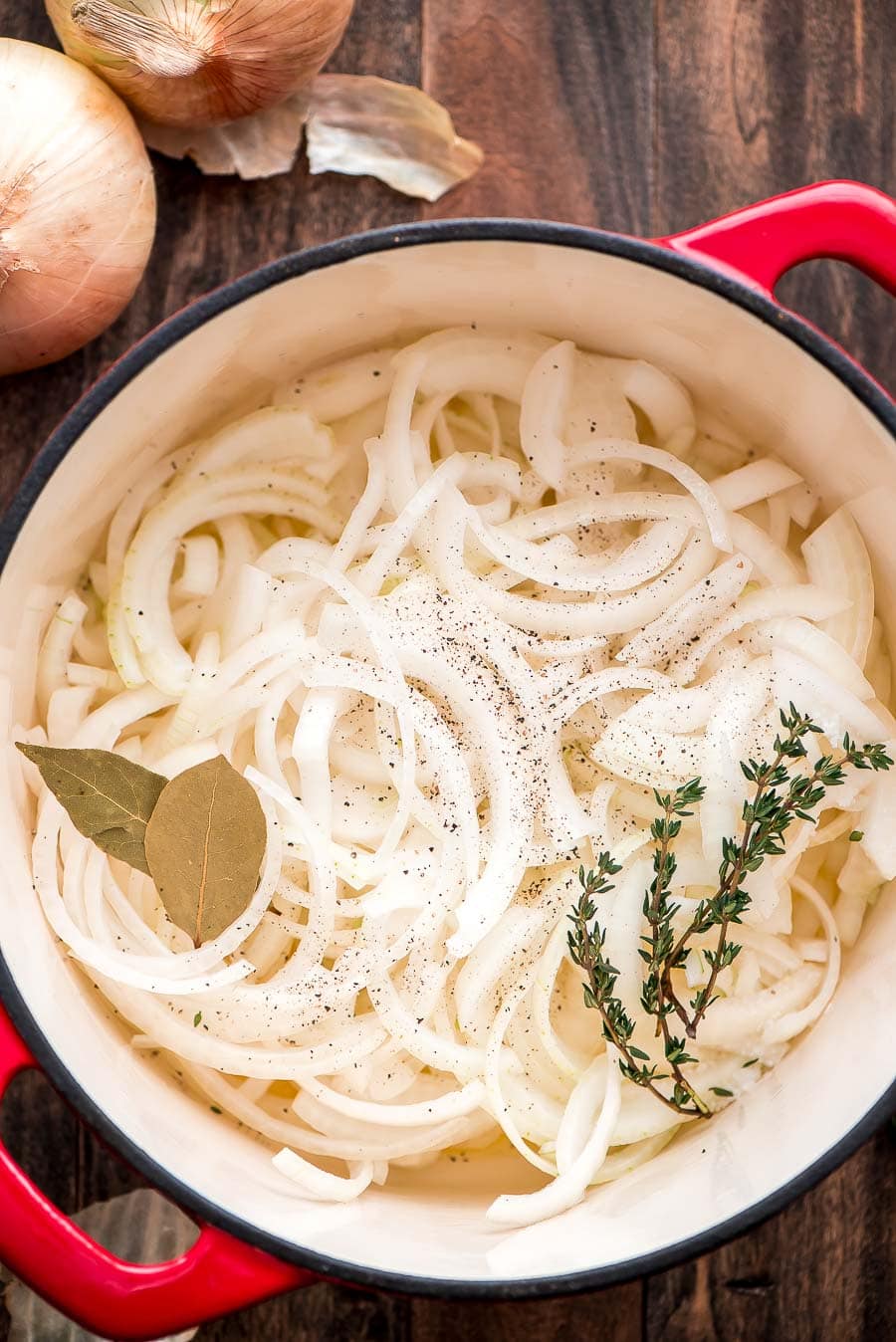 What takes the longest is cooking the onions down. It's important to cook them low and slow, stirring occassionaly at first and then more often as they begin to soften. The onions should be cooked until they are caramelized and dark in color. Kind of inbetween the color of honey and maple syrup.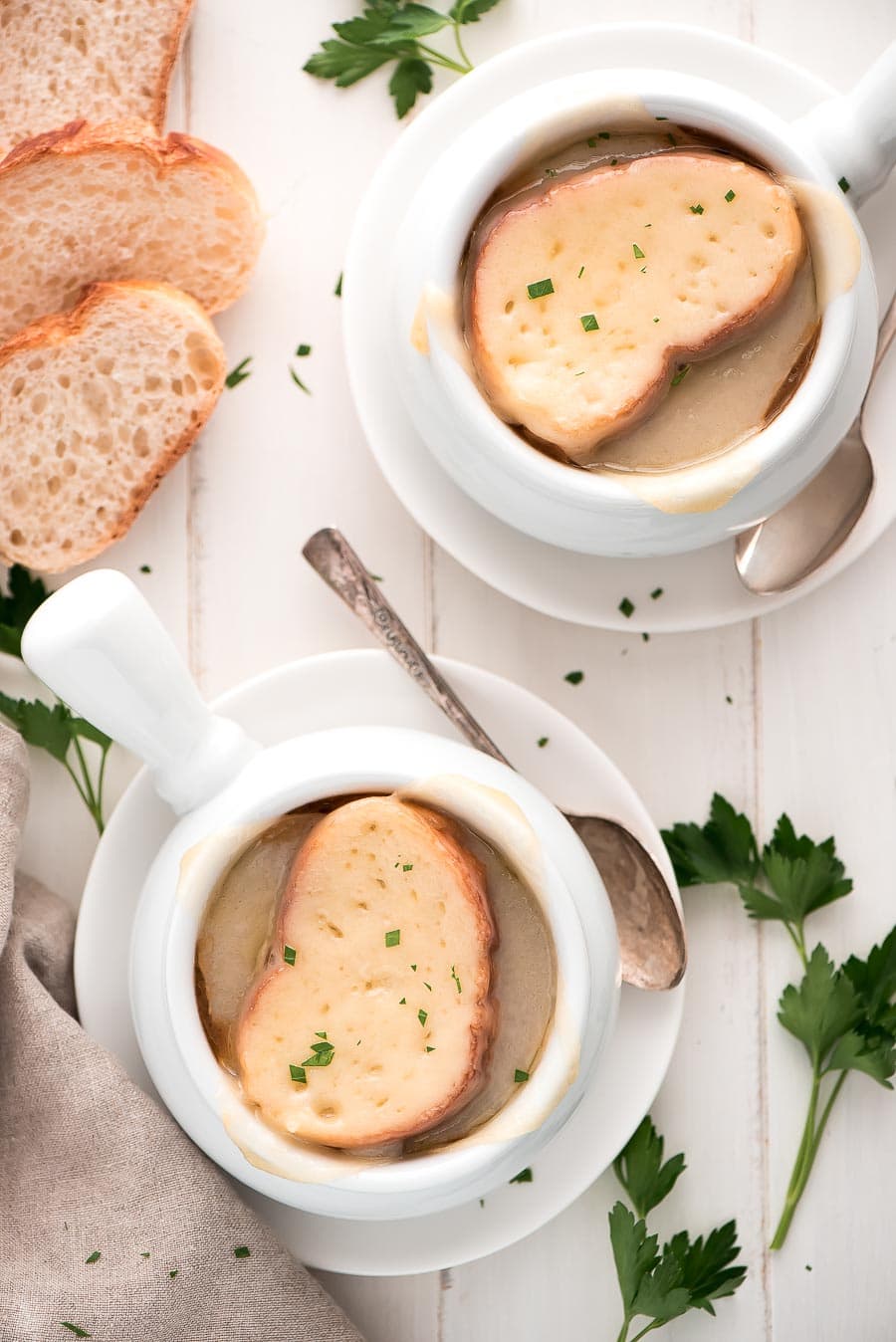 Once the onions have cooked down you add a couple tablespoons flour to slightly thicken the soup. Whenever adding flour to a pan, you want to be sure to cook it for a few minutes or else you'll end up with a raw flour tasting product.After the flour cooks you'll add the beef broth and simmer.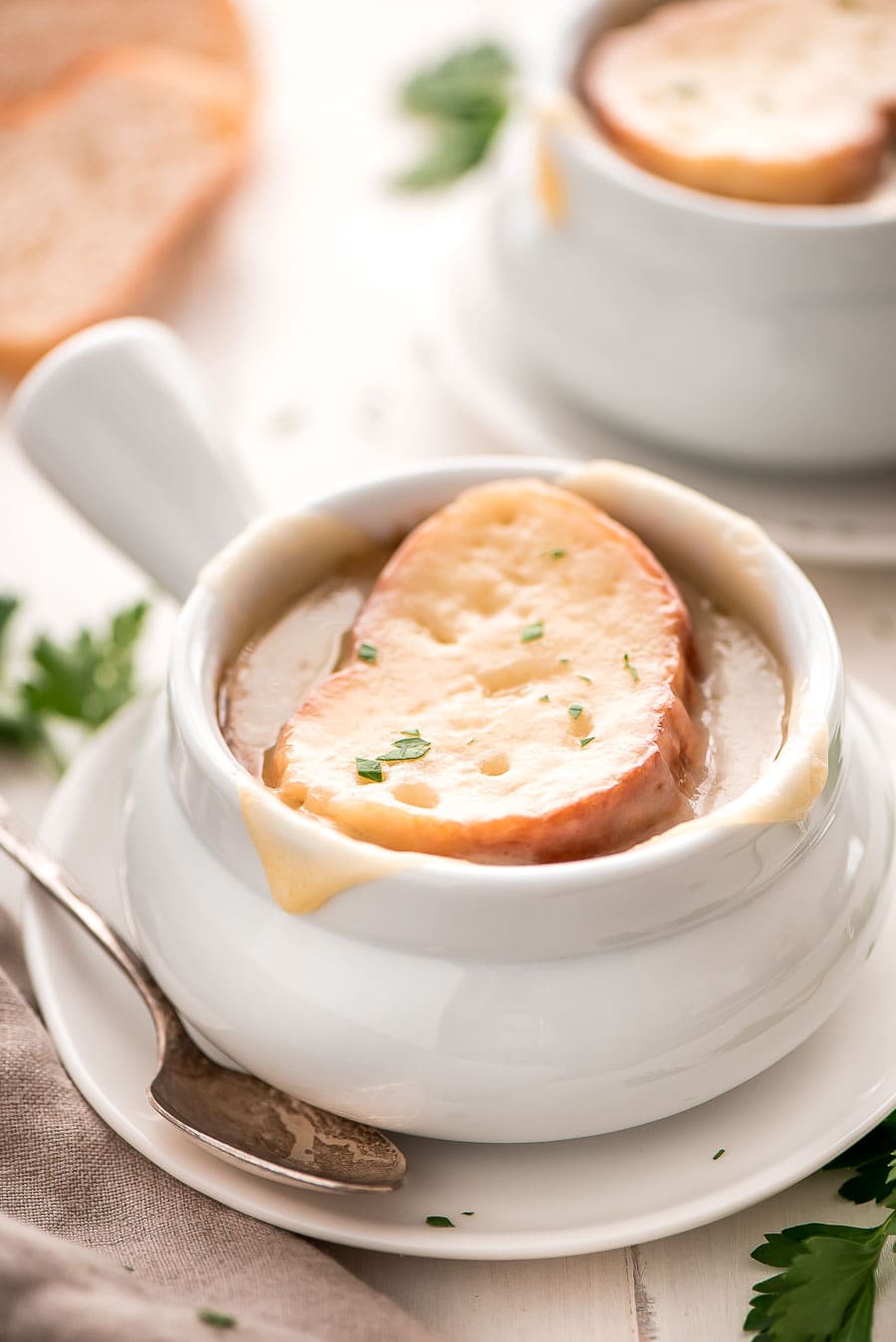 The last step is to place the oven proof bowls (or even mugs) on a baking sheet and then ladle the soup on into the bowls and top with a slice of french bread and cheese. Gruyere cheese is the best for French Onion Soup. It has a great flavor and melts really well. You can find it at the deli counter. Once you have the cheese on, just pop it in the oven and boil until the cheese is melted.
You'll want to put a plate under the bowls when serving because they'll be quite hot and eating this soup can get a little messy. You'll also want to make sure you have napkins near by for any onions or strings of cheese that dribble down your chin. Enjoy!
For more soup recipes, check out:
How to make French Onion Soup:
French Onion Soup
Cook Time
1
hour
5
minutes
Total Time
1
hour
15
minutes
Ingredients
6

tablespoons

butter

4

large

sweet Vidalia onion, sliced thin

2

cloves

garlic

2

bay leaves

2

thyme sprigs

salt & pepper to taste

2

tablespoons

all-purpose flour

2

quarts

beef broth (low sodium)

6

slices

Gruyere cheese

6

slices

French bread

parsley, optional
Instructions
Melt butter in a large pot over medium-low heat. Add the onions, garlic, bay leaves, thyme and salt and pepper. Cook down onions, stirring occasionally until soft and caramelized (about 30-40 minutes). Remove the bay leaves and thyme sprigs.

Sprinkle the onions with flour and cook another 10 minutes to cook the flour.

Add the beef broth and simmer for 10 minutes.

Place oven proof bowls on a large baking sheet and ladle the soup into the bowls. Top each with a slice of bread and cheese. Broil for 2-4 minutes or until cheese is melted. Serve.
—————————————-
I have never tried French Onion soup before, but now I'm dying to try it! Thanks, Melanie! For more great recipes from her, be sure to check out: Garnish & Glaze.
And for another favorite soup to try this winter, check out: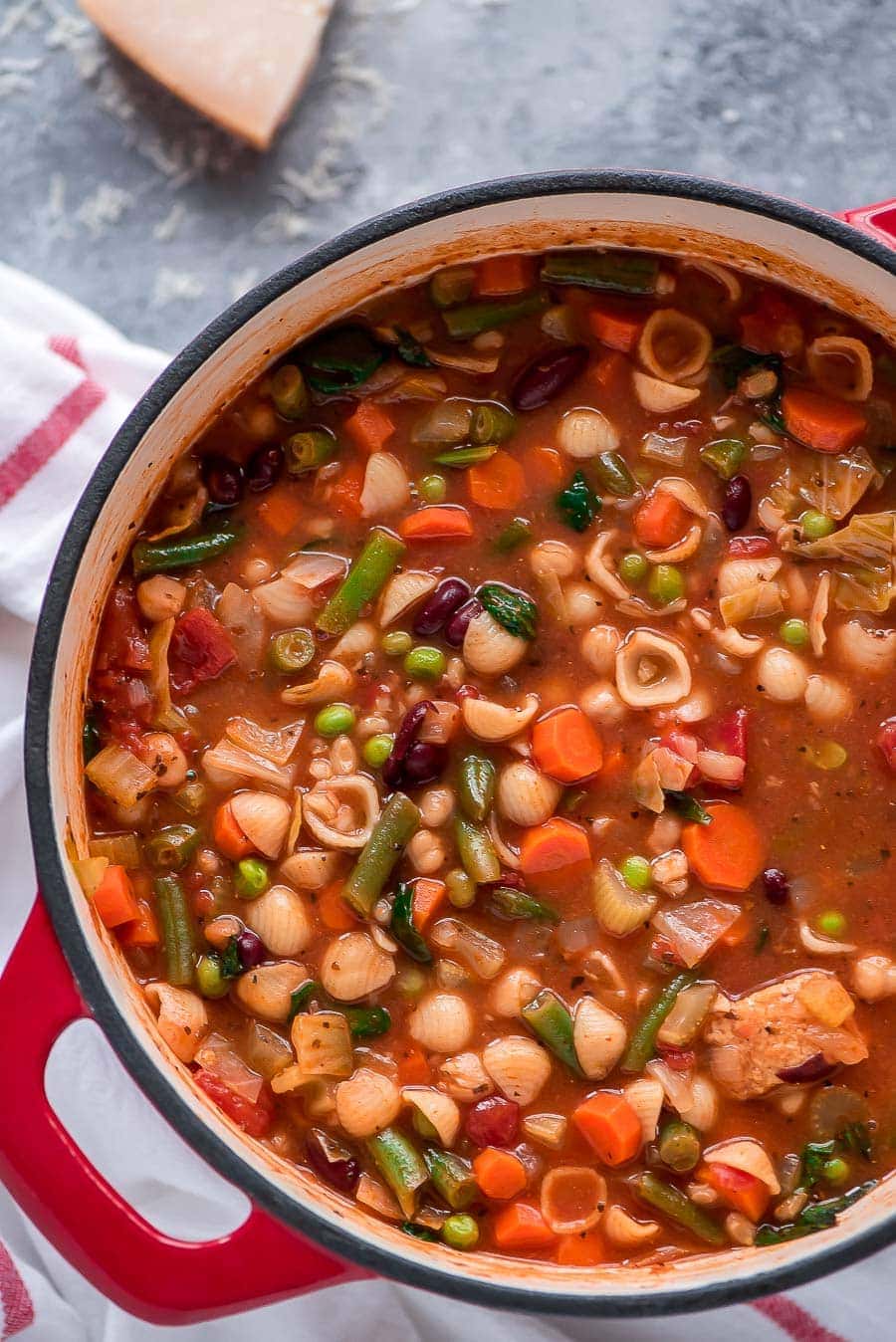 ENJOY!