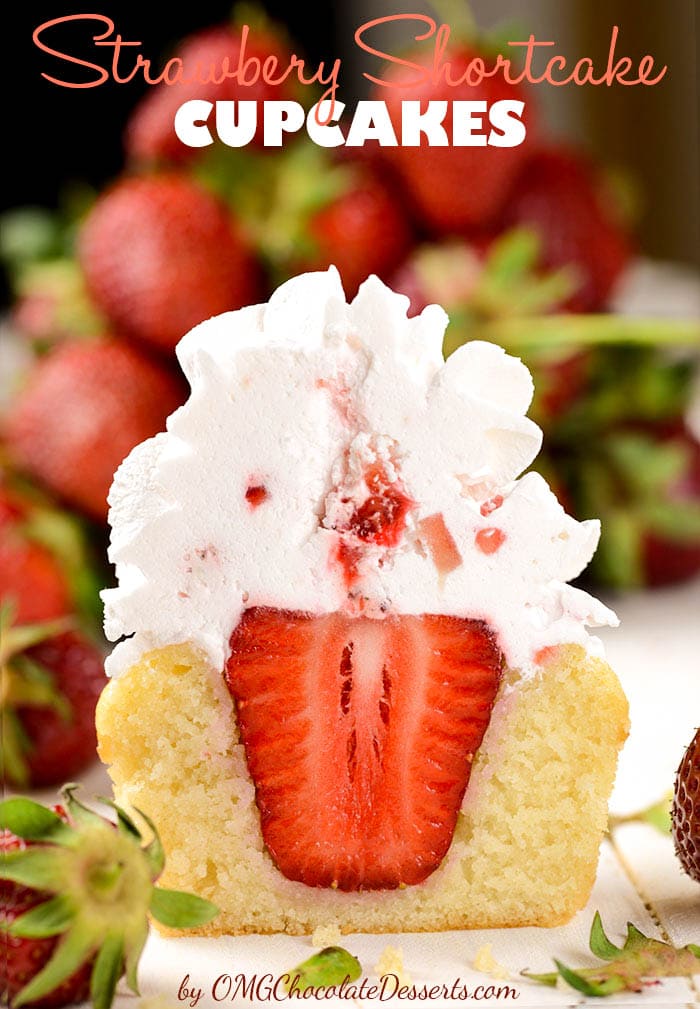 OK, I might be getting a little boring now, but today, we have strawberries on the menu again. I know, last time, when it was my turn, on the menu was Strawberry Pound Cake, but what else can you have on your mind in the end of May and beginning of June but this delicious fruit?
Today I decided to make a little research and very quickly came to the conclusion that the most popular strawberry recipe ever is Strawberry Shortcake. And just went I thought that I had the solution for my next outing on LilLuna, I found that Kristyn already posted a really fantastic recipe two years ago for Cream Filled Strawberry Shortcake.
Hmm, maybe with a little adaptation, I could make something similar but yet still something completely different. Well, of course, everything that can be made in the form of a cake, can be made in the form of a cupcakes. And in a very short time, things were clear. Today's dessert will be Strawberry Shortcake Cupcakes.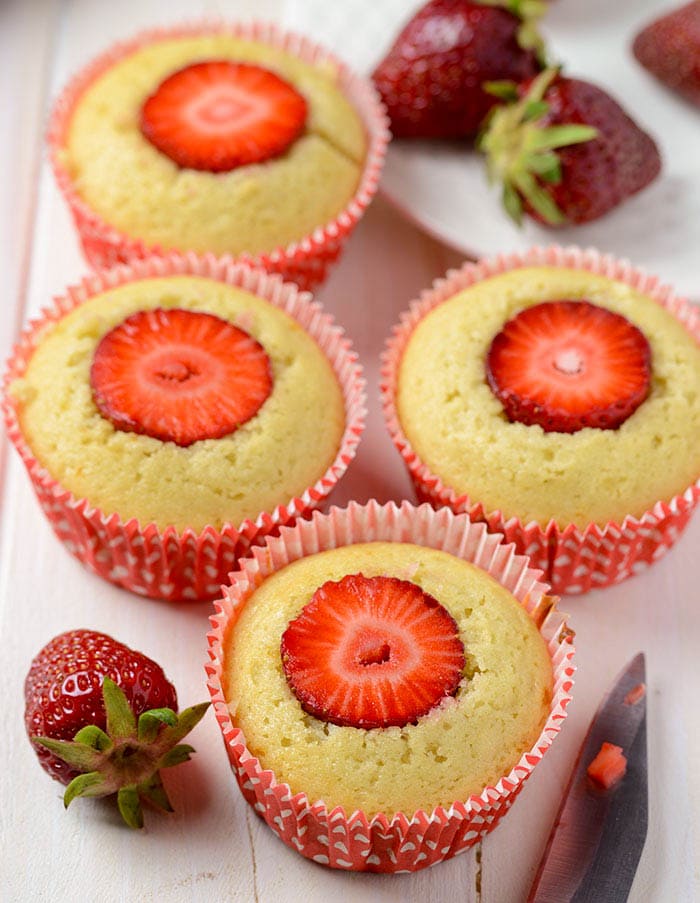 Until now, I found a few versions of this on Pinterest, but to me, the strongest impressions were by the ones that had the whole strawberries in the cake. Now, when things were completely clear, the only thing I had left was to finish what I started.
As for the cake itself, whenever you need it to be the usual vanilla cake, I always go for the beautiful Very Vanilla Cupcake which I found a long time ago on my favorite blog Sally Baking Addiction. After you bake these tasty cupcakes, you need to leave them to cool off a while, and then make holes and place the strawberries inside. Now, when the base is ready, frosting will really not be a problem. Just mix in the heavy whipping cream, put in it the small pieces of strawberry that you have cut and choose the way you will frost the cupcakes. Even if you are not a fan of doing it, you can simply put the whip cream over the cake and your Strawberry Shortcake Cupcakes will be ready for serving.
And if you want to impress a guest, my proposition is that you thrust a finely cut strawberry into the frosting. Whatever, one thing is sure for this dessert – there is no person that likes desserts that will stay indifferent after having it. Trust me!!!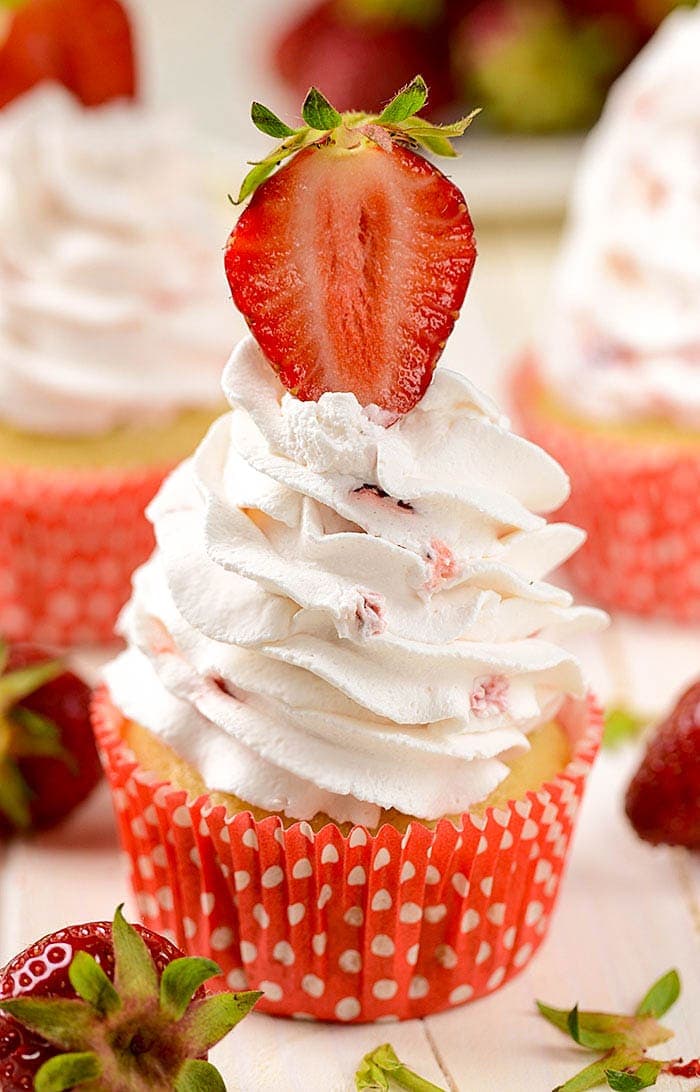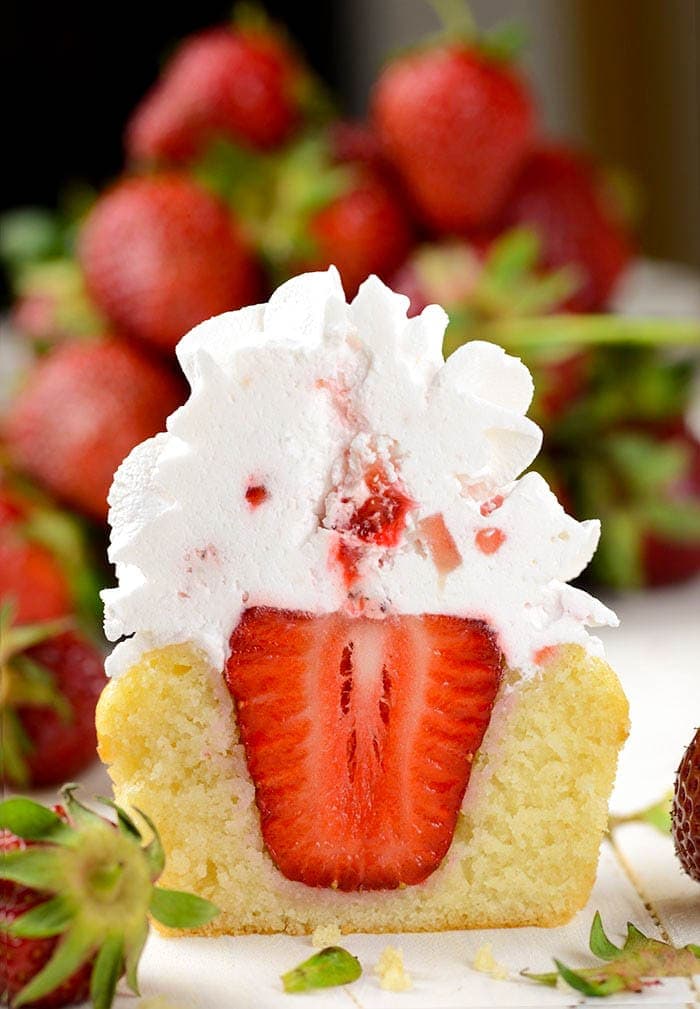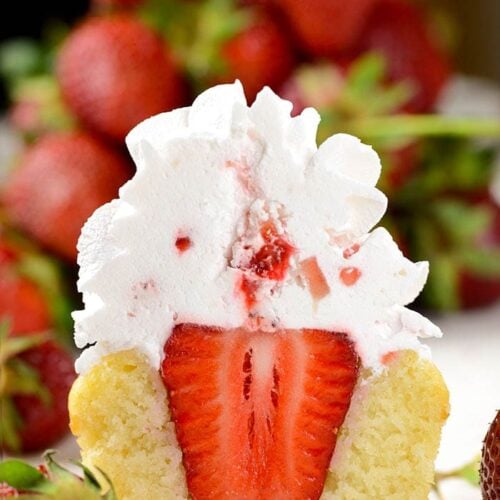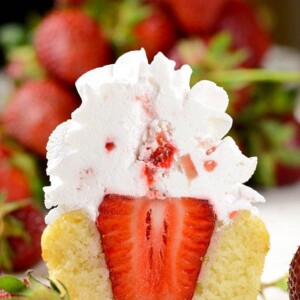 Strawberry Shortcake Cupcakes Recipe
Strawberry Shortcake Cupcakes - famous strawberry cake in form of delicious cupcakes. Cupcakes have a strawberry in the middle, topped with homemade whipped topping and one more strawberry.
Ingredients
Cupcakes
1 2/3

cups

all purpose flour

1/2

tsp

baking powder

1/4

tsp

baking soda

1/2

tsp

salt

1/2

cup

unsalted butter

melted

1

cup

sugar

2

egg whites

3/4

cup

milk

1/4

cup

Greek yogurt

plain

2

tsp

vanilla extract

12

medium

strawberries

hulled
Whipped Cream Frosting
1 1/2

cup

heavy whipping cream

1 1/2

tsp

vanilla

3-4

tbsp

powdered sugar

or more to taste

1/2

cup

strawberries

chopped into really small pieces (or it will get stuck in the piping tip)
Instructions
Preheat oven to 350F, line standard cupcake pan with 12 liners and set aside.

In a bowl combine flour, baking powder, baking soda and salt; set aside.

Melt butter in the microwave, or if you don't have microwave do it in a small sauce pan over low heat and set aside to cool.

Transfer melted bitter to a large bowl and whisk in sugar (it will be grainy), then whisk in egg whites, milk, yogurt and vanilla. Whisk by hand or use electric mixer on a low speed.

Slowly add dry ingredients into egg mixture and mix on low speed until combined (the batter should be thick). Divide the batter into 12 cupcake liner (it will be about ¾ full) and bake 20 minutes (until the toothpick inserted in the center comes out clean). Let them cool in the pan for 10 minutes then transfer to a rack to cool completely.

With a sharp knife hollow out the center of the cupcake and insert the strawberry inside.

To make the frosting in a large bowl beat the heavy cream until soft peaks form, then add powdered sugar and vanilla and continue mixing on high speed until stiff peaks form. Stir in chopped strawberries and pipe onto cooled cupcakes. Store in the fridge. Garnish with strawberries before serving.
Vera these look amazing!! I LOVE the whole strawberry inside the cupcake. I need to try this recipe soon!
For more amazing recipes from Vera, head on over to OMG Chocolate Desserts.
For more delicious cupcakes, check out these recipes:
For more strawberry desserts, try: