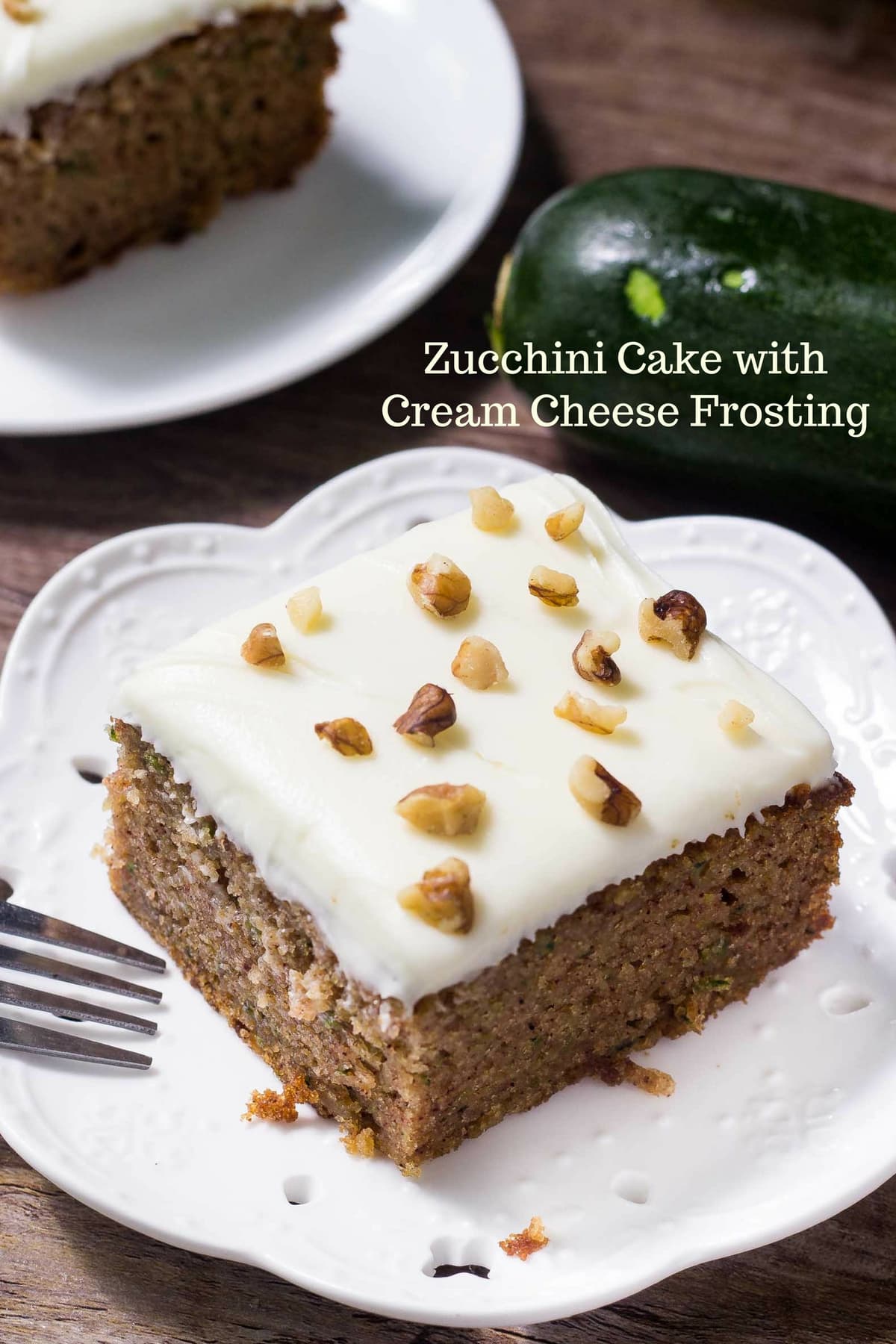 If you like cake that's perfectly moist, filled with flavor, and topped with cream cheese frosting – then this zucchini cake is definitely the recipe for you. It's my favorite way to use fresh zucchini, and it's definitely a cake that every baker should have in their recipe book. (PS – it's Fiona stopping in from Just So Tasty).
Zucchini cake is one of those wonderful desserts that feels rustic, comforting & home-y all at the same time. I like to think of it as carrot cake's delicious cousin. And if you like spice cakes, then you'll definitely love this recipe too.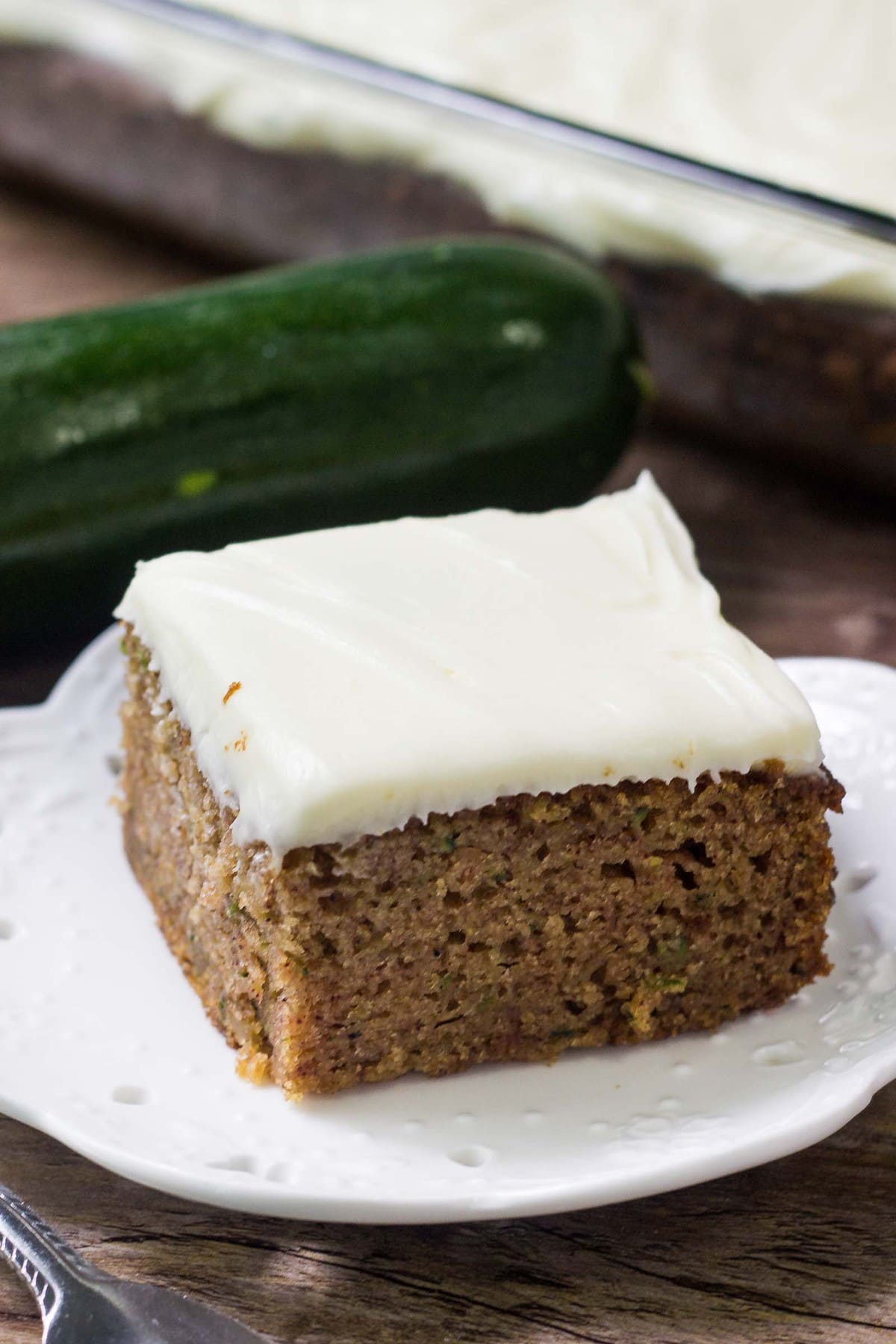 MY OTHER RECIPES
As a kid, I hated the idea of putting vegetables in desserts. I thought my parents were trying to secretly force me into being healthy – so on principle I didn't like zucchini cake.
But luckily I came to my senses and realized just how delicious it is.
I love that zucchini cake is packed with flavor and perfectly moist. The flavor comes from a combination of cinnamon, a little nutmeg and a hint of ginger – then it has a delicious caramel undertone because we're using brown sugar. The grated zucchini makes the cake extremely moist with a super soft cake crumb.
You can also add chopped walnuts or raisins to zucchini cake – but I'm more of a plain Jane, so I left them out.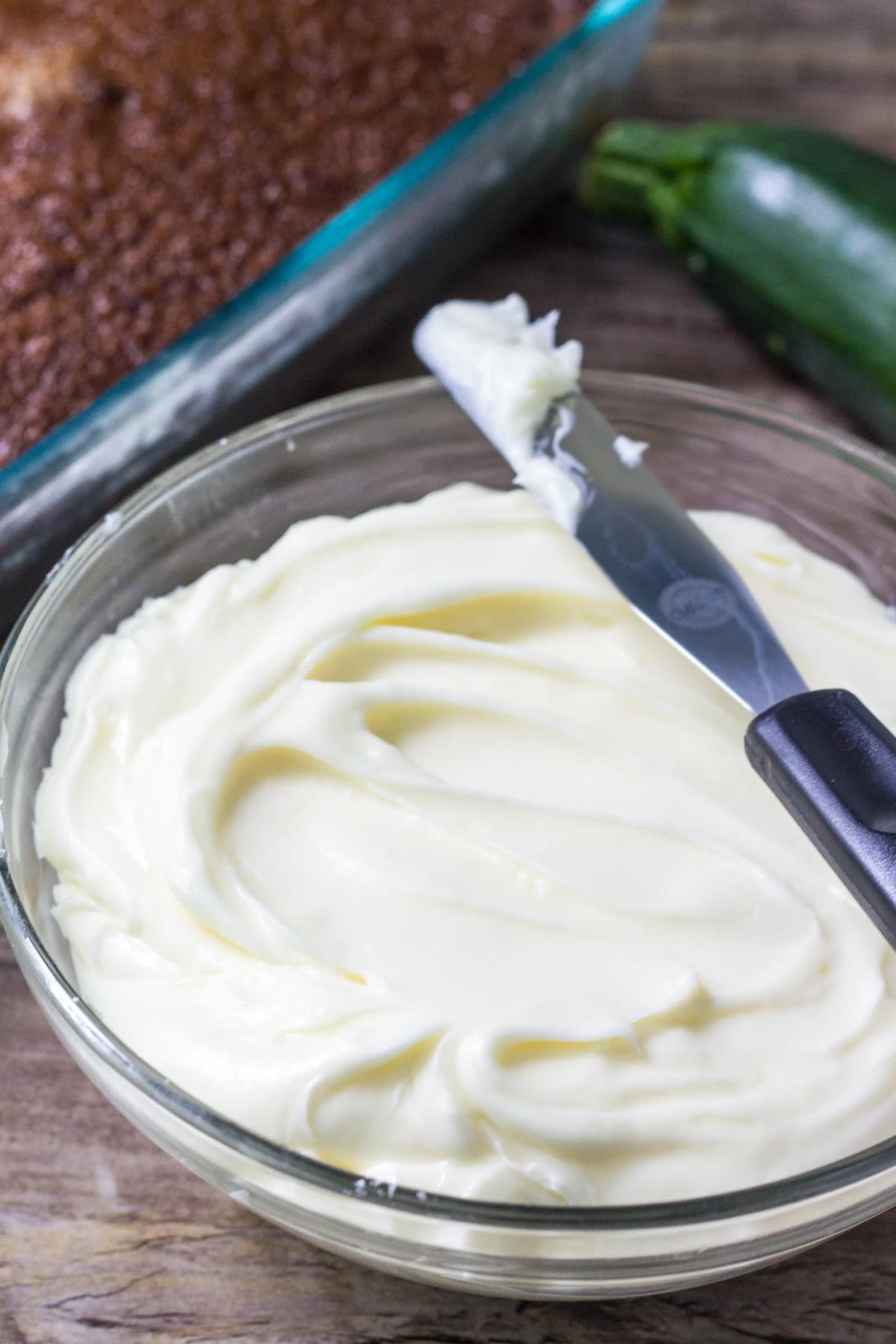 Then after the cake is baked and cooled we're topping it with cream cheese frosting. I love how the tangy frosting isn't too sweet. It's smooth, creamy & pairs perfectly with the cake flavor. My only hint for making cream cheese frosting is to make sure your butter and cream cheese are soft before getting started.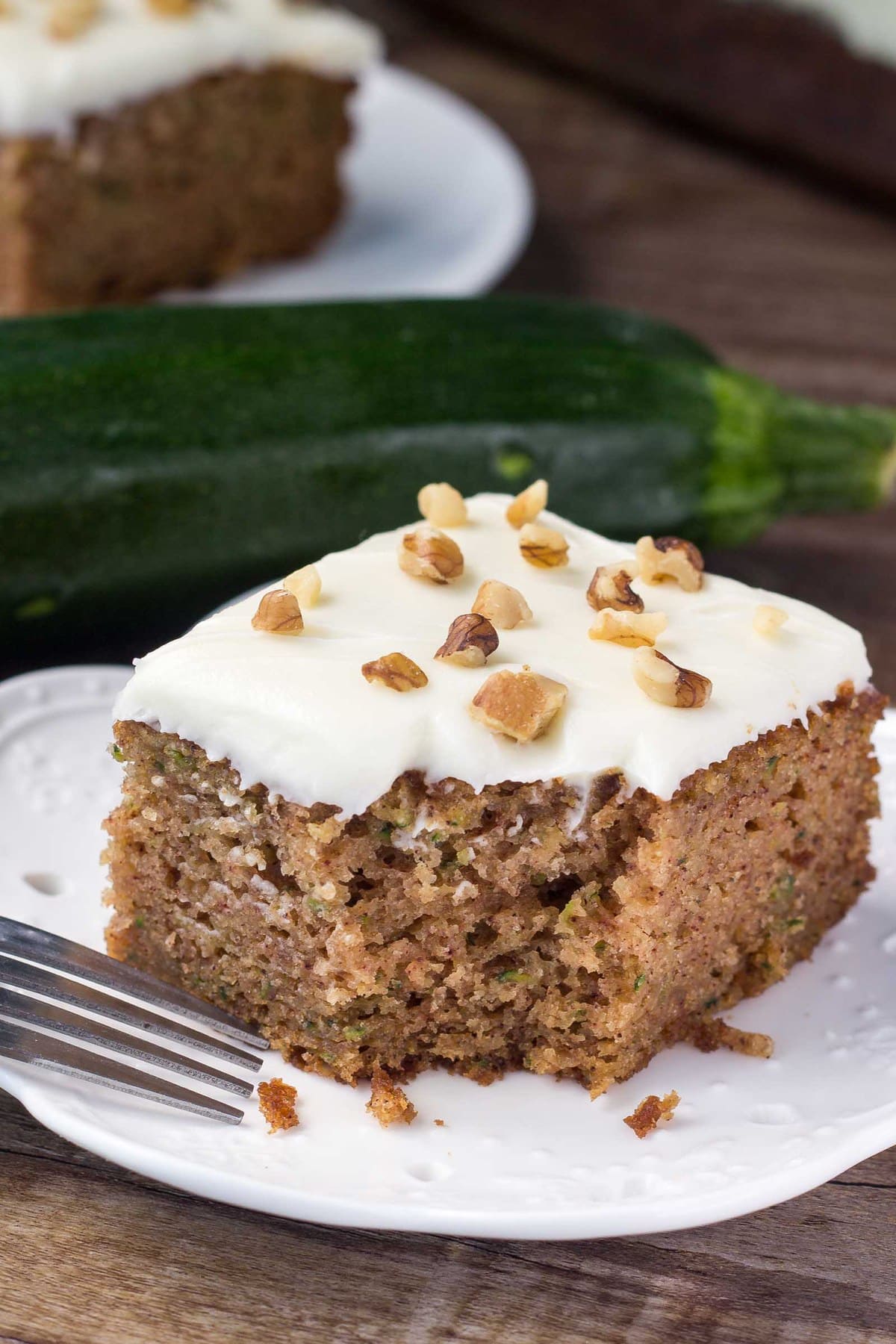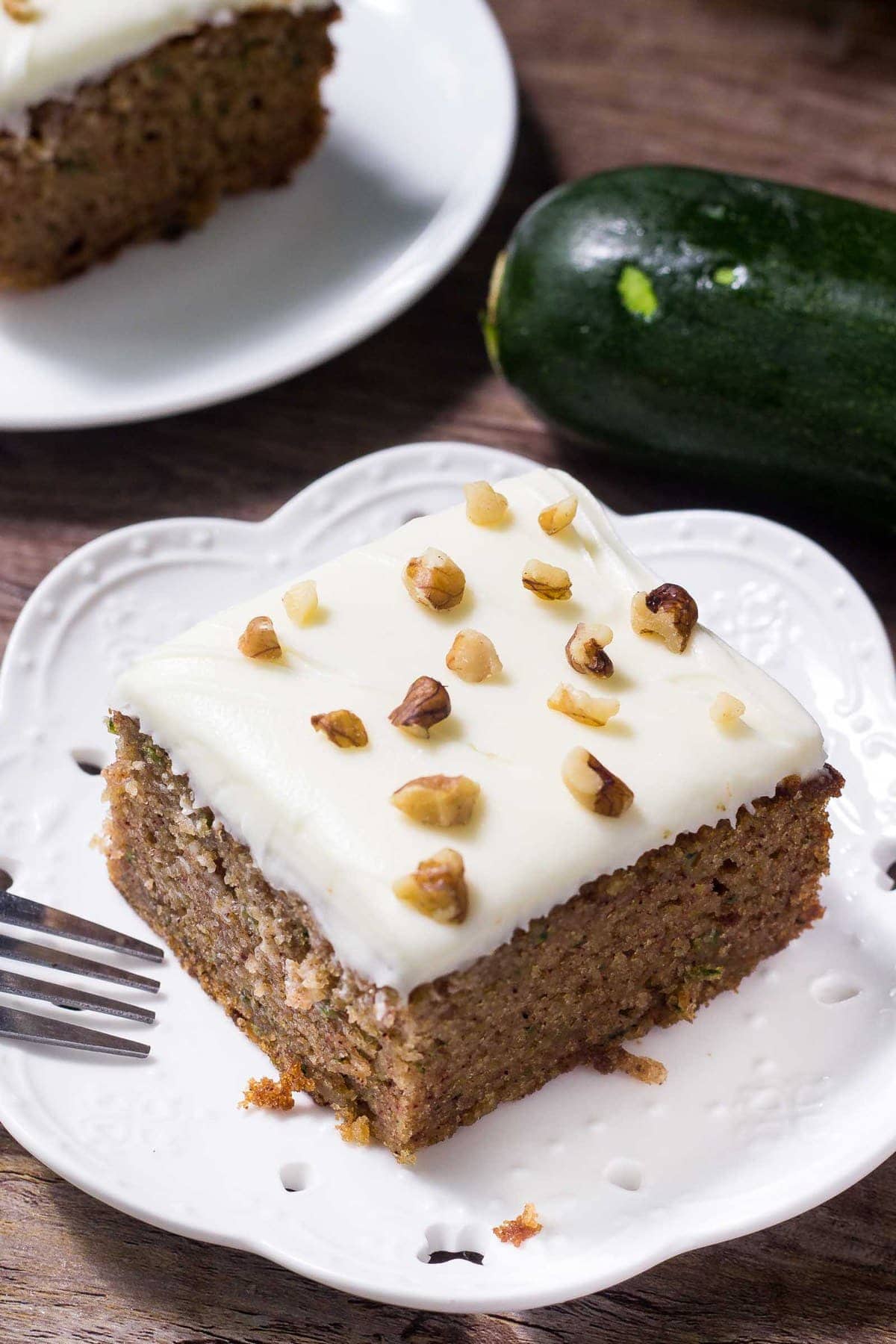 I think zucchini cake with cream cheese frosting is always a favorite. And if you're looking for a great way to use all the zucchini that's coming into season then this recipe is for you!
Zucchini Cake:
Zucchini Cake with Cream Cheese Frosting
This zucchini cake with cream cheese frosting is moist, filled with spices and the perfect way use up zucchini. Topped with fluffy cream cheese frosting.
Ingredients
For the Zucchini Cake
2 cups all purpose flour
2 teaspoons baking powder
1 teaspoon baking soda
¼ teaspoon salt
2 teaspoons cinnamon
½ teaspoon ground ginger
¼ teaspoon ground nutmeg
⅔ cup vegetable oil
1 cup white sugar
¾ cup brown sugar, lightly packed
2 teaspoons vanilla extract
3 large eggs
¼ cup sour cream, room temperature
2 cups shredded zucchini
For the Cream Cheese Frosting
8 oz cream cheese, well softened
¼ cup unsalted butter, well softened
3 cups powdered sugar
1 teaspoon vanilla extract
Instructions
For the Zucchini Cake
Preheat the oven to 350F degrees. Butter and flour a 9x13 inch baking pan.
In a large bowl sift together the flour, baking powder, baking soda, salt, cinnamon, nutmeg & cloves.
In a separate large bowl beat together the oil, sugars, vanilla extract & eggs until well blended. Then Turn off the mixer and stir in the sour cream and shredded zucchini.
With the mixer on low speed, slowly beat in flour mixture until combined. Turn off the mixer and scrape down the sides of the bowl as necessary.
Pour the batter into the prepared pan and bake for 40-45 minutes until an inserted toothpick comes out clean. Oven times vary, so I'd recommend checking first at 35 minutes.
For the Cream Cheese Frosting
Once the cake is cooled, make the frosting. (You can speed this up by cooling the cake in the fridge).
In a large bowl beat together the butter and cream cheese until well combined. Then slowly beat in the powdered sugar about 1 cup at a time, followed by the vanilla.
Then frost the cake using a flat edge knife.
Notes
*Leftovers can be stored in the fridge in an airtight container for 3-5 days.
**Unfrosted cake can be wrapped in plastic wrap and frozen. Then thaw in the fridge overnight.
I love zucchini cake and can't wait to try this! Thank you Fiona for sharing this amazing recipe. Go check out more delicious recipes from Fiona at 
Just So Tasty. 
And, for another yummy cake recipe, check out: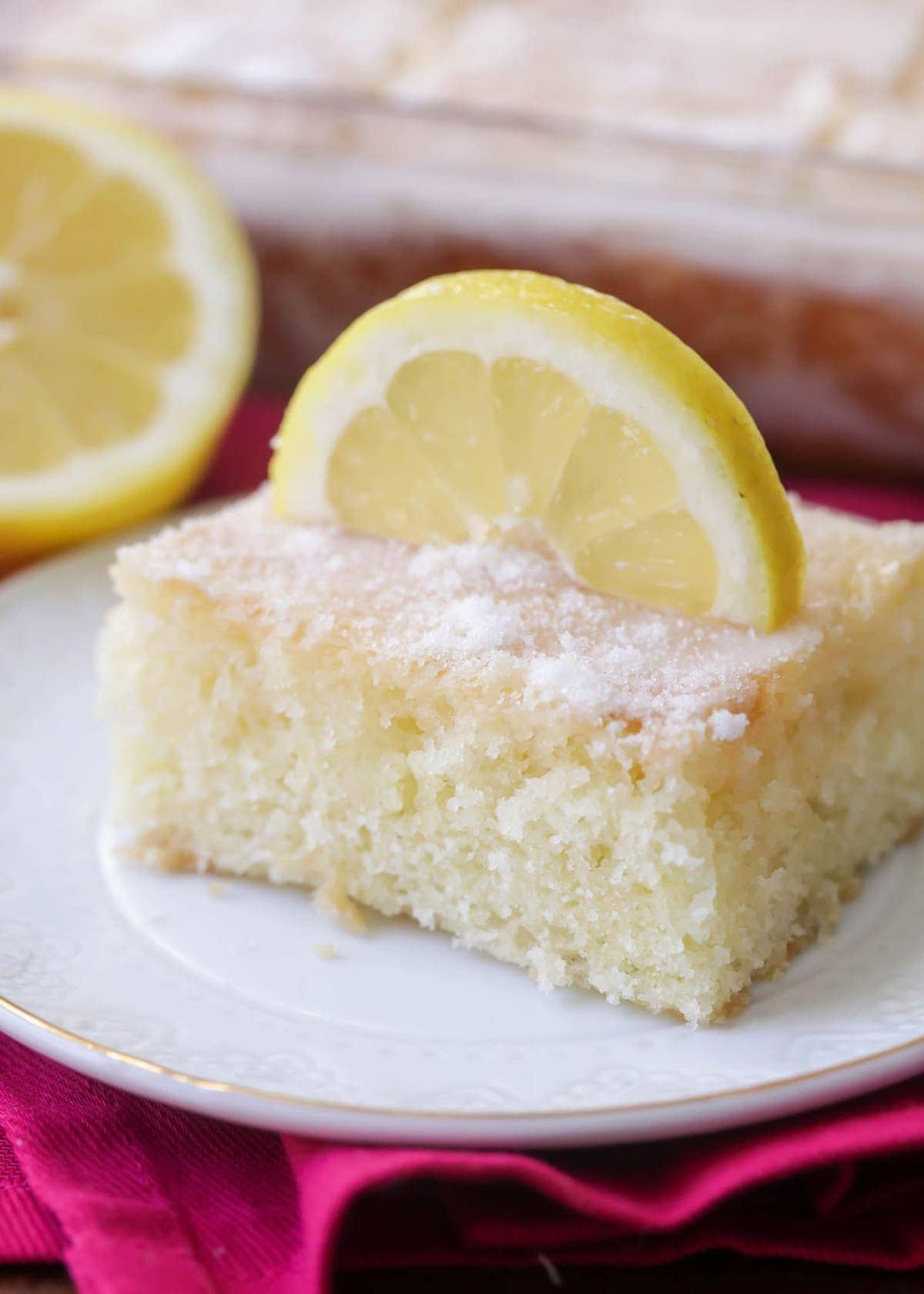 For more desserts, check out:
ENJOY!!