It's one of our favorite treats to pick up at the Happiest Place on Earth – Churro Toffee! These toffee squares are dipped in white chocolate and covered in cinnamon and sugar.
We love all things cinnamon + sugar AND Disney!! If you do too, you'll love our churros recipe and churro funnel cake too!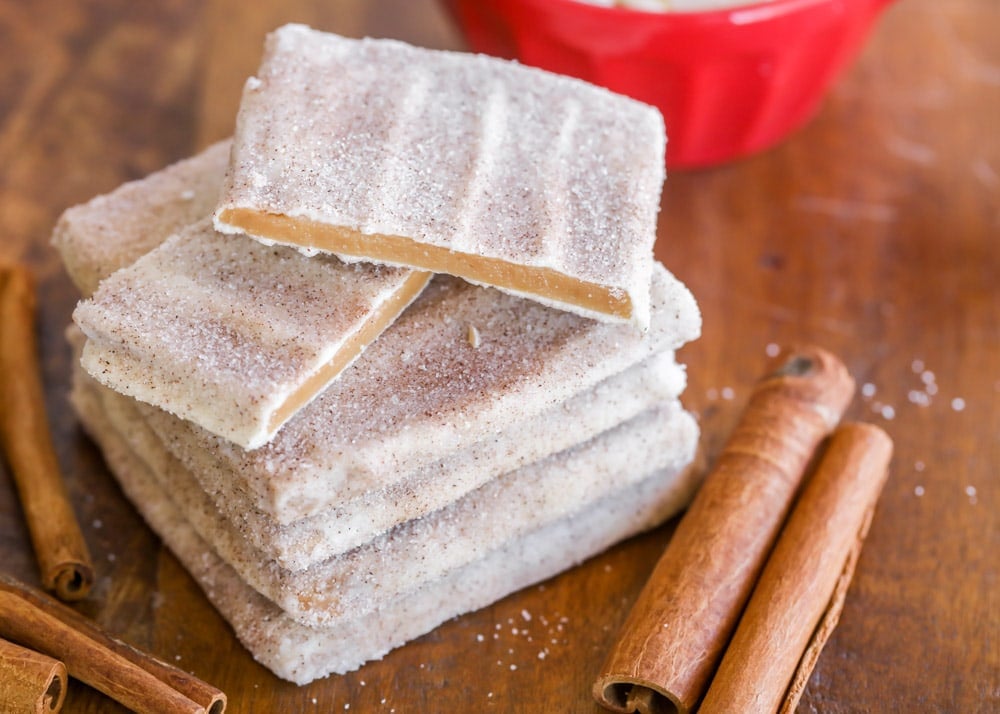 Disney's Famous Toffee!!
We all know that Disney isn't known just for their rides and entertainment. They're also known for all their yummy food!
In fact, Disney makes it a point to have the best food and to change it up based on seasons and events to make it out of this world. Not too long ago they introduced a new treat at California Adventure's Trolley Treats called Churro Toffee. This toffee is cut in squares and dipped in white chocolate and covered in cinnamon and sugar.
Lucky for all of us, it is now available at Disneyland and Downtown Disney. But, even better is if you can't make it to the parks soon, you can now make this treat AT HOME!! Yes, using a recipe adapted from Picky Palate, we have re-created this goodness and I'm happy to report that it tastes just like Disney's version!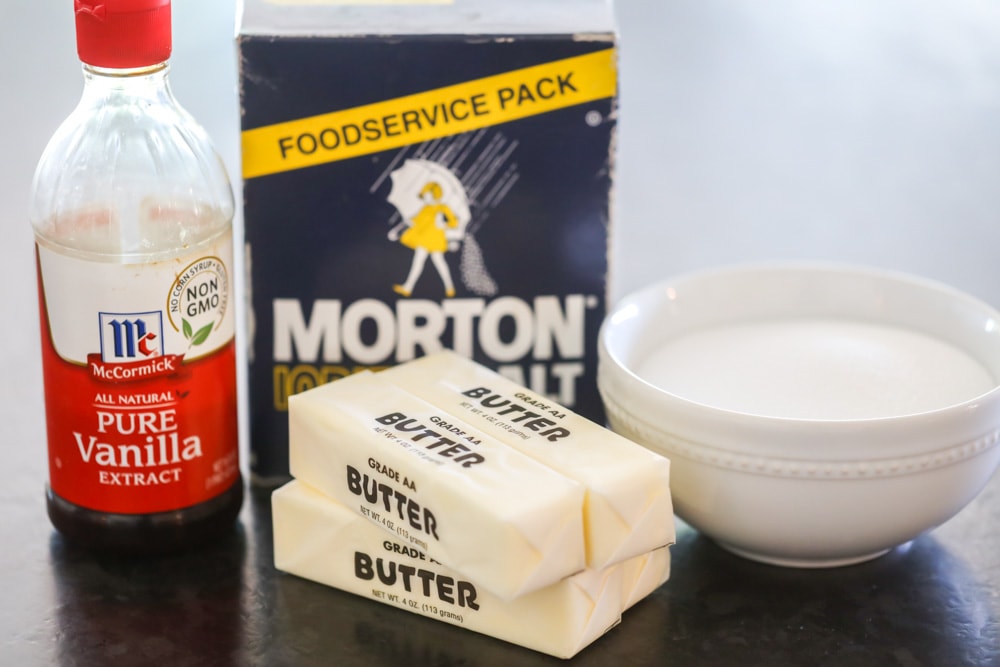 The Ingredients
This recipe doesn't require too many ingredients, but like most toffee, requires a bit of butter and sugar.
Here is what you'll need to make this treat:
2 cups salted butter

2 cups sugar
2 teaspoons vanilla
1 cup sugar
2 tablespoons cinnamon
2 packages Ghirardelli white melting wafers (10 oz. each)
We also recommend having a candy thermometer and a large heavy bottom pot to make the toffee in. Other supplies include parchment paper and a jelly roll pan.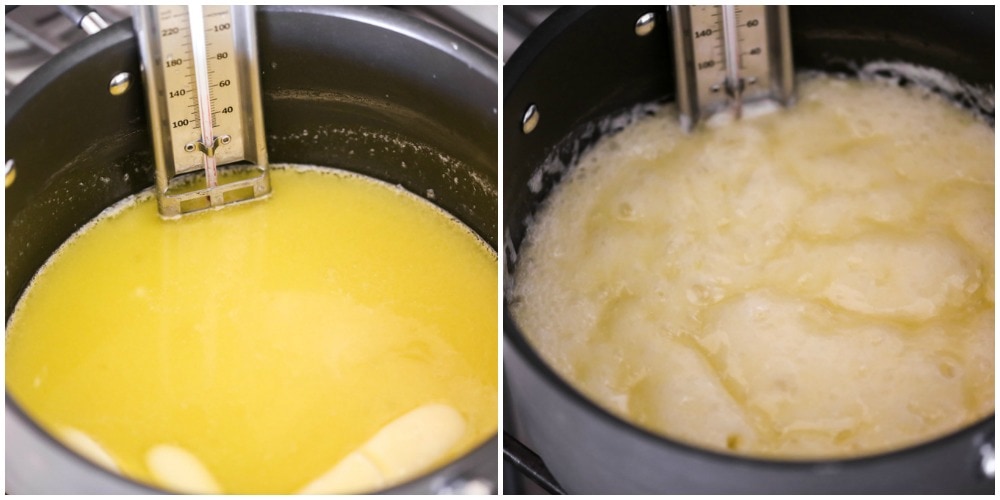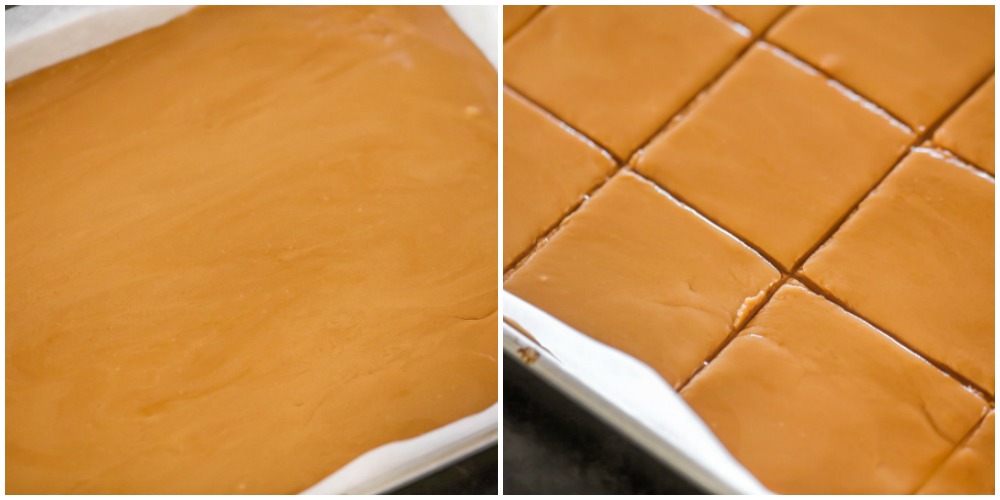 How to Make Churro Toffee
Making the toffee is simple, but there are several steps as well as parts where you need to work quick, so keep that in mind. We do recommend making sure you have all the ingredients and supplies prepped and ready so you don't have to grab things when time is of the essence. 😉
PREP. Line baking sheet/jelly roll pan with parchment paper. Also, prepare cinnamon sugar mixture by mixing together and placing in a bowl. Set aside. We also recommend placing a few pieces of parchment paper near cinnamon and sugar to put toffee together.
TOFFEE. Add butter, sugar and vanilla to a large sauce pan (with a thick bottom) and melt over medium heat, stirring until the butter is melted and ingredients are combined. Add your candy thermometer to the pot and continue cooking mixture until it becomes a golden brown color (or about 285 degrees). NOTE: Be sure to stir continuously and do not remove from heat to keep toffee from separating. 
ACT FAST. This is where need to be speedy since toffee sets up fast. Once the toffee has reached that color and temp (about 15 minutes or so), pour into the prepared sheet/pan. Let set for a minute or so, and then cut into squares (about 4 inches by 4 inches) like Disneyland does using a plastic knife. Make sure that cuts go through. Let set for about 20 minutes (you can speed up the process by placing in the fridge).
CLEAN UP. Blot off any excess butter and oils on the toffee with a paper towel and place on a new piece of parchment paper.
CHOCOLATE. Melt chocolate by placing wafers in a small pot, stirring constantly on LOW heat until melted and smooth.
DIP. Hold square pieces by the edge and spoon melted chocolate over it, tapping off excess. 
CINNAMON + SUGAR. Place over bowl of cinnamon and sugar and spoon the mixture all over the toffee and place onto a new sheet of parchment paper. Let set before packaging or eating.
RECIPE TIPS:
CUTTING: If you don't want to mess with making them perfectly square like the ones at Disney you can simply let the toffee chill in the fridge and then break/cut it into pieces (after adding the white chocolate, and cinnamon + sugar on top). You'll end up with different sizes and shapes, but they'll be just as delicious. Once broken dip in chocolate and sprinkle with cinnamon mix. 
THE RIGHT TEMP: Using a candy thermometer makes this toffee easy to whip up. All you have to do is reach 285 degrees F for a soft toffee or 300 degrees F for a hard crack toffee. If you don't have a candy thermometer you'll just have to do a water test to make sure you reach the correct stage. It's very important that you get the right temperature. Too low and the toffee won't set. Too high and the toffee will burn. Have a bowl of COLD water next to the stove. When you think the toffee is ready use a spoon to drop a dollop of toffee into the cold water.
Soft Crack like taffy and butterscotch: Bubbles on top will become smaller, thicker and close together. Very little water left in the syrup. When the toffee drops into the water it should separate into threads. When you bend the threads they should be stiff but pliable.

Hard crack like brittles and suckers: Almost no water left in the syrup. When a dollop is dropped into water it will form strands. When you bend the stands they should break.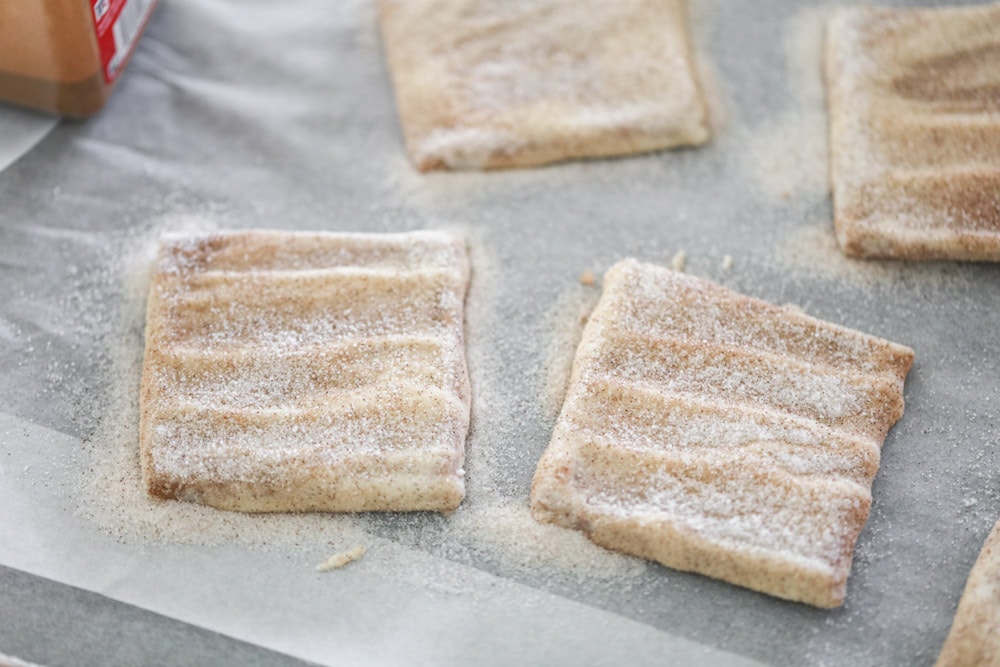 How to Store + More Churro Goodness!
Storage: Toffee will stay good for 1-2 weeks when stored in an airtight container. Be sure to separate layers with wax or parchment paper. 
Other Churro Treats: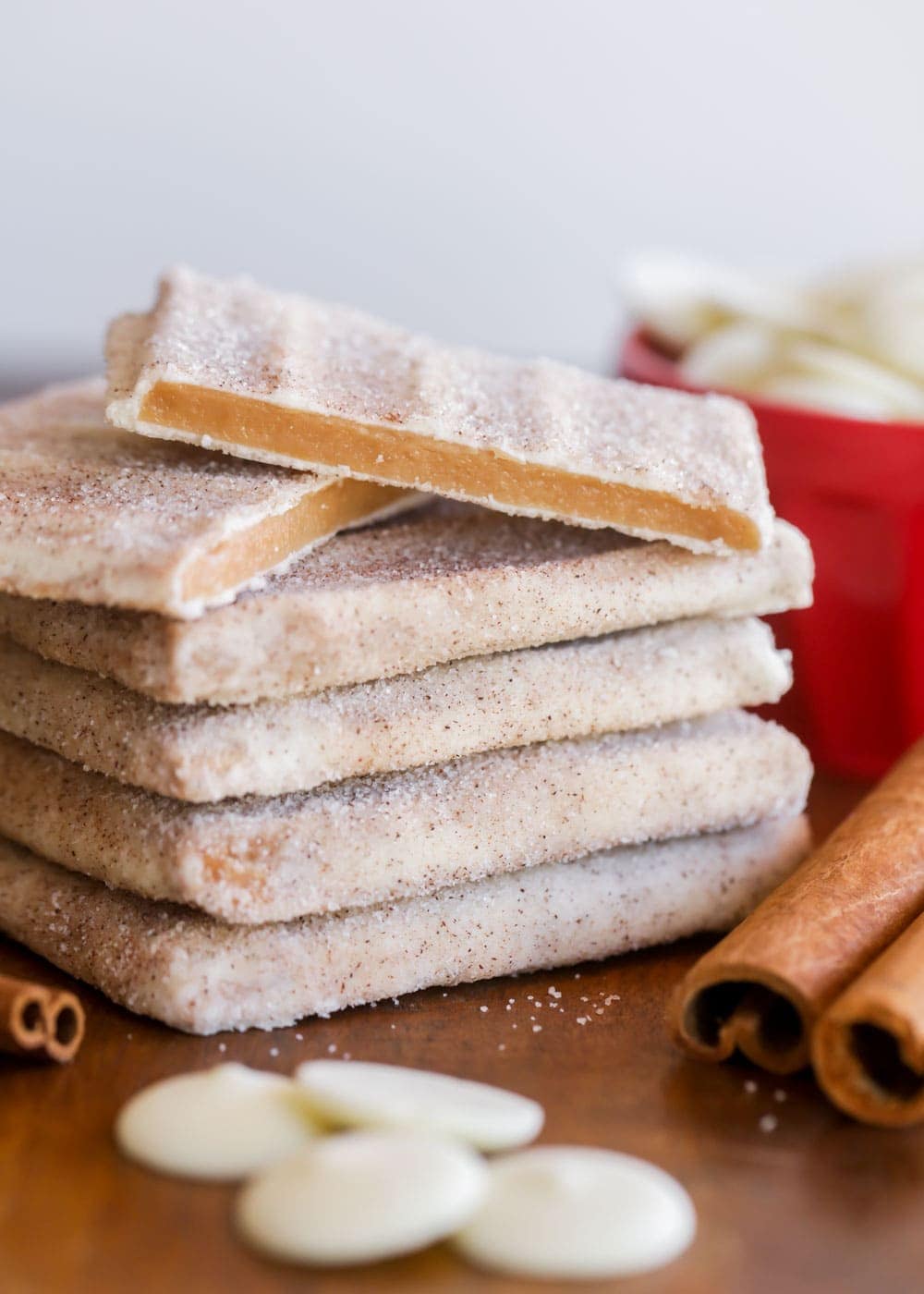 For more Disney Recipes
Churro Toffee Recipe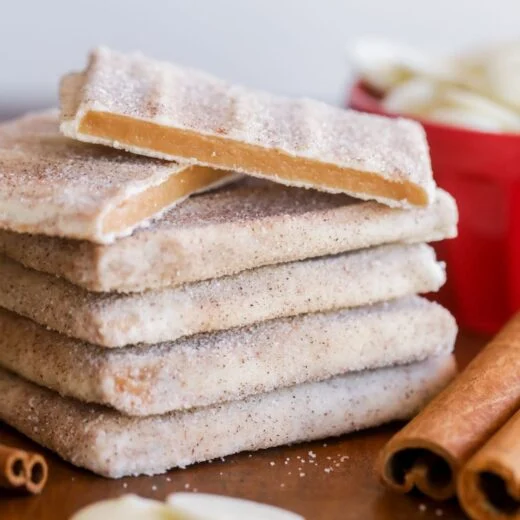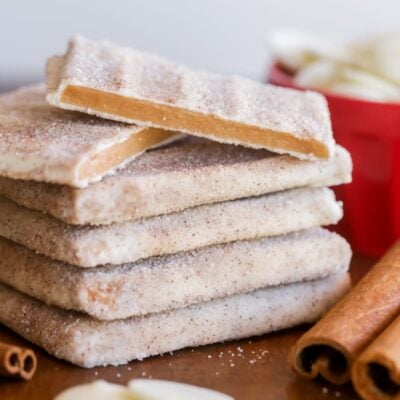 It's one of our favorite treats to pick up at the Happiest Place on Earth - Churro Toffee! These toffee squares are dipped in white chocolate and covered in cinnamon and sugar.
Instructions
Prep your work space:
Place a piece of parchment paper onto a baking/jelly roll sheet.

Add 1 cup sugar and 2 tbsp cinnamon to a bowl, mix and set aside.

Place a few pieces of parchment paper near the bowl with the cinnamon mixture.
Toffee
Using a large, thick bottomed, saucepan over medium heat add the butter, sugar, and vanilla. Stir until the butter has melted and all of the ingredients are combined.

Insert a candy thermometer to the bottom of the mixture. Stir constantly until the thermometer reaches 285°F. The candy will become a golden brown color. This will take about 15 minutes.

Once the toffee has reached a golden brown color and is 285°F pour the entire pan into the parchment lined sheet.

Let stand for a few minutes to set and cool just a bit.

Cut the toffee into squares. Disneyland cuts their toffee 4 inches x 4 inches. Using a plastic knife helps and be sure that you cut through the entire piece of toffee.

Allow the toffee to set completely. This will take about 20 minutes at room temperature, or you can place the pan in the fridge.

If you notice any excess oil/butter appear on the toffee, just use a paper towel or napkin to blot it off. Place the individual squares on a separate piece of parchment paper.

In a small saucepan, over low heat, melt the chocolate wafers until smooth.

Hold each piece of toffee by the corner over the pot of chocolate. Use a spoon to drizzle chocolate over one side of the toffee or you can dip the toffee into the chocolate coating all sides. Wipe away excess chocolate.

Now hold the toffee over the cinnamon sugar bowl. Sprinkle the sugar mixture over the top of the toffee. It will stick right the the white chocolate.

Place onto a piece of parchment paper to cool and set.

Once set, you can place them into a pretty package or just get right to eating them.
Recipe Adapted from Picky Palate.