This crustless pumpkin pie is smooth, creamy and packed with pumpkin flavor. It's easy to make, perfect for Thanksgiving – and so delicious that you won't miss the crust!
Love pumpkin pie but can't be bothered making pie crust? Then this crustless pumpkin pie is the recipe for you! It has the perfect pumpkin flavor and is my new favorite dessert for Thanksgiving.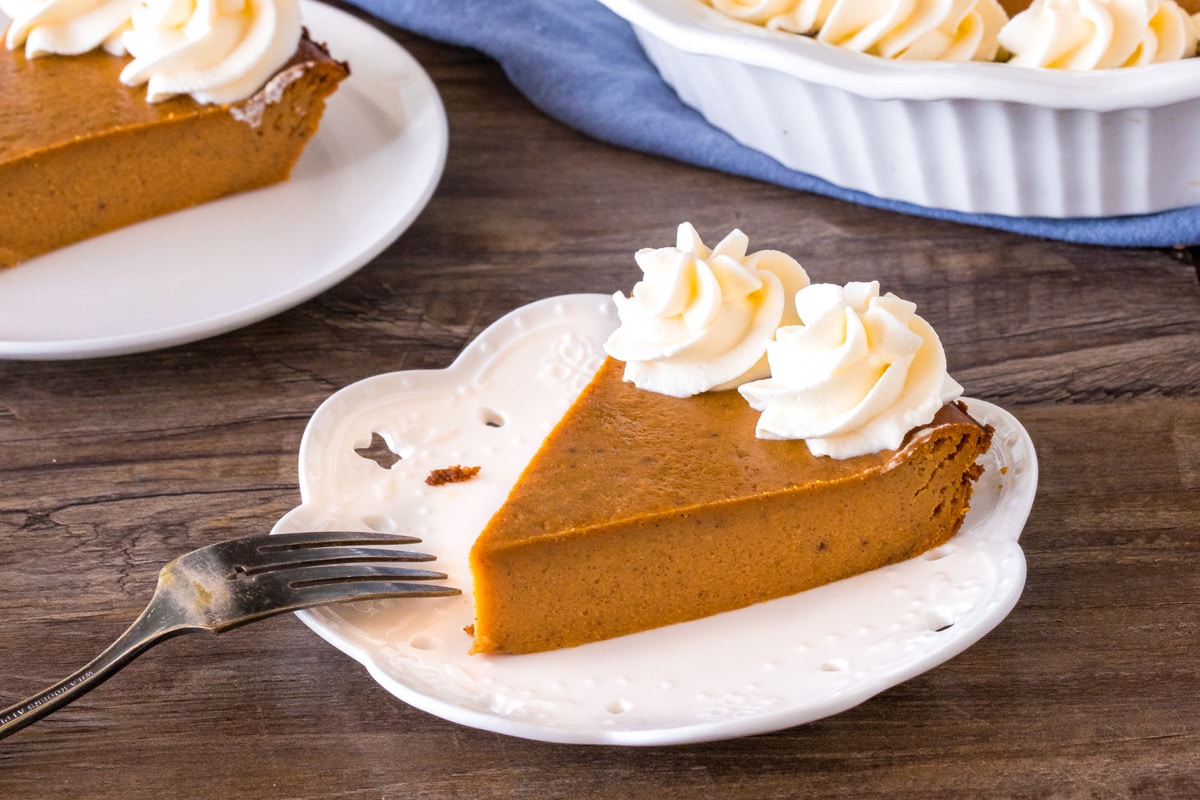 Classic Pumpkin Pie minus the crust
Last year at Thanksgiving, I realized that most people only ate a few bites of dessert. After the all turkey, multiple side dishes, and second helpings of just about everything – it's hard to leave room for dessert.
And that's where the idea for this crustless pumpkin pie came from.
It has the delicious pumpkin flavor and creamy texture you love about pumpkin pie. But because there's no crust, it's easier to eat the whole piece 😉 Plus, it's gluten free so everyone can enjoy it!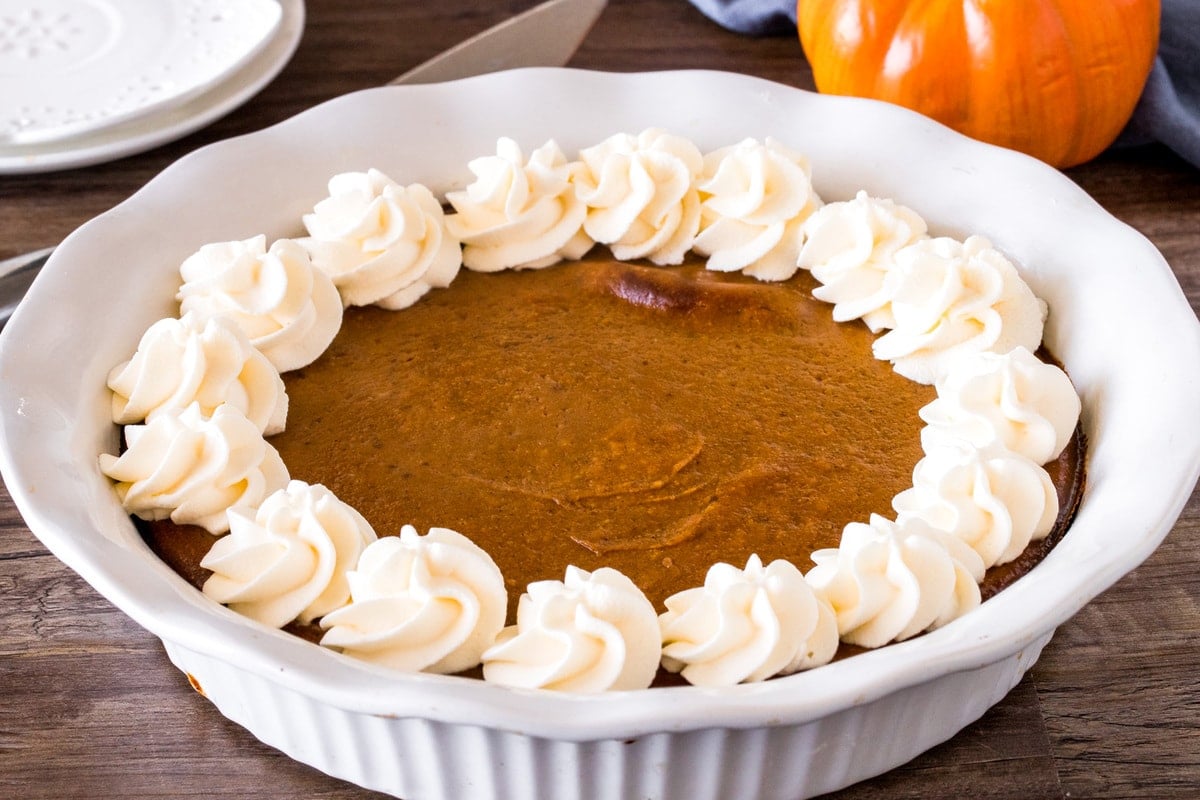 How to make crustless pumpkin pie
For this recipe – we're basically just making the filling of your classic pumpkin pie. However, because the crust isn't there for support, I knew I needed to make the batter a little thicker so it's still sturdy enough to slice and serve.
FILLING. We first whisk together the sugar, pumpkin pie spices, cornstarch and salt. The cornstarch helps to thicken the pie so that it's sturdier. Then we whisk in the pumpkin, evaporated milk, eggs and vanilla extract.
NOTE: Make sure you use evaporated milk and not sweetened condensed milk, and canned pure pumpkin (not canned pumpkin pie filling). You could use an electric mixer, or do the whole thing by hand.
BAKE. Then pour the filling into a lightly greased 9-inch glass pie pan, and it's time to bake. It'll take about 60-70 minutes. When it's done, an inserted toothpick should come out clean and if you give the pan a little nudge it shouldn't wobble too much in the center.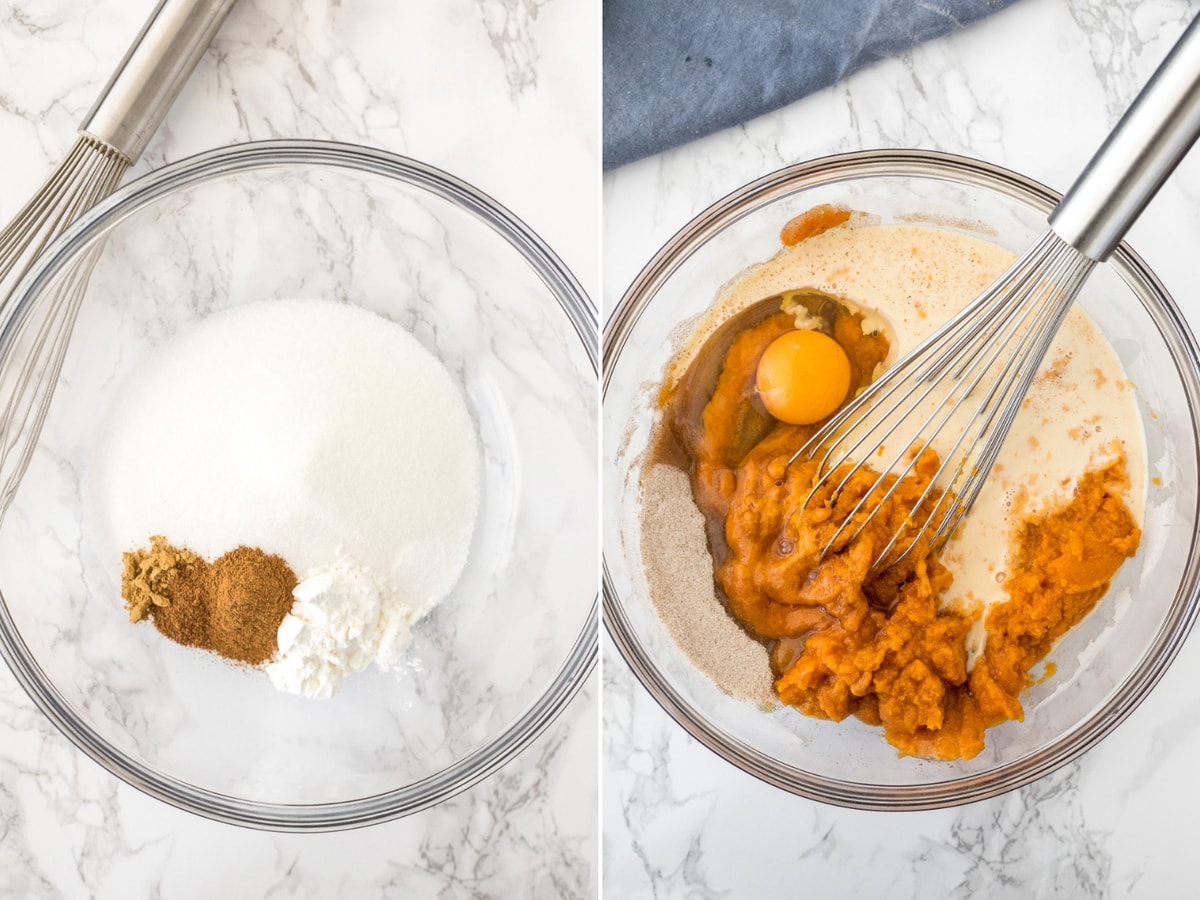 Additional Tips
This crustless pie is easy, but here are a few tips you may want to remember.
DO NOT forget the cornstarch. It's what helps keep the pumpkin pie together. 😉
Heavy cream and whole milk also work in case you do not have evaporated milk on hand.
Letting the pie cool and then refrigerating makes it nice and easy to slice up.
If you have leftovers, cover and STORE in the fridge for up to 3 days.
For FREEZING, let the pie cool completely. Then wrap in plastic wrap followed by aluminum foil (or freezer safe bags). Freeze for up to 3 months and defrost in the fridge overnight before eating.
If you're looking to save a few calories and want a gluten-free pumpkin pie – this is the dessert to make!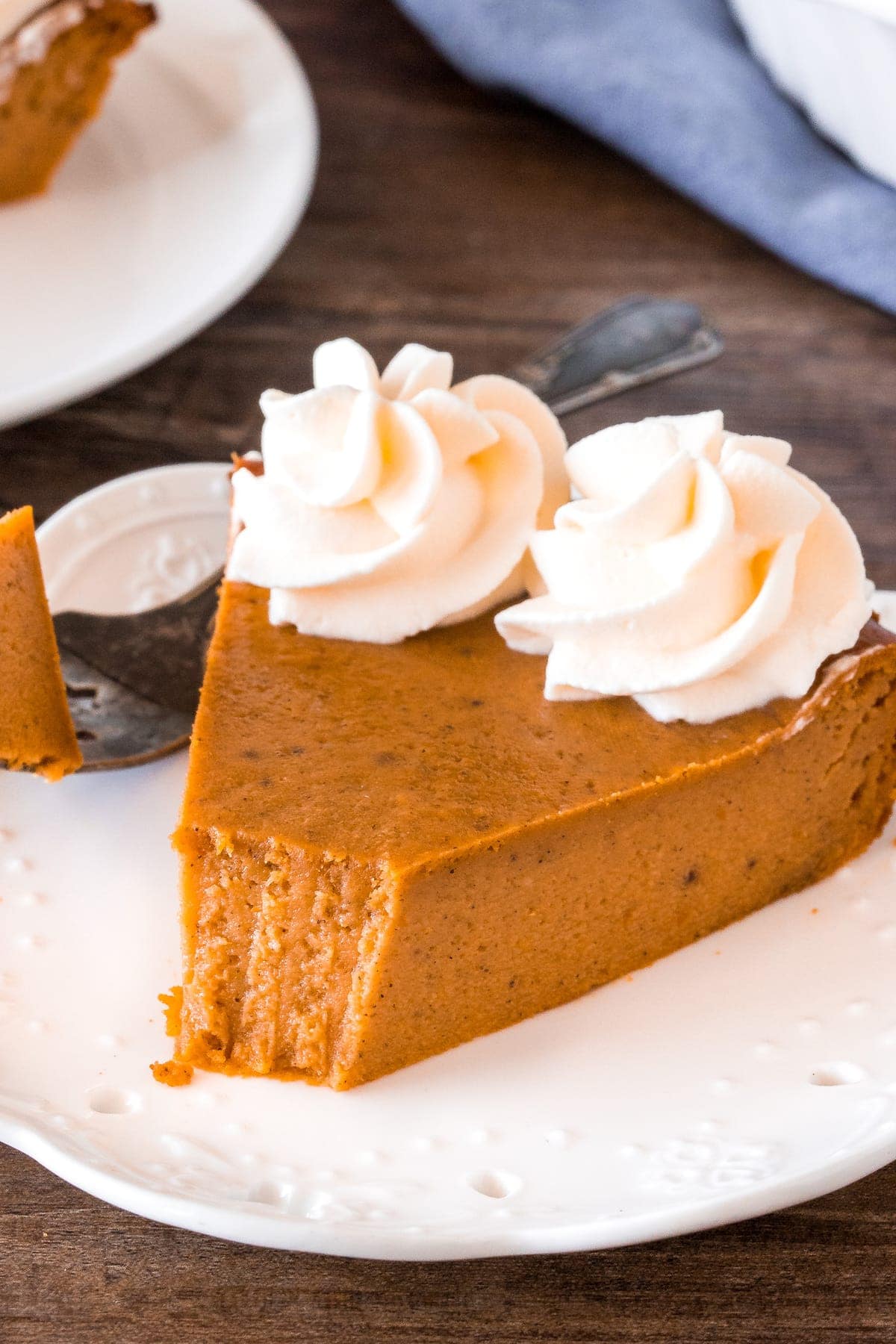 I love to serve this pie with whipped cream and a sprinkle of cinnamon. It's also delicious with a drizzle of caramel sauce, butterscotch, or even a few candied pecans!
For more Thanksgiving desserts:
Crustless Pumpkin Pie Recipe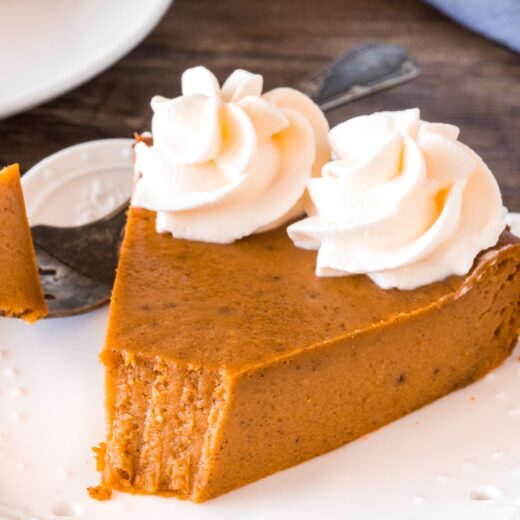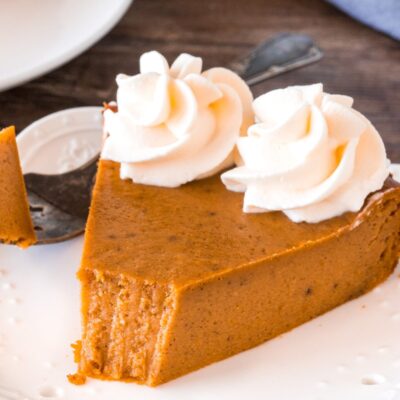 Ingredients
3/4

cup

sugar

1 1/2

teaspoons

cinnamon

1/4

teaspoon

nutmeg

⅛

teaspoon

ground cloves

1/4

cup

cornstarch

1

15 oz can

pure pumpkin

2

large

eggs

1

teaspoon

vanilla extract

1

cup

evaporated milk

whipped cream

for serving
Instructions
Preheat the oven to 375F degrees. Spray a 9-inch pie plate with non-stick cooking spray.

In a large bowl, whisk together the sugar, spices and cornstarch.

Whisk in the pumpkin, eggs, vanilla extract and evaporated milk.

Pour the mixture into the prepared pan.

Bake in the preheated oven for 60-70 minutes or until the middle no longer wobbles. If you see the top getting too brown, cover the pie lightly with aluminum foil as it bakes.

Remove from the oven and cool to room temperature.

Place the pie in the fridge for at least 4 hours to set.

Serve with whipped cream, slice, and enjoy.
Notes
Store leftovers covered in the fridge for up to 4 days.