You know those amazing frosted sugar cookies you buy at the grocery store that are so addicting?! Well now you can make them at home with this Lofthouse Sugar Cookies copycat recipe! So soft and yummy.
Sugar cookies are one of my top favorite types of cookies! We have so many varieties from lemon sugar cookies, to no roll sugar cookies. All of them are delicious, but I sure like these Lofthouse Sugar Cookies!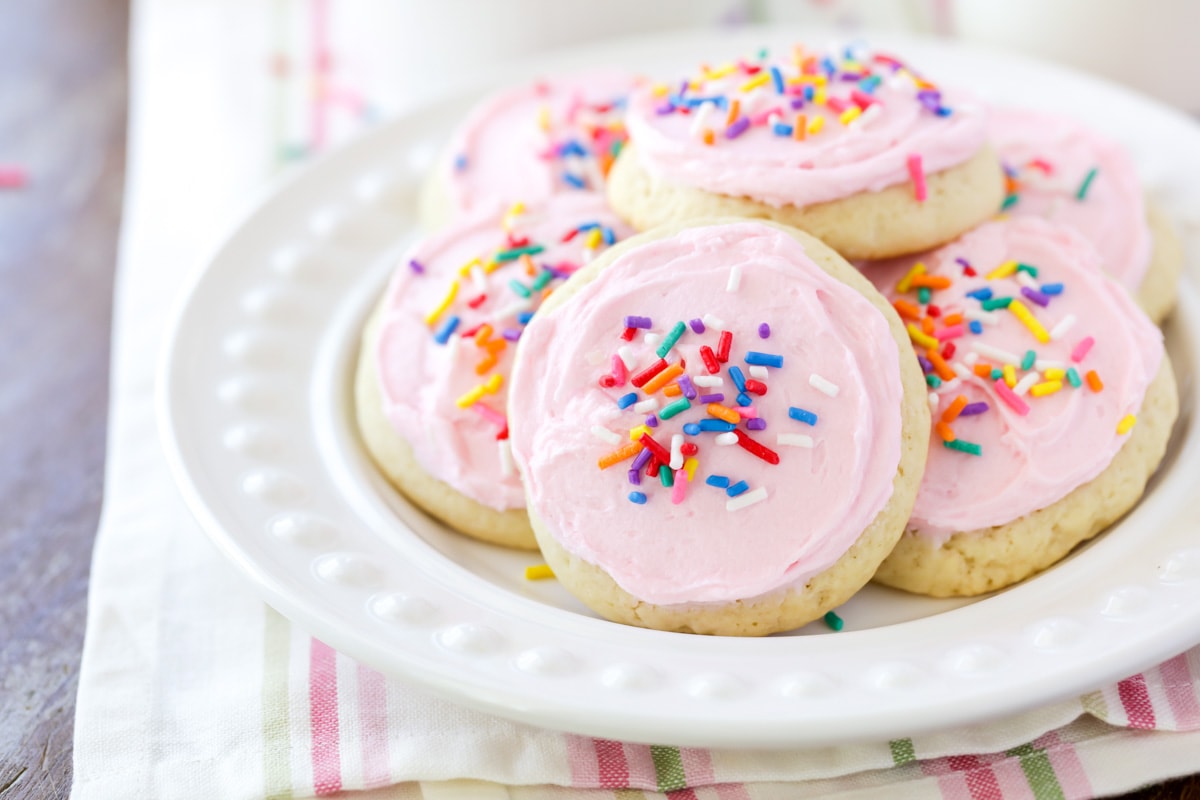 We LOVE sugar cookies!
I don't think I've ever met someone who didn't like Sugar Cookies. My mom has been making sugar cookies for as long as I can remember, and they've always been my favorite. They're soft, delicious and have hints of almond extract. They also have a good portion of frosting which I think is essential for a good sugar cookie.
Even though I ALWAYS prefer homemade cookies, I admit that I may be slightly addicted to Lofthouse Cookies. Have you had them before? They are the softest, yummiest cookies you'll ever buy from the grocery store. I'm not exactly sure what is in them, but I'm quite positive there is an addictive chemical that makes you crave them nightly. 😉
Since my mom is the sugar cookie expert, she thought she'd try a Copycat Lofthouse Sugar Cookie recipe to see if they were just as good. I don't think they tasted exactly like the cookie, but they were pretty similar and were definitely soft, delicious and addicting.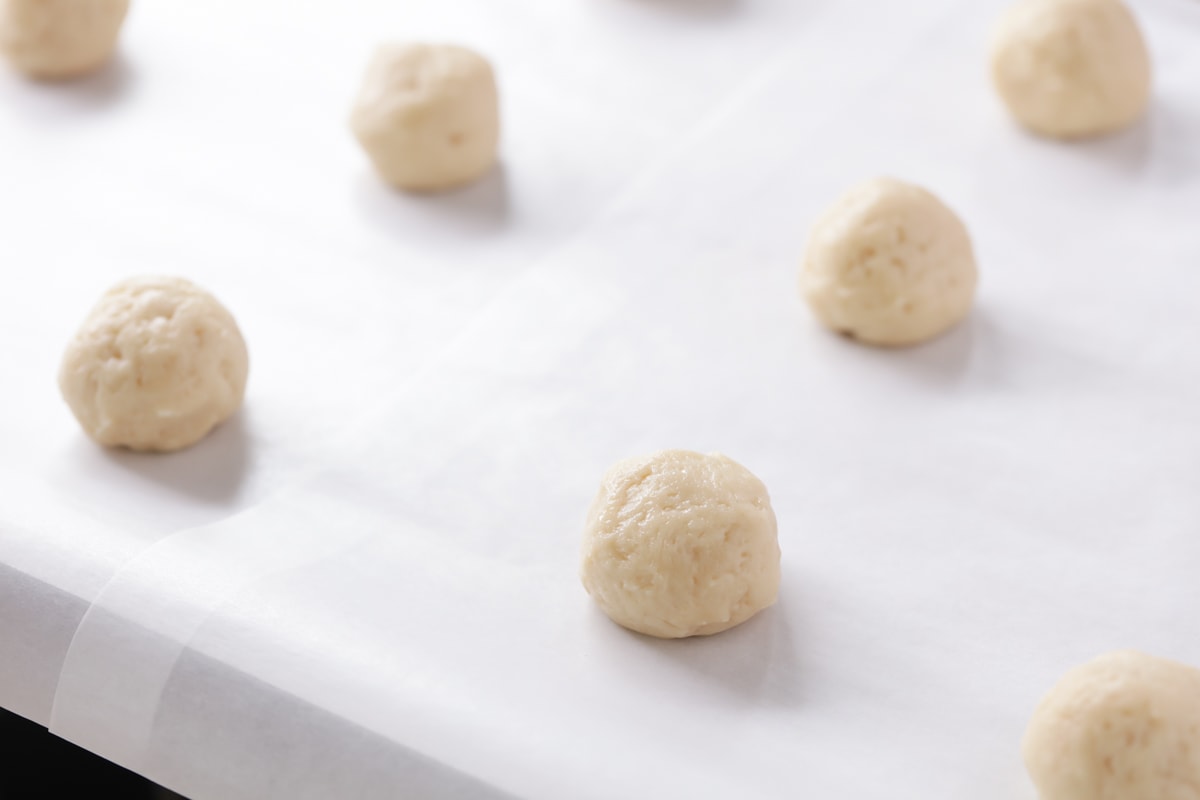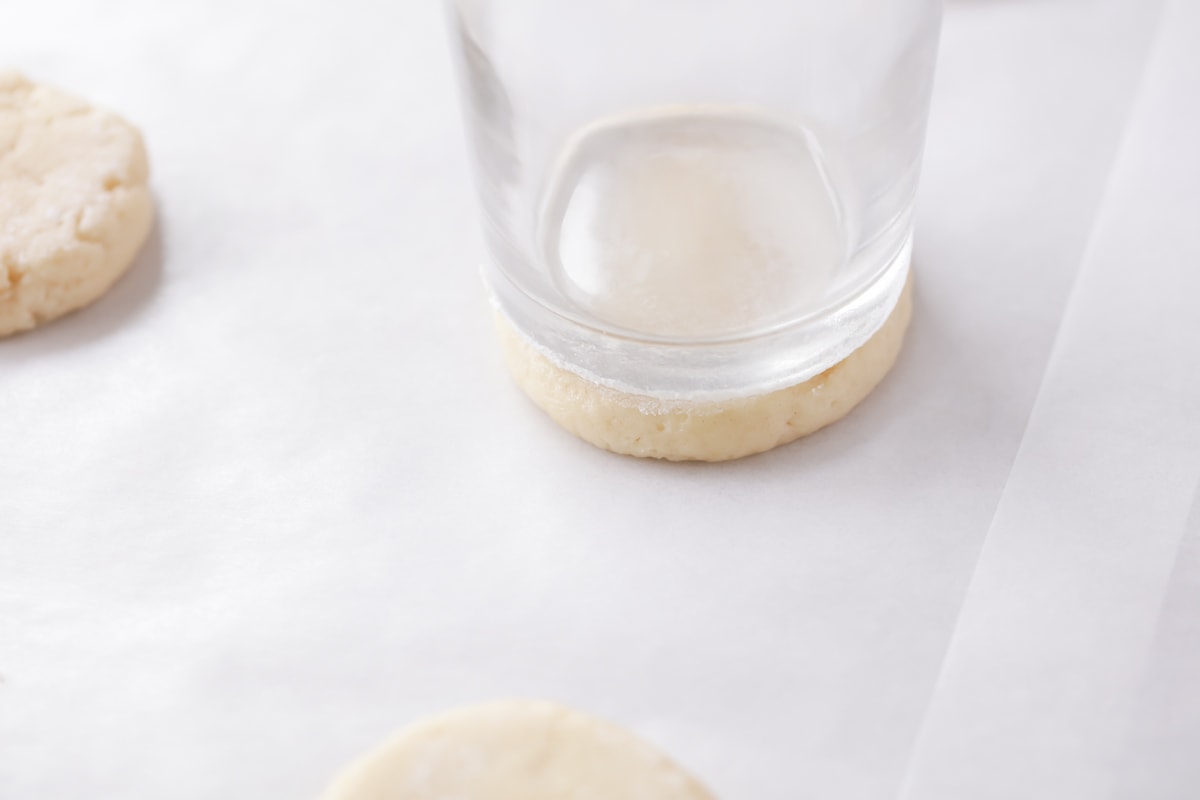 How to Make Lofthouse Cookies
WET INGREDIENTS. In a mixer, cream sugar and butter until fluffy. Add each egg, one at a time, beating after each egg until well combined. Add sour cream and vanilla and beat well.
DRY INGREDIENTS. Add your flour, baking soda, baking powder, and salt. Mix until combined. Your dough will be sticky.
REFRIGERATE. Divide your dough into two pieces. Flour a cutting board and flatten dough into 1-½ inch thick rectangles. Wrap dough in plastic wrap and put in the fridge for at least 2 hours.
CUT. Remove, from fridge, one rectangle at a time. Put dough back on your floured surface and roll out to ¼ inch thick. Using a 2″-3" cookie cutter, cut out cookies and place on a cookie sheet lined with parchment paper. Note: Work in small batches, so dough stays cold.
BAKE. Bake at 375 for 8 minutes, until cookies are a tiny bit brown around the edges. Allow the cookies to cool completely before frosting them.
What do I do if the dough is sticking to the cookie cutter? First all do not twist the cutter. This will cause the sides of the dough to seal and they will not rise properly. To keep this from happening make sure the dough is chilled. Also, you can dip the cookie cutter in flour before cutting the dough.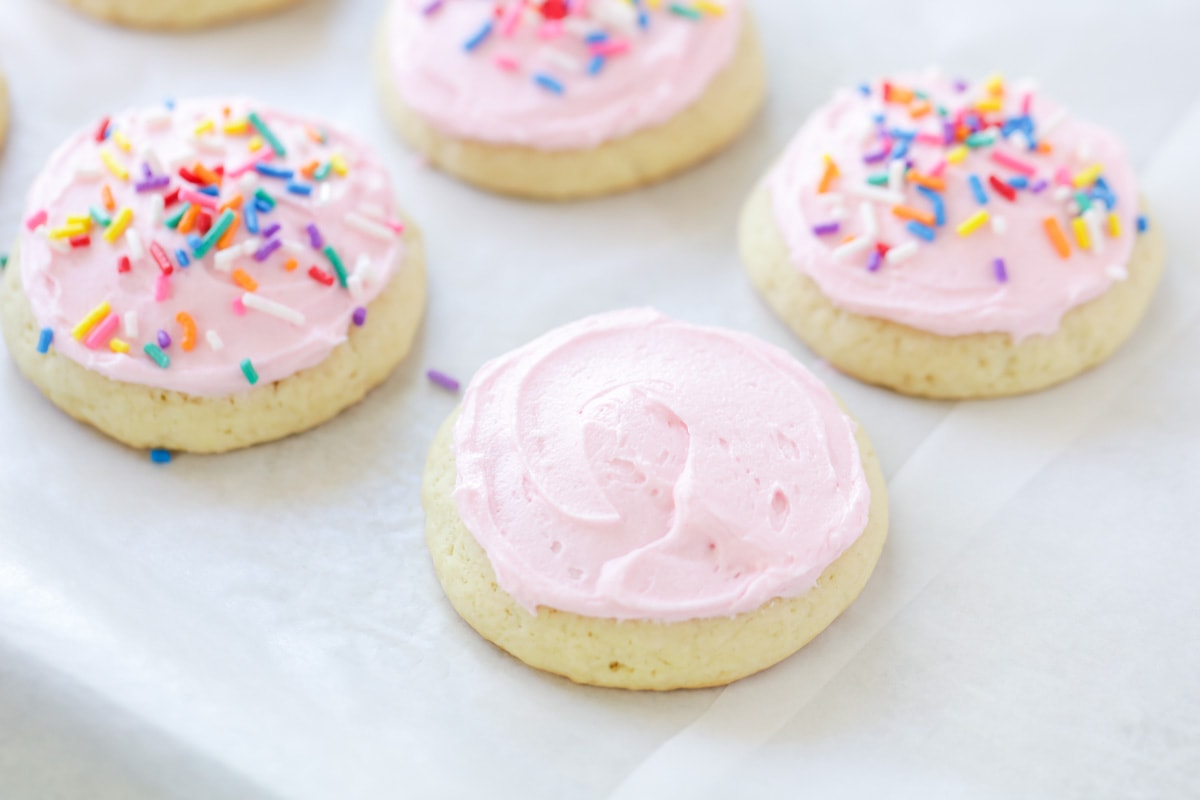 Storage Tips
Can I freeze the sugar cookie dough? Yes! Once the dough has been mixed chill the dough in the fridge for about an hour. Divide the dough into 4 sections. Roll each section to a 2-3 inch diameter log. Wrap with plastic wrap and then aluminum foil and freeze for up to 3 months.
When you're ready to bake, let a the dough thaw just enough to cut the log into slices. Place slices on a baking sheet and allow to thaw completely. Bake according to recipe directions. If you want to make shapes other than a circle allow dough to unthaw completely roll out and bake according to recipe instructions.   
How long can I store sugar cookies? Store baked cookies in a airtight container. Store at room temperature for 3-5 days. Freeze unfrosted cookies for up to 3 months.
How do I store leftover frosting? Put leftover frosting in an airtight container. Store in the fridge for 3-4 weeks or in the freezer for 4-6 months.
I seriously LOVE sugar cookies, and love that we now found a recipe that is pretty similar to the addicting Lofthouse cookies you can find in the stores.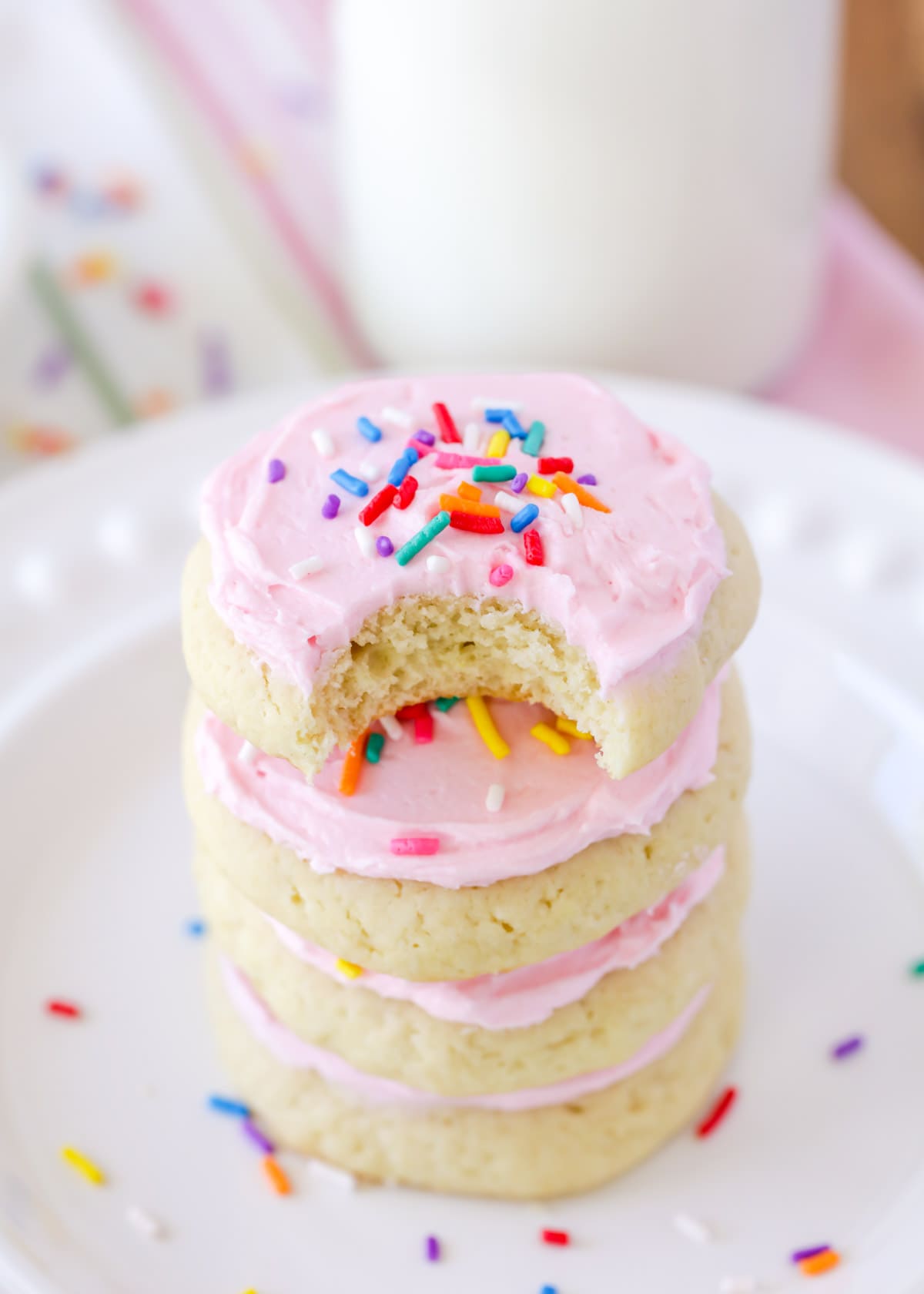 For more sugar cookies, check out:
Lofthouse Cookies Recipe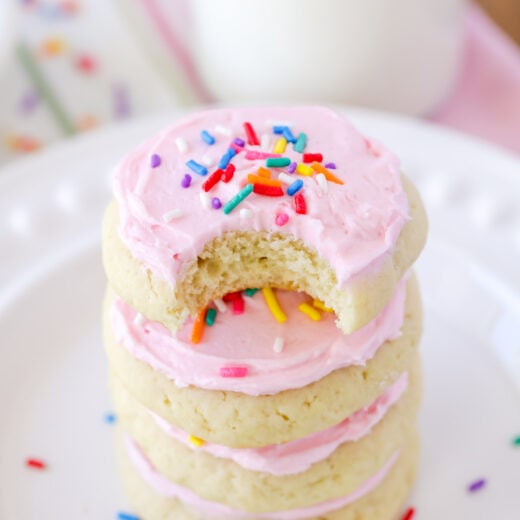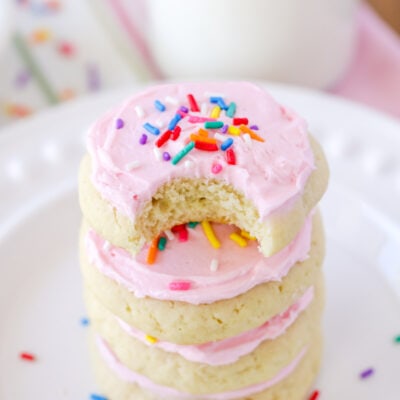 Now you can make soft and delicious Lofthouse Sugar Cookies with this copycat recipe! So soft and yummy.

Instructions
Cookie
In your stand mixer (or with a hand mixer) cream sugar and butter until fluffy.

Add each egg, one at a time, beating after each egg until well combined.

Add sour cream and vanilla and beat well.

In another bowl, sift together the flour, cornstarch, baking soda, baking powder, cream of tartar and salt.

Add dry ingredients to the wet ingredients in your mixer, and mix on LOW until combined.

Cover with plastic wrap and refrigerate for at least 1 hour.

After chilling, scoop out 1 tablespoon of dough and roll into a ball (dough will be sticky).

Place onto a parchment paper lined baking sheet. Use the bottom of a glass cup and spray with cooking spray, then dip in flour and press cookie dough balls down.

Remove from oven and let cool.
Frosting:
Make frosting by first creaming together the butter until fluffy. Add vanilla and 4 cups of powdered sugar. Add heavy cream and more powdered sugar until it is the consistency you desire. Beat until smooth and add any food coloring, if desired.

Frost and add sprinkles right away.
Recipe from Melissa's Cuisine.