Learn how to make the world famous Neiman Marcus Chocolate Chip Cookies at home. Big, buttery & filled with chocolate chips—these chewy cookies are sure to become a family favorite!
Neiman Marcus is mostly known for the shopping, but they also have some famous dessert recipes! These cookies are one of the legendary recipes, but the Neiman Marcus Cake is also a winner!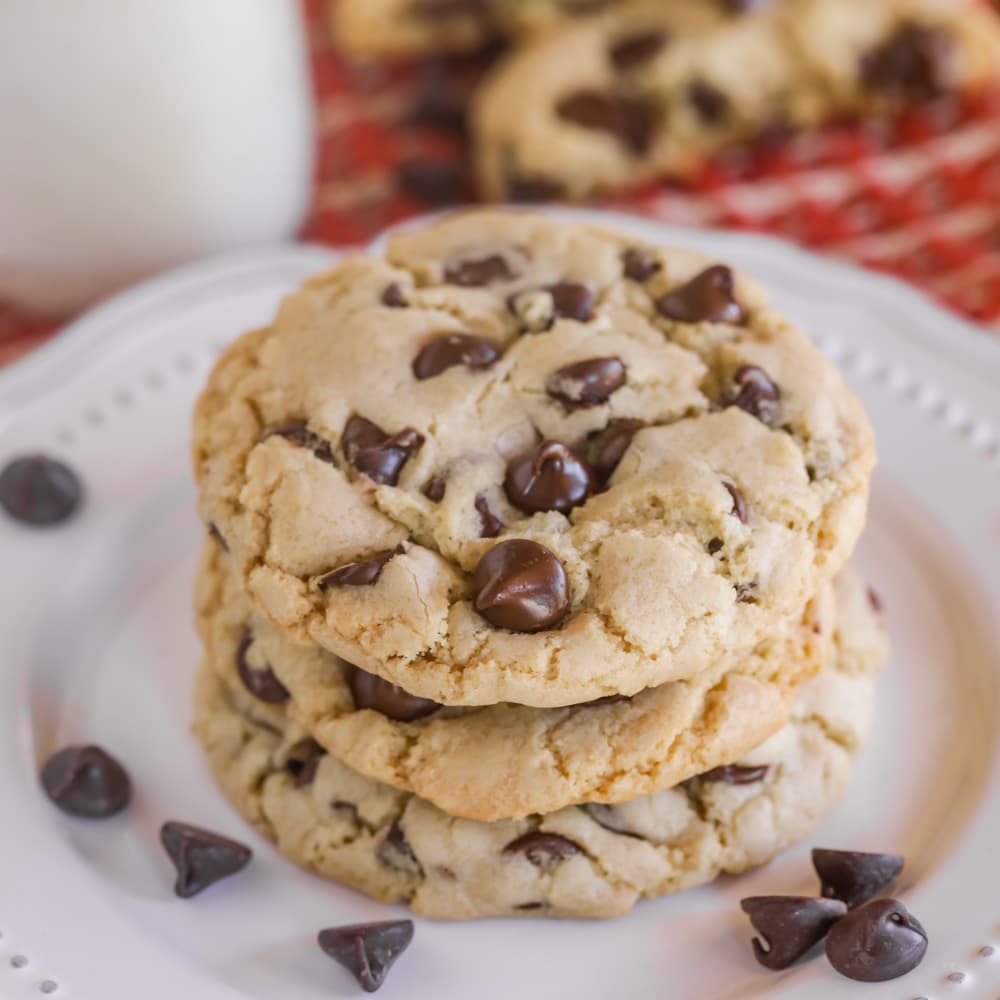 the legendary Neiman Marcus Cookie
Hi there! It's Fiona from Just So Tasty and today I'm stopping in to share this recipe for Neiman Marcus cookies. Neiman Marcus chocolate chip cookies are world famous. They're big, buttery, filled with chocolate chips and definitely remind you of something you get at a fancy bakery.
For years, there was a rumor going around that a woman was enjoying one of these chocolate chip cookies at the Neiman Marcus cafe. She asked the waitress if she could have the recipe, and supposedly when she got the check, it said $250 for the recipe.
Neiman Marcus debunked that rumor and said it definitely wasn't true. And now they post the official recipe for their world famous chocolate chip cookies on their website. So whether you live near one of their fancy department stores or not, you can still enjoy these cookies.
Where are the oats? If you do a search for the Neiman Marcus Cookie you will find hundreds of recipes to choose from, most of which contain oat flour. Apparently (according to this article I found), Neiman Marcus didn't even serve cookies at their restaurant when the $250 recipe story began in the late 1980's. Not only was the story fictitious, but so was the oatmeal chocolate chip recipe. Finally, in 1995 Neiman Marcus decided to create a Chocolate Chip recipe and share it with the world for Free. It's this official Neiman Marcus oat free recipe that I'm sharing today.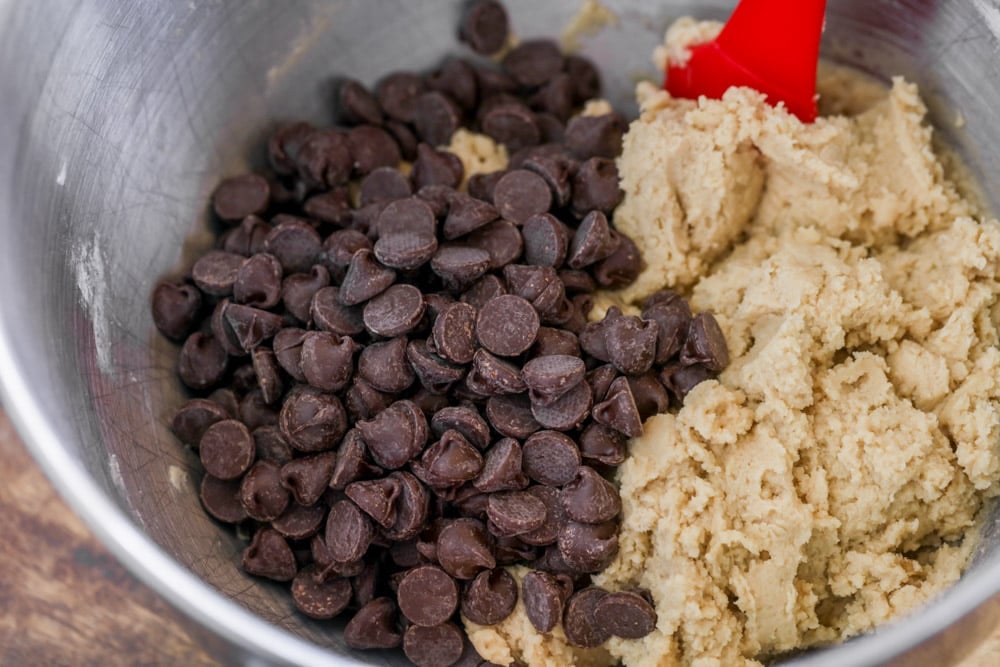 what makes it so unique?
Looking at the official recipe from their website, there are a few main things about this chocolate chip cookie recipe that are a little different:
We start with real butter. This adds tons of flavor.
Then the majority of the sugar is light brown sugar. Brown sugar also adds flavor and more chewiness.
You'll notice that there's a higher flour to butter ratio than a lot of other cookie recipes. This keeps them a little thicker.
Lots and lots and lots of chocolate chips.
We don't have to chill the dough. This is partly thanks to the slightly higher percentage of flour.
Grease the cookie sheets instead of lining with parchment paper or baking mats. This creates crispier cookie edges with a little more browning.
And finally – they're cooked at a lower temperature for a longer period of time.
Note: The recipe on their website also includes adding espresso powder. I left this out since it's not an ingredient I keep in the house and I don't think it's really necessary in chocolate chip cookies.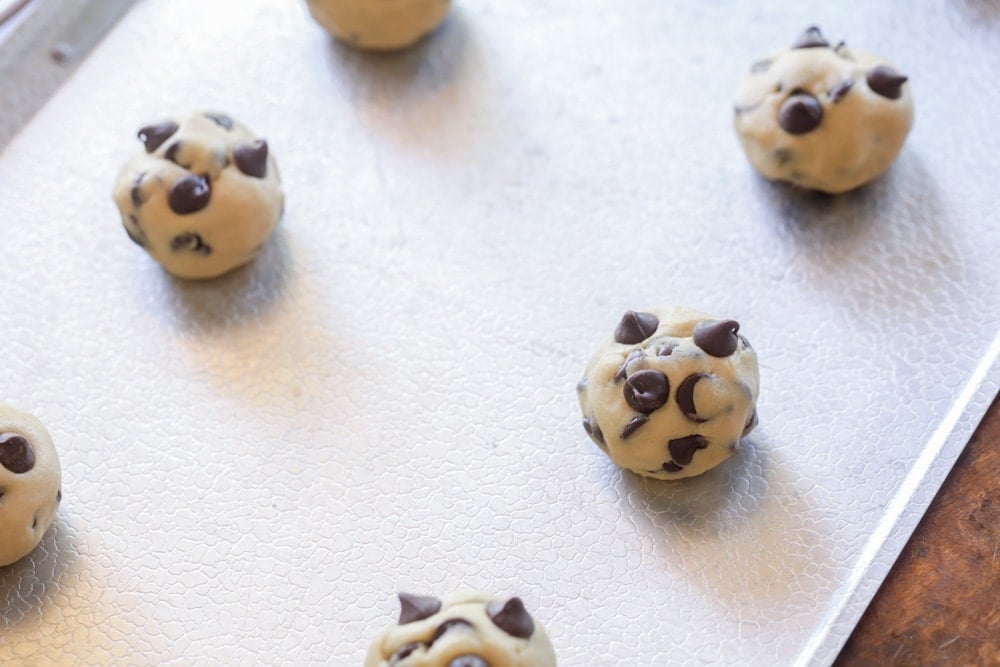 Additional RECIPE Tips
Variations: You can easily switch the chocolate chips for another additive to create a different taste and even texture. Try using:
Reese's pieces

Mini M&ms

White chocolate or butterscotch chips

Chopped nuts
Why are they baked at a lower temperature? Everything is baked at a different temperature depending on the ingredients. Baking at this lower temp for longer allows for a more controlled melt of the chocolate chips and a firmer cookie.
Freeze the dough: You can freeze this dough, but you might have to tack on some time when baking the dough afterwards. When freezing, you can either freeze the dough as a log or as individual dough balls.
Log: form the dough into a log shoe. Tightly wrap with plastic wrap then again with aluminum foil. Label and freeze. Allow the dough to thaw in the ridge before shaping the dough balls. If your loaf is the right diameter you could even use a kitchen knife to slice dough disks instead of making dough balls.

Balls: scoop the dough onto a baking sheet. Place the sheet into the freezer until the dough is frozen and solid. Transfer the balls to a freezer safe container. Label and freeze.
How to store cookies? Place in an airtight container on the counter. If they start to dry out, place a piece of dry white bread inside which will help keep them moist.
These Neiman Marcus cookies are perfect if you enjoy cookies with crispy edges, brown sugar and lots of chocolate chips. If you've ever wondered about their legendary recipe – you should definitely try making them yourself!
For more favorite chocolate chip cookie recipes, check out: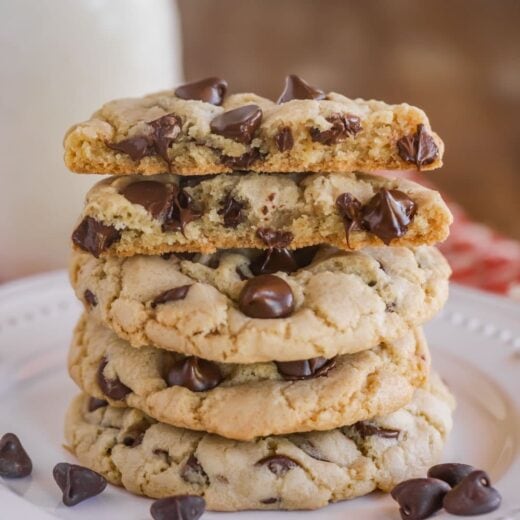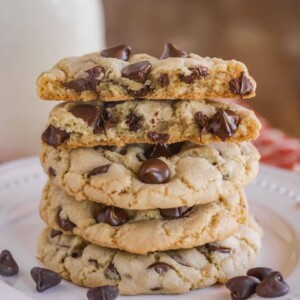 Neiman Marcus Cookies Recipe
Learn how to make the world famous Neiman Marcus Chocolate Chip Cookies at home. Big, buttery & filled with chocolate chips.
Instructions
Preheat the oven to 300F degrees and lightly grease cookie sheets*

In a medium bowl beat together the butter and sugars until fluffy.

Beat in the egg and vanilla extract.

In a separate bowl whisk together the flour, baking powder, baking soda and salt.

Carefully mix the flour mixture into the butter mixture.

Turn off the mixer and stir in the chocolate chips.

Form the dough into balls about 2 tablespoons in size and place at least 2 inches apart on the prepared cookie sheets.

Bake for 15-18 minutes, or until you see the edges starting to brown.**
Notes
*For less crispy cookies, line cookie sheets with baking mats or parchment paper. 
**The original recipe calls for baking the cookies for 20 minutes, I found this too long in my oven. 
Adapted from Neiman Marcus
Nutrition
Calories:
212
kcal
,
Carbohydrates:
28
g
,
Protein:
2
g
,
Fat:
10
g
,
Saturated Fat:
5
g
,
Cholesterol:
22
mg
,
Sodium:
67
mg
,
Potassium:
116
mg
,
Fiber:
1
g
,
Sugar:
17
g
,
Vitamin A:
160
IU
,
Calcium:
26
mg
,
Iron:
1.5
mg
Nutrition information is automatically calculated, so should only be used as an approximation.
Making this recipe? Tag us!
Share it with us on Instagram using the hashtag #lilluna, so we can see what you're creating in the kitchen!