Hey guys! Kellyn here, with another mouth watering Tried and True recipe. Today's delicious-ness is warm and chunky and super duper simple! This is one of those recipes that we got from the sister of a friend of a friend of a friend years ago (my mom has been making this since we were little). I think that automatically makes it good, since its been passed to friends so many times. 🙂
We have lots of these kinds of recipes that I'm sure we'll be sharing in our future. We love it for it's chunks of beef, carrot and potato. Oh yeah – it's also great because it' SIMPLE!! You pretty much throw everything in the crock pot and let it cook.
Having recipes like this make me want to grab a blanket and turn on "While you were sleeping," Right? Just me? (Ok, anything makes me want to watch that movie!) Well, movie or no movie, this stew is truly awesome. And with just a few simple steps, it'll be in your crock pot and ready for dinner in no time!
If you like simple, heart and delicious soups then this Beef Stew is for you…
Check Out My Other Recipes
Slow Cooker Beef Stew:
Slow Cooker Beef Stew
DELICIOUS Slow Cooker Beef Stew filled with chunks of beef, potatoes and carrots - a family favorite that is hearty, simple and great for fall.
Ingredients
3 lbs stew meat, uncooked (we used chuck roast and cubed it ourselves)
12 potatoes, peeled and cubed
1 pkg carrots (peeled and sliced)
2 cans golden mushroom soup
1½ c. water
1 package onion soup mix
Instructions
Add all ingredients to your crock pot.
Cook on low for approx 6 hours. ENJOY!
TRIED & TRUE FINDINGS:
DIFFICULTY: Simple
HOW MANY DOES IT FEED: 8
ANY CHANGES MADE: None – we've made it like this for years!!
ANY SUGGESTIONS FOR NEXT TIME: Add any other favorite veggies. 😉
For more great Slow Cooker soups, check out:
Crock Pot Tortellini Spinach Soup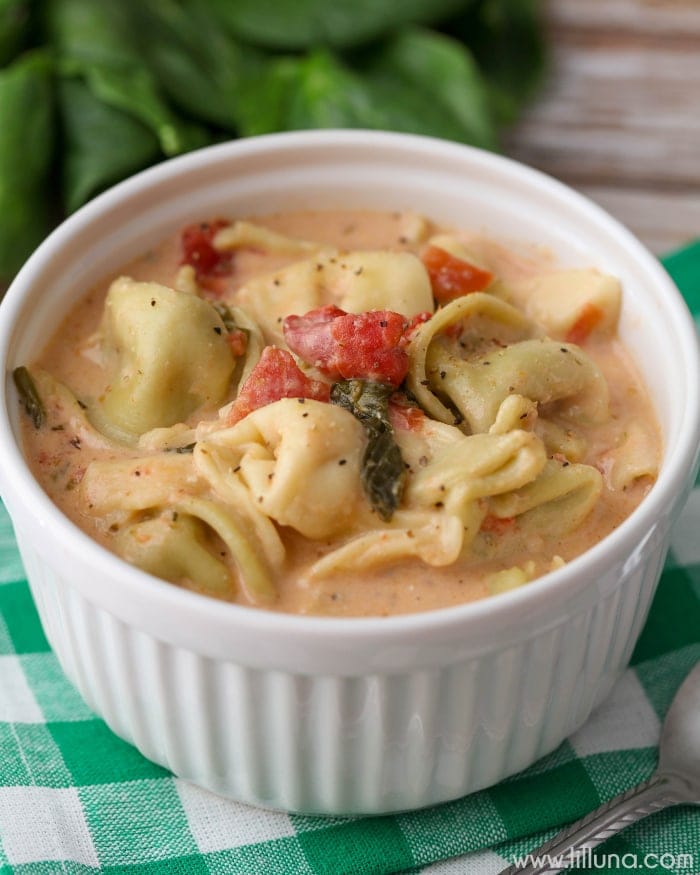 For more slow cooker soup recipes, check out:
ENJOY!
Need more recipes and creative ideas? Sign up and get a FREE copy of my latest ebook!