Simply sweet strawberry fruit leather is easy to make and tastes way better than the store-bought version.
The great thing about this strawberry fruit leather recipe is that you can tweak it to include your favorite fruit! Easy Bisquick Strawberry Shortcake  and Strawberry Pretzel Salad are two more of our favorite ways to use up our berry bounty!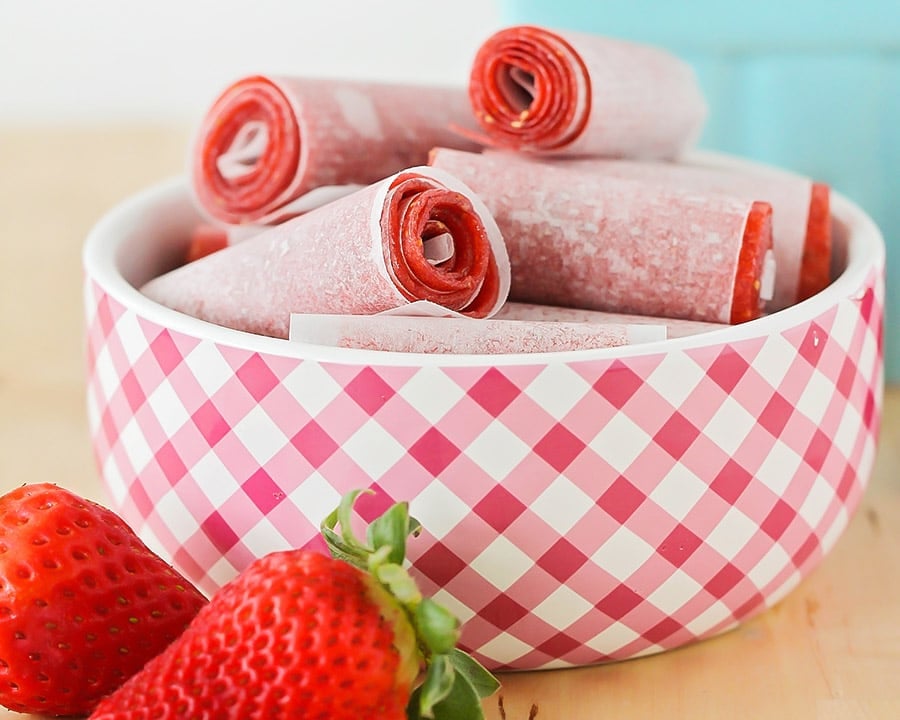 Homemade Fruit Leather
I have such a fun recipe to share with you today! Have you ever made your own fruit leather? It's surprisingly easy to make, and totally delicious too! This sweet strawberry fruit leather is as simple as can be, but it's packed with strawberry flavor and tastes way better than store-bought.
One of my favorite things is to pick berries. Last year we visited a local farm every few weeks during the summer, and picked over 50 pounds of berries total! We canned jam, made berry syrup, froze berries for smoothies, and baked all sorts of cobblers and crisps. One of my kids' favorite things that we made with our berry abundance, though, was this sweet and delicious fruit leather. It's a great way to make those fresh berries last a little longer, and it's the perfect snack for lunch boxes and for taking on adventures.
What's great is you could definitely make this fruit leather with other berries, or even with other fruit like peaches or apricots. Whichever type of fruit you use, you'll want about 4 cups of fruit to start with. Making homemade fruit leather is so easy and fun, and I can't wait to try it with all of our summer bounty!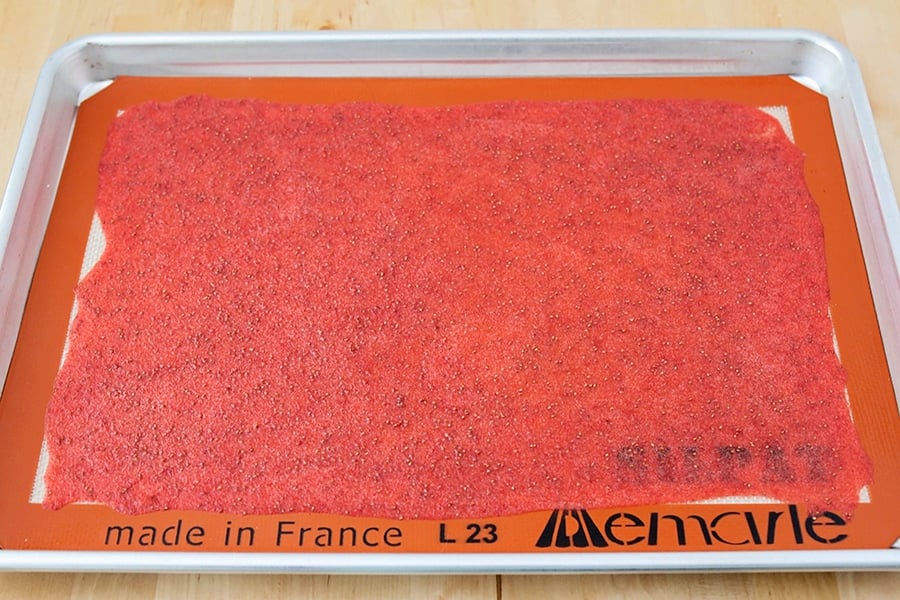 How to Make Fruit Leather
While it does take a little while to make, it's totally hands off and very easy.
BLEND. Blend your berries with a little lemon juice and sugar, spread the mixture in a baking sheet
BAKE. Bake at a low temperature until it's dried out.
You can tell that the fruit leather is done when it feels dry to the touch, instead of wet or sticky. Let the fruit leather cool completely, then roll it up in parchment to prevent it from sticking. I used pre-cut parchment sheets and cut them into strips. I cut each pan of fruit leather into 8 strips, and they were the perfect serving size for my kids.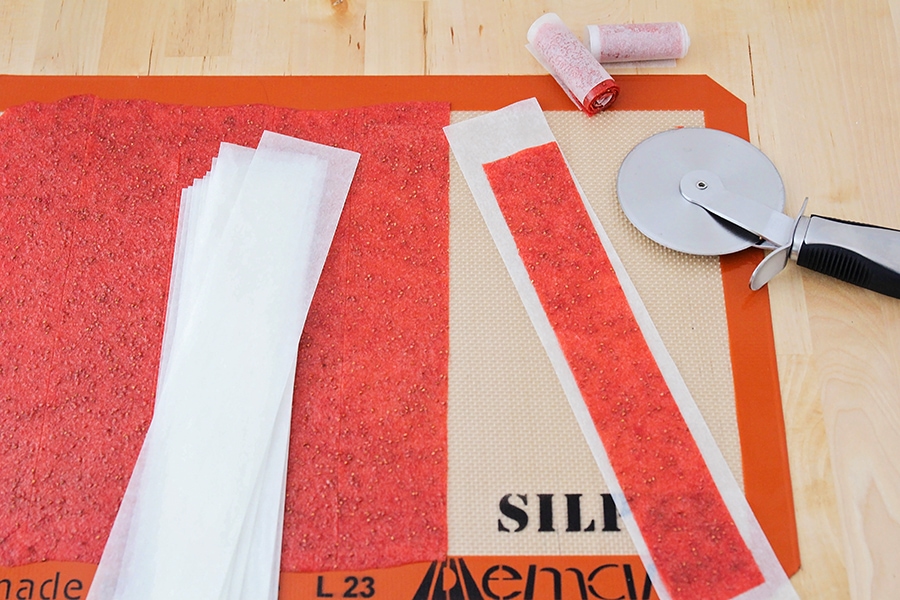 Recipe Tips
You can also use frozen fruit. Allow it to thaw completely before blending.
The reason for the lemon juice is to keep the fruit from turning brown.
Be sure to spread your fruit to just under ¼ inch thick.
To hull a strawberry simply means removing the leafy green top. The best way is to use a small paring knife and cut the top off while leaving as much fruit flesh intact as possible. 
Instead of silicone liners use: This recipe works best when using a silicone liner. However, if you do not have one you can line your pan with parchment paper. Once the fruit leather has been dried allow it to cool off a bit, but remove it from the paper while it is still a little warm otherwise it can tend to stick to the paper. 
Sweetener options: One great thing about fruit leather is that you do not technically need any sweeteners. We added some sugar to our recipe because that's what we liked best, but you can use less sugar, artificial sweeteners, honey, agave or nothing at all. 
Have some fun making your fruit leather. Switch up your fruit choice or even make combinations. Her are a few ideas to get you thinking:
Peaches, apricots plums, blueberries, raspberries

Add a spice such as cinnamon or cloves

Roll your fruit leather with a little bit of peanut butter or other nut butter

Combine your fruits: strawberry/peach, strawberry/banana, blueberries/raspberries. The combinations are endless.
Make fruit leather in a dehydrator. Most dehydrators come with a manual with instructions so refer to that if you have it. If not, you can line your trays with parchment paper. Spread your fruit with the center being a little thinner than the edges for a more even "cook". Allow to dry for several hours until the leather is not wet or sticky.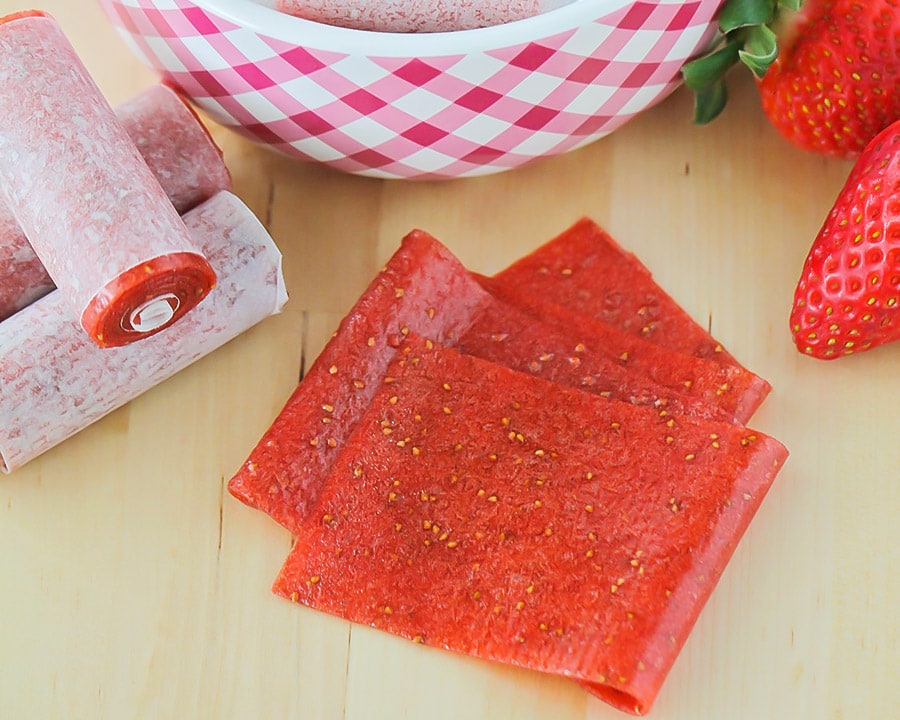 Storing Info
This strawberry fruit leather will STORE in an airtight container for 1-2 weeks.
It works great to make a big batch and have it on hand for school lunches or snacks. It tastes so delicious, too! The strawberry flavor really comes through, and the texture is perfect.
For even more snack ideas, check out:
Fruit Leather Recipe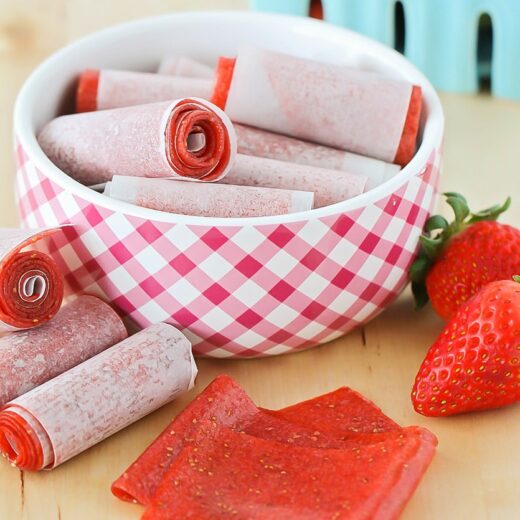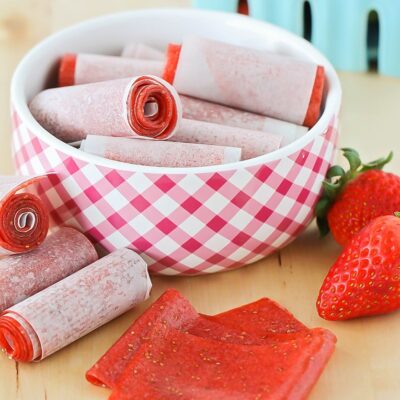 This simply sweet strawberry Fruit Leather recipe is easy to make and tastes way better than the store-bought version!
Ingredients
1

pound

strawberries

hulled

2

teaspoons

lemon juice

1/2

cup

sugar
Instructions
Preheat the oven to 170°F. (If your oven will not go as low as 170, preheat it to its lowest heat setting.) Line two baking sheets with silicone liners and set aside.

Add the strawberries, lemon juice, and sugar to a blender or food processor, and blend until smooth.

Pour half of the mixture onto each of the prepared baking sheets, and spread in a thin and even layer.

Bake for 3-4 hours in the preheated oven, rotating the pans after 1½ hours. After 3 hours, test for doneness by gently tapping the fruit leather. If it feels dry instead of wet or sticky, the fruit leather is done. (If baking at a higher heat than 170, the baking time will be reduced.)

Allow to cool completely, then cut each pan of fruit leather into 8 strips, and wrap in parchment. Store in an airtight container.
Thank you Alicia from The Baker Upstairs