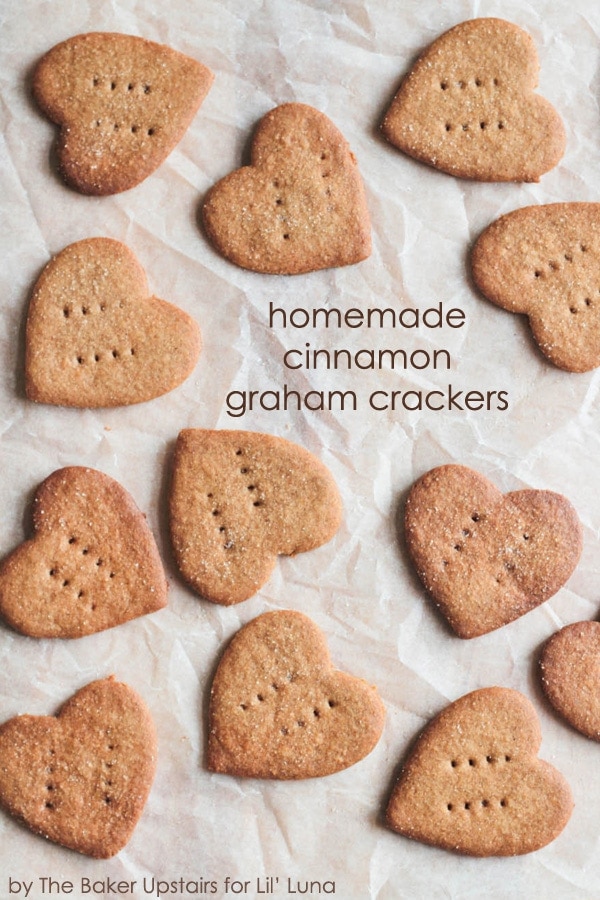 Hello again, Lil' Luna readers. It's Alicia from The Baker Upstairs and I'm back to share a super delicious make-it-yourself treat today! My daughters are heading back to school next week, which is always both a happy and sad experience for me. On the one hand, I'll miss all the summer fun we've been packing in (swimming, vacations, lazy days watching old movies, etc.), but on the other hand I am more than ready to get back to our usual schedule. I'm also (strangely enough) getting excited about packing their little lunches every day! I love coming up with fun ideas for their lunches and they get excited to see what I pack. I feel like it's a fun little way to connect with them at school. These homemade cinnamon graham crackers are perfect for school lunches or after school snacks, or really just anytime snacks!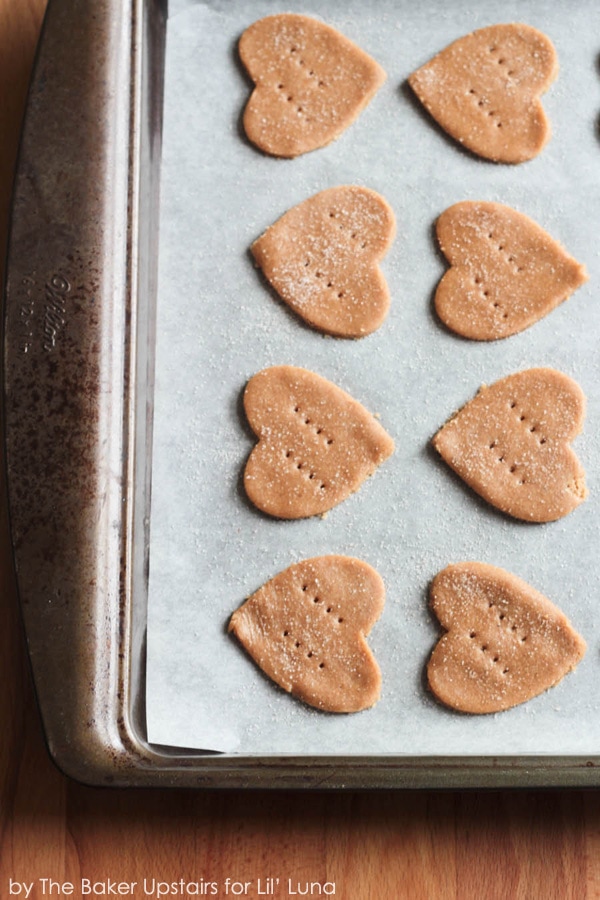 They're really easy to make and good for you too! I love finding ways to sneak more whole wheat into our diet, and I have to say, my girls didn't notice it at all in these lovely crackers. They definitely tasted like graham crackers, but were even more delicious than the ones we buy at the grocery store and had a lot more flavor. My seven year old was thrilled when I made these and couldn't wait to pull out the marshmallows and Hershey bars to make s'mores. The recipe made a lot (which is awesome!) but they disappeared surprisingly fast. Guess it's time to make another batch!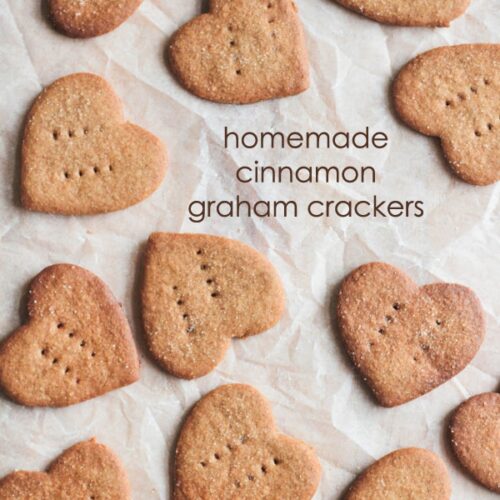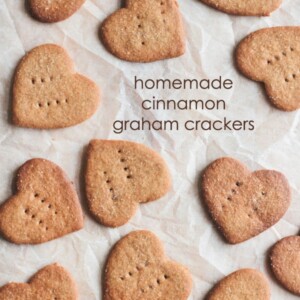 Homemade Cinnamon Graham Crackers Recipe
Delicious Homemade Cinnamon Graham Crackers - now I can make the kiddos' favorite snack at home!
Ingredients
8

tbsp

butter

1/3

cup

brown sugar

1 1/2

tbsp

honey

1/2

tbsp

molasses

1/2

tbsp

vanilla

3/4

cup

flour

2/3

cup

whole wheat pastry flour

(I found mine at the grocery store in the naturl foods section)

1/2

tbsp

cinnamon

1/2

tsp

baking soda

pinch

salt

cinnamon sugar

for topping
Instructions
In a large bowl or the bowl of a stand mixer, cream together the butter, brown sugar, honey, molasses, and vanilla. Add the flours, cinnamon, baking soda, and salt, and mix to form a thick dough. Press the dough into a disc and wrap in plastic wrap. Chill one hour (or twenty minutes in the freezer).




Preheat the oven to 350. Line two baking sheets with parchment or silicone baking mats. Roll out the chilled dough very thin. (I found the easiest way to do this was to roll it out between a silicone baking mat and a sheet of plastic wrap. I'm sure it would also work to roll it between two sheets of parchment paper.) Cut the dough into desired shapes (cookie cutters are fun!) and transfer to prepared baking sheets using a spatula or bench scraper. Poke each cracker with a fork a couple of times and sprinkle with cinnamon sugar. Bake 12-15 minutes or until golden brown. Enjoy!
adapted from Averie Cooks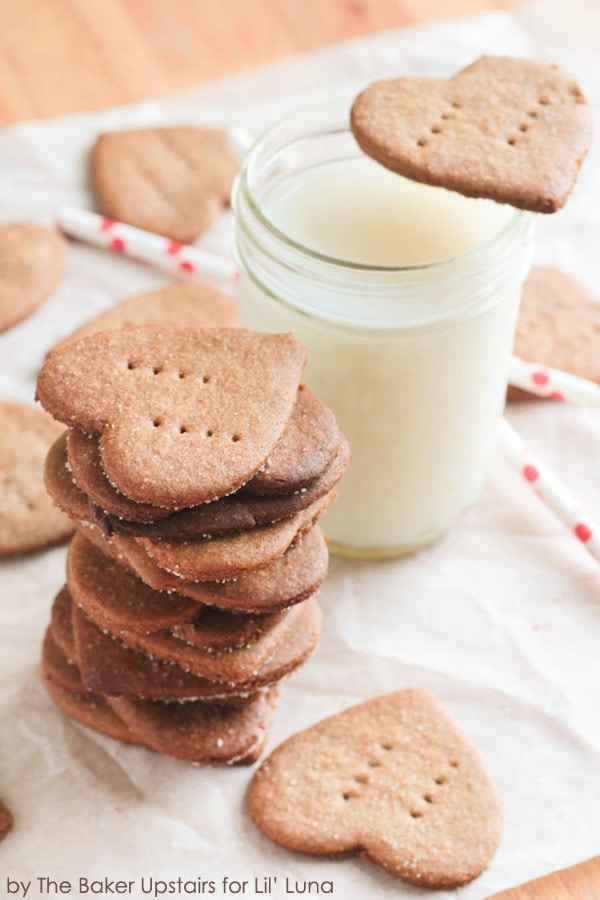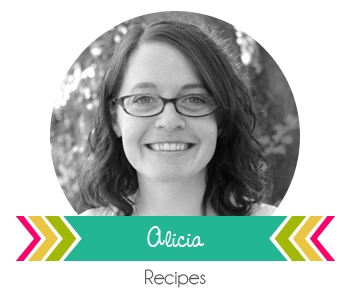 ————————————————————————–
 My kids are OBSESSED with Graham Crackers!!
I'm so excited to give this recipe a try. I admit that even I can sit and eat a whole sleeve with milk. YUM!
Thanks, Alicia!
For more great recipes from her be sure to check out The Baker Upstairs, and for more info about her go HERE.
For more great recipes from Alicia here on the site be sure to check out: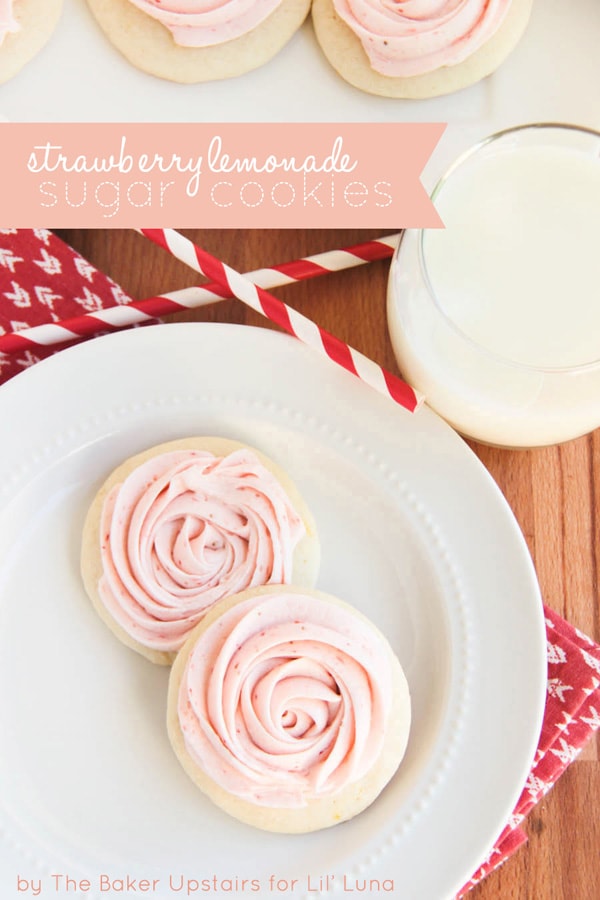 Strawberry Lemonade Sugar Cookies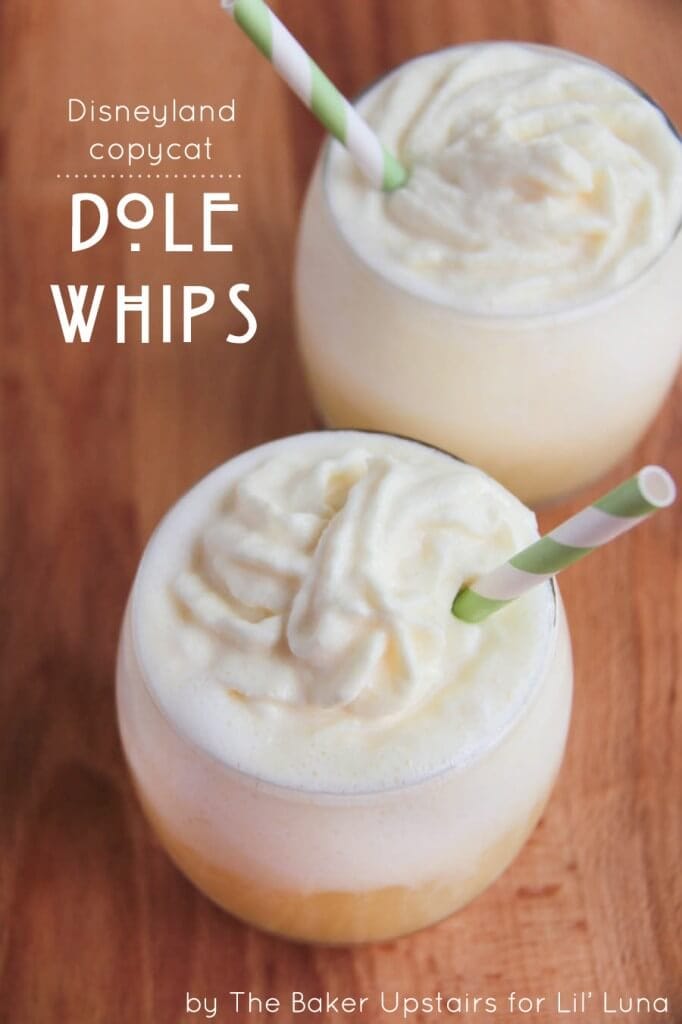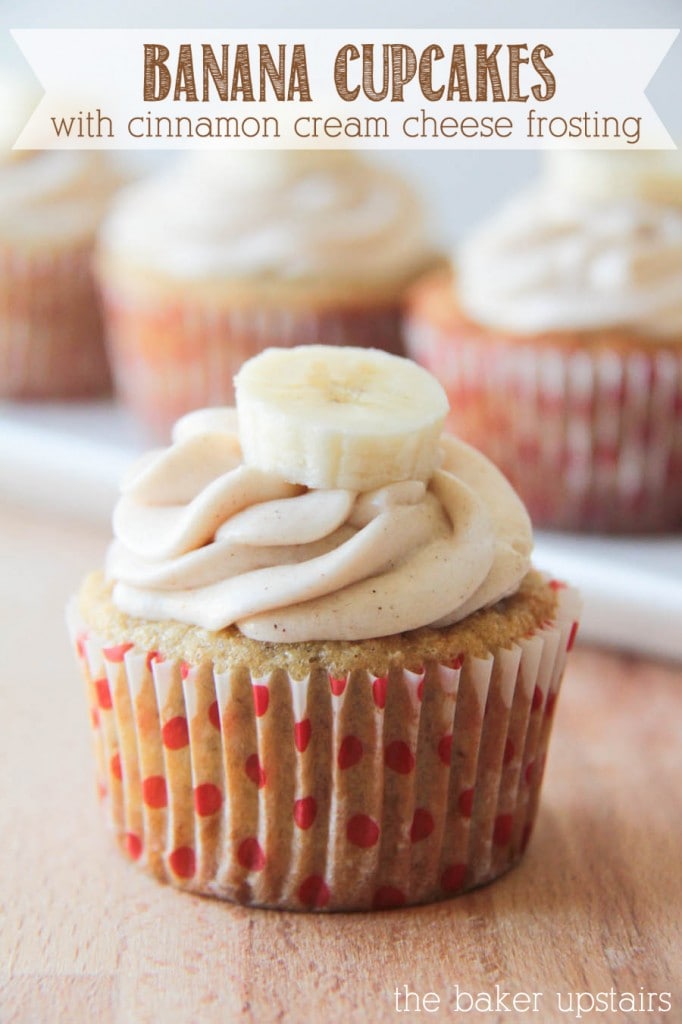 Banana Cupcakes with Cinnamon Cream Cheese Frosting
For more treats on the site go HERE.
For all recipes go HERE.
And get weekly emails with monthly freebies by signing up for the Lil' Luna newsletter. 🙂
For even more great ideas follow me on Facebook – Pinterest – Instagram – Twitter – Periscope.
ENJOY!