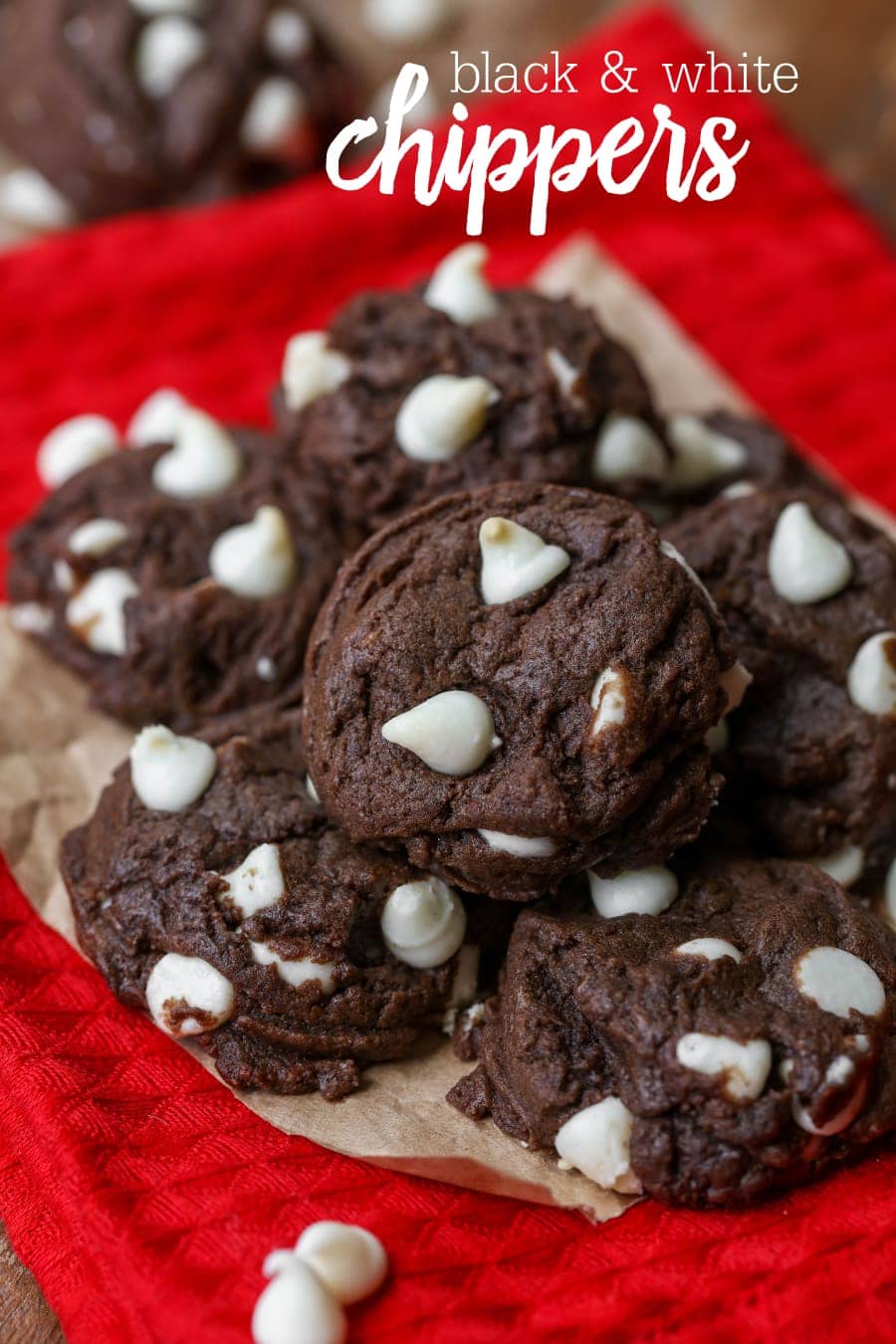 Holidays means baking in our home. I stock up on butter this time of year because it seems like I'm making cookies or treats every other day. The kids love it. I love it. And usually whoever gets the treats loves it. 😉 It was just about 4-6 weeks ago that my mom, sisters and I gathered for a recipe shoot. We get together every other week and spend a morning baking and cooking and getting recipes made and tested. One of the recipes we tried were some Chocolate Marshmallow Meltaways. The chocolate cookie base reminded me so much of Paradise Bakery's Black and White chippers, so I decided to keep some of the dough, add some white chocolate chips and give them a go. They ended up tasting just like them!! I wanted to make sure you got the recipe too because these little guys are delicious and so addicting. It's the perfect combo of white and milk chocolate and since they're chippers, they're a little tinier than normal allowing you to justify eating a few a lot more easily. 😉
These chippers are perfect for everyday baking, but they are also great for cookie exchanges which are perfect this time of year. Here's the recipe…

Black and White Chippers
Ingredients
½ cup shortening
¾ cup sugar
1 egg
¼ cup milk
1 tsp vanilla extract
1-3/4 cups all-purpose flour
½ cup baking cocoa
½ tsp salt
½ tsp baking soda
1 - 1½ cups white chocolate chips
Instructions
Cream shortening and sugar until light and fluffy. Beat in the egg, milk and vanilla. In a separate bowl, combine flour, cocoa, salt and baking soda; gradually add dry mixture to shortening and mix well.
Fold in white chocolate chips.
Use mini cookie scoop to place onto an ungreased baking sheet. Bake at 350° for 6-7 minutes. Let cool and ENJOY!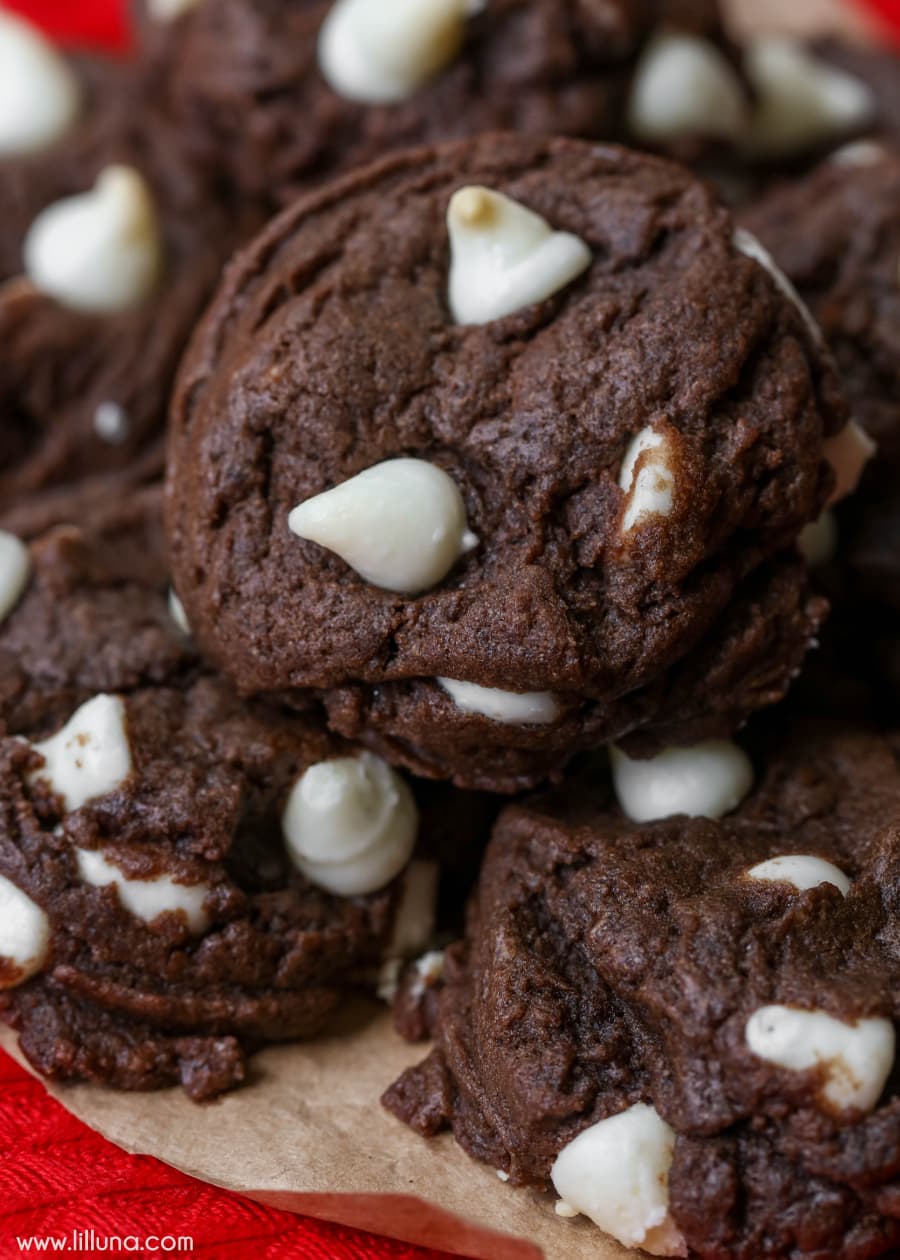 Filled with white chocolate chips – my favorite!!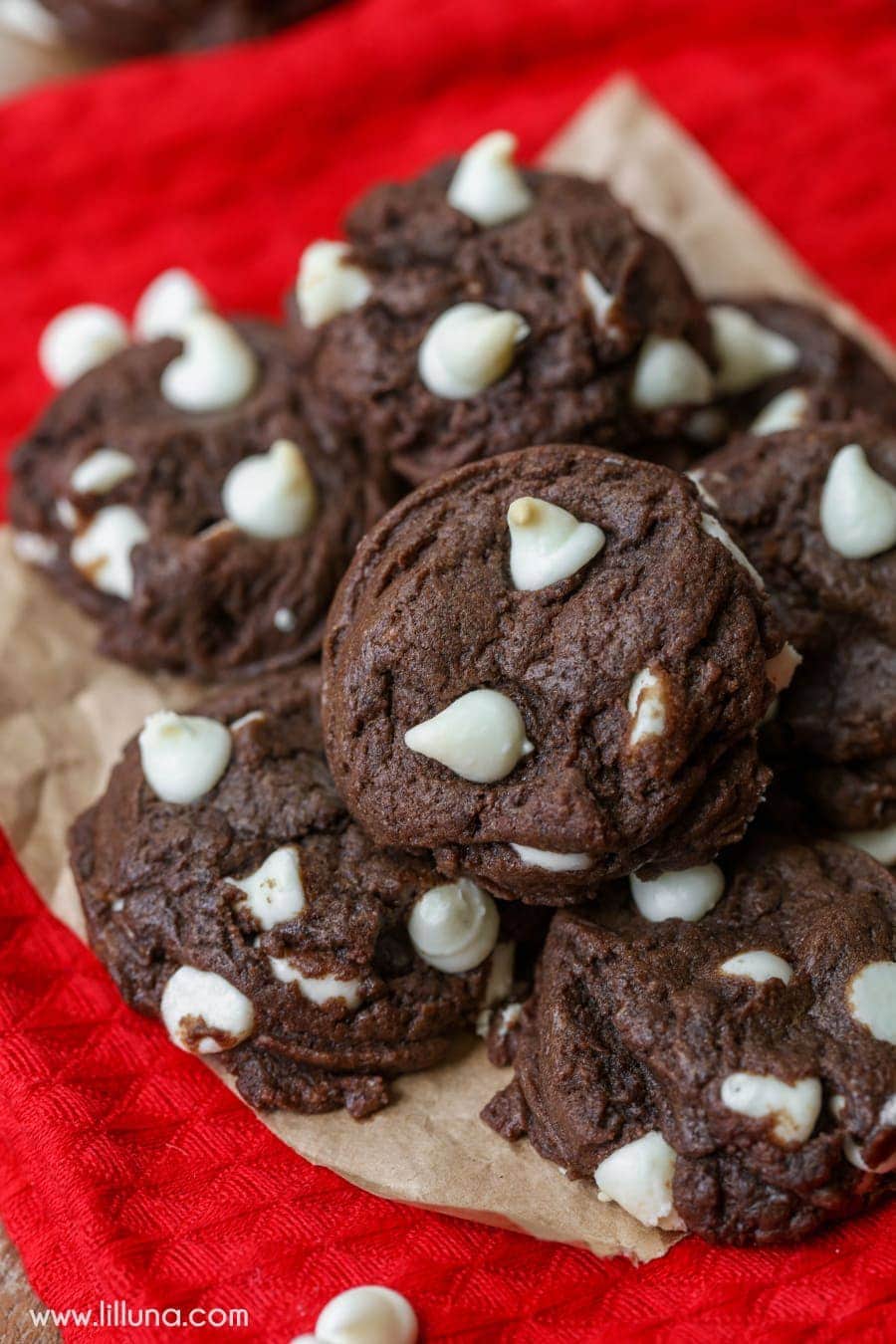 I could seriously eat a baker's dozen of these things. They're too good!
For more great cookies, check out: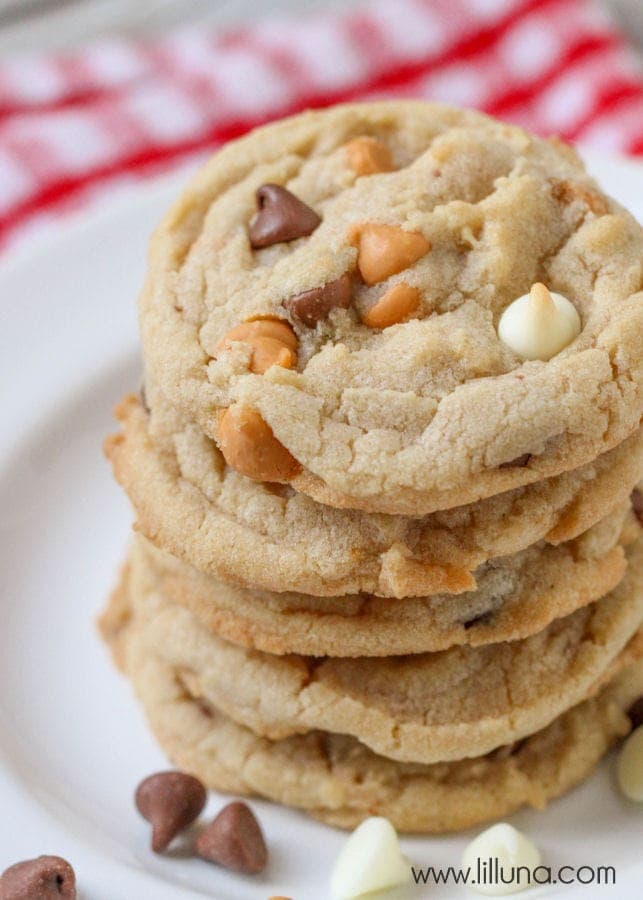 Chewy Triple Chocolate Chip Cookies
Check Out My Other Recipes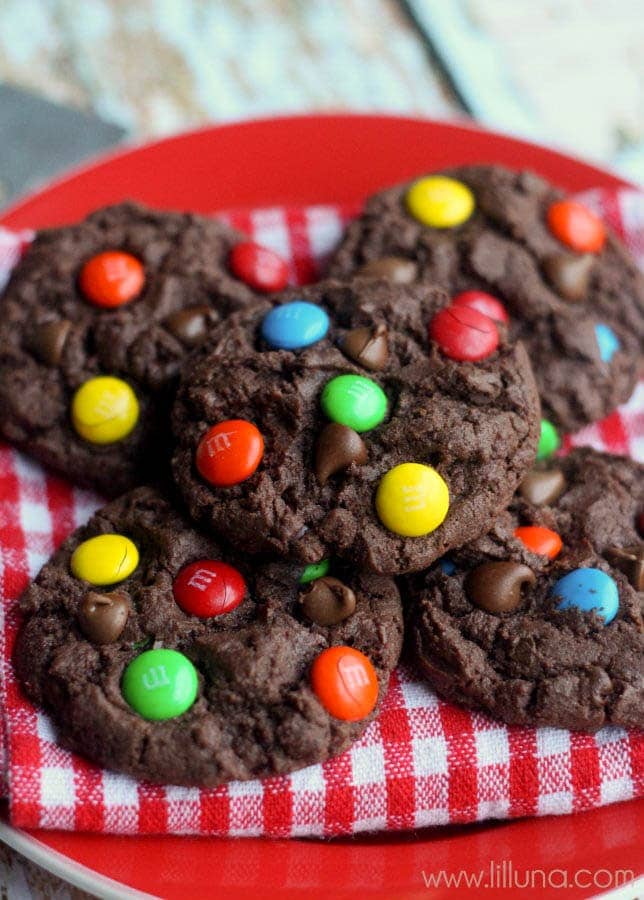 Chocolate Chip M&M Cake Cookies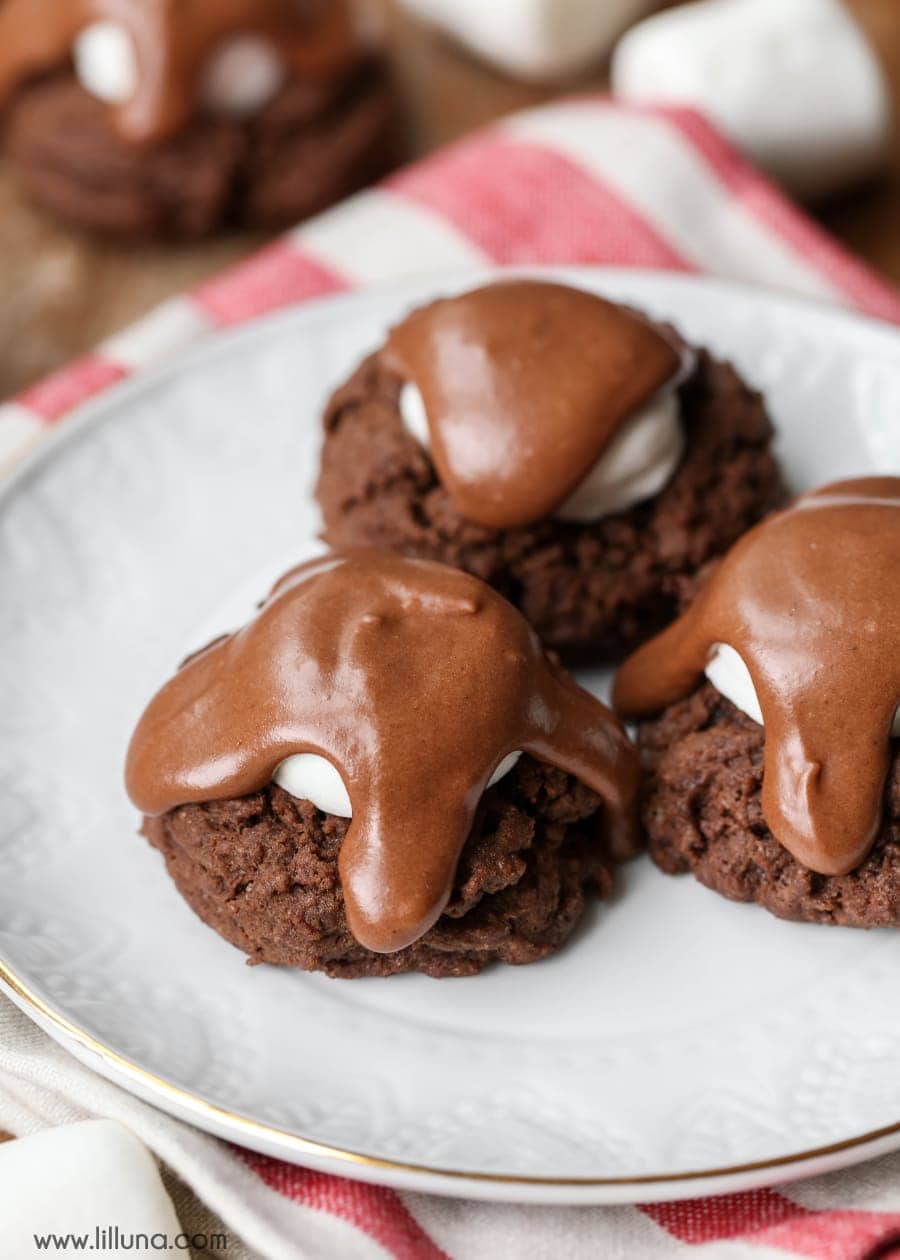 Chocolate Marshmallow Meltaways
For all dessert recipes on the site be sure to head HERE.
Need more recipes and creative ideas? Sign up and get a FREE copy of my latest ebook!