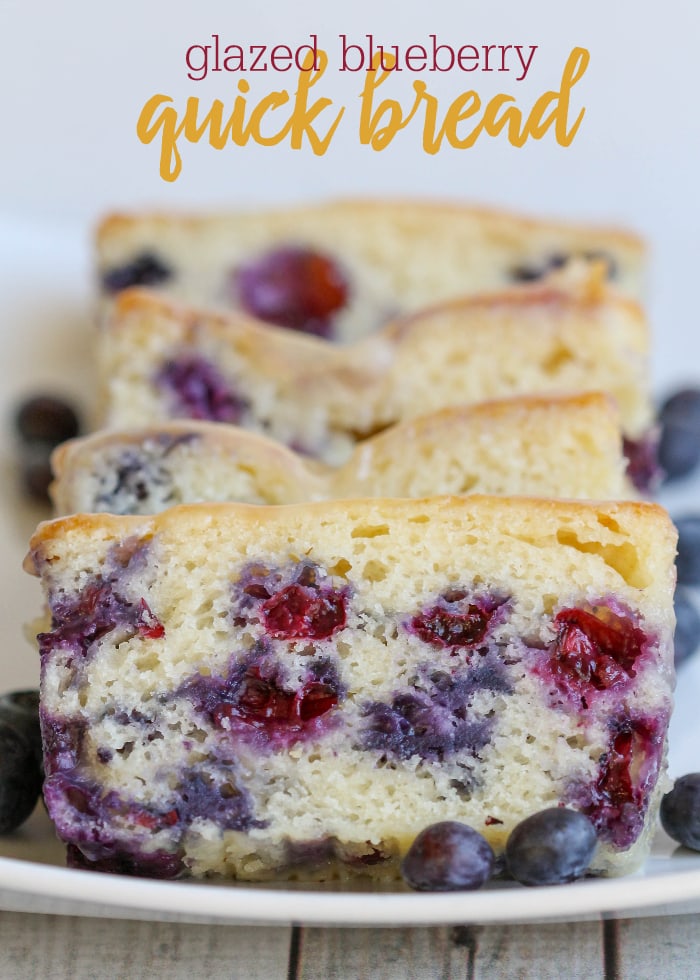 Happy Wednesday, friends!
I've said it before, but I'll say it again – I LOVE to bake! Love it, Love it, Love it, although I don't love my complete lack of will power when it comes to eating baked goods. :/ But, hey, there's always room for improvement, right? I'm always excited to find new recipes that I can bake up and bring to neighbors or friends. Sometimes, (just sometimes) I feel a little guilty because I know someone is trying to eat healthier, and here I am at their doorstep with a plate of chocolate chip cookies. I'm so mean! But, truthfully, its the only thing I really know how to do – Is bake! Well, I'm always happy to find good recipes with oats or fruit, because I can kind of claim it as healthier.
Today's recipe is one of those "healthier" recipes 🙂 Forget the cup of sugar and the amazing glaze that smothers the top. This thing is loaded with blueberries. Loaded! So, hush about eating better for just a moment and sink your teeth into this soft blueberry filled goodness. I'm pretty sure you wont regret it!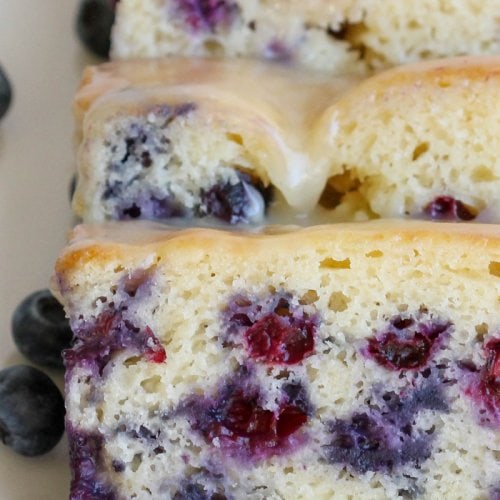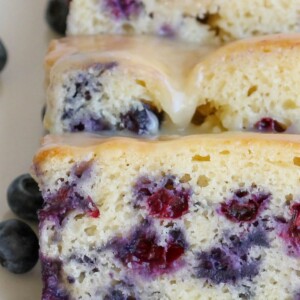 Glazed Blueberry Quickbread Recipe
Delicious Glazed Blueberry Quick Bread - no yeast involved, filled with blueberries and topped with a yummy glaze!
Ingredients
Bread
1

egg

1

cup

milk

3

tbsp

vegetable oil

2

cups

all purpose flour

1

cup

sugar

2 1/2

tsp

baking powder

1/2

tsp

salt

1 1/2

cups

blueberries

fresh or frozen
Glaze
1/2

cup

sugar

1/2

tbsp

cornstarch

1/2

cup

heavy whipping cream

1/4

cup

butter

cubed

1/2

tsp

vanilla extract
Instructions
Beat egg, milk and oil in a large bowl,. Combine the flour, sugar, baking powder and salt and slowly add to the egg mixture. Beat until combined. Fold in the blueberries.

Pour batter into a greased loaf pan(s). We had enough batter for two 8x4 pans. Bake for 50-55 minutes at 350°.
Glaze
In a saucepan over medium heat, combine sugar and cornstarch. Stir in cream until smooth; add butter. Bring to a boil and stir for 2 minutes or until thickened. Add vanilla, stir. Drizzle over warm bread.
Adapted from Taste of home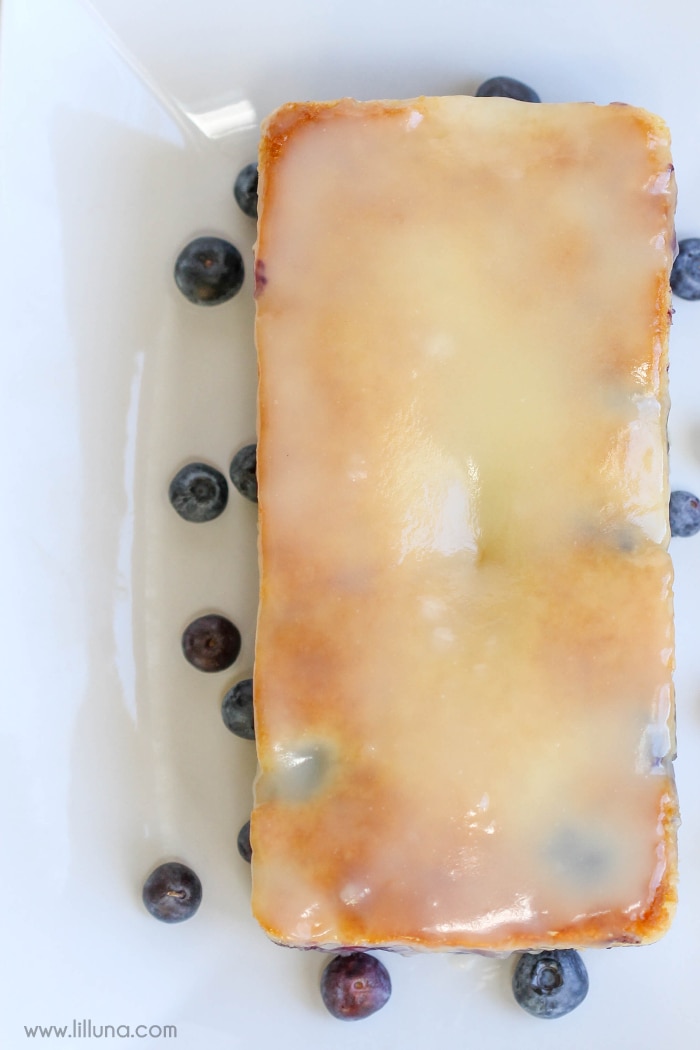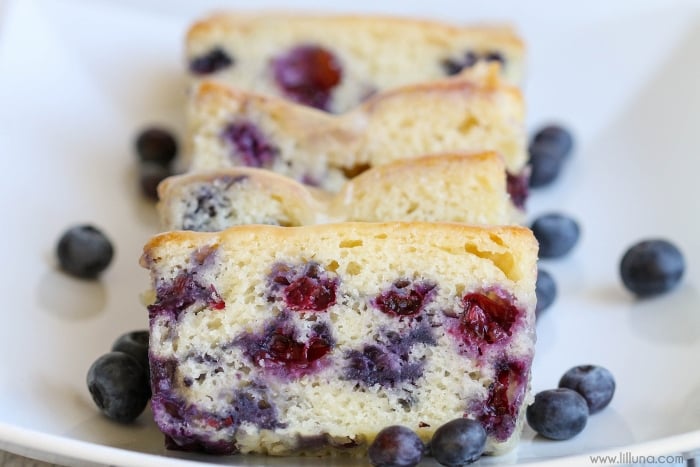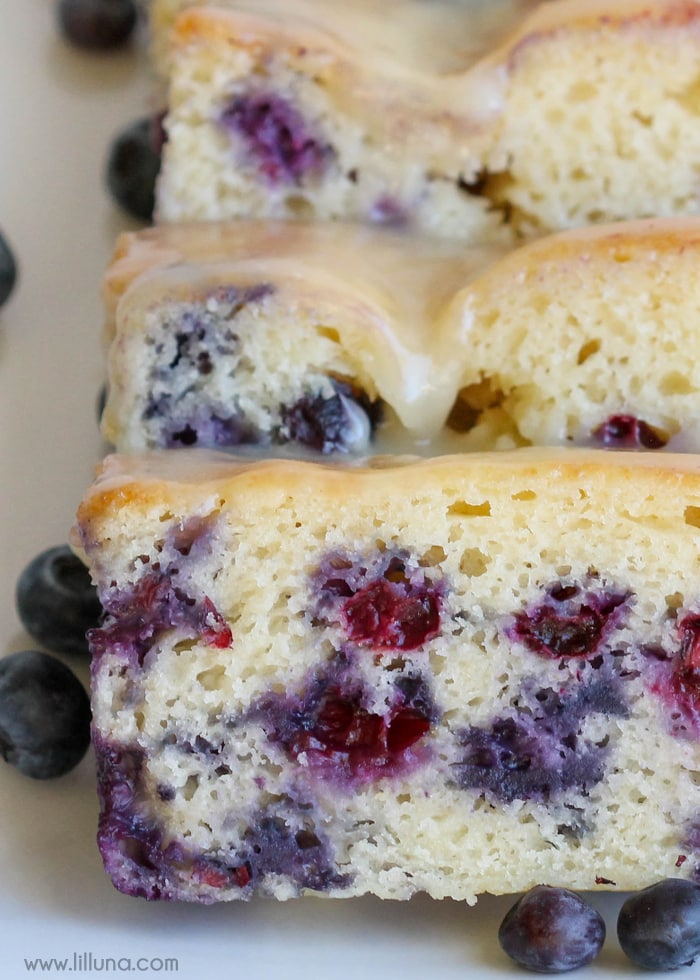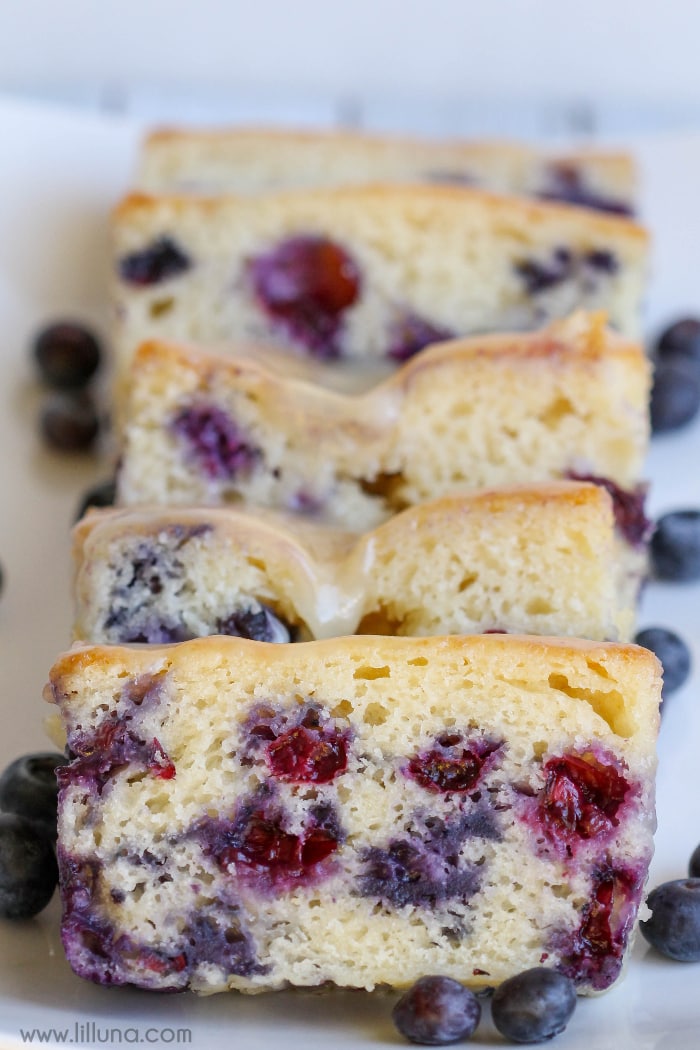 DIFFICULTY: Simple
HOW MANY DOES IT FEED:
ANY CHANGES MADE: used less blueberries, 1 1/2 cup,  used 2 smaller 8×4 loaf pans,
ANY SUGGESTIONS FOR NEXT TIME: We recommend halving the sauce, as we had lots left over. And on the next batch, we're going to try using Almond Extract in place of vanilla.
For more delicious (and easy!) bread, you can check out these recipes: