This bacon, egg, and hashbrown casserole is one of our all time favorite savory breakfast dishes. It's perfect for feeding a crowd, and takes only minutes to whip up. Everyone loves Cheesy Hash Brown Breakfast Casserole!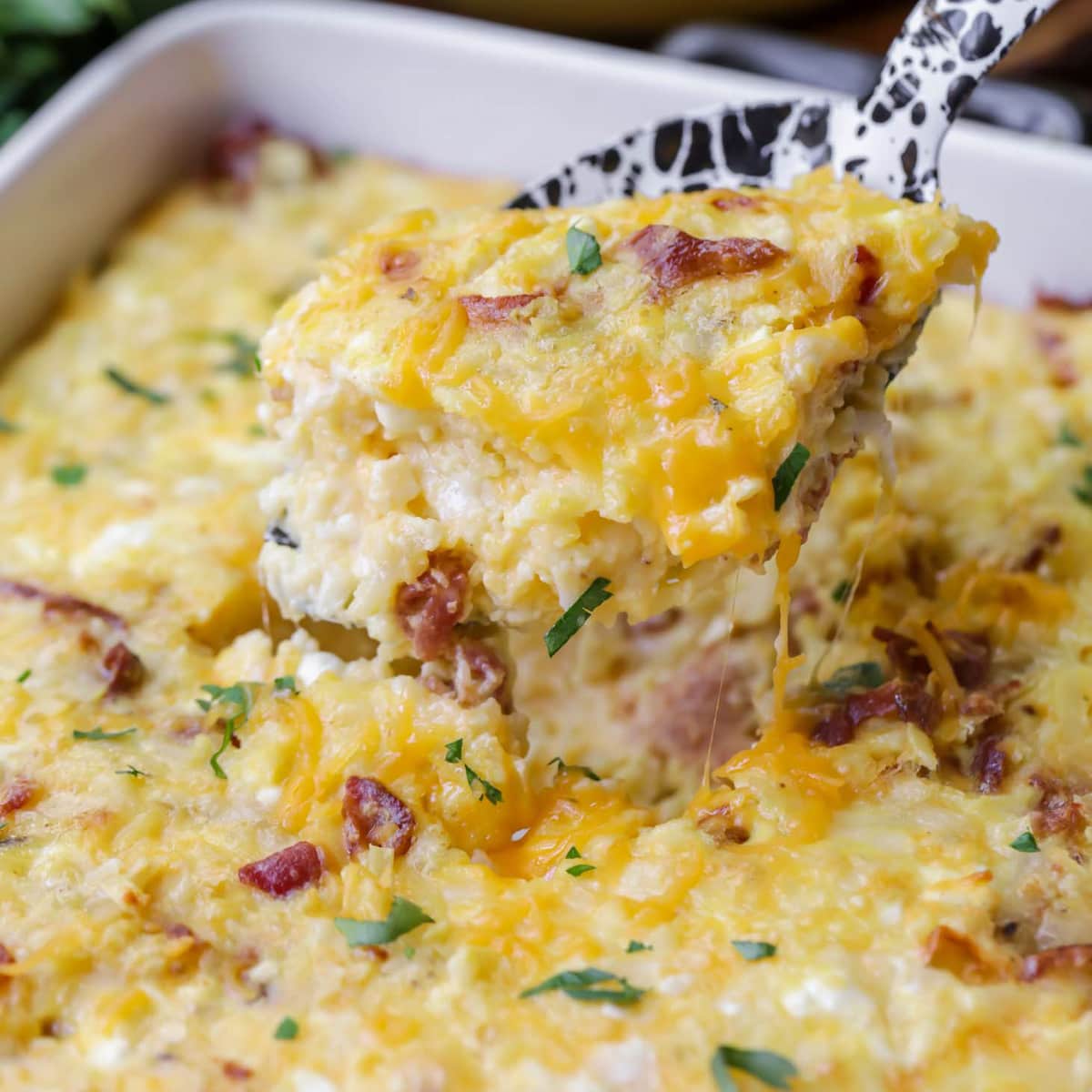 Hash Brown EGG casserole
I think I've mentioned this a gazillion times before, but I LOVE breakfast recipes – especially savory ones! It's sad that we don't have a ton of time in the mornings to make these yummy dishes, but we still try to make them occasionally on weekends, and definitely for special occasions and holidays.
Over the years, we have tried a TON of new breakfast casseroles, like our Biscuit Egg Casserole and Sausage Breakfast Casserole, but we wanted to try a breakfast casserole with hashbrowns!
This Hash Brown Egg Casserole includes all the best breakfast items – hash browns, eggs, and bacon. Using those items, you will just need a few minutes to make this breakfast casserole. Mix them together with 3 different cheeses, bake to perfection, and you have an amazing breakfast dish to enjoy.
We tend to make more of these breakfast casseroles during the winter, and especially around the holidays, so I wanted to share this hashbrown egg bake recipe now in case you did the same. 😉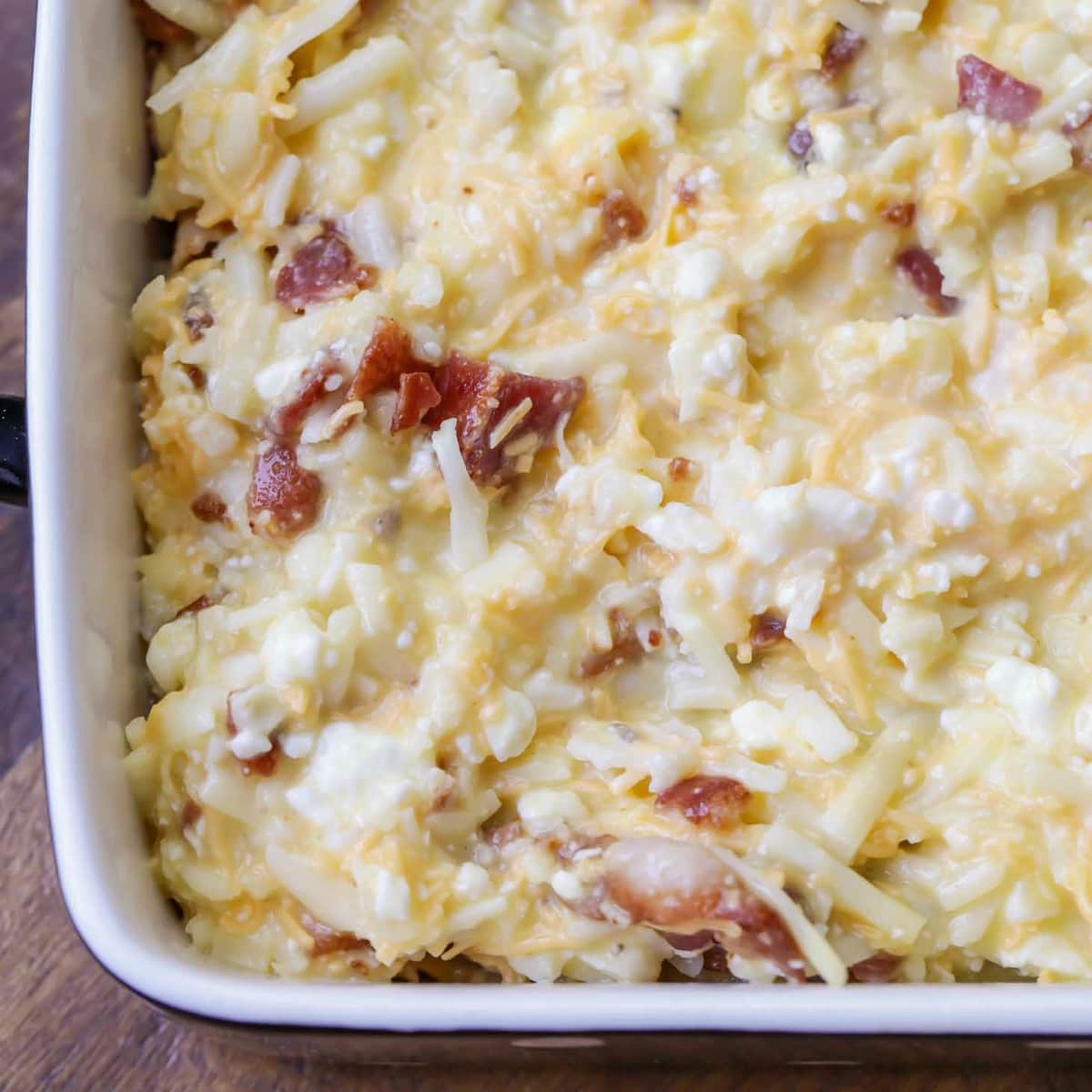 You can see all three cheeses mixed in!
Hash BRown Breakfast Casserole Variations:
This recipe is pretty adaptable for any dietary needs or eating preferences your family members might have.
If you can't stand the cottage cheese, you can try swapping it out for ricotta cheese (a little drier and higher in fat content), greek or unsweetened yogurt, sour cream (more tart), or mayonnaise.
For a meatless version, you can omit the meat altogether and maybe add some cooked mushrooms and bell peppers instead.
Meat lover? Add cubed ham or cooked sausage along with your bacon. Or you can opt to use either of those instead of bacon.
Add chopped green onions for some extra flavor.
Garnish with chopped parsley.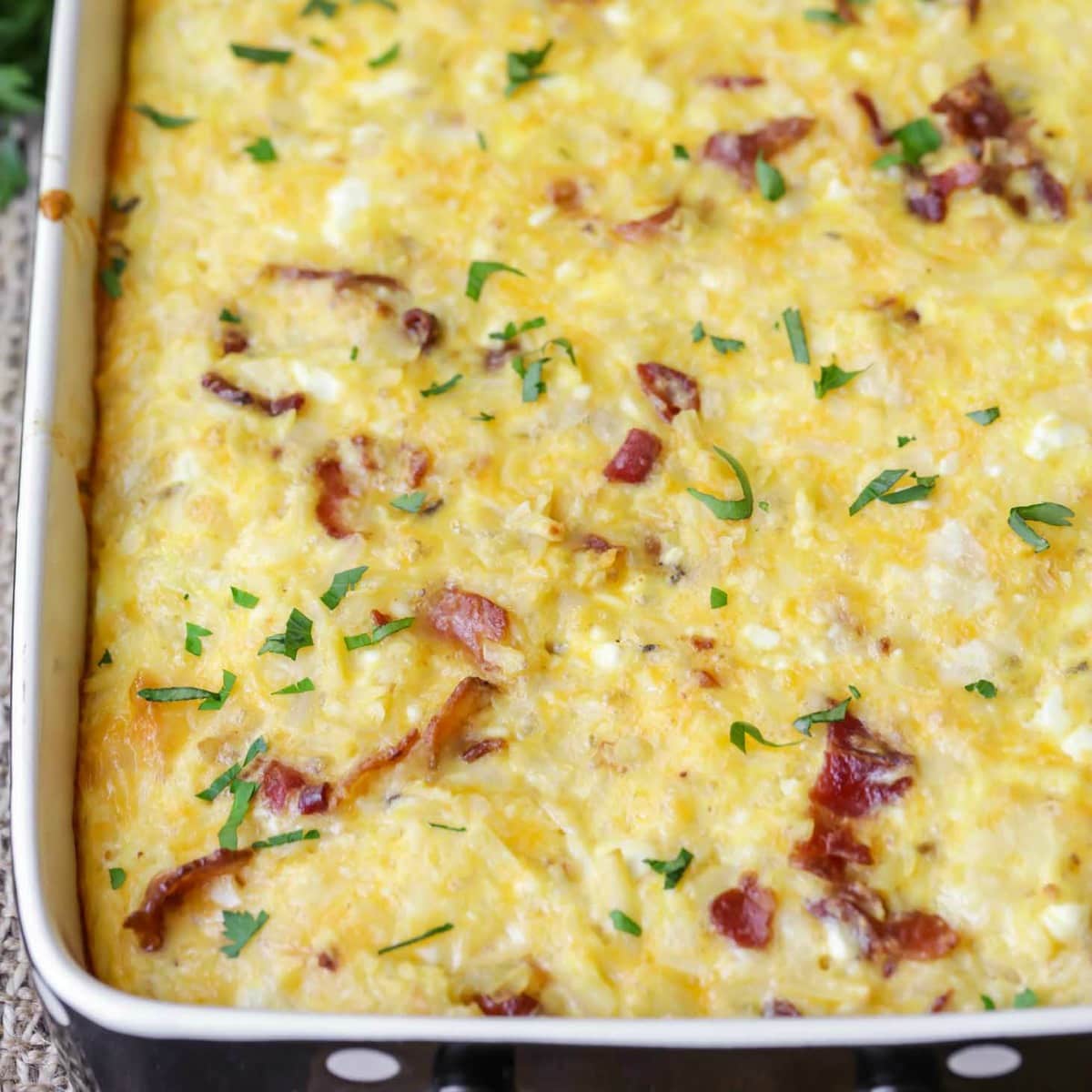 HASHBROWN EGG BAKE/Casserole FAQ
This bake/casserole is probably in my list of top 10 breakfast recipes. It's perfect because it feed a crowd, it's ultra simple to throw together, and it's actually really inexpensive! Another bonus is that it also reheats well. We made it and had leftovers and enjoyed it for the next few days because it was still so good!
Can hashbrown breakfast casserole be made overnight?
This recipe actually works great as an overnight casserole! Throw it together like normal, cover, and refrigerate overnight. Then add an extra 10 minutes or so to the baking time in the morning. Be aware, however, that the heavier ingredients might settle to the bottom. You can give it a quick stir in the morning to avoid this, but it makes a great overnight breakfast casserole with hash browns.
Can you freeze this breakfast casserole with hash browns?
Absolutely! You can freeze it before or after it has baked and cooled. Just cover the dish tightly with plastic wrap and foil, and store in the freezer for up to 3 months. When you're ready to cook it, let it thaw in the fridge overnight and then bake like usual. If it's already baked, thaw, and then cook for about 30 minutes at 350° or until the middle is no longer cold.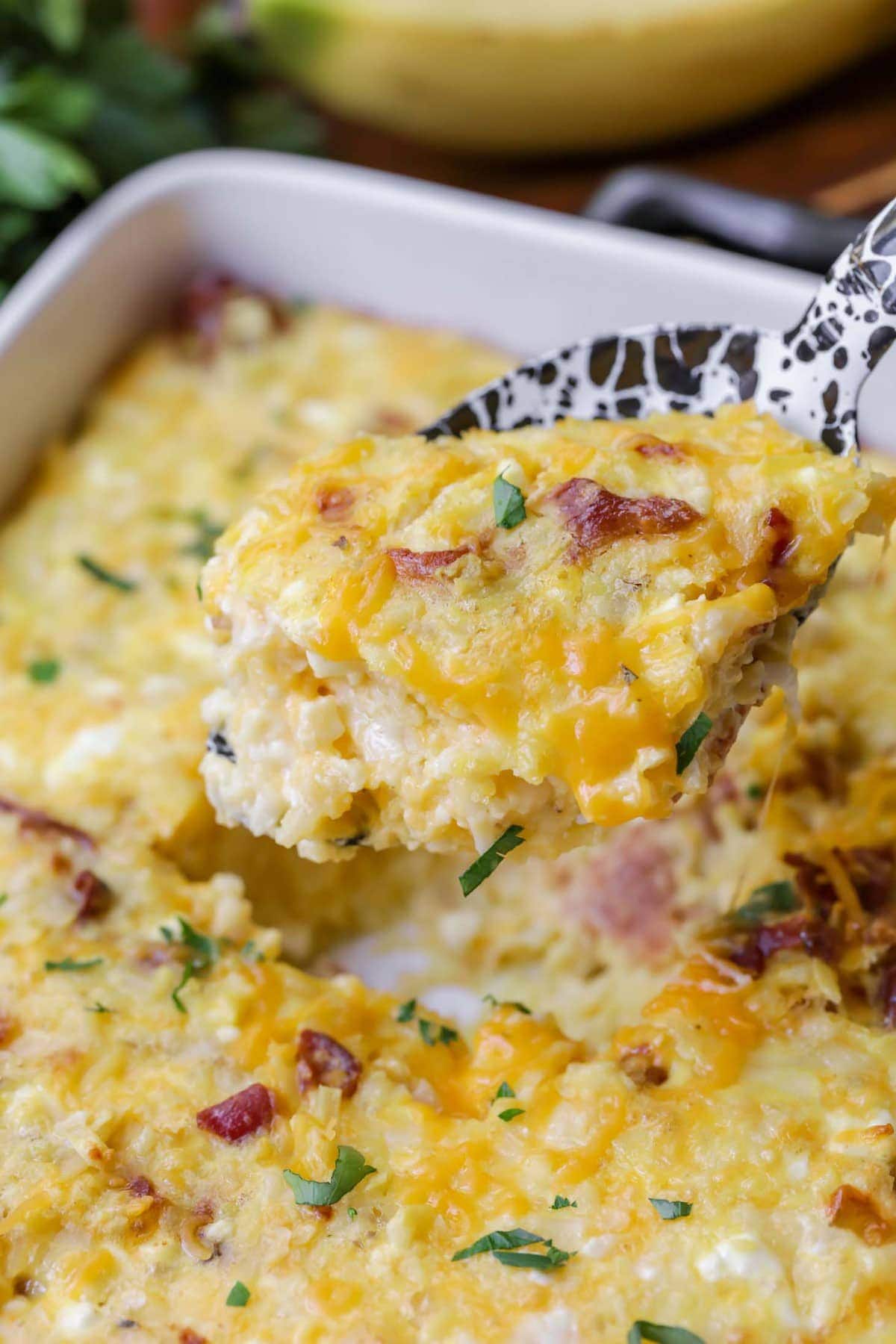 Complete your breakfast by also making these recipes:
For more breakfast casseroles, check out:
Hashbrown Breakfast Casserole Recipe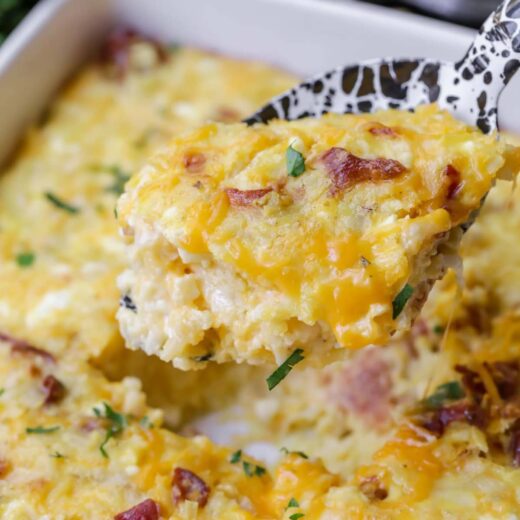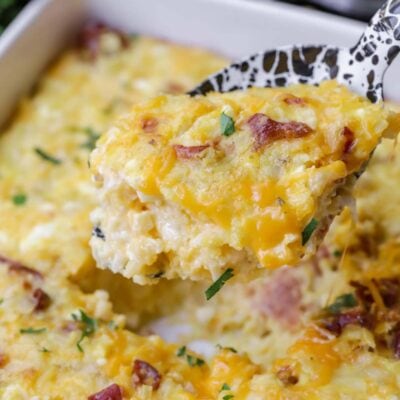 This bacon, egg, and hashbrown casserole is one of our all time favorite savory breakfast dishes. It's perfect for feeding a crowd, and takes only minutes to whip up.

Ingredients
1

lb

bacon

diced

4

cups

frozen shredded hash brown potatoes

thawed

9

eggs

lightly beaten

2

cups

shredded cheddar cheese

1 1/2

cups

cottage cheese

1 1/4

cups

shredded swiss cheese

salt & pepper
Instructions
Preheat oven to 350 degrees, and grease a 9x13-inch baking dish.

Cook diced bacon in a skillet until browned and put into large bowl.

Stir in potatoes, eggs, cheeses and salt & pepper. Pour mixture into greased baking dish.

Bake for 40-45 minutes. Let stand for 10 minutes before serving. ENJOY!