Learn how to freeze eggs. It's easier to do than you think and is a great way to make sure those extra eggs last longer or that you can save extra eggs to use later.
For more egg tips, check out how to make perfect hard-boiled on the stove top as well as in the instant pot.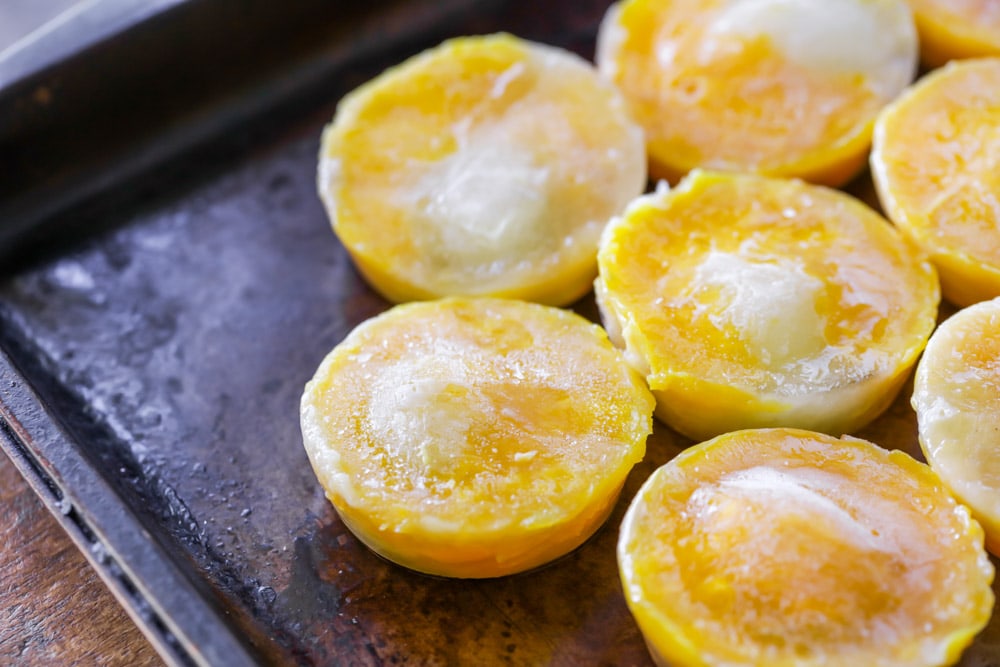 It's Easy To Do!
Have you ever froze eggs before?
Most may not think to do it, but often times we find ourselves with lots of eggs on hand (especially if you have chickens) or wanting to save eggs to use later before they go bad.
Today, we wanted to show you just how simple it was to freeze eggs to use later. So – how do you do it??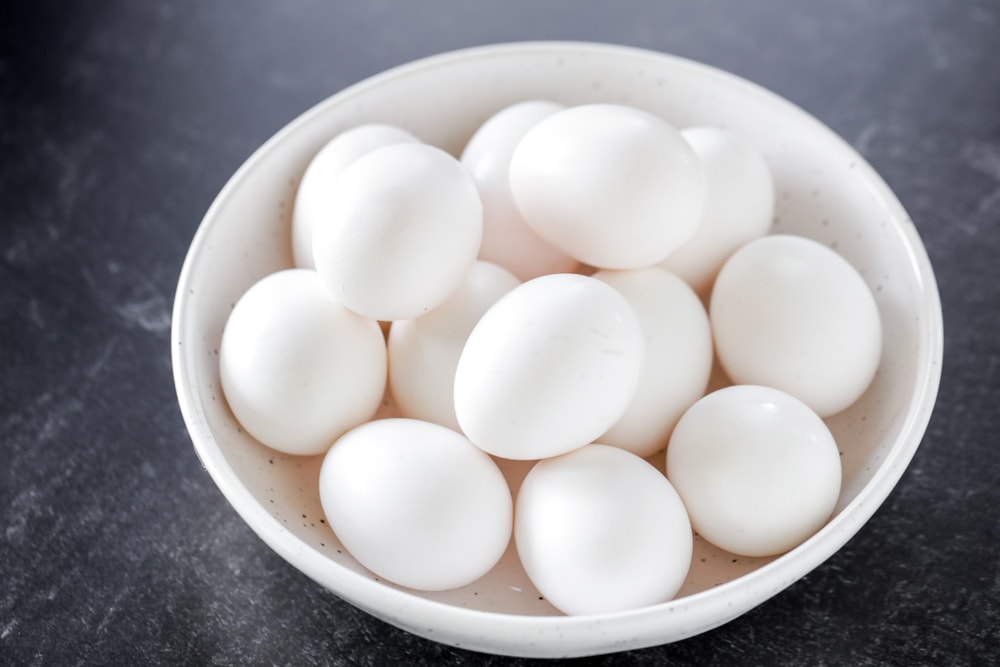 How to Freeze Eggs
You probably already knew this, but you can't freeze eggs in their shell.
Instead, you need to crack the eggs in a bowl and mix until the yolks and whites are just barely mixed. The goal is to not add in too much extra air when you freeze it. The easiest way to freeze eggs is in a GREASED (with vegetable oil spray or butter) ice cube tray or a mini muffin or regular sized muffin tin. We found our ice cube tray to be too small, so we prefer a regular size muffin tin.
We cracked our egg in a small mixing bowl, whisked it for a few seconds and then poured it into the muffin tin. Once all the slots were full, we stuck them in the freezer.
Once they are solid, you can pop them out (we just flip it over and give it a quick bang and they usually fall out.and place them in a freezer-safe ziploc bag.
You can also freeze egg YOLKS and WHITES.
YOLKS: You can also freeze just whites and just yolks. To freeze just yolks you are going to crack them into a bowl and mix until they are liquid. Then you can either add sugar or salt depending on what you want to use your egg yolks for. Add a ½ teaspoon of salt for every cup of egg yolks or add every 1 ½ teaspoon of sugar for every cup of yolks. Let them freeze in the ice cube trays again before placing them in labeled freezer bags.
WHITES: After separating your eggs you can easily pour your egg whites into the ice cube tray and freeze until set and then place in a freezer bag.
FAQ:
How to get frozen eggs out of pan? Bang the pan onto the counter. We typically put some wax paper down for it to go on. Then place in freezer bag. 😉
How to thaw frozen eggs? You need to place your eggs in the fridge the night before you use them to thaw overnight. It's pretty easy!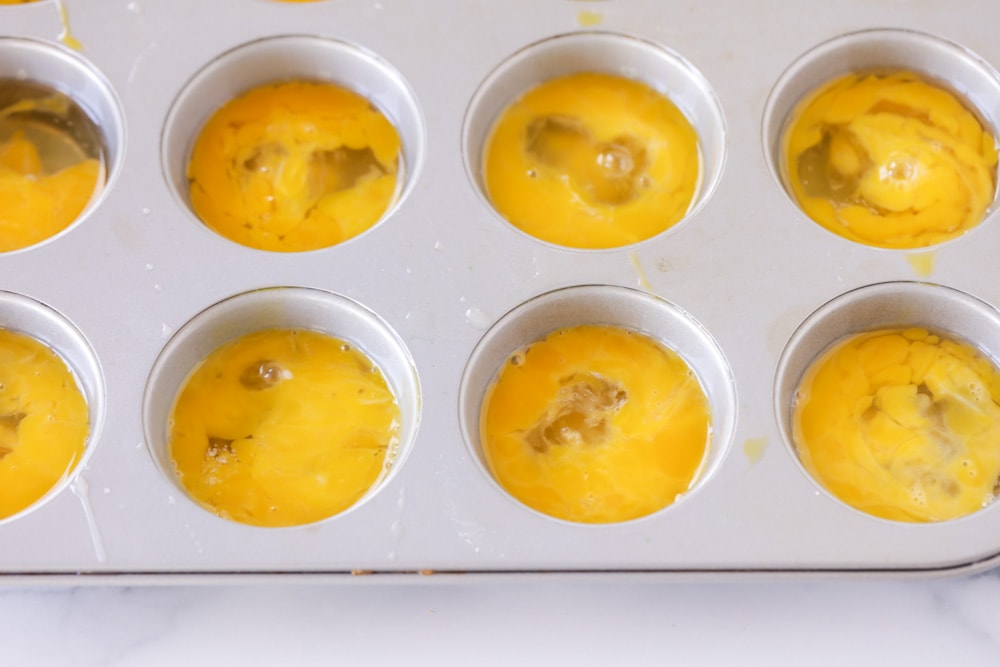 Egg FAQ
What is the best method to separate eggs? There are a lot of different ways to separate eggs. 
You can use the classic shell to shell method where you crack the egg and then you toss the egg back and forth until the whites run out and the yolk stays in the shell.

You can crack the egg right in your hand and then the whites will just run through your fingers and kind of separate themselves.

You can use the water bottle method. Crack the egg into a bowl and then suction the yolk into the bottle and leave the whites in the bowl.
How long do they last? Frozen eggs will last 6 months to a year in your fridge. Let them defrost and thaw in the fridge for a whole day before you use them.
Can you freeze hard boiled egg yolks? This is a super great option if you have extra hard boiled eggs. The whites don't freeze well, but if you want to keep the yolks for use in salads then all you have to do is place the yolks in a freezer safe bag or airtight tupperware container. These will last up to 3 months in the freezer.
Recipes to use eggs in? Options are endless!! Western Omelettes, scrambled eggs, or any of our baked goods; like our lemon bundt cake, chocolate sheet cake, or our red velvet poke cake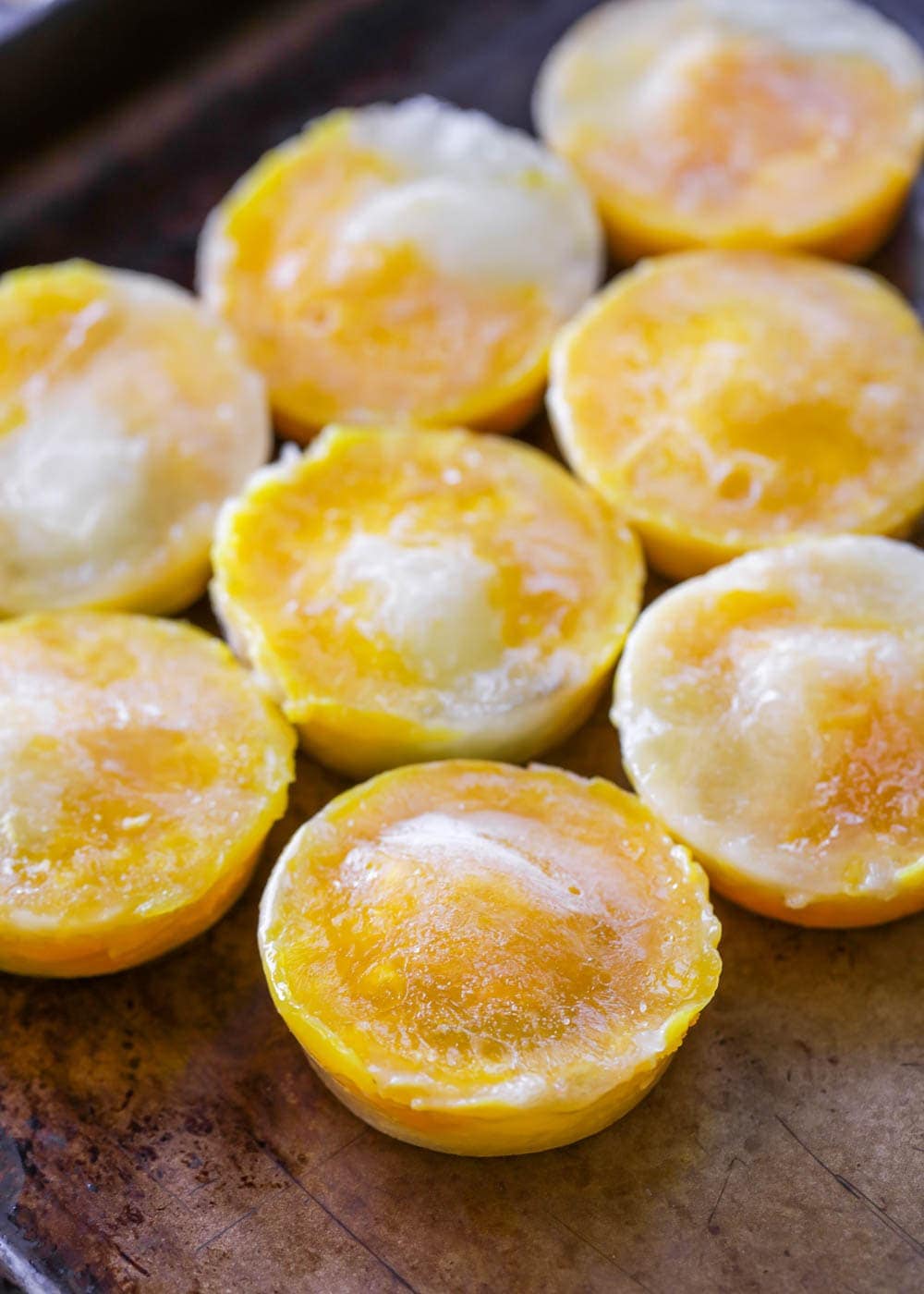 For more baking tips, check out:
How to Freeze Eggs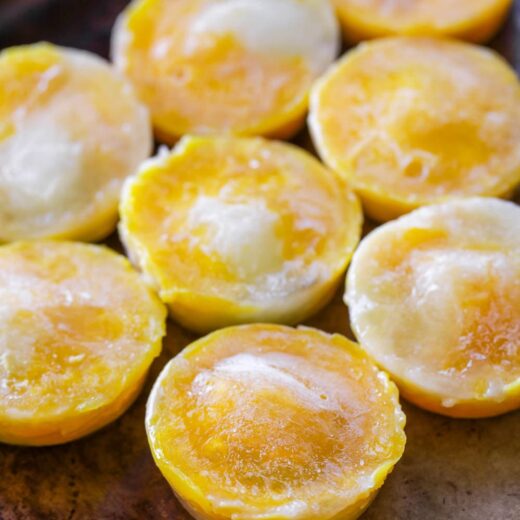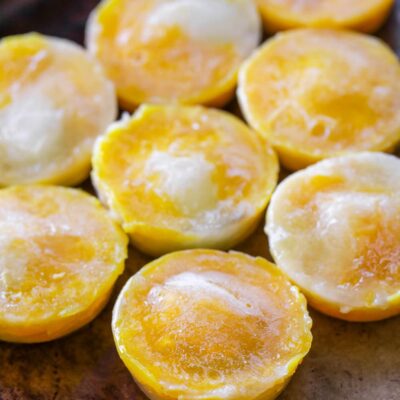 Learn how to freeze eggs. It's easier to do than you think and is a great way to make sure those extra eggs last longer or that you can save extra eggs to use later.
Ingredients
12

egs

vegetable oil spray

or butter
Instructions
Crack shell and add egg to a medium bowl. Beat just until blended.

Pour into freezer containers, seal tightly, label with the number of eggs and the date, and freeze.