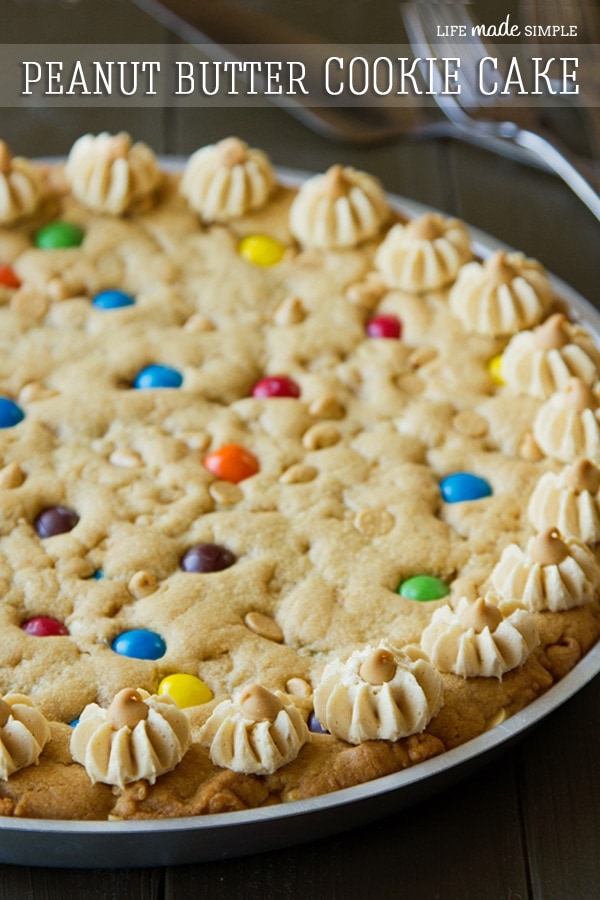 Hello Lil' Luna readers! It's me, Natalie, from Life Made Simple. I'm excited to be back and to share another great recipe with you all! Back in October I decided to make my husband an M&M chocolate chip cookie cake for his birthday. He LOVES cookie cakes so I thought it would be the perfect treat for his special day. Not only did it look amazing but it tasted pretty darn good too!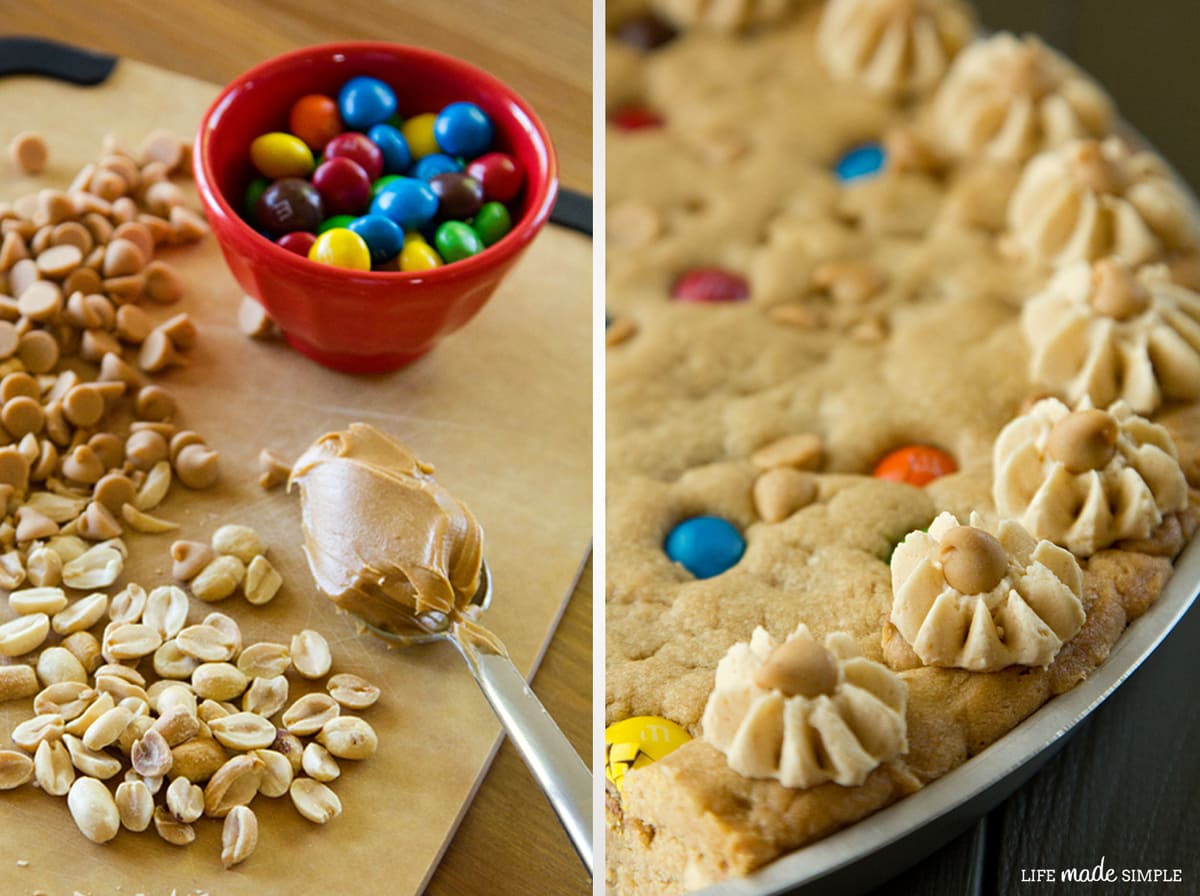 I thought it was time to create another fun cookie cake only this time I used a whole lot of peanut butter. If you're anything like me (obsessed with peanut butter) you're gonna love this! It's so easy and requires little to no decorating skills- always a plus for me. For those of you that would rather load this baby up with peanut butter cups, go for it! I think it would be just as good with chopped up cups inside and maybe even those mini cups sitting on top of each dollop of frosting! Ahh, so many options! Anyway, this cookie cake was a hit with everyone that tried it! It's a fun and creative alternative to cake or cupcakes and will certainly be a crowd pleaser!
MY OTHER RECIPES
Enjoy 🙂
Peanut Butter Cookie Cake
Ingredients:
1½ c. all-purpose flour
¾ c. sugar
½ c. brown sugar
1 c. creamy peanut butter
½ c. butter, room temperature
2 eggs
2 tbsp. heavy cream milk
¾ tsp. baking soda
½ tsp. baking powder
¼ tsp. salt
1 tsp. vanilla extract
½ c. peanut butter M&M's or peanut butter cups, coarsely chopped
½ c. peanut butter chips
½ c. dry roasted peanuts, coarsely chopped
Creamy Peanut Butter Frosting
Ingredients:
1 c. – 1½ c. powdered sugar
8 tbsp. (1 stick) butter, room temperature
¼ c. creamy peanut butter
1 tbsp. heavy cream
pinch of salt
DIRECTIONS:
1. Preheat your oven to 350 degrees. Line one giant (11″) cookie pan with parchment paper, then set it aside (NOTE: I usually just cut out a large circle for the bottom).
2. In the bowl of a stand mixer fitted with the paddle attachment, beat together sugars, butter and peanut butter until smooth, about 2-3 minutes. With mixing speed on low, add vanilla, heavy cream and one egg. Mix until incorporated, then add the remaining egg.
3. In a medium size mixing bowl, whisk together flour, baking soda, baking powder and salt. With mixing speed on low, gradually add the dry ingredients, mixing until no visible dry ingredients remain. Remove the bowl from the stand and gently fold in the M&M's (or peanut butter cups), peanut butter chips and chopped peanuts.
4. Using a spatula, place the dough into the pan, pressing to create an even layer. Place the pan in oven and bake for 16-20 minutes or until the edges become golden brown in color. Remove from the oven and allow to cool for 45 minutes before frosting.
5. Meanwhile, to prepare the frosting, beat all ingredients together in a medium size mixing bowl for 3 minutes or until the mixture becomes light and fluffy. Place the frosting into a piping bag fitted with desired tip and then pipe onto the cooled cookie (around the edges or in the center if you want to write something on it).
Yield: Makes 1 (11″) Wilton Cookie Cake | Adapted from Smitten Kitchen, Peanut Butter Cookies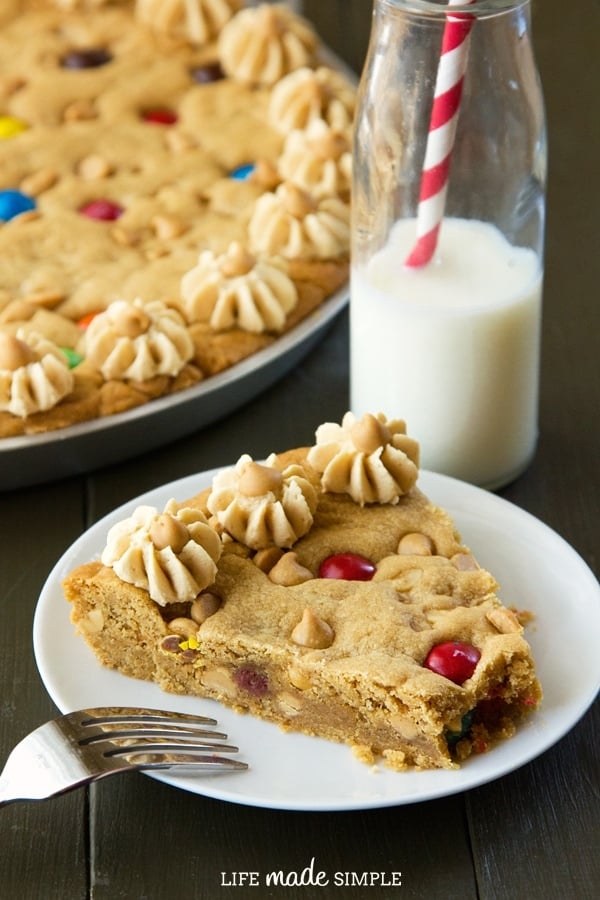 Thanks again Kristyn for having me!
You can find more recipes & craft ideas here:
Life Made Simple | Facebook | Pinterest | Twitter
————————————-
OH, YUM – this looks heavenly!
Be sure to go to Life Made Simple for more fun projects from Natalie, and
for more information about her please go HERE.
For more Peanut Butter recipes, be sure to check out: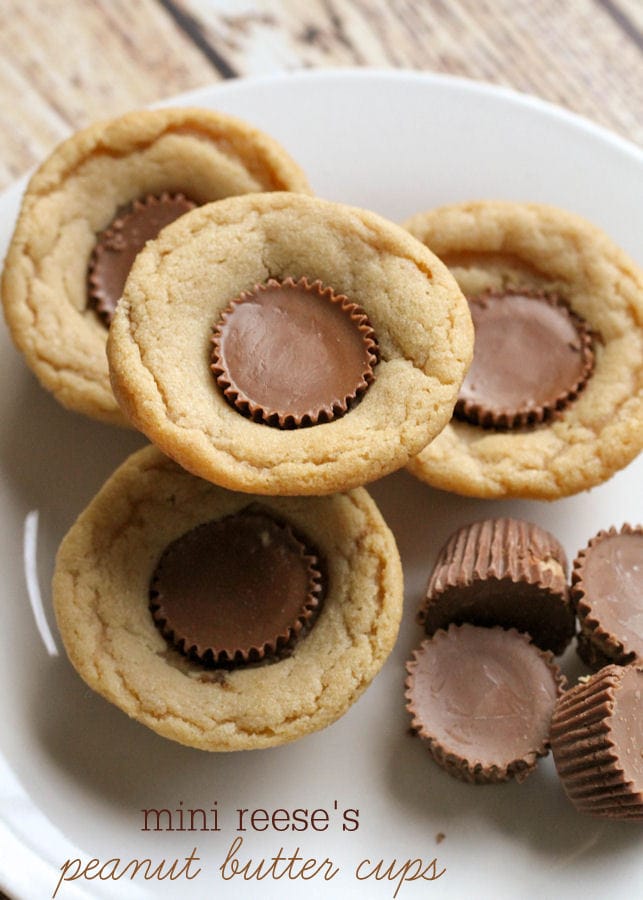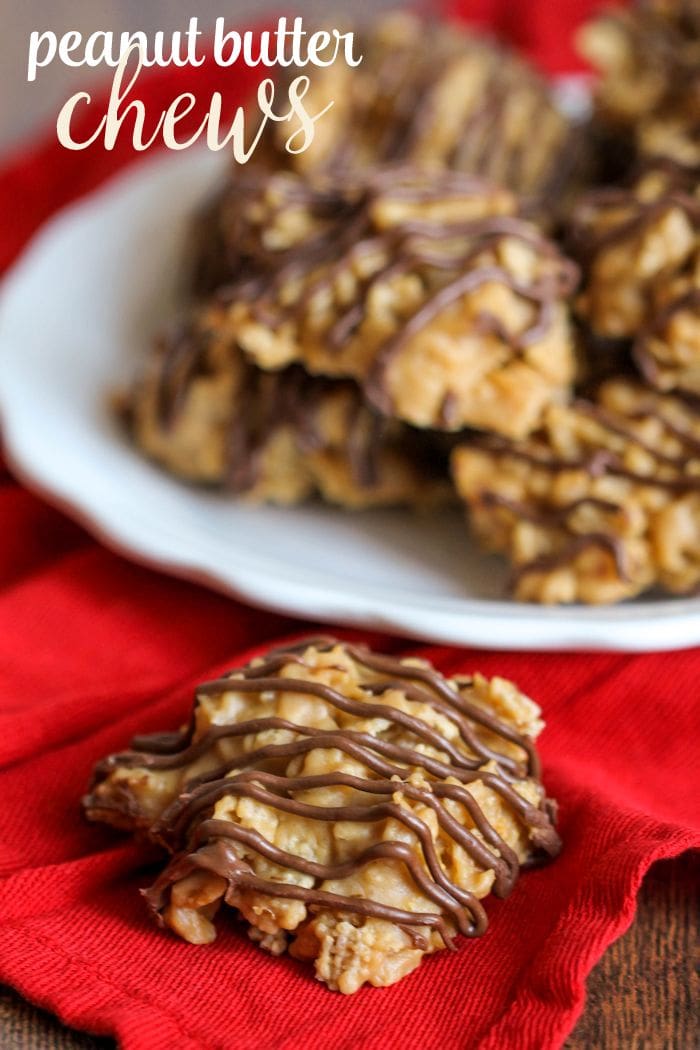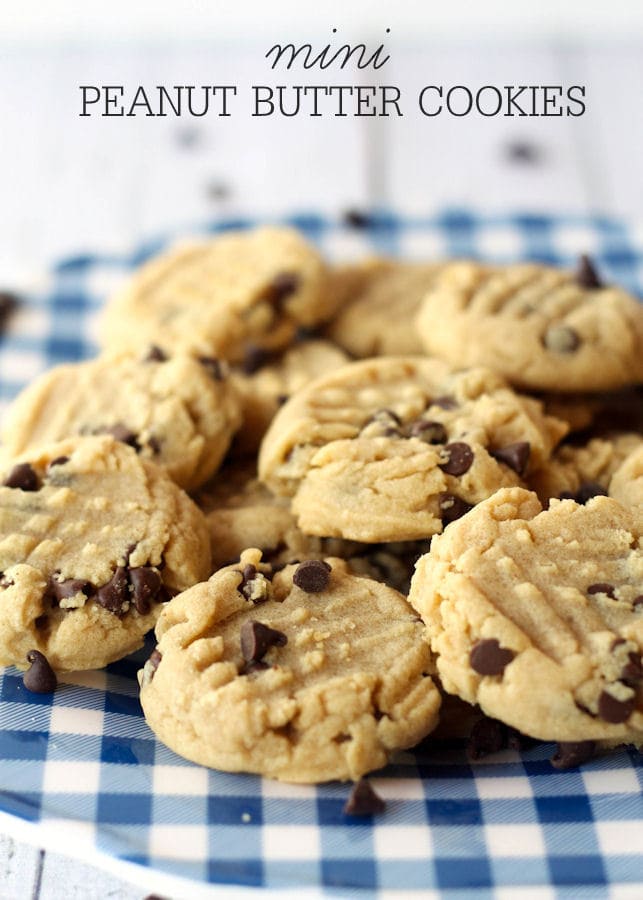 For all Dessert recipes go HERE.
For all Recipes go HERE.
And get weekly emails with monthly freebies by signing up for the Lil' Luna newsletter. 🙂
For even more great ideas follow me on Facebook – Pinterest – Instagram – Twitter – Periscope.
ENJOY!