Treasure Pudding Cake is a delicious and FUN Pirate Treasure Cake that kids will LOVE!! It's a simple and tasty treat!
While Candy Bar Trifle is filled with candy treasures, Treasure pudding cake has it's booty on top! Fun and festive cakes and desserts are perfect for parties and special occasion!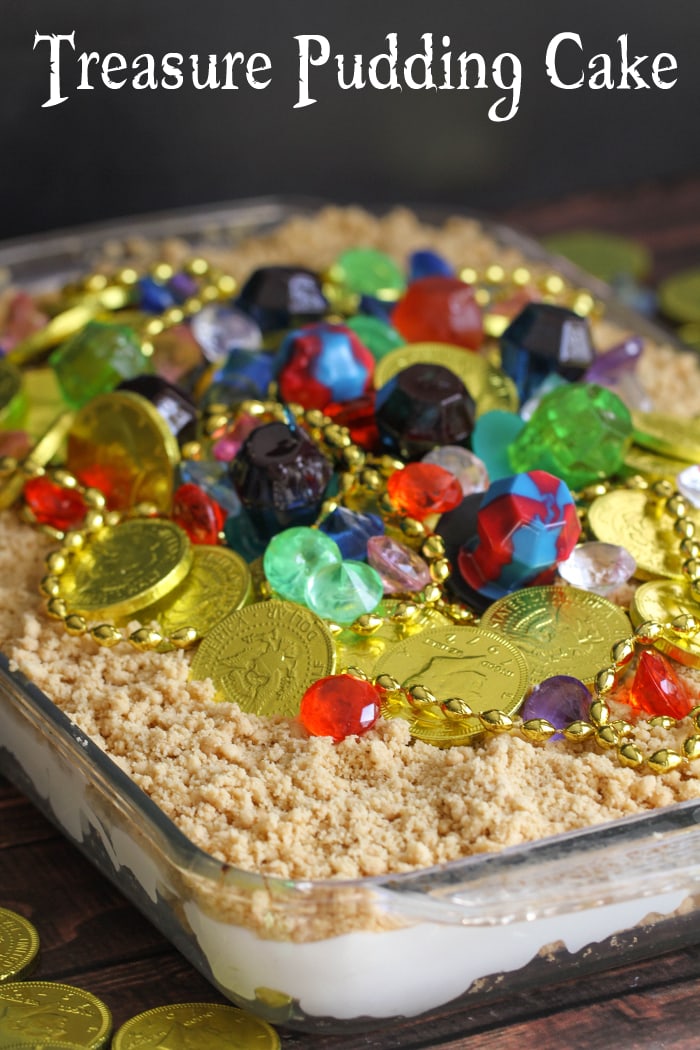 My kids love parties!
Last week we actually had a combined birthday party for Lily and Gavin. Their birthdays are under 3 weeks away from each other so they usually combine and have a Halloween-themed party in October. They decided to change things up and wanted a Pirate Party. They did most of the planning and decided on the games we'd play. They picked out a Pin the eye patch on the Pirate Game, along with a piñata and a treasure hunt.
I couldn't find exactly what we wanted, so I decided to make one up. I ended up making this Treasure Pudding Cake, and it was a HIT!! I wasn't exactly sure what I'd do at first, but I thought I'd turn our family favorite of Dirt Cake into a Sand Cake with crushed Golden Oreos, but also wanted to add some treasure to it. I headed to Party City and picked up some Chocolate Gold Coins and Ring Pops. For added effects I also added fake jewels and necklaces. It was SIMPLE and was the perfect addition to our Pirate Party!!
We actually used this Treasure Map Activity and had it lead to the fridge at the end with the Treasure Cake inside. We made the last clue: There's one last place to search for gold, it's the place we keep food to keep it cold! 😉 The kids LOVED it!! It's one of those treats that looked like it took a ton of effort but actually didn't. 😉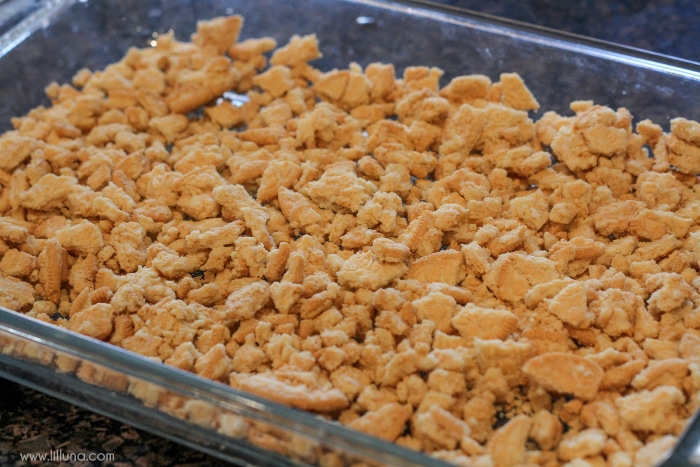 Making Treasure Pudding Cake
CRUST. Crush 1 package of Oreos and place in the bottom of a 9×13 pan. Set aside.
FILLING. Mix cream cheese and butter until smooth. Mix in powdered sugar and fold in whipped topping. Set aside. In a separate bowl mix pudding, milk and vanilla. Fold this mixture in with the cream cheese mixture. Pour over crumb mixture.
TOPPING. Crush the last package of Oreos and sprinkle all over the top to look like sand. Let set for a few hours.
SERVE. Before serving, top with treasure candy and jewels.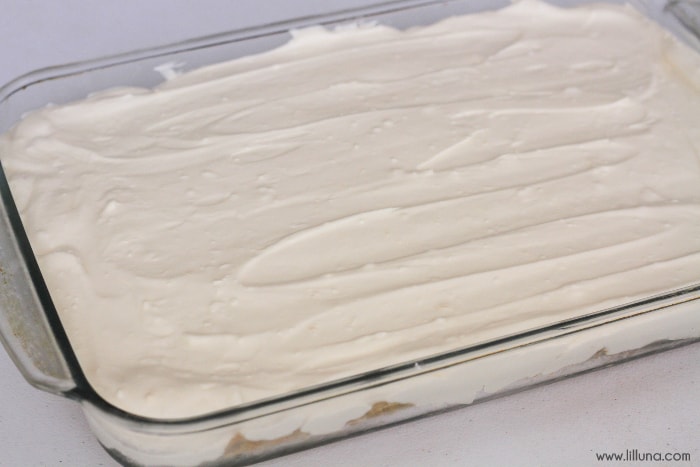 Tips for the best texture
Make sure you buy INSTANT pudding mix.

Mix the pudding and milk until it takes on a creamy pudding consistency. 

Use whole milk

FOLD do not Mix: When you add the whip cream to the cream cheese mix and then again when you add the pudding make sure you are gently folding the ingredients together.

Make sure your butter is not too soft and definitely not melted

Chill for at least 2 hours before serving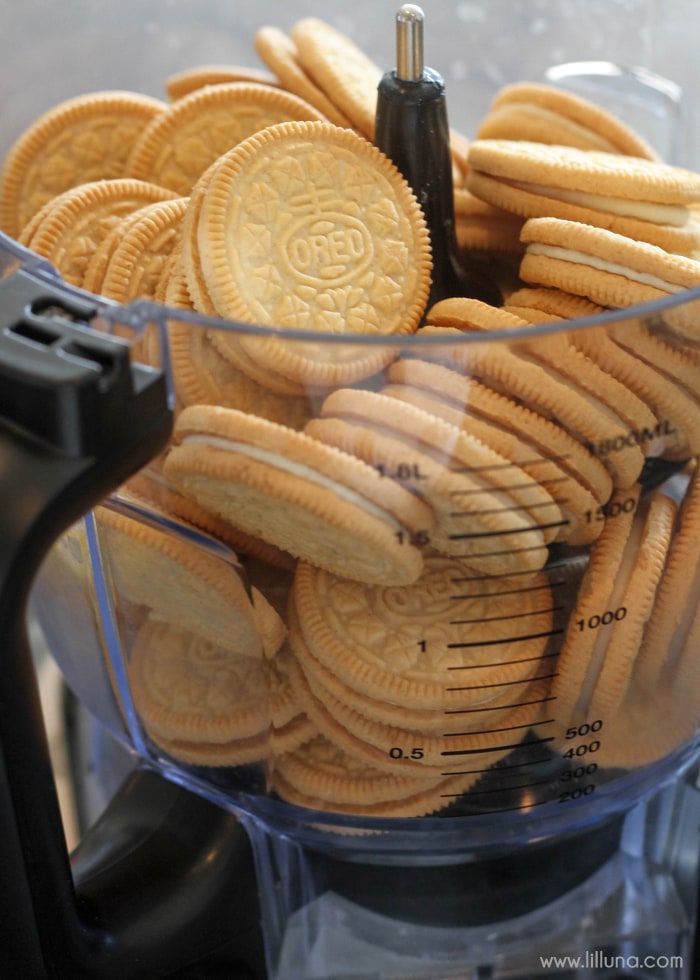 Variations
Make this into a layered trifle or into individual cups.
Use French vanilla pudding mix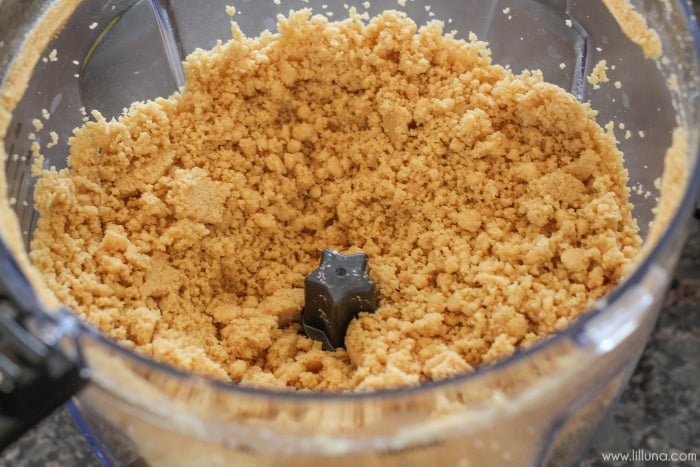 Storing Info
STORE this covered in the fridge for 3-5 days. The Oreos will gradually get softer the longer it is stored, but still taste delicious.
To make ahead: Crush the Oreos ahead of time and keep them in a bag on the counter. You can also prepare the pudding mixture ahead of time and keep it in the fridge in an airtight container until you combine it with the Oreos. On several occasions I have successfully made this the day before serving. Just cover and keep in the fridge.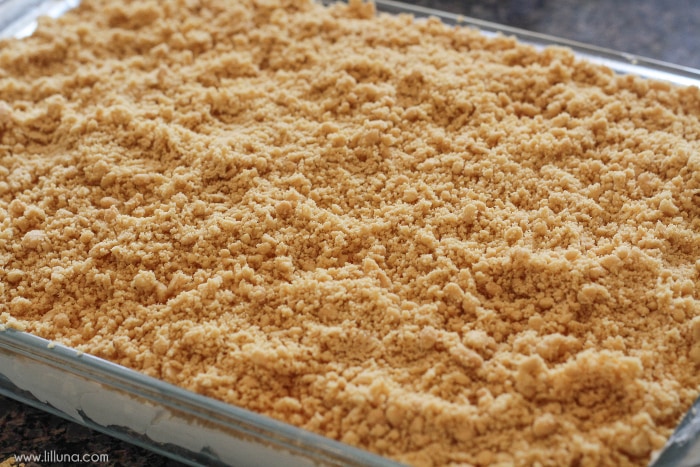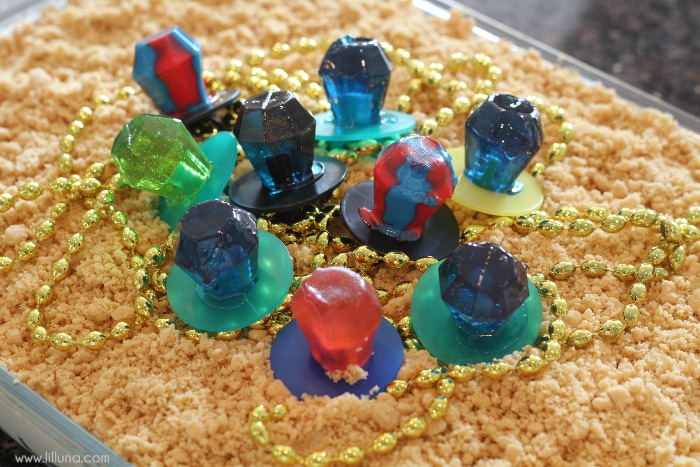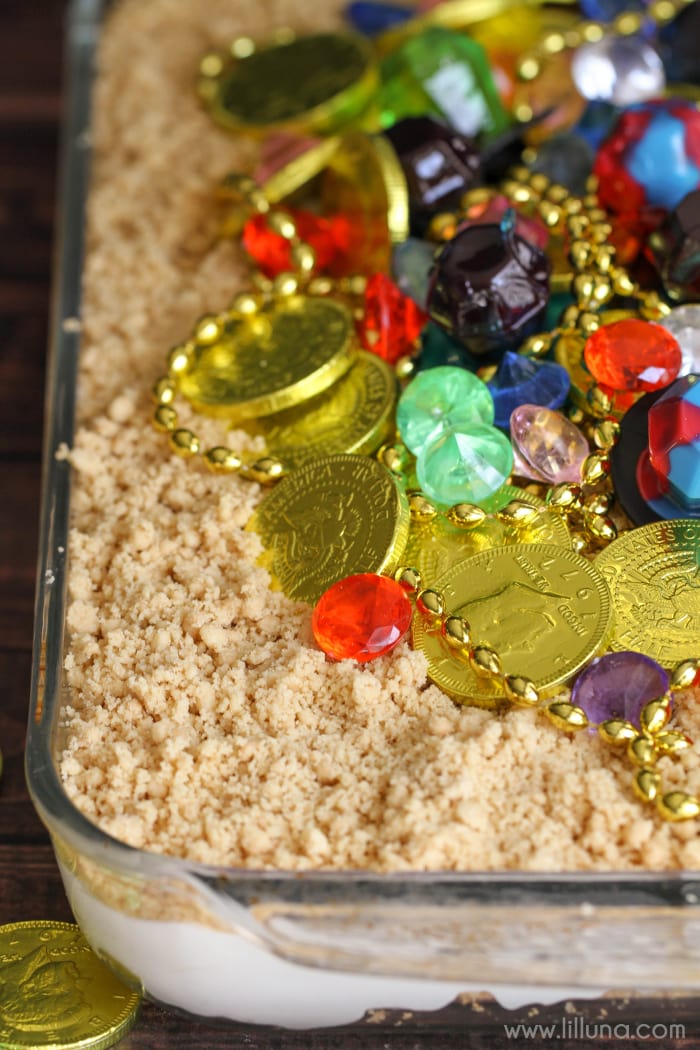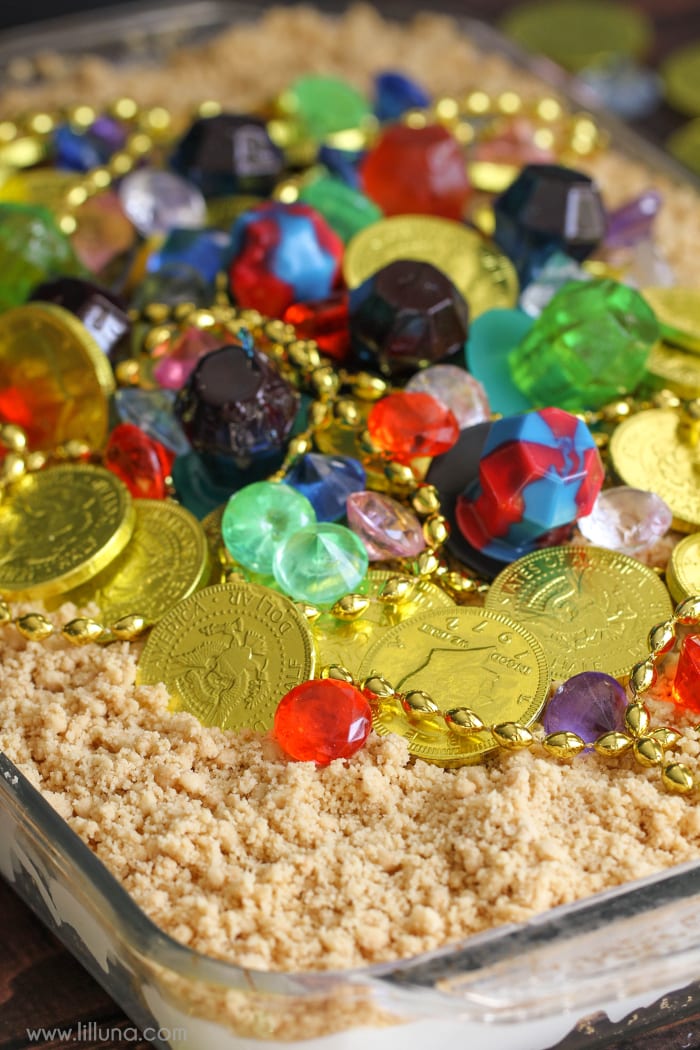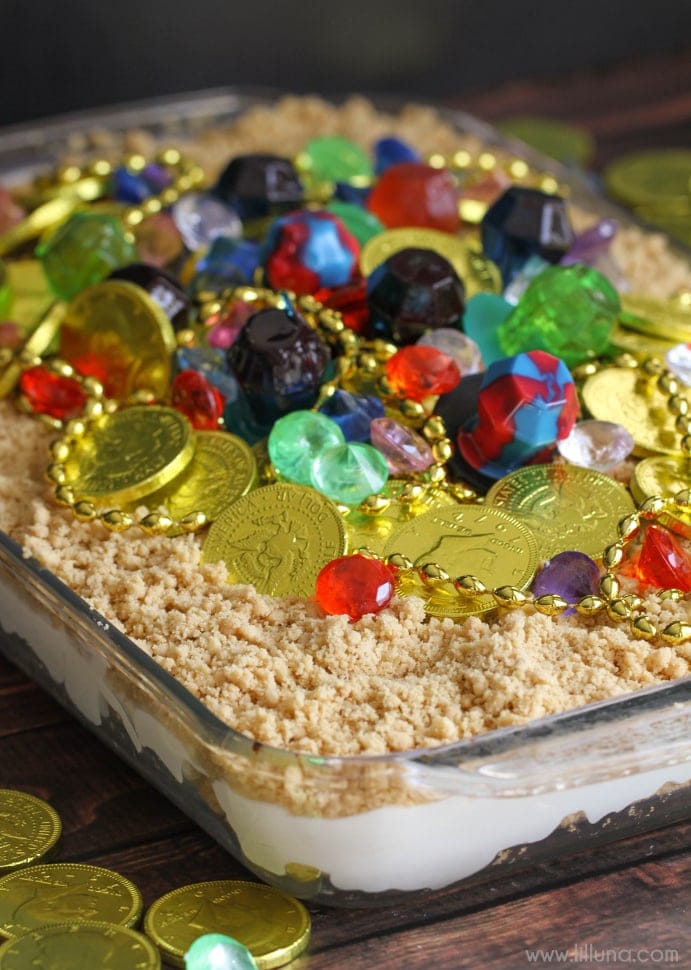 I'm all about simple and awesome recipes and this one turned out great!!
You don't even need to add treasure on top – you can just enjoy it as a regular dessert. In this case, I'm calling it White Chocolate Dirt Cake. It's pretty much a white chocolate version of the regular Dirt Cake. 😉 If you don't want it to look as sand you won't need as many Oreos which means you'll only use one package and add ¾ to the bottom of the pan and then sprinkle the reserve on top. 😉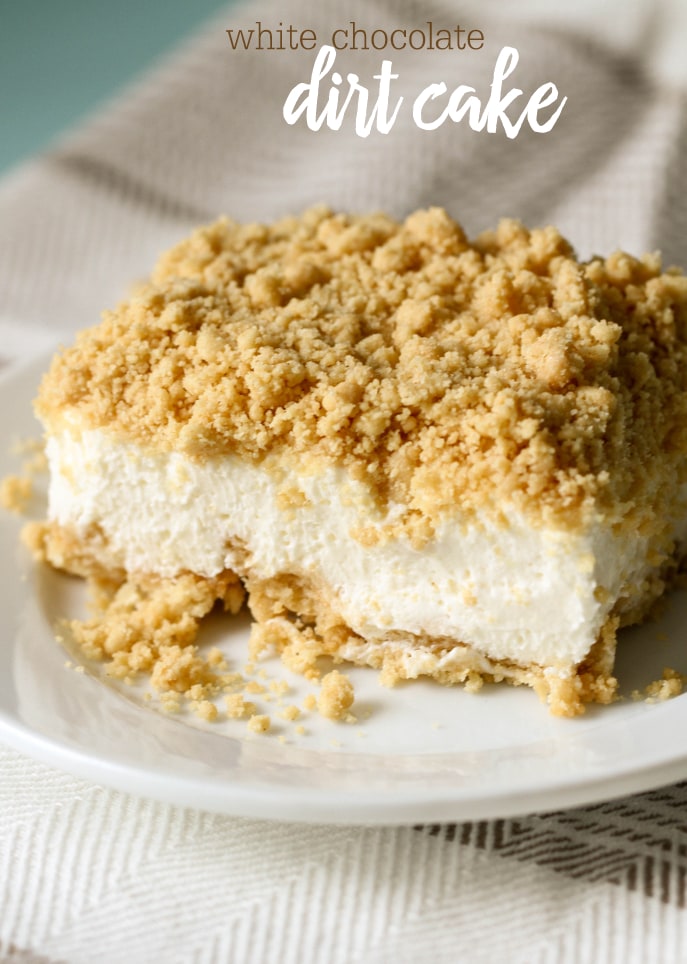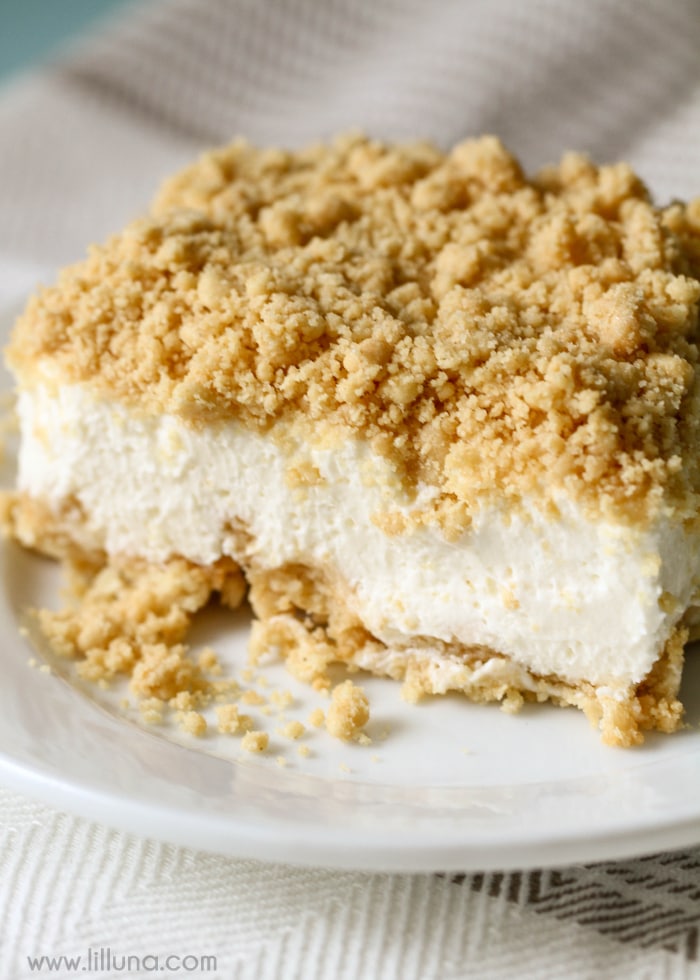 For more great pudding cakes, check out these favorites:
And for the FREE Printable Treasure Map activity go HERE: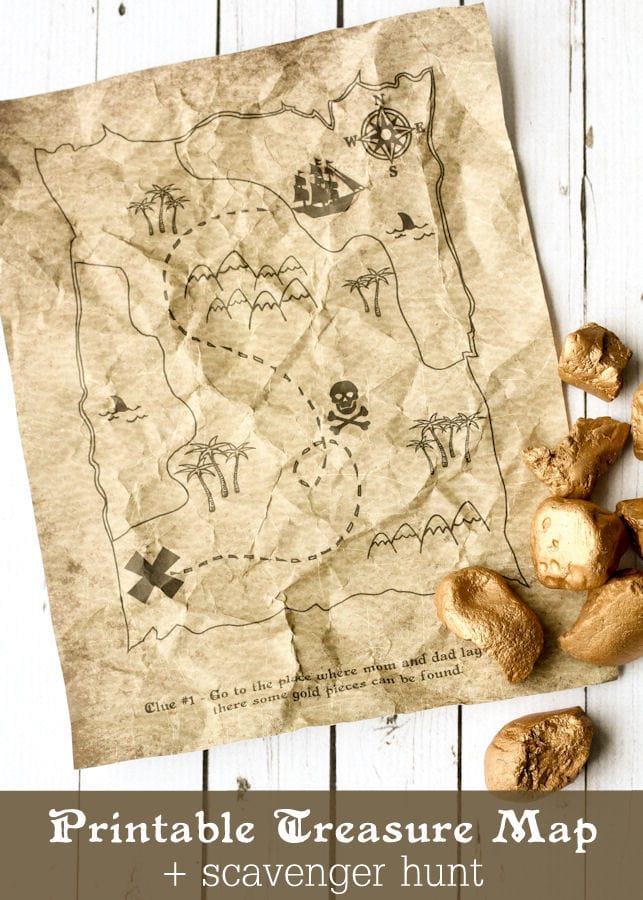 Treasure Pudding Cake Recipe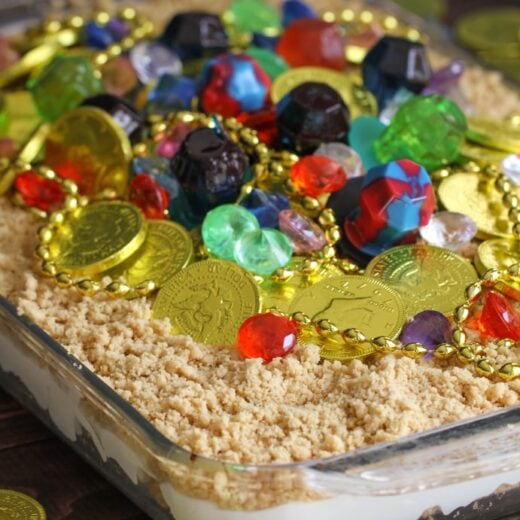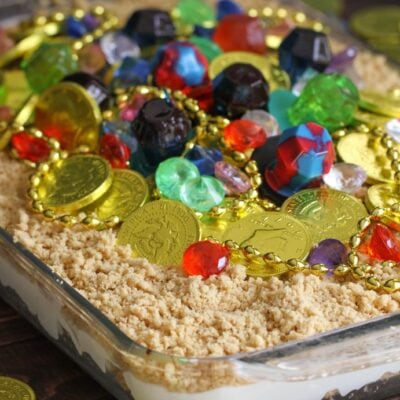 Treasure Pudding Cake is a delicious and FUN Pirate Treasure Cake that kids will LOVE!! It's a simple and tasty treat!
Ingredients
2

packages

Golden Oreos

8

oz

cream cheese

softened

1/2

cup

butter

1

cup

powdered sugar

16

oz

cool whip

2

boxes

instant vanilla pudding

or white chocolate

3

cups

milk

1

tsp

vanilla extract

Treasure Candy

(chocolate coins, Ring Pops, etc.)
Instructions
Crush 1 package of Oreos and place in the bottom of a 9x13 pan. Set aside.

Mix cream cheese and butter until smooth. Mix in powdered sugar and fold in whipped topping. Set aside.

In a separate bowl mix pudding, milk and vanilla. Fold this mixture in with the cream cheese mixture.

Crush the last package of Oreos and sprinkle all over the top to look like sand. Let set for a few hours.

Before serving, top with treasure candy and jewels