Easy Oatmeal Pie is an old-fashioned favorite! With a delicious brown sugar flavor, chewy layer of oatmeal, and flaky crust—it's the perfect pie recipe.
Of all the pie recipes we've made, we of course love the classics like Chocolate Cream Pie or Key Lime Pie, but we have a new-found love for this unique recipe that is similar to pecan pie.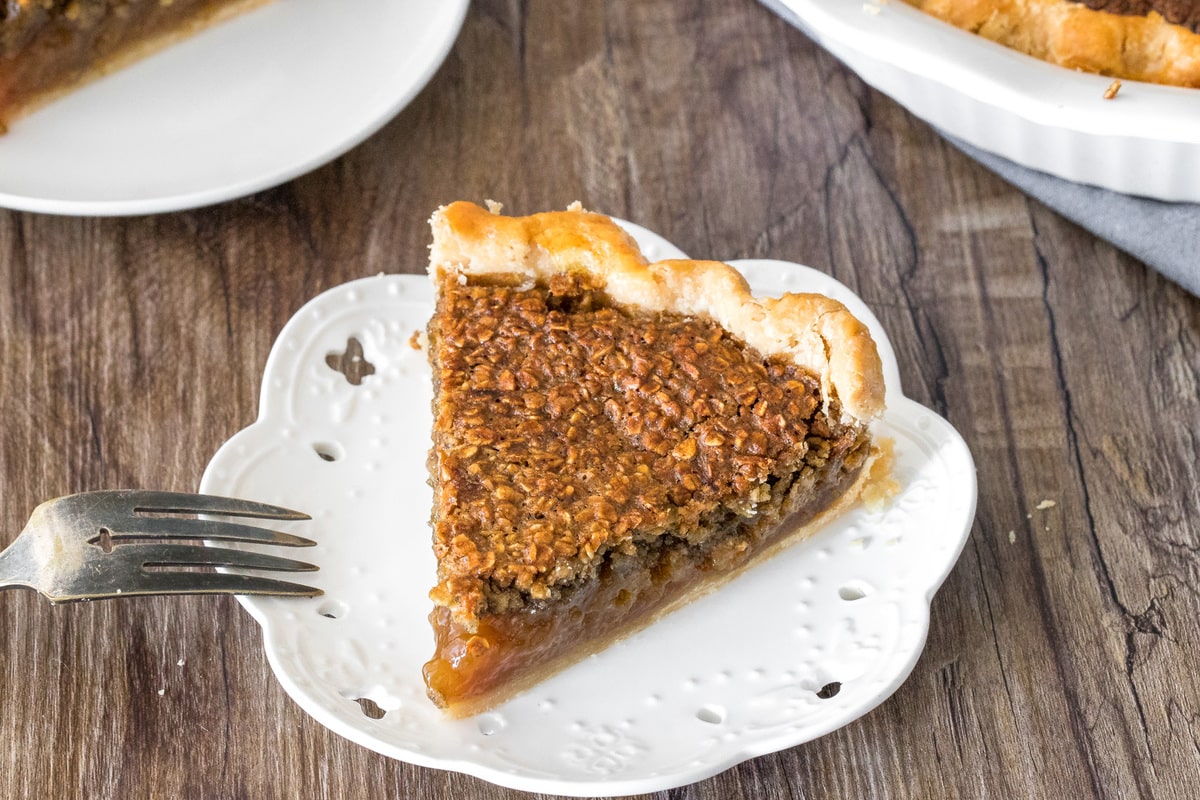 Pecan Pie's Cousin
If you love Pecan Pie, you definitely need to try this oatmeal pie. It has the same gooey, brown sugar, caramel flavor – but instead of crunchy pecans on top, there's a layer of chewy oatmeal.
I've heard this oatmeal pie called Amish oatmeal pie. I've also read that it was made in the South during the Civil War as a substitute for pecan pie. It was a new pie recipe to me until recently, but I will definitely be making it again and again because it's just THAT good!
This oatmeal pie tastes delicious with a scoop of vanilla ice cream on top, and I love to serve it at over the holidays along with pumpkin pie or apple pie.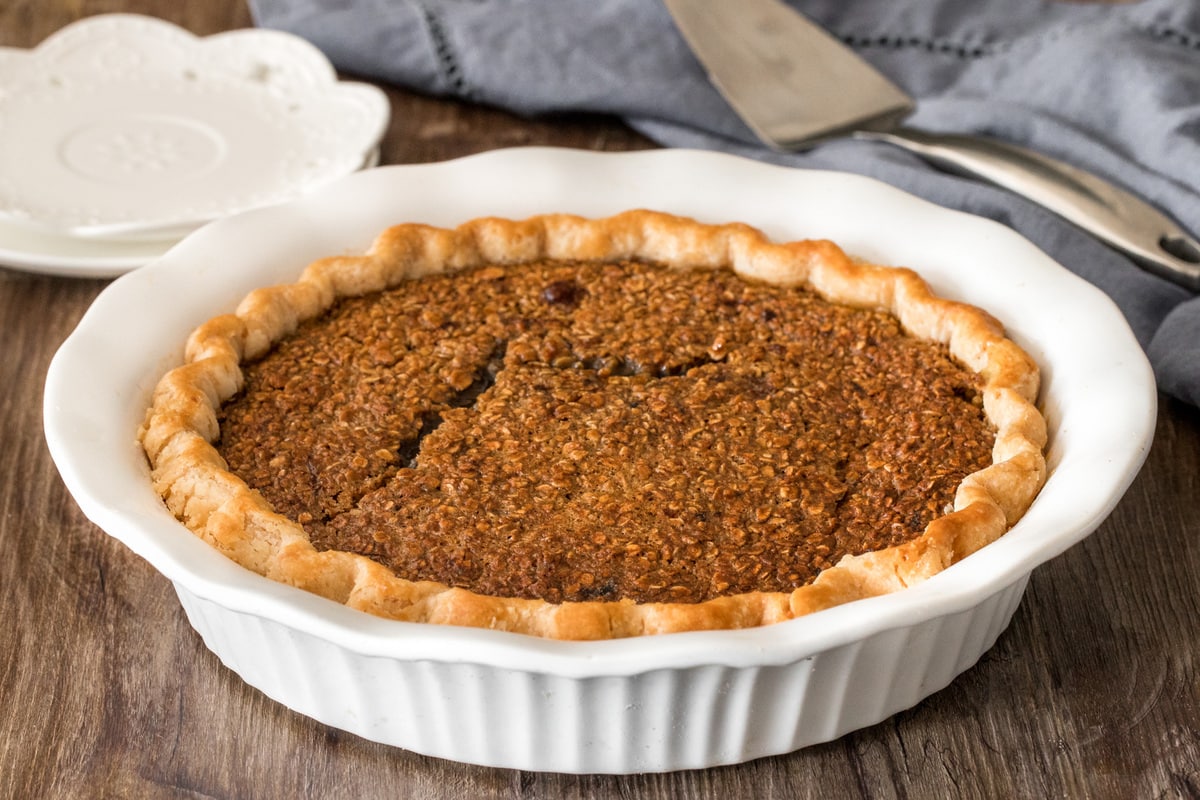 How to Make Oatmeal Pie
This pie is actually super easy to make. The filling comes together in under 10 minutes, and to save time you could use store-bought pie crust. If you're up for it though, I recommend our Homemade Pie Crust recipe!
CRUST. First, you'll roll out your chilled pie dough and transfer it to your pie plate. Because the pie filling is gooey, I always dust the crust with flour after transferring it to the pie plate. Then pop the pie dough in the fridge as you make the filling. Cold pie dough leads to flakier pastry, so I recommend putting the pie dough back in the fridge to chill.
FILLING. The filling is super similar to making pecan pie. You'll whisk together the eggs until they're frothy. Then whisk in corn syrup, brown sugar, cornstarch, cinnamon, vanilla extract and salt. The brown sugar adds a delicious caramel flavor that pairs perfectly with the cinnamon and vanilla. The cornstarch is key because it helps to thicken the filling.
Then stir in the oats, and pour the filling into your prepared pie crust. I use quick oats for this recipe because they cook up chewy and delicious as the pie bakes.
NOTE: Do NOT use steel cut oats—they will be hard and crunchy. Instant oats are also a no-no because they will behave like flour and create a weird goopy texture instead of a chewy layer on top.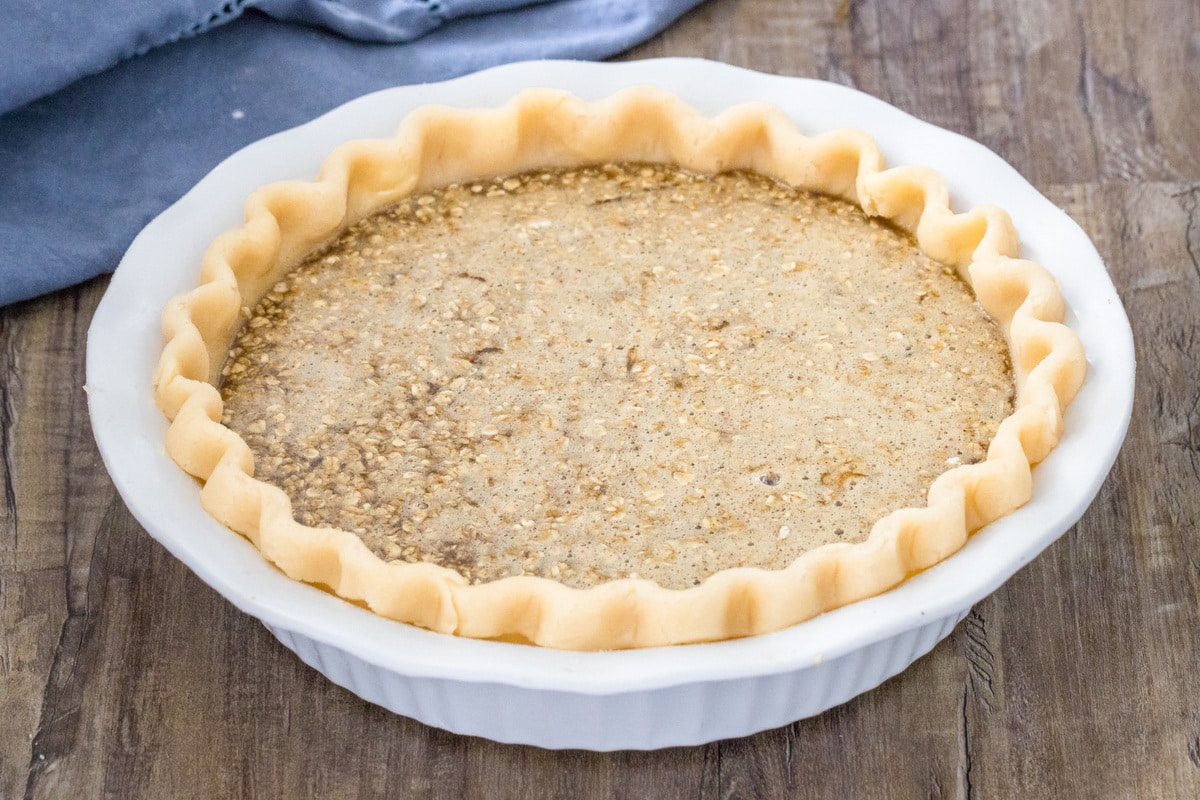 CONTINUED…
BAKE. The pie will bake for about 45 minutes – but I recommend checking around 30 minutes to see if the crust is browning too much. If the crust is already golden, you can add a pie shield around the edges or simply place some aluminum foil around the edges of your pie to prevent the crust from burning.
Pro Tip: Make sure to cool the pie fully (at least 4 hours) before slicing. The filling will set as the pie cools so that you don't end up with a big gooey mess. If you'd like your pie to be served warm, you can always slice it into pieces and then microwave each slice to warm it up 🙂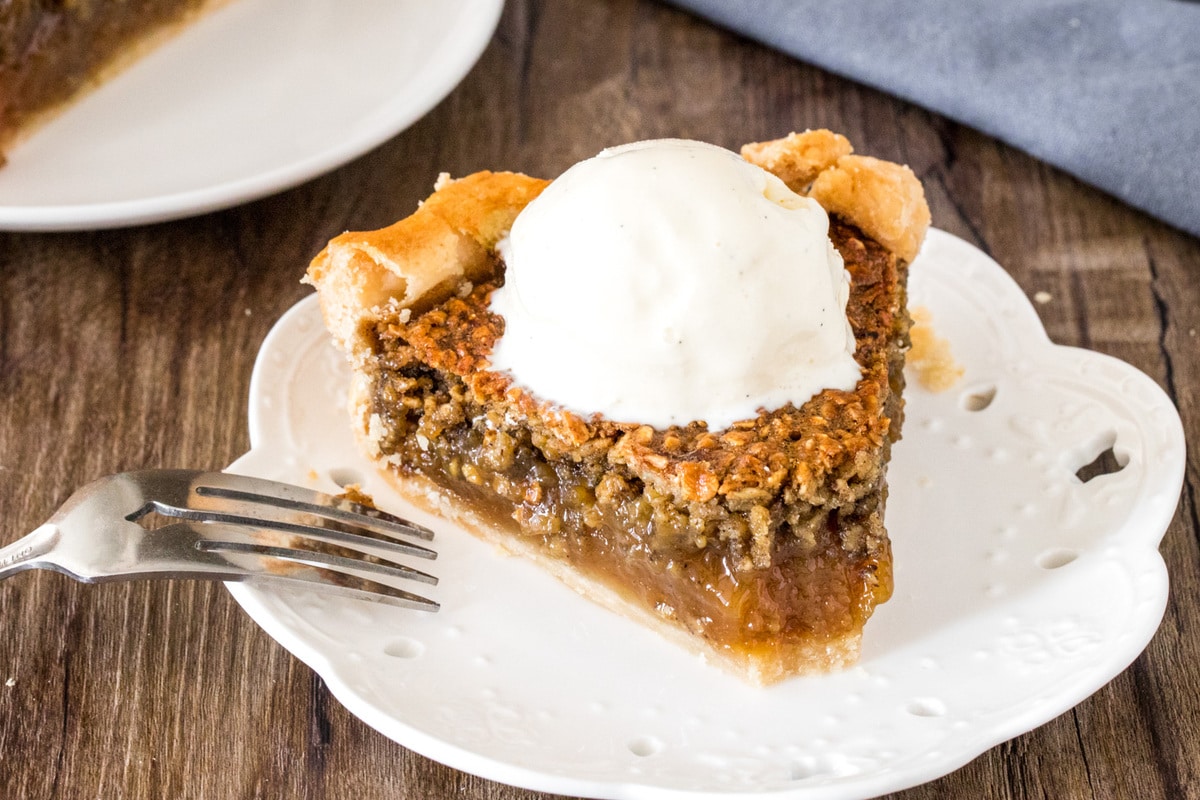 Oatmeal Pie Toppings + Storing
Of course, I prefer serving oatmeal pie with a big old scoop of vanilla ice cream on top, but there are other toppings you could try!
Caramel Sauce (Sauce plus vanilla ice cream is especially tasty!)
Other flavors of ice cream
This pie can also be MADE AHEAD OF TIME (great for the holidays). Just cover and store in the fridge for up to 3 days. You can also FREEZE the pie by covering tightly and placing in a freezer-safe bag for up to 2 months.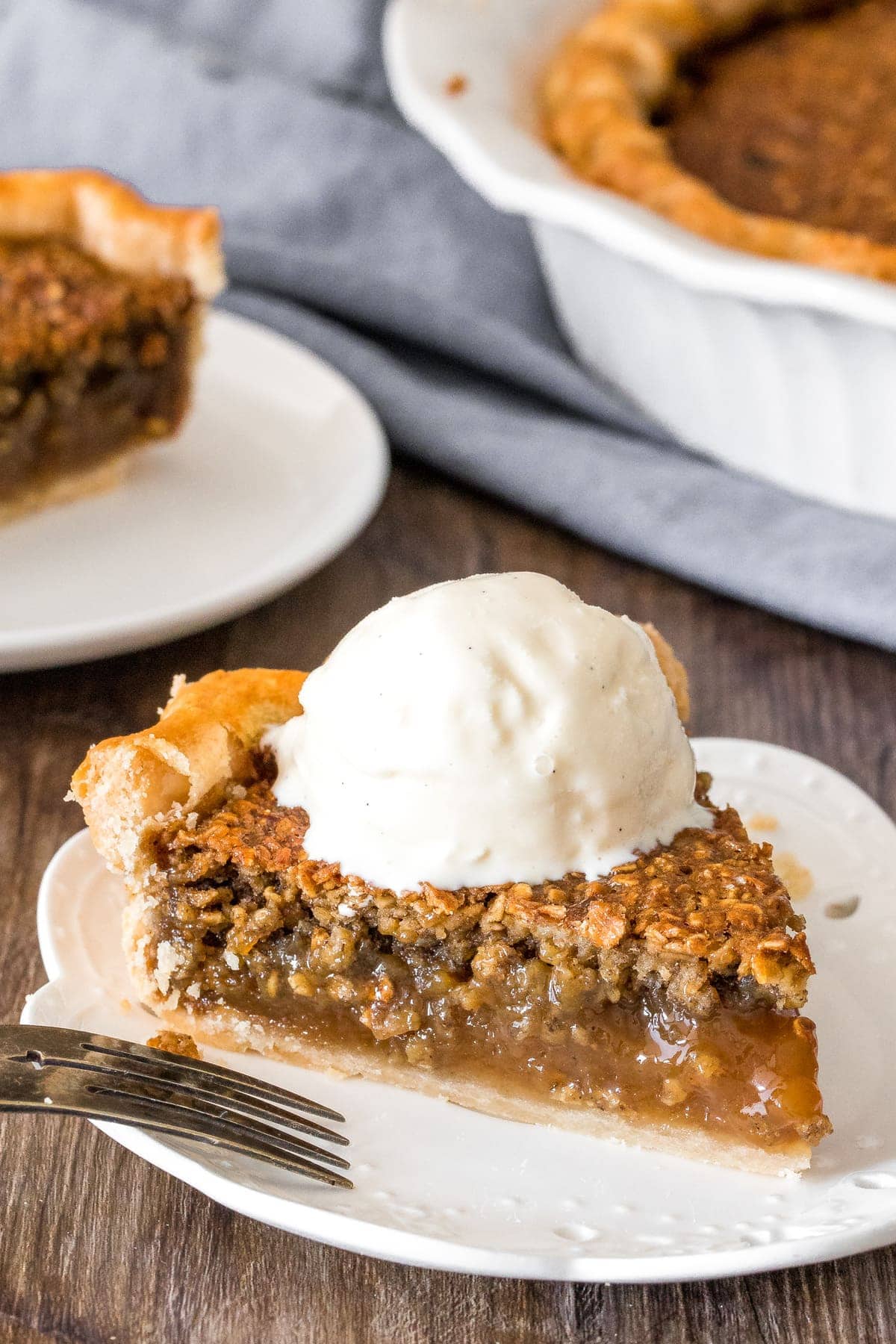 It might not be a very common or typical pie recipe, but I assure you, those who try it will be pleasantly surprised. It's delicious!
More Pie Recipes to Love:
Oatmeal Pie Recipe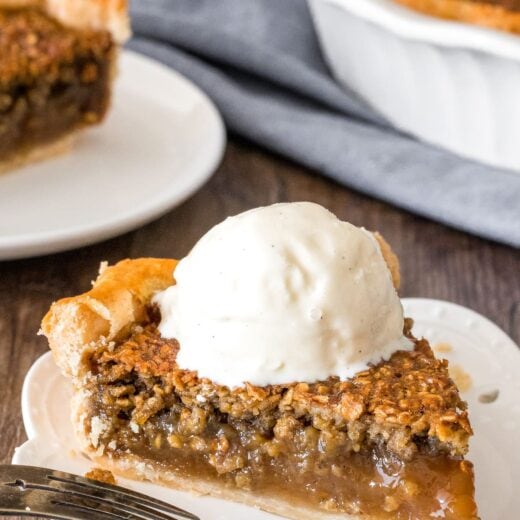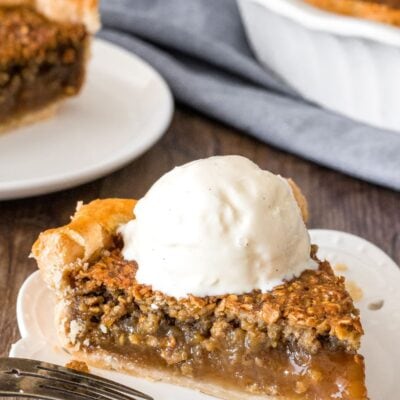 Easy Oatmeal Pie is an old-fashioned favorite! With a delicious brown sugar flavor, chewy layer of oatmeal, and flaky pastry—it's the perfect pie recipe. 
Ingredients
1

9"

unbaked pie crust

3

large

eggs

1

cup

brown sugar

2

tablespoons

cornstarch

1

teaspoon

cinnamon

1/4

teaspoon

salt

3/4

cup

corn syrup

1/4

cup

butter, melted

1

teaspoon

vanilla extract

1

cup

quick oats
Instructions
Preheat the oven to 350F degrees.

On a floured surface, roll out the pie crust into a circle about 12 inches in diameter.

Transfer the pie dough to a 9-inch glass or ceramic pie plate. Fold over the and crimp then.

Lightly dust the pie dough with flour then place in the fridge as you make the filling.

Whisk the eggs in a large bowl

In a separate bowl stir together the brown sugar, cornstarch, cinnamon and salt to ensure no lumps in the brown sugar.

Whisk the sugar mixture, corn syrup, melted butter and vanilla extract into the eggs until combined.

Pour the batter into the pie crust.

Bake the pie for 45-55 minutes or until the top is set and the middle no longer wobbles when you give the pan a nudge.

Remove from the oven and cool fully before serving.