An organized pantry makes it easy to find the foods you need quickly! These are our favorite pantry organization ideas that will spare you wasted time and the hassle of having to hunt for ingredients.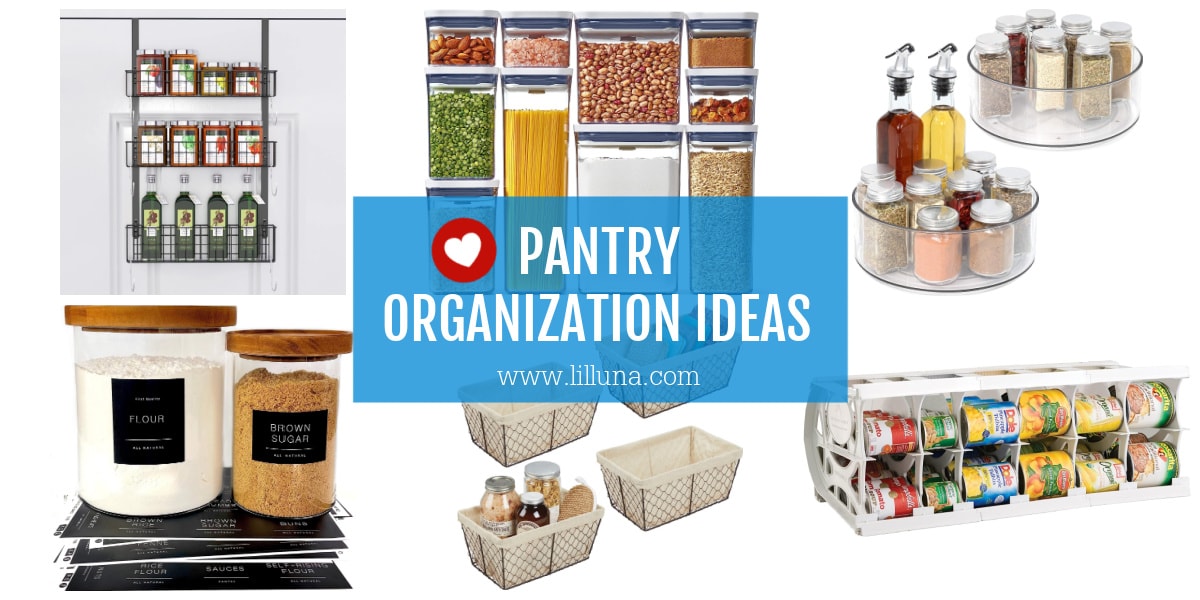 How to Organize a Pantry
Yes! That is a picture of my pantry. I love how neat and organized it feels, but it hasn't always been that way. Pantry organization used to be a daunting task that I've had to learn how to tackle.
While there isn't one right way to go about pantry organization, I've definitely learned some tip and tricks that have helped me transform my pantry into a orderly space that is both functional and aesthetic. Here are some simple steps that can make pantry organization so easy and doable:
Simple Steps for Pantry Organization
Start by taking EVERYTHING out of your pantry and throw away anything that is too old to eat. After I clear everything out, I like to wipe down the shelves to make the pantry feel clean and fresh.
Organize your food into categories such as pastas, grains, baking essentials, spices, canned goods, cereals, snacks, etc. You can have as many or as few categories as you want.
Decide the best way to store each category of food so items are easy to find and quickly accessible. There are some fantastic products that make organizing pantry staples a cinch. (I'll share my favorites in this post!)
Put each group of items back into the pantry, one category at a time, using pantry can organizers, over-the-door organizers, bins, baskets, food storage containers, spice racks and shelving products to keep items grouped together and organized.
Label baskets, food storage containers and anything else that would be helpful to label so anyone who steps foot in your pantry can quickly and easily find what they're looking for.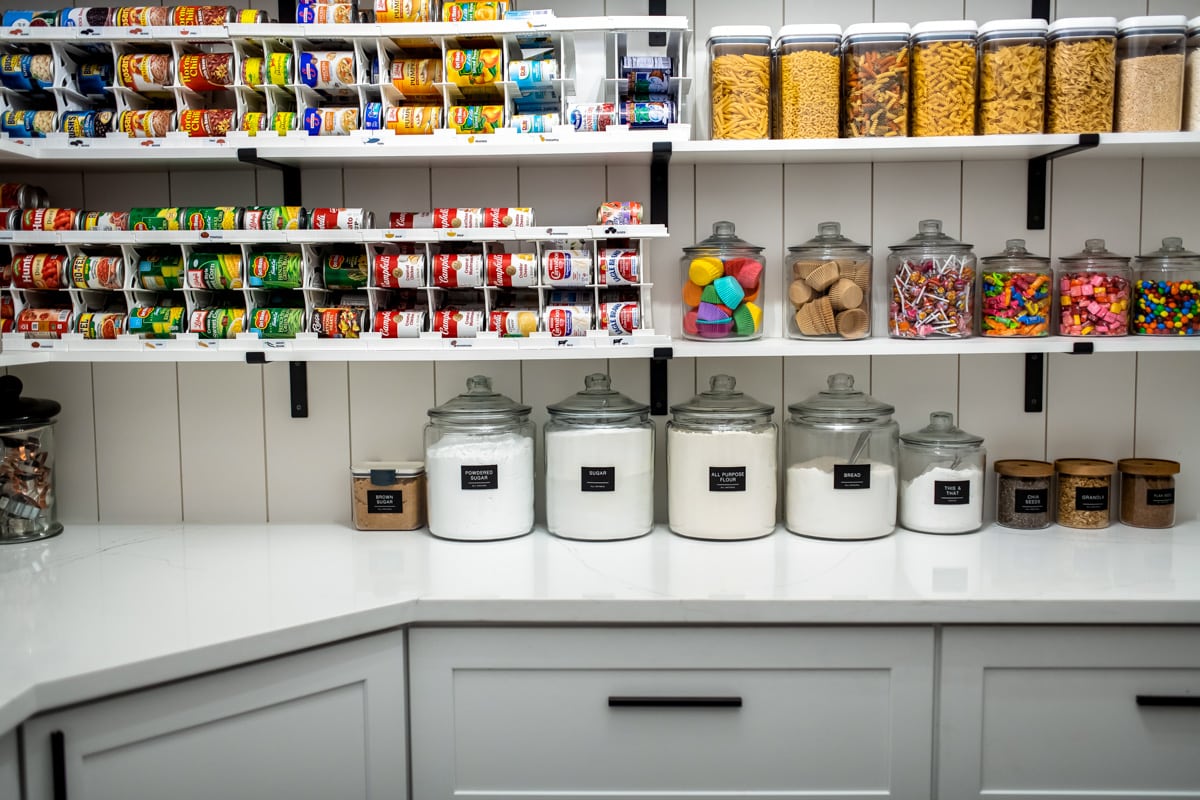 Pantry Organizers
Using pantry organization products has made all the difference for me. Whether you have a small pantry space or a large walk-in pantry, there are items that are sure to be game changers in helping you create a well-organized pantry that is more functional for you.
Here are–what I've found to be–some of the best pantry organizers. They can all be purchased on Amazon (yay for convenience!). I hope you find something that will help you create the pantry you are dreaming of!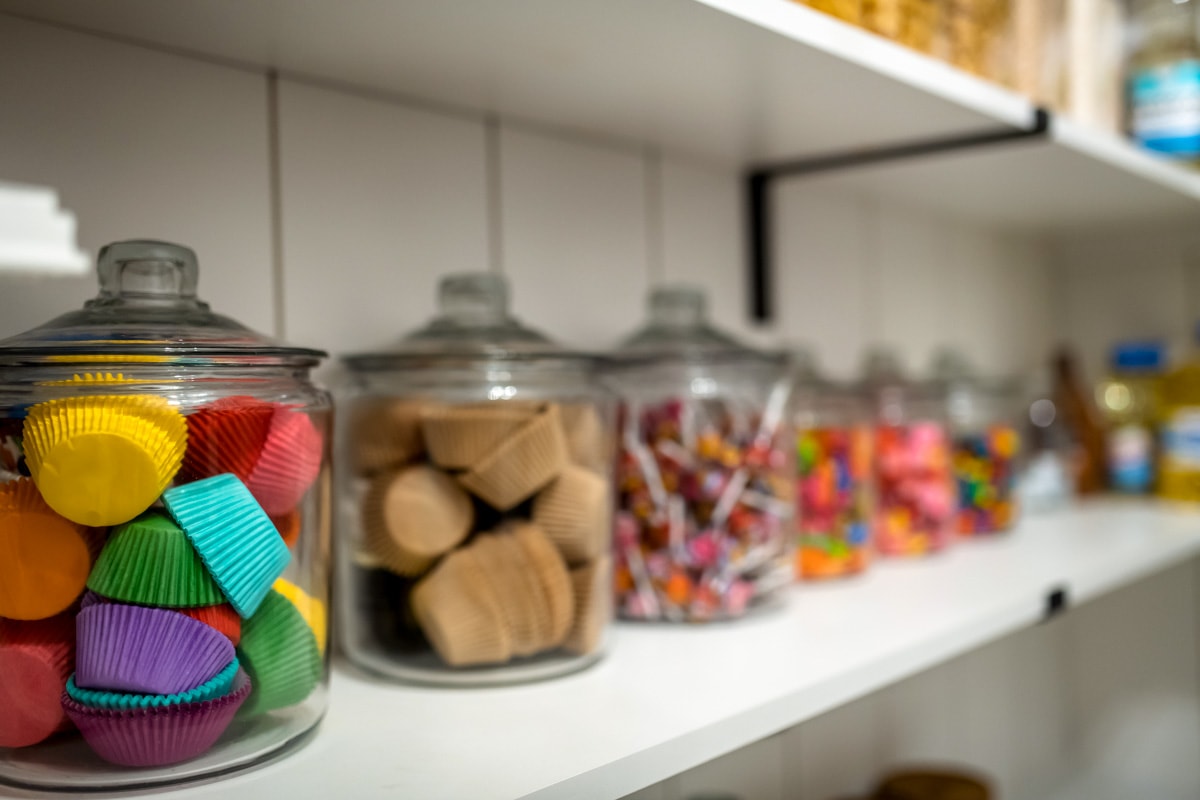 ---
Shelf Organization
Finding a good system for pantry shelf organization is key to having an organized pantry. Shelves can be deep which allows for a lot of food to be stored on them but can also make it tricky to see everything on the shelf.
I've found some great shelving products that make pantry staples not only more organized but also more visible and easy to grab. They include tiered shelves, an under-the-shelf basket organizer and even brackets if you're in need of installing new shelves.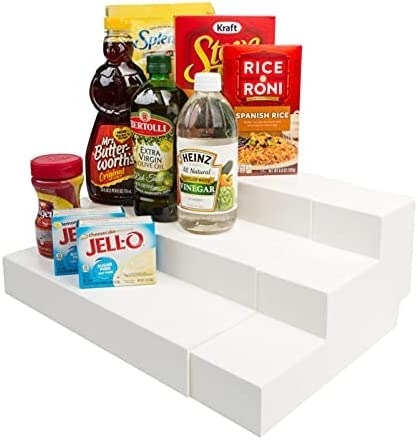 Expand A Shelf – This tiered shelf allows you to see the ingredients on each level so you can quickly find what you're looking for. The width is adjustable and can stretch to over two feet wide. I love using this shelf to store oils, vinegars and spices.

Bamboo Expandable 3-Tier Shelf – If you love bamboo, this might be the shelf for you! This tiered shelf is also expandable and is perfect for storing ingredients that come in small boxes and bottles.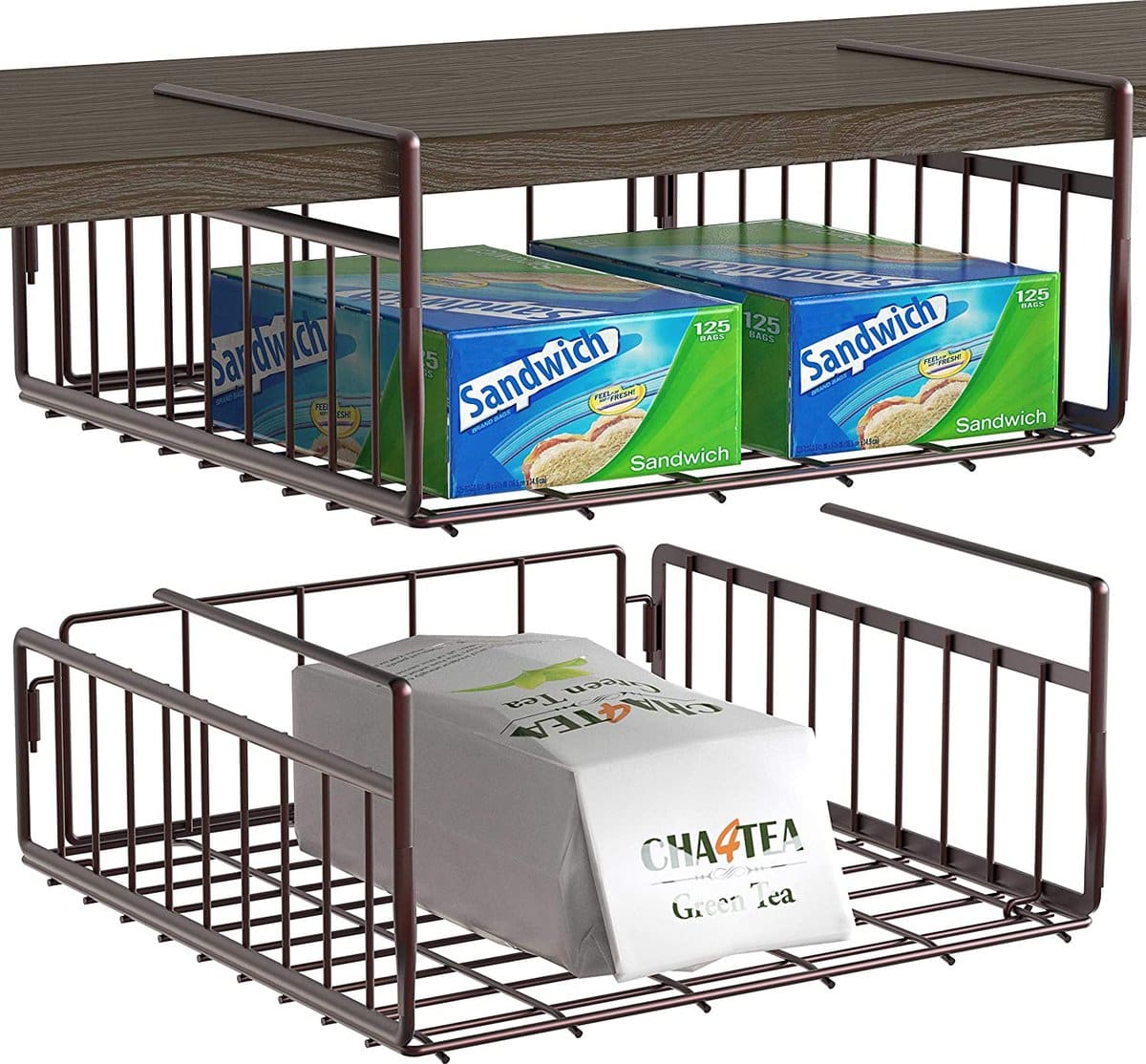 Under Shelf Organizer – This organizer is brilliant! With these baskets, there is no more wasted space under pantry shelves. You can just slide it onto an existing shelf and you instantly have more storage space.

Shelf Brackets – If your pantry needs more shelving, these brackets are the best! They are so sturdy, attractive and easy to install!
---
Food Storage Containers
Finding the perfect food storage containers can be a challenge. You want a variety of sizes to store all sorts of different kinds of food. You also want them to be well made so they last, airtight to protect the food and pretty so they make for a beautiful pantry.
These are some of the BEST pantry storage containers that I've gotten attached to over the years and you can see them in the photos of my pantry. I also included my favorite labels which is a must for having an organized pantry.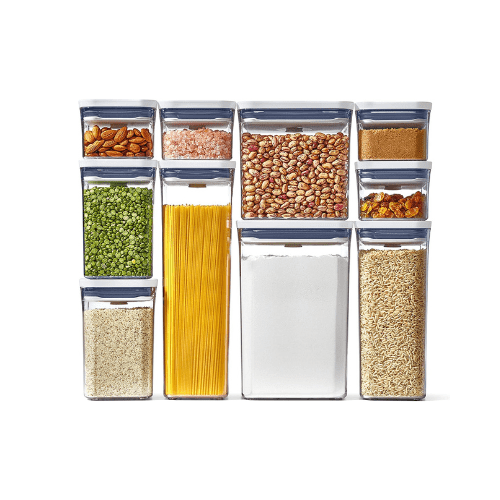 OXO Good Grips POP Container Set – These are my favorite food storage containers! You just push the button on the top of the lid and they create an airtight seal. I especially love storing pastas and rice in these containers, but you could use them to store just about anything.

RAZCC Airtight Food Storage Containers Set – These containers also get two thumbs up! This set comes with 36 containers of various sizes all of which have locking lids to make them airtight. They're great for storing anything from beans to flour.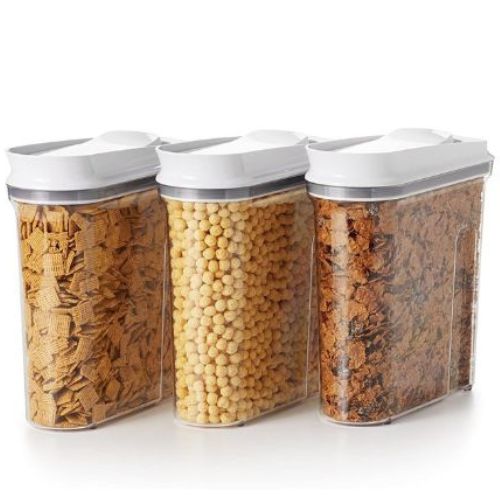 Cereal Containers – These cereal containers are game changers! They keep cereal fresh and protect it from bugs. These are perfect if you buy cereal in bulk and need a convenient way to store and dispense it.
These containers come in so handy when I'm making recipes that use cereal like Scotcheroos, Puppy Chow and Funeral Potatoes. They make it easy to get just the right amount of cereal I need.

Brown Sugar Container – If you don't have one of these brown sugar containers, do yourself a favor and grab one. It is the best! It has a terra cotta disk that you can soak with water and then put in the airtight container to keep brown sugar from drying out. No more throwing away old, dry brown sugar with this product.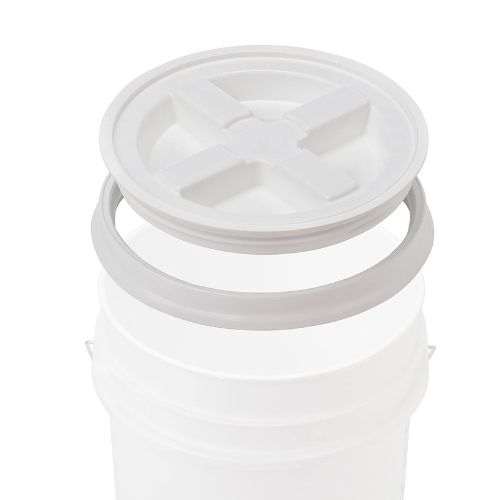 5 Gallon Bucket – I am a HUGE proponent of emergency preparedness and and these 5-gallon food grade buckets are my favorite for long-term food storage. They are well made and come with Gamma Seal lids to keep moisture and contaminants out and are also easy to open.

Oxygen Absorbers – If you have long-term food storage, these oxygen absorbers are a must! They remove oxygen from containers to keep food fresh and extend its shelf life. I've used so many of these over the years which is why I love that they come in a pack of 100.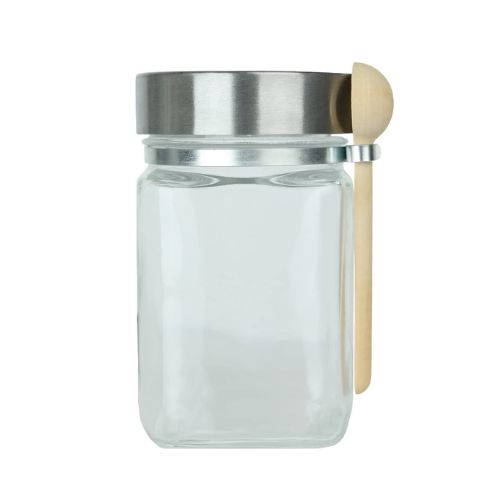 Glass Jar with Spoon – I love this jar, and I love that it comes with a cute spoon and screw-top lid. I like to use it for salts, sugar and spices.

Cookie Jar – These jars are my favorite! I don't just use them for cookies though. I like to use them to store all of my dry baking ingredients. They are made out of quality thick glass, have a good seal and are super cute!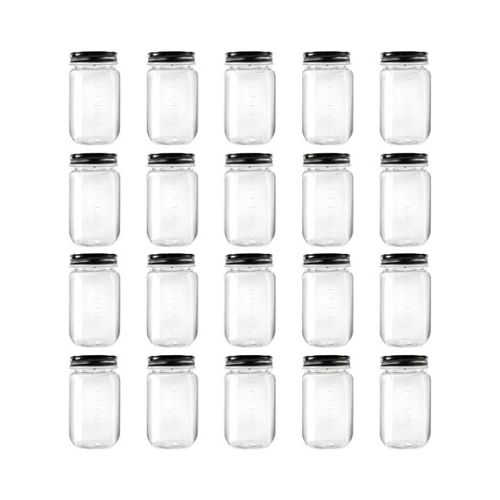 Plastic Jars – If you have little ones at home who like to "help" retrieve things from the pantry, these plastic Mason-like jars might be just what you need. I love that they are made out of high-quality plastic and have screw-on lids to keep food fresh.
Glass Jars with Bamboo Lids – I love the look of these jars! They are stylish but also functional in that they are airtight, stackable and durable.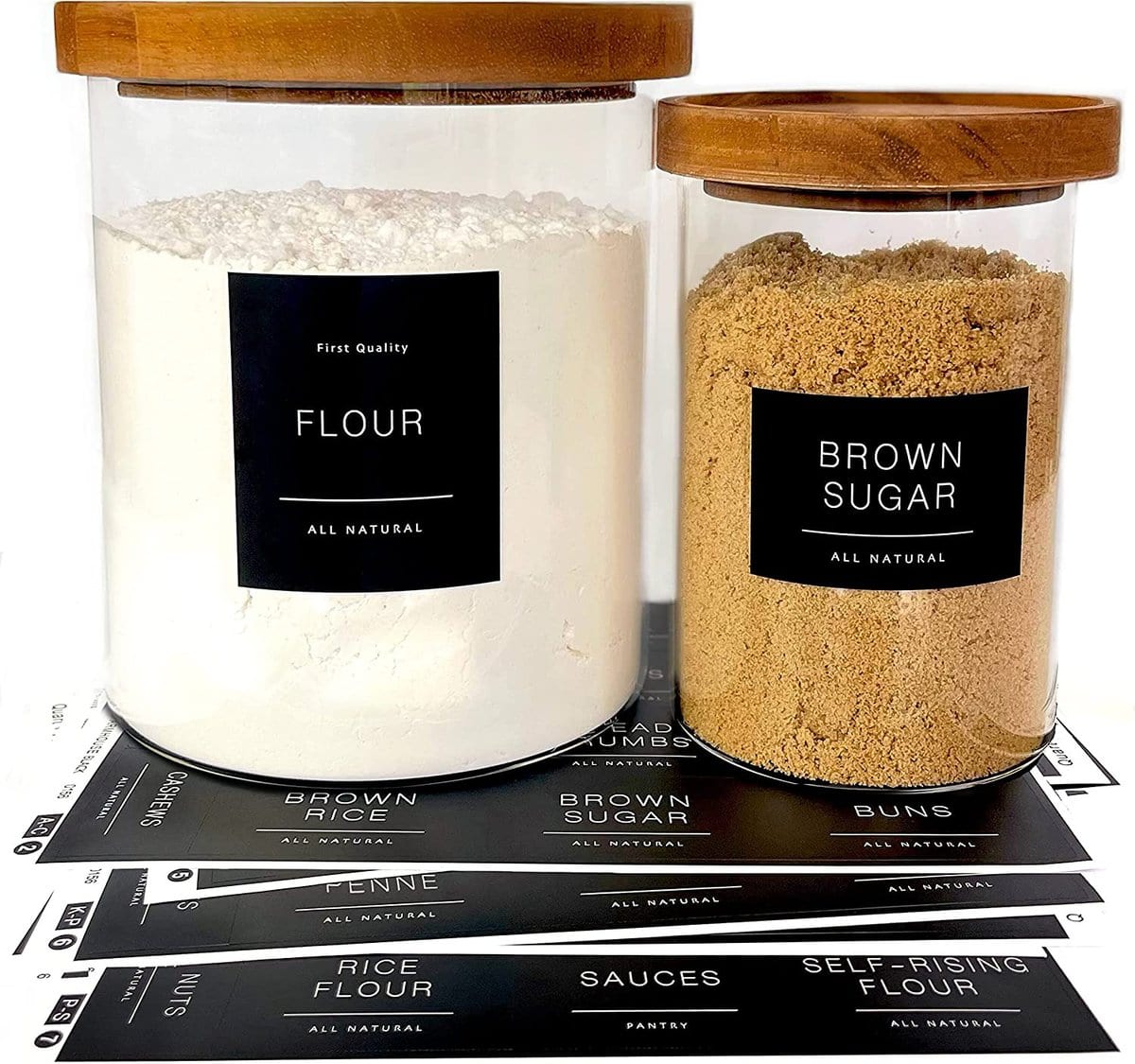 Farmhouse Style Food Labels – I love the look of these stickers and that they come preprinted. The package comes with 134 stickers, so you're sure to find every label you need. I use these farmhouse style waterproof stickers to label the jars in my pantry.
Minimalist Style Food Labels – These labels also come preprinted and are easy to read. They come with even more stickers (234), are also waterproof and won't leave a residue if you decide to take them off. They make labeling so effortless!
---
Bins and Baskets
If you're over the look of a bunch of random items scattered all over your pantry shelves, bins and baskets might be your solution. They are such helpful tools in pantry organization. They keep items contained in designated spaces and make it easy to find what you're looking for.
I have used a variety of bins and baskets to help with pantry organization and these are my absolute favorite! I've also included my favorite labels which are so helpful in knowing what's in each bin and basket.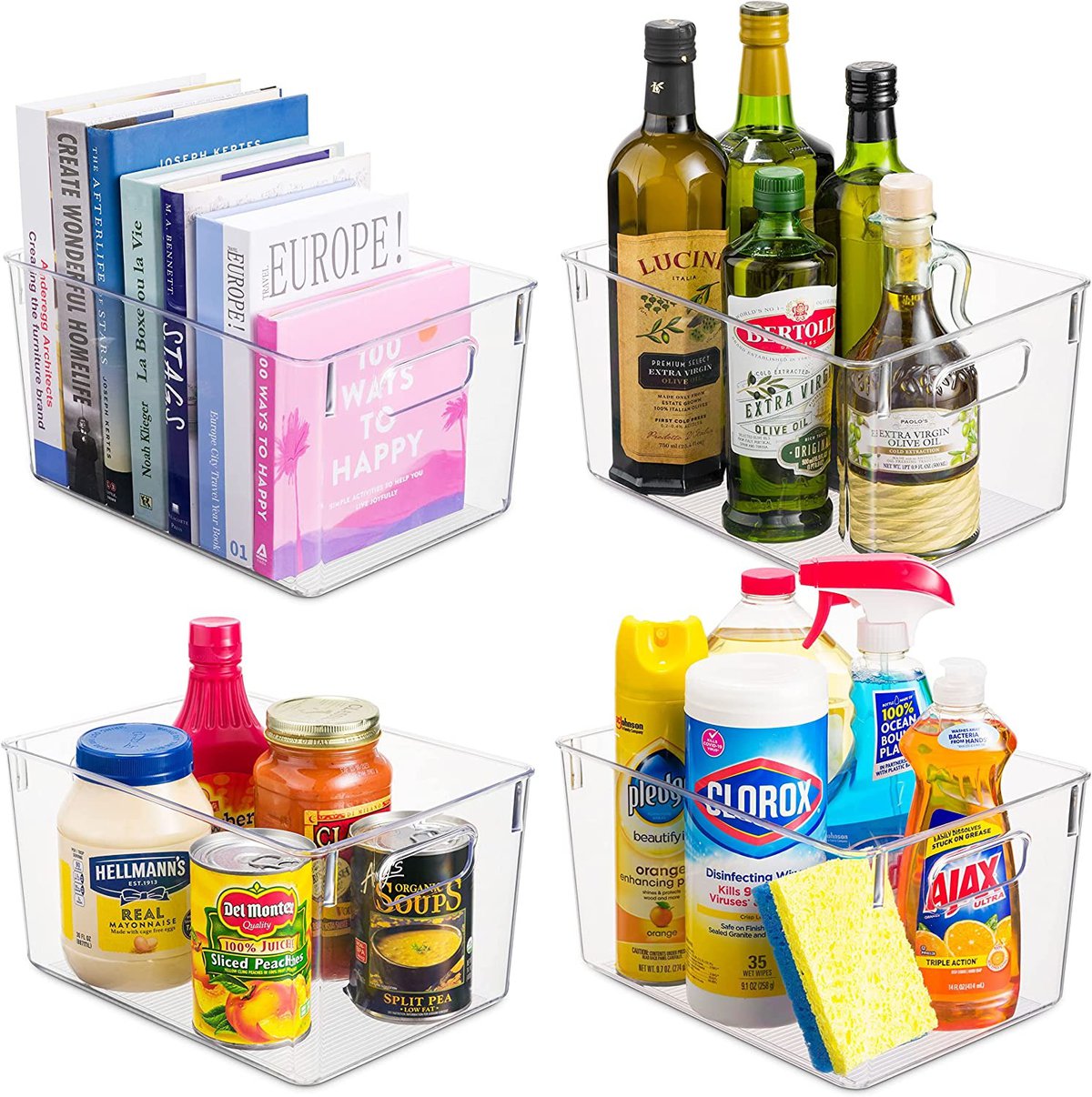 Clear Storage Bins – I love that these bins are clear so I can easily find what I need. They are made of strong plastic that won't break easily and even have convenient handles for carrying.
Clear Stackable Bins – These are awesome because they stack which maximizes storage space on pantry shelves. I love storing drinks and box mixes in these bins.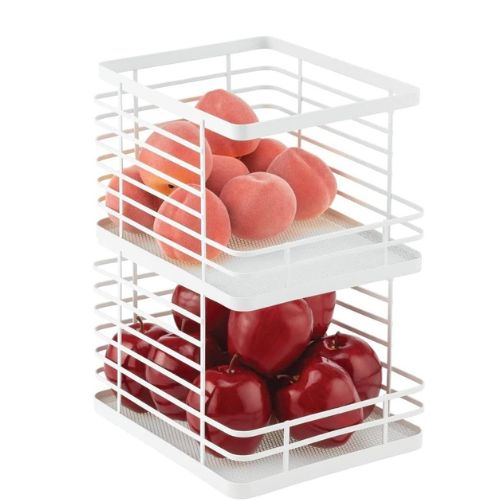 Stacking Baskets – These baskets are made out of sturdy metal and have a handy opening for reaching in to grab what you need. They are perfect for small spaces because they stack. I love storing fruits and vegetables in these fun baskets.
Baskets with Bamboo Tops – How cool are these? Not only are these metal baskets cute, they also have bamboo tops that make them stackable and double as cutting boards. I love storing onions and potatoes in these baskets and slipping off the bamboo tops to use when it's time to cut or chop.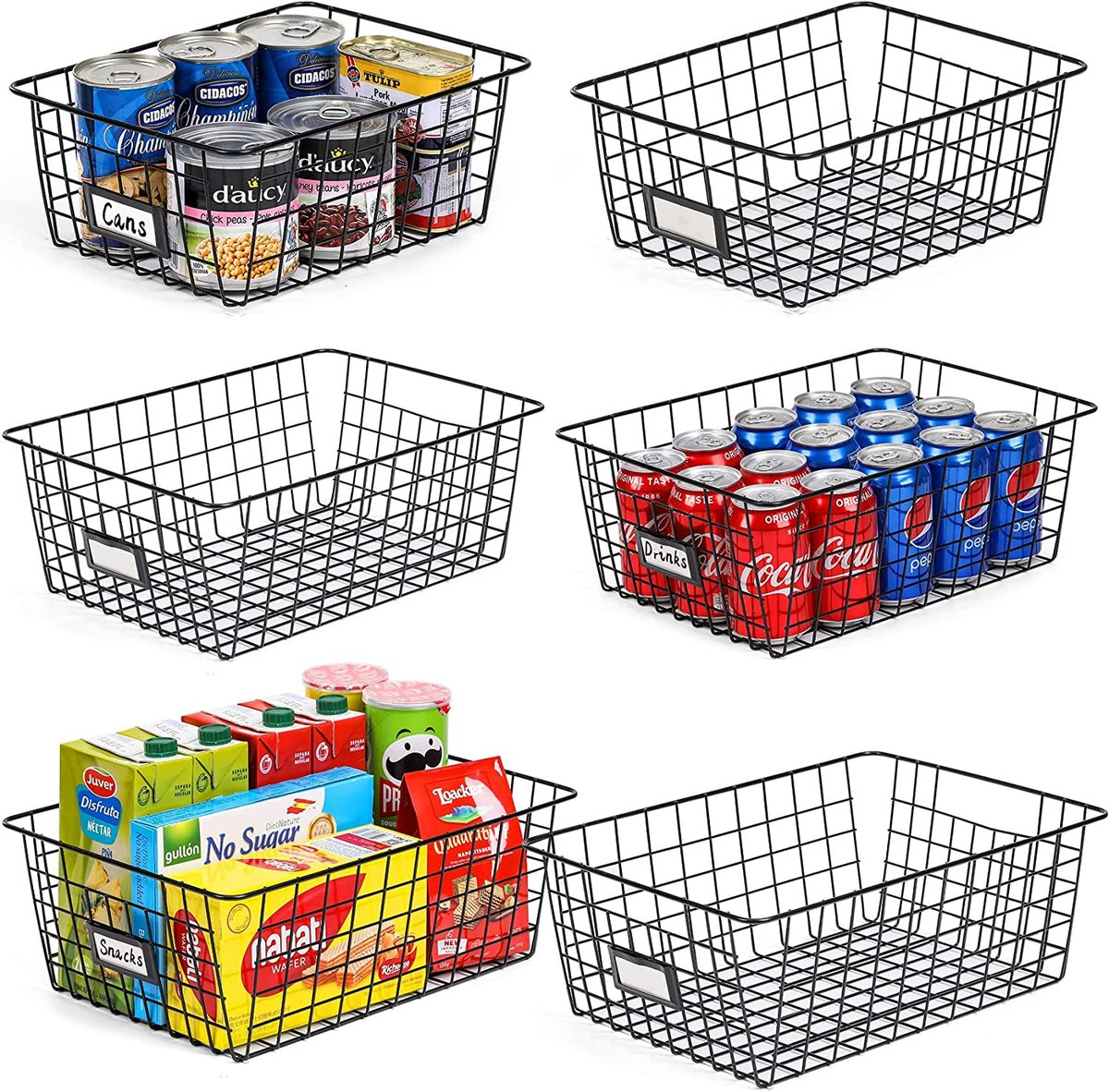 Wire Storage Baskets – These steel storage baskets come in packs of six and include three different sizes which allow me to store different sized pantry staples. They even include labels which is super handy.
Wire Baskets with Fabric Liners – If you love farmhouse style, these are your baskets! They come in a pack of four and are so stylish with their linen liners.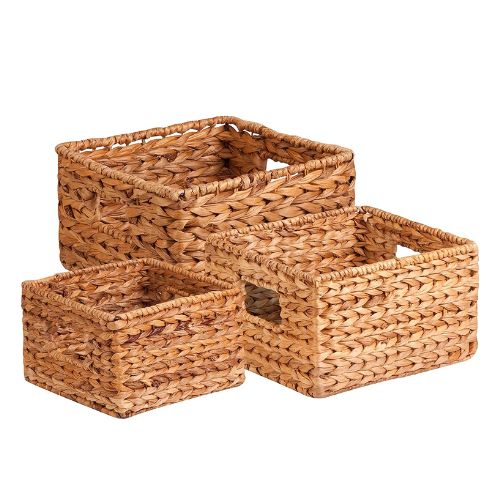 Banana Leaf Woven Baskets – These natural-looking baskets come in three different sizes and are ideal for storing all of your pantry essentials. They are sturdy and have useful handles on the sides.
Gray Woven Baskets – An entire shelf of my pantry is filled with these cute baskets. I use them to store boxes of pasta, macaroni and broth. love that they're shallow enough to easily see and grab what you need and come in a variety of neutral colors.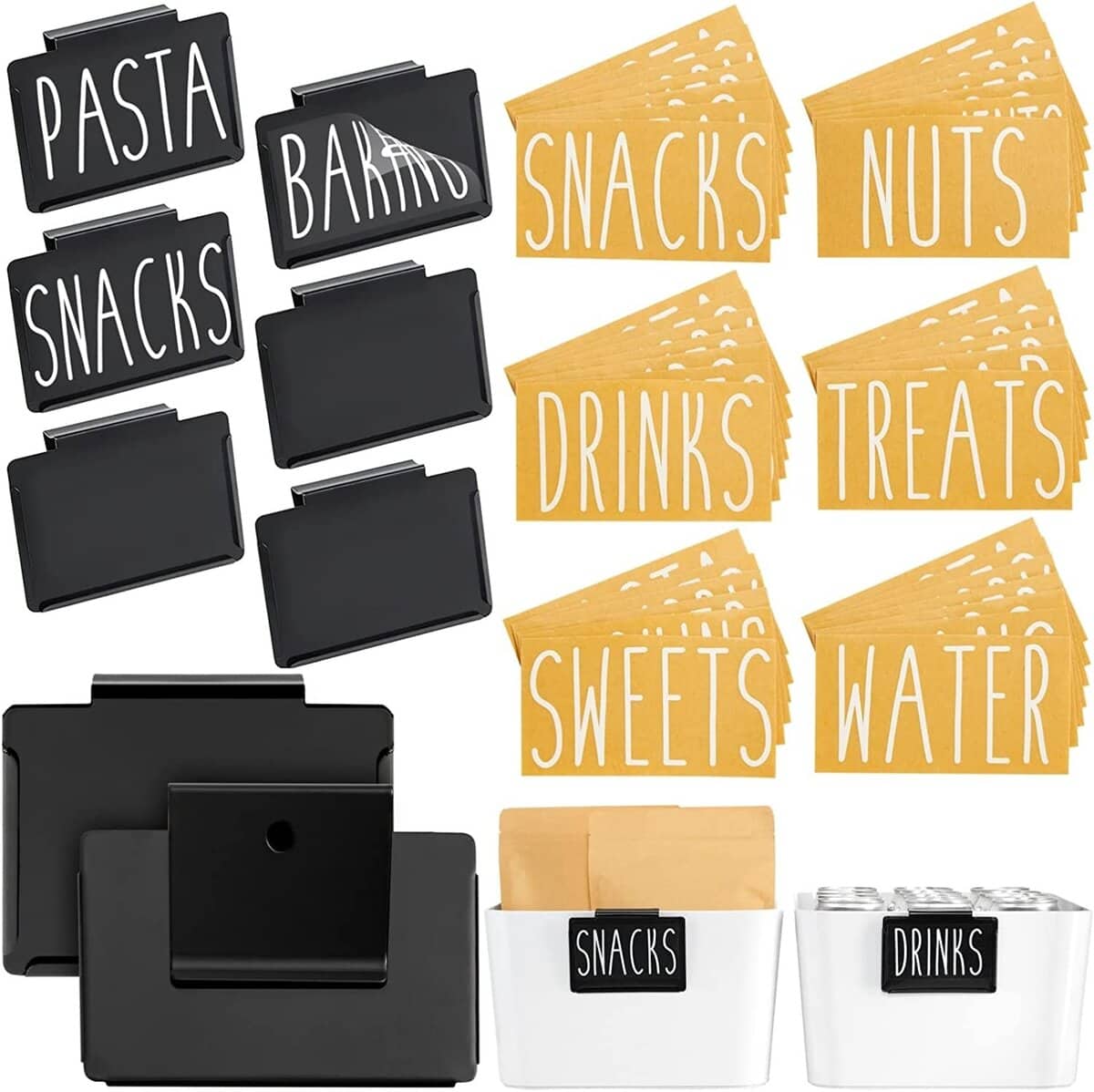 Basket Labels – These labels have a forever place in my pantry! The set comes with a ton of preprinted stickers that I just put on the black metal clips and then quickly slip onto the edges of my baskets. You can also write on the metal clips if you prefer. There's also a white clip with black font option. You can find it in my Amazon Pantry Organization idea list.

Clip Labels – I also love these clip labels! They are like mini chalkboards that you can write on and then clip onto your baskets and bins. They are adorable and make it so easy to switch up what's written on them.
---
Can Organizers
Without the right organizers, storing cans in a pantry can be a nightmare! It's hard to see what's behind other cans and keep them organized by food type. If you try to stack them, they can tip over easily and good luck if you need a can at the bottom of that stack.
I am beyond grateful to the inventors of the can organizers. This genius apparatuses make a night and day difference when it comes to can organization. I had tried many pantry can organizers and these are my favorites.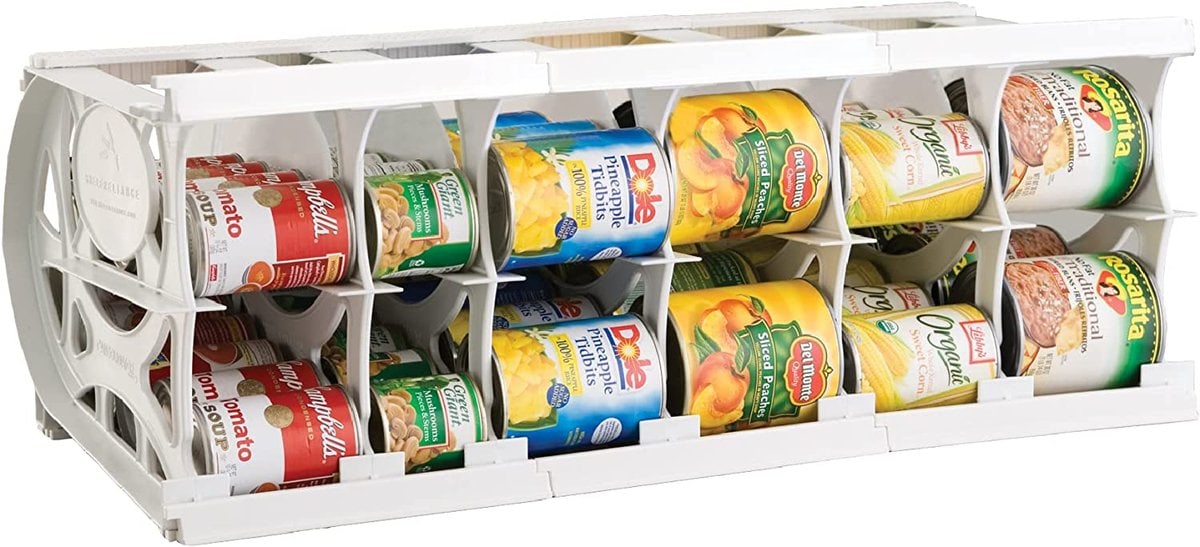 Large Can Organizer – This automatic can rotator is made by a company I love, Shelf Reliance. It's sturdy and adjustable to accommodate for a variety of can sizes and can hold up to 60 cans. You might be able to tell by the picture of my pantry just how obsessed I am with these can organizers!
I especially appreciate my can rotators when making Chili Recipes, enchiladas, dump cake or other recipes that use canned foods. They may it so quick and easy to find the cans I need!

Small Can Organizer – This is a smaller version of the same organizer made by the same company. It can hold up to 20 cans which is a good fit for smaller spaces.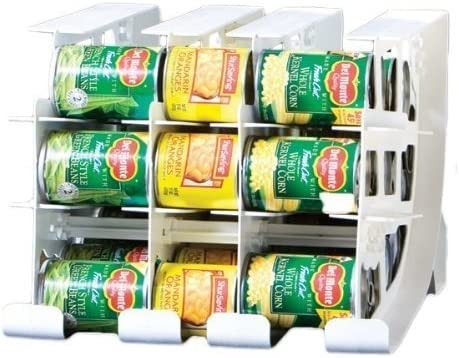 3-Tier Can Organizer – This pantry can organizer has three tiers which is nice. It is easy to assemble and fits perfectly on most pantry shelves. This organizer also rotates cans automatically and can hold up to 54 cans.

Metal Can Organizer – This rotator is also three tiers. It's made out of metal and comes in a chrome, black or white finish. Just like the rest of the can organizers, it's sturdy and well made. This one can hold up to 36 cans.
---
Spice Organization
Spices are great in that they are small and don't take up a lot of space to store, but there are usually so many of them which makes it challenging to find a systematic way to keep them organized.
Thank goodness for spice racks and organizers! There are so many different ones out there so it can be tricky figuring out which ones will work best for you. Let me introduce you to a few that I love and hopefully you'll find one you love too.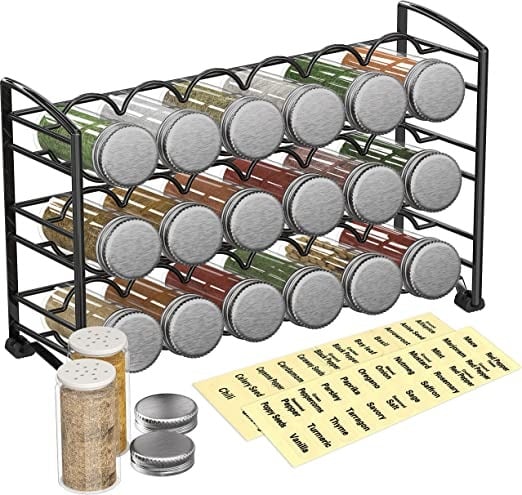 Spice Rack Stand with Bottles and Labels – This rack (available in both black and chrome) comes with 18 bottles and several label stickers to choose from. I love that this rack fits nicely on pantry shelves and stores the spice bottles sideways to maximize storage space. Putting the labels on the lids allows you to easily find the spice you're looking for.
Lazy Susan – You know that awkward unused space in the back corners of your pantry that you don't really know what to do with? This lazy susan fits and works perfectly in that space. It's a great way to store spices and turns easily so you can quickly grab whatever spice you need.


Glass Spice Jars – If you buy spices in bulk but don't love handling the huge containers they come in, these jars are a great solution! These cute 2 oz jars will keep your spices fresh. They come with white metal lids or you might opt for the black plastic lids.
Spice Labels – These spice labels come in a package of 144 stickers that are preprinted in a modern, minimalist style. I've used them both on the sides and on the lids of spice bottles so I can quickly locate the spice I need.
These labels have been lifesavers when I'm making Homemade Salsa, Steak Fajitas, Spanish Rice or other recipes that call for multiple spices. They help me find the spices I need in no time!
---
Door Organizers
If your pantry is on the small side, an over-the-door pantry organizer might be a great option for you. These handy organizers provide more storage for pantry goods and make great use of what would otherwise be wasted space.
There are so many different over-the-door pantry organizers, but these are some of the ones I like best. Hopefully you can find one that will meet your pantry storage needs.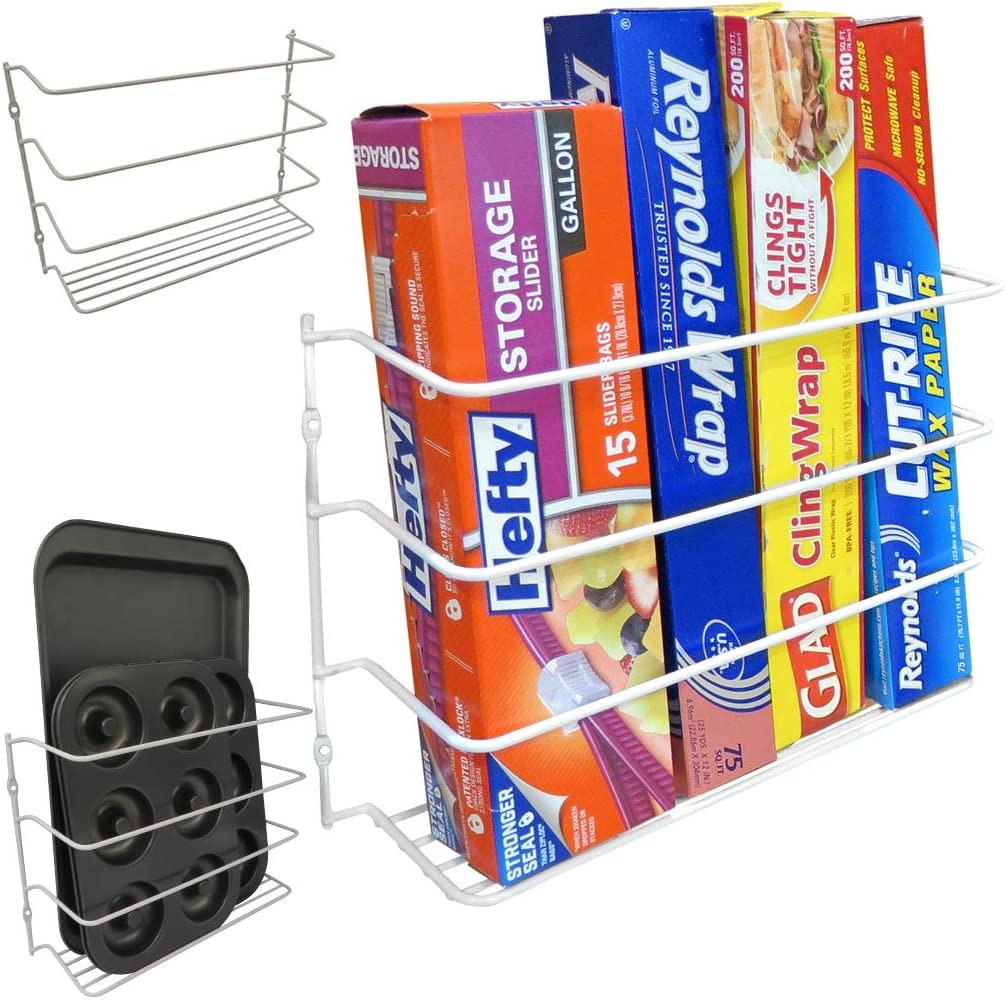 Organizer Rack – This product comes with two organizers that are perfect for storing items like tin foil and plastic wrap, but you could also use it to hold cleaners, bottles or anything you want easy access to. It's lightweight and easy to install.

3 Basket Over-the-Door Organizer – This 3-tier organizer consists of two smaller baskets and one larger basket to provide plenty of storage. It's super attractive and comes with six S hooks that give you the option to hang things like kitchen towels.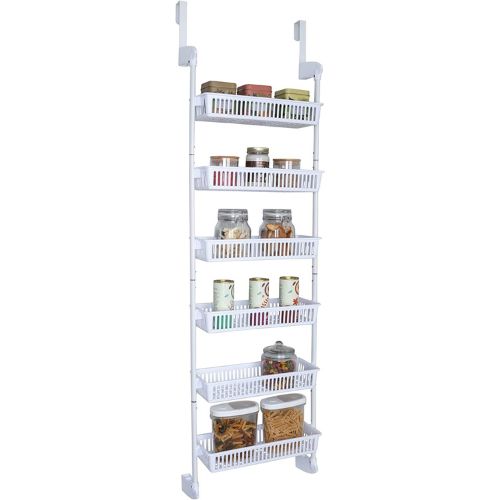 6 Tier Over-the-Door Organizer – If you're wanting an over-the-door organizer but not wanting to drill into your pantry door, this is a great option! It has stabilizing brackets that allow it to seamlessly hang over the door. It's sturdy and has six baskets, providing plenty of storage capacity. It even comes in different colors!

Adjustable Organizer Rack – This rack comes with eight storage baskets all of which can be placed at any height on the organizer. This practical feature allows you to maximize space while storing large items like tall bottles of oil as well as short items like spices.
---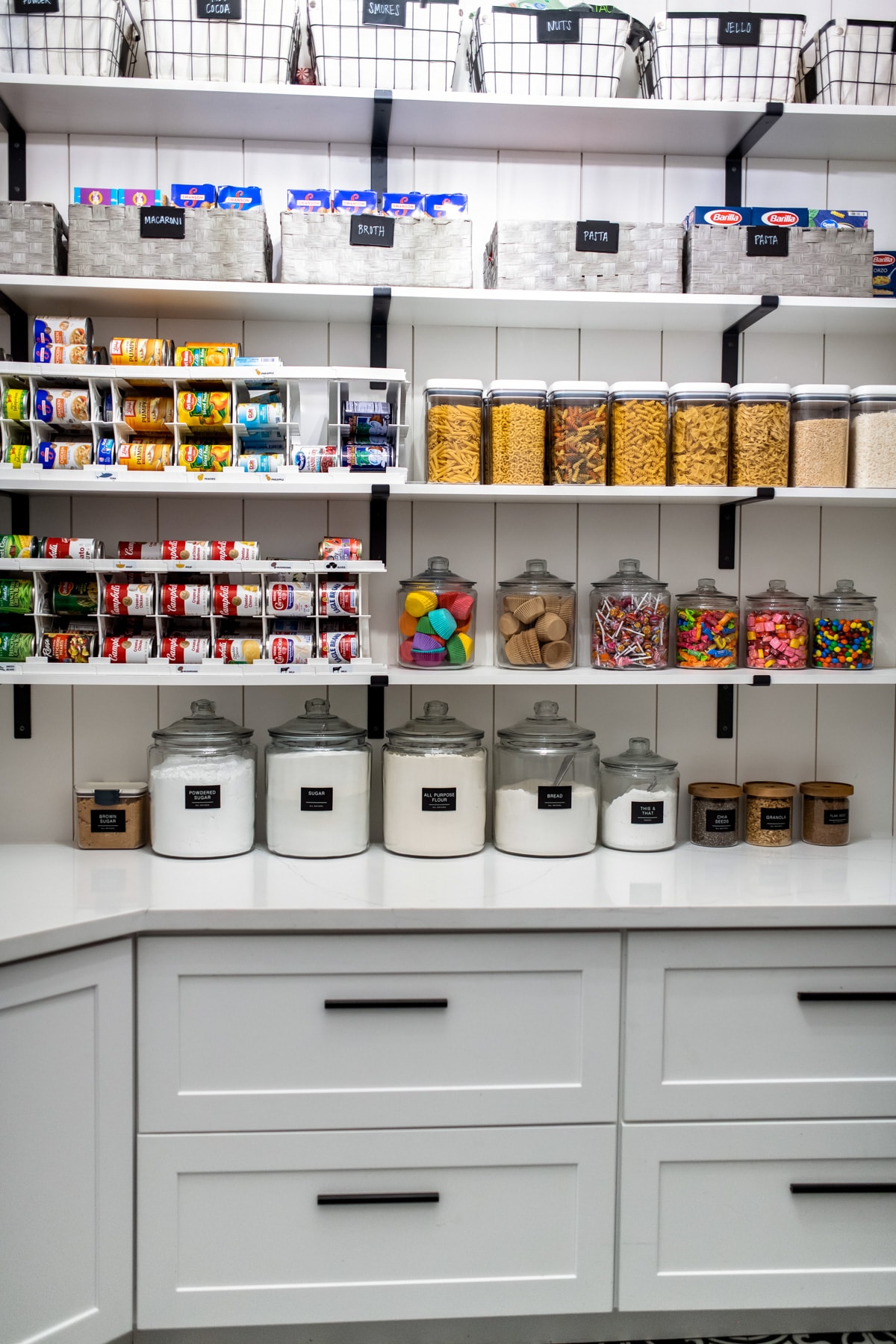 ---
Happy Organizing!
I hope you've found some helpful tips and products that will get you started on your way to a more organized pantry. Even a few tweaks can make a world of difference!
If you try any of the suggestions or products in this post to give your pantry a makeover, we'd love to hear how it went! Please feel free to leave a comment below.
You can find more products to help you better organize your pantry in our Amazon Pantry Organization Idea List and you can find our other idea lists that include all of our favorite products at our Lil' Luna Amazon Storefront.
Also, if you haven't already, be sure to check out our Kitchen Organization Ideas which is packed with ideas on how to better organize all the spaces in your kitchen.
Thanks for being here, and happy organizing!