Soft peanut butter chocolate chip cookies truly knock the socks off of anyone who tries them. They are out of this world!!
Peanut butter chocolate chip cookies are a simple cookie recipe that is packed full of flavor. For more peanut butter must-haves try Peanut Butter Oatmeal Cookies, Peanut Butter Cup Cookies, and Peanut Butter Cupcakes.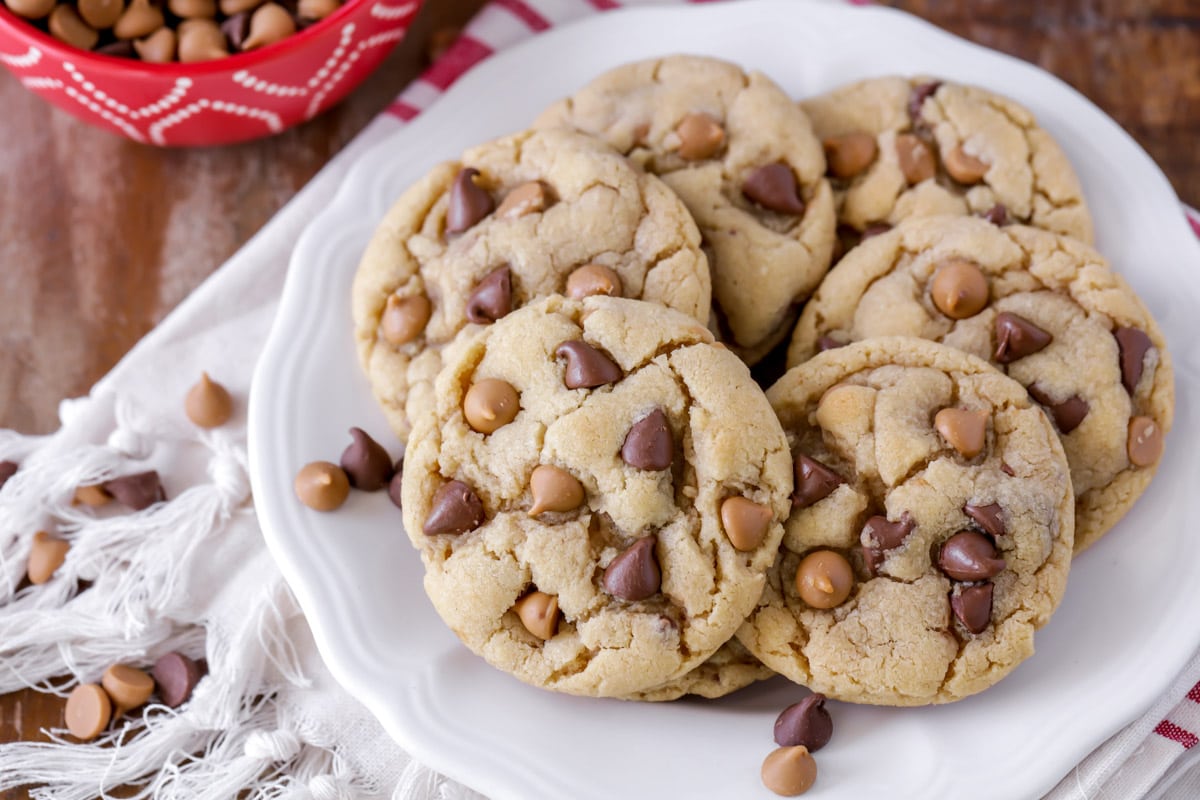 Chocolate Chip Peanut Butter Cookies
Cookies are our WEAKNESS!! Growing up, it was so common to find warm cookies waiting for us in the kitchen after school (yes, my mom spoiled us), and I find myself wanting to do the same thing for my own kids.
Yes, I WANT to do it, but resist the urge as much as I can. Especially with delicious sweets like today's Peanut Butter Chocolate Chip Cookies, it's hard to resist the urge to bake up a batch.
We've always enjoyed standard Peanut Butter Cookies, but load them up with chocolate chips, and you've taken them to a whole new level. I mean, if you like Reese's Peanut Butter Cups, you'll love this cookie – so peanut butter-y and chocolate-y! (And if you want to try a mini version of a similar cookie, CLICK HERE).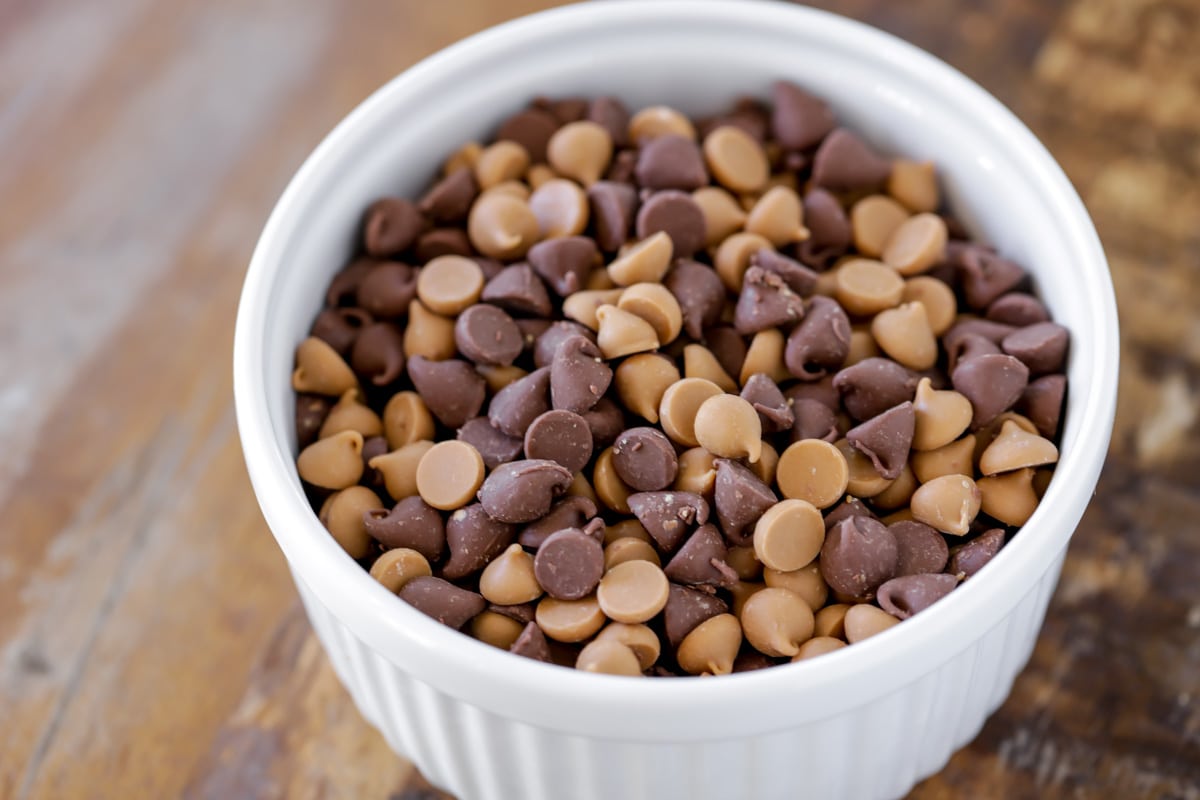 How to Make Peanut Butter Chocolate Chip Cookies
Like most cookies, this recipe isn't difficult at all. Other than needing softened butter, you should be good to go on getting these beauties in the oven in no time.
PREP. Preheat the oven to 350 degrees F.
WET INGREDIENTS. Cream your butter, peanut butter, brown sugar, and white sugar until smooth. Add eggs one at a time and beat until smooth. Stir in corn syrup, water, and vanilla.
DRY INGREDIENTS. In a separate bowl, combine the flour, baking soda, and salt. Stir into your PB mixture. Fold in the chocolate and peanut butter chips.
BAKE. Placing them 3 inches apart, drop 1 ½ inch balls onto an un-greased baking sheet. Pat the tops down a bit before placing in the oven.
*Note. Before baking you can even add some chocolate chips on top to make them look even better. From there you bake them and TRY not to eat a dozen of them. 😉 This is definitely the kind of cookie you want to serve with a cold glass of milk. Pure heaven, my friends!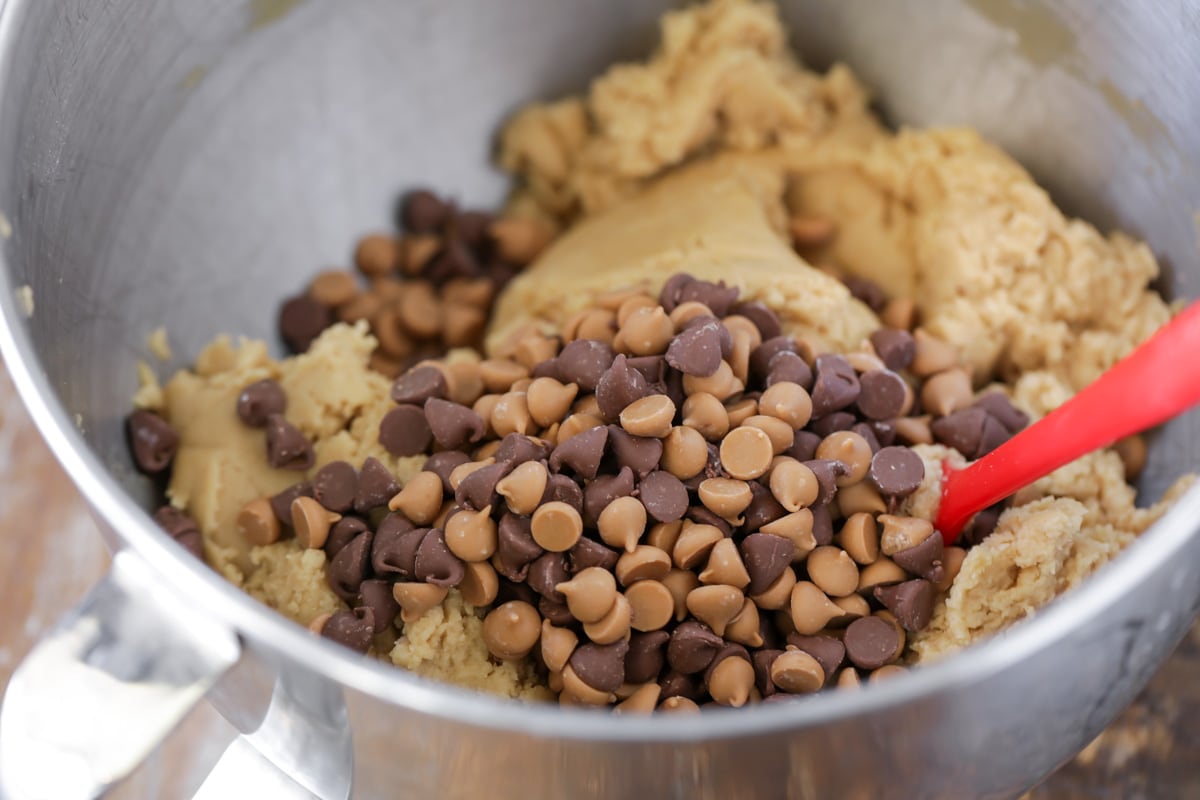 TIPS
I've adjusted my favorite cookie recipe to create this peanut butter chocolate version. Here are a few tips that will help you get the best most delicious result:
Flatten

the dough balls a little or a lot before baking- depends on your preference.

Don't use

natural peanut butter.

You can use

chunky peanut butter

if you want some peanuts in your cookies.

Use any

chocolate chip

– semi, milk, dark, or even white or butterscotch chip. You could even use

chopped peanut butter cups.
Chill the dough

for 30 minutes or more in order to make moist cookies. After chilling the dough you should let the dough come to room temperature for about 3 minutes before you try to scoop it.

Don't use dark-colored cookie sheets because it is easier for the bottom of the cookies to burn that way

Don't overbake.

I'll take the cookies out of the oven after 8 minutes right before they begin to brown. Then I will let them cool on the cookie sheet. This allows them to cook just a little more.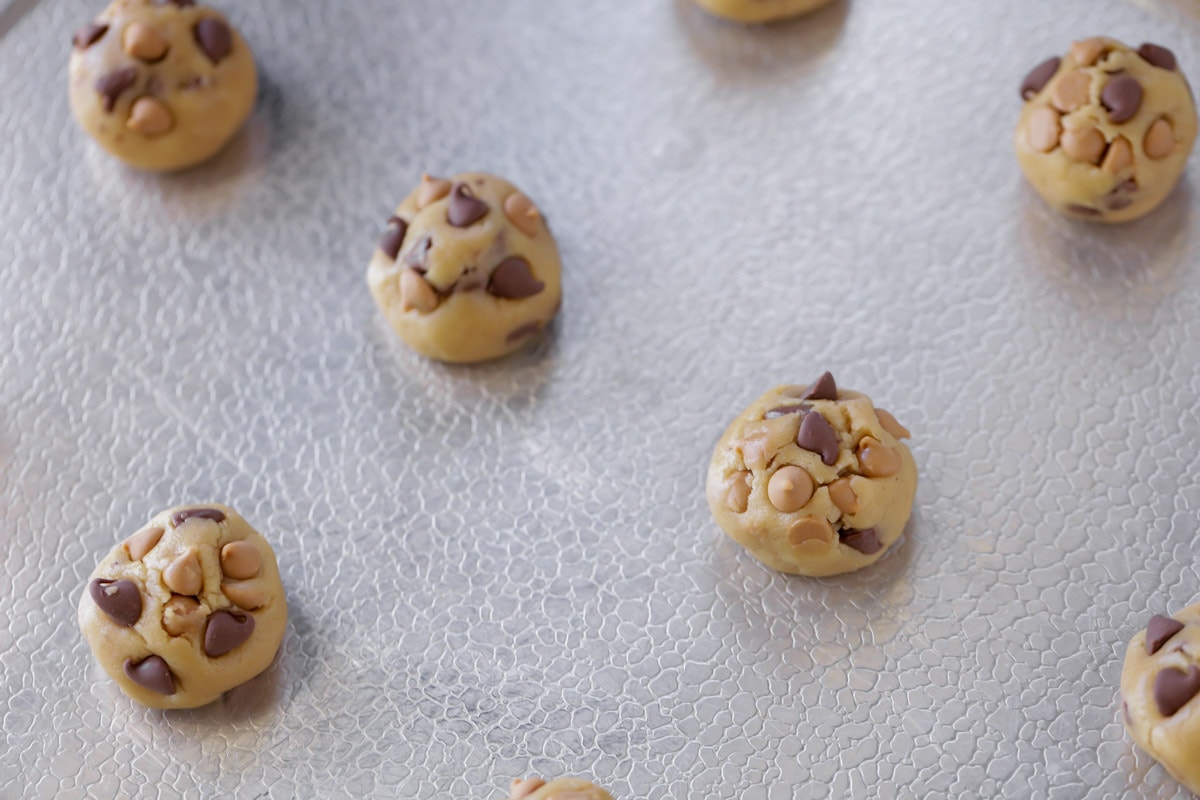 STORING INFO
Baked Cookies: Cool and then they can be stored in an airtight container. They'll easily stay fresh for about 3 days, but can be eaten longer. Placing a piece of white bread with the cookies will keep the cookies moist longer. You can also freeze them for up to 3 months.
Cookie Dough: Cookie dough can be covered and kept in the fridge for 1-2 days before baking. To freeze the dough you'll want to form the dough into balls and place them on a baking sheet in the freezer. Once solid transfer them to a freezer Ziploc. They can be frozen for up to 3 months.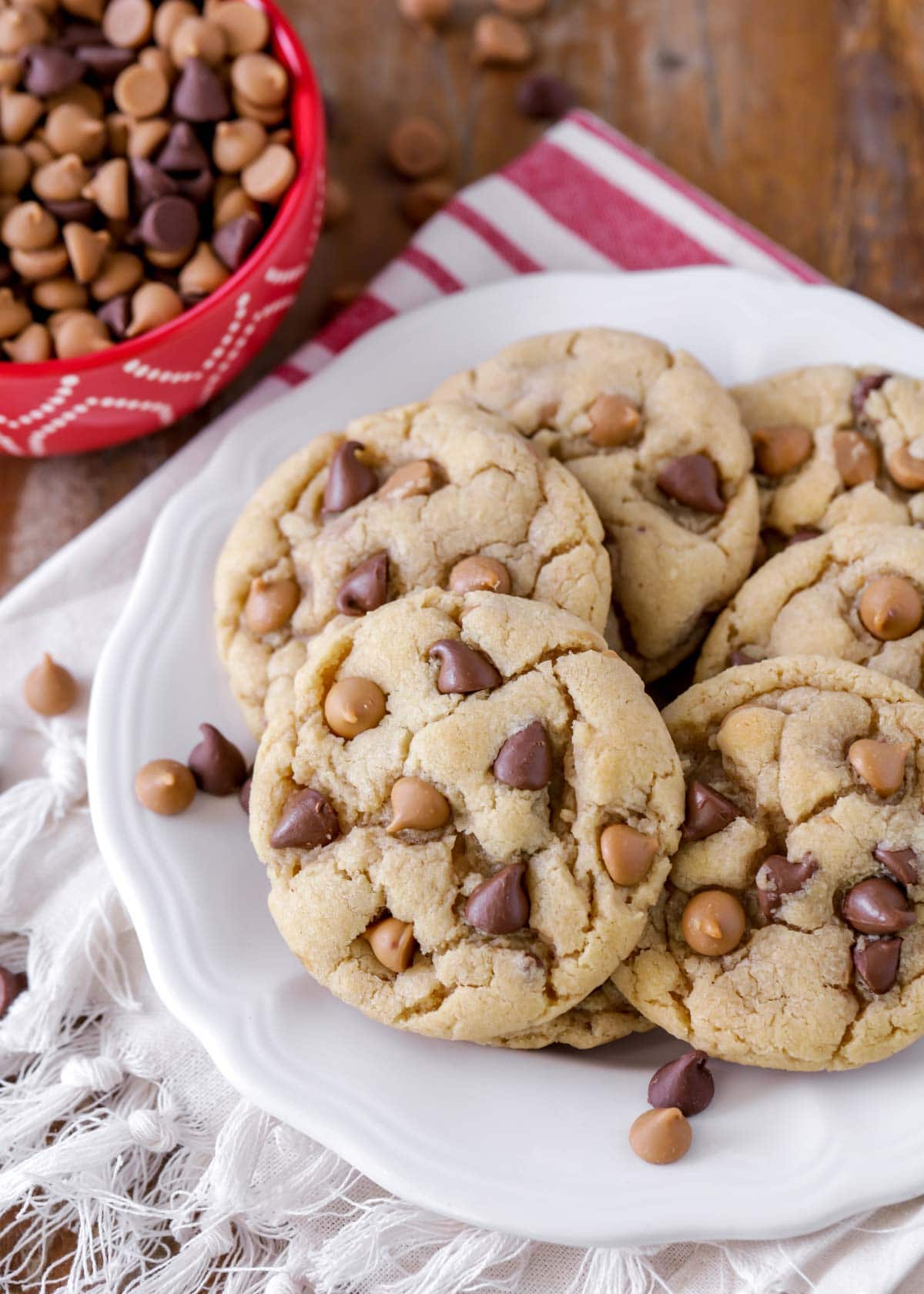 We cannot wait to make another batch of these bad boys. They are the epitome of chocolate and peanut butter goodness.
For more peanut butter cookie recipes, check out:
Peanut Butter Chocolate Chip Cookie Recipe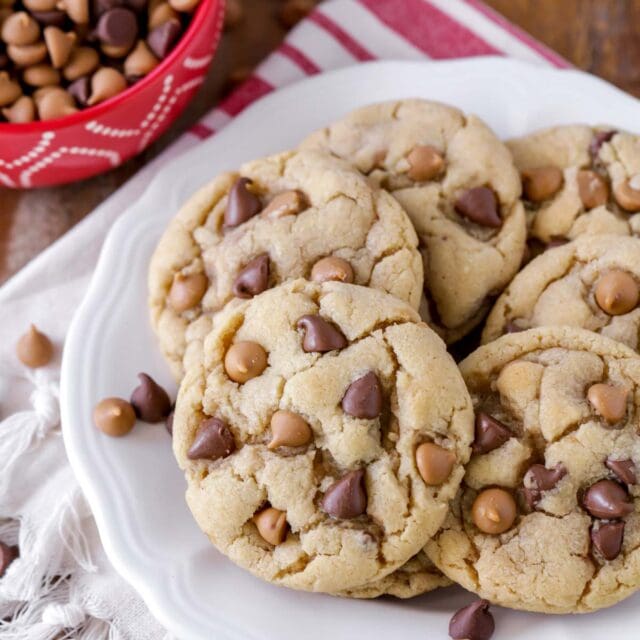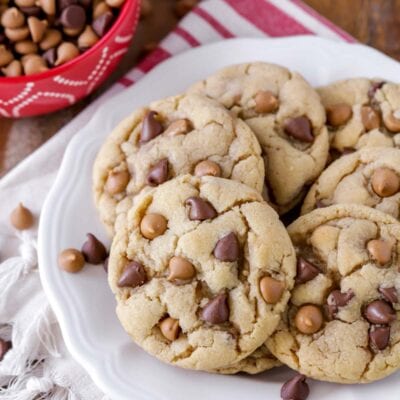 Soft peanut butter chocolate chip cookies truly knock the socks off of anyone who tries them. They are out of this world!!
Instructions
Cream butter, oil and sugars in stand mixer (or with hand mixer in a bowl). Add eggs and beat until fluffy.

Add baking soda, salt, baking powder, vanilla and flour and mix until incorporated.

Fold in chocolate chips, and scoop onto lightly greased baking sheet. Add any chips on top, if needed, before baking.

Bake at 350 for 8-10 minutes.
Adapted from AllRecipes.com.