Spinach Ricotta Stuffed Peppers are the perfect entree for Meatless Monday or a dinner with vegetarian friends!
I don't eat too many meatless meal, but when I do they usually involve lots of cheese or cream. Hello pizza and fettuccine! Thank heavens for dairy and that I'm not allergic or intolerant. Seriously, I barely go a meal without some kind of dairy product. If you like cheese as much as I do then you'll love these Spinach Ricotta Stuffed Peppers!
MY OTHER RECIPES
Red peppers are what I use most often in my cooking but my favorite are really the yellow and orange ones. They are a little milder and sweeter, great for eating raw with dip. Recently, I've been using the orange and yellow peppers a lot in recipes like traditional stuffed peppers or Southwest Cornbread Sloppy Joes. I'm so obsessed that I started buying that big pack of 6 at Costco.
These Spinach Ricotta Stuffed Peppers are so easy to make! You can even get them all prepped earlier in the day (or day before) so that when you get home from work you can just pop them in the oven.
For the filling, just cook up some onions and garlic, wilt the spinach, season, and then mix it with the ricotta and Parmesan cheese. Then you stuff it into each pepper half. Toss the tomatoes into the 9×13 pan. Drizzle with a little olive oil and then salt and pepper. Arrange the stuffed peppers in the pan with the tomatoes and then bake away!
Meanwhile, make your grain. What's your go-to grain? Quinoa, rice, orzo? I really enjoyed these peppers with Orzo Rice. You just toast the orzo in butter until golden and then add some rice and proceed as you would normally cook rice. So good!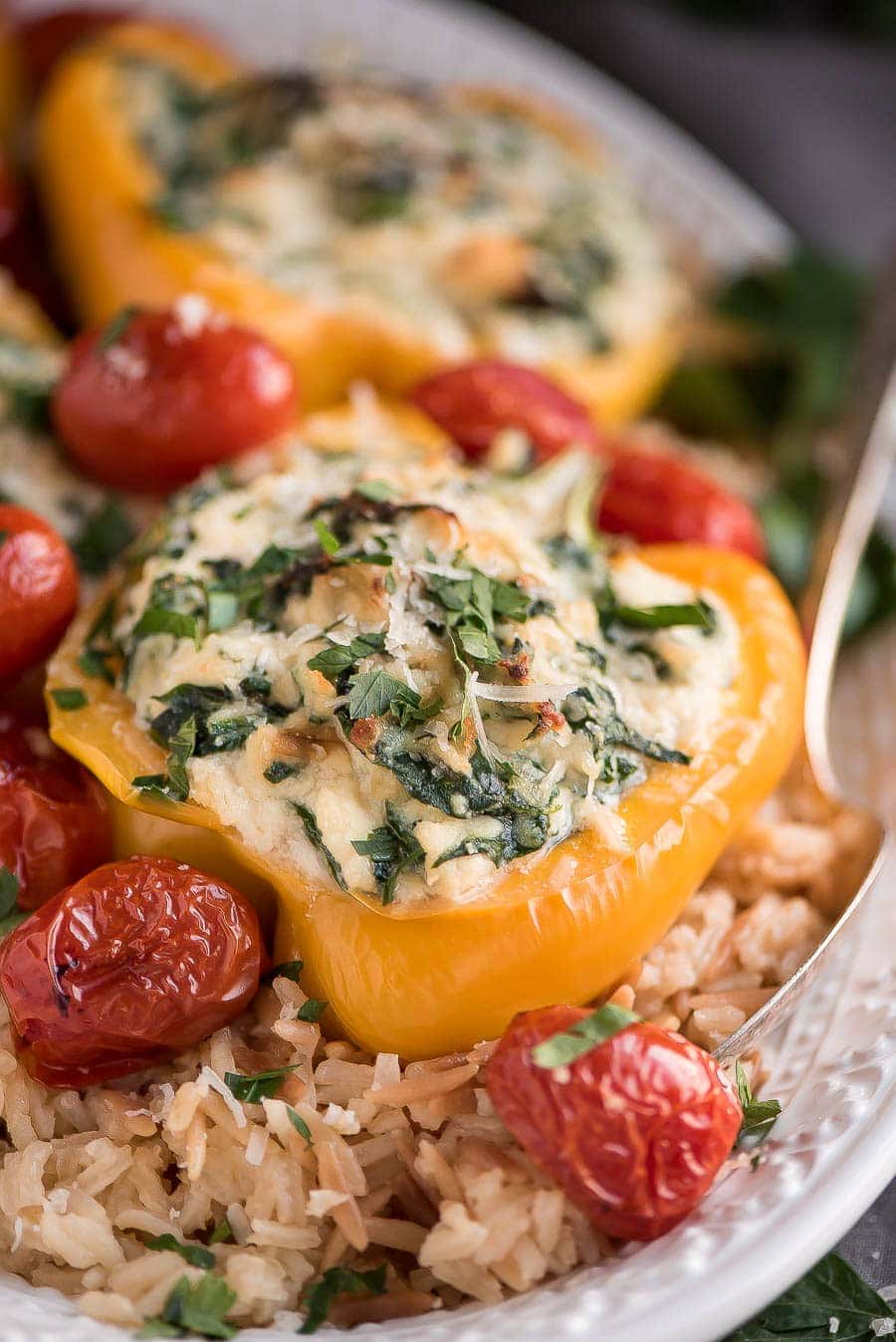 These stuffed peppers are so flavorful and cheesy and way too easy to throw together. I have a feeling I'm going to be making these a lot more this spring and summer.
Stuffed Peppers recipe:
Ricotta Spinach Stuffed Peppers
Spinach Ricotta Stuffed Peppers - onions, garlic, spinach, seasoning, ricotta and parmesan cheese, and a grain of your choice stuffed in a bell pepper! The perfect entree for Meatless Monday or a dinner with vegetarian friends!
Ingredients
2 tablespoons oil, divided
¾ cup diced onion
3 cloves garlic
3 cups packed fresh baby spinach, chopped (about 6 ounces)
Salt & pepper, to taste
2 yellow bell peppers, cut in half, seeds removed
1½ cups ricotta, part-skim
6 tablespoons Parmesan cheese, grated
10 ounces container grape or cherry tomatoes
For the Garnish:
Parmesan cheese, grated
Fresh flat parsley or basil
Instructions
Preheat oven to 425.
Place tomatoes in a 9x13 pan and drizzle with ½ tablespoon olive oil. Salt and pepper. Set aside.
Heat remaining 1½ tablespoons oil in a skillet over medium heat. Saute onion until translucent and soft. Add the garlic and spinach and cook until wilted. Season with salt and pepper to taste.
Mix ricotta and Parmesan together. Add in the spinach mixture and stuff into peppers. Sprinkle with more Parmesan cheese and arrange in the pan with the tomatoes.
Bake for 25-30 minutes or until lightly browned. Garnish with more Parmesan and some fresh parsley or basil.
Serve over rice, orzo, or quinoa.
Adapted from: Al dente Gourmet
———————————————-
Oh, this looks SO yummy!! I'm also a huge fan of anything creamy or cheesy so this recipe is right up my ally! Thanks for sharing this with us Melanie!! For more amazing recipes by her, definitely head on over to Garnish & Glaze.
For another favorite non-meat dish, check out:
Cheesy Garlic Tortellini Pasta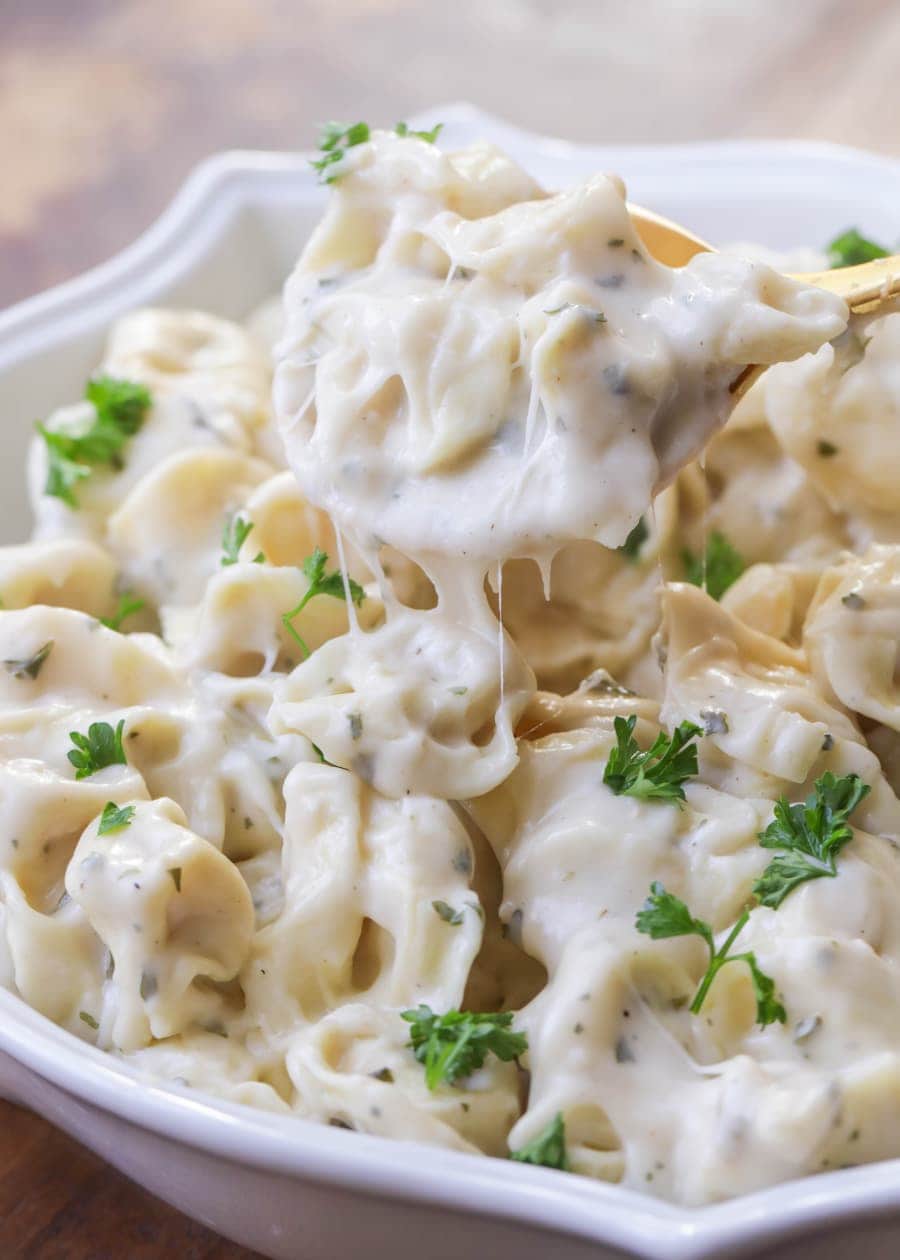 For even more meatless meals, check out:
ENJOY!