The last week and a half was SO productive. I don't feel like I can normally say that, but last week I got done a few tutorials as well as 15 new recipes (with the help of my mom and sisters) and re-took pictures of 3 past recipes! Woo hoo!! So exciting. As you can maybe tell I'm trying to get a ton of new recipes and tutorials done before baby comes so I still have great content for you while I'm busy having a new baby and loving on him.
It also helped that last week we celebrated the Chinese New Year as a family and also Valentines (with my little family) and had lots of opportunities to bake and cook.
Any who… having said that I was able to try out a recipe I had seen on Pinterest from Life as a Lofthouse. It was for Red Velvet Cheesecake Cake. I wasn't sure if I even knew if I liked Red Velvet but I knew the hubby would for sure so I decided to try it out. I'm glad I did because the entire family loved it (including myself)!
If you love Red Velvet and Cheesecake I know you'll love it too!
Here's the recipe…
Red Velvet Cheesecake Cake
By Lil' Luna Published: February 21, 2013
Yummy red velvet cake with a cream cheese layer and homemade cream cheese frosting.
Ingredients
Instructions
Preheat oven to 350.

Make Red Velvet Cake Mix as directed on the back of the box. Set aside.

Mix 8 oz. block of cream cheese, sugar and egg white in a separate bowl until well blended.

Pour half of the red velvet cake mix into a greased 9x13. Drop spoonfuls of cream cheese mixture over the red velvet cake mix. Swirl all over the batter.

Pour the other half of the cake batter over this cream cheese layer.

Bake for 35-40 minutes. Once baked, take out and let cool.

For the frosting, mix cream cheese and butter until smooth. Add powdered sugar, vanilla and milk until smooth.

Spread frosting over cake and enjoy!

WordPress Recipe Plugin by ReciPress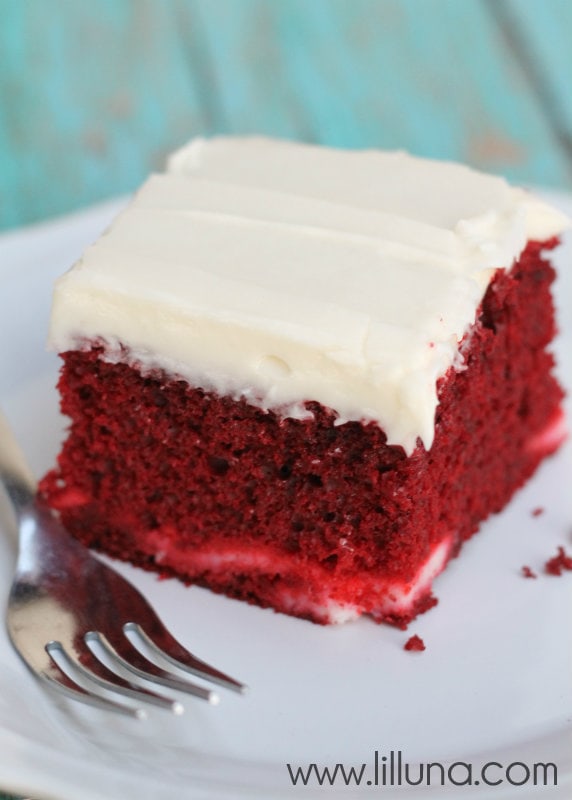 The Cheesecake layer is probably the best part about the whole cake!! My hubby would probably agree although he said the homemade cream cheese frosting was divine. I would have to agree. All good!
For more yummy cakes be sure to check out:
Hope you like it too.
ENJOY!